This post will show you the best Valentine's Day gifts for him.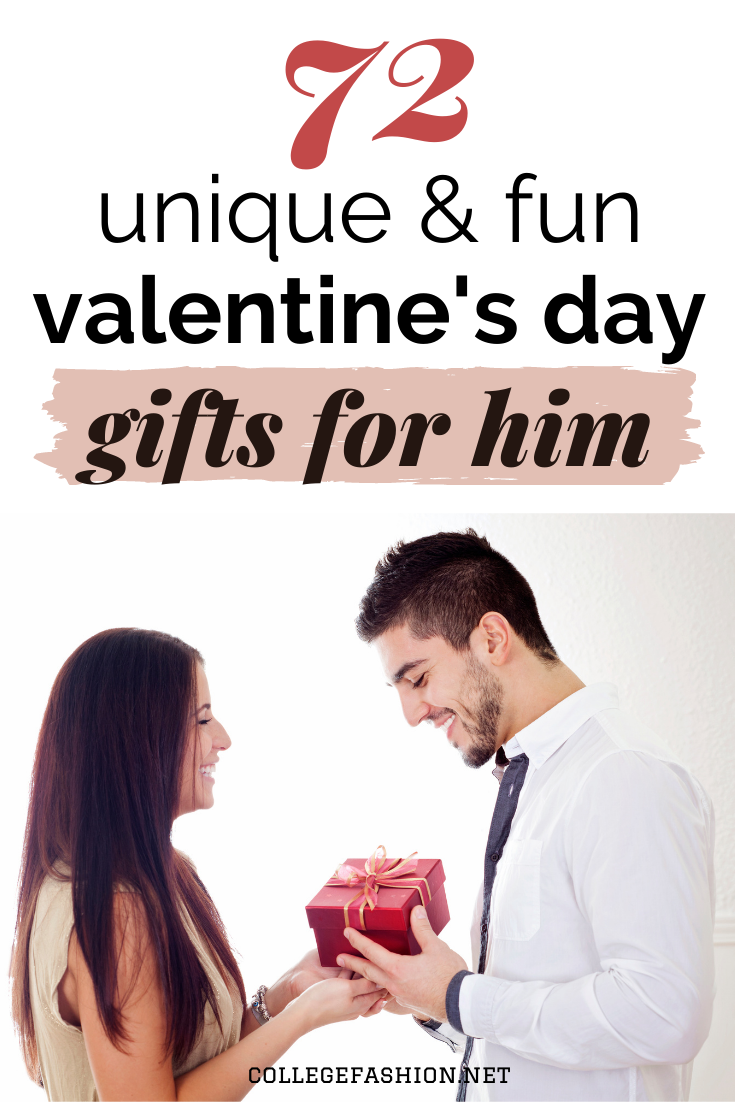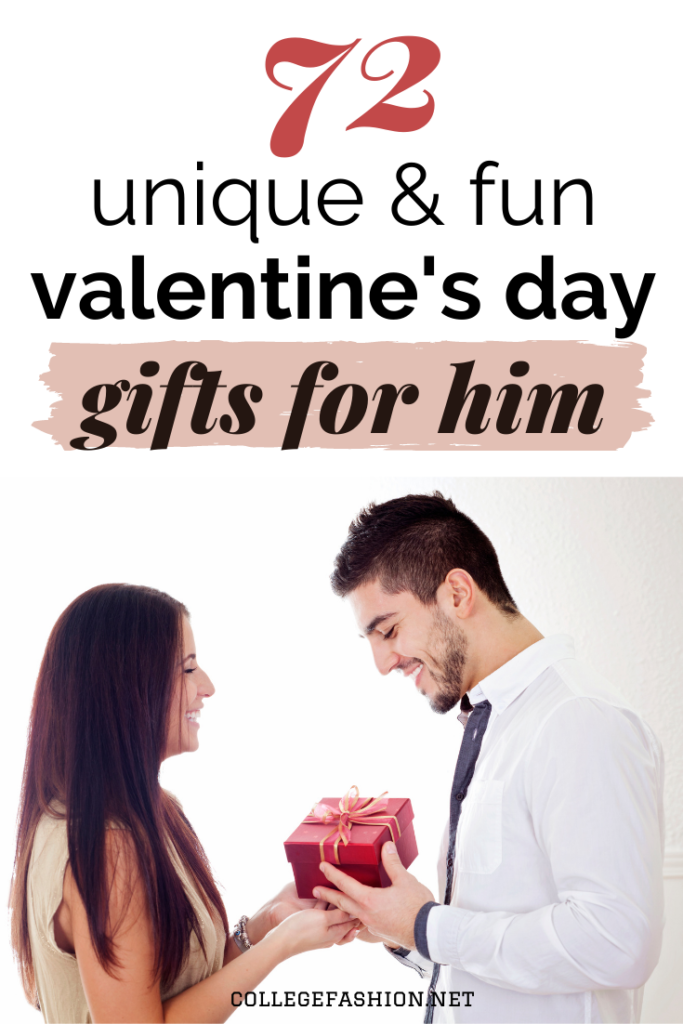 It's hard to believe, but Valentine's Day is approaching fast! And that means it's time to do your gift shopping ASAP. (Shipping delays and all that!)
Last week we shared a huge list of the best Valentine's Day gifts for her, and now it's the guys' turn.
Whether you are shopping for your boyfriend, best guy friend, dad, or someone else, it can be hard to come up with a good Valentine's Day gift for him. The holiday often feels like it's centered around women, but that doesn't mean men shouldn't get anything!
The love goes both ways on Valentine's Day, so get him a gift that shows you care.
Looking for a great gift for your boyfriend, best friend, or other important man in your life? Here are the 72 best Valentine's Day gifts for him.
Related reading: The 35 Best College Graduation Gifts to Give Him This Year
72 Valentines Day Gift Ideas For Him
Cute Valentine Ideas
Here are some cute and classic ideas for all those old school Valentine's Day vibes.
Lovebox Messenger
If you are looking for a really cute and sentimental gift to give your boyfriend or s/o for Valentine's Day, this lovebox messenger is perfect!
With this box, you can send him cute messages whenever you want to remind him of you, and he can respond to you directly. Here's the full description to give you a better idea of how it works:
An update to pen and paper, this box displays sentiments sent via the included app through the mirrored screen found inside. Whenever a new message comes in, the heart on the box starts spinning, perfect for letting your live-in bae or LDR know they're on your mind. They can return the thought with a shower of hearts!
A Gift Basket of His Favorites
Literally everyone loves snacks so this gift is a proven winner.
This Valentine-inspired gift basket will surely bring a smile to their face. Or, if you don't want to buy something pre-made, make a DIY basket of all their favorite treats! They're guaranteed to love it.
Cologne
A total classic that's a gift for both you and him! You really can't go wrong with cologne.
My all-time favorite men's cologne is Bleu de Chanel. It smells incredible — not overpowering, not too soap-y or aftershave-y, just absolutely manly and all-around perfect. (I mean, this should come as no surprise because Chanel makes it.)
When I got this for my s/o a few years ago, I had multiple friends ask me what scent he was wearing because they wanted to get it for their husbands and boyfriends too. It's that good.
Any man will love this, and you will love smelling it on him.
A New Watch
A watch is a classic Valentine's Day gift that will majorly upgrade his style game. Every man needs a nice watch!
You can't go wrong with Seiko watches; the brand has been around forever and they're a great mid-range option for those of us who can't drop thousands on a Rolex. I love this one for its sleek look and classic styling.
A Nice Wallet
Right up there with watches is a new wallet. Wallets are classic Valentine's Day gifts because they're so practical. He will use a wallet every single day, and he'll think of you whenever he reaches for it.
This ROYCE New York wallet is super classic and simple and is excellent quality for the price ($100). It was also recently named one of Vogue's best wallets for men.
Gourmet Peanut Butter Cups
Peanut allergies excluded, I've never met a man who doesn't like peanut butter cups!
This set of fifteen handmade peanut butter cups is 10x better than your standard box of chocolates, and if you're lucky he'll let you have some of them too.
Cheap & Cheerful Gift Ideas
Poster for His Room
You can help your guy decorate his room with a poster as a gift for Valentine's Day.
This Banksy-inspired poster will do the trick if he is into art or graffiti (or just likes quirky art).
Not only does it have a killer design, but also it comes in neon colors to add a bit of interest to his room.
Carhartt Beanie
Carhartt beanies have been SO popular for the past few years! I see them absolutely everywhere, and they're a universal gift that every guy will love. They're guaranteed to fit, they're cute, and they're perfect for February. Plus, they aren't that expensive, just under $17.
If your guy already has one of these, get him a new one in a color he doesn't already own. Boom, easiest gift ever.
The Abide Guide: Living Like the Dude
What guy doesn't want to be The Dude? This funny book, inspired by the movie The Big Lebowski, will teach him everything he needs to know to emulate Jeff Bridges' character, AKA the chillest guy known to man.
Bathrobe and rug not included, although those would make awesome gifts too.
Make Your Own Guitar Pick Punch
If he plays guitar, he'll love this little punch that allows him to make anything into a pick. Metrocard? Check. Old credit card? Why not? Old ID with an embarrassing picture on it? You bet! The possibilities are endless.
This is such a cool gift and he can definitely get creative with it.
Cool Socks
Every guy needs more socks, and Valentine's Day is a great chance to up his style game with some socks that are actually cute.
These Basquiat socks have old-school skater vibes and are very cool. If dinos aren't his fave, UO has socks in a bunch of different prints and colors too, plus they're only $10 a pair.
Lightsaber Chopsticks
If he loves Star Wars and sushi night, you need to get him these lightsaber chopsticks!
They come in a bunch of different colors so he can emulate his favorite character. Alternatively, they sell sets of two pairs, so you can have a showdown between the dark and light sides of the Force.
Last Minute Gifts
Bluetooth Boombox
If he is into music, he likely already has a speaker, but you can always upgrade his setup with this cool boombox.
Boomboxes are coming back as a popular item for music lovers. Not only can they play music from the radio, but now they also have a Bluetooth feature to make them so much easier to use.
If you want to get him a boombox for Valentine's Day, you should get him this portable Bluetooth boombox. He can bring it with him to any outdoor events and the '90s style lights and colors mean he can use this item as throwback decor in his room.
Wireless Charger
Charging our phones can be a hassle, especially now that we are getting used to having everything be wireless.
So, you could make his life easier and get him a wireless charging pad like this one.
He will be able to charge his iPhone and even his AirPods with this charging pad, plus it will look sleek in his room.
Sports Book
If he likes reading, you should consider getting him a book he will love for Valentine's Day.
The Mamba Mentality: How I Play book is the perfect Valentine's Day gift for guys who are into sports, especially basketball! It's top-rated on Amazon and a fantastic gift for any sports fan.
Beard Kit
If he has a beard that he's proud of, help him keep it looking 10/10 with this complete beard kit. It has everything he needs to groom and care for his amazing beard.
This one makes a great last-minute gift because it's available to ship via Amazon Prime. If you're a Prime member, it will get there super fast!
Beef Jerky Sampler
If he loves to eat a high-protein diet or is just a fan of beef jerky, gift him a variety pack of his favorite snack as a last-minute gift.
This beef jerky sampler set from Amazon includes 8 different flavors of jerky from truffle to barbecue to habanero. He's sure to find a new favorite and his stomach will thank you.
Comfy Sweats
If your man is like mine, he's spending a lot more time in our *loungewear* these days (thank you, work-from-home days!), so you might as well get him a set to keep him extra comfortable!
There are so many cute sweat sets for men out there but if you want to treat him to something really good, Lululemon actually makes AMAZING men's loungewear. They are so soft, so comfy, and always of amazing quality. He will absolutely live in these sweatpants. (Matching sweatshirt here.)
Romantic Gifts
Long Distance Bracelets Set
If you are in a long-distance relationship or even if you and your boyfriend are apart for long stretches of time due to your busy lives, you could get him this bond touch long-distance bracelets set as a gift for Valentine's Day.
This gift will allow you to stay in touch with your boyfriend through bracelets that can even send a notification to your boyfriend to remind him of you whenever you want!
What I Love About You Book
A total classic for a reason, the What I Love About You book makes an adorable Valentine's Day gift that will definitely touch his heart.
The premise of this is simple: the book gives you a prompt on each page ("You Would Win the Award for Best _____") and you fill it in. Then, once you're done, you wrap up the book and gift it to your person. Super cute and completely customizable.
Custom Star Map
This is one of my favorite Valentine's Day gifts for couples. It's a night star map of what the sky looked like on the day you met (or your first date, or your anniversary, or her birthday, etc.).
You can personalize this print with the date, place, and ink color of your choosing for a super romantic gift he'll definitely remember.
Our Adventure Book Scrapbook
If you've seen the movie Up, you know all about Adventure Books. So why not gift him this custom "Adventure Book" scrapbook, based on Ellie and Carl's book?
You can pre-fill this with tons of photos or leave it blank and fill it in together as you two travel the world. Either way, it's super sweet and sentimental.
Airbnb Gift Card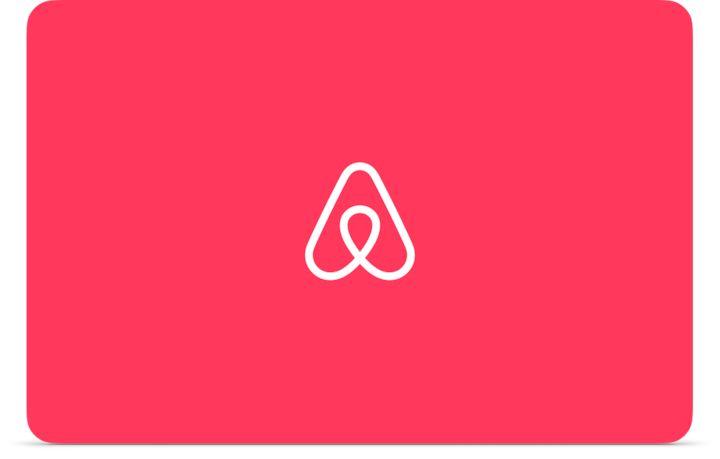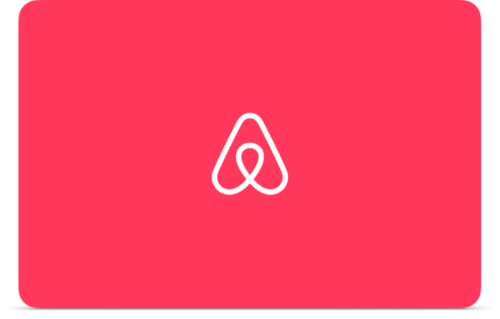 This was on my list of the best Valentine's Day gifts for women, but it's awesome for men as well!
I absolutely love the idea of gifting him an Airbnb gift card so you two can plan a getaway together. They always say to spend money on experiences, not things, so start planning a dream vacation together and get out there to see the world (safely).
A Dozen Reasons Why I Love You
This is kind of like the "What I Love About You" book above, except it's more of a decorative object he can keep in his room.
This little set, made of wood, can be completely customized with both of your names and the exact things you love about him. He will definitely get a little misty when you give him this one!
Hot Gifts
Valentine's Day is all about love, so sometimes you want to get a little hotter with your gift-giving. Here are some risque, not raunchy, gifts that he's sure to love.
Sexy Truth Or Dare
I'm sure you know the game "pick up sticks." Well, this is the R-rated version.
This game comes with 100 double-sided sticks with a truth on one side and a dare on the other. The truths will spark conversation and the dares will get you outside of your comfort zone. Definitely a gift for date night in!
Scratch-Off Love Coupons
These are your classic "Love Coupons" that your partner can redeem for activities of your choosing. The cool thing about these is that they're scratch-off!
You can make these as tame or as racy as you wish; it's totally up to you what you put on them. The possibilities are honestly endless.
Honestly, Just Buy Yourself Something Cute
To be frank, the hottest gift your guy wants on Valentine's Day is… you! So this Valentine's Day, just buy yourself something super cute and wear it.
Guys generally don't have the best taste in underwear anyway, so if you buy some for yourself, you know you'll actually wear it and that it will fit. Treat yourself to something you've been wanting and will feel great in.
This gift is great because you get new underwear, and he gets the best gift of all time, you! Total win-win.
Naughty and Nice Dates Kit
This gift is a mix of romantic and a little risque, and it's super affordable as well!
This Naughty and Nice Dates Kit has over 100 date ideas to help you switch it up from the same old dinner and movie date. You can choose whether you want a naughty or nice date and let the kit take it from there.
Cardio Workout Card
This funny card from Etsy will remind him of good times with you and will also make him laugh.
This custom-made card is only $6 and would be a great addition to any kind of gym-themed gift or just on its own.
"My Girlfriend is Hotter Than My Coffee" Mug
Here's a gift that's hot, literally. It's a travel mug that reads "My Girlfriend is Hotter Than My Coffee (Yes, She Bought Me This)".
If your guy loves coffee and you, this is the perfect gift! Why not remind him of your hotness while also keeping his favorite beverage warm? Totally genius.
Unique Picks
Basketball Hoop Light
If he is into sports, especially basketball, you should consider getting him this basketball hoop light.
These strip lights have become really popular recently for room decor, but this product applies them to his favorite sport — this light set can be used on any basketball hoop he may have at his home, whether it's an over-the-door basketball hoop (another great gift idea) or an outdoor hoop on his driveway.
This will make playing basketball so much more fun for him as he can completely customize the lights to reflect his favorite colors.
Bodyboard
For those of you who have boyfriends who love going to the beach, you could get them a bodyboard like this one.
This is a really fun item that your boyfriend will be excited to use at the beach! (And yes, beach days are coming sooner than you think!)
Mini Air Hockey Game
Who doesn't love air hockey? This is such a fun game that you can play with your loved ones.
You should definitely consider purchasing this mini air hockey game as a Valentine's Day gift.
Also, you won't have to worry about having room for a regular-sized air hockey table because this mini one will be a perfect size anywhere.
Portable Hammock
If your loved ones like having fun outdoors, you could get them a portable hammock like this one!
Now they will be able to lounge anywhere outside this summer, you can even enjoy nature together without having to worry about lugging a huge hammock around!
Golf Ball Whiskey Chillers
(Obviously, these are for those 21+.)
If he loves golf more than anything (except you, of course), he will adore these golf ball whiskey chillers. They're shaped like golf balls and can be frozen to keep his whiskey cold without watering it down.
Where's Bowie? Book
A must-have gift for any fan of David Bowie, this cute little Where's Waldo-style book would make an amazing unique Valentine's Day gift. It will also look amazing in his apartment.
"He goes missing on the Moon, he goes bonkers in Berlin, he's nowhere to be seen in New York… Good thing he's always surrounded by cool people having fun, like Bob Dylan, Laika the space dog, and the lads from Flight of The Conchords."
Funny Valentine Gifts
Walkie Talkie Set
If you want to get him a fun gift for Valentine's Day that both of you can use, you could get him this walkie-talkie set. It's such a cute throwback gift idea.
Not only will this gift allow you guys to talk to each other from a distance (they have a 100-foot range, perfect for if he's gaming in one room and you're watching TV in another, for instance), but also, this is a cute gift that will bring back childhood memories. So much fun!
Beard Cape
This one made me crack up — it's too funny and it's actually useful!
If you live with anyone who has a beard, you know the annoyance of walking into the bathroom after they've trimmed it. No matter how much cleanup they do, it's pretty much inevitable that there will be hair in the sink. (Ugh.)
This funny beard cape solves that problem once and for all, catching all the hair before it can ever touch the sink! It's a gift for them and you.
"I Paused My Game to Be Here" Tee
Okay, who can't relate to this one with their significant other? I know this shirt would definitely apply to a certain gamer in my life.
If he loves his video games, he'll definitely appreciate this funny tee shirt that says "I Paused My Game to Be Here." It's funny because it's true.
"Drum Up Some Ideas" Set
Don't ask me why this is, but I've noticed that dudes seem to love randomly drumming on things. (My s/o is one of them.)
If the guy you're shopping for has this annoying habit, get him this "Drum Up Some Ideas" note set. It includes a pad of paper shaped like drums, plus some pencils and erasers to resemble drumsticks. He'll laugh and he'll love it.
Drunk, Stoned, or Stupid Game
If he loves funny party games, get him this one for his next get-together with friends.
The premise of Drunk, Stoned, or Stupid is to decide which of the players is most likely to do the thing that's written on the card. It's a great way to spark a funny debate and get people talking, and you'll definitely play it repeatedly.
"I Flexed and the Sleeves Fell Off" Tank
If he loves to go to the gym, he will crack up at this tank that reads "I Flexed and the Sleeves Fell Off."
This one is too funny and will definitely get him lots of compliments (and draw attention to all the hard work he's done at the gym).
Personalized Gifts
Personalized Heat Change Mug
If you love his face so much, why not put his mug on a mug? This personalized heat-activated one is only $20. It looks like a normal black mug until you add a hot beverage and the face art is revealed.
You could get his face on it, a pet's face, or even your face so he's always reminded of you. Either way, he'll get a kick out of this one.
Personalized Pokemon Card
This is the perfect Valentine's Day gift for nerds or anyone a little bit geeky in your life. (We have even more gifts for nerds here, too.)
You can personalize this Pokemon card with a photo of the two of you, your pet, or even a photo of him and some funny stats. Then add text to customize even further.
Personalized Travel Pouch
Who says men don't need nice bags too? Gift him a nice monogrammed leather bag and he'll have it for years to come.
I'm obsessed with Mark and Graham's jewelry cases for women, but they also make amazing monogrammed bags for men. This personalized travel pouch is so luxurious, perfect for toting all of his toiletries, shaving essentials, etc., in serious style.
Personalized Record with Your Song & Photo
This would be such a cute idea for a boyfriend or husband! It's a personalized record keepsake that has your photo and your song written at the bottom.
If you guys have a special song together, or if he loves music, this would be such a sweet personalized gift idea.
Customized Wallet Insert Card
This wallet insert card is another super sweet gift idea. It's not really useful, but it's a sweet keepsake he can always keep with him to be reminded of you.
The gift can be personalized with your name and your anniversary. This would be amazing to pair with a new wallet as well!
Custom Rick and Morty Portrait
This is the most adorable gift for any Rick and Morty fan! It's a custom portrait featuring the two of you in the universe of his favorite show.
This is completely customizable to your specifications, plus you can either have it made as a digital file or printed and framed for you, so it can totally fit to your budget.
For Boyfriend
An Experience
If he loves to be out and about, doing new things, (and especially doing new things with you!), an experience is a great gift for your boyfriend!
For Valentine's Day, I recommend choosing a fun activity you can do with your S/O and turn into a competition if you want to! Groupon has various cooking classes in different locations, so it's a great idea if you want an experience gift.
Record
Another great gift for your boyfriend if he is into music is one of his favorite albums on vinyl.
For example, if your boyfriend is into the classics, you could get him one of The Beatles' records like this one. Or, there are so many other records you could choose from to find the one your boyfriend will love. Get his favorite song for a gift he'll cherish for years to come. (The Beatles are always a safe bet when in doubt, though!)
This gift will be perfect if your boyfriend already has a record player, or it can even be used for decor in his room. (Amazon sells album frames if you want to take this gift one step further!)
A Camera to Record Happy Memories
A polaroid camera is the perfect Valentine's Day gift for a guy who loves parties, travel, and good times with friends. It will allow your boyfriend to record their happy memories with you, as well as their friends and family.
Apple Airpods
It seems like everyone in the world owns a pair of Airpods, but if he somehow doesn't, these are an incredible gift he'll love!
He'll be able to listen to his favorite music, catch up on podcasts, and chat with you on the phone, all hands-free. Plus, their noise cancellation is excellent, in case he has loud roommates.
SNES Classic
If you have a little extra to spend, this is an AMAZING gift if your boyfriend is a video game lover! The SNES Classic console will allow him to play all of the best old-school SNES games on their classic '90s controllers. It comes with 20 games, so there are tons of options.
The best part is you two can play these games together on your next date night! So much fun.
A Set of Resistance Bands
If your boyfriend loves to hit the gym, here's a gift that will allow him to take his workouts to the next level, wherever he happens to be. This set of resistance bands will let him turn any doorway into his personal gym.
If your boyfriend loves to travel or just wants to work out at home more often, this is a fantastic gift he will surely use.
For Husband
Water Bottle
If he is athletic or is into working out, you could get him a nice water bottle as a Valentine's Day gift.
Some people underestimate the importance of having a good water bottle handy when playing sports or doing an intense workout, but trust me — it's so important.
Therefore, you can save him some trouble and get him this Under Armour squeeze water bottle that's easy to grip and drink from during a workout.
Computer Stand
If your boyfriend or husband does a lot of work from his laptop, he needs this laptop stand — trust me.
Most of us don't realize that the typical angle of looking down at a laptop on a desk can put undue stress on your neck and back. Therefore, you could get your boyfriend a laptop stand to make using his computer easier and more comfortable for him.
I love this adjustable laptop stand, which not only has a stand for his laptop, but also his phone. He can adjust it to the perfect height for his specific desk setup. It's also portable, so he can take it with him if he's working or taking classes on the go.
Skin Care Kit
Skincare is just as crucial for men as it is for women. But some guys may not know they need to have a skincare routine too.
If your boyfriend or husband doesn't have a skincare routine or doesn't know what he should be using, you could get him a skincare kit for Valentine's Day.
This men's skincare routine kit will do the trick because it comes with all the products he will need to get the perfect skin!
Boxing Gloves
If he is into boxing or likes working out, you could get him these Everlast boxing gloves.
The gloves will allow him to train or work out whenever he wants to. As a bonus, you could sign the two of you up for boxing lessons for a fun workout to try in the new year.
Home Theater Projector
This is an unexpected gift that he'll definitely use! You can make movie time so much more fun for your whole family by purchasing this home theater projector.
With this gift, you guys can watch movies anywhere, and this projector comes with a large screen to make it even more like a movie theater experience! It would also be cute to set this up somewhere with dim lighting, snacks, and blankets for a movie date night at home.
Mens Ugg Slippers
We women know that Uggs are the comfiest shoes on the planet, so why not gift your husband some of that amazing comfort?
Ugg makes awesome mens slippers that aren't as pricey as the women's versions (the unfarity), and he's sure to appreciate them during the cold winter months.
This is one of my favorite gift ideas on the list — I always gift these to any guys I'm shopping for and everyone has loved them!
For Dad
Espresso Machine
If your dad is into caffeine, you could treat him to an espresso machine for Valentine's Day!
A lot of times, espresso machines can be on the pricey side, but if you get this smaller espresso machine, you can save a little money without sacrificing quality. This valentine's gift for your dad will give him all the caffeine he needs. (Plus, you can use it too when you're home!)
Portable Photo Printer
Nowadays, photos are almost always taken on phones, which can make it a little harder to display your favorite photos around the house.
That's where this Valentine's Day gift idea comes in — this portable photo printer will allow your loved ones to display photos of you together or any other photos they would like from their phones.
Hot-Sauce-Making Kit
If your dad likes his food extra spicy, why not get him a kit to make his own hot sauce? That way, he'll always have a supply available. This cool kit from Amazon has everything he'll need, plus a recipe book to get him started.
This is such a fun and funny gift that he's sure to love, plus the whole family can sample his creations — if they dare.
Cozy Blanket
If you have no idea what to get your dad for Valentine's Day, you cannot go wrong with this cozy Eddie Bauer plaid blanket.
Why is this the perfect gift? Well, it's Valentine's colors but it's also nice and typical-man looking with its buffalo plaid print. It will be perfect for cozying up to watch his favorite sports or movies this winter.
Neck Massager
Okay, this thing looks weird, but thousands of positive reviews are not wrong! It's a massager that specifically targets the neck and shoulders, using a combination of massage and heat to eliminate knots and kinks.
If your dad is always complaining of aches and pains (um, what dad isn't?), gift him this cool gadget from Amazon and you'll be his favorite child forever.
Magnetic Wristband for Nails, Screws, etc.
If your dad is always fixing stuff around the house, this magnetic wristband will be his new best friend. He can wear it around his wrist while he works to hold tiny screws, nails, bolts, etc.
No more searching the floor with a flashlight for that dropped screw! He'll definitely get use out of this.
Top Picks from Etsy
Etsy is always one of my favorite places to shop for gifts, so it was only right that I gave Etsy its own section on our list of Valentine's Day gifts for him.
Here are the best gifts on Etsy that he's sure to love:
Phone Wallet Keys Valet
If your guy is like mine, he probably mutters "phone, wallet, keys" to himself as a final checklist on his way out the door.
Make his life a little easier this Valentine's Day and get him this "Phone, Wallet, Keys" valet. That way, he can keep everything in place for his morning checklist.
Custom People Magazine "Sexiest Man Alive" Cover
On a list of many, many Valentine's Day gifts for him, this one might just be my favorite.
It's a customized People Magazine "Sexiest Man Alive" cover featuring his face and name. He will laugh out loud at this gift and it will be such a funny conversation starter to put on his wall.
Our Adventures Together Map
Travelers, listen up: This is an awesome gift for the guy who has been everywhere — or just wants to travel more with you!
Gift him this cool push-pin map and it will inspire you both to travel more in the new year (when it's safe to, of course). You can set a goal to visit a certain number of cities and use the heart shaped push pins to document your travels.
The Catfather Tee
For the proud (or reluctant) cat dad in your life, get him this "Catfather" tee shirt for Valentine's Day. So funny and cute, plus what guy doesn't love The Godfather?
He'll love this shirt almost as much as he loves those furry little pals.
"John Travolta" Face/Off Tee
Okay, it's another funny tee shirt but I seriously couldn't resist it. Plus, guys always need more t-shirts; it's just a fact.
This funny "John Travolta" tee with Nicolas Cage's face on it is hilarious if you've ever seen the movie Face/Off. (And if you haven't, he probably has.) I would definitely smile if I saw someone walking down the street in this.
Food Decision Dice
I am notorious for never knowing what I want to eat (guess it's pizza again), so these decision dice would definitely come in handy in my relationship.
If he's always annoyed when you can't decide where to eat (or vice versa), these will solve your problem! Just roll the dice and they'll tell you what cuisine to have that night. So many arguments can now be avoided.
What do you think of these Valentine's Day gifts for him?
Did we miss a great gift? What are you getting your favorite guy for Valentine's Day? Tell me in the comments down below.
If you enjoy reading this article, you might want to consider the related posts below: