This post will show you 5 cute Valentines outfits for any type of date you may be going on this Valentine's Day.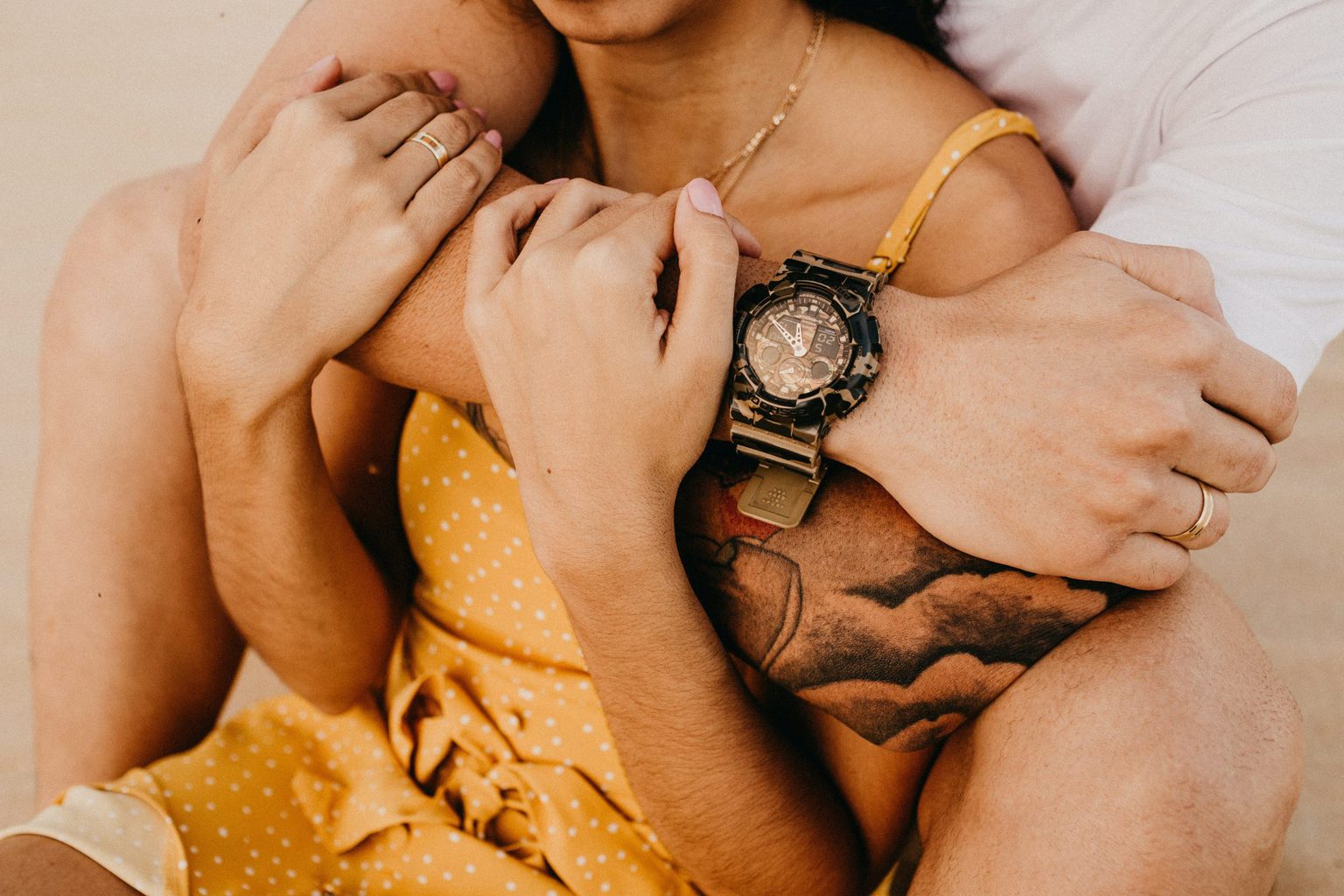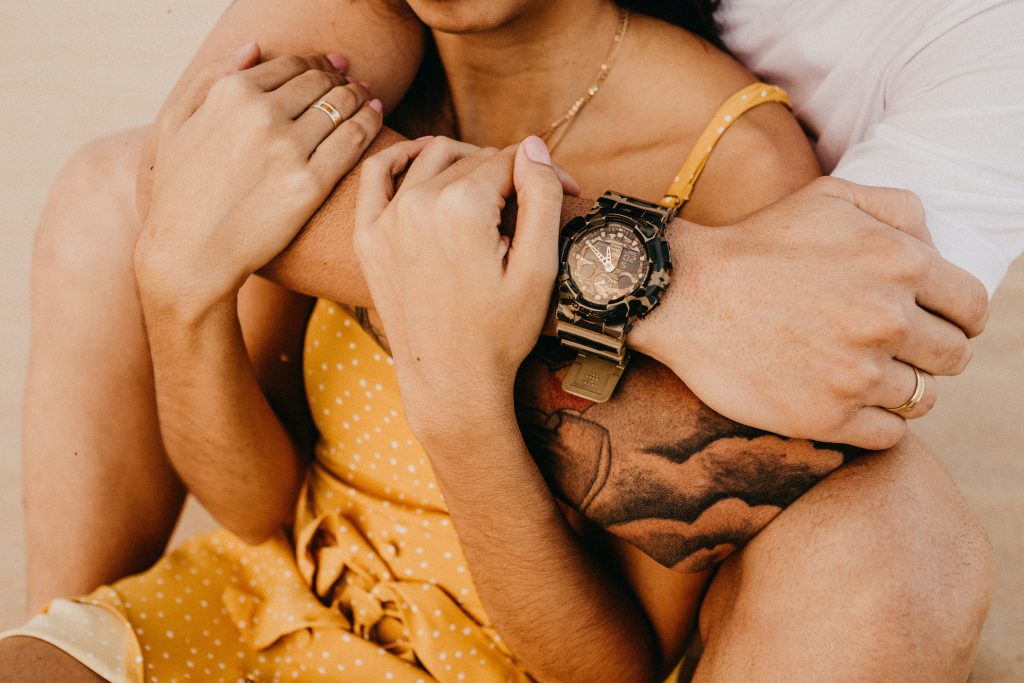 February 14th is almost here, and although Valentine's Day may look different this year, there are still many ways to celebrate. With that being said, there is still time to find the perfect outfit, and I've got you covered, so no need to stress!
Read on for five cute Valentines outfits perfect for any type of date you might be going on this year.
Related reading: Valentine's Day Clothing: The Cutest Pieces Under $50 to Wear on V-Day
1. Daytime Casual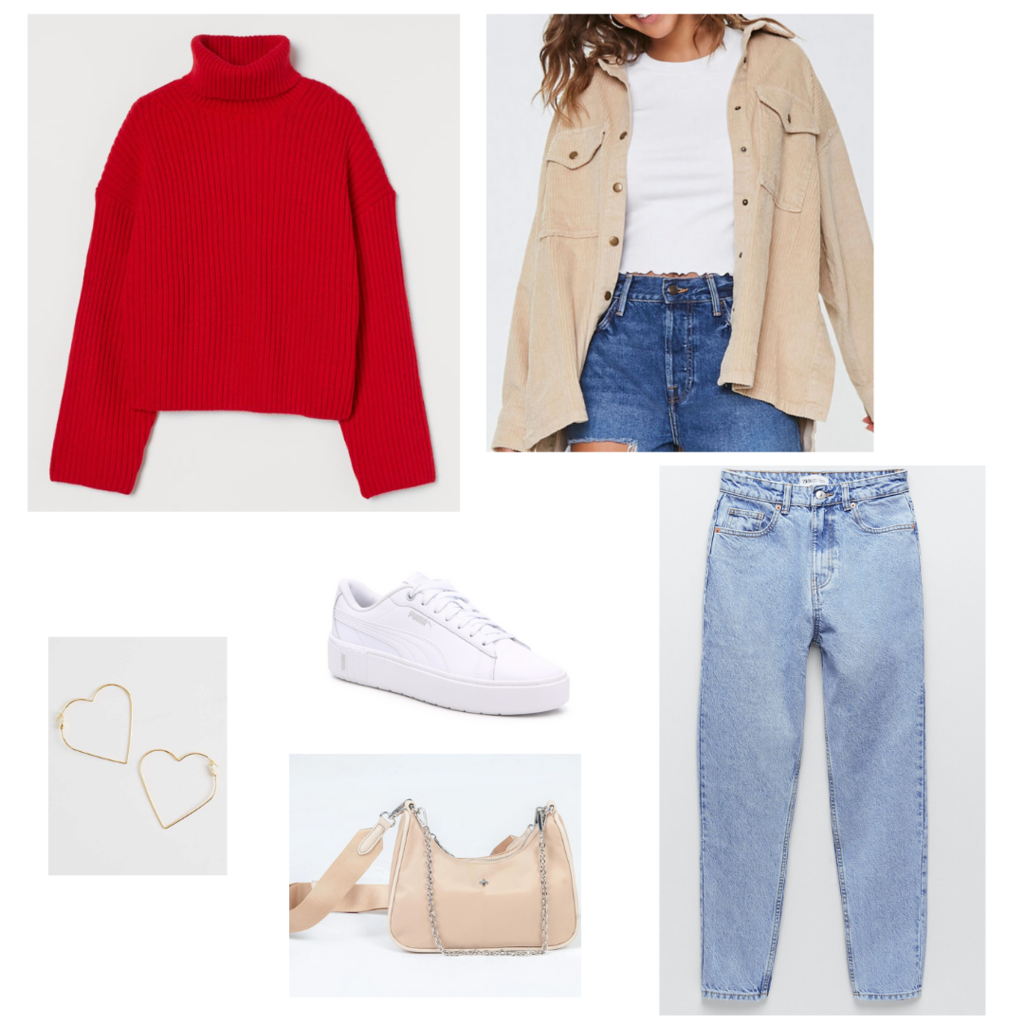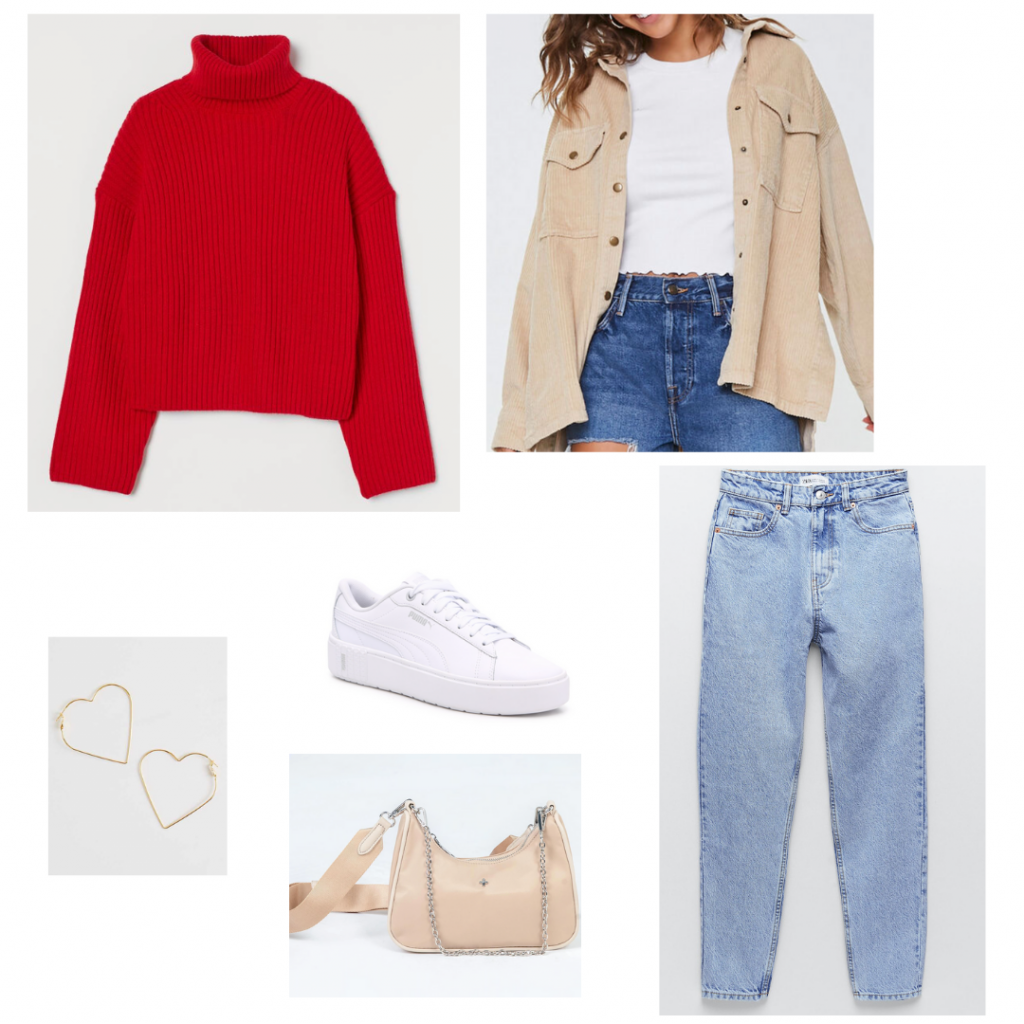 Whether you're going to brunch or having a picnic in the park, this cute Valentines outfit is perfect for any daytime date festivities! This outfit is casual, but still super girly. It allows you to dress cute without looking like you're trying too hard. It is the perfect "girl next door" outfit.
To get it, pair any fun chunky knit sweater with some mom jeans and white sneakers. I opted for a fun red sweater to stay on theme with the holiday, but any color would work.
For the mom jeans, a lighter color will look more casual and offset the darkness in the sweater. These jeans from Zara are high waisted and look great on everyone.
Accessorize with some fun statement earrings and a mini crossbody bag. The heart earrings are super festive but still not too much.
You can also layer a jacket on top of your look if it is a little cold outside. This corded tan shacket is the perfect addition to tie the whole outfit together.
2. Daytime Dressy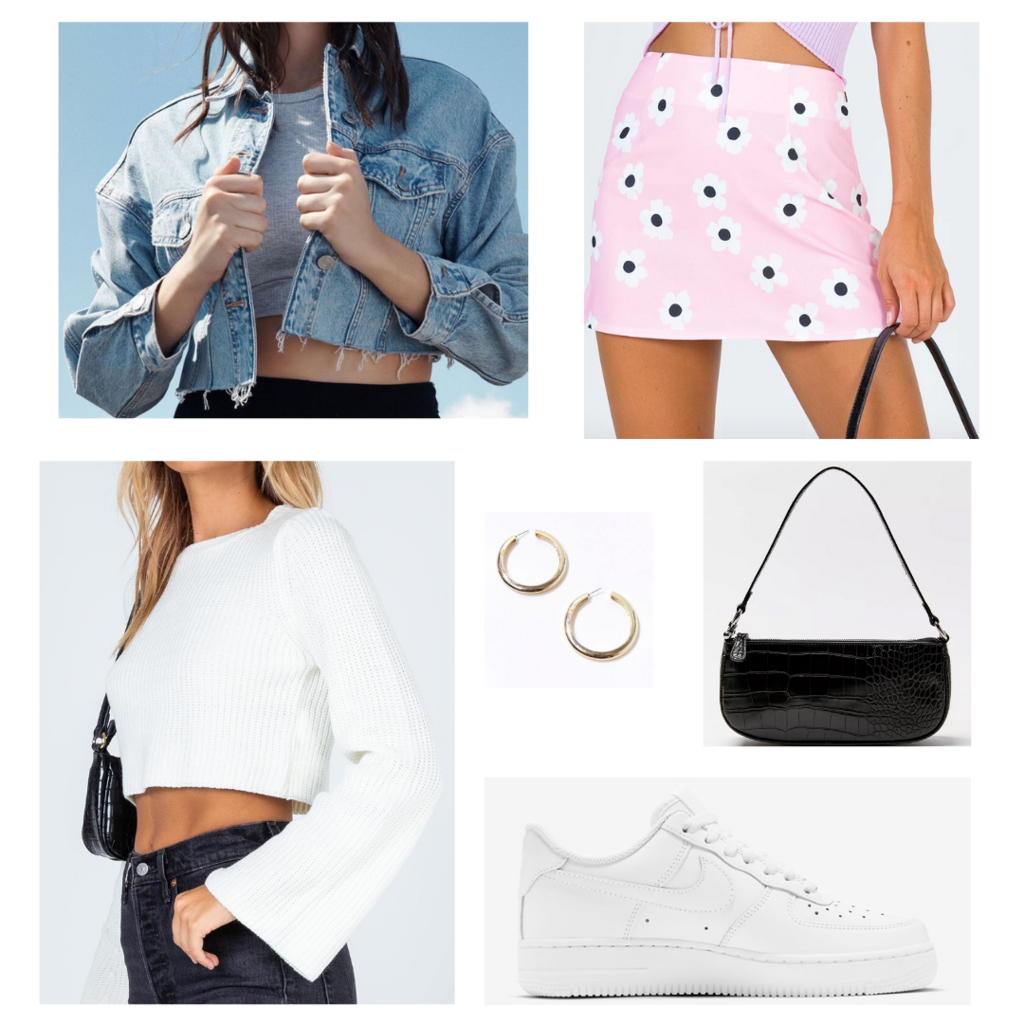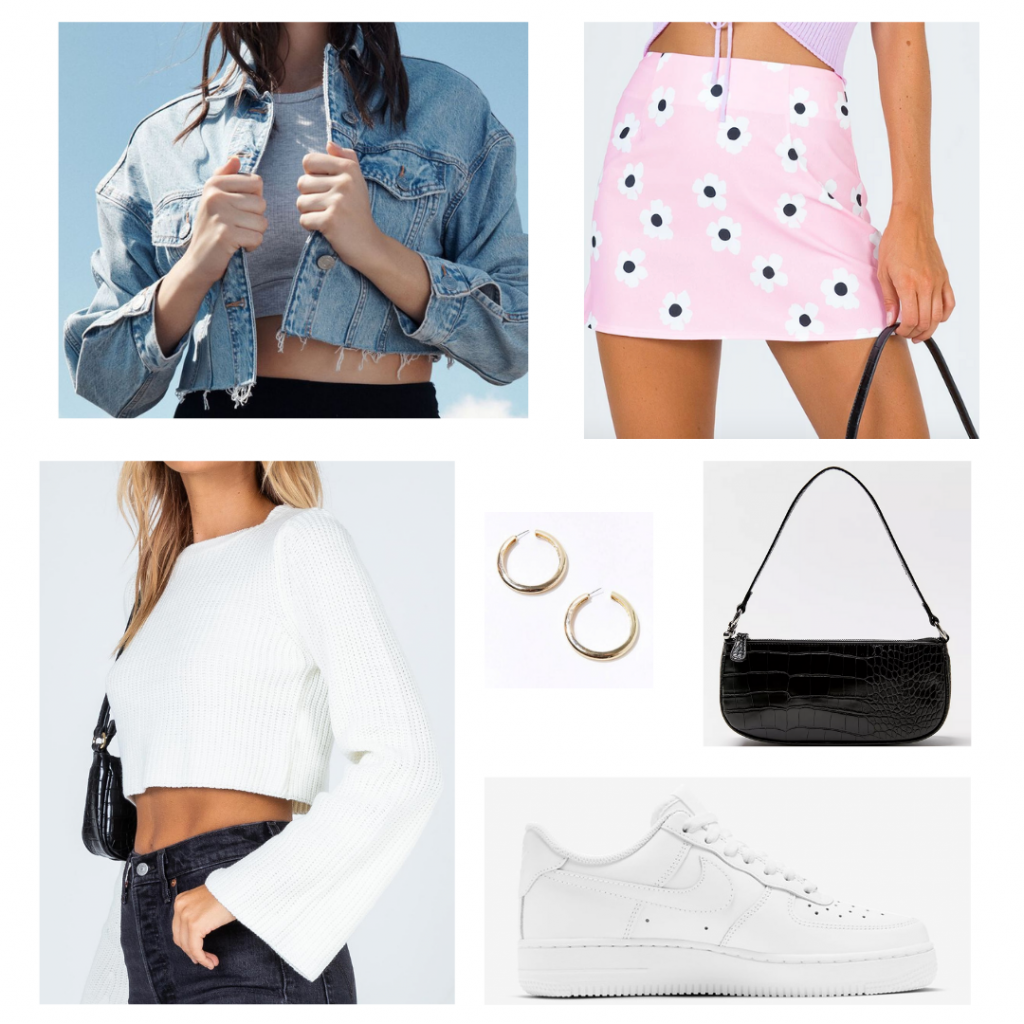 This look is perfect for any girl who wants to dress up a little for Valentine's Day! This outfit is girly and flirty and great for any lunch dates. If you're spending the day outside or going to see a movie, this outfit will definitely spark some looks.
For this Valentines outfit, I paired a fun mini skirt with a neutral cropped sweater. This skirt from Princess Polly has a cute and girly pattern perfect for the Holiday. You can always add some sheer tights if it's cold outside.
This sweater has ribbed detail and fun flared sleeves. The length is the perfect cropped fit! Throw it over a cropped denim jacket to add some extra warmth. The denim material pairs well with the delicate fabric of the skit.
I added some classic Nike sneakers to make the look still casual and comfortable. You can always opt for any pair of your favorite white sneakers!
Accessorize with a mini shoulder bag and some chunky gold hoops. This black bag is perfect to hold all your essentials for the day, while still being small and easy-to-wear.
3. Night-time Casual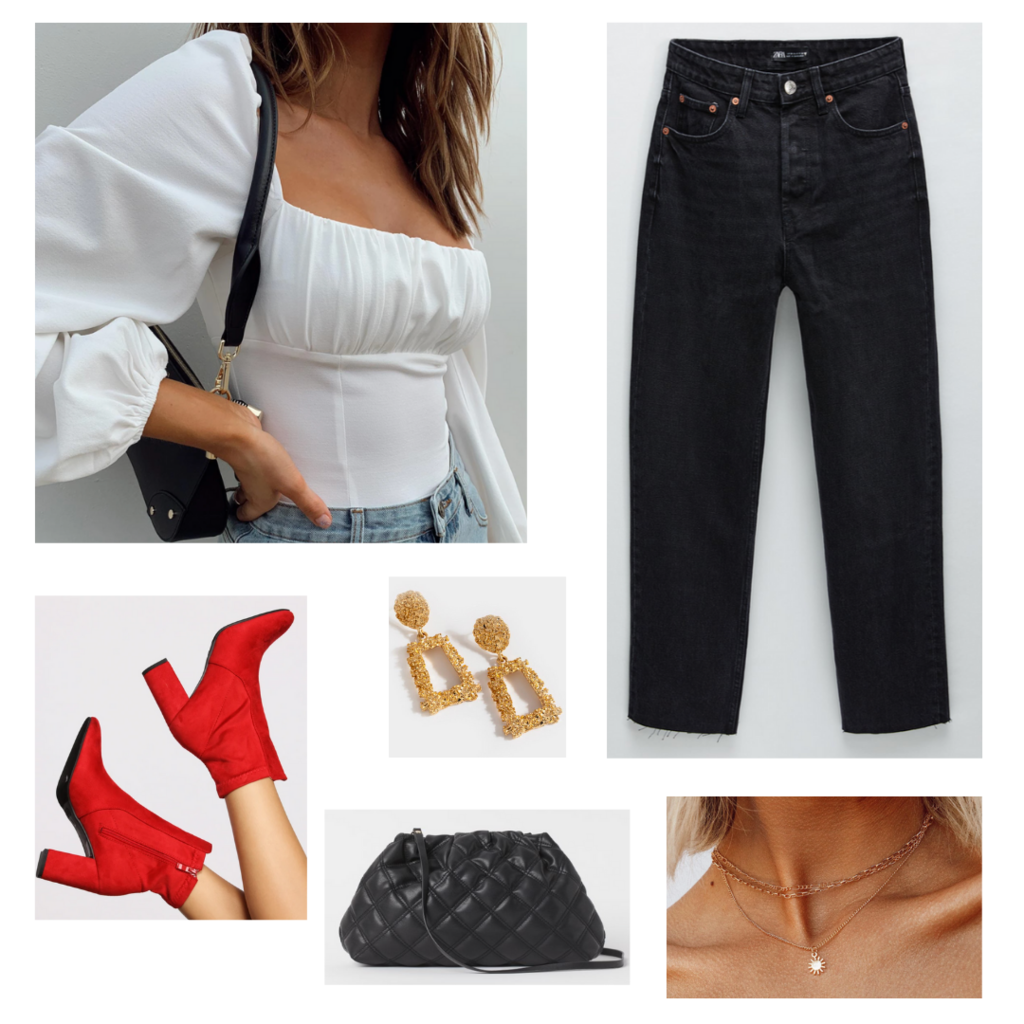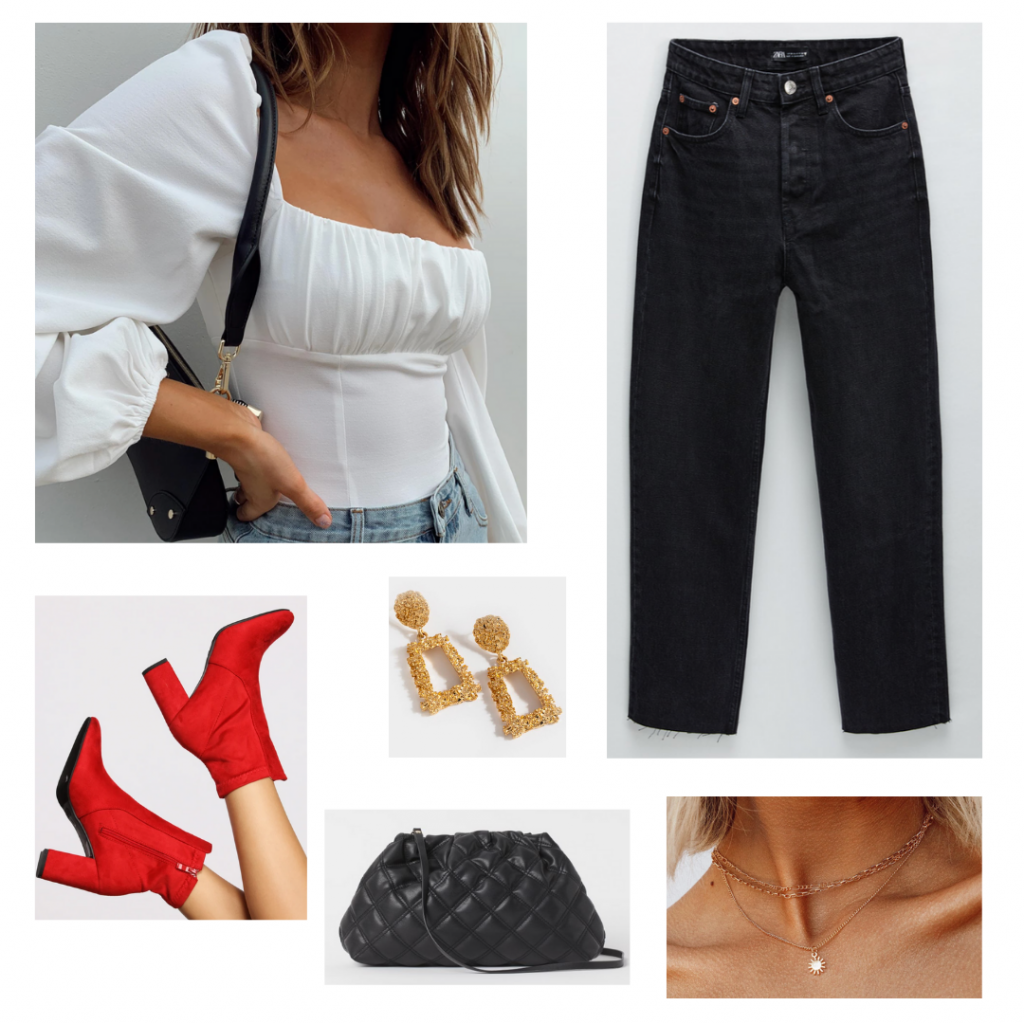 For any night-time dates, this cute Valentines outfit is perfect! It's sexy, while still being girly. This outfit is great for a casual restaurant date or going out to a bar to grab some drinks.
First, pair a skinnier, more form-fitting style of jeans with a bodysuit. These high-waisted straight leg jeans from Zara are slimming and flattering. The straight cut is the perfect in-between of a mom jean and skinny jean fit. The black wash dresses up the look for night-time.
Bodysuits are the perfect top for going out. This one features the trendy peasant-style sleeves that make your outfit super girly and feminine. Neutral colors like white and black are staples and super easy to style.
I accessorized this look with some bold statement earrings and a dainty gold layered necklace to offset the size of the earrings. Any simple and thin necklace and fancier earrings would work to dress up this look.
The main focus of this look is the red suede heeled booties. These are super festive and make a statement with any neutral outfit! The chunky heel makes them still super comfortable and easy to walk in.
I finished off the look with a super cute black mini shoulder bag that features a fun quilted faux leather design. This bag is super versatile, and can also be used as a clutch!
4. Night-time Dressy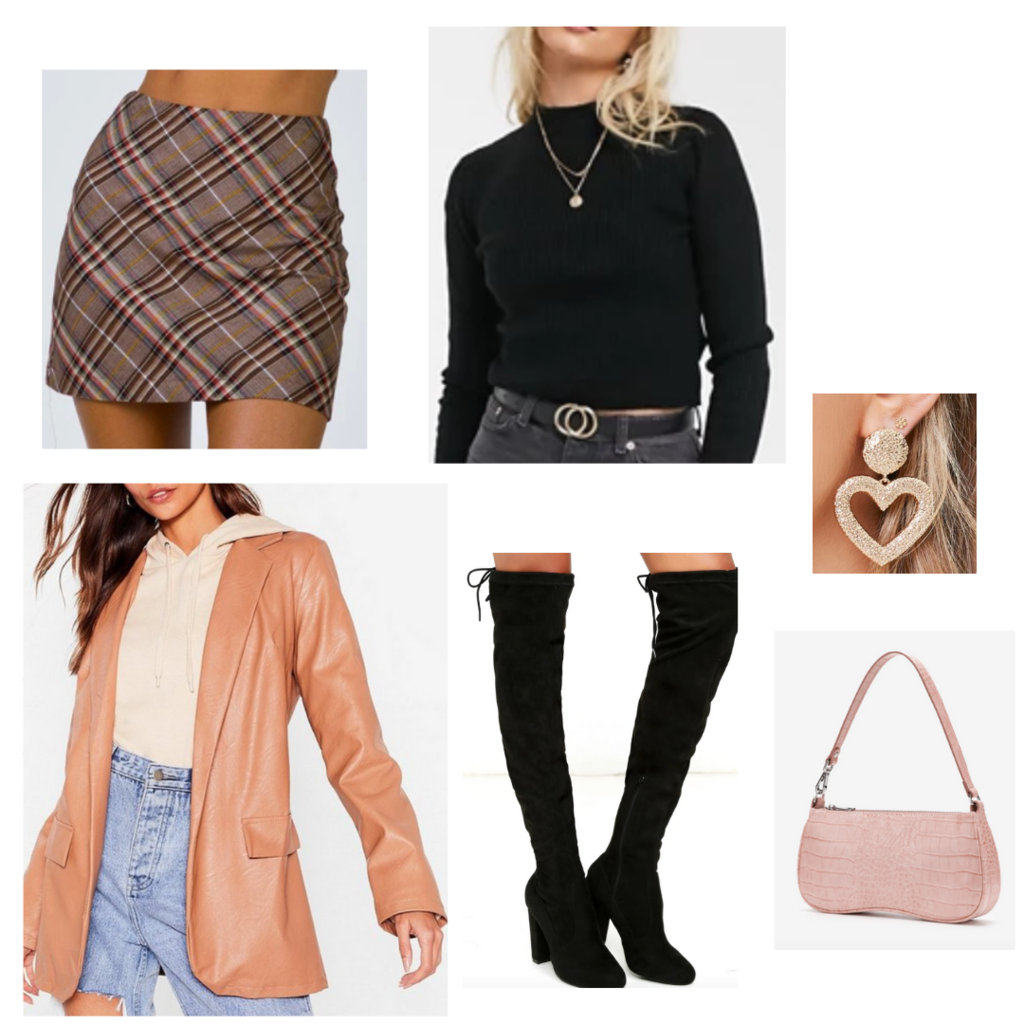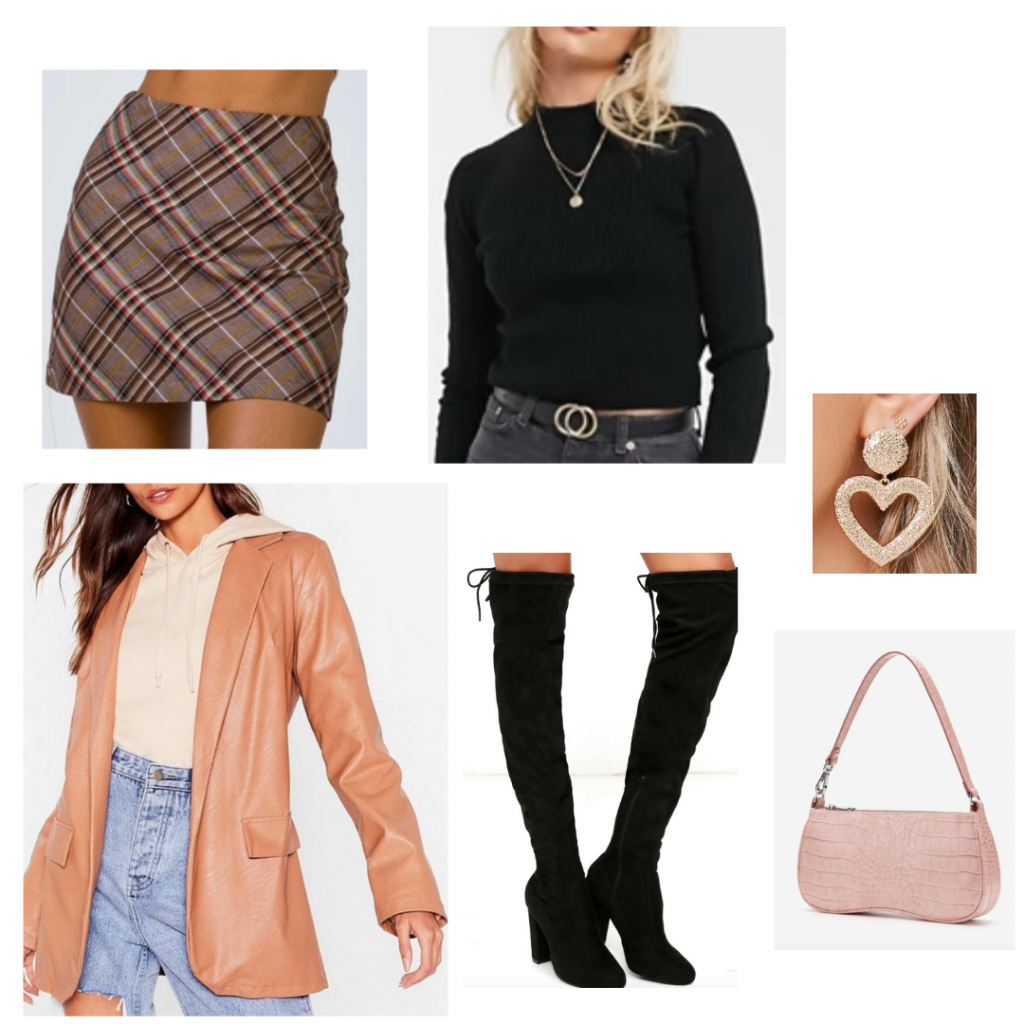 This look is personally one of my favorites! It gives off total Rachel from Friends vibes. It's girly and trendy, but still sophisticated and sexy. This outfit is perfect for any girl who wants to dress up at night.
I paired a plaid high-waisted mini skirt with a tighter cropped knit sweater. This sweater features a turtleneck and is super flattering.
I layered a faux leather blazer style jacket on top for a more structured look. This brown one from Nasty Gal pairs perfectly with the dark brown mini skirt.
The main statement of this look is definitely the boots. These black over-the-knee suede boots are one of my favorites to style for winter. These specific ones are from Lulus, but so many different stores carry them at all different price points.
Because of the higher neckline of the sweater, I added some larger statement earrings. These gold heart ones are super festive, but still wearable.
Lastly, I paired this super cute baby pink mini shoulder bag to match the pink detail in the skirt. The croc print featured in the bag is very trendy right now, and I mean, who doesn't love pink, especially on Valentine's Day!
5. Fancy & Dressed Up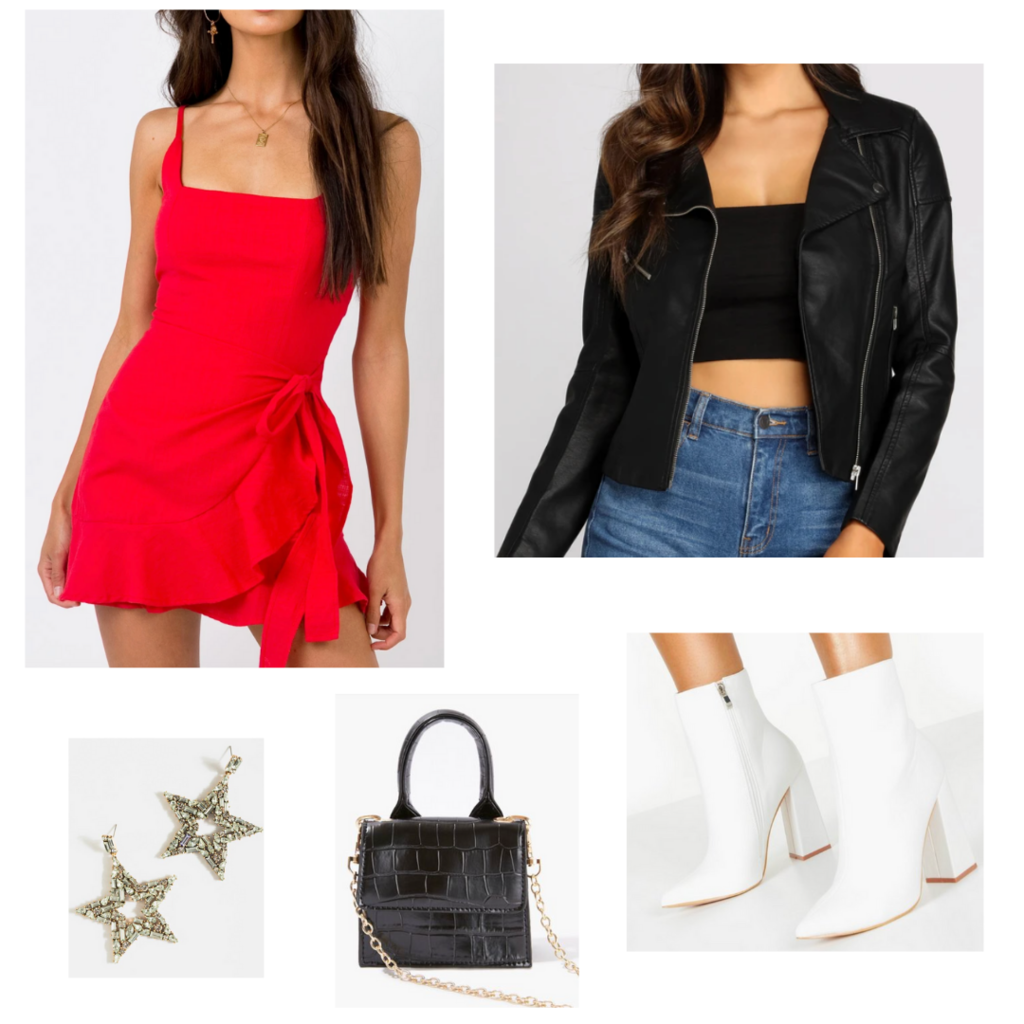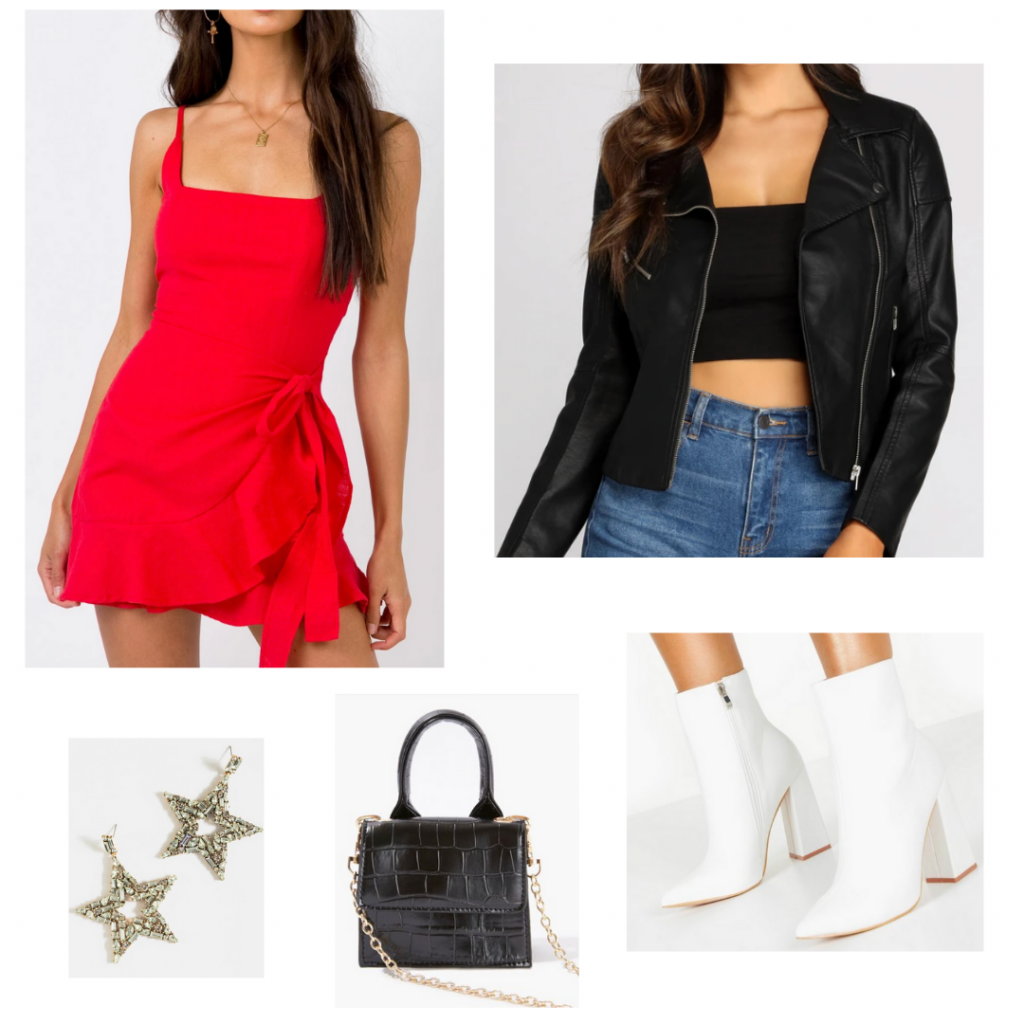 For all you fancy girls out there, this cute Valentines outfit is definitely for you! This outfit is perfect for any fancy dinner dates and will look great in any photos you decide to take.
This super cute wrap dress from Princess Polly is girly and flirty. The wrap style is beautiful on everyone and the red color is perfect for Valentine's Day.
I paired the dress with some white heeled booties. Not only are white boots super trendy, they make any outfit stand out! The chunky heel also makes the books very comfortable and easy to walk in.
Layer over a jacket for some warmth and extra dimension to the look. This black faux leather one (a college wardrobe staple) adds an edgy vibe to the outfit and more structure. The cropped length is also perfect for any mini dresses!
To accessorize, I added some bold and sparkly gold star earrings and a mini black crossbody bag that features a super cute croc print. The gold chain on the bag dresses up the look and goes great with any other gold jewelry you pair with the fit.
You can always add some sheer black tights if it's too cold outside for just a dress!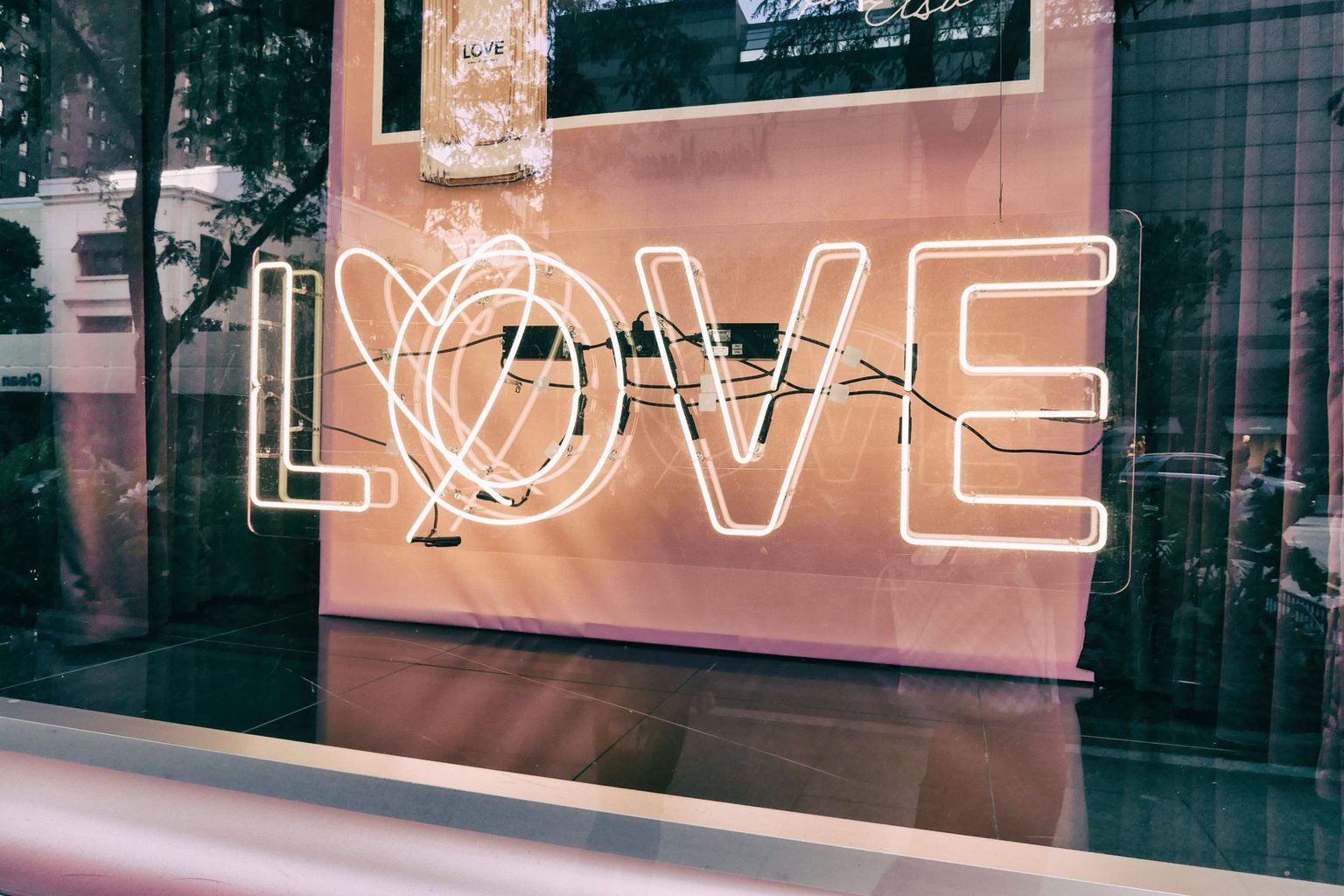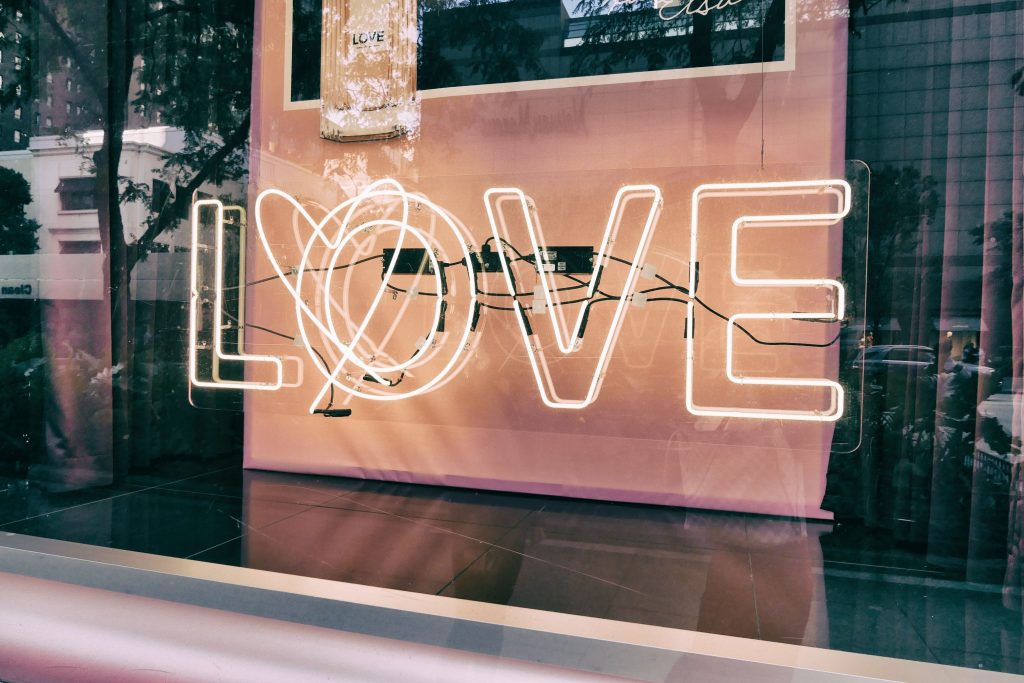 All these outfits are perfect for Valentine's Day and can be used as inspiration for you to style your own outfit too! Feel free to change or switch out of the pieces to fit more of your personal style.
Which cute Valentines outfit was your favorite?
Would you wear any of these outfits? What are you going to wear on Valentine's Day? How are you going to celebrate this year? Let me know in the comment below!