This post will give you tips on how to style Barbiecore outfits.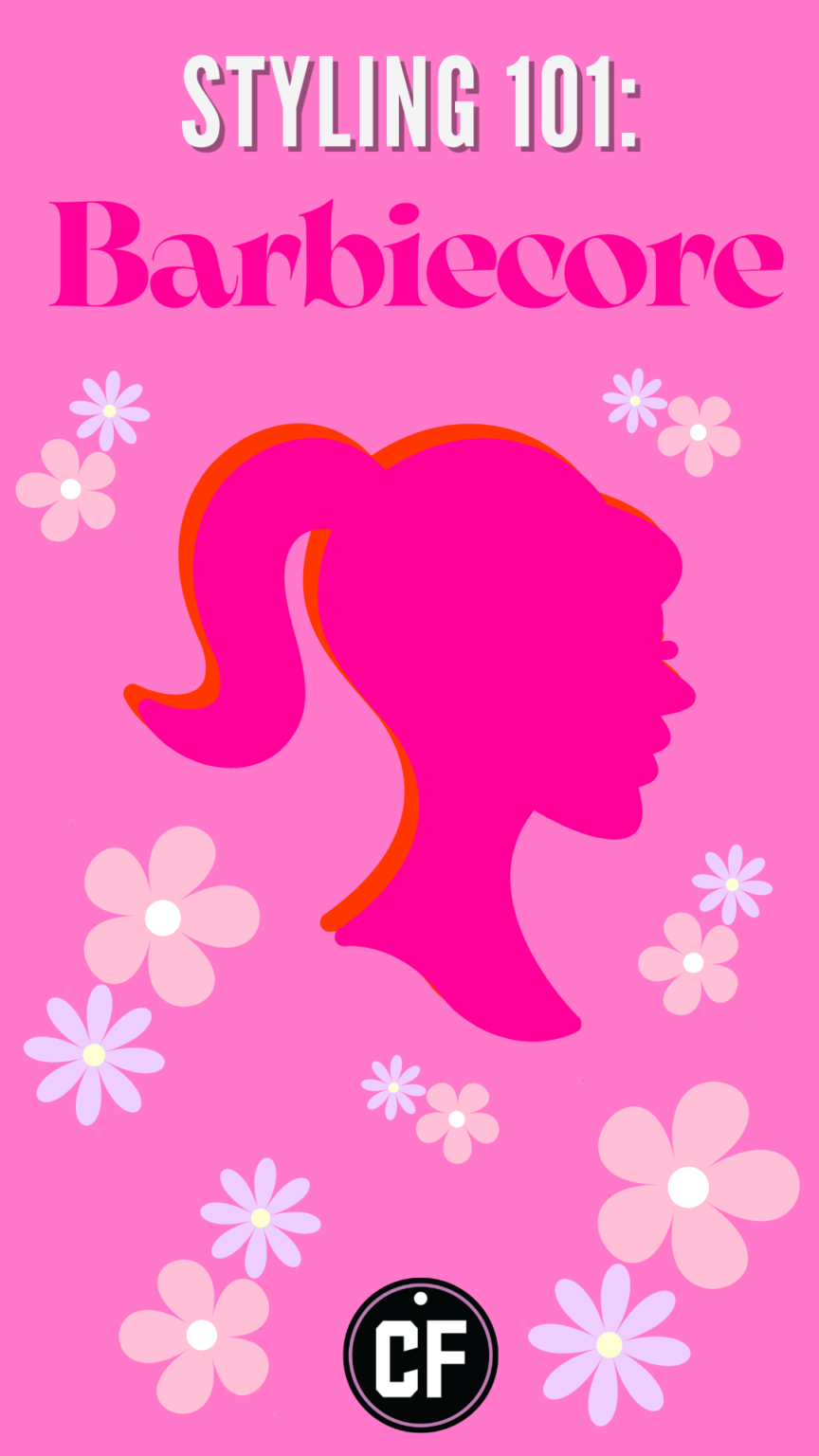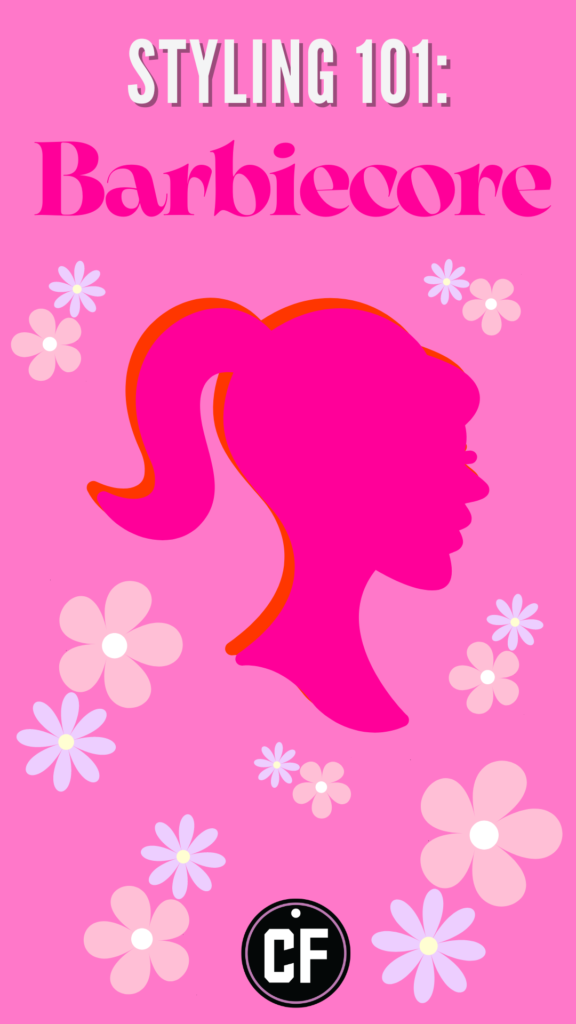 Fashion is fun. Styling an outfit is an amazing way to get your creative juices flowing. But, sometimes (and for some of us), it can be overwhelming. Look, I get it. it's a fast-paced, ever-changing industry. Trends and styles come and go in the blink of an eye. It can be too much to handle if you are dipping your toes in the pool of fashion for the first time.
I'm here to help.
In this new series, I'll give you styling advice on some of the most confusing and difficult styling areas. I'll lay out all my tips, tricks, and hacks to help you create amazing outfits. Also, I'll exemplify everything in three degrees of difficulty so it can be easier to see what you can do.
This week, I'll help you navigate the prettiest, girliest trend around: Barbiecore.
What is Barbiecore?
Barbiecore is a current trend named after the Mattel doll, Barbie. The most basic way to understand it is: Pink, glittery, colorful, more pink, experimental, even more pink, and maximalism.
The trend has been bubbling under the surface for a while. It started popping up here and there at the beginning of the year, but it blew up when Valentino used the hot pink shade for their 2022-2023 Fall/Winter collection.
Then, an official picture of Margot Robbie as the eponymous doll for Greta Gerwig's Barbie movie went viral. This, along with photos from the production, cemented the trend and became known as Barbiecore.
The Barbie brand is having a moment right now. Inside Mattel, Barbie dolls were remodeled and relaunched to include different body types, skin colors, hairstyles, and heights. They have also created the "Barbie Celebrates Role Models" line, in which the dolls are based on real-life women from diverse backgrounds that have been influential.
This rebranding is not only happening within the company: people all around are reclaiming Barbie (and her ultra-girly, glam look) as a feminist icon and as a response to the "I'm not like other girls" 2010's trend.
No matter how you feel about the doll, this trend intertwines with a broader movement to reclaim girliness and femininity as something to be embraced, not rejected. If that's how you choose to dress and portray yourself, it doesn't make you less intelligent, serious, or professional.
If you want a more in-depth take on this trend, here's an amazing video you can watch that explains Barbiecore in detail.
How to Create Barbiecore Outfits: Tips, Tricks, & Hacks
So, how do we dress Barbiecore?
In the fashion industry, Barbiecore centers around pink, bright, glittery, girly items. Materials include satin, tulle, sequins, and classic materials like denim and cotton. For patterns, florals, stripes, and anything tie-dye goes. The bigger and brighter, the better.
Want to get the look for yourself? You can follow this trend without breaking a sweat (or the bank!) with the right styling tips and a more practical perspective.
Most of the talk and tips about Barbiecore revolve around a monochromatic look in hot pink. But I want to dispel this notion: Barbiecore does involve pink, but it is about more than that.
Bright colors, especially green and orange, are part of this trend too. Blue, purple, pastels, and metallics also complement the focal color.
So, if you want to start creating Barbiecore outfits, here's a list of tips to start dipping your toes into this trend:
Start simple. Start with a neutral outfit you already love, and switch one of your items out for a pink one.
Green is your friend. If you want a more colorful Barbiecore outfit, try color-blocking with green items. Green and pink together are huge right now and are the perfect pair to bring this trend into your closet.
Barbiecore is for everyone. The trend seems like it's aimed strictly at girly girls, but it isn't. If skirts and dresses are not for you, jeans, trousers, and t-shirts are also super easy to add into the mix.
Heels are important, but they're not your only option. Platforms and heels are the preferred shoes for this trend, but boots, sneakers, and other flat shoes can be used too.
Don't be afraid to be loud with your outfit. Barbiecore is bright, shiny, and patterned. It is about experimentation and being playful with your style. Above all else, have fun with your Barbiecore look!
Now that we've talked about tips, let's talk practicality. Creating a hot pink monochromatic look can be daunting or difficult if you are not working with a set and don't have shoes and accessories in that exact shade of pink. And while I own lots of pink items, not everyone has tons of pink items to choose from and pair together.
With this in mind, I've created a range of different Barbiecore outfits, with different items, in different shades of pink. This way, you can find a look that works for what you have, want, or are imagining.
So let's start with the looks!
Barbiecore Outfit Examples
Cowboy Barbie – Outfit #1 (T-shirt + Flared Jeans)
Let's start by tackling two big trends: flared pants and Barbiecore. For my first Barbiecore outfit, I wanted to do something simple and neutral with a splash of pink for those still unsure about going all in.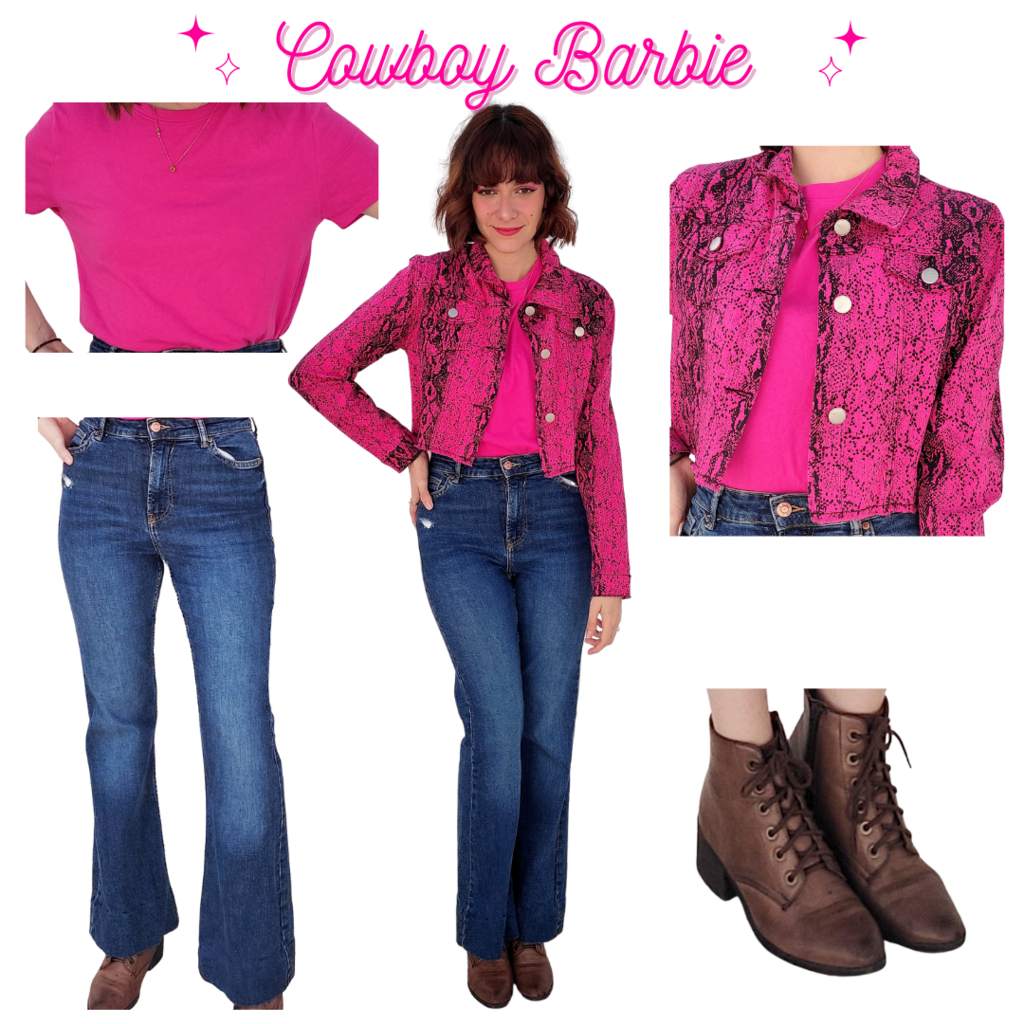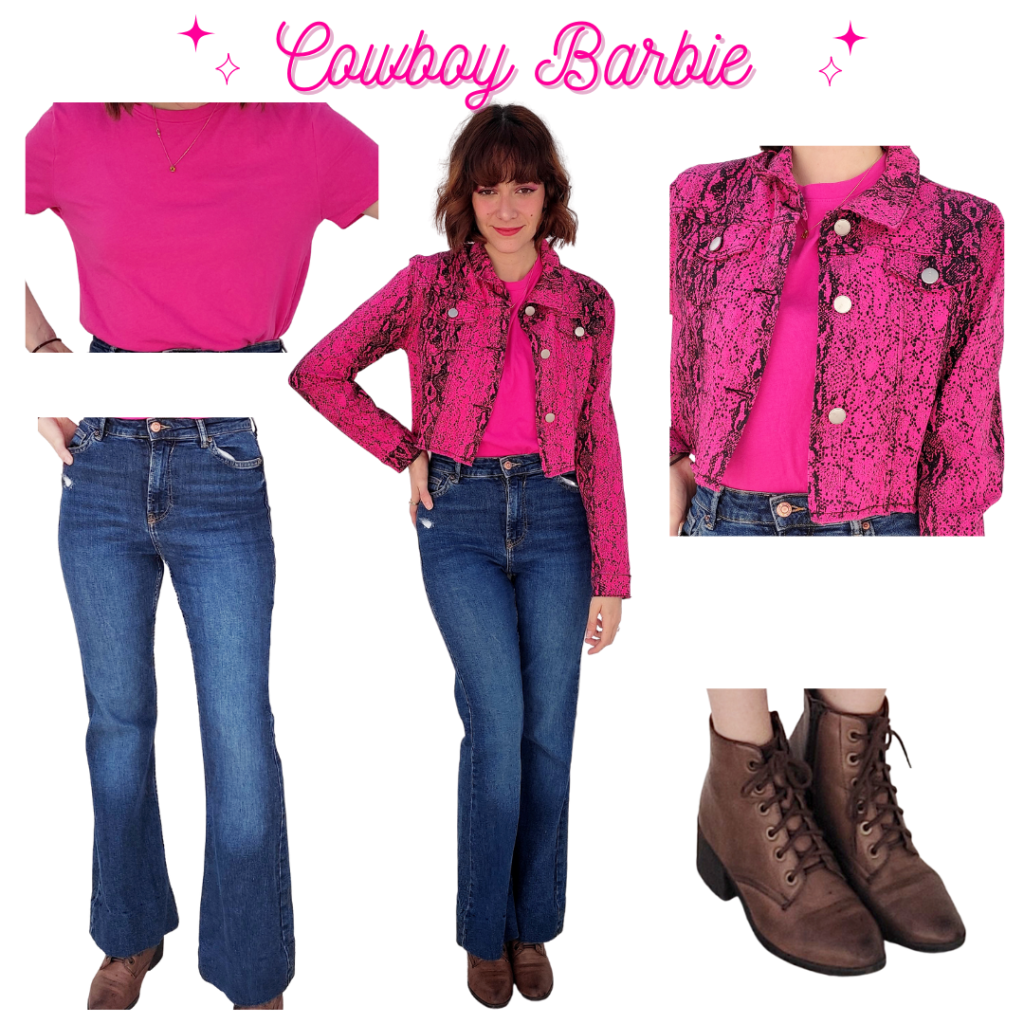 For this outfit, I combined a hot pink cotton t-shirt with a pair of high-waisted flared jeans. Right there is the base of your look.
For the rest of the look, I tried to keep it simple. I don't have brown cowboy boots, but I have a pair of brown lace-up boots that work perfectly. Finally, I added a hot-pink cropped jacket with a snakeskin pattern.
Here's how to create a similar look at home:
Since pink is a bright color in most shades, it works as the focal point for whatever look you want. In this case, the t-shirt is the focal point of the look. So, if you wore pink jeans, the jeans would be your focal point, not the shirt. From there, try to build the rest of the look with neutrals (black, white, brown, grey, and/or blue) and simple materials (cotton, denim, etc.).
When you are doubting how to make something trendy work for you, break it down into simpler terms. Don't get lost in the fuss of cuts, materials, and colors: it's just a jeans and t-shirt combo. That's all it is. You know it, you've worn it, you've lived it. You got this.
Flower Power Barbie – Outfit #2 (Patterned Pants + Bralette)
The '60s and '70s are all over the racks these days. But, the flower power aesthetic is the dominant part of this trend. Big, bold, colorful patterns reminiscent of this era are everywhere. This also played a significant role in the renaissance of flared pants.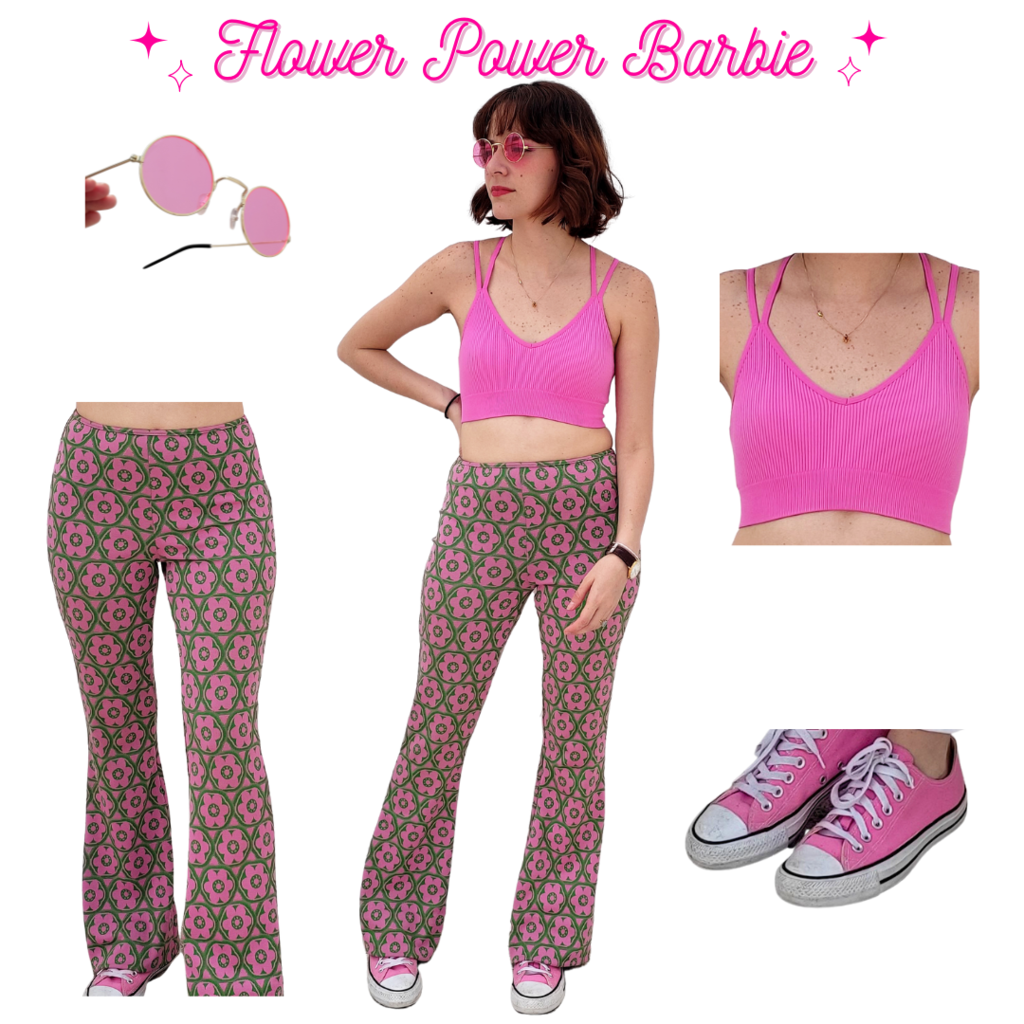 For my Flower Power Barbiecore outfit, I decided to add more pink, colors, and patterns. Continuing with the flared fit from the last look, I wore this pair of flared pants with a floral design in pink and green. Then, for a top, I wore a pink bralette in a shade that matched the pink of the pants. I accessorized with pink round sunglasses. Finally, I put on a pair of pink low-top Converse.
This one is more on the summer spectrum of things, but it is incredibly comfortable, and it looks great. And it is super easy to recreate.
When you start adding patterns, the focal point of the look will change. The pants, with their bold design and green accents, are our focal point. This time, pink is what connects the items and links them together.
Follow this logic when you add or want to use a patterned item: what color do you have that can be used as a common thread through the look? Once you've figured this out, the rest of the items will work naturally together.
Farmer Barbie – Outfit #3 (Overalls + Knit Shirt)
Sometimes the easiest way to create an outfit is to throw one item on and be done with it. Rompers, jumpsuits, and dresses are great for creating a lazy look without it *actually* looking lazy. Overalls are also excellent for this type of look, even though you have to wear more than one item.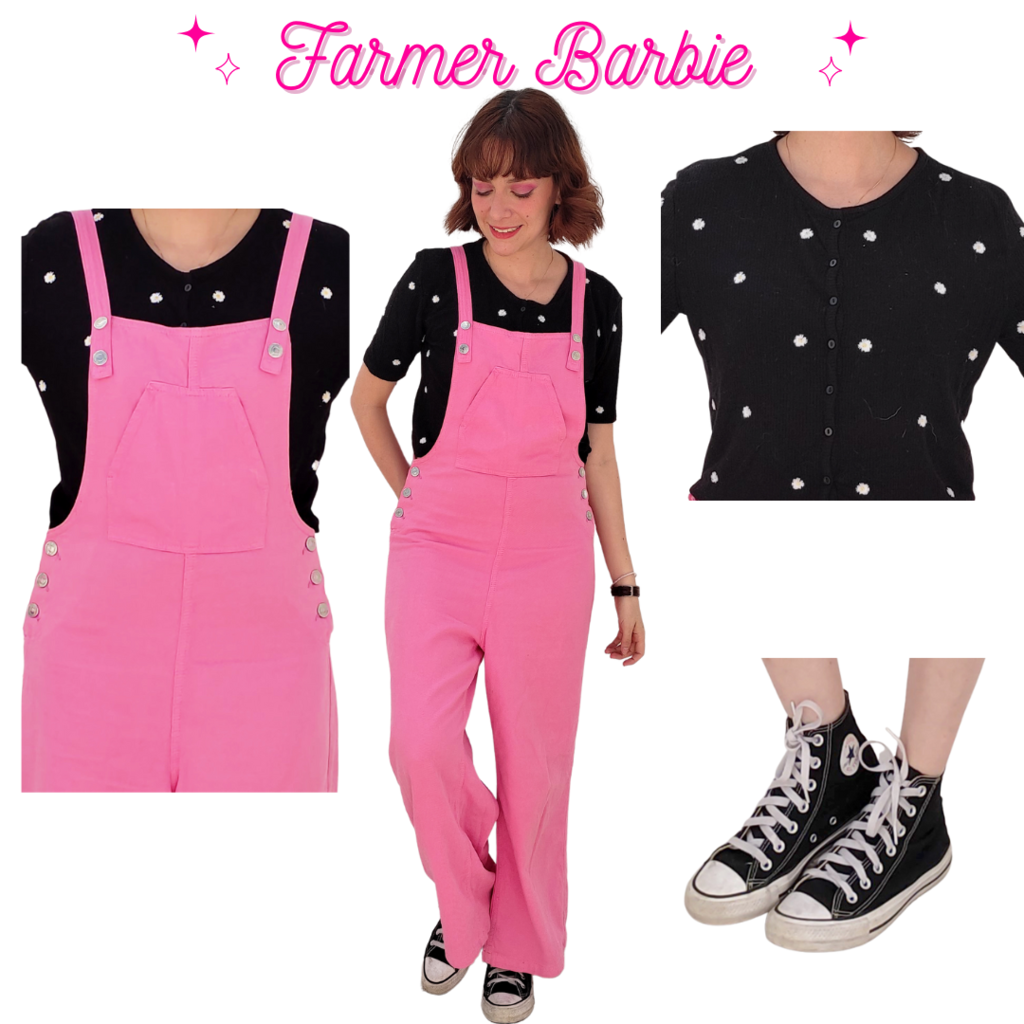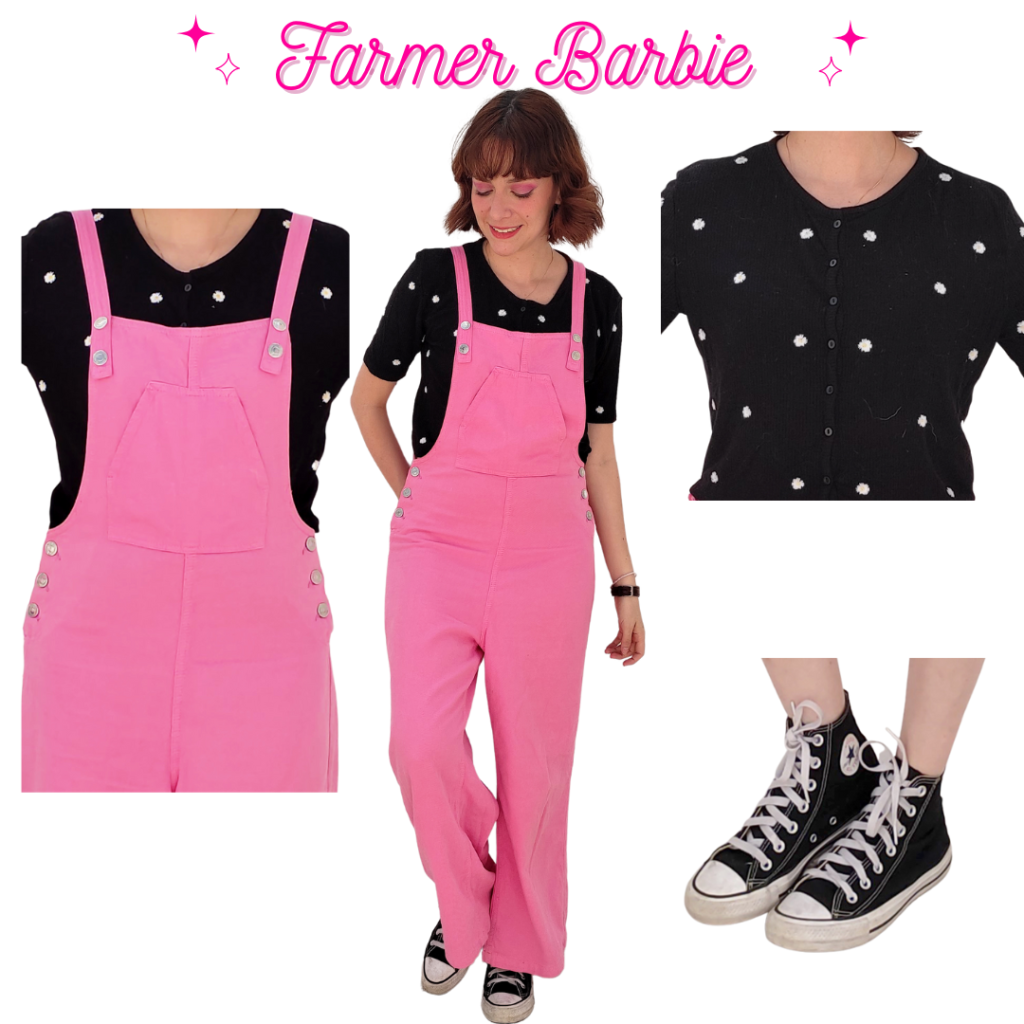 It was super easy to create my Farmer Barbie look. First, I put on a black knitted top with a daisy pattern. Then, I wore a pair of bright pink overalls. The overalls have a loose fit, which makes them super comfy. For shoes, I wore a pair of black high-top Converse. The black shirt and sneakers tie the whole thing together.
Rompers, jumpsuits, dresses, and overalls are your best friends when you want to try a new color or pattern, but you don't want to go the "basic" route of jeans and a tee. When in doubt, go for something like this.
Pro tip: Keep the top simple. Mine has a really simple pattern, and it's in neutral colors. If you want to try this with more color, you can easily swap in a bright green, blue, or purple top. Just remember to find the common thread between items if you are adding more colors or patterns.
Neon Barbie – Outfit #4 (Satin Dress + Neon Top)
Neon colors came back with a vengeance a couple of seasons ago; lately, they have been Barbiecore's biggest allies. For this next look, we are going head first into bright colors, textures, and materials.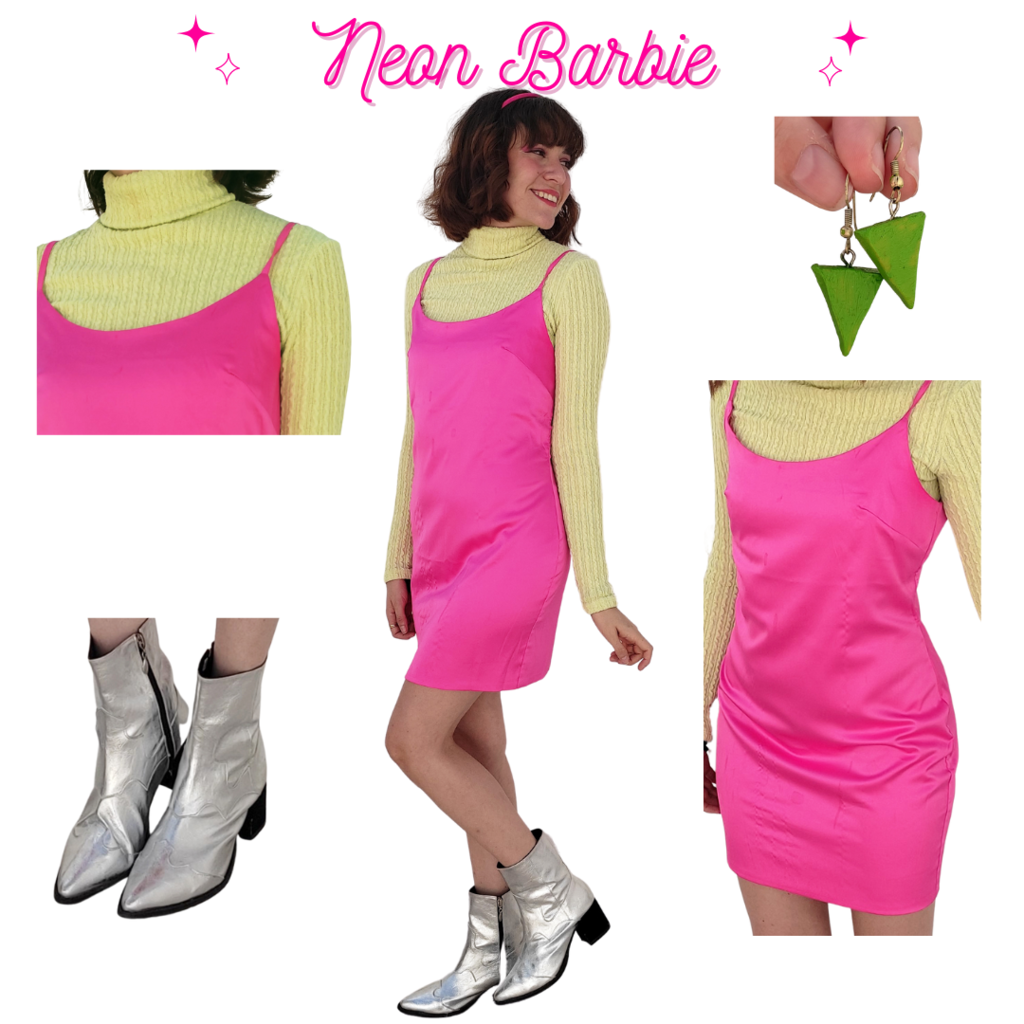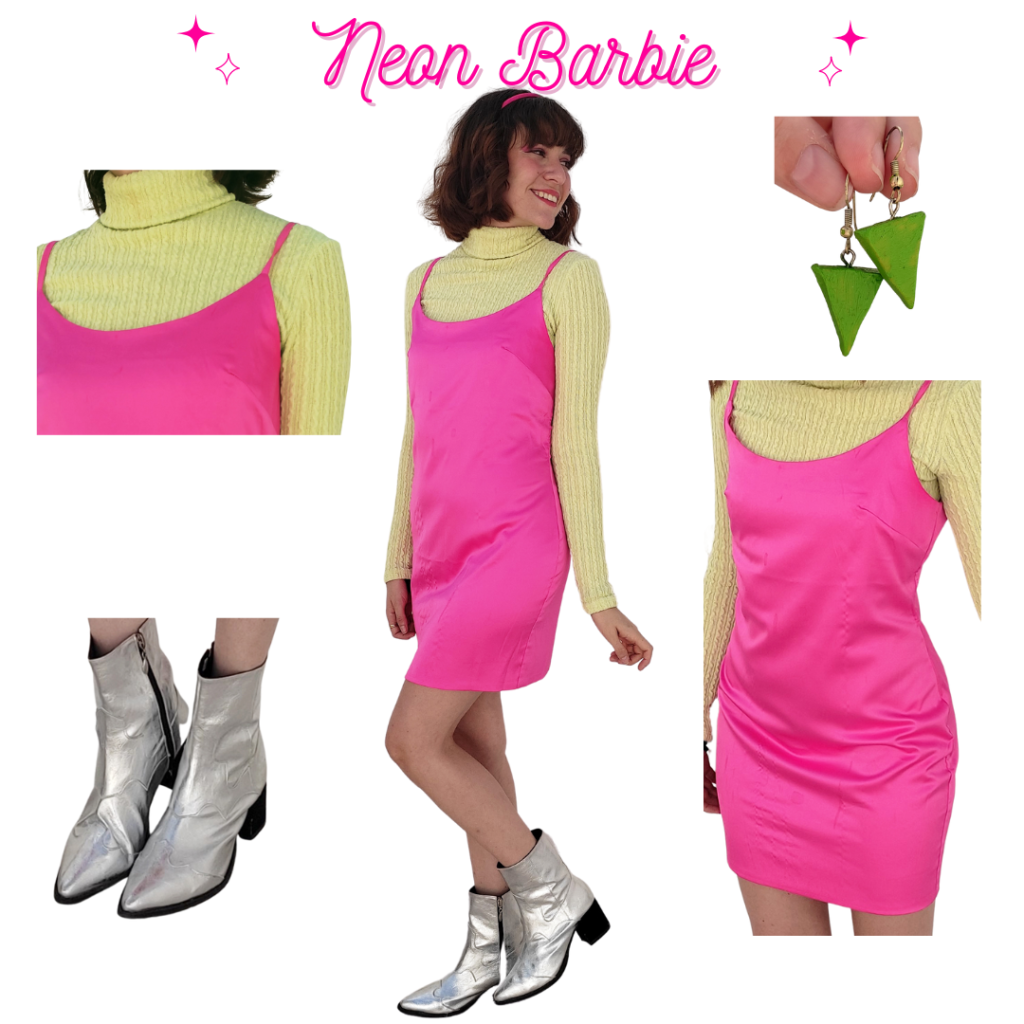 To build my Neon Barbie look, I wanted something semi-casual. I wore a cropped, lime green turtleneck top. Then, I put on a bright pink satin mini-dress. The shoes were the tricky part. But then I remembered my own advice: be loud. So, I wore my silver cowboy boots. My accessories are simple but cool: I went for a pink headband and a pair of green earrings.
This one is not for everyone, and that's fine. Satin dresses can be hard to tone down when you are trying to wear them casually. A white t-shirt and black booties also work, if that's more your speed.
But, if you want to go the neon route, take refuge in audacity. It will bring you attention, it will be loud, but just as long as you feel comfortable and confident in what you are wearing, it will totally translate to your outfit too.
Pastel Barbie – Outfit #5 (White Jeans + Pastel Top)
Not everything has to be bold and loud to be stylish, fashionable, and trendy. Now, let's go to the other side of the spectrum and tone it down. Think peaceful, graceful, soft colors: white and pastels.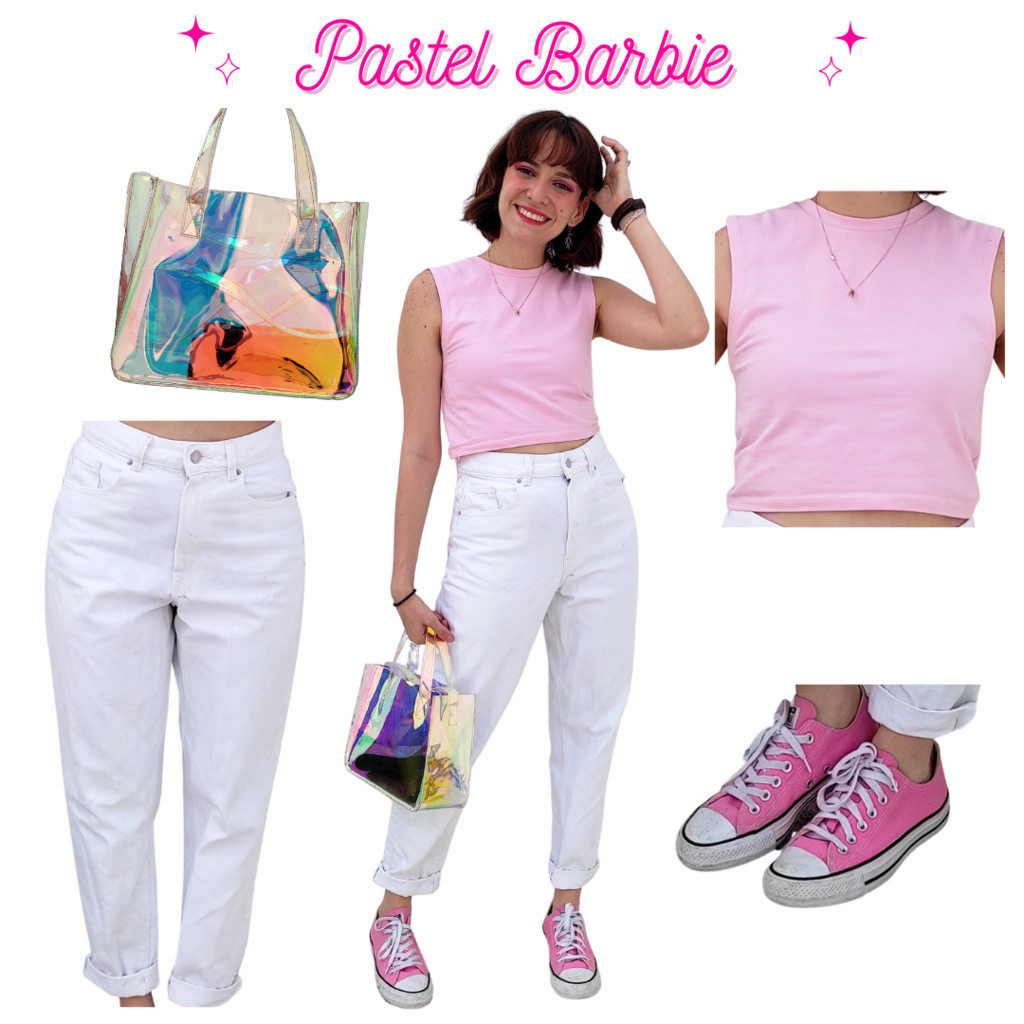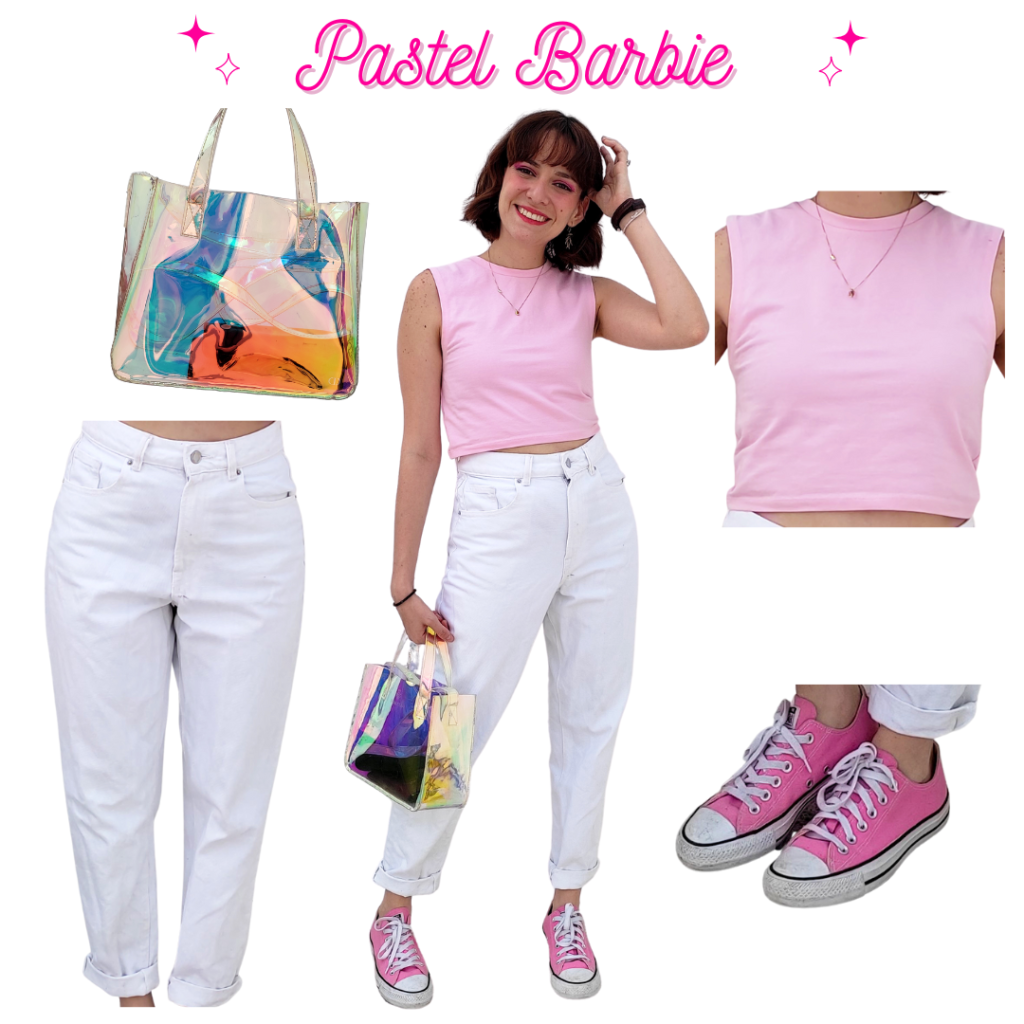 I took the classic route to create my Pastel Barbie outfit. I paired a simple, pastel pink crop top with white mom jeans to create the base. For shoes, I wore pink, low-top Converse. Since it is a simple look, I paired my iridescent bag with this to make it more interesting.
This is easy for you to recreate, especially if you are more conservative with your style. For this one, keep your items classic and the colors as close to neutrals as possible. The accessories are where you might find a comfortable route to experiment with materials, colors, and trendiness.
Your statement accessory doesn't have to be an iridescent bag — you could try a purse in a brighter shade of pink or another bright color. Hair accessories are also an excellent way to go, especially headbands.
Corporate Barbie – Outfit #6 (Shirt + Trousers)
We all have to go to work eventually. Even Barbie, according to Mattel, has had over 200 careers in her time. So I wanted to create a Barbiecore, office-appropriate look for those who want to take this trend to work.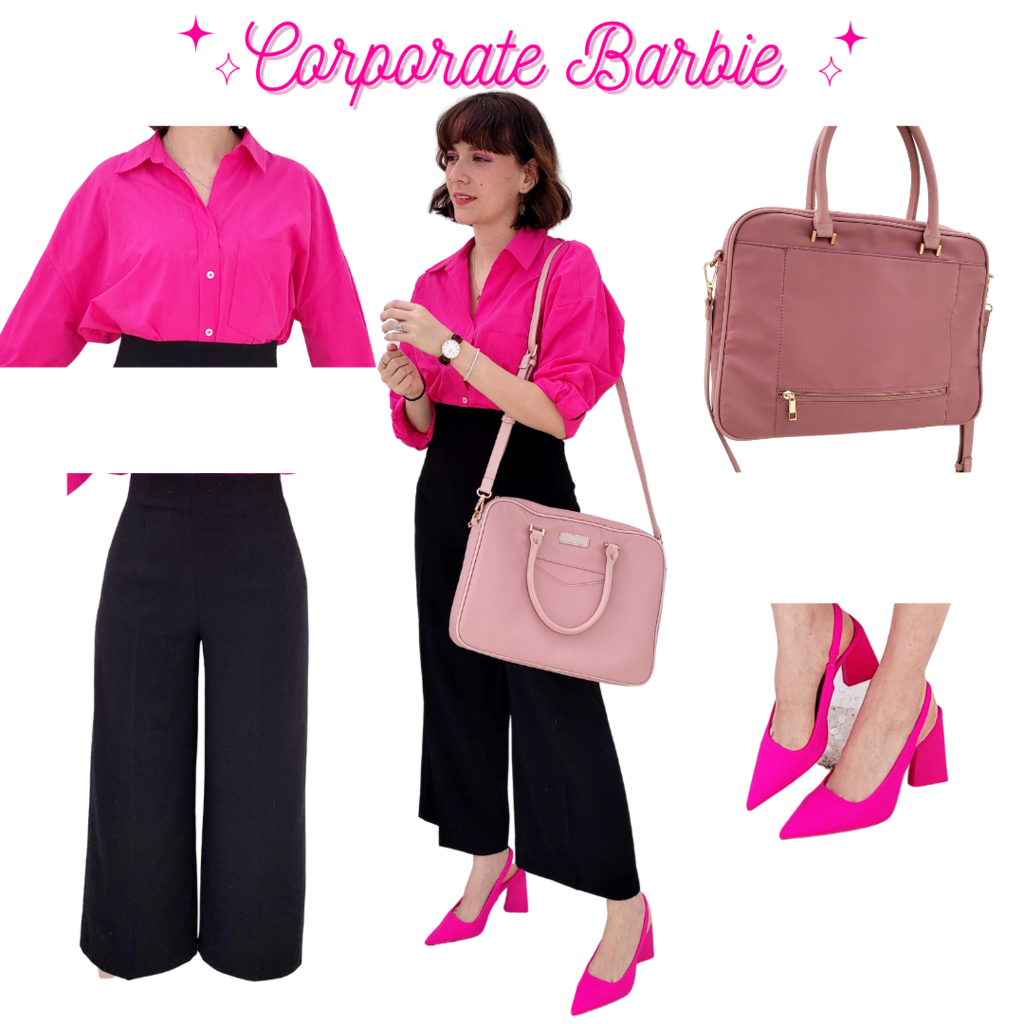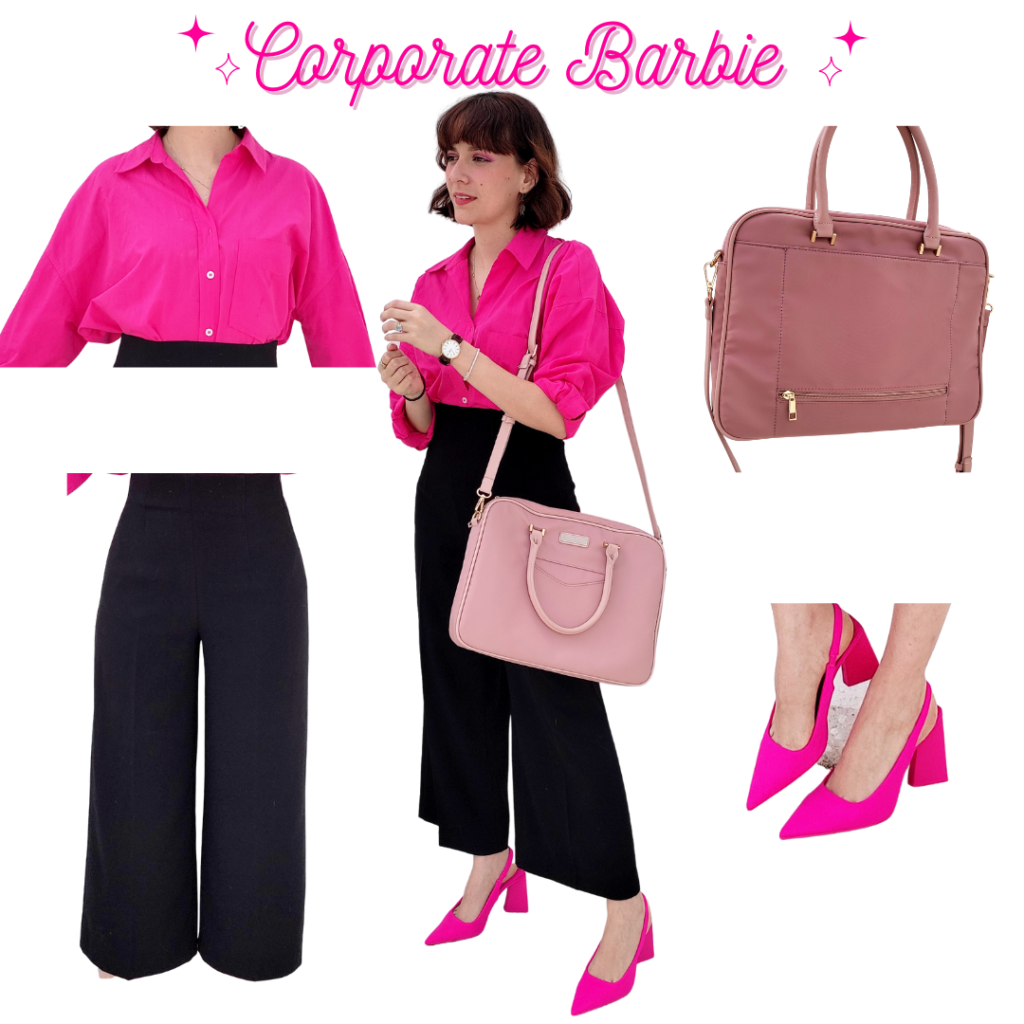 To create my Corporate Barbie look, I wore a hot-pink Oxford shirt. I buttoned it up and tucked it into a pair of black, flowy trousers. The pants hit just at my ankle, so I could wear either a pair of booties or heels. I decided I'd add a pair of hot-pink kitten heels. The heel height is perfect for a day at the office. For accessories, instead of a purse, I added my pink laptop bag.
If you want to recreate a similar outfit, don't get caught up trying to recreate it exactly like this. Work with what you have. For example, if you have a white shirt and a pink blazer, that works too!
If you don't have any pink items, it will be easy to find something right now in whatever shade of pink you want. Invest your money wisely in something you are sure you will wear a lot.
Night-Out Barbie – Outfit #7 (Skort + Satin Shirt)
Color-blocking is one of my favorite ways of styling an outfit for date night or just a fun time with my friends. Especially when I want to experiment with colors and items I've never paired together before. One of my favorite color combos right now is pink and orange.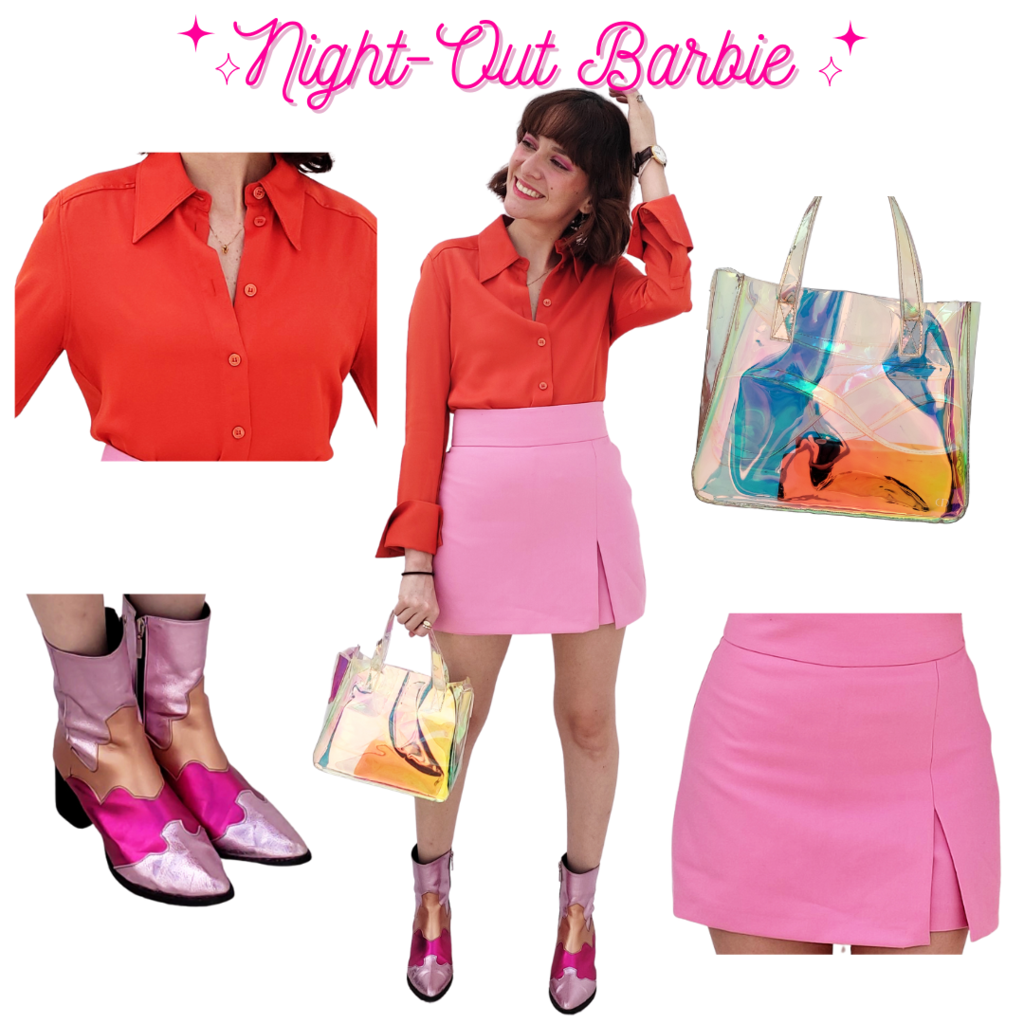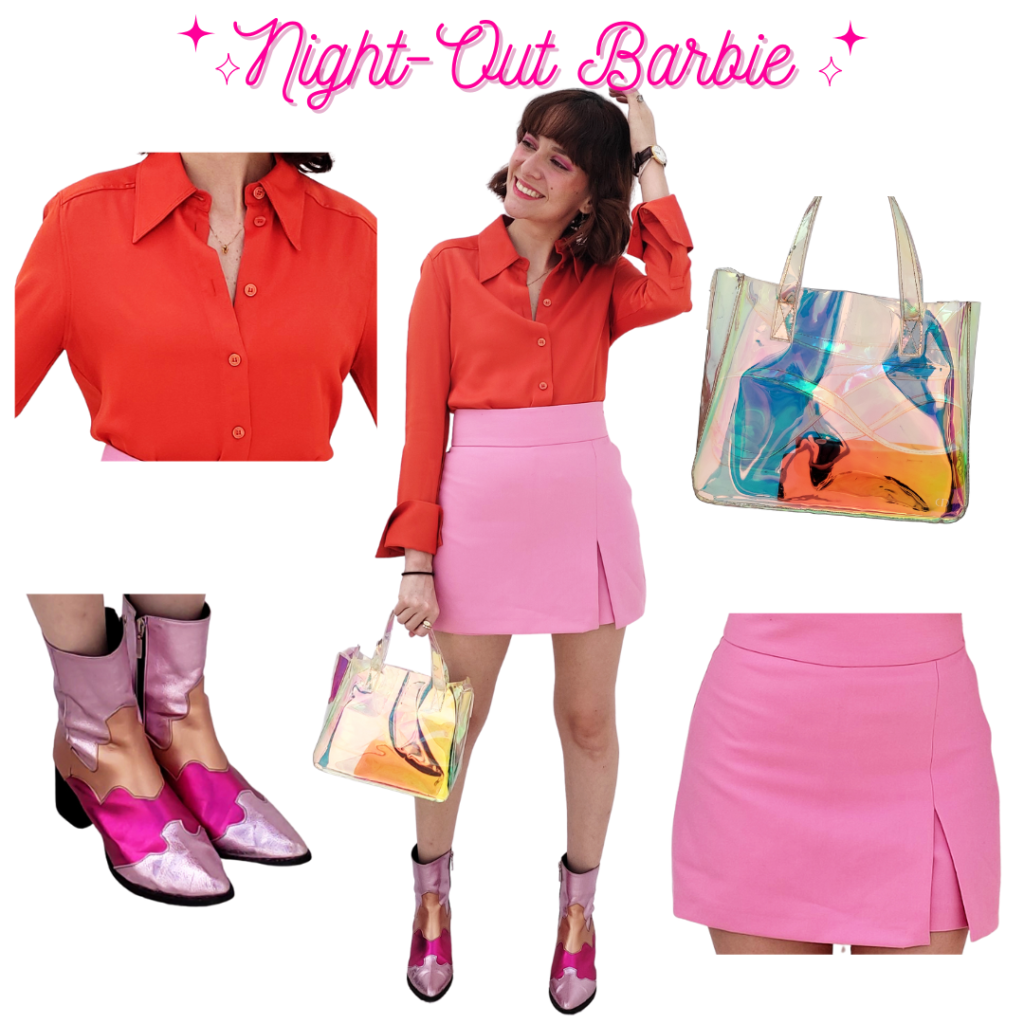 To create a Night-Out Barbie-inspired Barbiecore outfit, I wanted to add different materials. I wore a bright orange satin shirt with a bubblegum pink skort. I tucked the shirt into the skort to make it more my style. The shoes are where the magic happens. I put on my favorite pair of shoes I've owned in a long time: metallic cowboy boots in pink and orange. For accessories, I decided to use the same iridescent bag I had for the Pastel Barbie look.
Color-blocking is a topic for another post, but specifically for pink, I'll give you a quick guide to it. Pink goes with many colors, but your safest bets are green and blue. They contrast with pink the most, so it's easier to balance them out. The bubblegum pink I'm wearing pairs great with bright green, neon green, or emerald green; or royal blue, sky blue, or teal.
It gets trickier for colors closer to pink in the color wheel (orange and red). The closer the hues are, the easier it will be. For example, red and fuchsia are a fantastic, easy combo.
Trendy Barbie – Outfit #8 (Baggy Jeans + T-shirt + Blazer)
This Barbiecore outfit is for our trendy girls out there. The whole effortlessly fashionable look has always been part of the trend cycle, however that may look like through the years.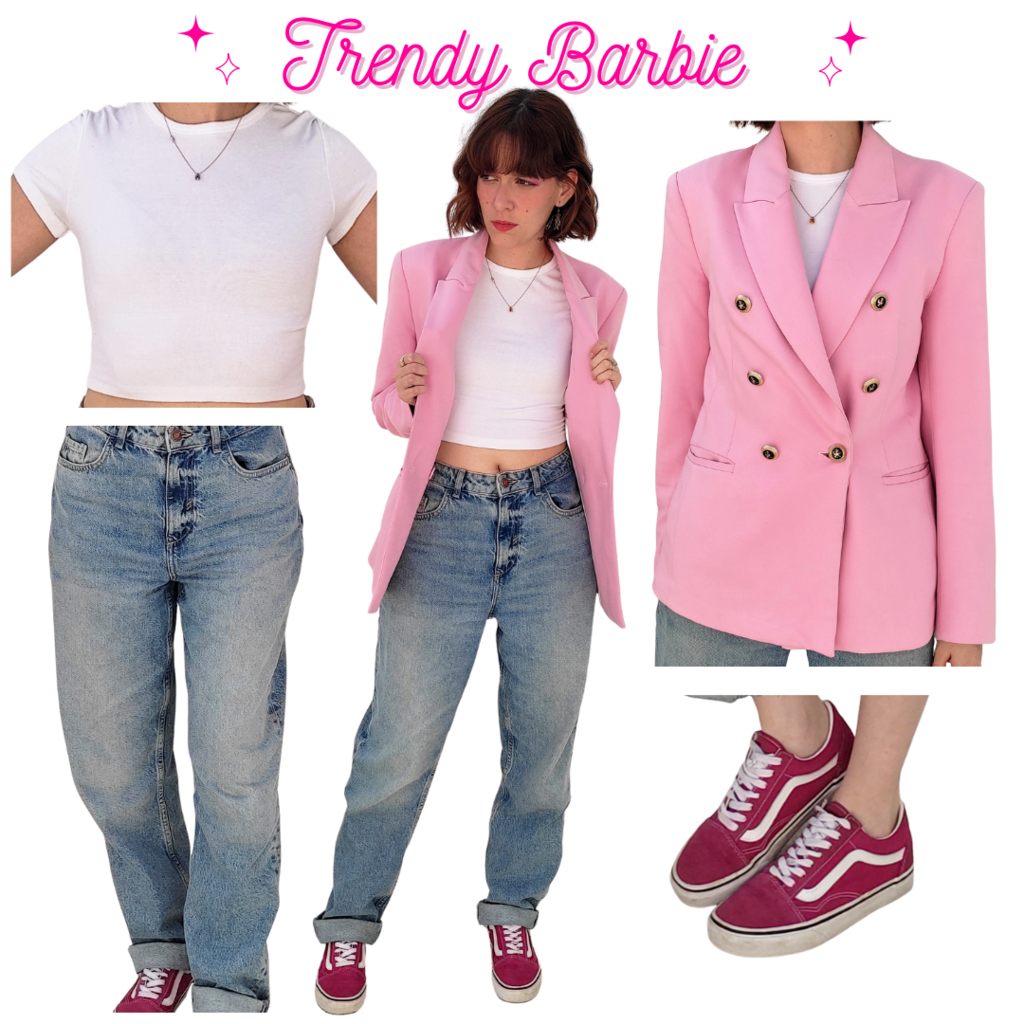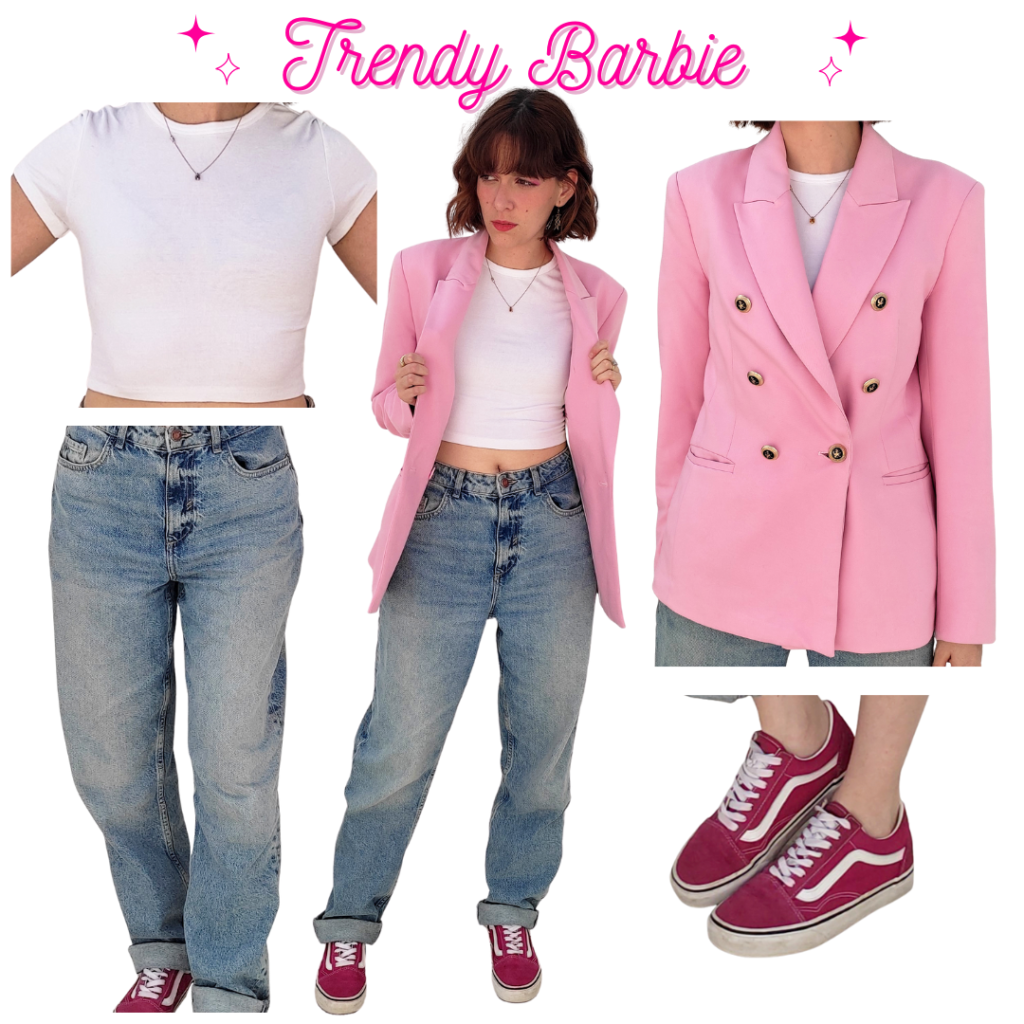 To make the Trendy Barbie outfit, I went back to the basics with slight tweaks here and there.
I started with a white t-shirt and a pair of mid-rise baggy jeans. Mid-rise and baggy jeans made a comeback several seasons ago and are the go-to for model-off-duty looks. Blazers in all shapes and sizes are in, so I threw on a pink double-breasted blazer. For shoes, we could go many ways; heels, sneakers, booties, they're all in the mix. Vans are having a moment too, so I decided to wear my fuchsia low-top Vans.
As I mentioned before, these trendy, model-off-duty, effortless looks come down to the basics more often than not. That's what makes them so alluring and cool.
You can recreate this with a simple, classic combo you adore wearing. Then, switch it up with one trendy piece or trendy little tweaks here and there. Maybe you wear a crop top and mom jeans, but you add pink butterfly clips to your hair. It's the little things that make the outfits cool.
Pink Barbie – Outfit #9 (Shirt + Tweed Shorts)
It was time to go all in for my final look with a full-on, glammed-up, hot-pink outfit. That's what brought us all here.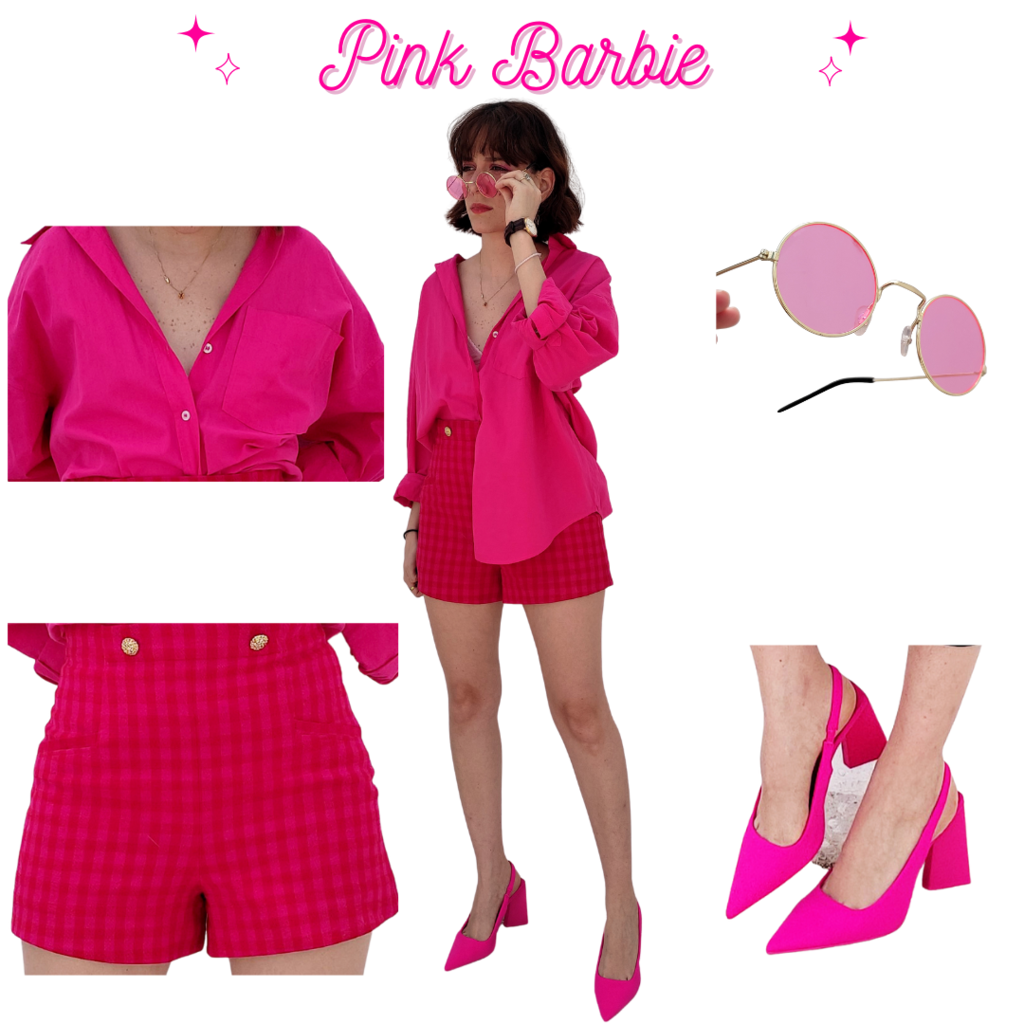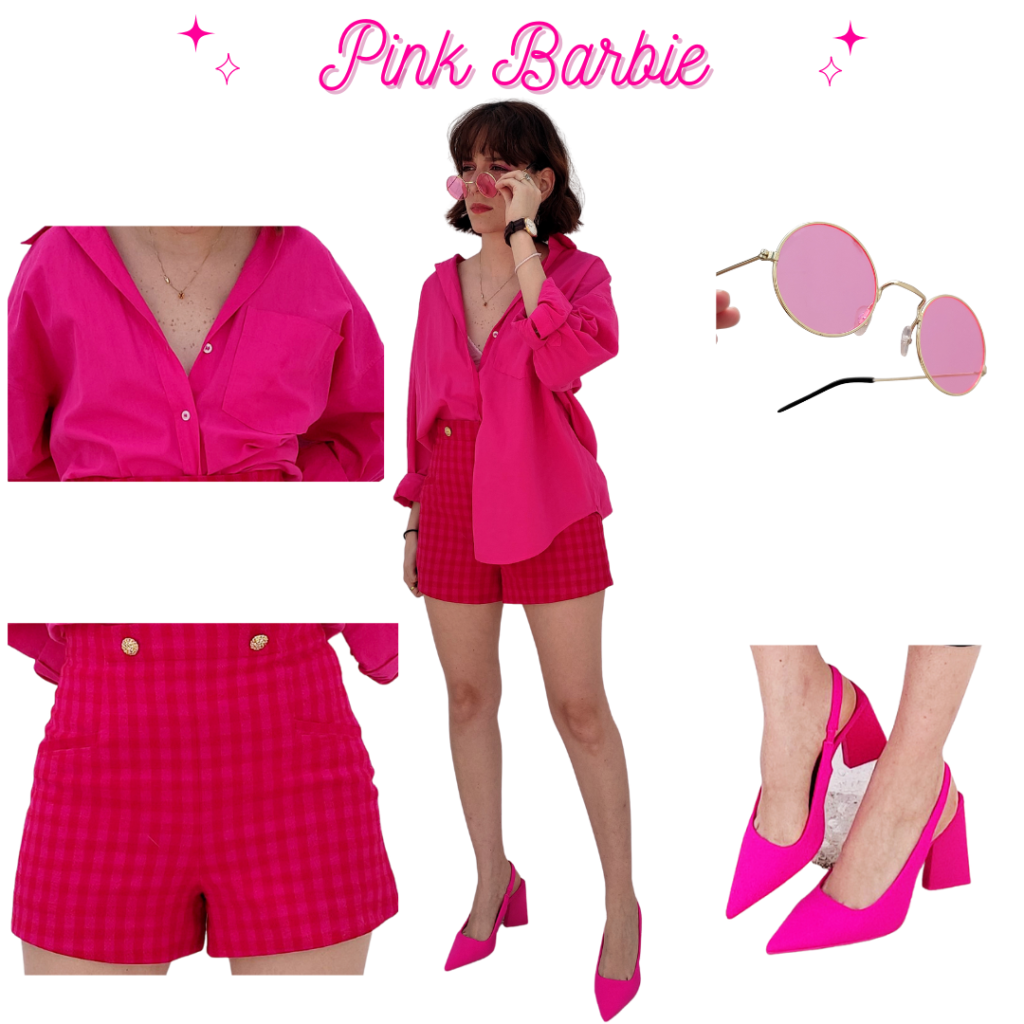 Let me walk you through my all-pink Barbiecore outfit.
I started the look with the same hot-pink Oxford shirt I used for my Corporate Barbie look. This time, I didn't button it up all the way, and I wore a pink bralette underneath. Then, I wore high-waisted tweed shorts in hot pink and red. I tucked in half of the shirt. For shoes, I used the same pink kitten heels from the corporate look. For accessories, I put on pink round sunglasses. 
Wearing an all-hot-pink look is easy since everything is the same color or in the same family. The key is to bring in different textures with your items to make the outfit more interesting. With this type of look, you could try two trends in one: Barbiecore and *those* Versace platform heels. I was very tempted to get a pair, but I knew I wouldn't wear them often, so I went with the kitten heels.
This is an amazing look, but I know not everybody has these pieces laying around. I've said this before: if you are 100% sure you will wear the pieces again, go ahead and buy them. But, if you are unsure because you don't know how to wear them, that's why this post exists. So you can have inspiration and options on different ways to incorporate these items into your everyday style.
What Do You Think of These Barbiecore Outfits?
Do you like the Barbiecore trend? Which of these looks do you like the most? Do you have any styling questions you'd like me to cover? Let us know in the comments below!