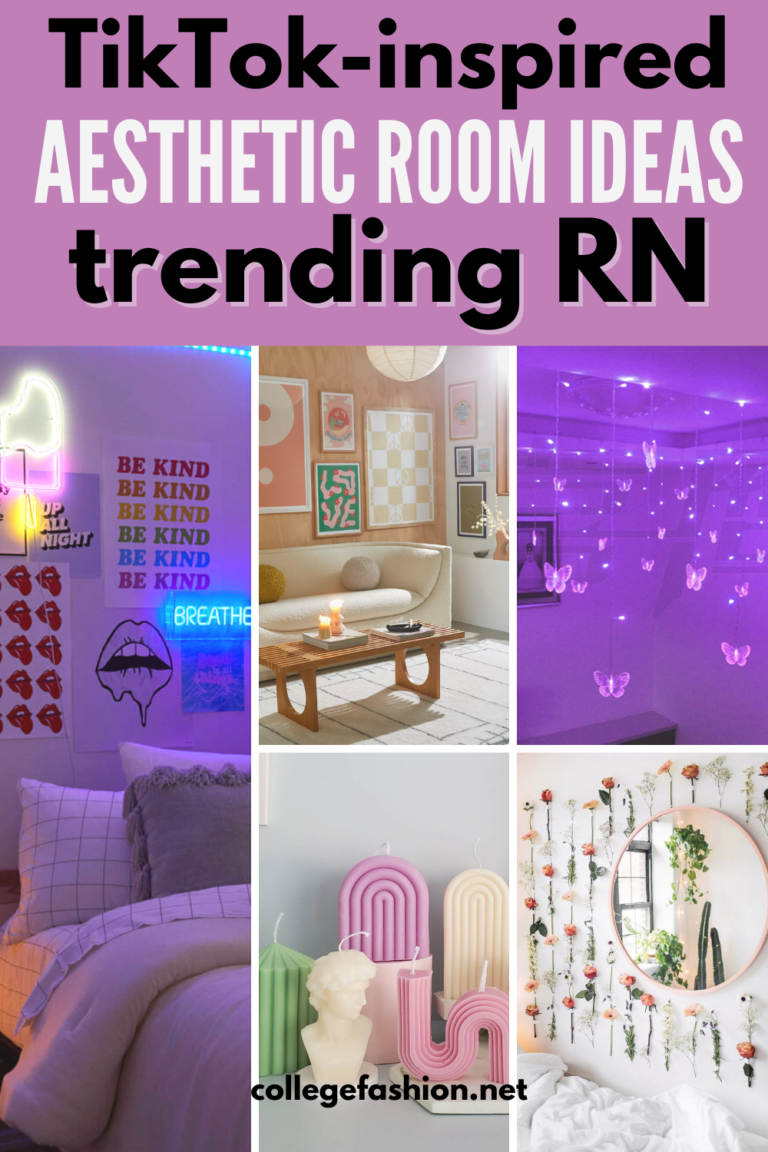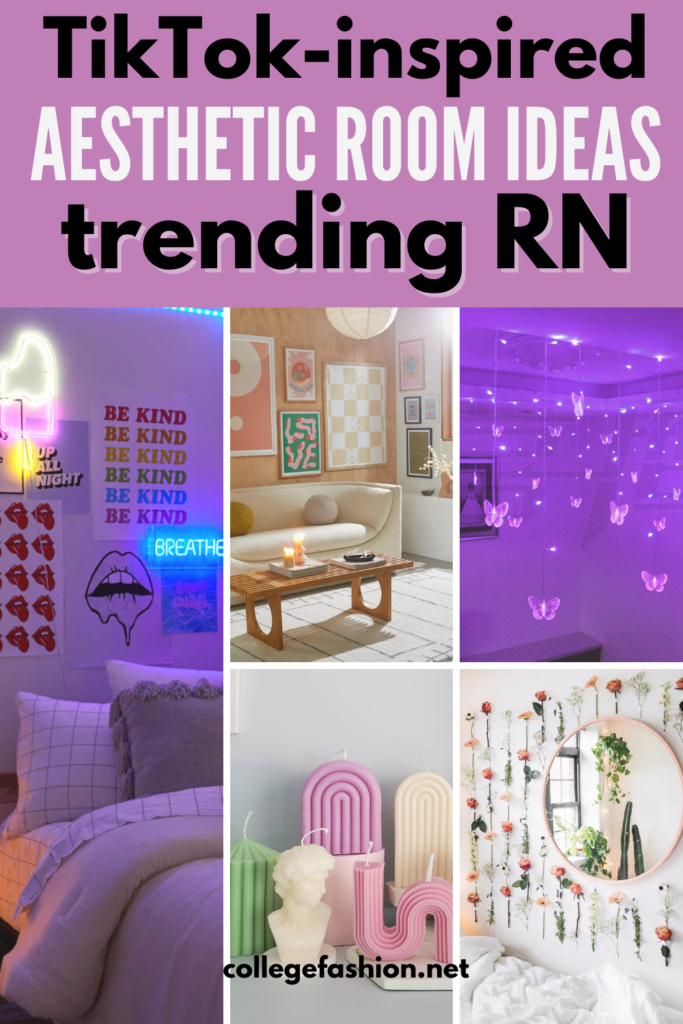 If there's one decor style that's had everyone under 25 in a chokehold this year, it's the aesthetic room.
Aesthetic rooms are hard to define, since the category is broad. It's one of those "you know it when you see it" kind of things. That said, the style does have a few hallmarks, which we'll discuss below.
Here are some ideas for how to make your room more aesthetic, with cute room ideas that don't cost a fortune to pull off. (Many of them can be DIYed!)
It's easier than you think to get that aesthetic room you've seen on TikTok and Instagram, we promise. Here's how:
Add Plants to Your Room for a Natural Touch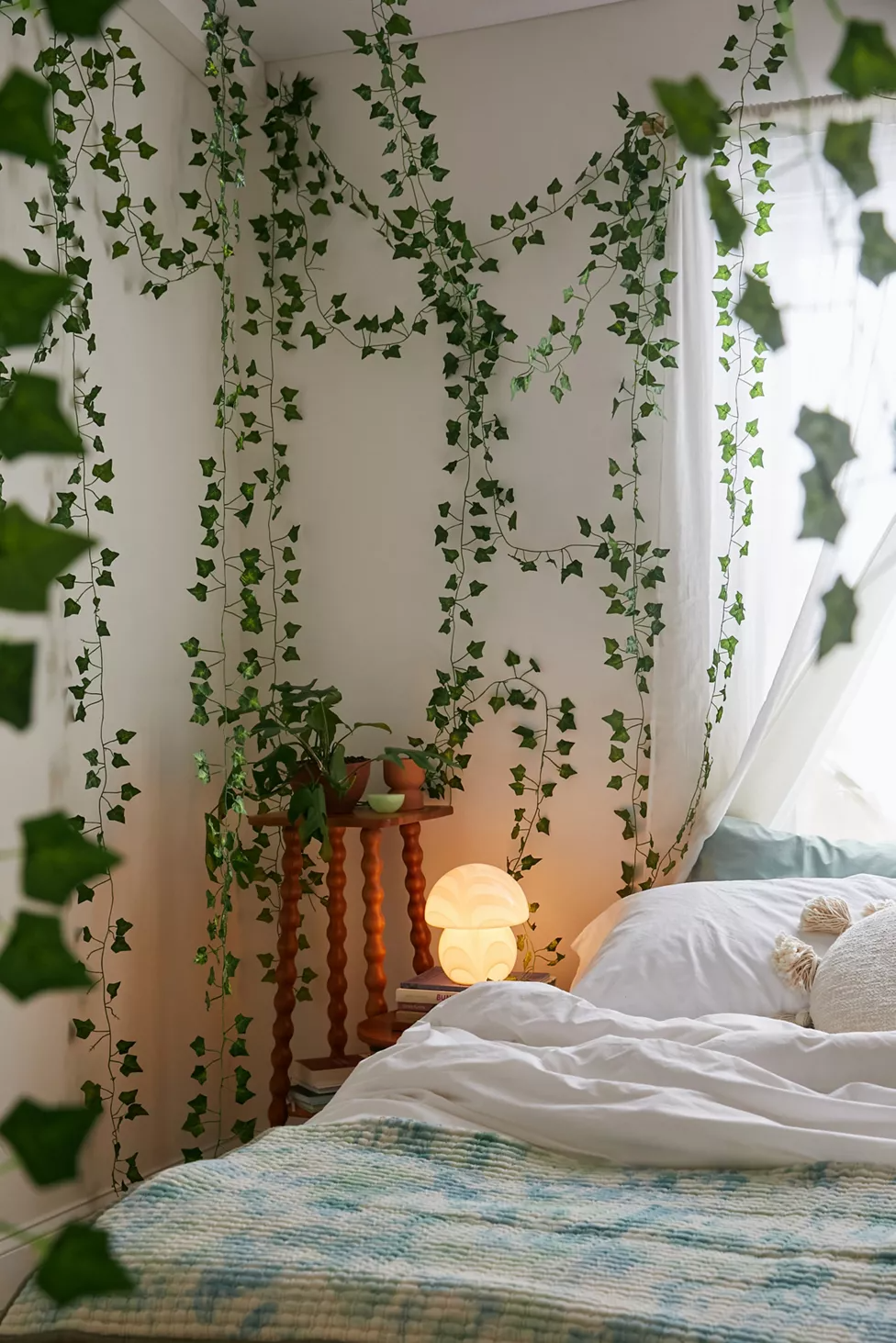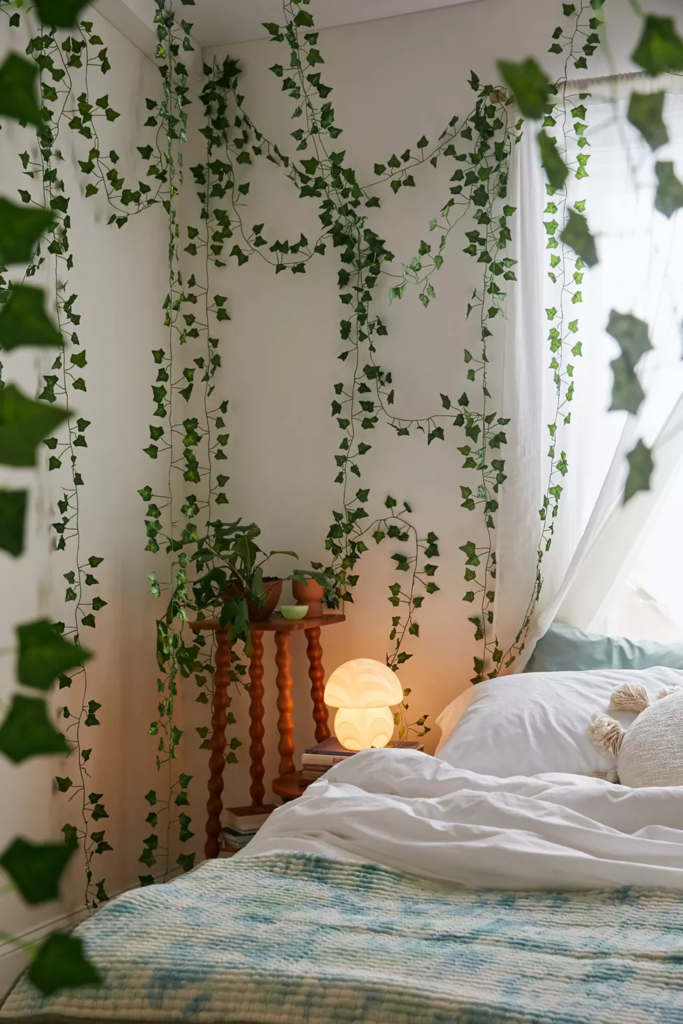 One of the hallmarks of aesthetic rooms is the presence of greenery, whether it's real or fake. Plants add so much life to a space, so they are a must!
One of the most popular ways to bring greenery into an aesthetic room is with hanging vines, like these faux ones from Urban Outfitters. They can be hung vertically, to create a wall of green, or horizontally, draped across the ceiling.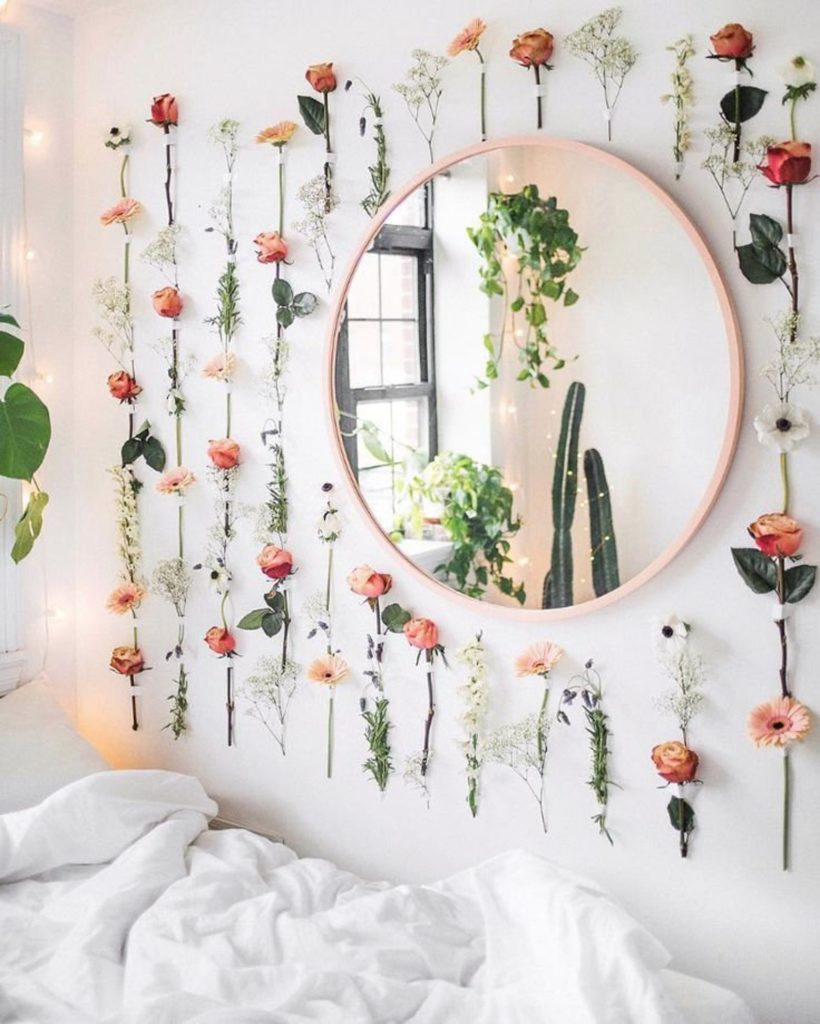 Hanging flowers are another cool aesthetic room idea. I love how these faux flowers are arranged around a circular mirror to create a statement wall.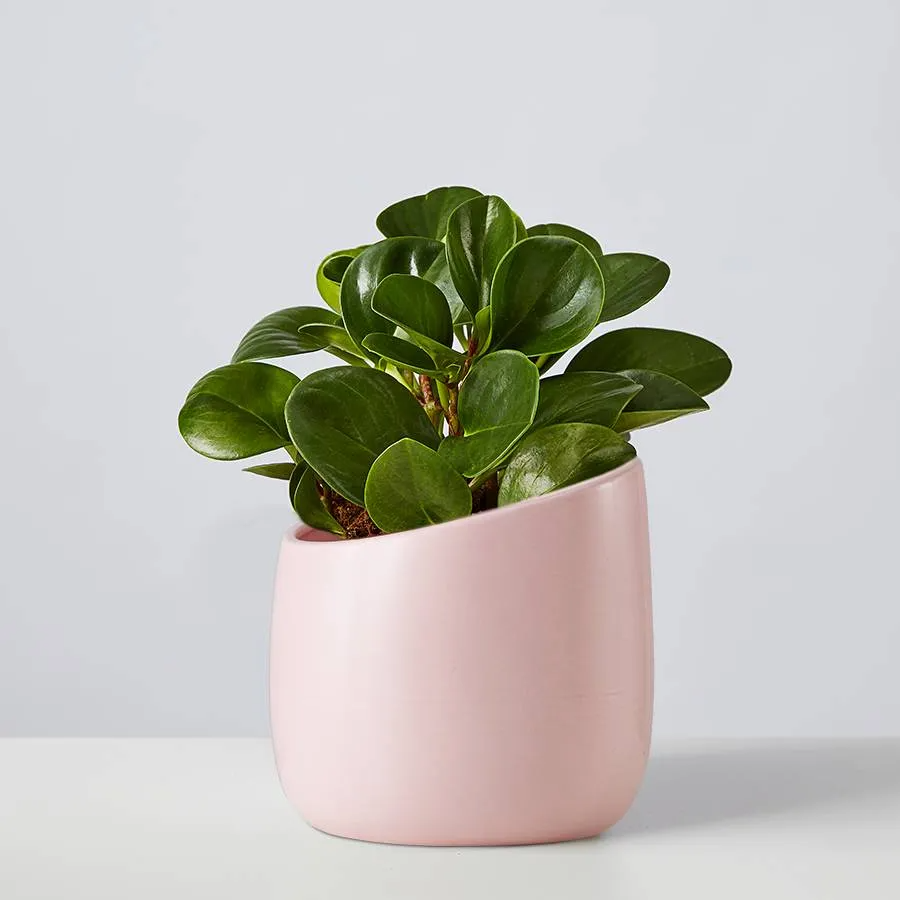 Of course, you can always decorate with real plants, too! I've had great luck ordering from Plants.com in the past — I have the rubber plant above and it's incredibly hardy, perfect if you don't exactly have a green thumb.
See related: The Best Dorm Room Plants of All Time
Embrace Natural Light for an Open, Airy Feeling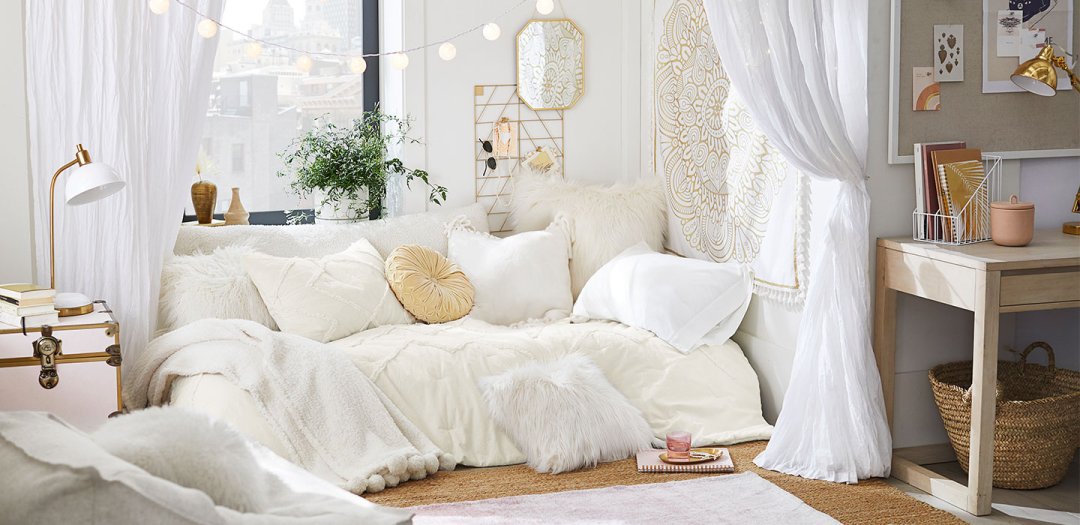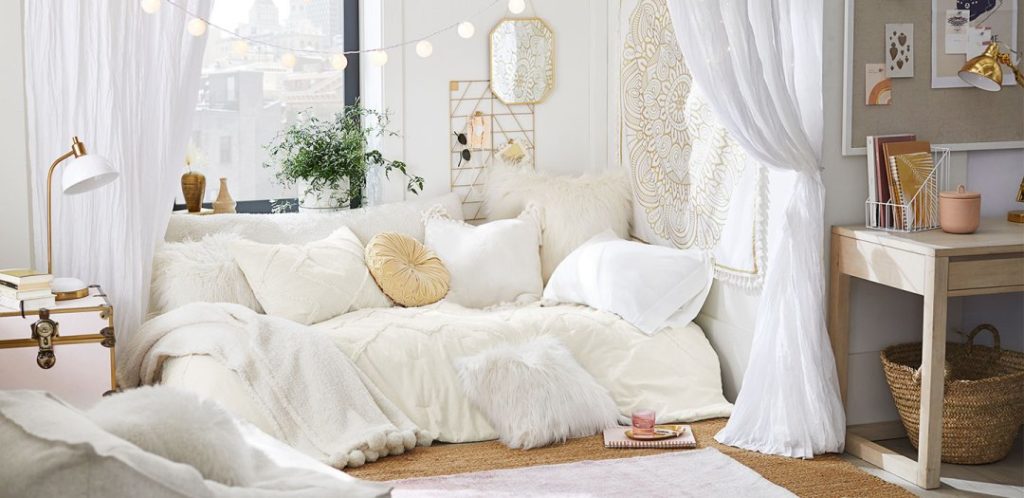 Many aesthetic rooms I've seen this year make great use of natural light. (This, of course, depends on your room's window placement.)
To embrace the natural light in your space, ditch dark, heavy curtains and opt for sheers, open up or remove blinds, and use mirrors across from windows to bounce the natural light around the room.
Play with Strip Lights for Ambience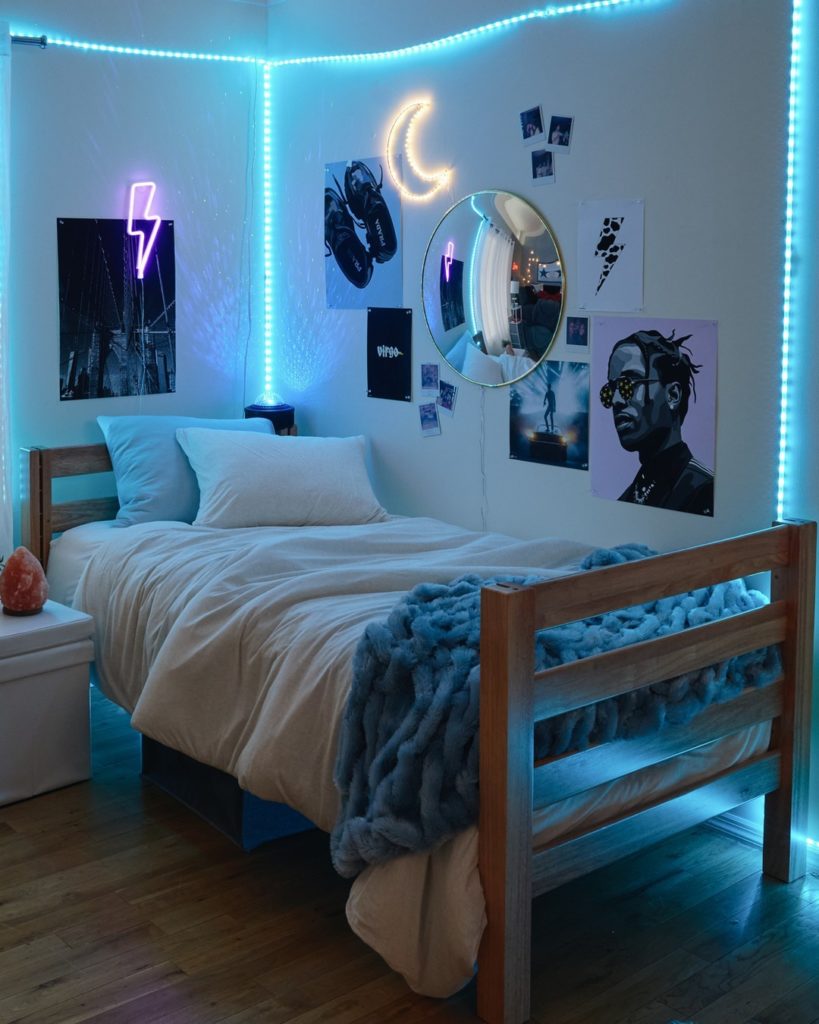 Strip lights are another popular hallmark of aesthetic rooms. (Is your room even aesthetic if you don't have them somewhere?)
Strip lights are insanely popular and for good reason — you can get so creative with them!
The most popular placement for strip lights is along the ceiling and in the corners of your room (as seen in this Dormify example), but many people also use them as backlighting for mirrors, headboards, or desks.
Many strip light sets allow you to change the colors with the push of a button or even sync your lights to your music. This way, you can customize your lighting to your mood.
Or, Opt for Hanging Lights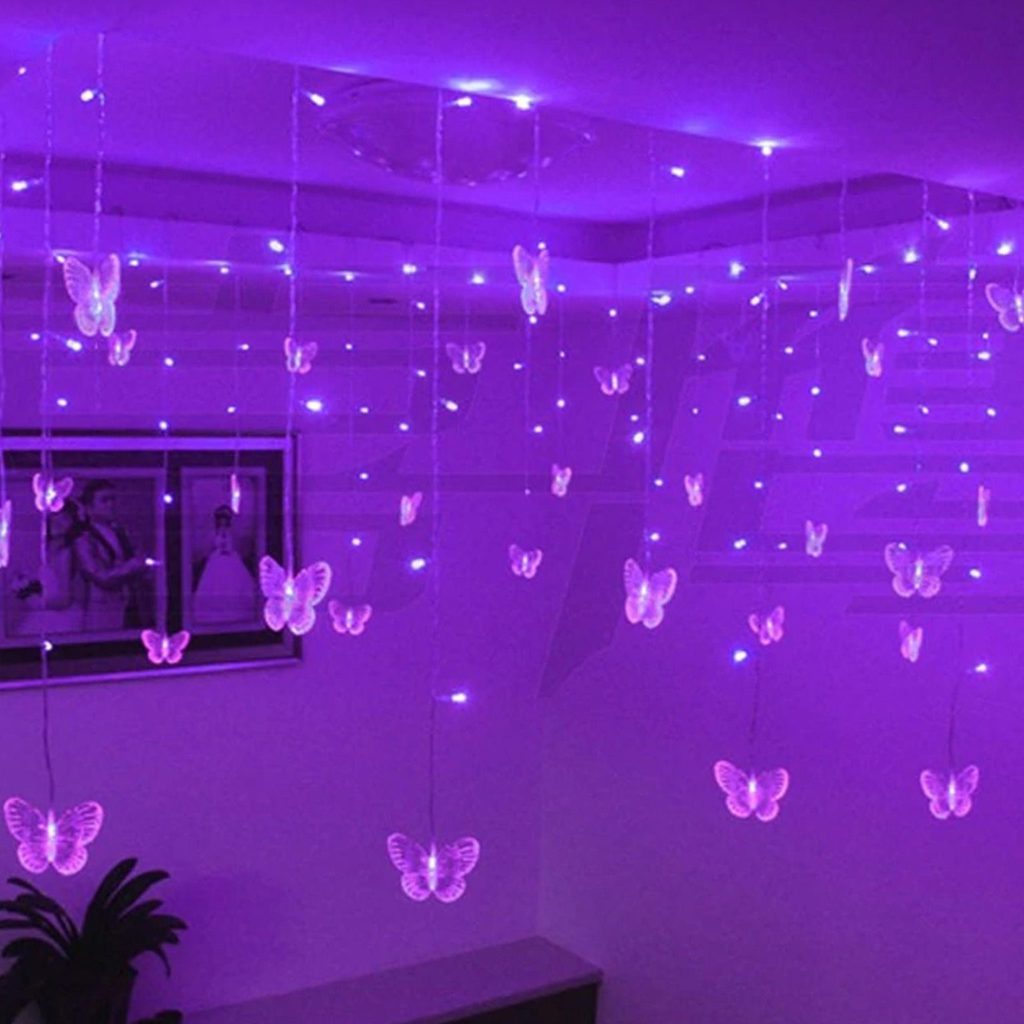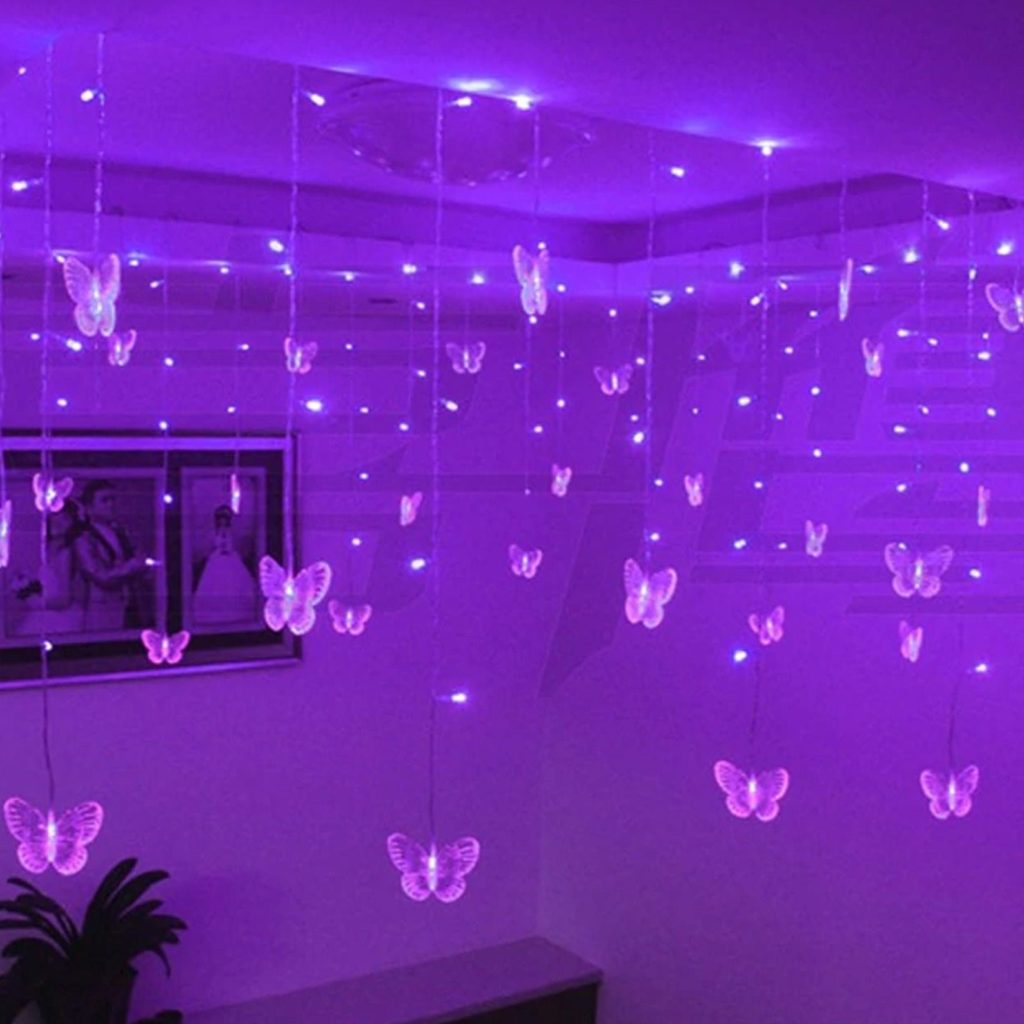 Hanging lights are another popular way to set the mood in an aesthetic room. They can be used either on their own, or in addition to the strip lights seen above.
This set from Etsy features iridescent butterflies that hang down from your ceiling for a dreamy vibe. The lights are available in your choice of six different colors, so you can get ones that perfectly match your decor.
Go Even Bolder with a Star Projector
If you want to take your lighting game to the next level, a star projector is a popular choice in aesthetic rooms.
This star projector from Amazon is one of the website's top selling items and is super affordable as well! It has a white noise machine, a bluetooth speaker for your music, and 10 colors, plus a cool shooting star effect.
Try Minimalist Candles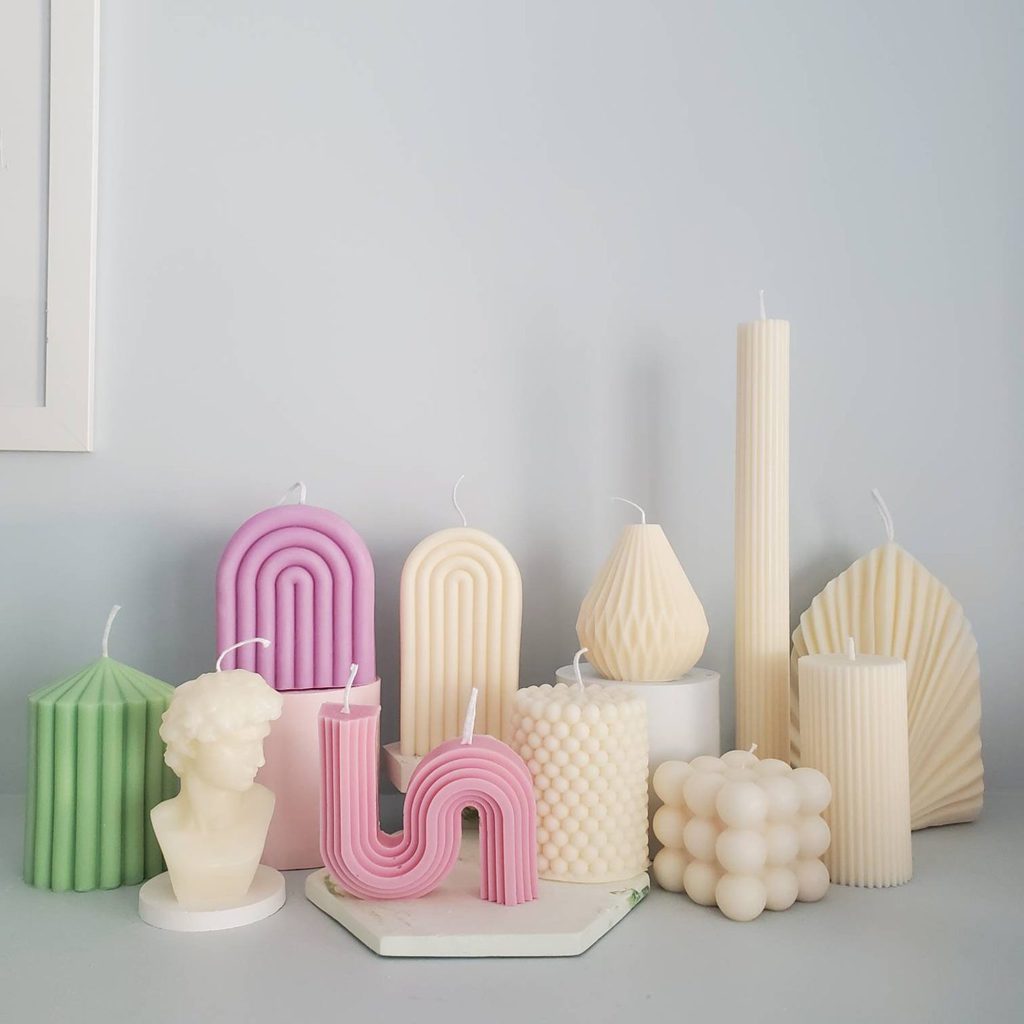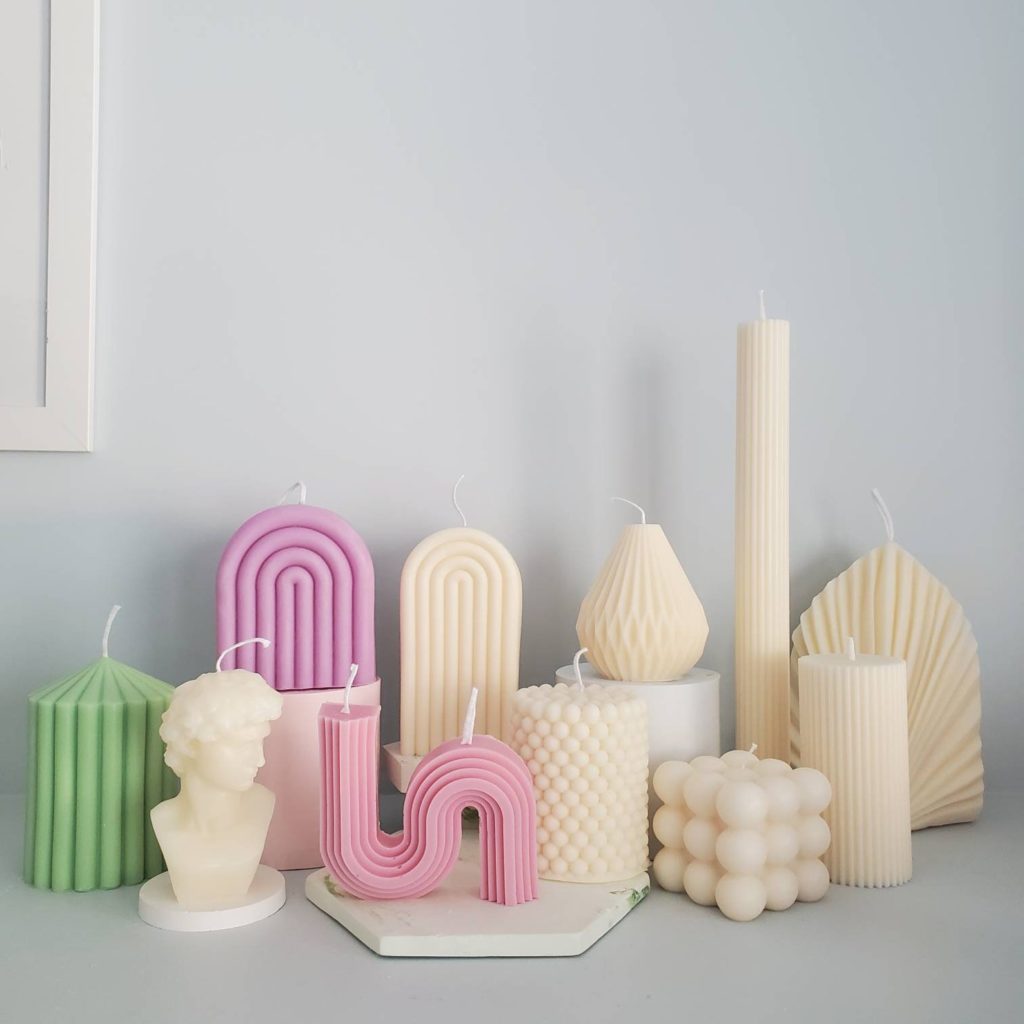 Minimalist candles are a super popular home decor trend this year, and they feature in most aesthetic rooms.
There are so many shapes, styles and colors to choose from, so you can find the right candle for any vibe. The most popular choices are bubble candles and sculptural candles in cream or pastel shades.
Hang Tapestries or Other Pieces of Fabric on the Walls for Interest and Color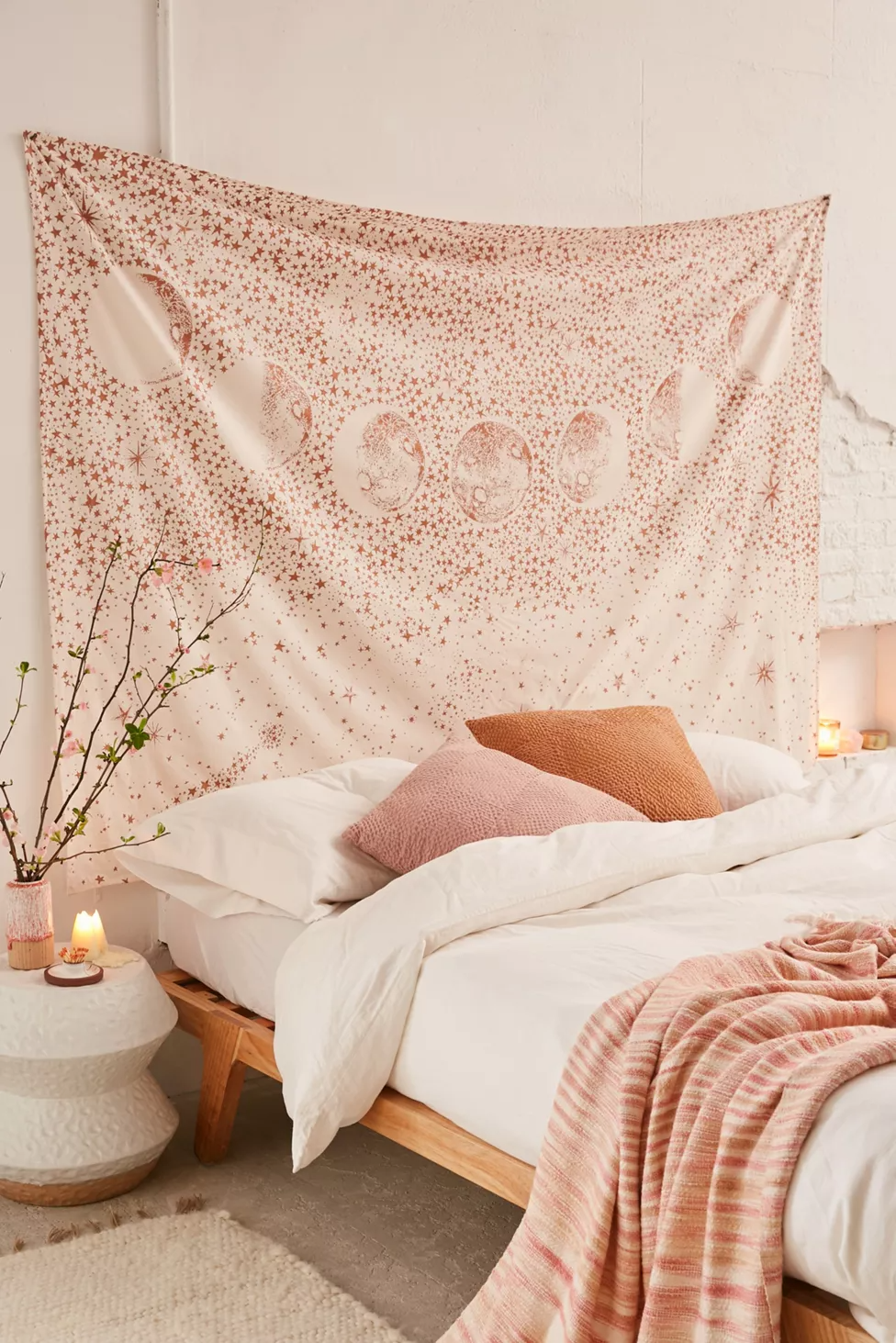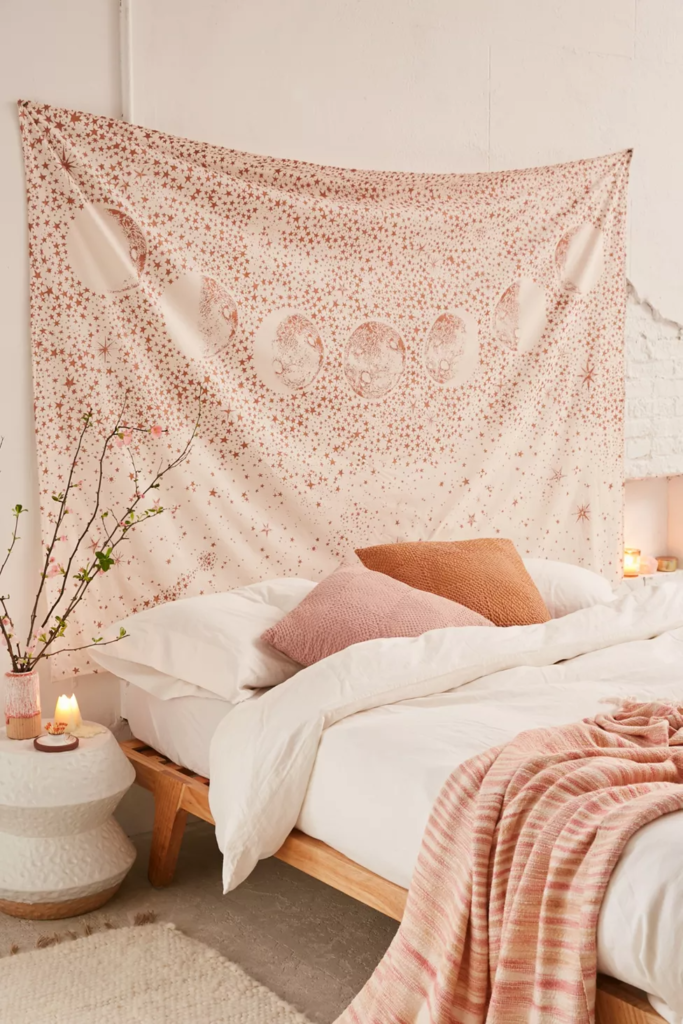 Tapestries and fabric wall hangings have been trending all year and I love the coziness they give to any space. They're also super affordable as far as art goes!
The most popular way to use tapestries is to cover the wall behind your bed, like a makeshift headboard. The Urban Outfitters tapestry above is so beautiful and is neutral enough to match most rooms.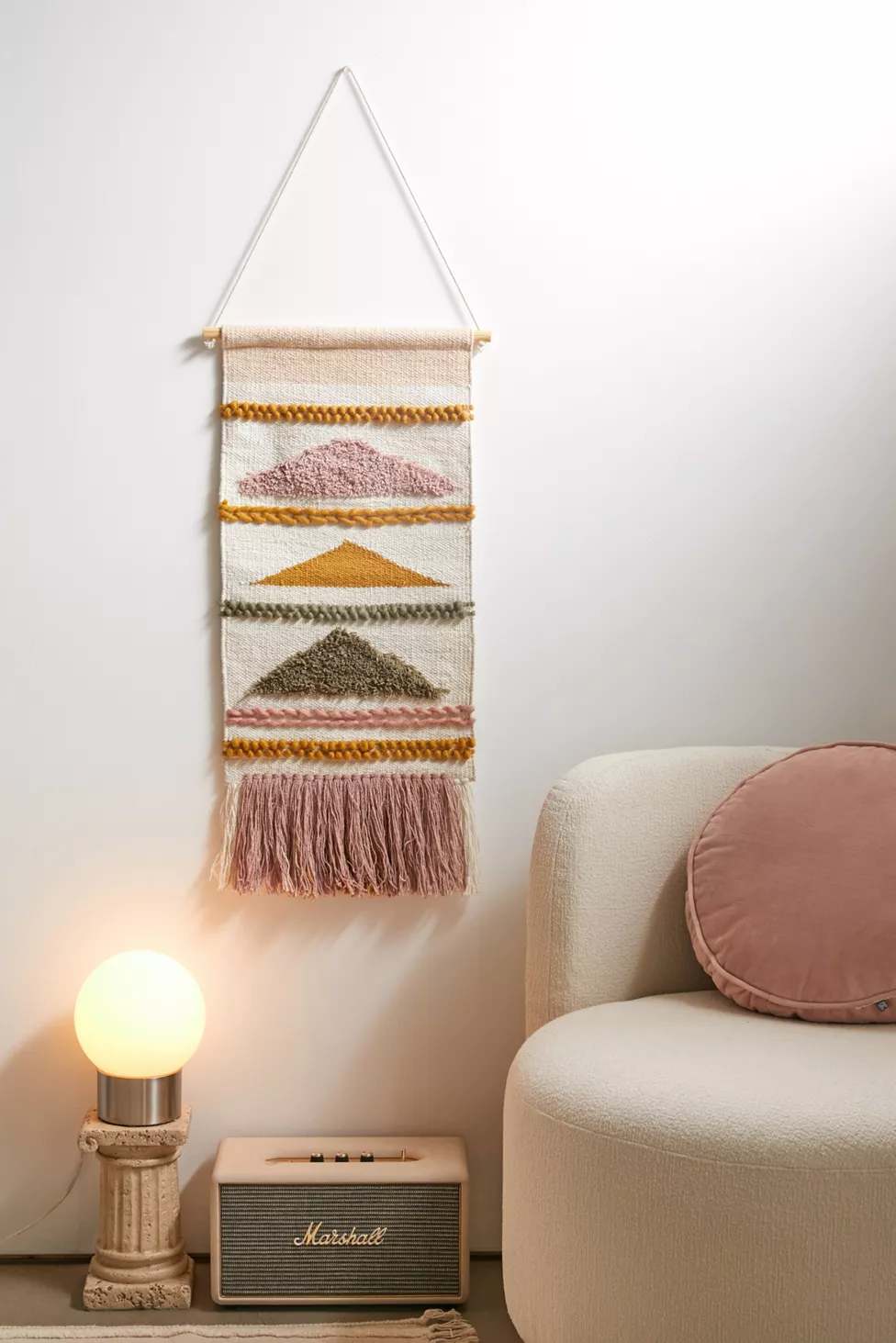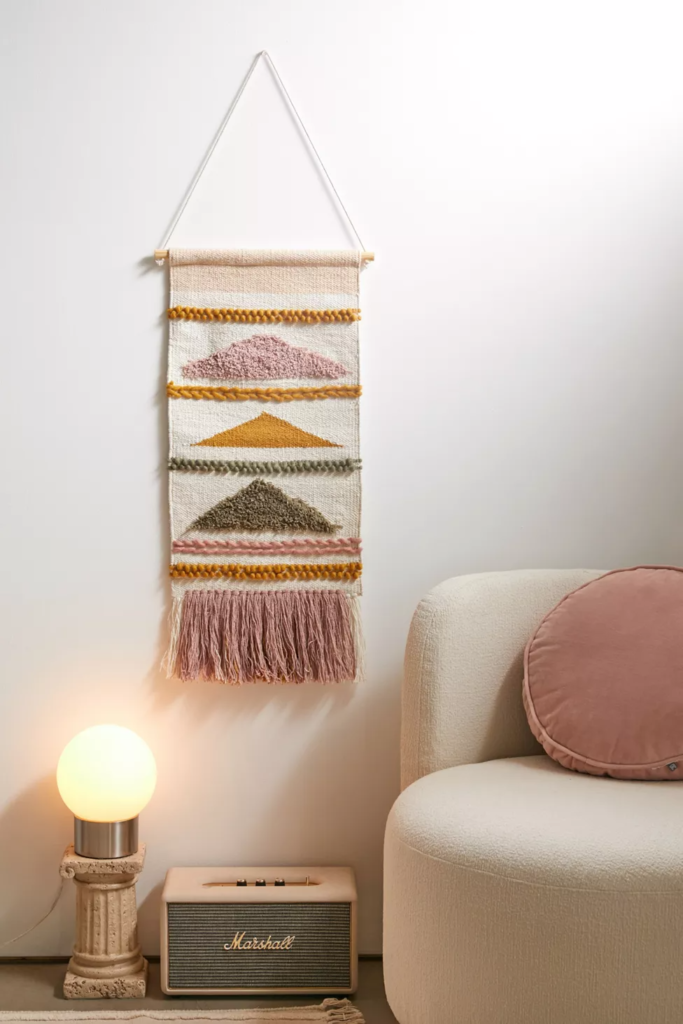 Alternatively, woven wall hangings like the one seen above are also popular choices for aesthetic rooms. They often incorporate multiple colors, so they're a great way to accent your room's color palette. And they give off such a cozy, homey feel!
Try Aesthetic Collages to Personalize Your Room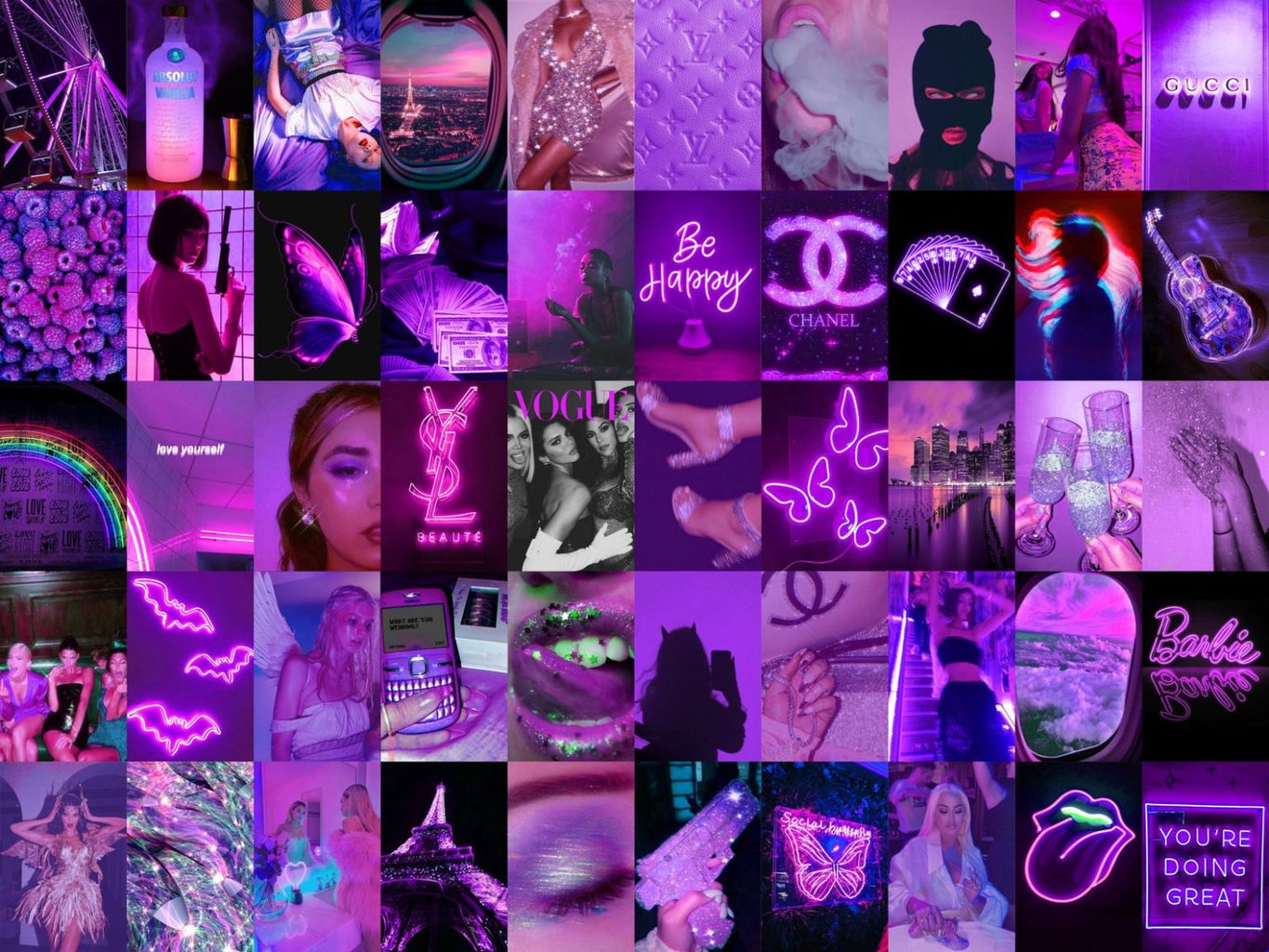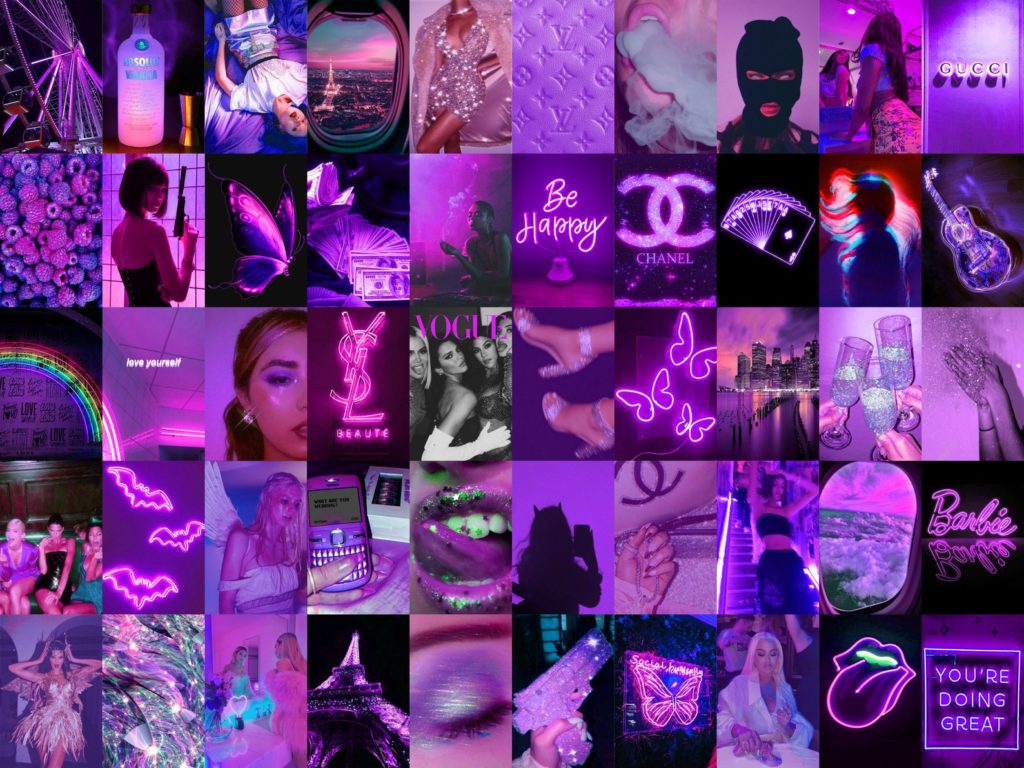 Wall collages are popular in aesthetic rooms and for good reason — they're affordable, they cover tons of wall space, and they can be done to match your room's color scheme.
For example, the set above would be a perfect aesthetic room idea for a Euphoria room, while the collage below would match well with a girly, boho, or pastel aesthetic room.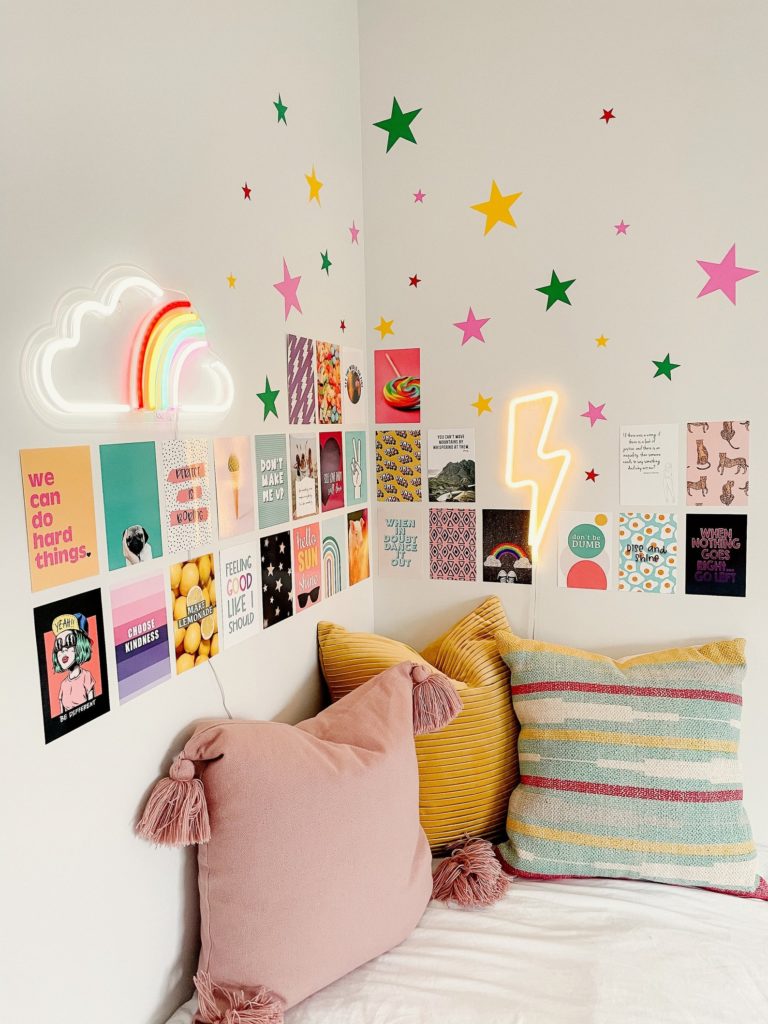 You can definitely DIY a collage wall by printing out a bunch of photos you love, but if you want it done for you, you can purchase a pre-made collage online. This makes it super easy because the hard part — choosing photos that match and arranging them — is done for you.
Use Mirrors to Create the Illusion of More Space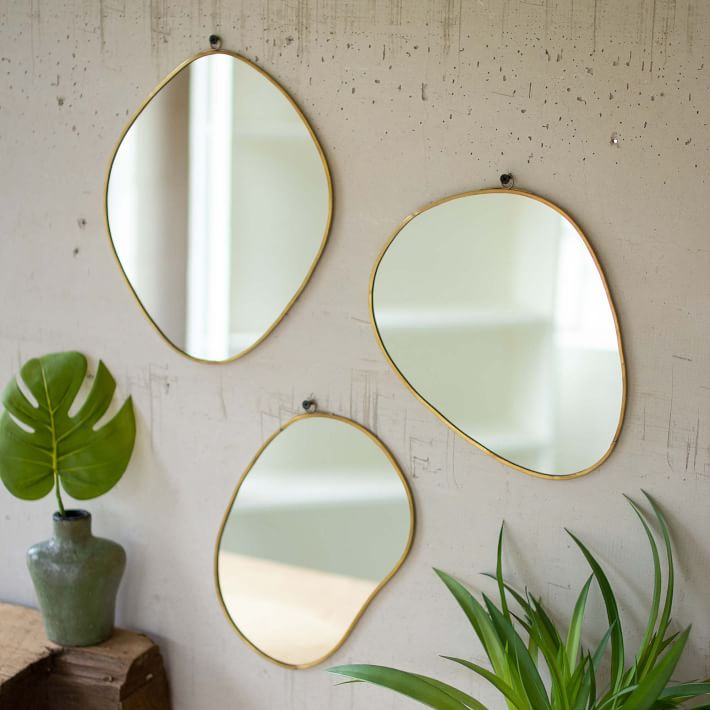 Mirrors are game-changers for small rooms, and they can make for beautiful decor as well!
Right now, irregular or organic shaped mirrors are the trendiest styles. It's also popular to group a few little mirrors together (as seen with the West Elm set above) instead of buying one big mirror.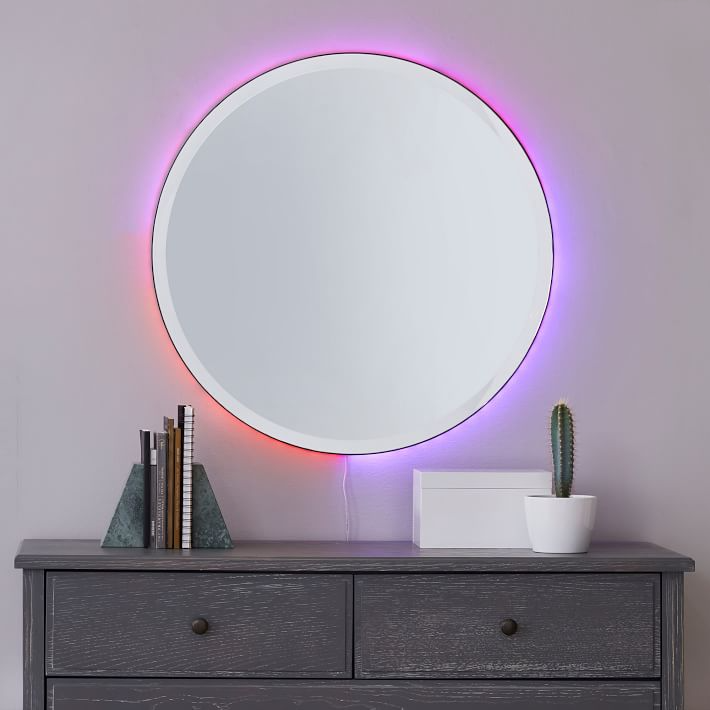 For some additional lighting and ambience, I love this backlit mirror from West Elm. You can change the colors depending on your preference and can even create cute ombre effects, as seen above.
You can also DIY a backlit mirror with any mirror you have and a small set of strip lights!
Choose Furniture in Light Colors to Brighten Up the Room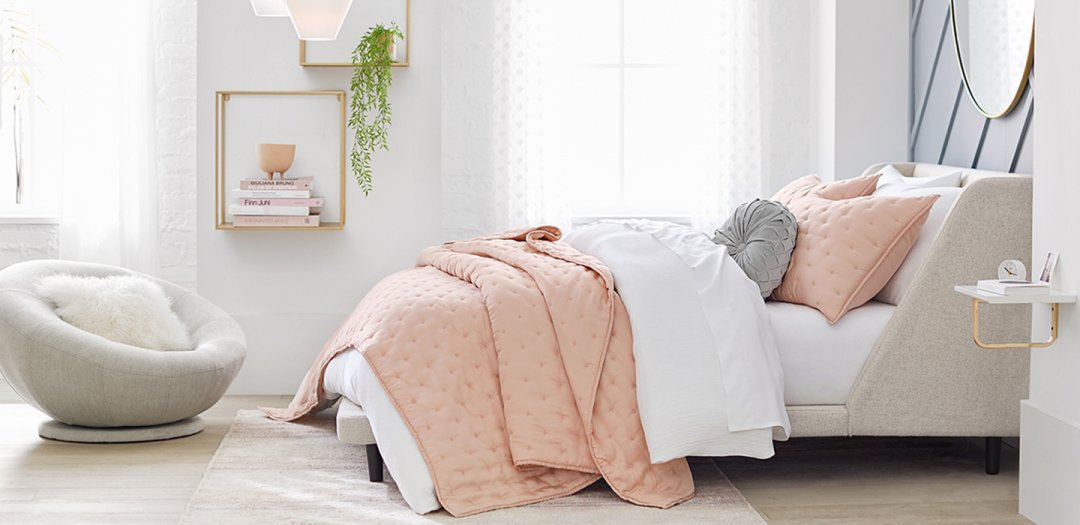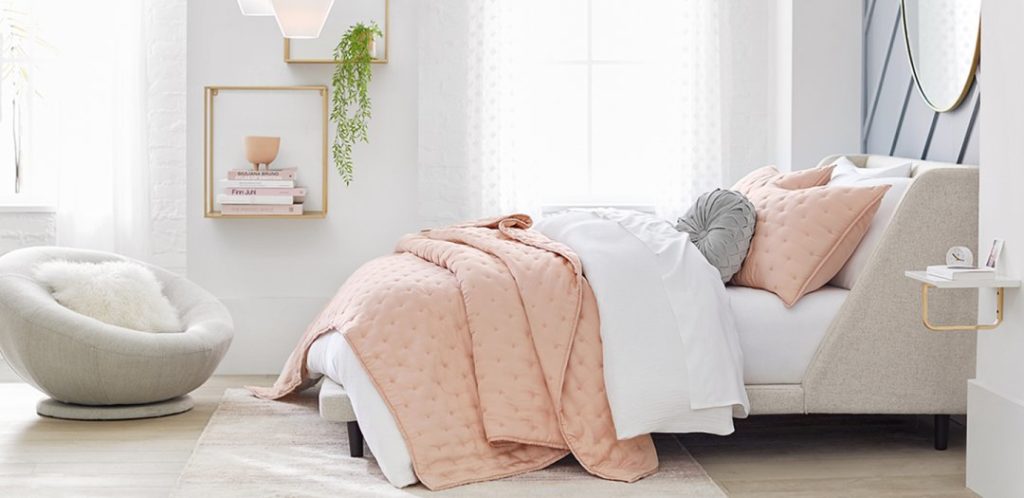 Light colored furniture is a great choice for an aesthetic room because it makes any room appear larger, and it's easy to accessorize with boldly colored pillows, blankets, or art.
The PBTeen room above mixes a light oatmeal upholstered bed with a white wall-mounted side table and a comfy round chair in light gray for a pretty, girly vibe.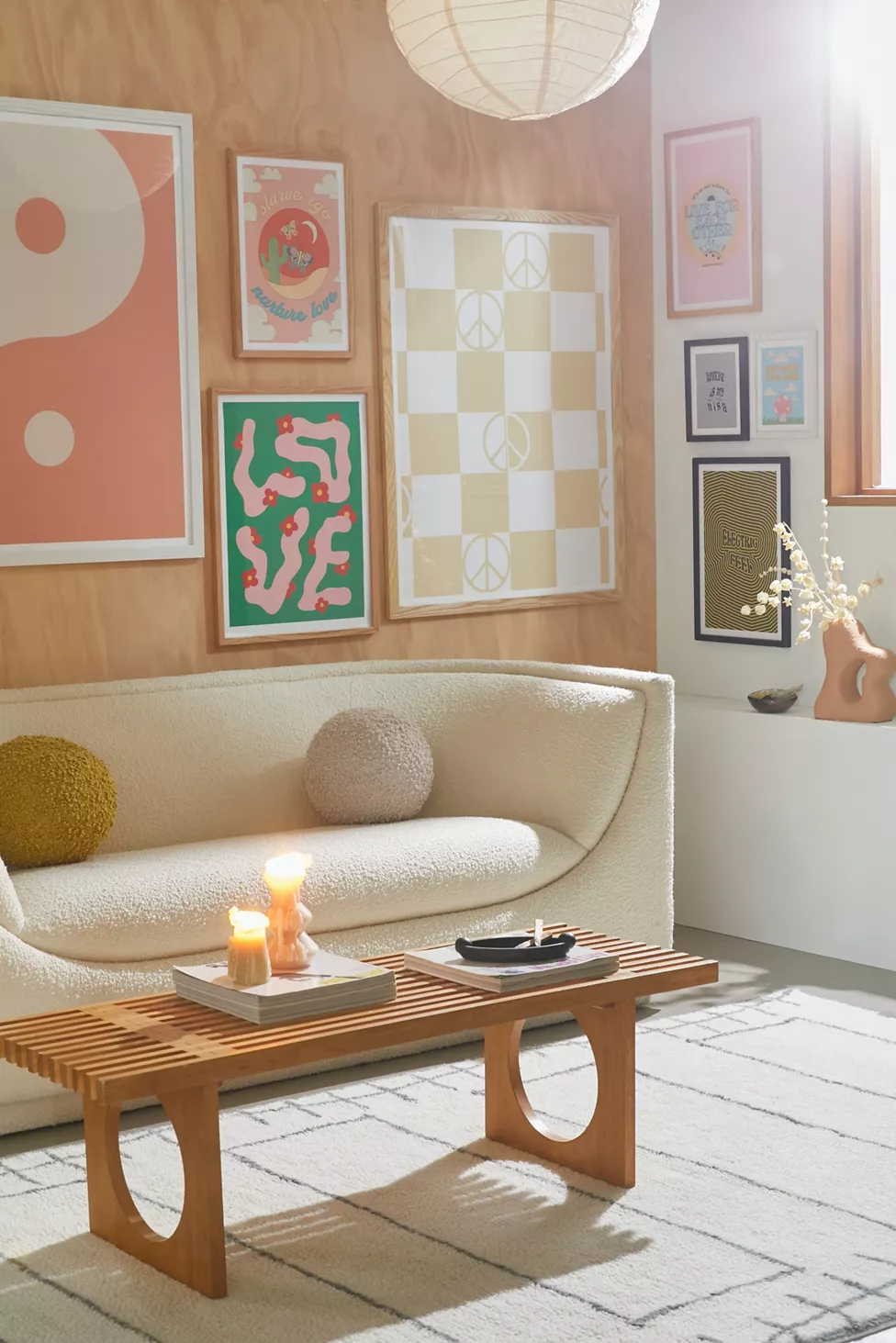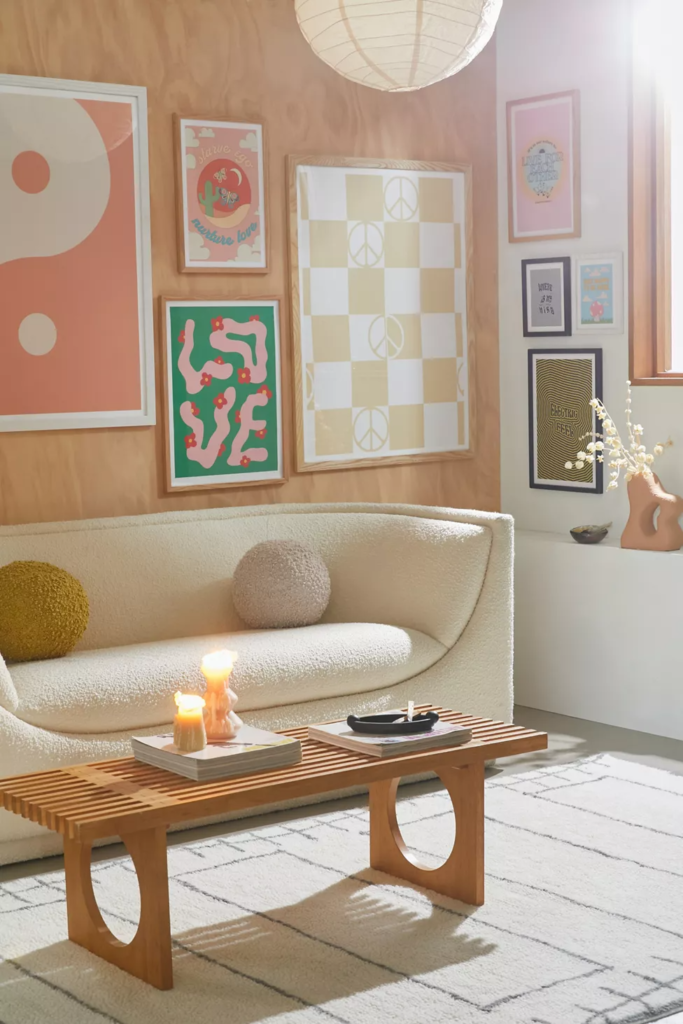 The room above from Urban Outfitters is another example of light colored furniture at work. Most of the color in the room comes from the art on the walls, and the light couch and table help to balance out the bright colors.
Finally, I love light colored furniture for its versatility. It's perfect if you swap out your decor on a regular basis.
If you go for light colored furniture, it will be easy to change your aesthetic whenever you want. Just swap in some accessories in your new color scheme and you're set.
Try a Neon Sign to Express Your Vibe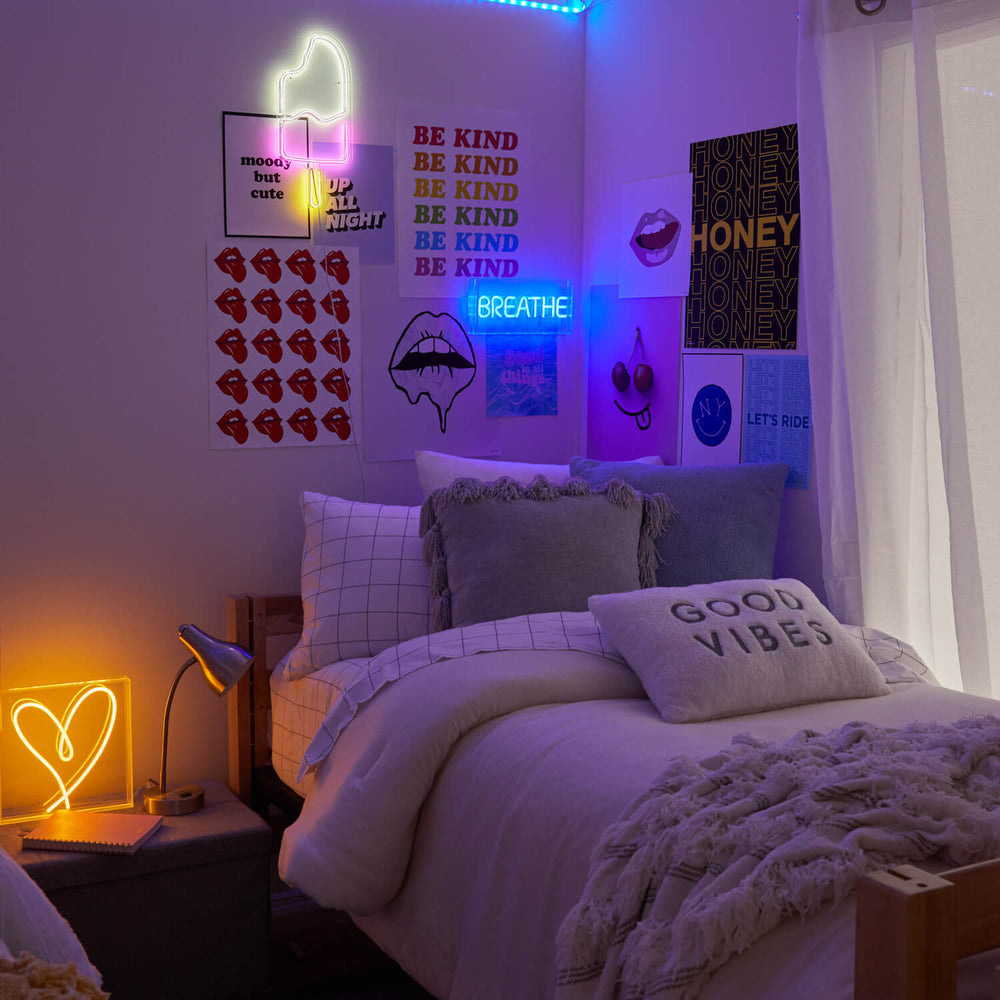 Neon signs have been popular in decor for half a decade now, and the trend is still going strong!
I love neon signs in aesthetic rooms because they can really be used to bring your personality to the space. For instance, the room above has a few signs: a heart, a popsicle, and a reminder to breathe.
While you can buy pre-made signs like the ones above, if you have a specific saying in mind, you can get a custom neon sign from Amazon with the text and colors of your choice. So many possibilities!
Add an Acrylic Board or Calendar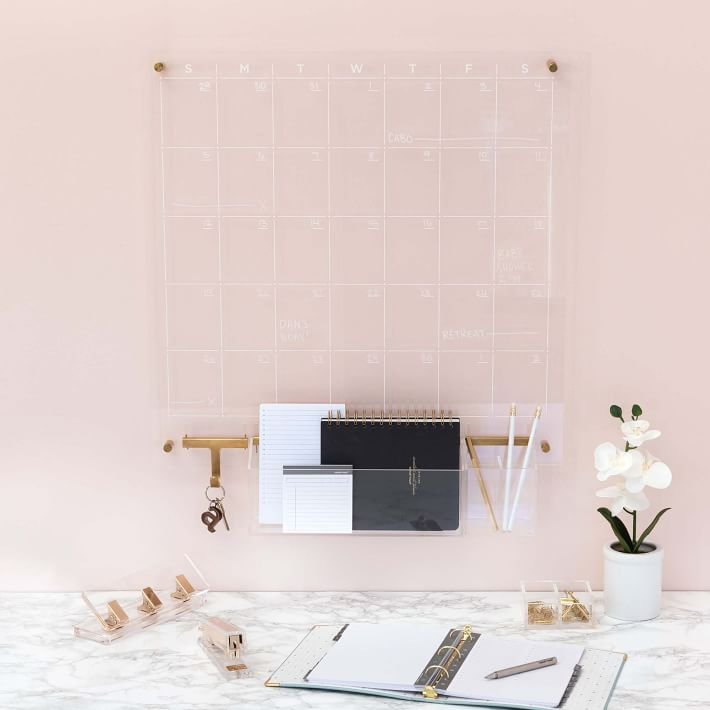 Acrylic boards and calendars are incredibly popular right now and they're perfect for giving your desk that aesthetic vibe.
An acrylic wall calendar like this one gives your room a sleek and modern aesthetic, and it will make you feel like "that girl" who has her life totally together.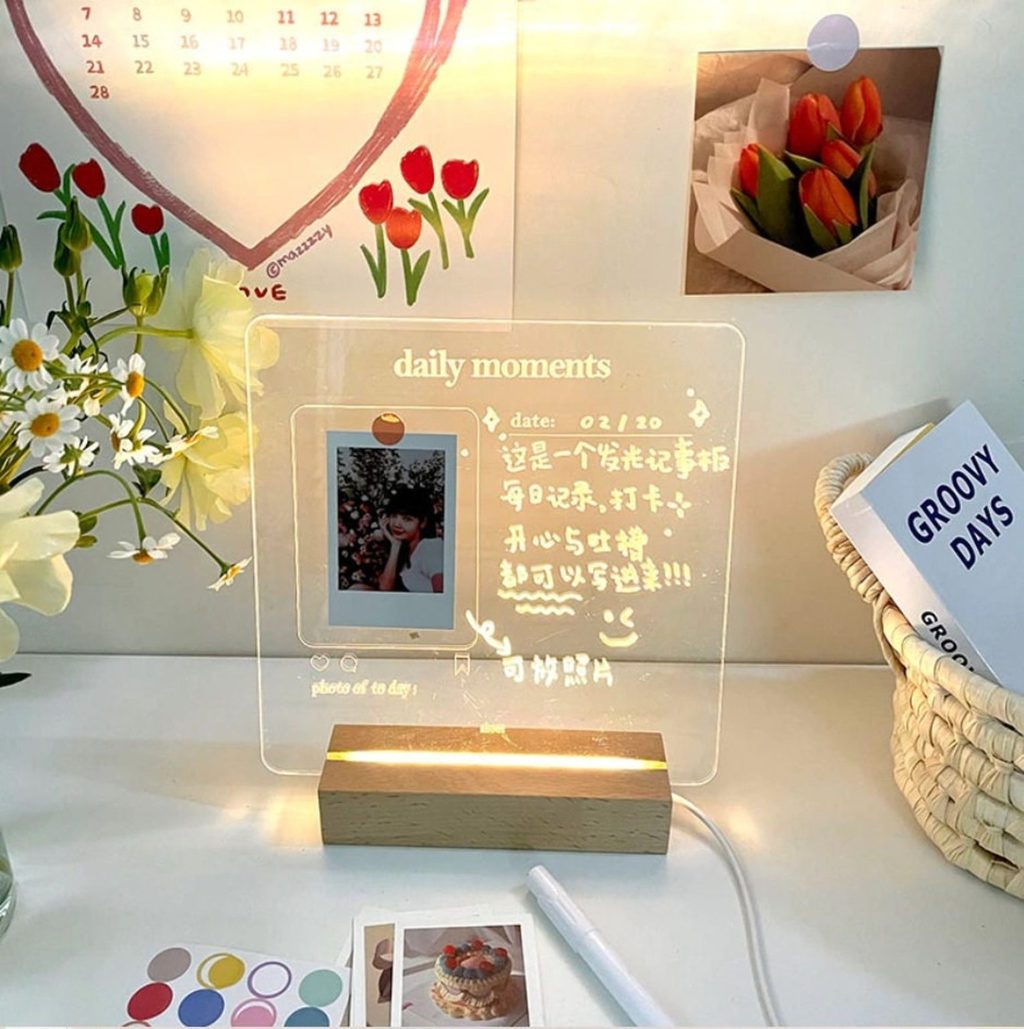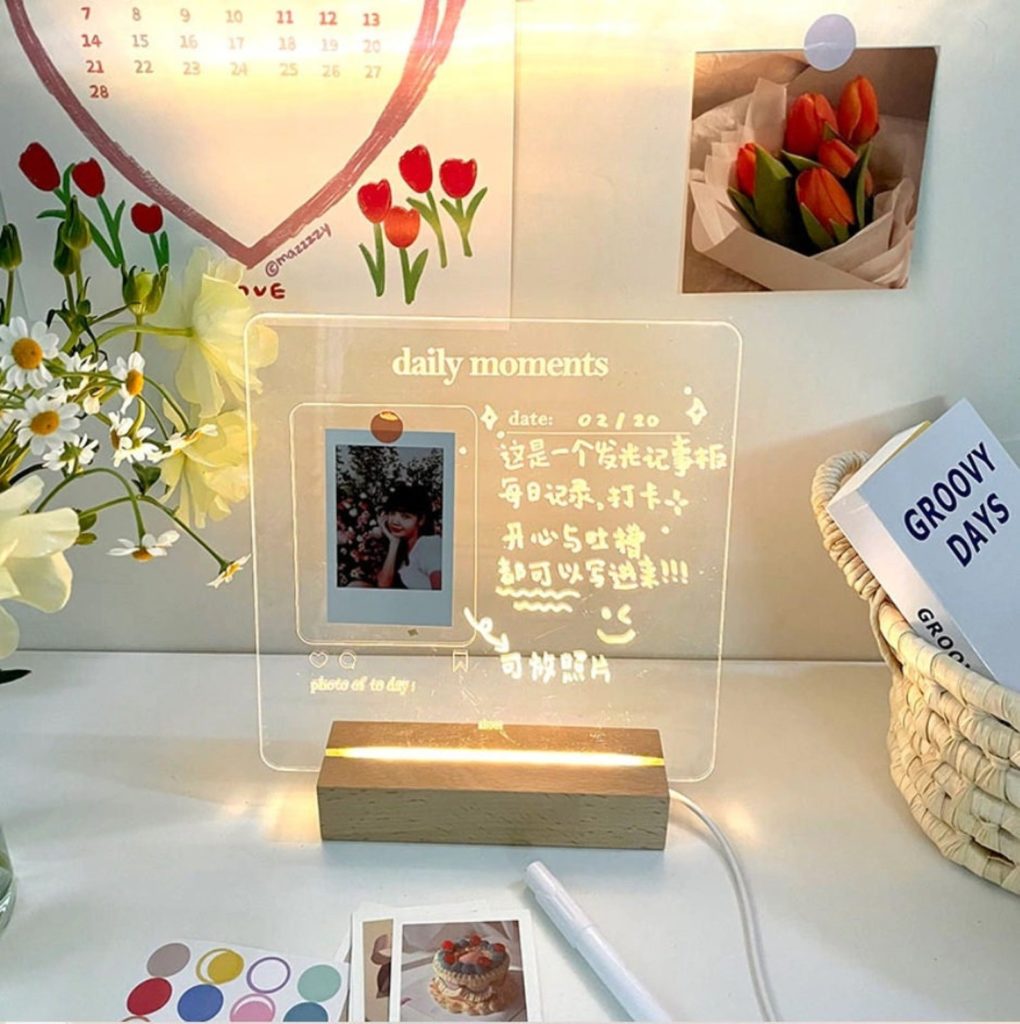 Another cute trend is the light up "Korean board" seen above. You can use it to write down daily to-dos and even post a photo of the day for motivation. Plus, it doubles as an additional light source for your room!
Experiment with Different Textures and Materials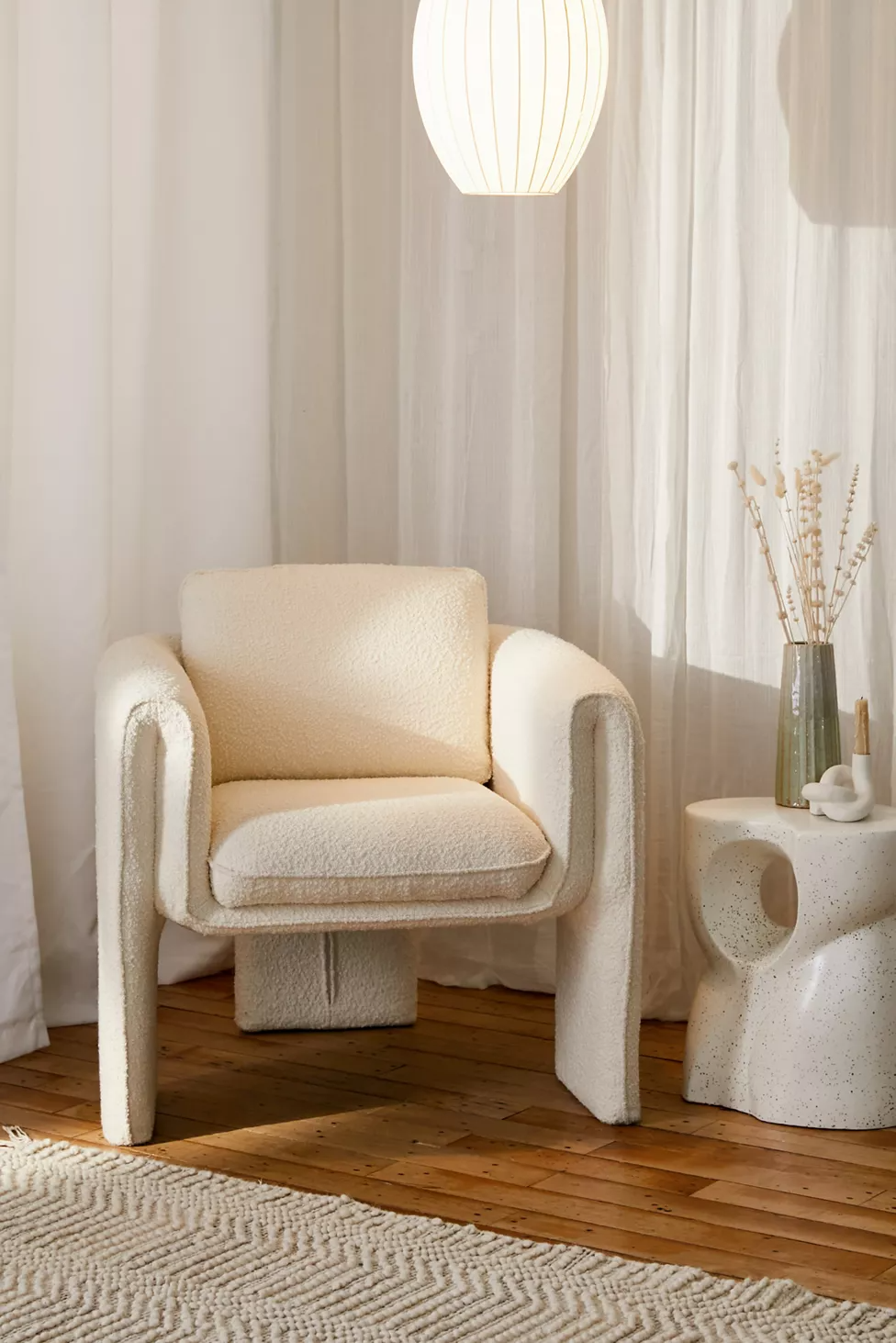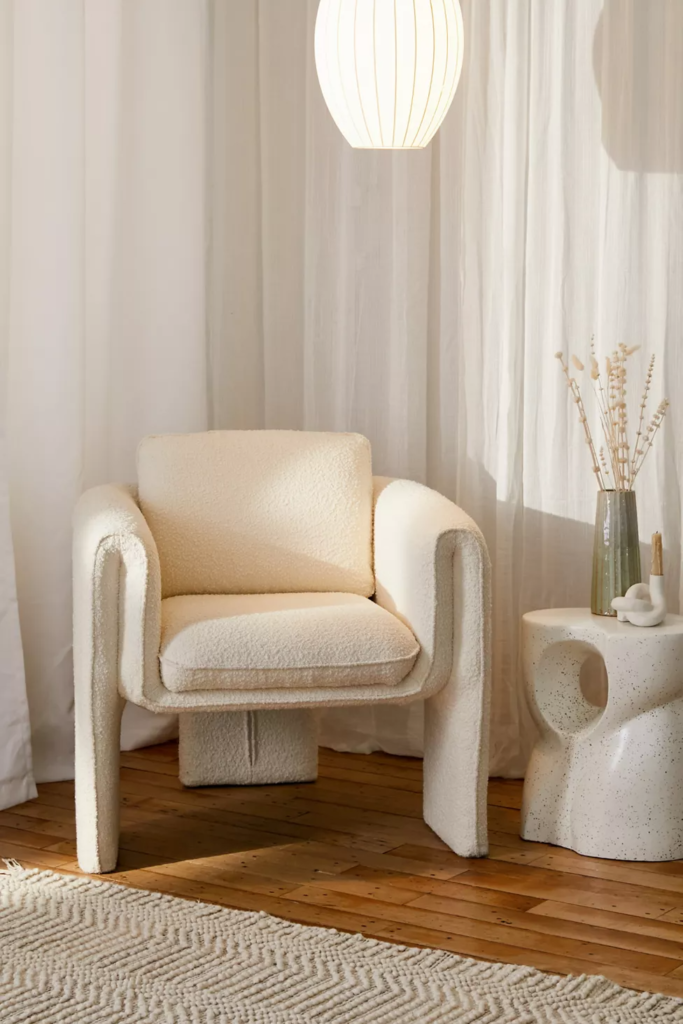 Playing with texture is one of my favorite aesthetic room ideas and it can give your room an eclectic, layered look. It is also the perfect way to add interest to a neutral room.
Boucle textured pieces like the chair above are incredibly popular this year, but we're also seeing lots of natural wood, stone, and earthenware used in aesthetic rooms, too.
The key is to make sure you have a variety of textures going on for the coolest look.
Install New Curtains or Blinds for an Airy Feel
Billowy white curtains are a popular choice for aesthetic rooms because they make any room feel luxurious and expensive. Plus, they let the light in for an airy feel.
The most popular curtains in aesthetic rooms start at the ceiling and go all the way to the floor — this makes any window look 10x grander and more glam than it is. (These ones from Amazon are an affordable example.)
If you want to make sure your room is dark enough for sleep, you can layer your curtains over standard blinds or invest in these linen look blackout curtains for the best of both worlds.
Use Decorative Pillows, Throws, and Rugs to Add Texture And Warmth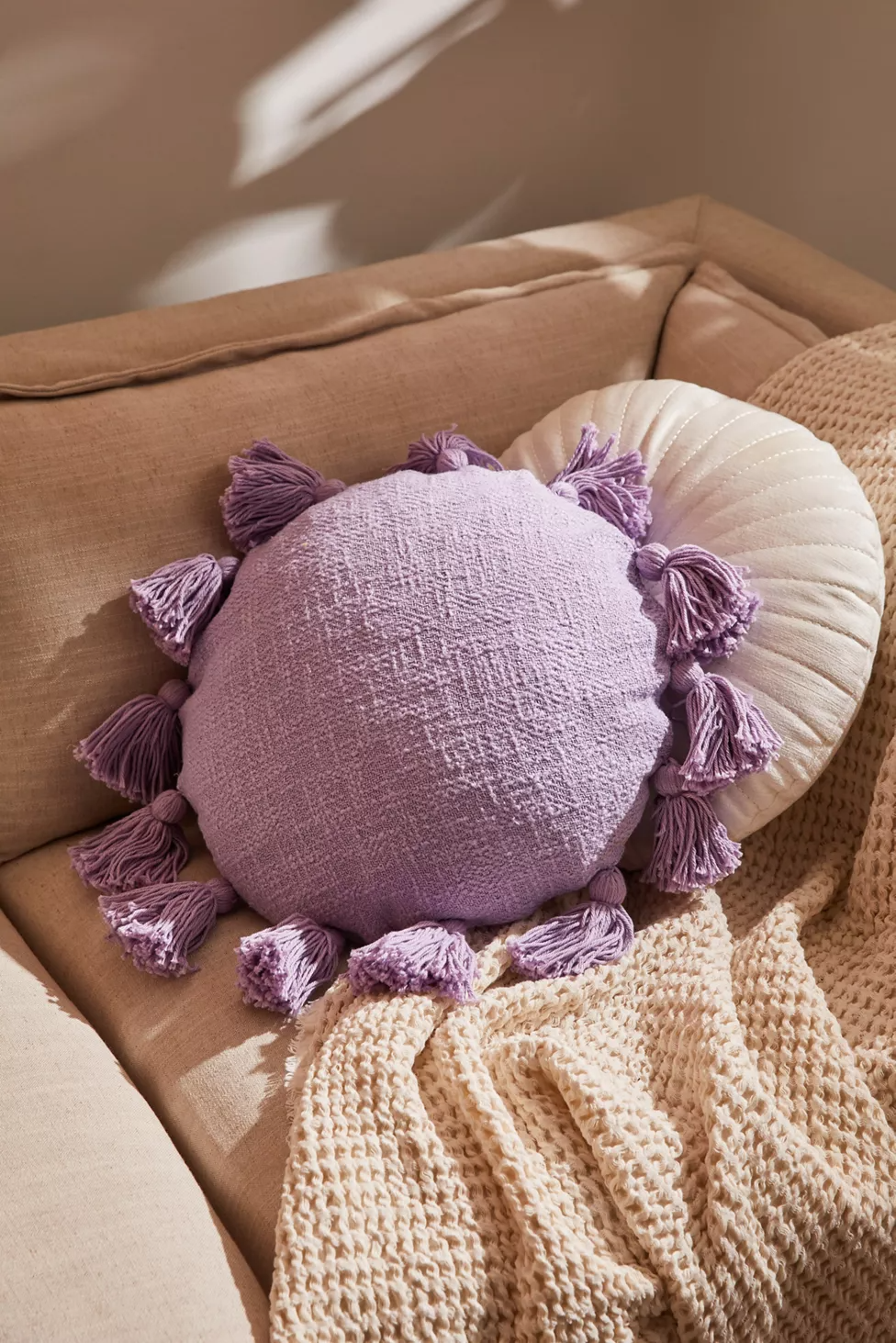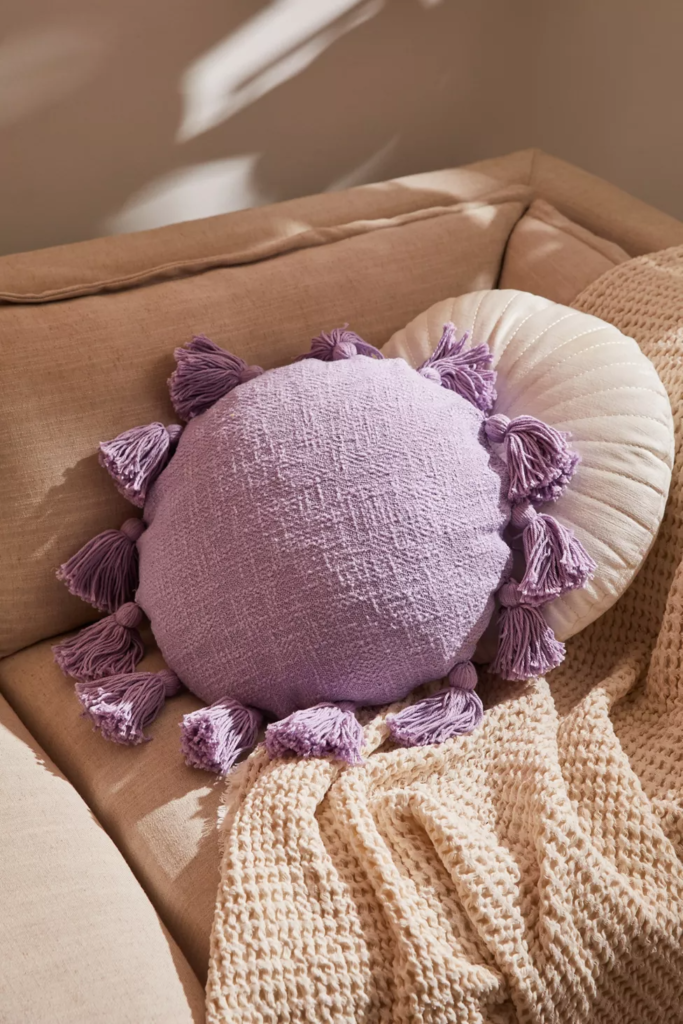 Every aesthetic room needs personality, and that's where decorative pillows, throws, and rugs come in. They add coziness and color to any space.
I love the lavender tasseled pillow above to bring a trending color into any room.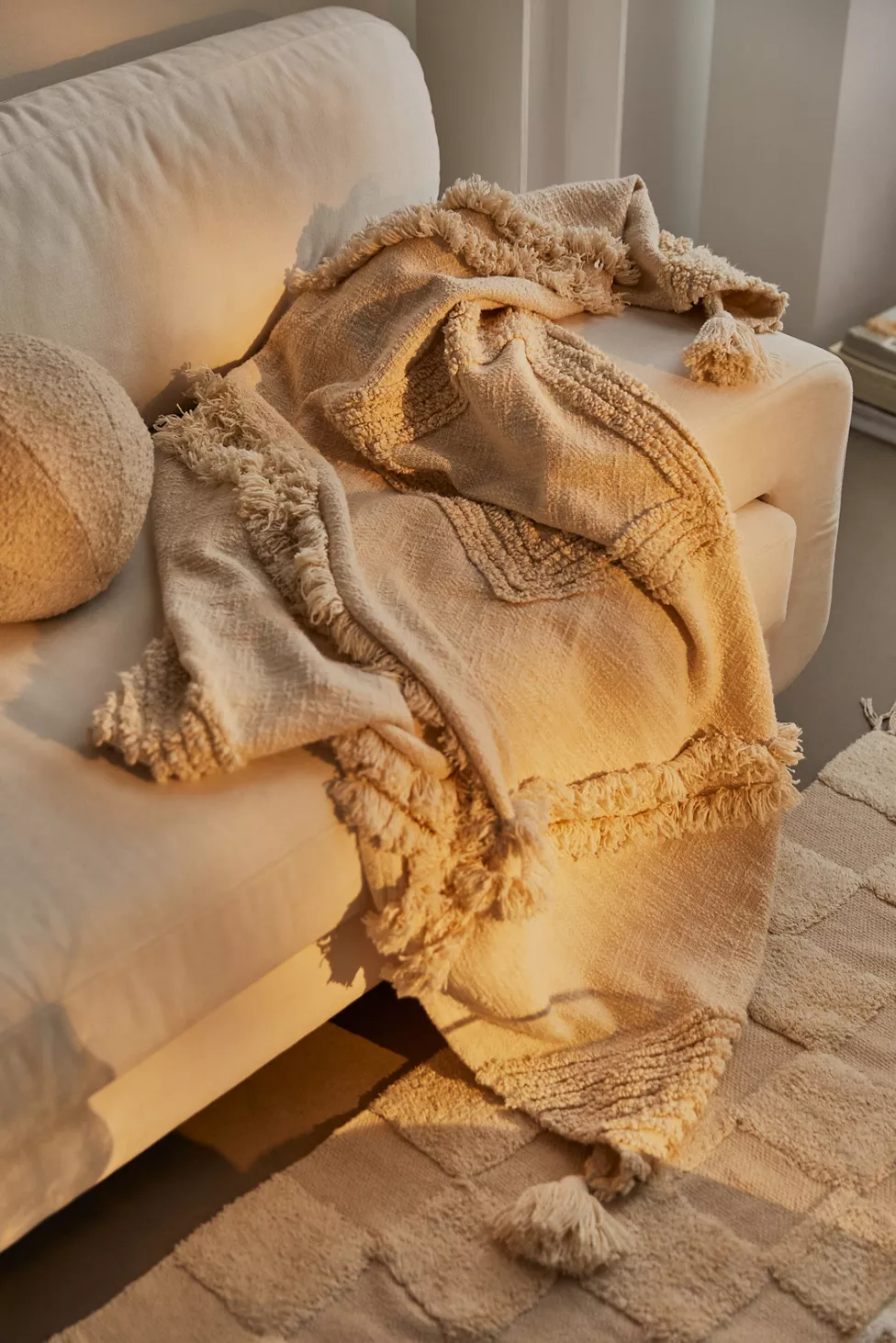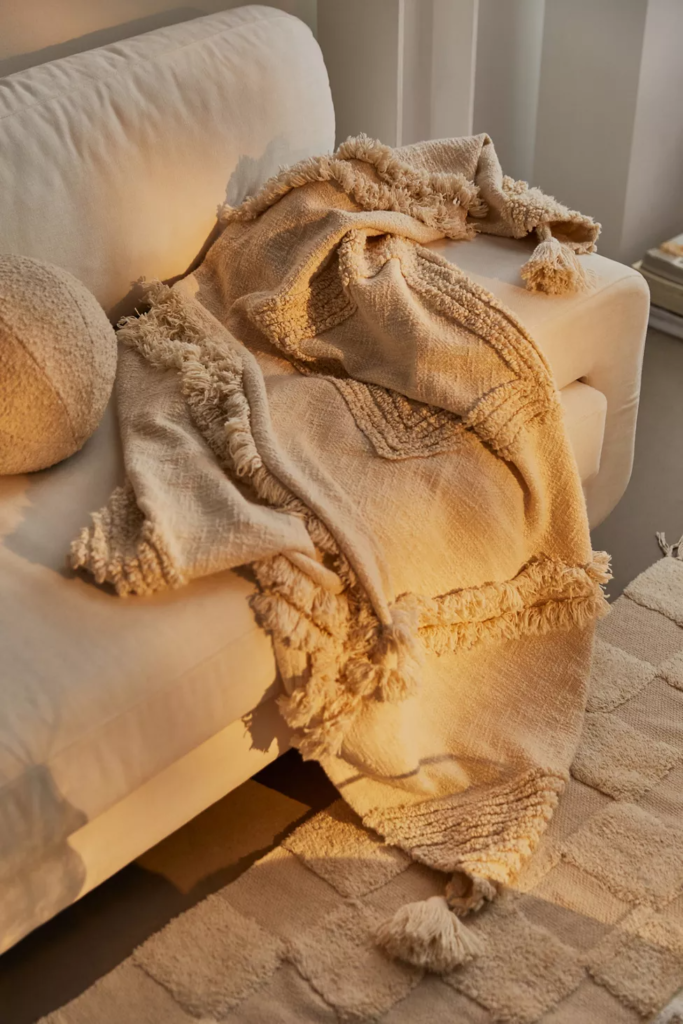 Throw blankets are also a great accent to any room — they create a layered effect and they're super cozy and warm for those winter nights. How pretty is this tufted throw from UO?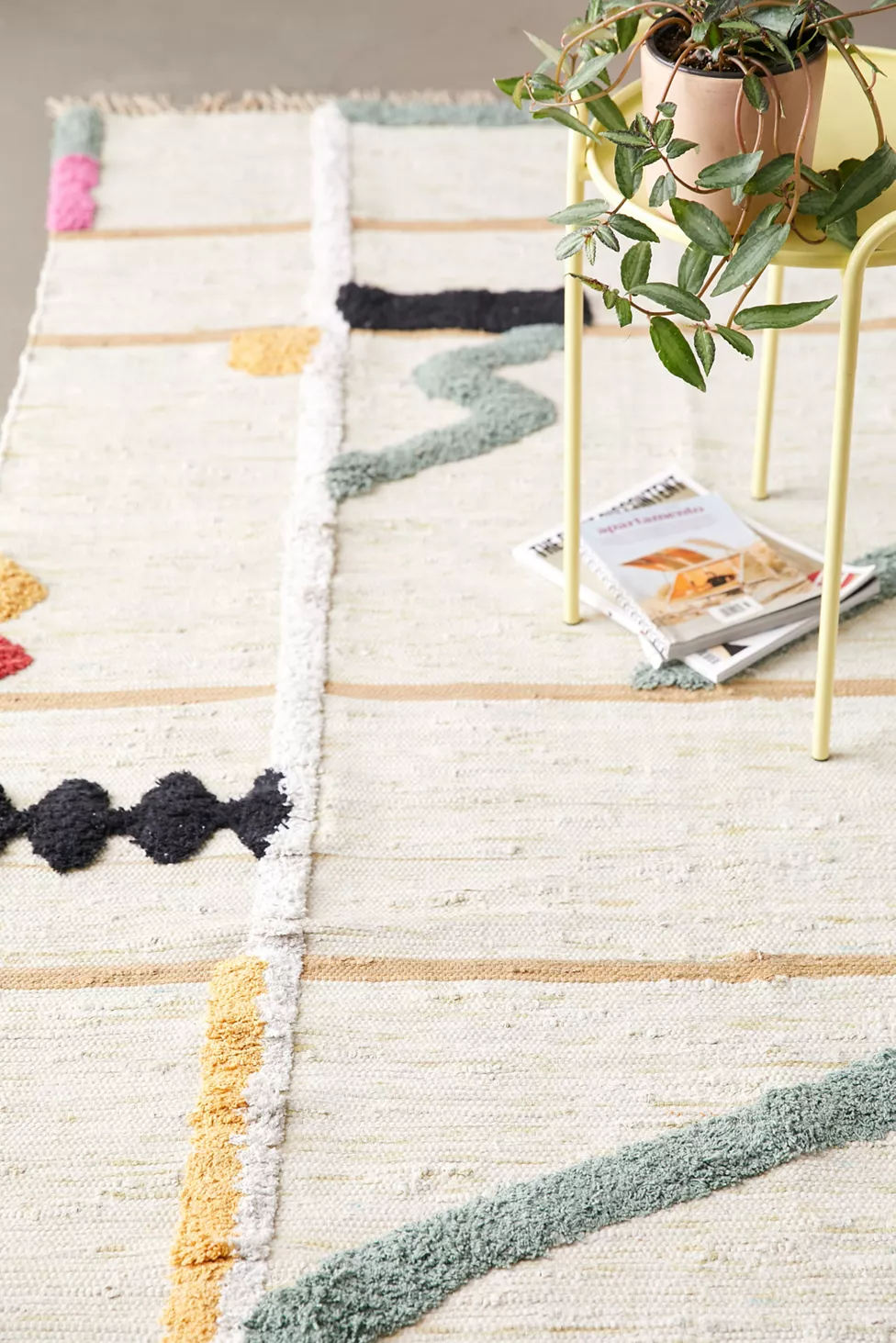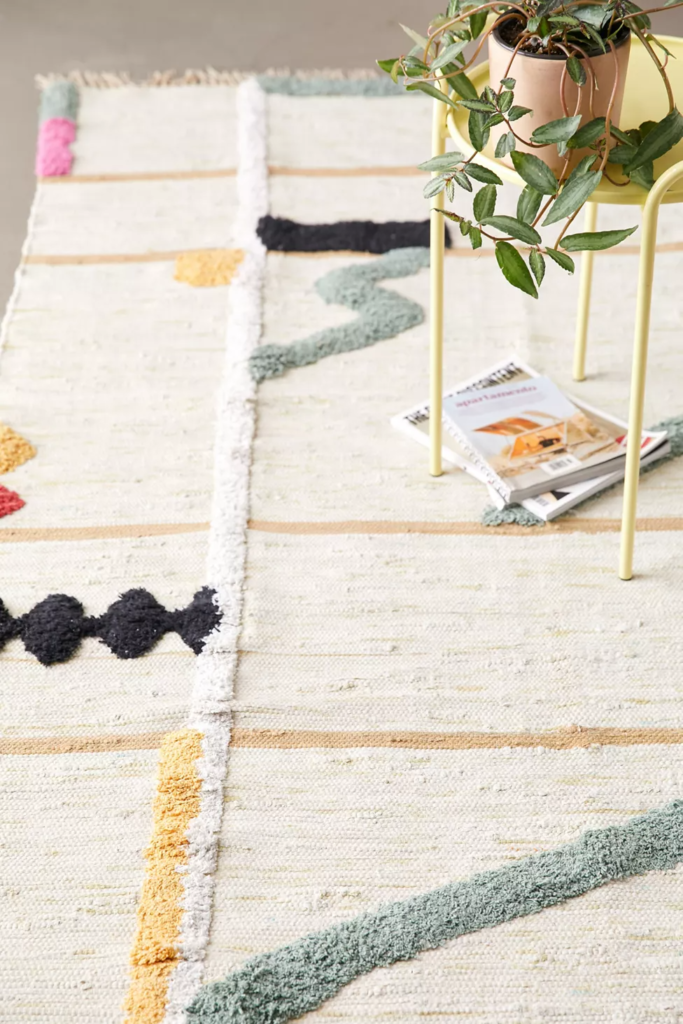 And we can't forget about rugs when we're talking cozy textile decor. This abstract printed one is a great way to bring multiple colors and an artistic vibe into a space.
What do you think of these aesthetic room ideas?
Now that you've seen our ideas, we want to hear from you. How do you make your room more aesthetic? Which of these items do you have in your room? Tell us in the comments down below.