This post may contain affiliate links, which means we may receive a commission if you purchase through our links. Please
read our full disclosure here
.
This post will show you cute date night outfits for your next date night.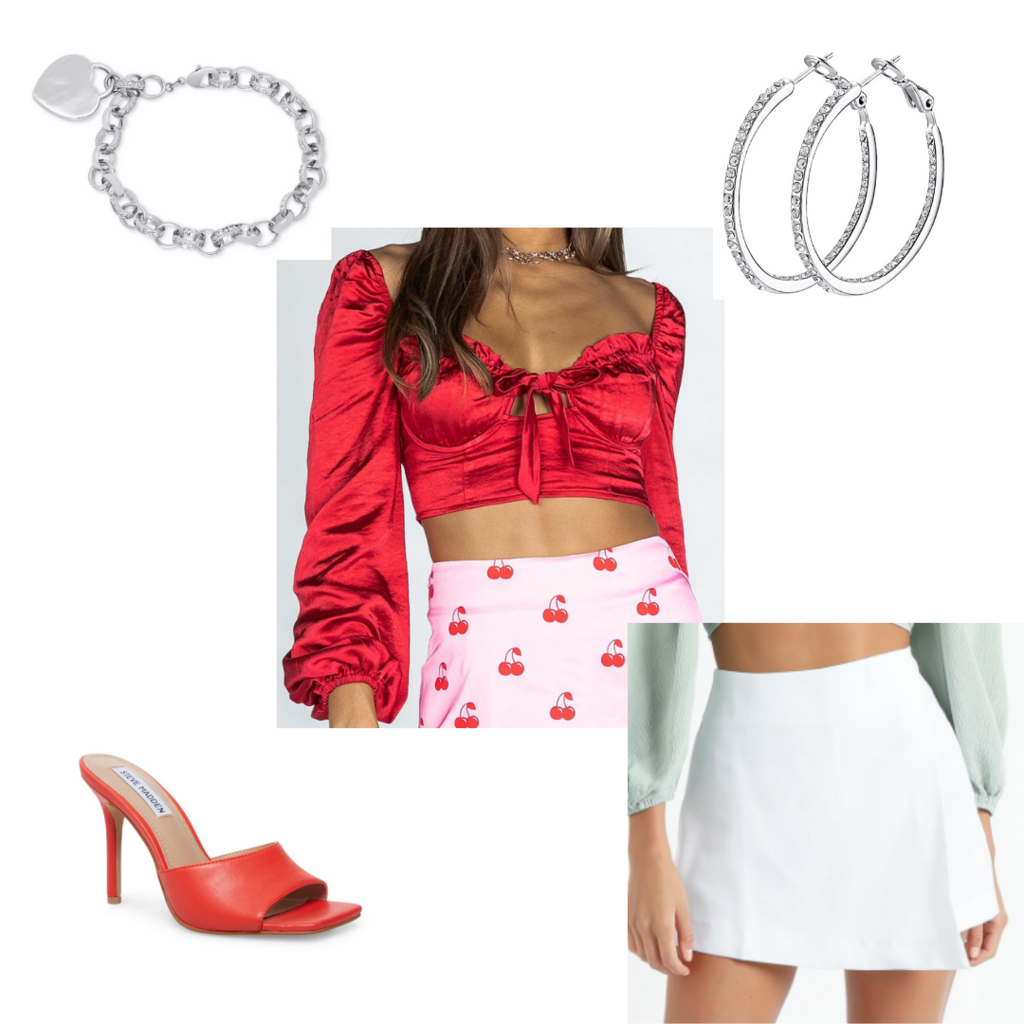 Date night is so much fun, but it can be stressful deciding what to wear for the occasion. You will definitely want to look your absolute best on date night, but you may be stumped for exact outfit ideas.
That's where we come in. There are so many outfit options that you can choose from for your next date night. A lot of your choices will depend on what kind of look you are going for and/or where you are going on your date, so below I've created some cute date night outfits for a variety of occasions.
If you are also really into fashion, you can include some of the most recent trends into your date night outfits to really stand out.
If you are looking for the perfect date night outfit, this post will show you 6 cute date night outfits that will have you looking stunning for your next evening out.
1. Date Night Outfit #1
If you love wearing jeans and they are your go-to clothing item for your nighttime looks, you can totally wear jeans on your next date night. It's all about what type of jeans you wear and what accessories you add to the look.
If you have been following recent trends in fashion, you may have noticed that the '90s style mom jean is super popular again this year. This means if you don't have these kind of jeans, you definitely need a pair.
To make your outfit even more trendy and super cute for your date night, you can add this pretty blue halter neck crop top for an on-trend Y2K vibe.
Then, just add some cute strappy heels like these black ones with some trendy accessories like this black baguette bag, small hoop earrings, and hair claw clip, and you will be good to go.
2. Date Night Outfit #2
If you want to go for something more girly for your date night, a cute dress is always a great option. This dress would be perfect if you don't want something too fancy but want to be on-trend — it's so perfect for the season with its floral paisley print. Also, it features a cowl neck top, which is very trendy right now.
If you want some cute shoes to wear with this dress, I would recommend these strappy heels. These heels are absolutely adorable and very in style right now. Also, what's great about these heels is they are not too high so that your outfit won't look super fancy if you want something more casual.
I definitely recommend getting these sandals in the shade "Champagne" because the color goes perfectly with the dress.
For some accessories, you can add on a baguette-style bag, but instead of just a plain black one like people usually wear, you can purchase this pink one to match the dress! It also had a gold chain design for the strap to make it even more fun.
Some gold accessories will look great with this outfit, so I would recommend adding this pretty gold chain bracelet and thick gold hoop earrings to match.
3. Date Night Outfit #3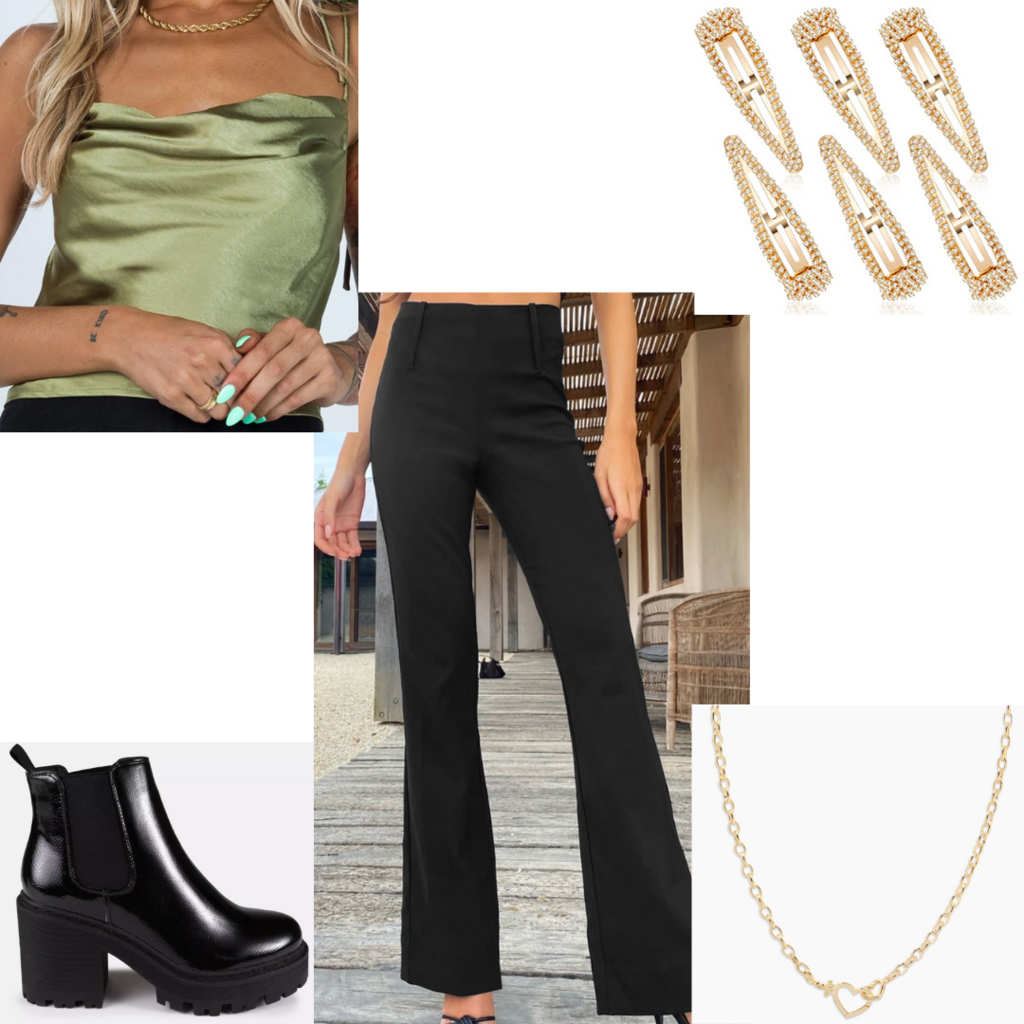 Products: Top, Pants, Boots, Necklace, Hair Barrettes
Flare leg pants are insanely on-trend right now and they would also look great as part of one of your date night outfits.
This is perfect if you want to wear something a little bit fancier than jeans. What's great about these pants is you can wear almost any top with them and your outfit will look trendy and cute!
If you want something that will look perfect for date night, I recommend this pretty green cowl neck top. The green top is trendy and will also make you stand out on your date night.
Then, for shoes, I recommend going for some cute boots with a heel like these black boots to match the pants. I would also add some fun accessories like this pretty gold heart chain necklace.
If you also want a cute hair look for this outfit, I love these gold rhinestone barrettes to match.
4. Date Night Outfit #4
Not only is red the color of love (which makes it a super cute color to wear on date night), but it's also such a fun and unexpected color to use in your outfits.
This red top and heels combo is an adorable choice for your next date night look. I especially recommend these shoes because this style of shoe is a new trend and they look just like Barbie shoes for that nostalgic feel.
To go with the top, you can wear this adorable white wrap skater skirt, if you want something more girly.
To add some cute accessories to this outfit, wear these rhinestone hoop earrings and cute toggle heart bracelet to complete the look.
5. Date Night Outfit #5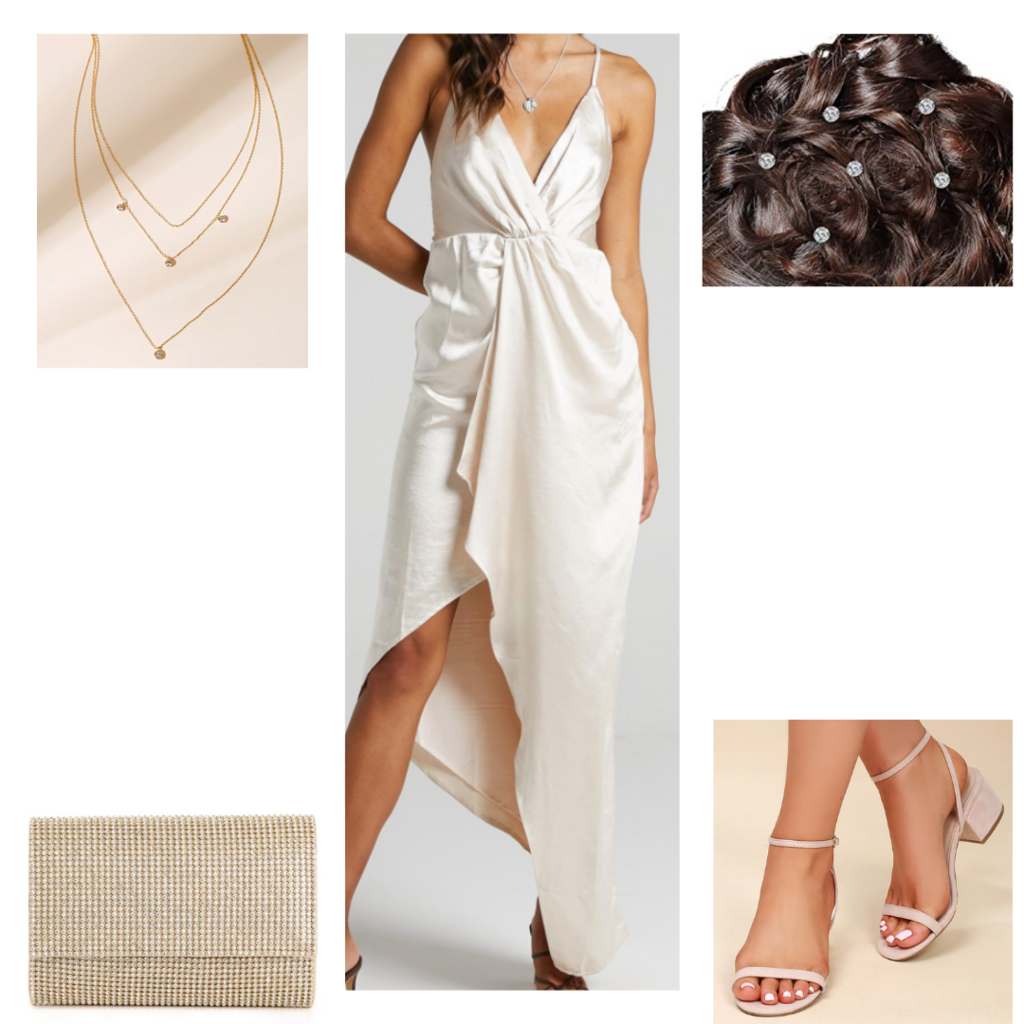 Products: Dress, Shoes, Necklace, Hair Accessory, Purse
For a date night that is somewhere fancy or even if you are just in the mood to wear something extra fancy, you could go for a maxi dress.
This beautiful champagne maxi dress in satin will look absolutely gorgeous as one of your outfits for date night. Pair the dress with these beige minimal heels to complete your outfit.
To make your look even fancier, you can add some sparkly accessories to it like this layered gold rhinestone necklace with this gold rhinestone clutch to match.
Also, if you want to do your hair for your date night, you can add some extra sparkle with these rhinestone hairpins that you can wear with your hair down or even in a pretty updo!
6. Date Night Outfit #6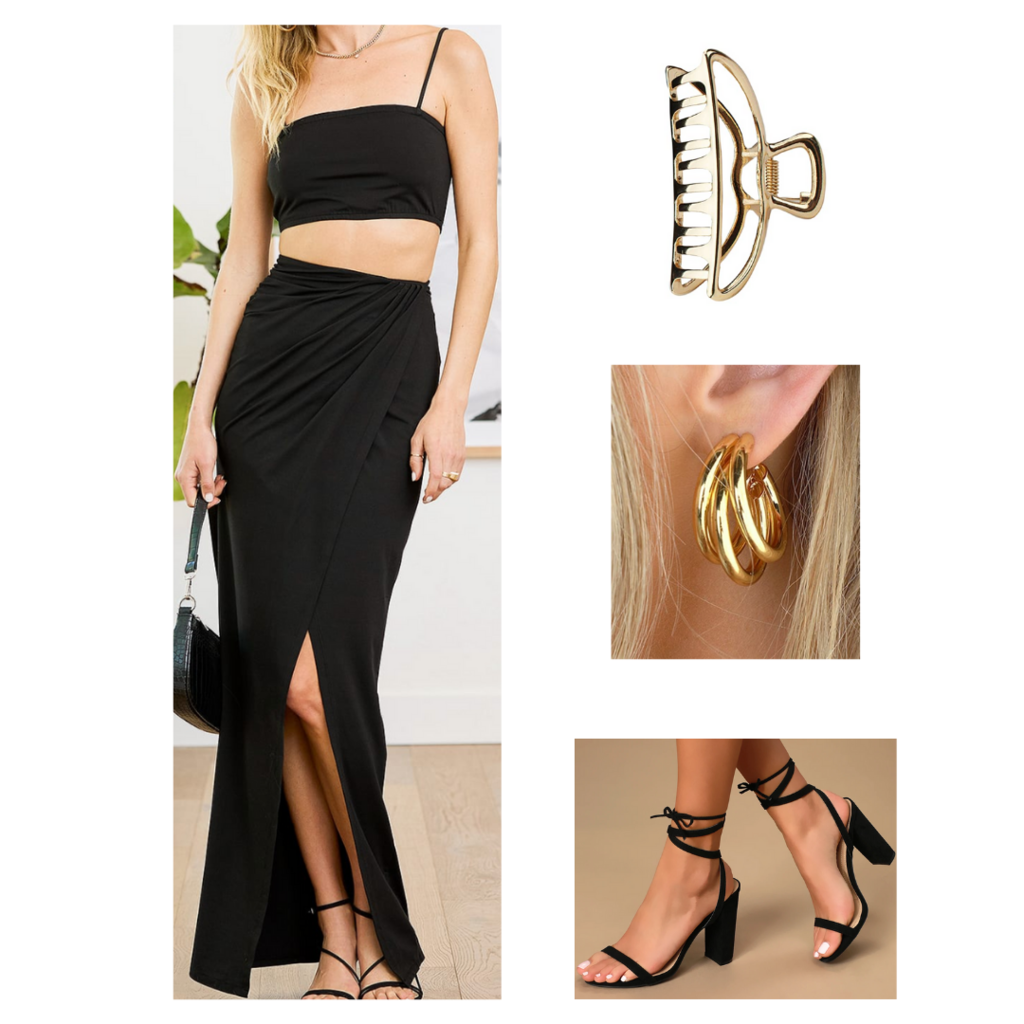 Products: Two-piece set, Shoes, Earrings, Hair Clip
If black is your usual color of choice for your nighttime outfit, you can also make this your color for a date night. I always love black because no matter where you go, it will always look good.
Sticking to basic black will make picking out your outfit super easy, especially if you purchase this black two-piece skirt set. It comes with a long skirt with a slit in the front and a matching crop top that will make you look great, especially if you want a fancier outfit, but don't want to wear an actual dress.
Then, just pair this set with these trendy strappy heels in black to match and add accessories like these gold double hoop earrings and gold hair claw clip for a cute hairstyle.
Which of these cute date night outfits is your favorite?
What outfit are you most excited to wear on date night? Where will you be going for date night?