This post will show you 20 fall date outfits.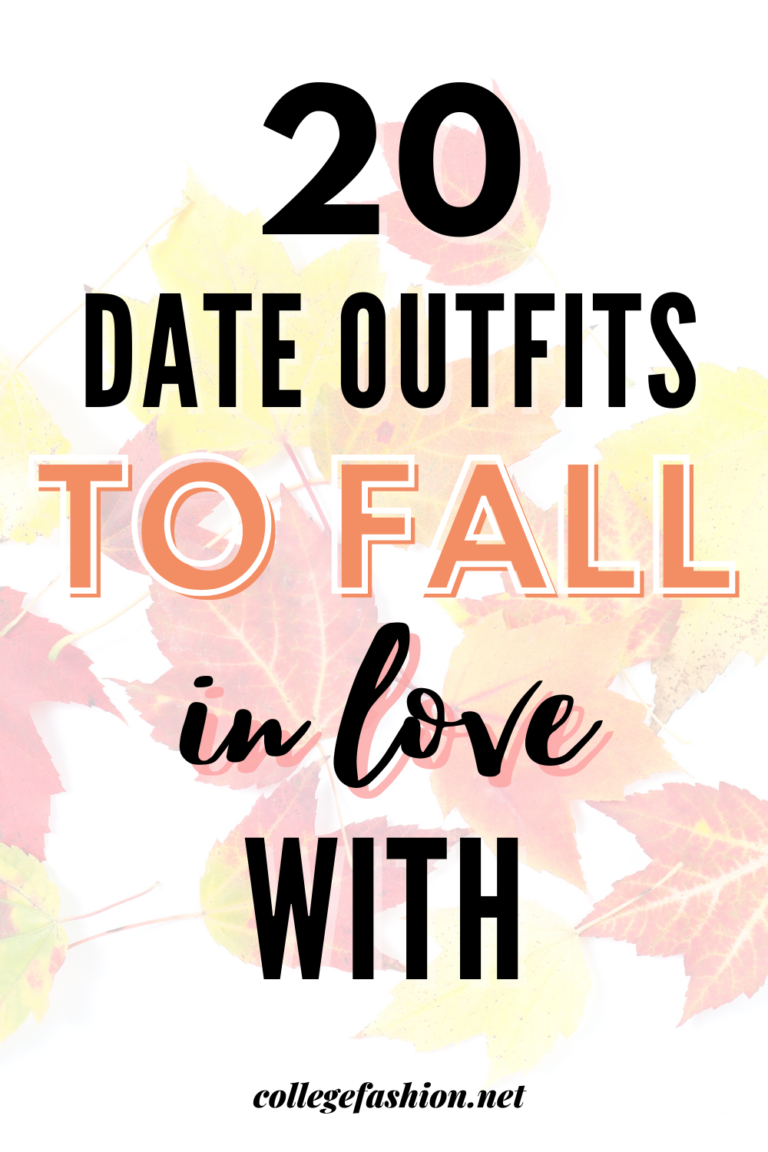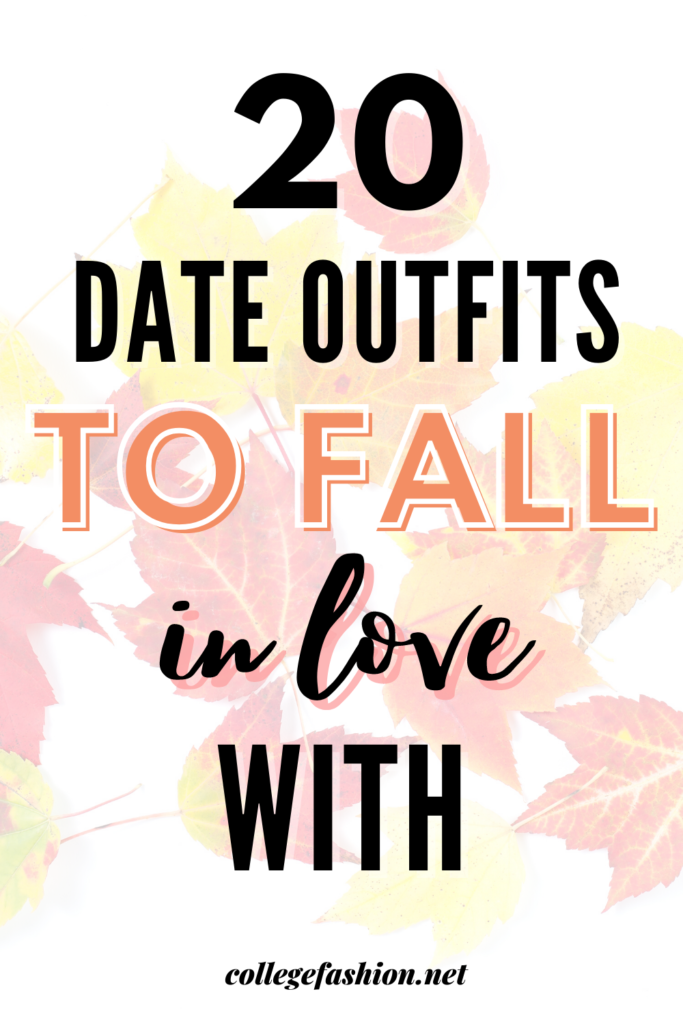 Fall fashion has officially arrived! Fall is my favorite season and I love putting together weather-appropriate outfits for these cooler months. The leaves start to change and the temperatures get chilly; it's simply the most perfect time of year.
With the world starting to return to some sense of normal, dating is quickly speeding up again. Fall time is full of fun date ideas and activities… all which require an amazing outfit!
Here are 20 fall-ready date outfits, all inspired by Princess Polly, which is our latest obsession. This post is not sponsored by Princess Polly, we just love the store!
One more note before we go any further for all my single ladies. All of these outfits can be worn anywhere. They're not just for dates, of course. Some of these activities are perfect to do with a group of friends or even on a solo date with yourself (because we love a good self-care day!).
Related post: The 38 Cutest Date Night Dresses We Love This Season
20 Cute Fall Date Outfits
1. Scenic Leaf-Peeping Drive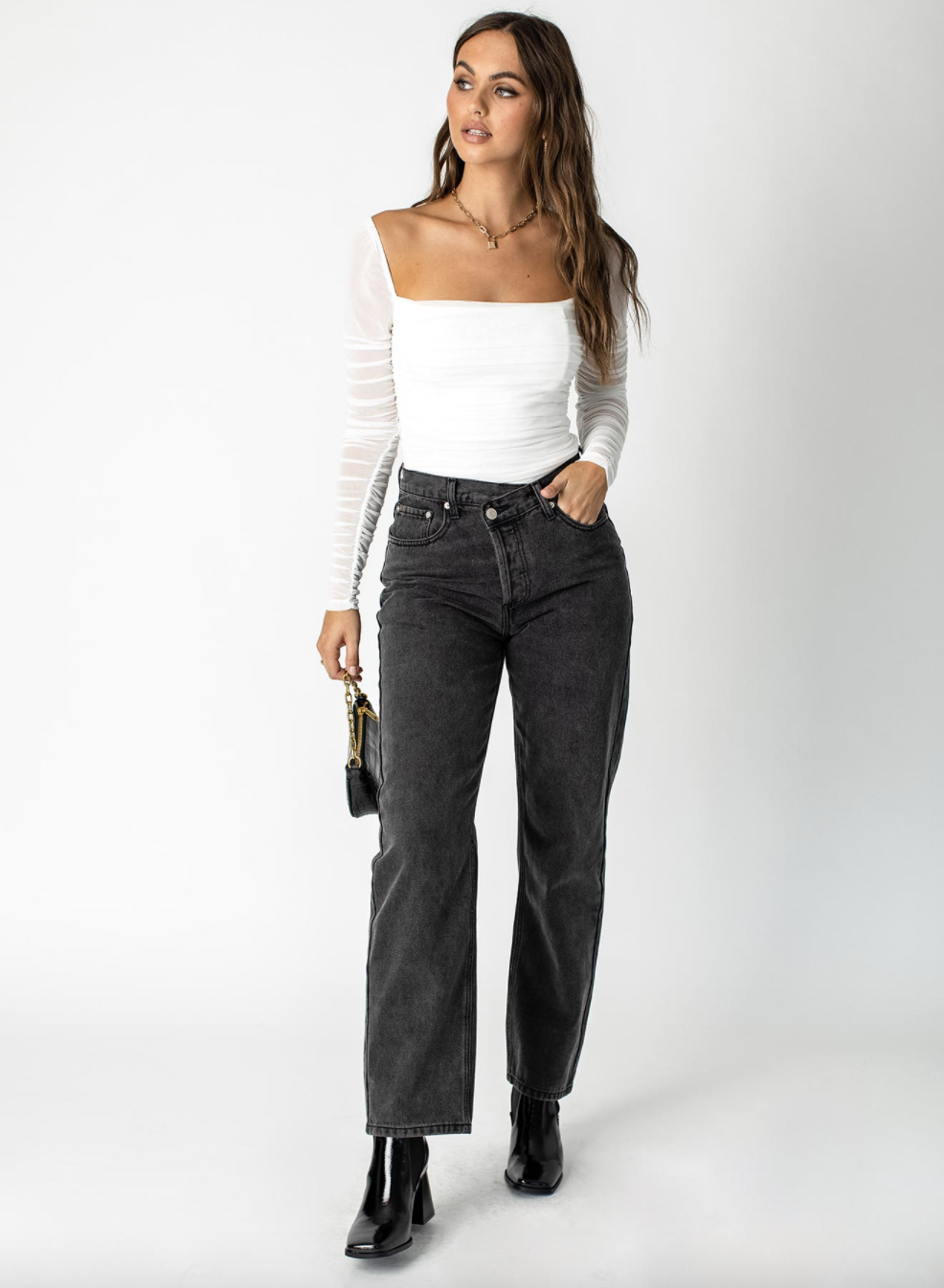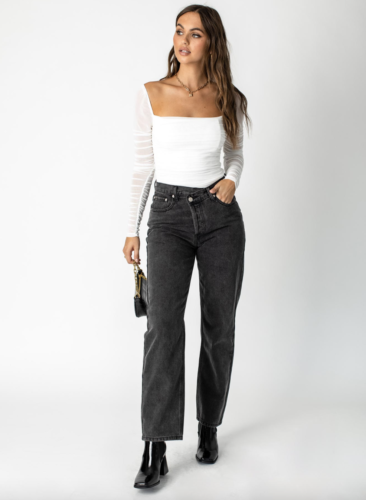 One of the most ideal fall weather date ideas is to hop in the car and go leaf-peeping all the beautiful colors. This outfit styles a super white, ruched, long sleeve bodysuit with a square neckline. It comes in three other colors and has built-in padding so you can skip the bra.
Pair it with some black mom jeans and heeled booties to dress it up a tad. For accessories, some gold jewelry and a mini shoulder bag with gold hardware will be perfect.
2. Fall Bonfire Date Outfit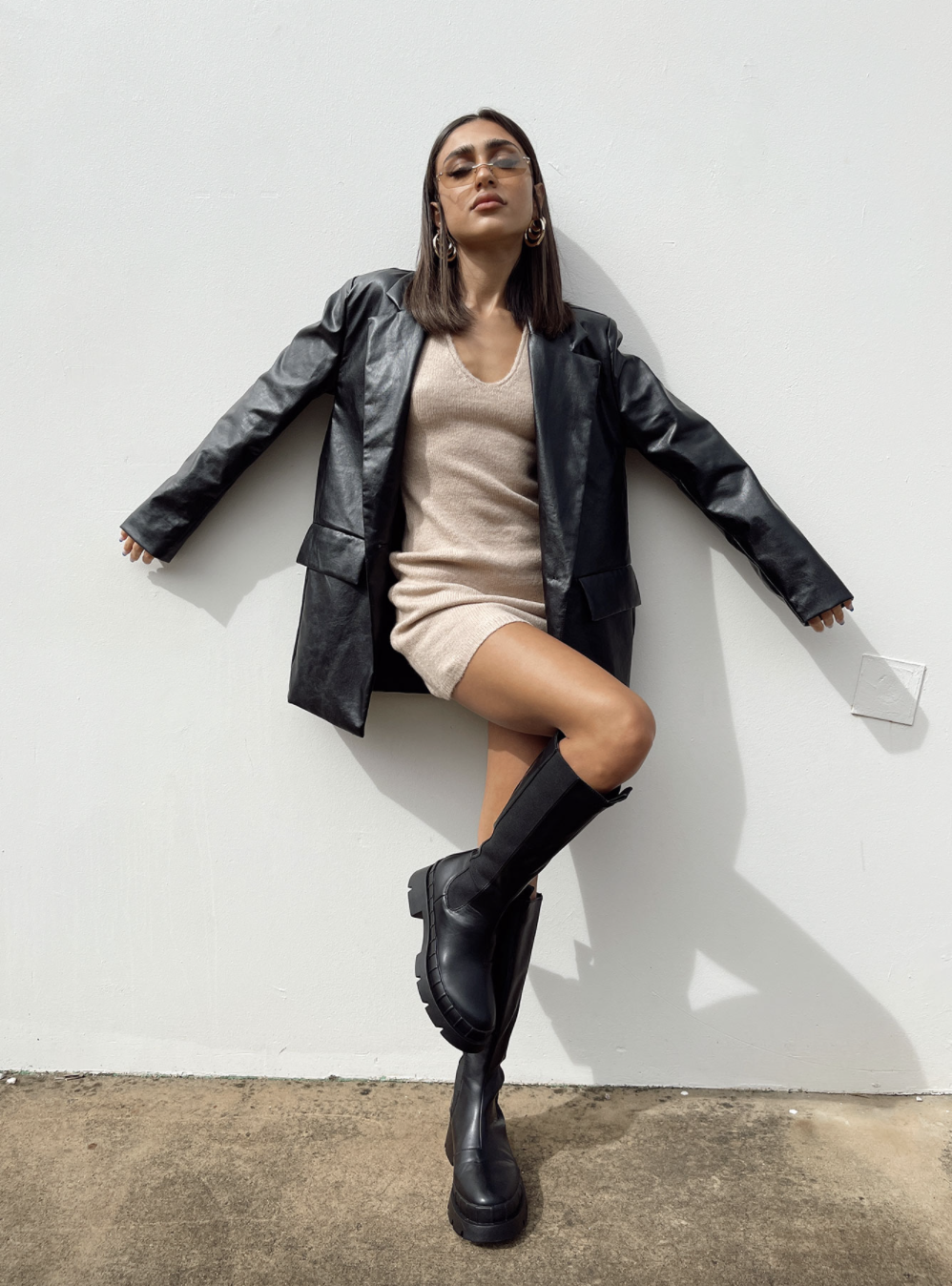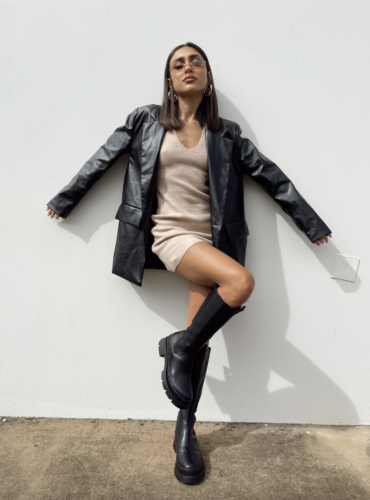 This next outfit is the perfect nighttime bonfire date look. The focus of this outfit is this faux leather oversized blazer which will be ultra versatile. It's styled with this nude, knit mini dress. A casual dress like this is perfect for date night and would be very comfortable.
Wear this look with some black knee-high boots and chunky earrings. For a bag, a mini black shoulder bag is a great accessory to add. The neutral colors and statement jacket together give me fall bonfire vibes for sure!
3. Dinner Date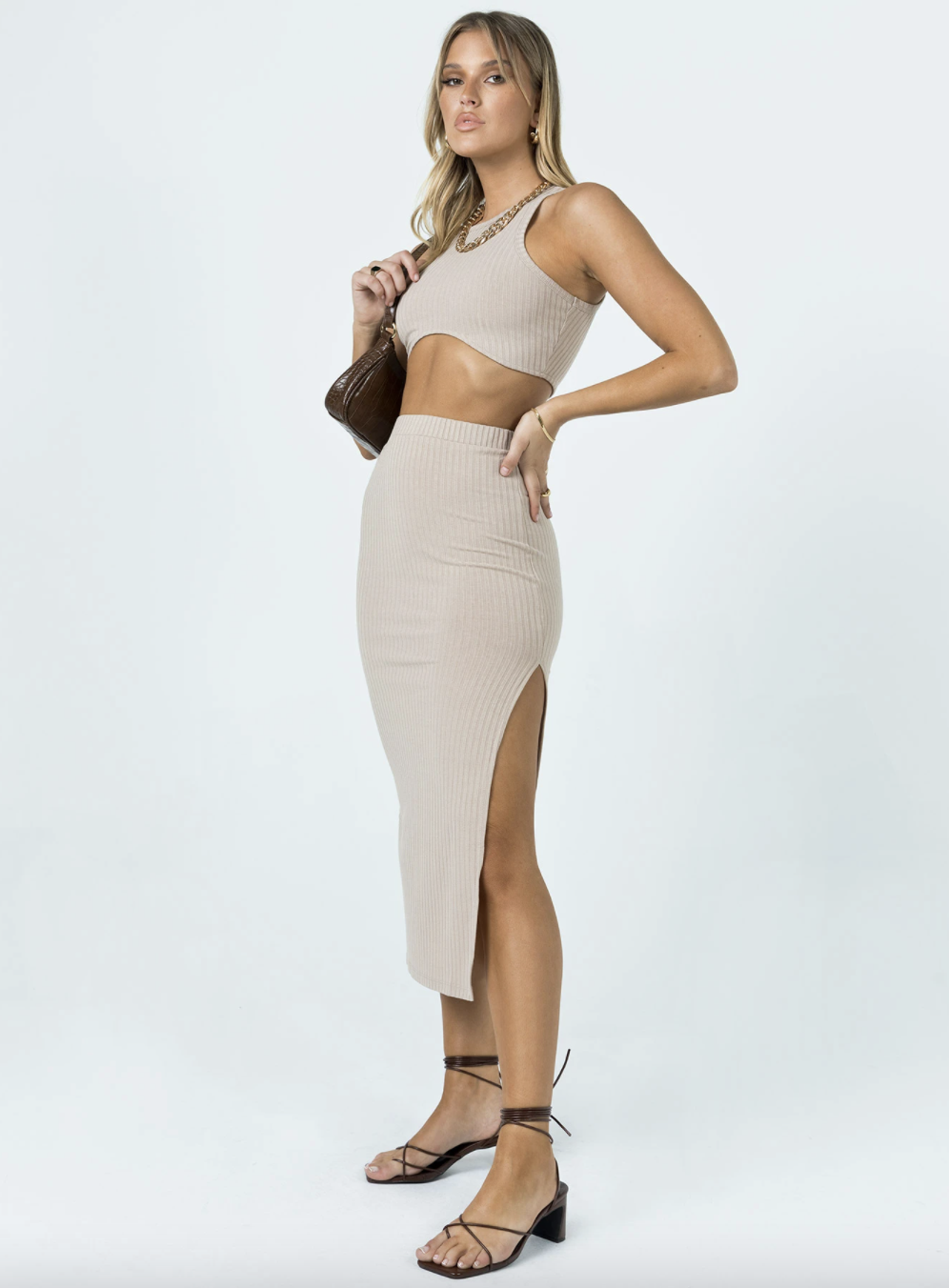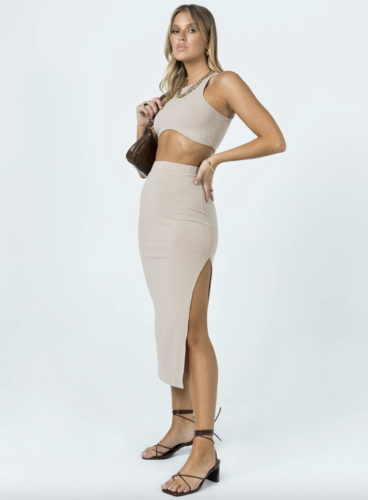 Going out to dinner is not just for romantic dates, but is super fun with your friends too! This co-ord set is giving me major fall vibes and is so flattering. It would be easy to throw a jacket over if it's going to be chilly in the evening.
Here, they have styled it with some strappy lace-up heels. Swap out the heels for some black booties to keep it more casual if that's your vibe. For accessories, a mini shoulder bag will hold all your accessories.
4. Picnic Date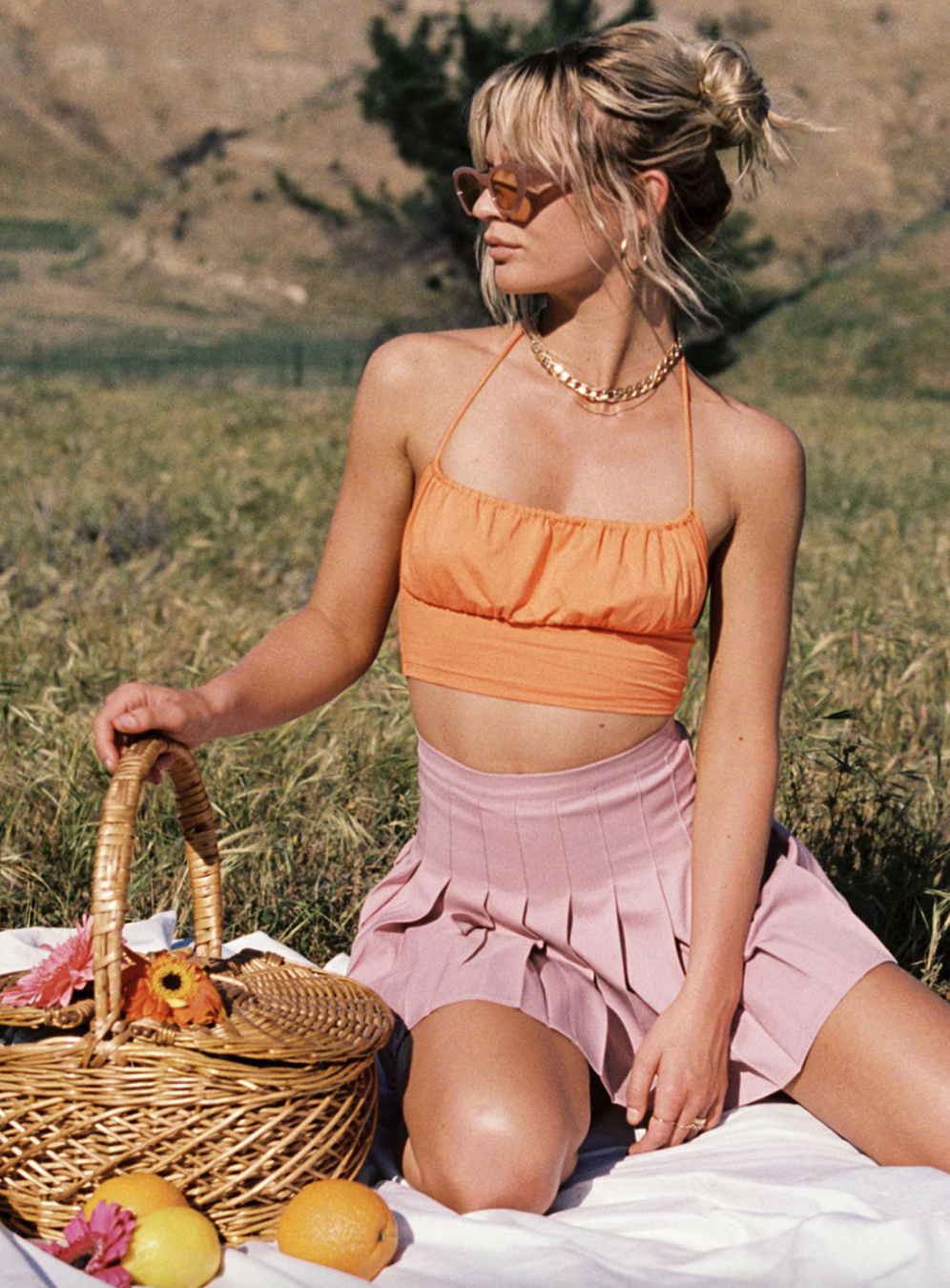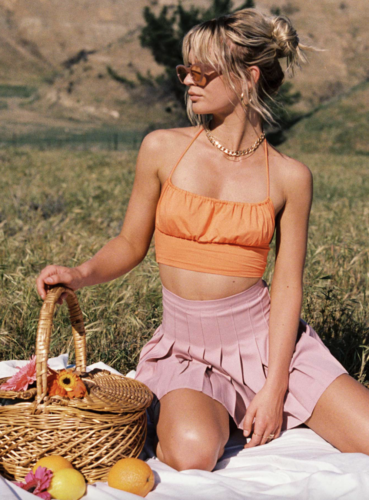 A picnic date is such a fun idea for something to do during the day when the temperature is still fairly warm. You can make some food to bring to the park or order some takeout.
For this look, they opted for a pink mini skirt. Skirts are very flirty which is perfect for a date. This one has a high-waisted fit and pleating.
It's styled with a fun orange cropped tank to add some more color to this look. Don't be afraid of color for fall! If the weather is colder, throw on a cropped denim jacket and you're all set.
For shoes, some little white sneakers are ideal. Add some sunglasses and gold jewelry to finish off the outfit. I love the look of a messy bun with this outfit to keep it casual and laid-back.
5. Fall Festival Date Outfit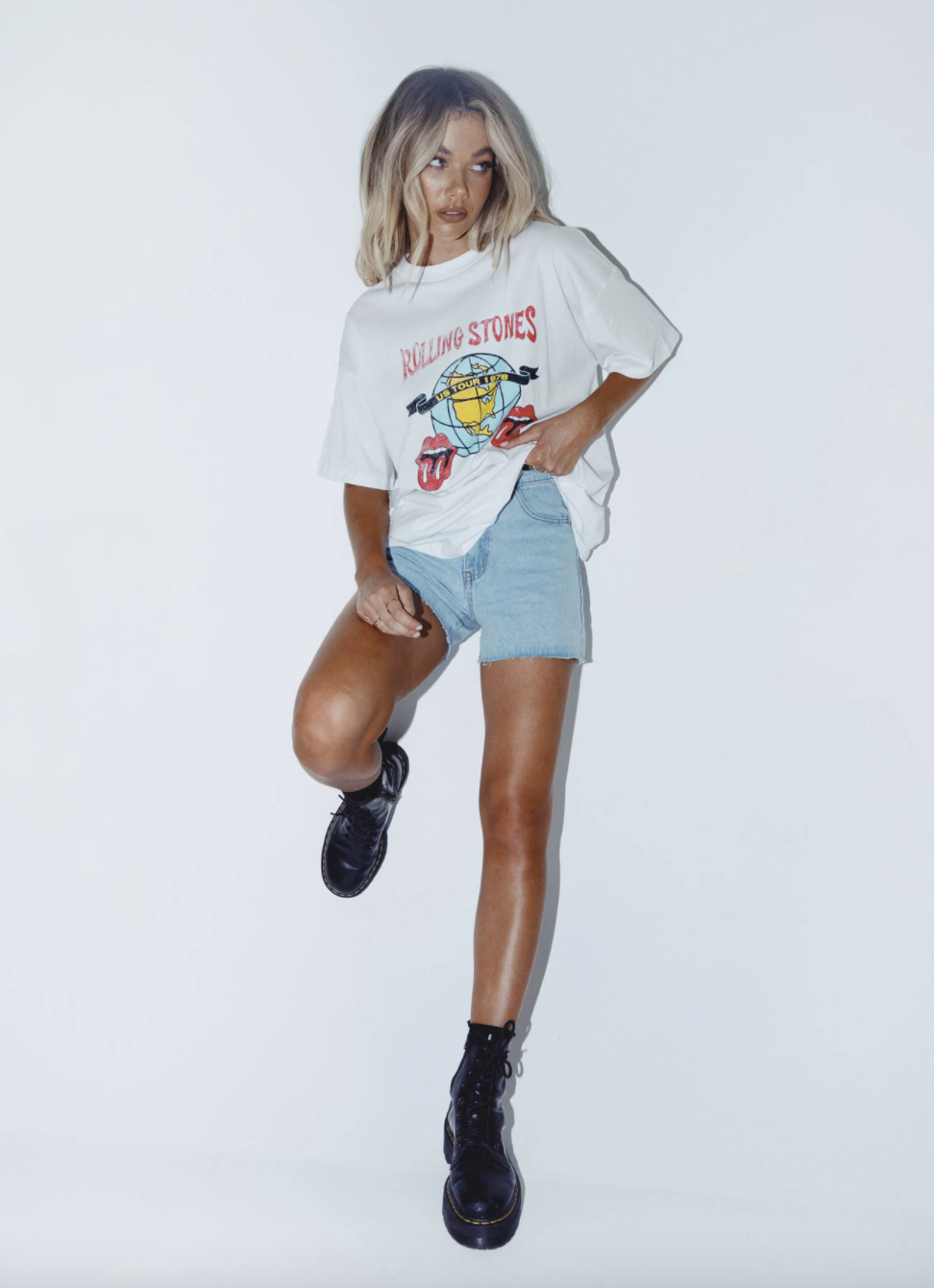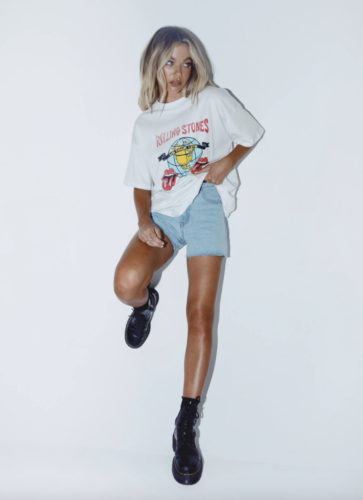 For a casual fall festival date outfit, this graphic tour tee is perfect. An oversized band tee is exactly what you need on a daytime date.
Tuck this oversized tee into some high-waisted denim shorts and pair it with black booties. You can always swap the booties out for sneakers to make it even more casual or something with a heel to dress up the look.
If you're taking this look from day to night, throw over a black leather jacket to add some edginess and you are all set.
6. Movie Theater Date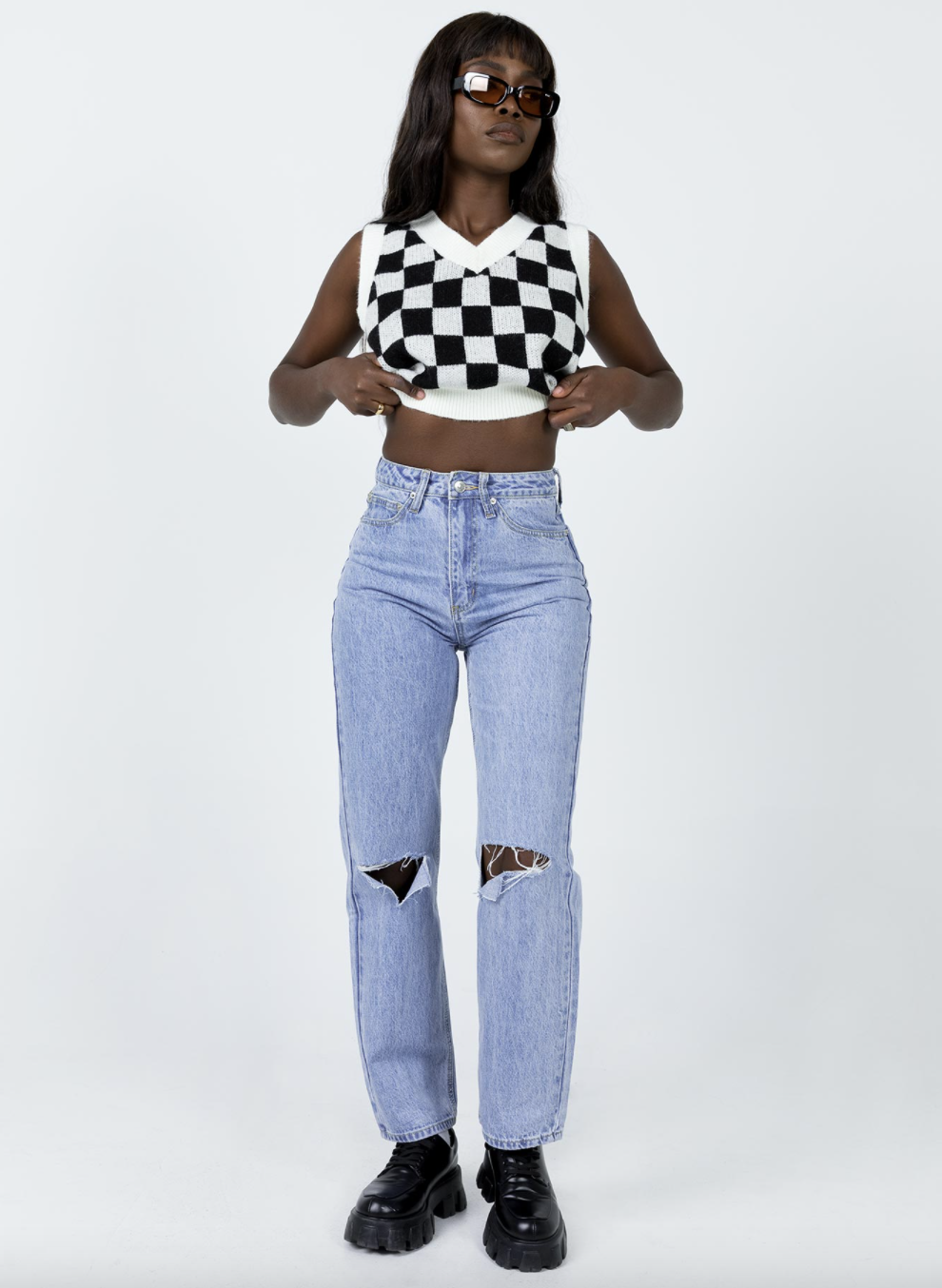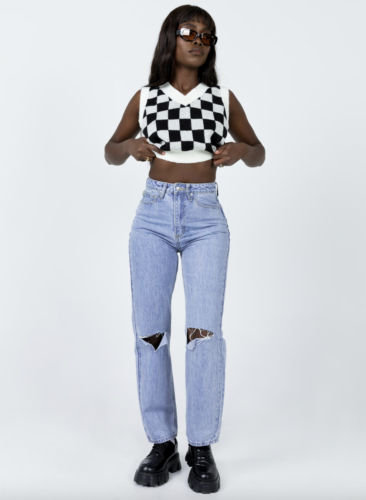 Going to the movies is one of my favorite things to do! Especially when it gets colder out, it makes the perfect weekend activity. If your next date is at the movies, then this outfit is inspiration for you!
This fall date outfit styles these amazing denim mom jeans. They are a pale blue wash which gives off a vintage, thrifted vibe. They are mid-rise, have a relaxed leg, ripped knees, and contrasting stitching. These are the perfect fall jeans to add to your wardrobe and can be styled in so many different ways.
The jeans are paired with this adorable cropped sweater vest, a trendy fall piece that is also super versatile. For colder weather, you can layer a neutral long-sleeve turtleneck underneath or throw an oversized black leather jacket over top.
For shoes, add some chunky black booties. Keep your jewelry simple because of the statement pattern on the sweater. You can add some tiny hoops or a thin chain necklace.
7. Haunted House Date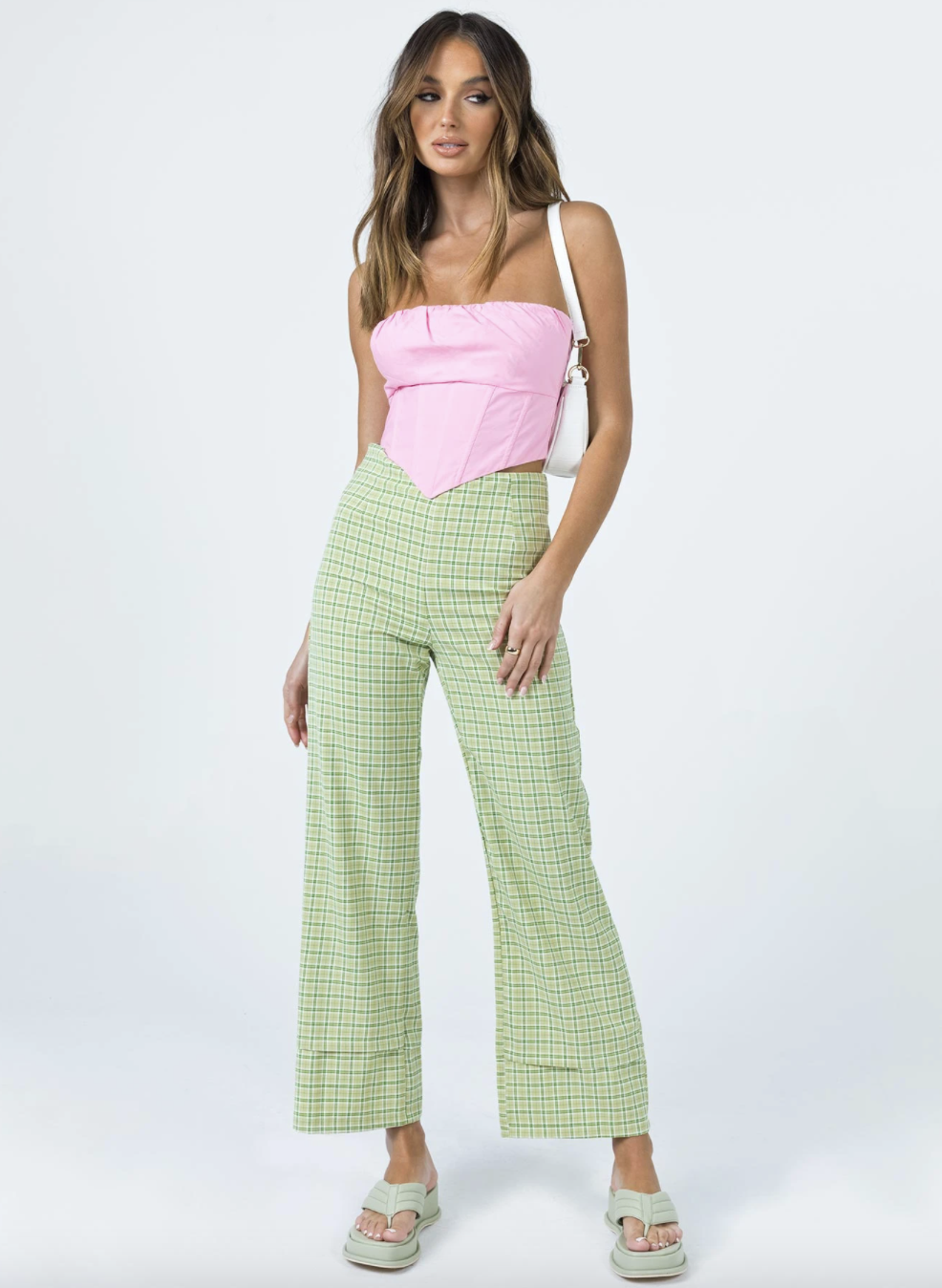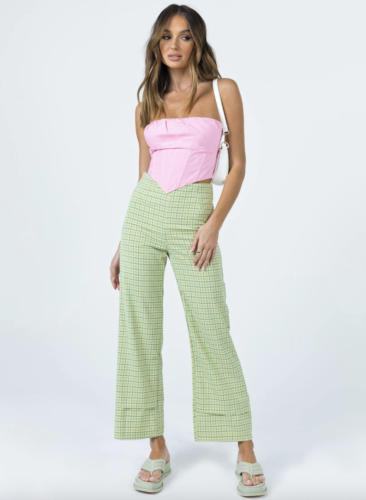 Have I mentioned that today is Halloween? So how could I not include a look to wear to a haunted house? Haunted houses are a thrilling date night idea, especially if you get a group together!
This baby pink bustier is the perfect going-out top. It has an elasticated neckline so the strapless design doesn't fall down. The crop top is paired with these green plaid pants which makes the look more casual. These pants are high-waisted and super flattering. You could also pair them with an oversized, chunky sweater for colder weather.
These platform sandals are super trendy and the green color matches perfectly. Some platform white sneakers or comfortable tan booties would also look flawless with this outfit. This fall date outfit is finished off with a white shoulder bag.
8. Anniversary Outfit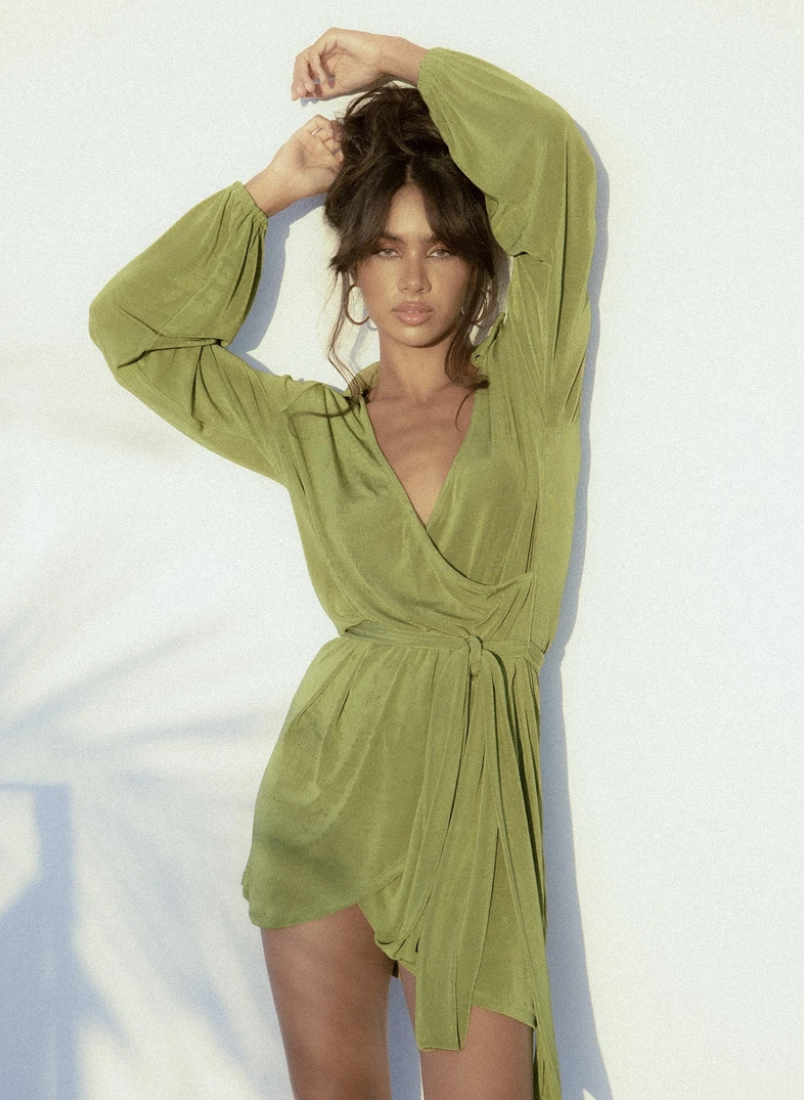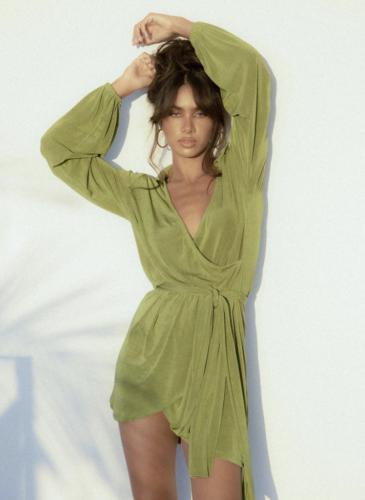 Anniversaries are such a special celebration and deserve a special look to go with them. If you are going out to a fancy dinner or are wanting an outfit that is photograph ready, this dress is it! I love this dress and think it is so beautiful for fall. I love how it can be dressed up or dressed down.
The dress is paired with some large gold hoops to keep it simple and classic. You could also add some layered necklaces and rings to really accessorize. I love the look of a chunky nude heel or a white bootie with it.
9. Brunch Date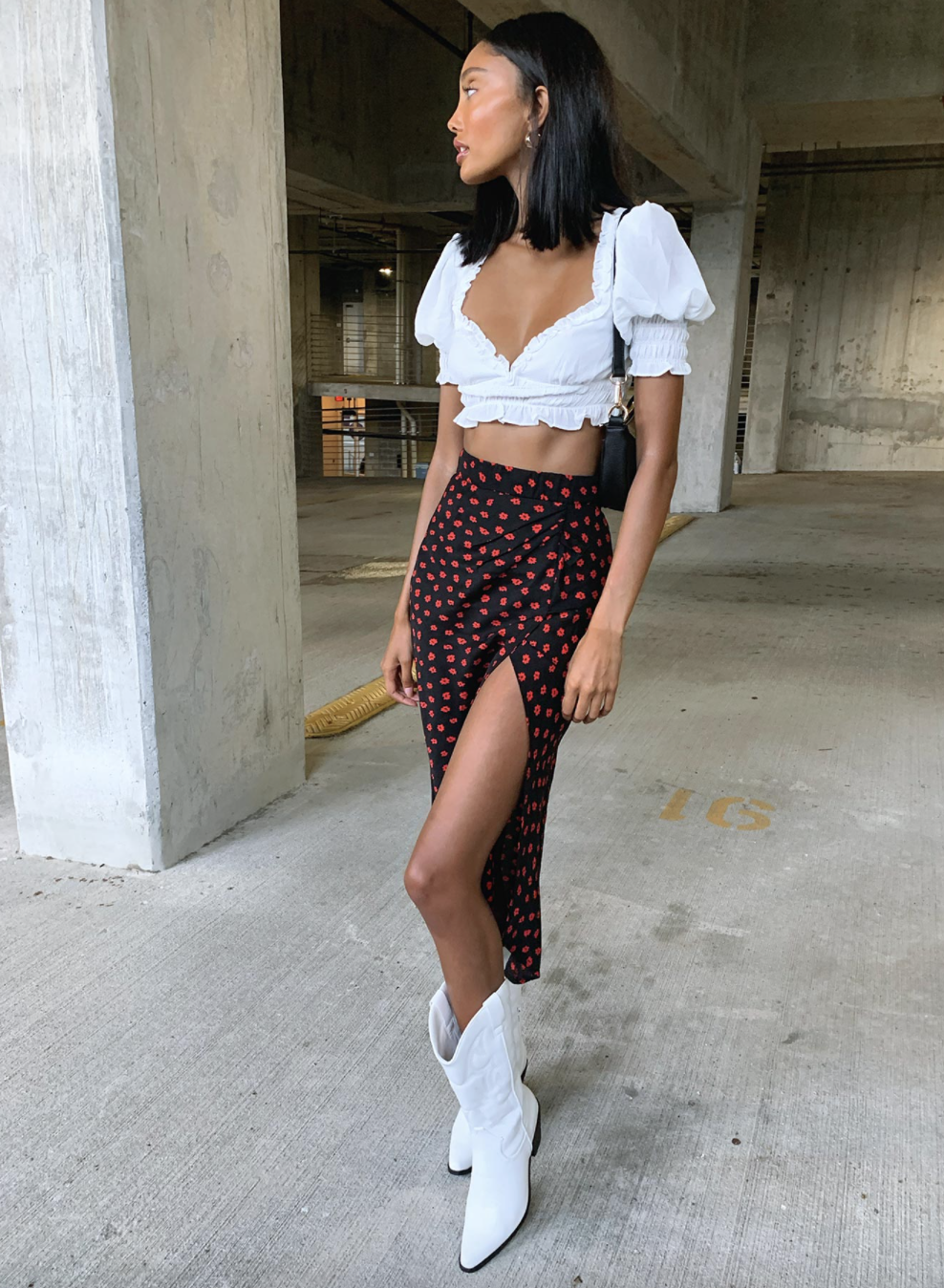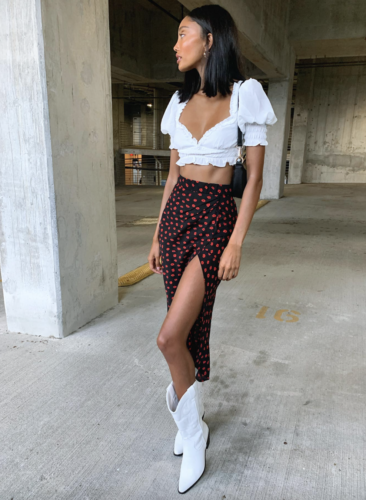 Brunch is my favorite meal of the day and the perfect daytime date idea. This brunch-ready look styles this black and red printed midi skirt. The skirt has a large slit detail which I can't get enough of.
It's styled with this white puff sleeve cropped top and some western booties. Cowgirl-inspired boots are super trendy for fall and go with everything! For accessories, a little black shoulder bag, and some silver chunky hoops are all you need.
10. Fall Wedding Guest Date Outfit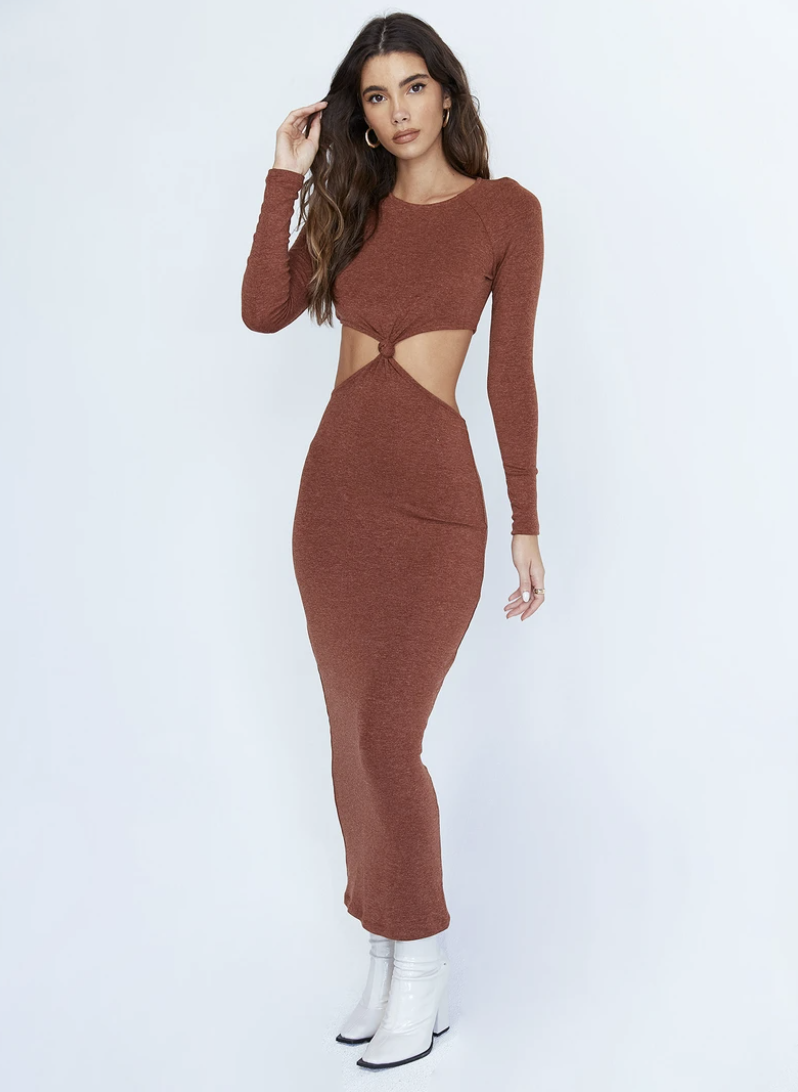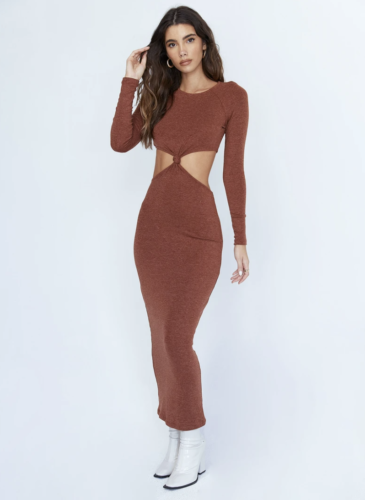 Fall is a popular wedding season and that means wedding dates! There are definitely endless options when it comes to dressing up for a wedding, but I love this look in particular.
This look styles this long sleeve, brown maxi dress. It is super flattering with its slim fit and side cutouts. It's paired with some white heeled booties which can definitely be swapped out for a classic heel. Add some gold statement earrings to polish everything off.
11. Movie in the Park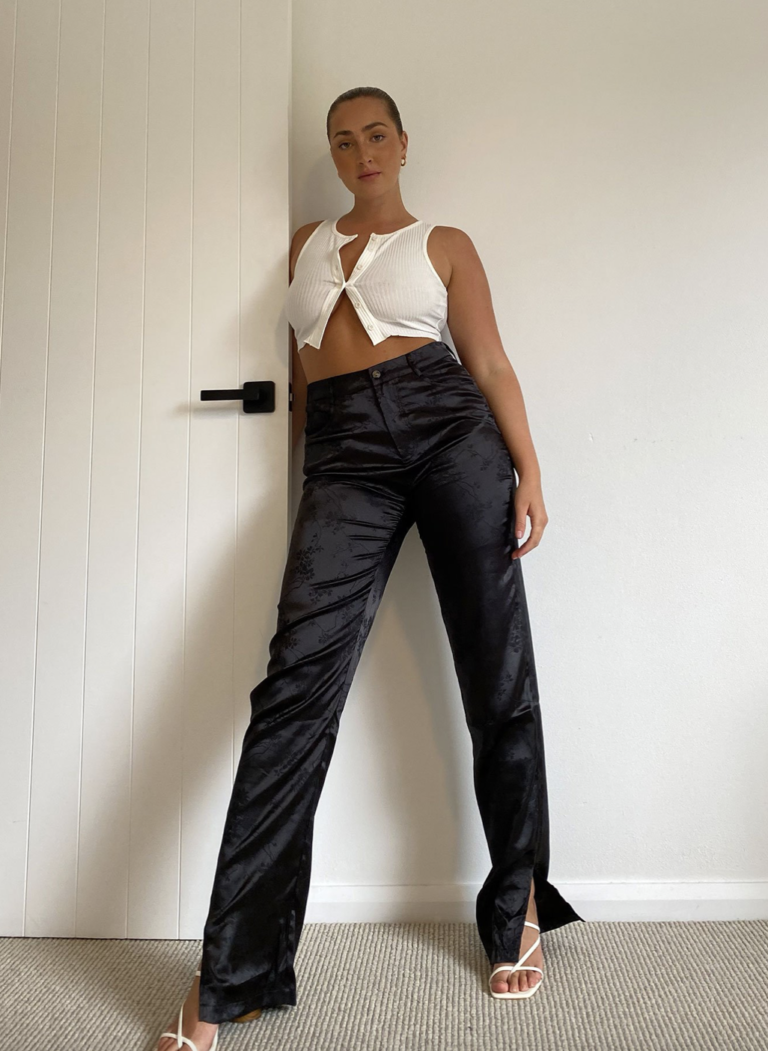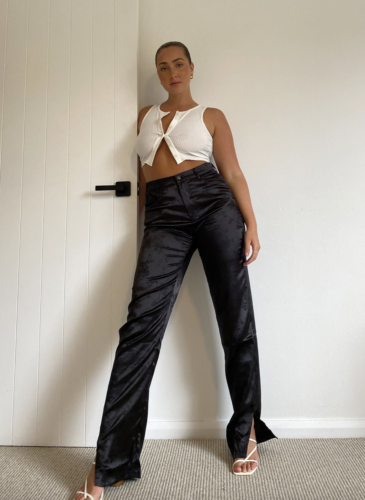 If you are going to see a movie in the park, this look is perfect. This fall date outfit is centered around these drool-worthy black silk pants. They are high-waisted and have a muted floral print.
They are paired with a basic white cropped tank which allows the pants to be the center of attention. Throw a black jacket on top to keep yourself from getting chilly or swap the tank out for a long-sleeve white bodysuit.
These white strappy heels are so edgy and pair perfectly with flowy pants. Add some layered gold necklaces and hoops and you are all set for cozying up on a blanket!
12. Comedy Club Date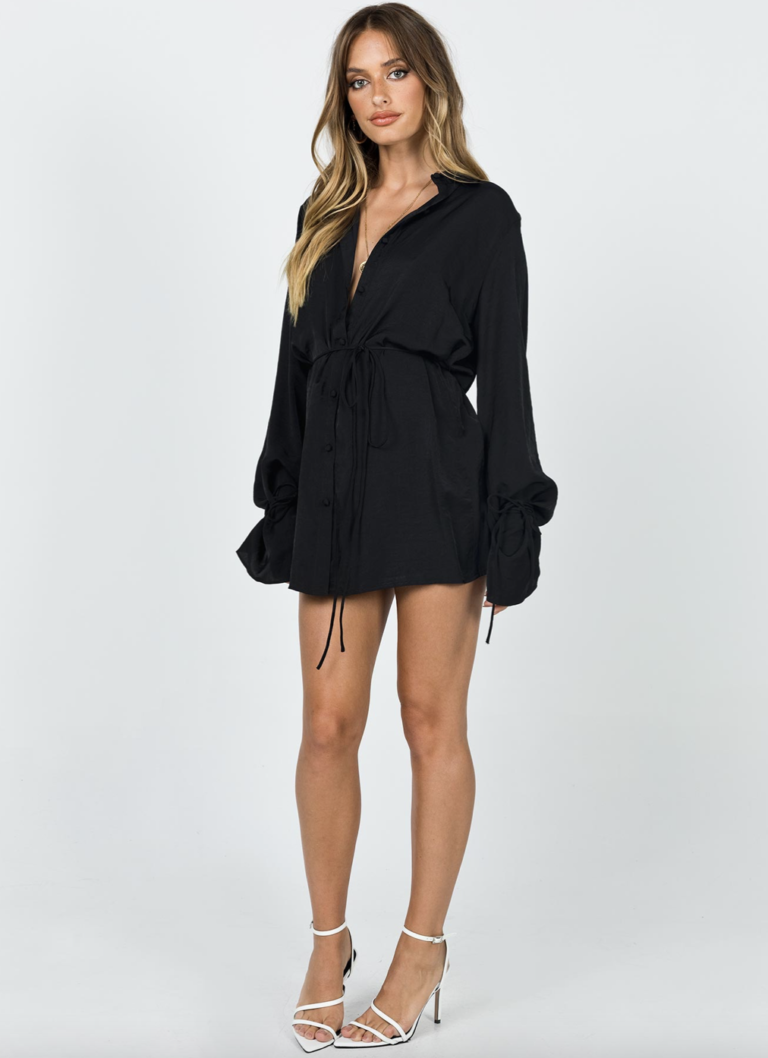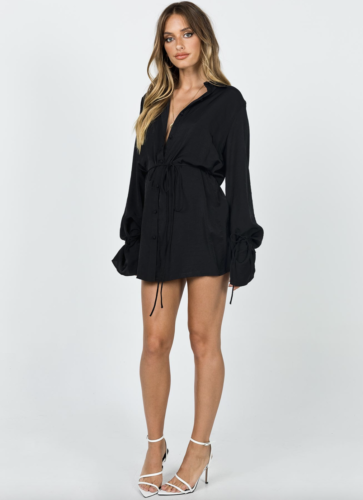 A little black dress is a classic staple to have in your wardrobe and can be styled in so many different ways. It's perfect for going to improv night at your local comedy club.
This black mini dress has a relaxed fit and flared sleeves. Add some strappy heels to dress up the look if you're feeling sassy. You could also dress it down with some cute sneakers!
Add a gold chain necklace and some chunky gold hoops to accessorize the look. You're good to go!
13. Carving Pumpkins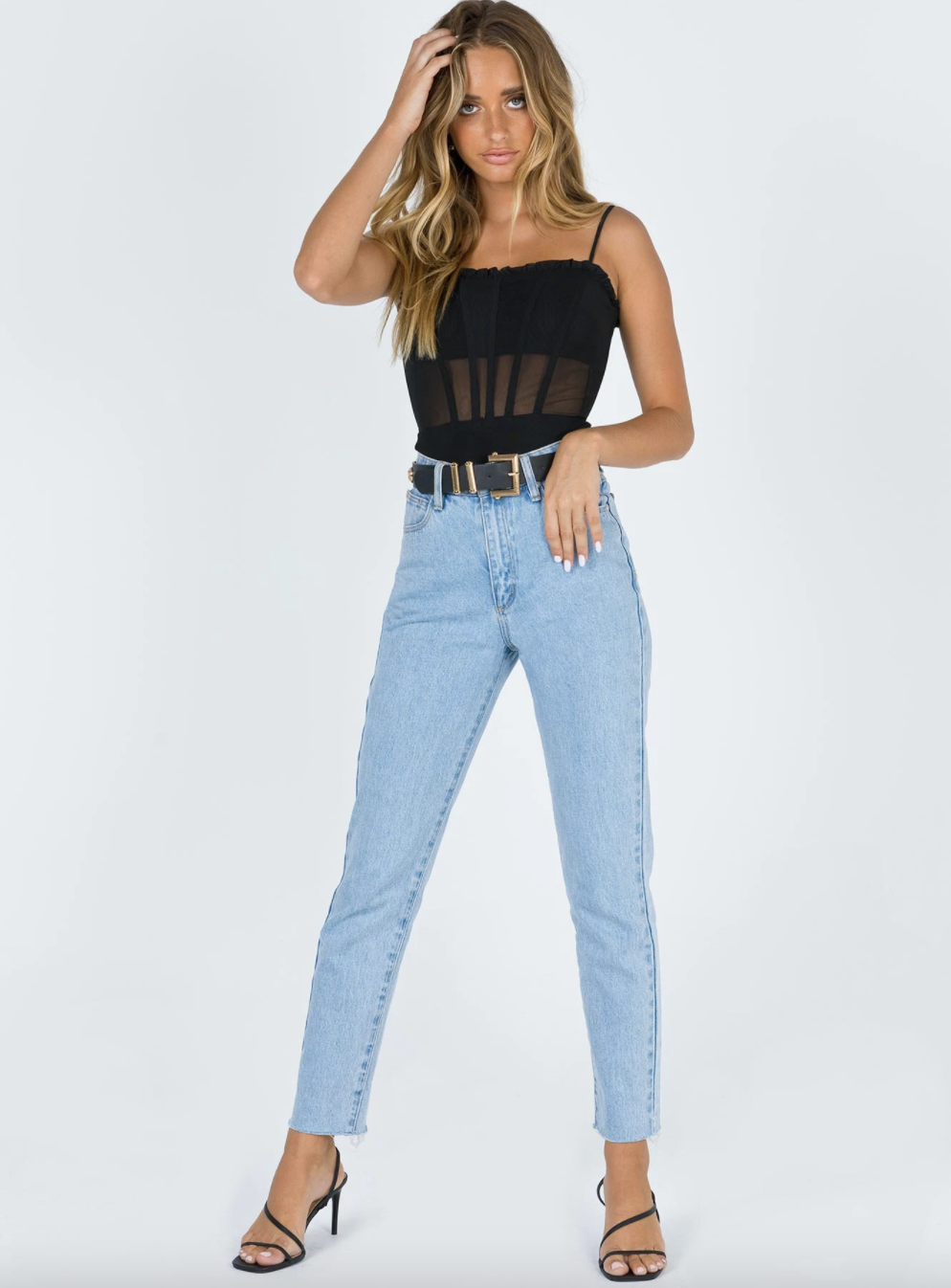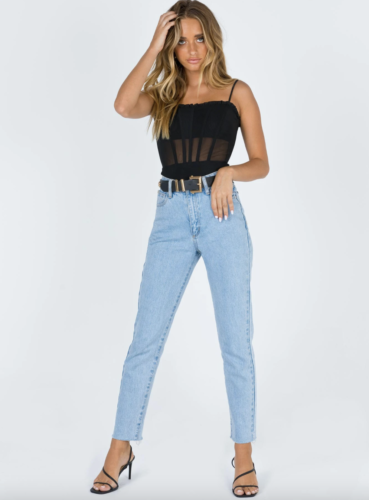 For carving pumpkins, this outfit is perfect! A black bodysuit is an easy option and can be styled in so many ways. This one has cute sheer mesh material and boning through the bust for a structured look.
It's styled with some light wash mom jeans which have a flattering high-waisted fit. Add a black chunky belt to accessorize and some mini hoops.
For shoes, Princess Polly chose to pair the outfit with some black heels. I love the look of heels with jeans and think it brings the whole outfit together.
14. Hiking Date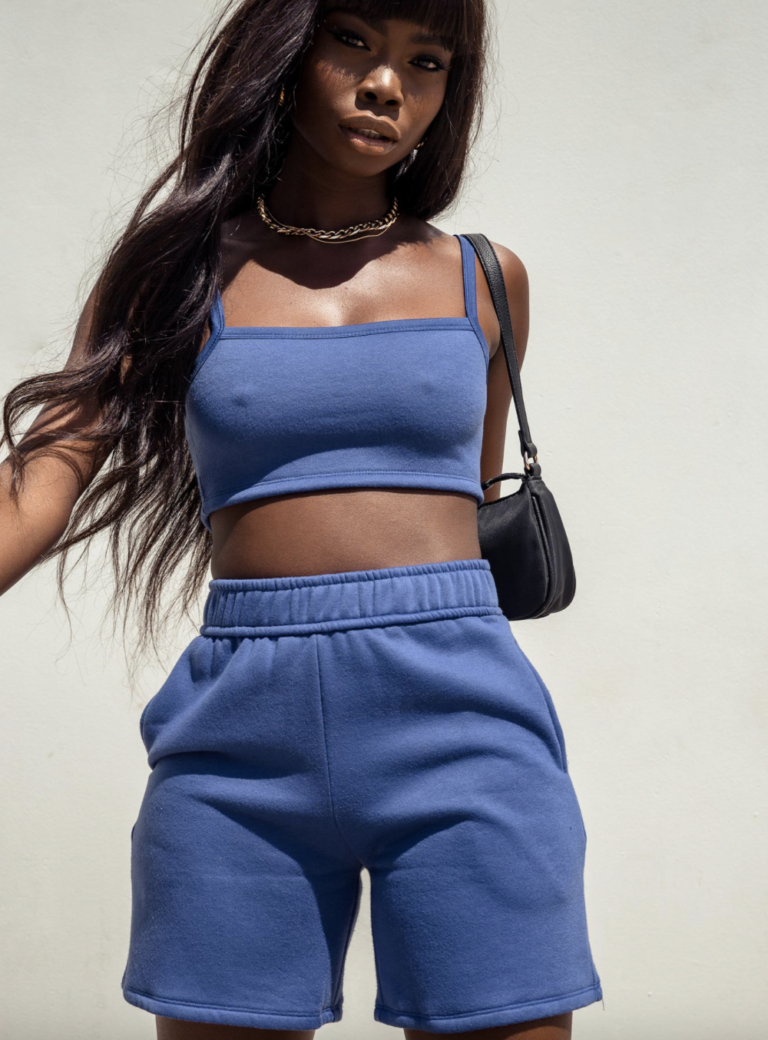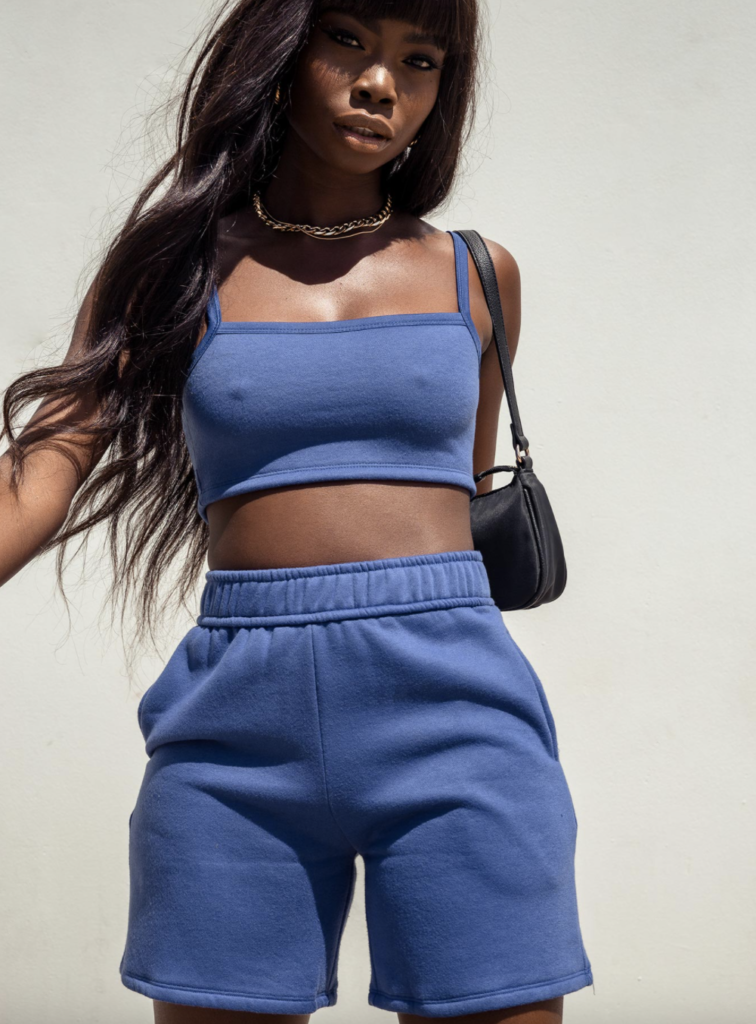 A fun fall daytime date activity is hiking and you'll need a cute outfit for it! This matching lounge set from Princess Polly is perfect for an easy day in the woods.
This track-style set comes in this adorable blue color and has high-waisted shorts with a matching cropped bralette. The shorts have a thick elasticated waistband with a longer fit and a soft fleece lining. This set is seriously so comfortable and is perfect for really any activity.
If it is colder outside, you can throw over an oversized zip-up sweatshirt or an oversized denim jacket. Add some chunky sneakers and a belt bag and the look is complete. You can throw your hair up in a high ponytail or add a colorful claw clip.
15. Museum Date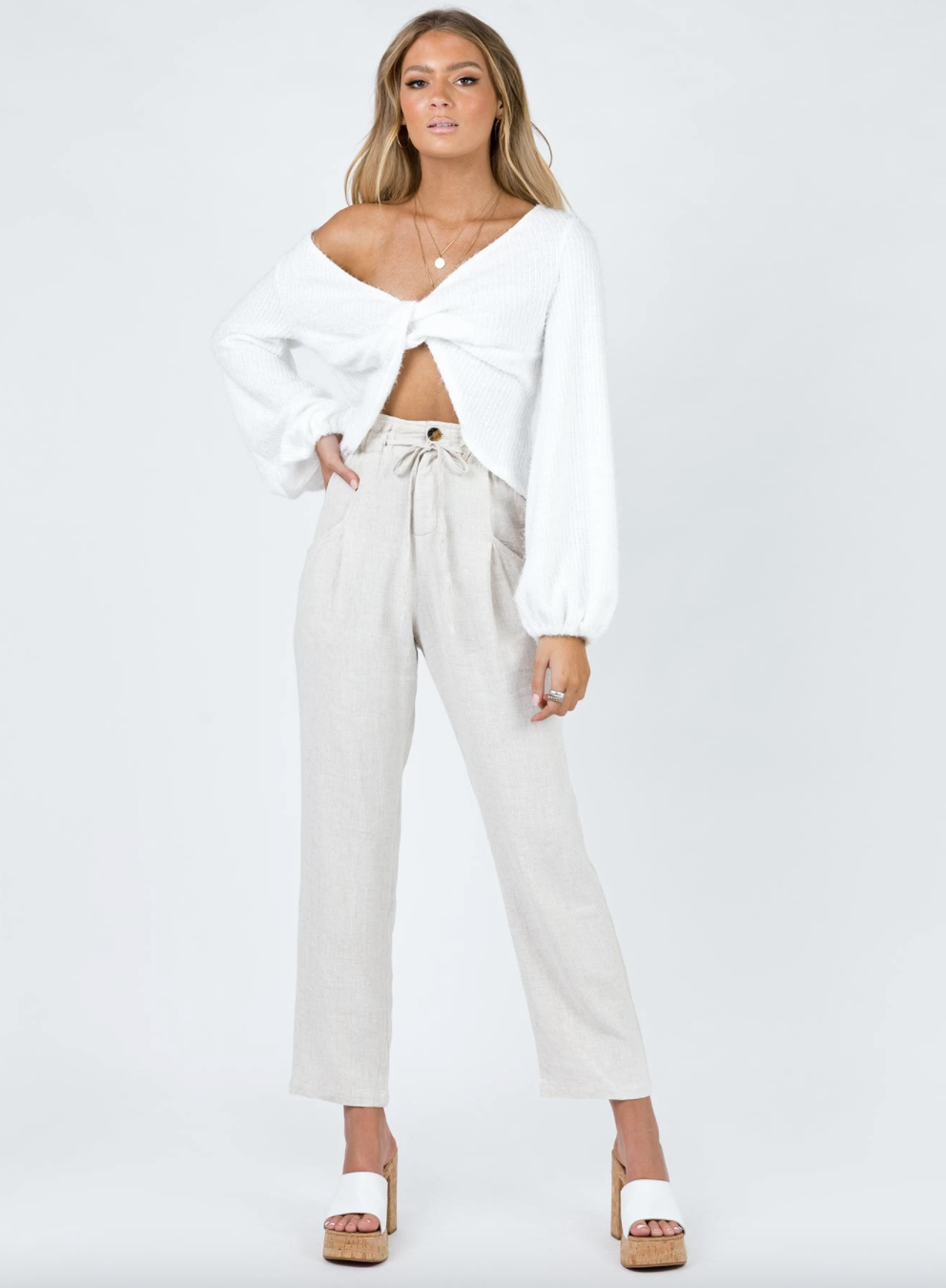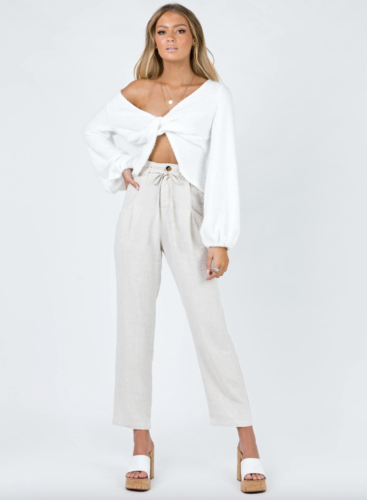 If you are planning a date at a museum, this fall date outfit is both girly and chic. It styles this cropped white sweater with a twist detail in the front.
It's styled with these high-waisted, flowy pants. The neutral colors look so fabulous together and are really simple to replicate.
For shoes, they paired this look with some chunky cork and white heels. A brown crossbody bag can hold all your essentials and add some colored earrings for a pop.
16. Night at the Arcade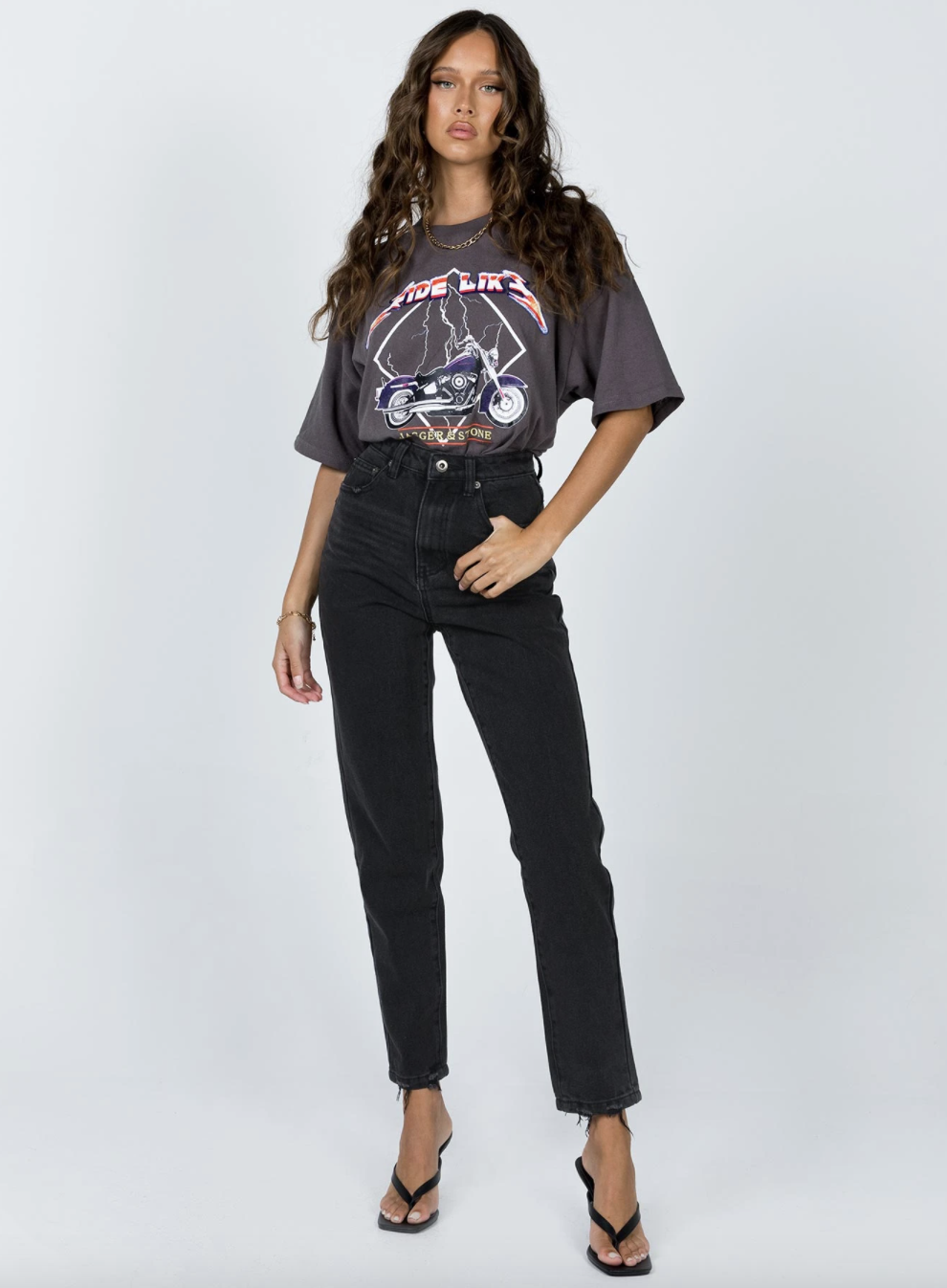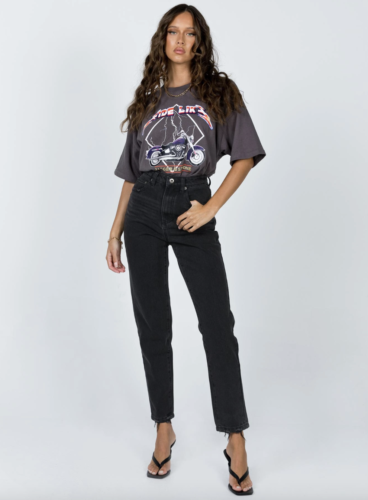 This next outfit is a perfect denim look for casual fall days or a night at the arcade. These straight-leg black jeans have a classic 5-pocket design.
This oversized grey band tee looks great with some chunky jewelry. Rock some black heeled sandals to dress up the denim and create add a more polished look. Throw on a black leather jacket to add an edgy vibe and keep warm.
17. Coffee Shop Date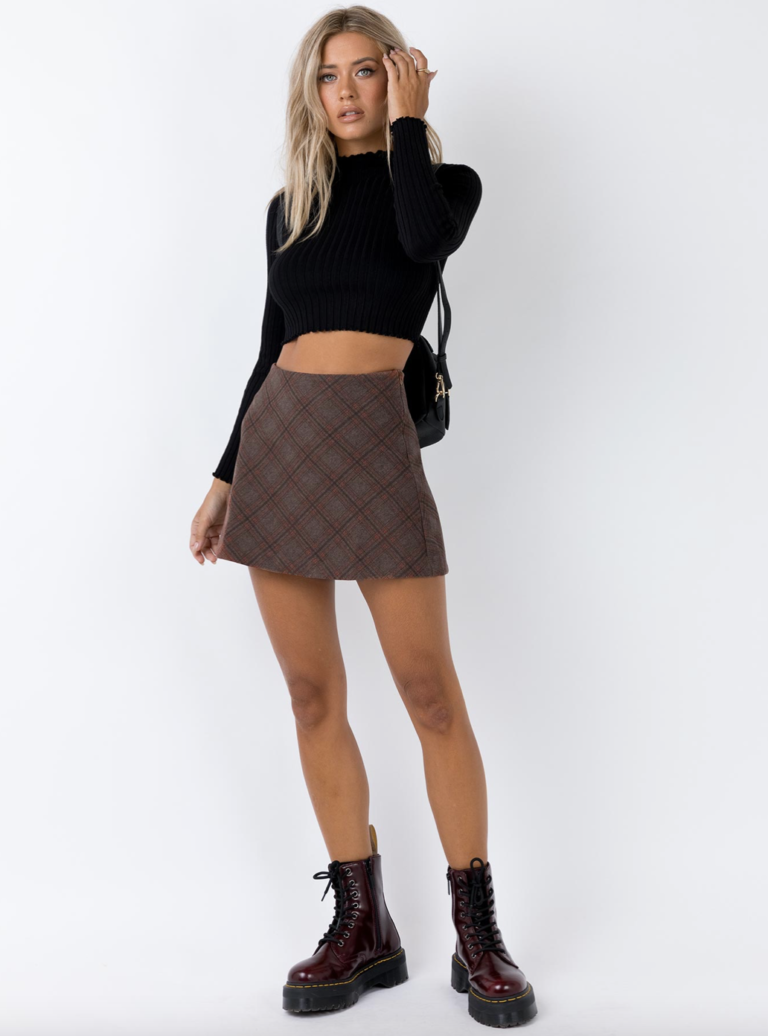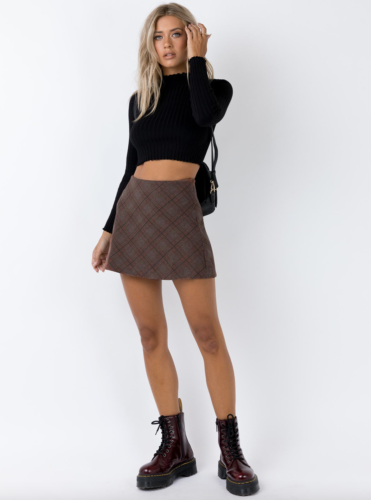 A plaid skirt will make for a great coffee shop date outfit this fall. This preppy look is paired with a mock neck cropped long-sleeve top and some Doc Martens. The lace-up combat boots balance the girly skirt perfectly.
For a bag, they paired the look with this adorable mini black backpack, a fun change from the traditional purse you would bring on a date.
18. Fall Pumpkin Patch Date Outfit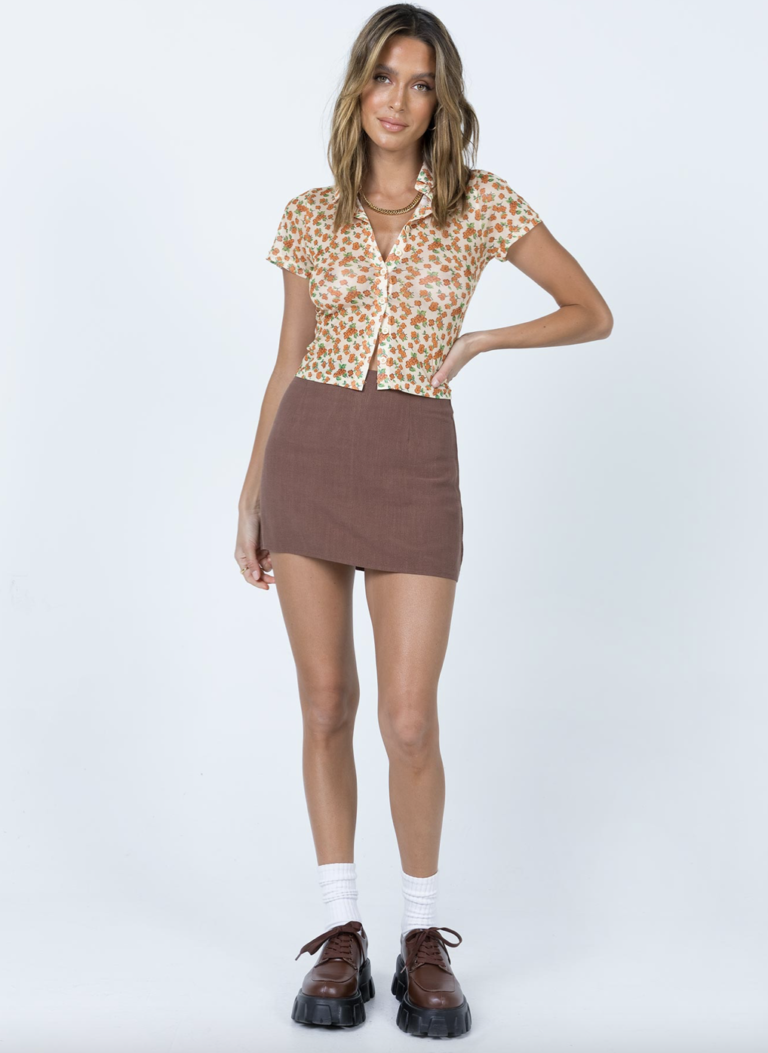 Going to a pumpkin patch is the perfect autumn date idea! This brown linen mini skirt is slim-fitting and high-waisted… and giving us totally Olivia Rodrigo vibes.
It's styled with this short-sleeve fall-toned blouse and some chunky maroon shoes. Add an oversized denim jacket for layering and some gold chain necklaces to finish off the look.
19. Patio Dinner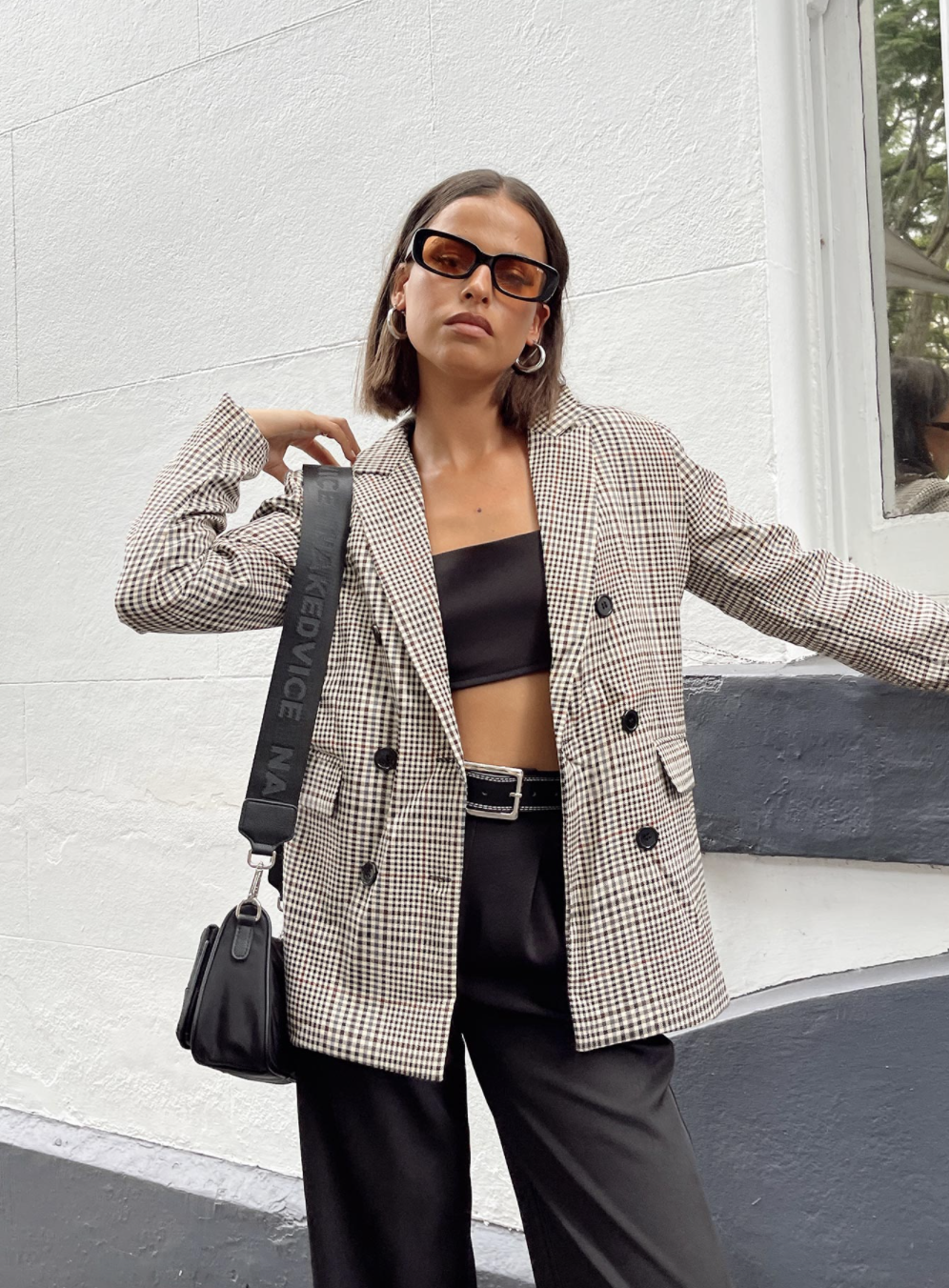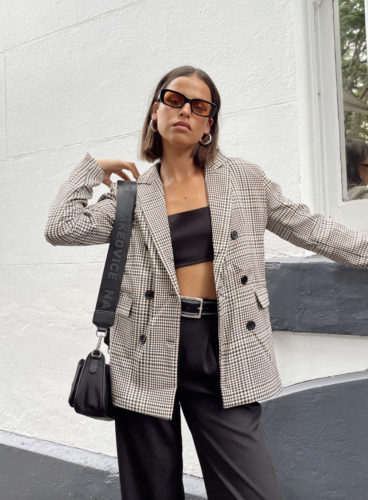 This outfit is one of my favorites of the whole post and gives me total fall vibes. It is definitely a look I will be rocking all fall and winter!
This look is styled around this amazing plaid statement blazer. Layered underneath is a matching trouser and crop top set. This set is so chic and layers so well under the oversized blazer.
They accessorized with a fun belt, some sunglasses, chunky hoops, and a black crossbody bag. Add some staple black booties and the look is all complete! It is both chic and trendy for an outside dinner date.
20. Fall Apple Picking Date Outfit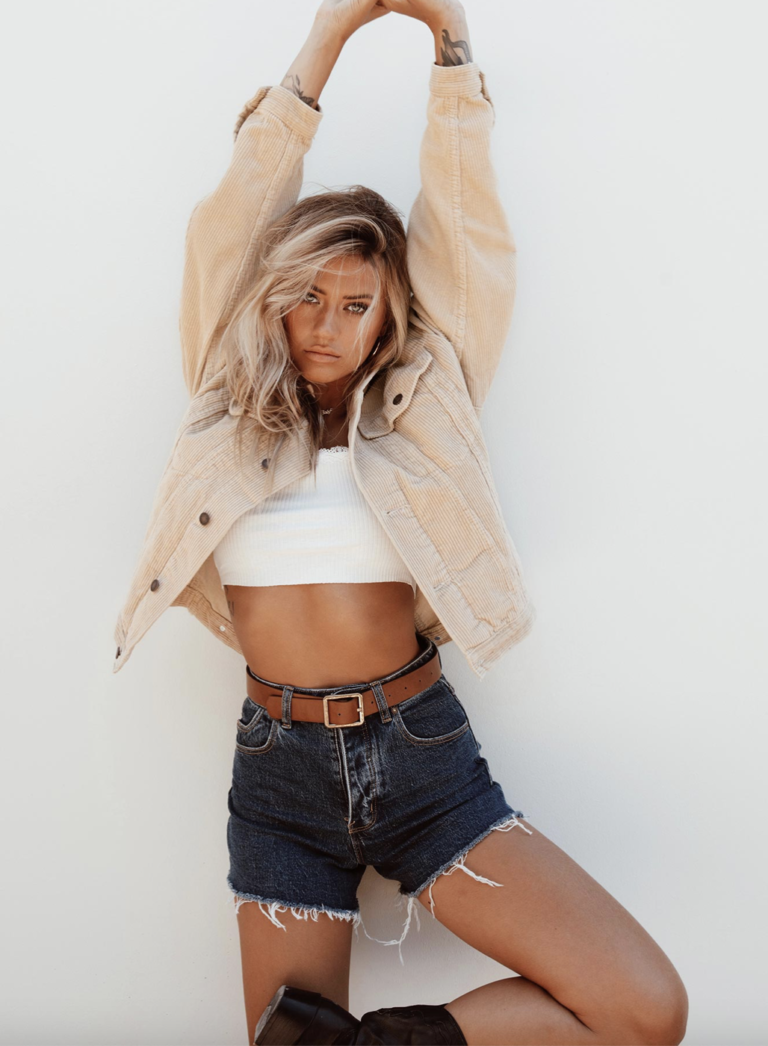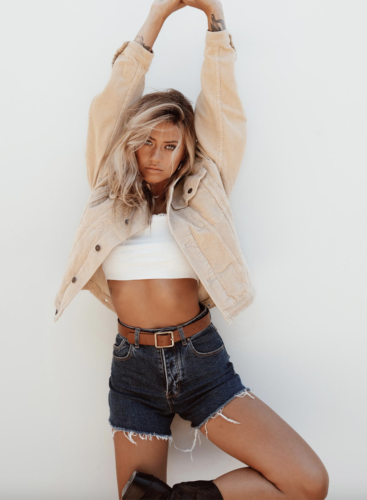 The final outfit is for an apple picking date; a super Insta-worthy activity and a fun fall day. This look styles an amazing western cord beige jacket. It has a button-up front, hip pockets, a classic collar, and is made out of a cotton polyester blend.
They kept it simple and styled it with some distressed denim shorts, a brown thick belt, and a classic cropped white tank. For shoes, some black booties or white sneakers would finish off the look well and add a casual vibe.
Which fall date outfit was your favorite?
What are your favorite stores for shopping for fall date outfits? What look above your personal favorite? Let me know in the comments below!