This post may be a bit wistful and aspirational because let's face it, as overworked college students leading hectic lives, dinner tends to stop being a formal affair. When you've resorted to piling your entire meal in one bowl to cut down on dishes or scavenging in your kitchen mid-study-break, the thought of a great conversation over a real meal approaches heavenly dimensions. Which is why planning to catch a meal with someone, be it a friend or someone special, should be a fun moment to toss on a cute outfit.
I created four dinner outfit ideas, inadvertently all featuring dresses, for exactly this reason. If you don't mind wearing them and you're in a rush, dresses will help you out on the style end. The first look features plus-size items, but don't worry, all ring in at under $100.
Dinner Outfit 1 – $88.59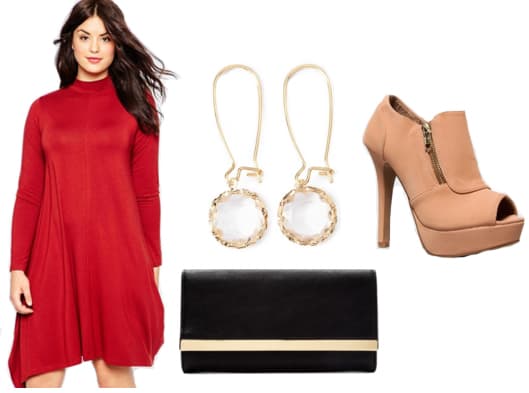 Products: Dress, Booties, Clutch, Earrings
Red can be a divisive color (this dress also comes in black if you're not a fan), but brings drama without too much work. The soft knit and swing silhouette pair well with drop gemstone earrings and a metal-accented clutch for a sophisticated look. For shoes, go neutral with blush peeptoe booties.
Dinner Outfit 2 – $99.99
Products: Dress, Cardigan, Booties, Crossbody
I like to think that in an alternate universe, I'd not only have time for dinner plans but be lucky enough to catch up with a friend in a vibrant downtown area. In that case I'd toss on a black bodycon dress, wrap a cozy marled cardigan around me, and top off the look with a foldover crossbody bag and charcoal ankle boots.
Dinner Outfit 3 – $99.69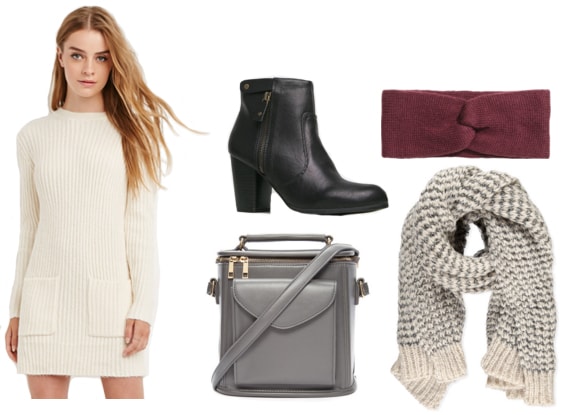 Products: Sweater dress, Crossbody, Booties, Knit headband, Scarf
If you're heading straight from classes to dinner, this look works for both occasions. Play up the utilitarian edge of this chunky knit sweater dress with a zip-detail crossbody and black ankle boots. Keep hair back with a cute knit headband to get you through a long day of classes. Optional: Wind a cozy scarf around your neck to ward off a chill.
Dinner Outfit 4 – $79.89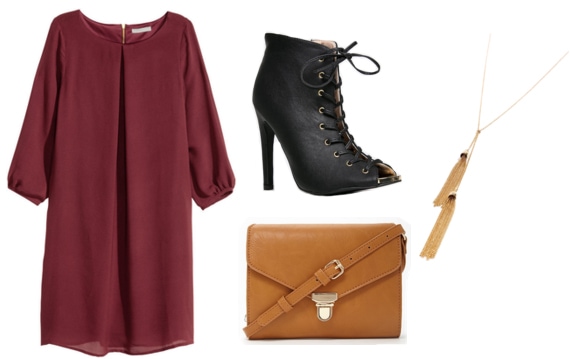 Products: Dress, Booties, Crossbody, Necklace
A cranberry shift dress is a lovely staple for dates. Dress it up with lace-up black heels, and stow away your wallet, keys, and phone in a compact cognac crossbody. For accessories, all you need is a gold tassel necklace.
Your thoughts?
What did you think of these looks? What are your go-to staples for dates?