This post may contain affiliate links, which means we may receive a commission if you purchase through our links. Please
read our full disclosure here
.
Leggings have been a college wardrobe staple for years now. You've probably worn them under dresses, tucked into boots, and with cute tunic tops. Undoubtedly, you've seen them all over campus.
Alternatively, maybe you haven't tried leggings because you think they won't flatter your body type. Or maybe you don't want to be one of those girls with leggings tucked into Ugg boots with a North Face fleece jacket and a Vera Bradley bag. That's totally understandable, of course!
Whether you're looking for new ways to wear leggings you already own, or just don't know if leggings are right for you, read on! Here are my top tips to help anyone rock the leggings look, as well as a few outfit ideas to get your inspiration going.
Tips on How to Wear Leggings
Start with basics, expand for variety.
Leggings come in every color under the sun, feature different prints, washes, and finishes, and can be worn in all different ways. (Proof: see our list of legging trends for fall!) If you're just starting out, I'd recommend a solid, opaque pair in a neutral color like black or brown. Sheer, footless tight styles are also great to experiment with, especially under shirt dresses.
Try different lengths.
Leggings come in all lengths, from capri to ankle. Ankle length leggings are definitely the hottest style right now, but play around with proportions and decide which length looks best on you. Leggings that hit mid-calf might look adorable on a tall, skinny girl, but might make a shorter leg look wide.
Consider your shape.
If you're curvy or just worried leggings might not be flattering to your body type, you may want to stick to slimming black and dark brown. Of course, you can still have fun with solid-colored leggings with fun details as well. If you're still feeling self-conscious, try your leggings with a minidress or a top that hits just below mid-thigh. That way, the largest part of the leg is covered! If all else fails, I firmly believe that self confidence is really all you need to pull off even the craziest outfit, so if you feel good, you'll rock your leggings.
Invest in key pieces for pairing.
You need to wear leggings with something! Plan to invest in flowy dresses, tunic tops, and shorter skirts – they pair perfectly with leggings. Some girls love the look of sheer leggings under shorts as well. If you're planning to wear a shirt with your leggings, it should be long and have some volume to balance out the tightness of your bottoms. Dolman sleeve tops, for example, are perfect with leggings.
When it comes to heel height, less is more.
The combination of sky high stilettos and tight leggings can go from zero to 80's in 60 seconds flat. This can sometimes work if that's your desired look, but can also go very wrong. Fortunately, leggings provide the perfect opportunity for you to bust out your favorite flats–ballet style, boat shoes, moccasins, low-heeled boots, and even oxfords all look totally chic with leggings.
Remember: Leggings aren't pants.
I know they're comfortable and cute, but traditional leggings are not pants and should not be worn as such! (With the possible exception of jeggings, of course.) Leggings as pants = overexposure. If you're going to wear leggings, make sure you're wearing a top, skirt, or dress that covers your butt and your front! You should also avoid wearing anything that's too tight over your leggings for the most flattering look.
Outfit Inspiration
The beginner: The beginner is wary of leggings, may be self-conscious about her body, or just hasn't worn this style much. Because of this, leggings are not the focus of this outfit. Her neutral leggings are covered up not only with her banded tunic tank, but also with her long black cardigan. Her leggings are long, and puddle at the ankle, showcasing her adorable Minnetonka Moccasins.
Product Information: Leggings with riding pant detail – Piperlime, Banded tank top – Buckle, Cardigan – American Apparel, Minnetonka Moccasins – Zappos, Star stud earrings and bamboo bangles – Charlotte Russe.
The intermediate: The intermediate knows how to wear leggings already, but wants to take her style up a notch. This look illustrates a sophisticated way to wear a totally comfortable outfit. It would be great for a night out or a day of shopping with the girls – the choice is yours! Just grab some big sunglasses and you're good to go.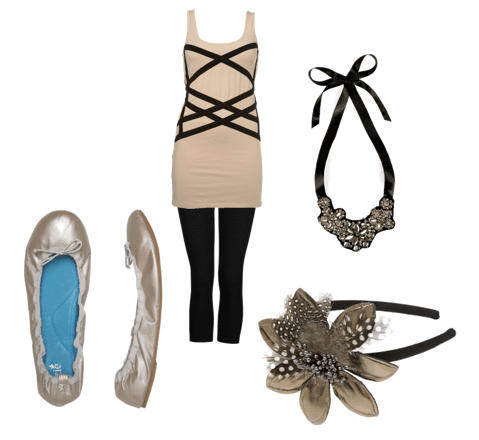 Product Information: Bandage Strapping Tunic Vest – TopShop, Calf-length Leggings – Charlotte Russe, Silver flats – Aerie by American Eagle, Jeweled bib necklace – Fred Flare, Feathered headband – ModCloth.
The expert: The expert is a legging lover. She's an advanced fashionista who's not afraid to take risks. In this outfit, leggings are the center of attention! I kept it pretty tame with a black mini dress and brown jacket and boots, but the leggings still steal the show. For additional expert inspiration, check out a few of Vanessa Abrams' outfits on past seasons of Gossip Girl. You can often find her in liquid leggings, a frayed denim mini, and hot pink Doc Martens.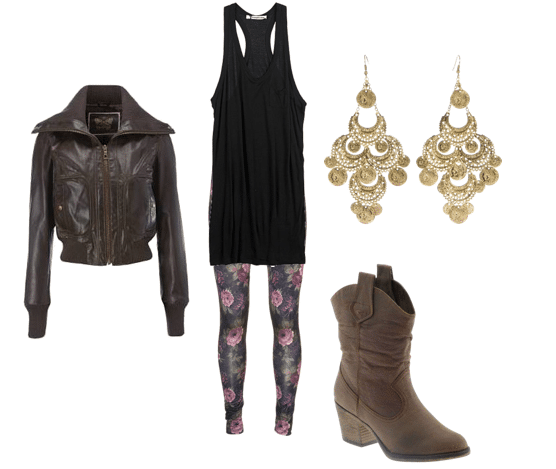 Product Information: Wild Rose Leggings – TopShop, Short black tank dress – Saks Fifth Avenue, Motorcycle jacket – Charlotte Russe, Coin chandelier earrings – Charlotte Russe, Boots – Piperlime.
What do you think?
Now I want to know – how do you girls wear your leggings? Do you have any tips for wearing or buying leggings? Let everyone know with your comments!