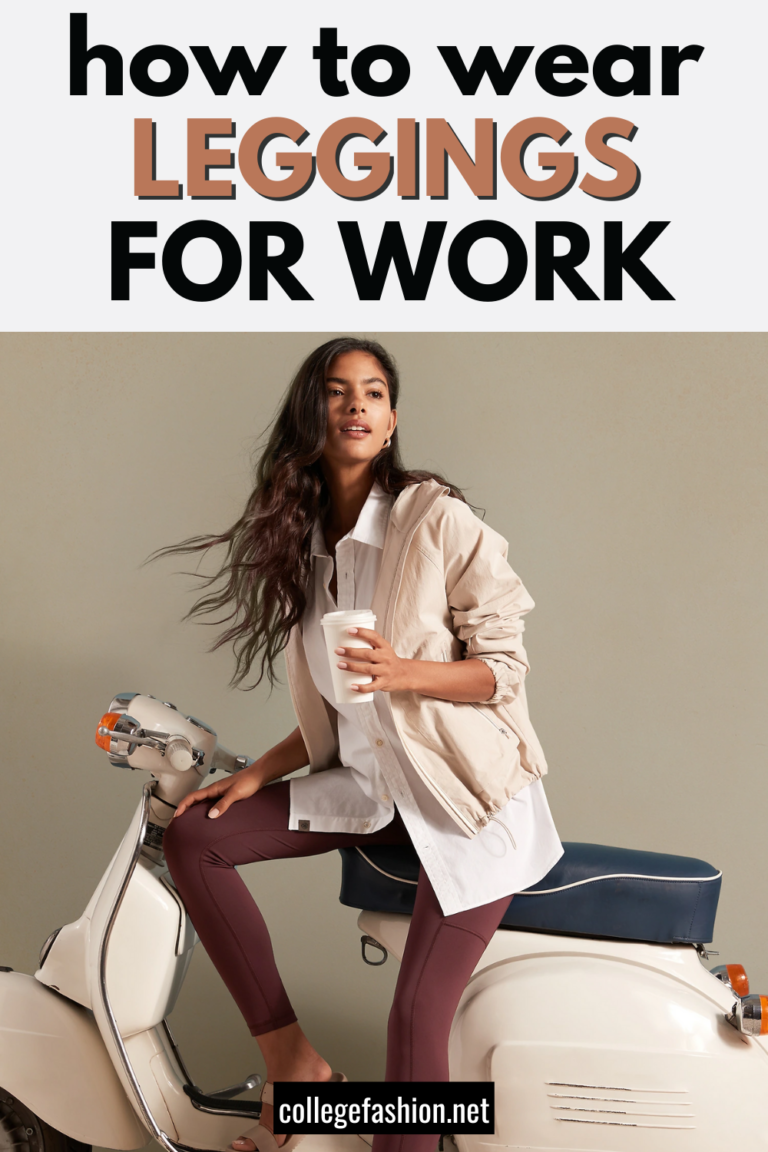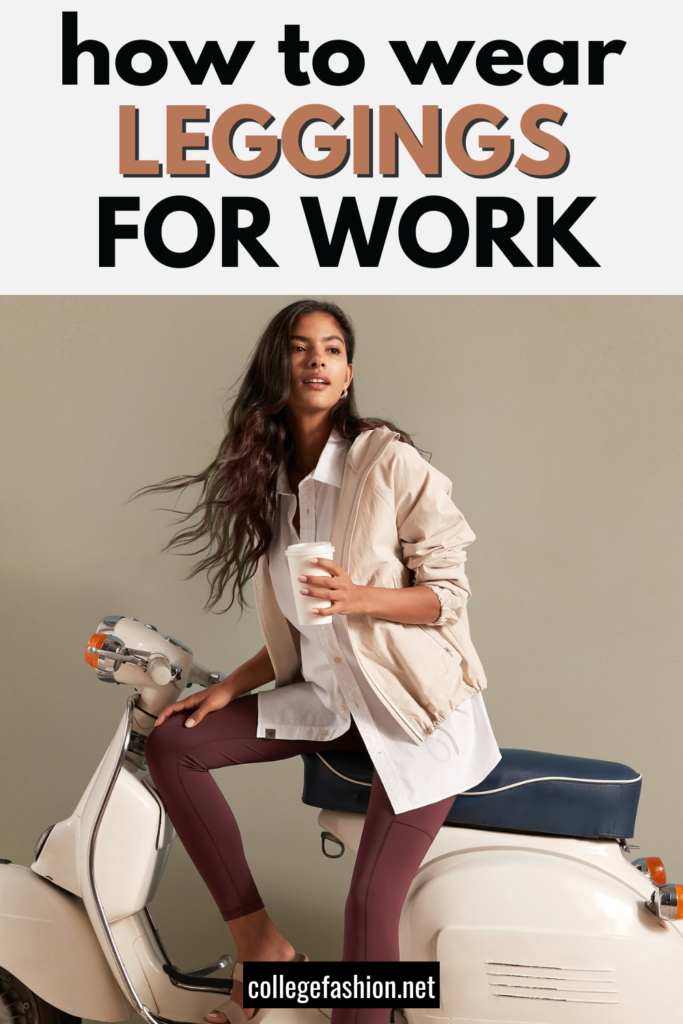 When choosing your work outfit for the day, you probably aren't reaching for your leggings. But that might change once you read this article.
When we think of leggings, we think of lounging at home, athletics, and comfort. Our minds don't usually think "professional." But I'm here to tell you that you can wear leggings to work. You just have to get creative in incorporating them into your outfits.
We're used to knee-length skirts, dresses, or even dress pants at the office, so going from that to leggings is a change. Since many of us work remotely or in a hybrid setting, feeling comfortable at work has become more critical than ever. So know that you can be professional in a pair of leggings too!
Below, I'll show you everything you need to know about wearing leggings to the office, and I'll share my favorite legging outfits for work to get you started.
Related reading: 20 Best Professional Outfits for Women (for Every Dress Code)
How to Wear Leggings to Work
Now that we have established, you can wear leggings to work. We just have to get creative in putting together an outfit. Below are some tips on how to wear leggings to work and look great for the day!
Choose Your Leggings Wisely
If your job has a relaxed dress code, then leggings fall into that category. (Read: Do not wear leggings in a business formal setting — more on business dress codes here.)
Some may consider leggings unacceptable in any professional setting, but it all comes down to choosing your leggings wisely. Here are some tips when picking out a pair.
Choose a pair of high-quality leggings. Some leggings can be sheer, which is not a good call for the office, so get an opaque (i.e., "squat proof") pair.
Follow the label on how to care for your leggings. They can fade and start pilling if, for instance, you put them in the dryer, so wash the leggings according to the instructions and do not wear pilled or faded leggings to work.
When in doubt, choose black. Though leggings come in different colors and patterns, black is the easiest to wear to the office. Black leggings don't stand out as much as other colors, so they don't always read as "leggings" and can often pass for slim black pants.
Choose ankle-length leggings when looking for a pair to wear for work. Cropped leggings come off as athletic or even too casual. Think of your leggings like pants or tights and have them blend in more with your outfit.
Choose Appropriate Tops
Now that you have your leggings, you can choose a top to wear. Here, you can wear tops in shades from bright to neutral, and the great thing is that you have many options, from flowy blouses to oversized sweaters.
Start with looser-fitting tops since the leggings will be tight against your legs. (Remember the rule of balance in fashion!) Also, if you choose a top, a longer one is best to give you extra coverage in a professional environment. Flowy blouses for warmer weather and oversized sweaters for chilly days are good options. Shirts that hit mid-thigh and longer tunics are suitable too.
Try a blazer to go with your leggings when it's cool out. A blazer is professional in all workspaces, so putting one on with your leggings can be an excellent choice to dress up the look more. You can try cardigans and vests too.
You can wear dresses over your leggings, too. You can think of the leggings as tights. Wearing a dress is a great way to incorporate leggings into your work attire.
Accessorize Your Outfits
When creating your leggings outfit for work, adding accessories is vital to ensure you stand out and look work-appropriate. Things like jewelry and purses can draw the eye to them and less to your leggings.
Wear jewelry to liven up the outfit. A statement necklace or dangle earrings can keep things chic, trendy, and perfect for the workplace. However, it's always best to avoid distracting jewelry, like jingly bracelets that make noise.
Don't be scared to experiment with your accessories. If you want more focus on something besides your leggings, lean into your accessories. Throw on a knitted scarf when it's colder, or carry a structured bag with you to work.
We'll get into it more later, but footwear can elevate your look, too! Pair your favorite black leggings with some heels, loafer flats, or knee-high boots. They'll make the look more polished.
What to Wear with Leggings to Work (Leggings Outfit Examples)
One of the things I love about leggings is that they are versatile, as you'll see below. Along with different shirts, sweaters, and dresses, you can change up your shoes too, so there are a lot of choices.
Here are some easy, go-to leggings outfits for work.
Long Blazer
Blazers are essential in everyone's work wardrobe. I love them because they can be dressed up and down depending on what look you are going for that day.
So for this chic leggings outfit for work, start with a blazer. For bonus points, choose a blazer with a pop of color like this sage green one. Keep everything else neutral along with the black leggings; for example, add a white top and black heels. I picked these black lace heels to add detail to the outfit. Finally, add a chic watch for some sparkle.
Also, opt for a longer blazer instead of a cropped one to create balance and add coverage for your leggings. And if heels aren't your preferred footwear in the office, you can swap them out for black loafers with gold chain detailing to tie back to the watch.
Sweater
Offices can get chilly, whether the A/C is blasting in the summer or not enough heat in the fall or winter months. For a look that'll keep you cozy, try this neutral leggings outfit idea.
First, grab a sweater that hits you mid-thigh, like this tan knit marble sweater. If you want, wear a blue or white button-down layered under for extra warmth and detail to peek out.
Next, add your black leggings and bring in the white and brown colors in the sweater by pairing the outfit with a cream knit scarf for the cold. Next, slip on these heeled cognac loafers and carry this brown tote bag. This bag is a good investment and can carry everything you need on your way to the office.
Button Down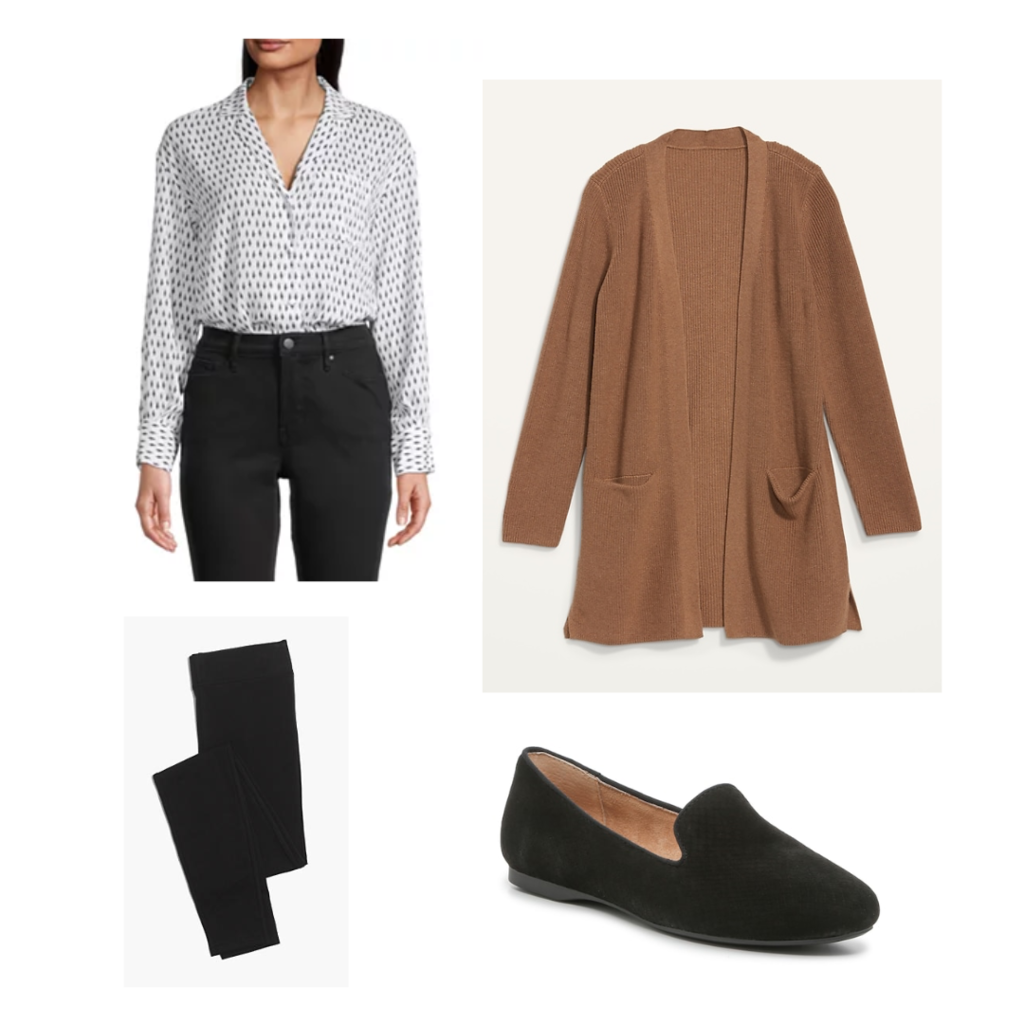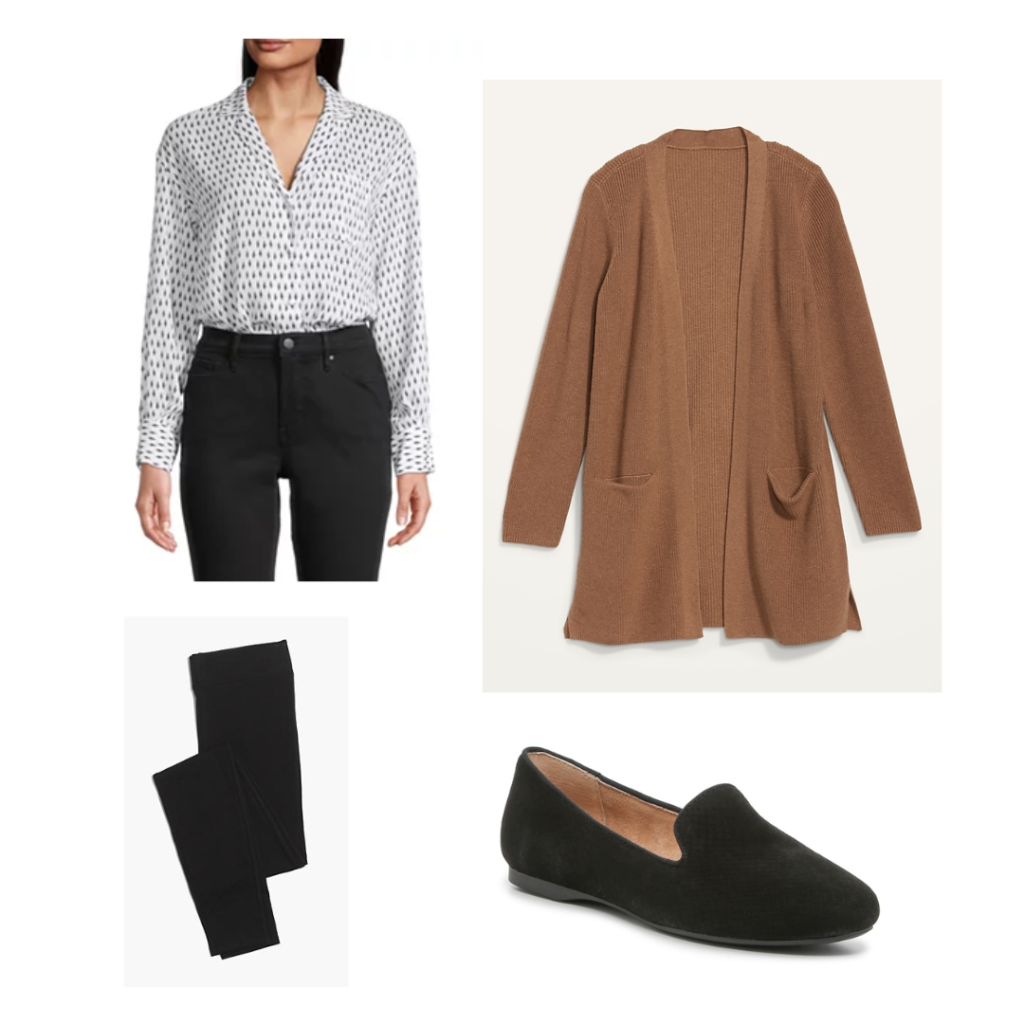 Products: Button Down, Cardigan, Leggings, Shoes
Let your top layers make a statement when you wear leggings to work. A blouse like this geometric print button-down will bring attention to your upper half.
To tone down the rest of the look, you can wear a brown cardigan or swap in a black one if you want a primarily black look. Add your leggings and wear a pair of black loafers to finish the outfit!
This look would also be great with some chunky gold hoop earrings if you want to add some sparkle.
Related post: How to Wear Loafers for Women (+ Outfit Ideas!)
Tailored Shirt Dress
I am a midi dress person, so when I saw this light khaki dress, I couldn't wait to include it. I also think a midi dress looks great for the workplace! You can put on a belt to cinch in the waist of a dress like this. Then, layer the leggings underneath, almost like a pair of tights.
If high heels aren't your thing, but you still want some height, try low or kitten heels. Now swipe on some lipstick or minimal makeup if you wish. Bonus: this look would be an excellent choice for an after-work dinner.
Long Sweater
When you think of the office, I don't know if boots come to mind, but I'm here to say that you can wear over-the-knee boots to the office. Just like leggings, they can work if you keep the rest of the outfit polished.
Try this out with a long sweater, a pair of leggings, and a pair of black over-the-knee boots. Add a necklace for some added shine, and you will look and feel fabulous.
Oversized Turtleneck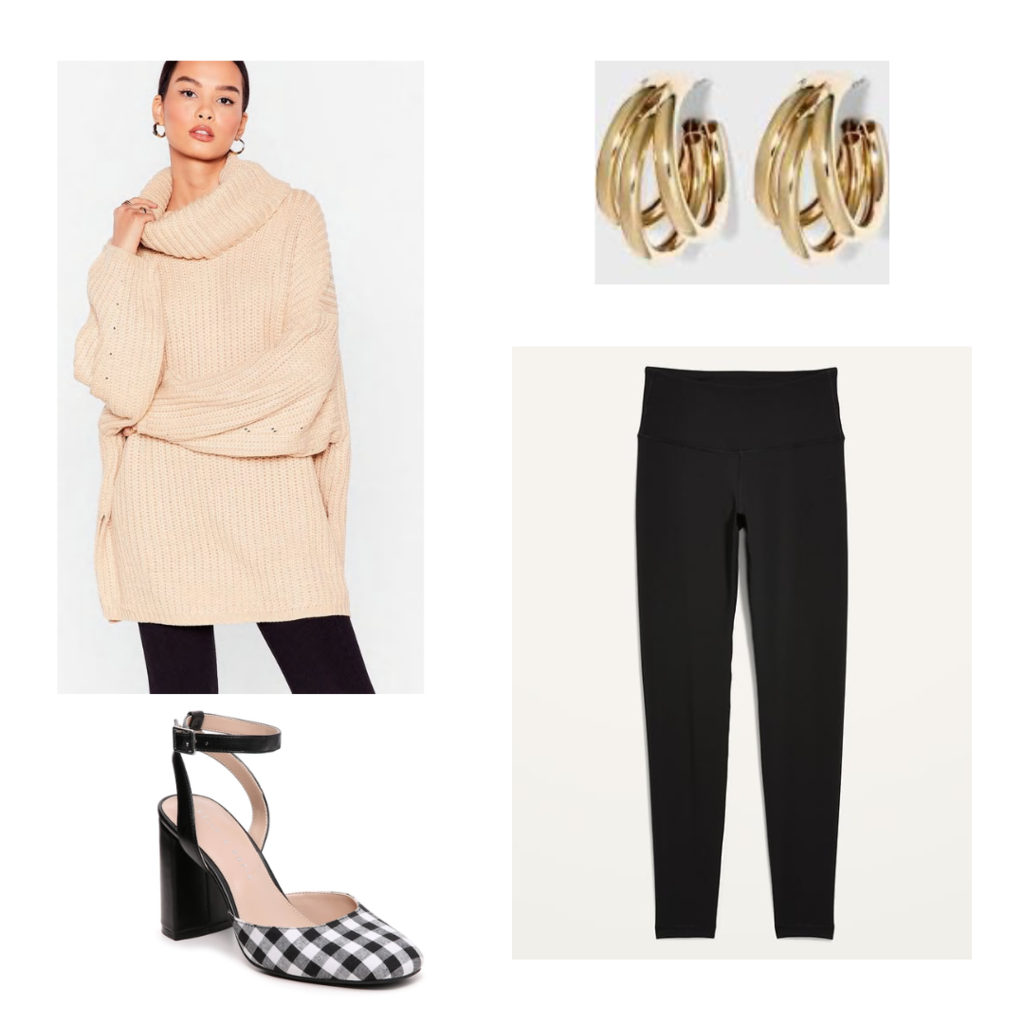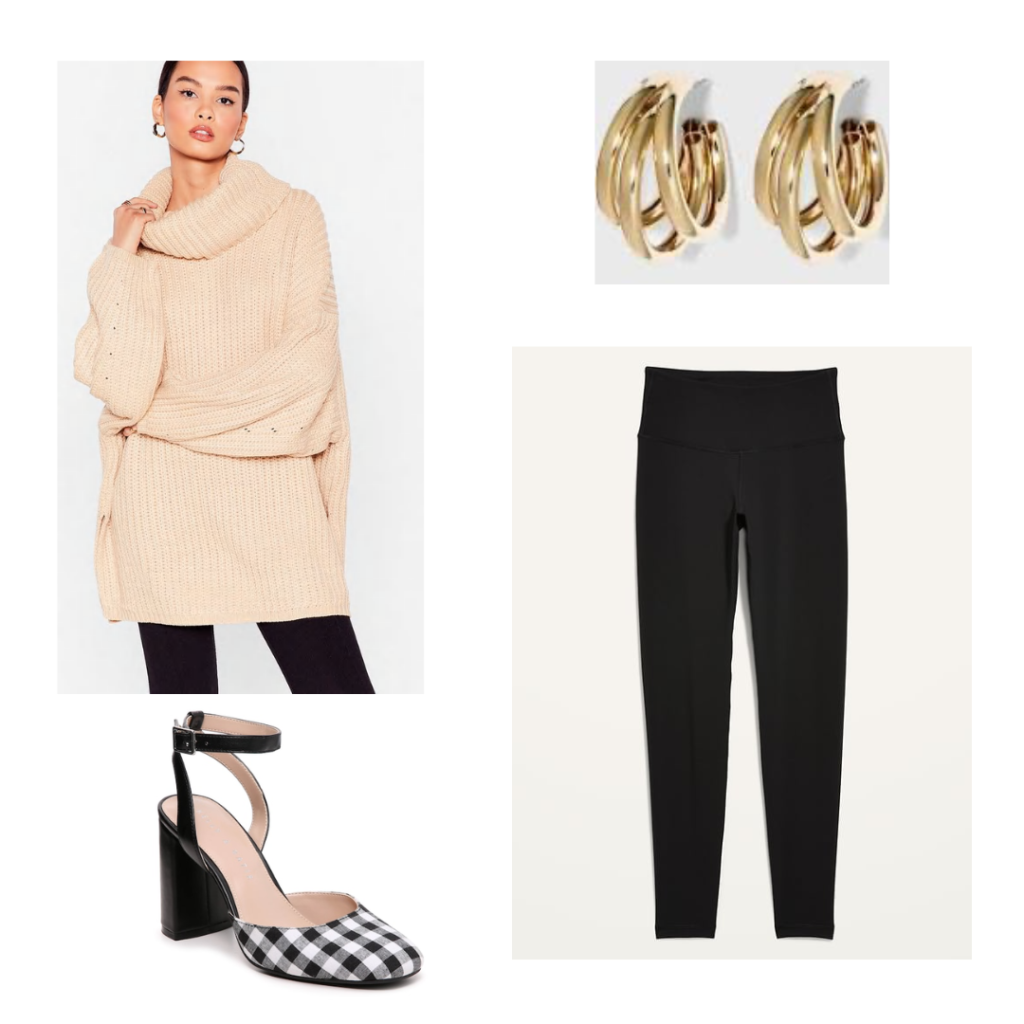 Products: Turtleneck, Leggings, Heels, Earrings
For the next legging outfit for work, try an oversized turtleneck when the weather is cooler, like in the fall season.
I know this is a go-to for most of us when lounging at home, but this outfit will be great in an office setting with the proper adjustments.
First, pick a sweater that can reach mid-thigh length for backside coverage. Since the top is neutral, a pair of statement shoes will help the look shine. Try a pair like these black gingham print heels. Throw on some gold hoop earrings, and you'll look chic taking on the day.
Tunic Top
And for our last legging outfit for work, we will be styling a tunic top. These tops are a classic pairing for leggings and great for the office.
Try a patterned one to stand out, like this light blue striped tunic top. Wear your leggings and match your top with your shoes like this blue-heeled mule. If you want to wear some jewelry, I love this cuff bracelet since it won't dangle or make any noise when you scribble down notes.
What Footwear to Wear With Leggings for Work
Just as important as what you wear on top, your footwear is also essential when wearing leggings to the office.
You still have many options for shoes to wear; you just need to make sure they are work-appropriate and, of course, comfortable. Here are some footwear options to wear with leggings for work.
Over the Knee Boots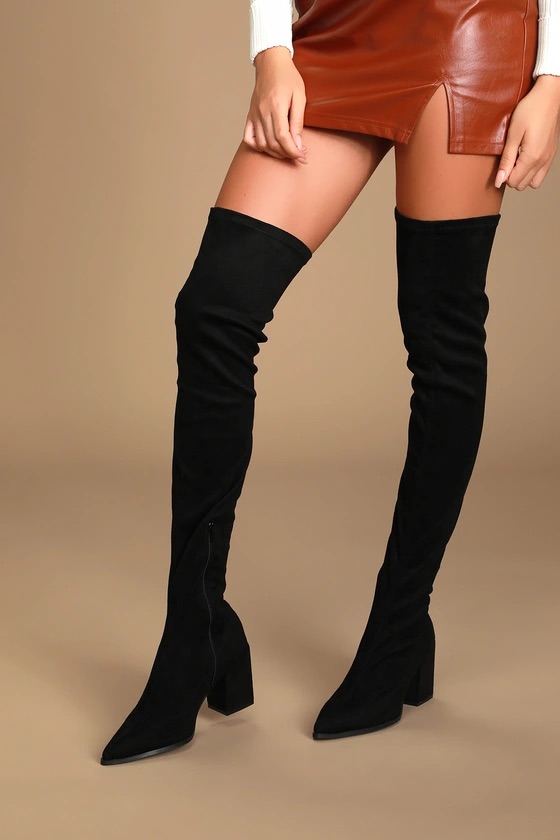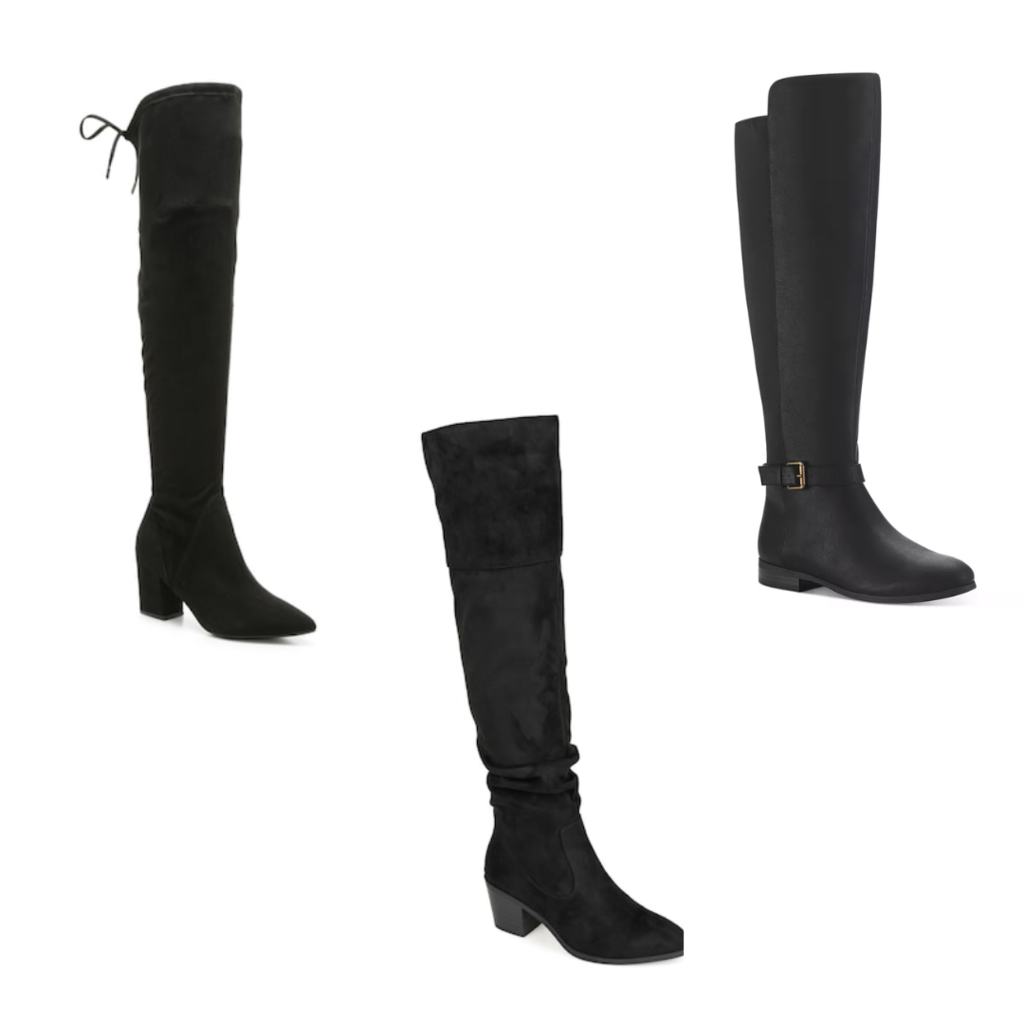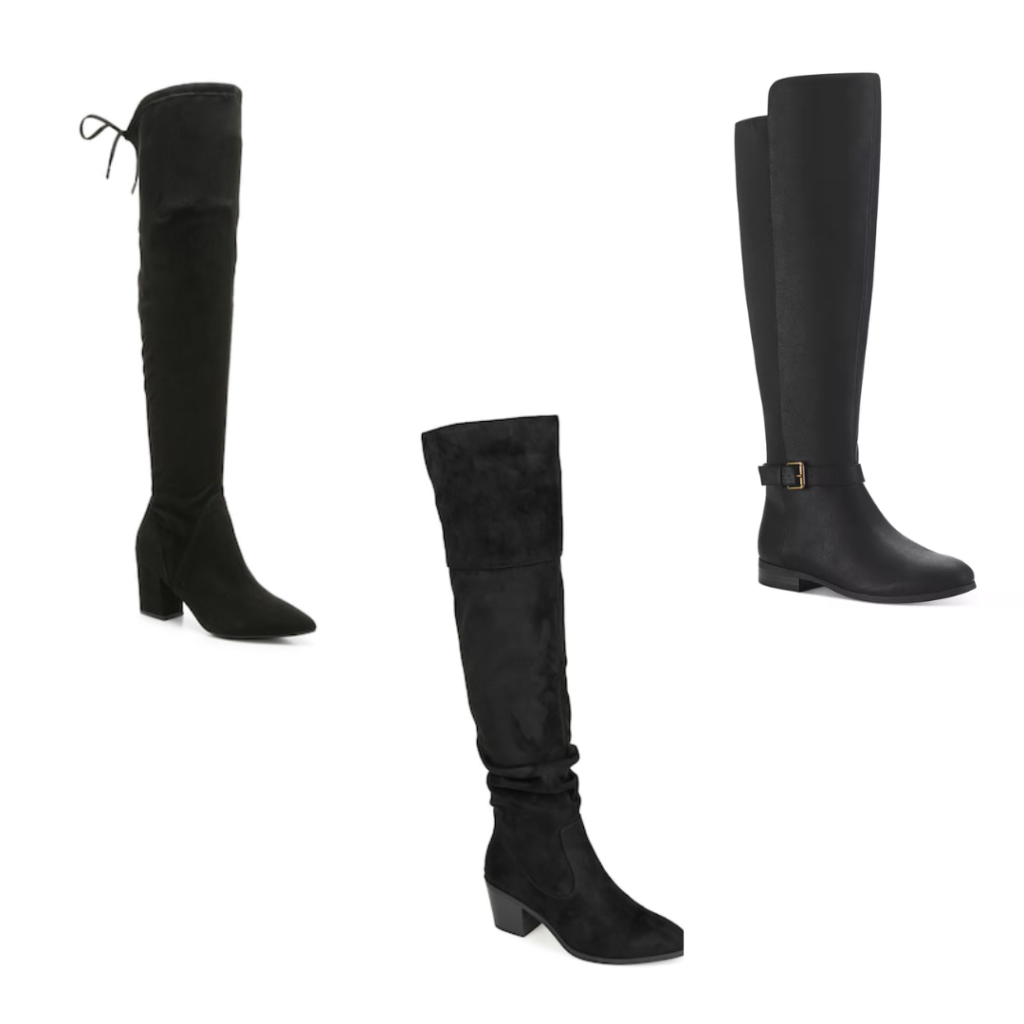 Products: Black Suede Boots, Extra Wide Calf Boots, Buckle Black Boots
Over-the-knee boots are always popular everyday shoes in fall and winter, but not everyone realizes you can wear them in a professional setting. This is especially true when you pair them with leggings. Since leggings often look like tights, putting boots over them does work.
The right pair of over-the-knee boots will help make your outfit look polished. Choose a heel or a flat boot, depending on your aesthetic preferences. Fabric is up to you, but smooth leather and suede are the most classic options. Also, if you want the most bang for your buck, I recommend opting for black boots since they'll go with everything.
Dressy Loafers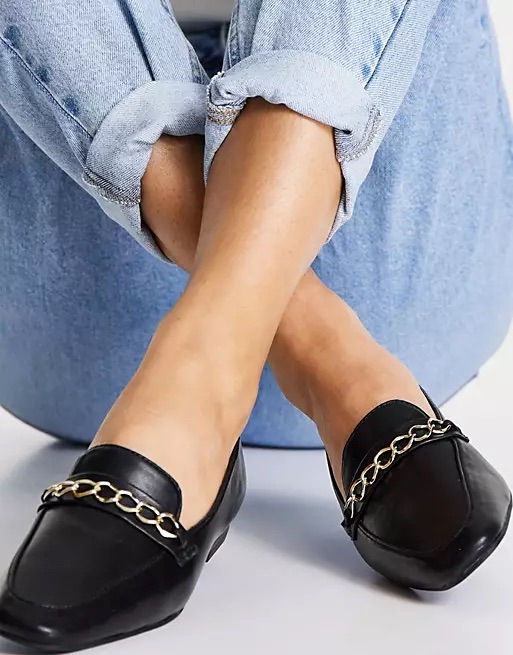 Dressy loafers are an excellent footwear choice for work. They fit well in a professional environment and look good with leggings too.
The dressy loafers help balance the leggings, making the casual legwear appear more formal. Loafers are also good if you don't want to wear heels but want a polished-looking shoe. But know you can get heeled loafers too. It's up to you!
Also, getting loafers with a hardware detail like a gold chain on the loafers can help make the shoes stand out more. (This look is also super trendy right now!)
Black Heels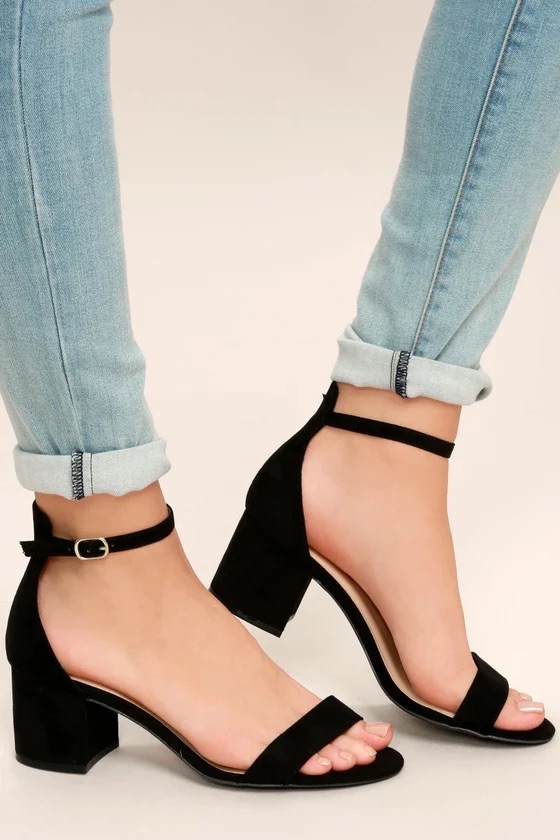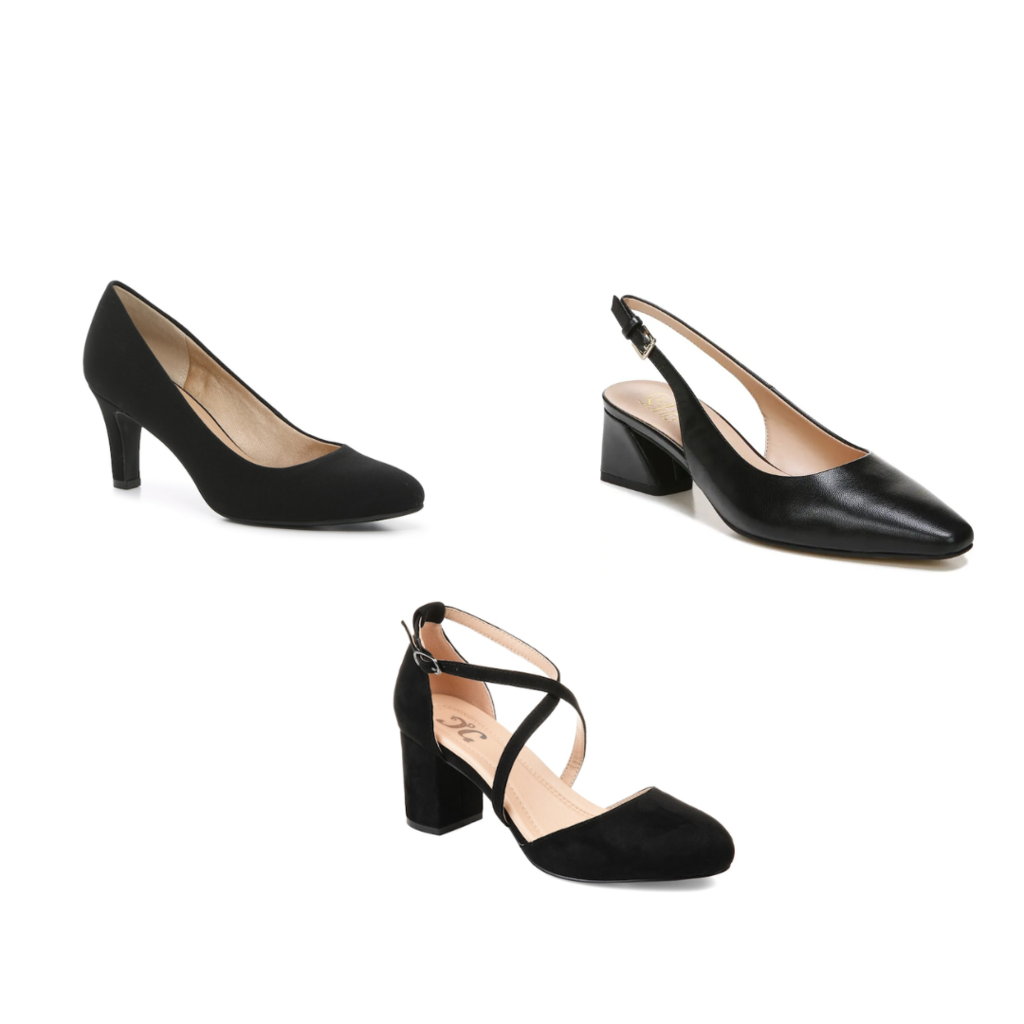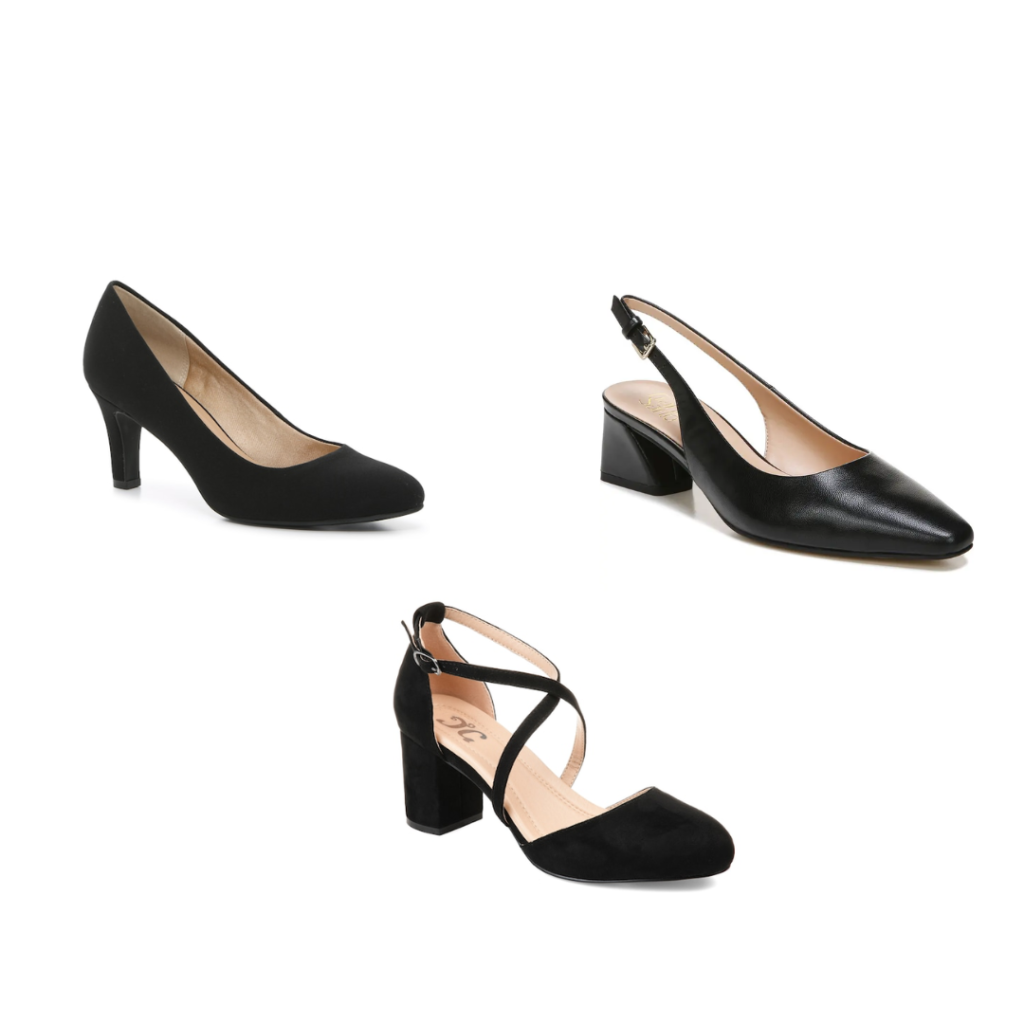 Products: Black Heels, Cross Strap Black Heels, Black Slingback Heels
Black heels and leggings are a classic pairing. I know not everyone wants to wear heels to work, but if you do, simple black heels are a great professional option, and then you can wear them out after work, too.
So when choosing your footwear, pick what works best for your look. You can't go wrong with a simple black pump in leather or suede if you want maximum versatility. For more personality, try a slingback, or opt for a round toe pump with criss-cross straps for a quirky vintage look.
What Do You Think of our Legging Outfits for Work?
For more tips on wearing casual items to the office, be sure to see our guide to how to wear sneakers to work.
What do you think about wearing leggings to work? Do you or would you wear them to work? Which outfit was your favorite? Let us know in the comments!