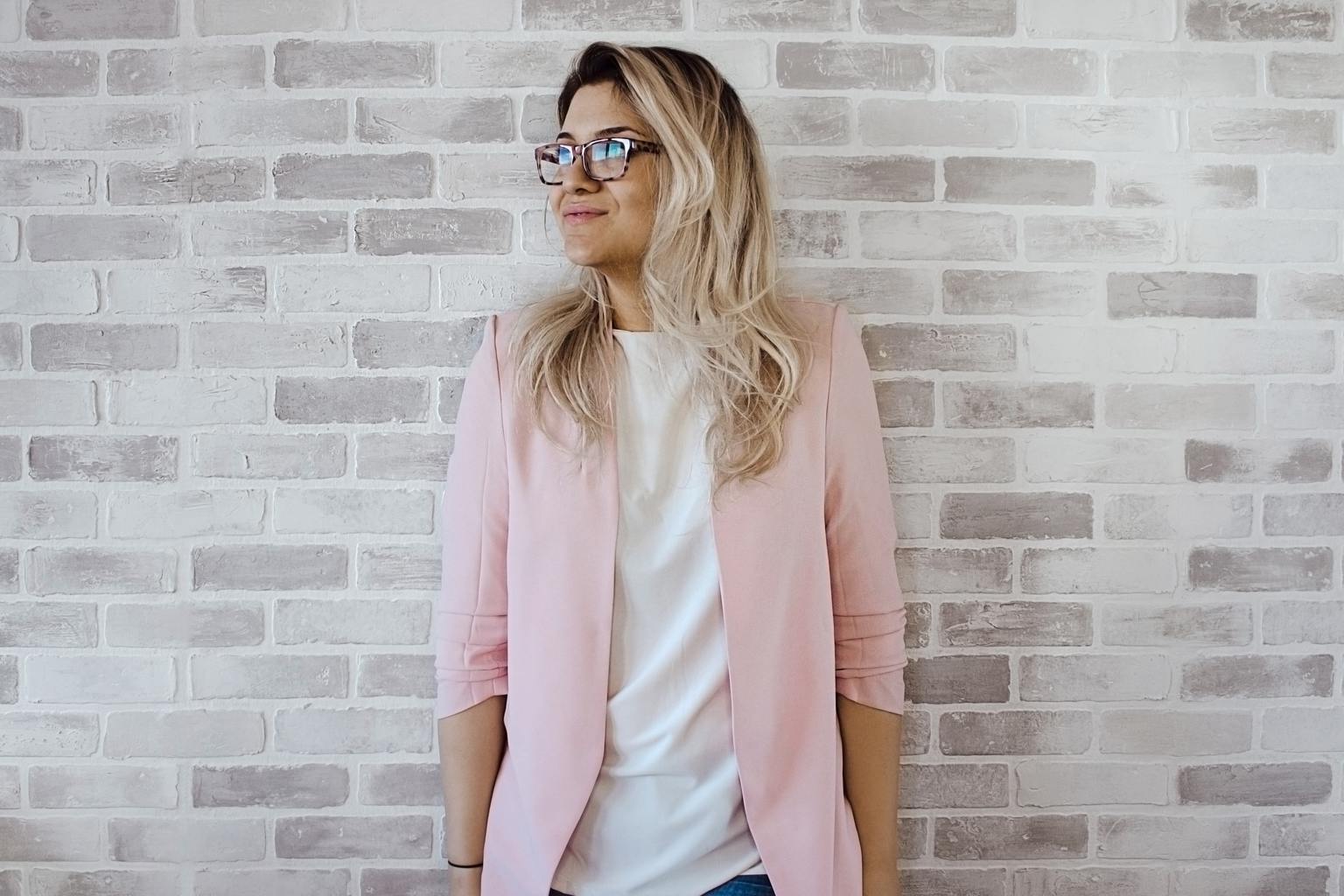 Dressing for success is a critical part of projecting a professional image in the workplace. However, finding the perfect outfit that is both stylish and work-appropriate can be a challenging task.
Whether you're dressing for a job interview, an important meeting, or just another day at the office, selecting the right professional outfit can give you the confidence you need to succeed.
In this blog post, we'll provide 20 outfit ideas for professional women, ranging from business professional to business casual attire. With our tips and suggestions, you'll be able to create the perfect wardrobe that balances fashion and professionalism.
What Is Business Casual?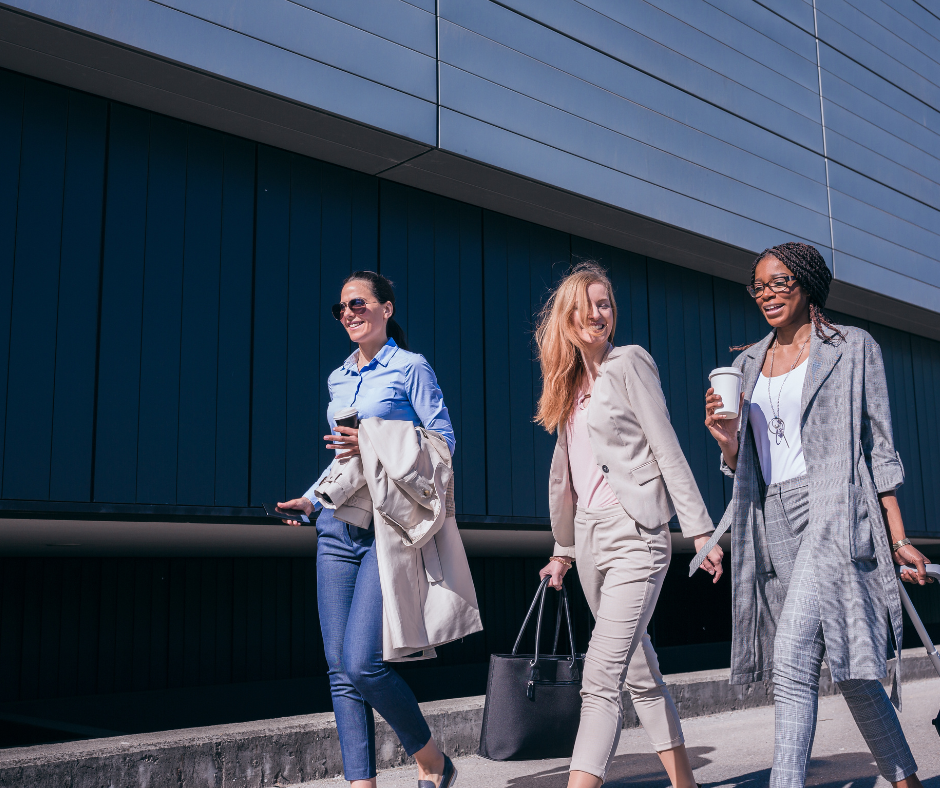 Business casual is a dress code that is commonly used in many workplaces. It's a style of dress that sits between formal business attire and casual clothing, providing a professional yet comfortable look. Business casual is suitable for many different occasions, including office work, meetings, and networking events.
Women have some flexibility when it comes to business casual wardrobes. They can wear dress pants, skirts, or dresses that are knee-length or longer. Blouses, sweaters, or dress shirts are all acceptable options, and jackets or blazers can also be worn. Closed-toe shoes are the norm, and heels should be no higher than two to three inches for comfort and practicality.
It's important to note that the exact interpretation of business casual may vary depending on the company and industry. Some workplaces may have stricter guidelines, while others may be more relaxed. It's always a good idea to check with your employer or supervisor to ensure that you're dressing appropriately for your specific workplace.
Business Casual Attire vs Formal Business Attire
The main difference between business casual and business formal attire for women is — you guessed it — the level of formality.
Business formal attire (also known as business professional attire) is a traditional and conservative style of dress, typically reserved for high-level business meetings, formal events, or interviews. Women should opt for a tailored suit or dress in a neutral color, paired with closed-toe heels. Pantyhose is often required, and jewelry should be kept to a minimum. The overall look should be polished, elegant, and professional.
On the other hand, business casual attire for women, as we explained above, is a more relaxed and flexible dress code. Women can wear separates such as dress pants, skirts, or dresses. Blouses, sweaters, or dress shirts are acceptable, and a blazer or cardigan can be worn for added warmth or style. Shoes can be flats, heels, or even clean sneakers, depending on the workplace's culture. Jewelry and accessories can be worn. The overall look should be professional yet comfortable.
When to Wear Business Attire
Business attire is typically worn in professional settings such as the workplace, job interviews, business meetings, and conferences.
The purpose of business attire is to convey professionalism, competence, and respect for the occasion and the people you are meeting with. It is essential to dress appropriately for each situation, as it reflects your seriousness and respect for the event.
For example, job interviews and high-level business meetings often require more formal business attire, such as a suit or a dress paired with closed-toe shoes. Business casual attire is typically appropriate in less formal business settings, such as a company's day-to-day operations.
Generally, it is always better to be slightly overdressed than underdressed in a professional setting. Dressing professionally shows that you take your job and responsibilities seriously and respect the people you are working with or meeting.
Best Professional Outfits for Women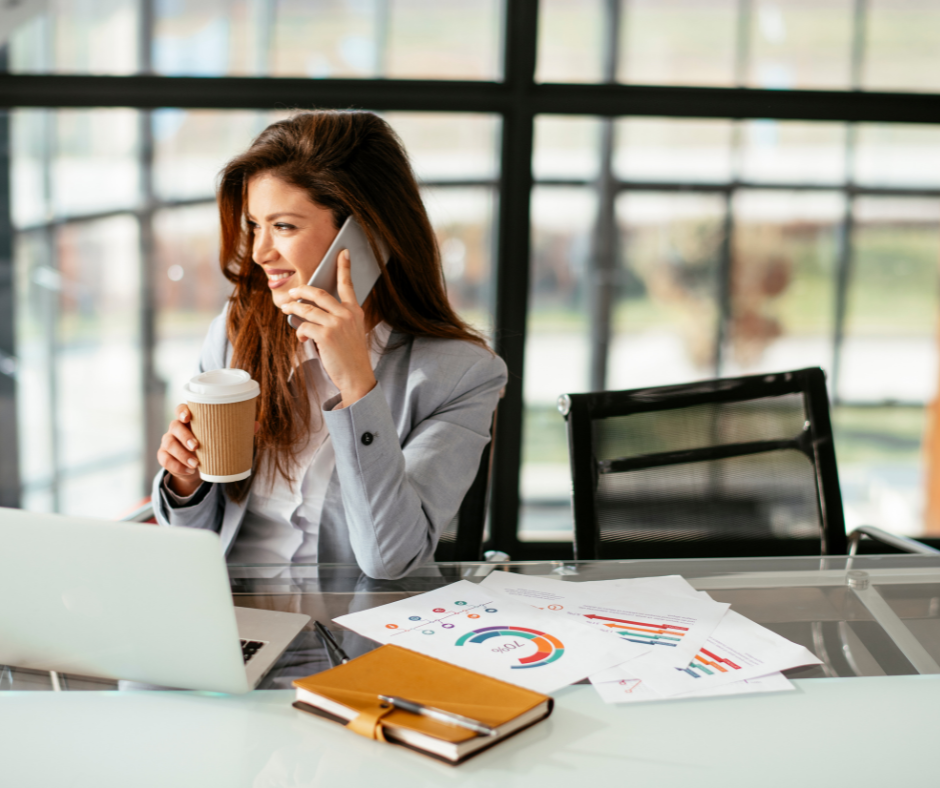 Now that we've explained the different dress codes, let's get to the outfits! Here are some options for business professional, business casual, and summer business casual scenarios.
Business Professional Outfits
As mentioned above, business professional is the most formal of all dress codes, so it's always better to err on the side of more formal than less.
The outfits below are neutral and simple, but they're safe options, especially for a new workplace where you are unsure if bright colors, etc., are allowed.
Simple Black Suit and Heels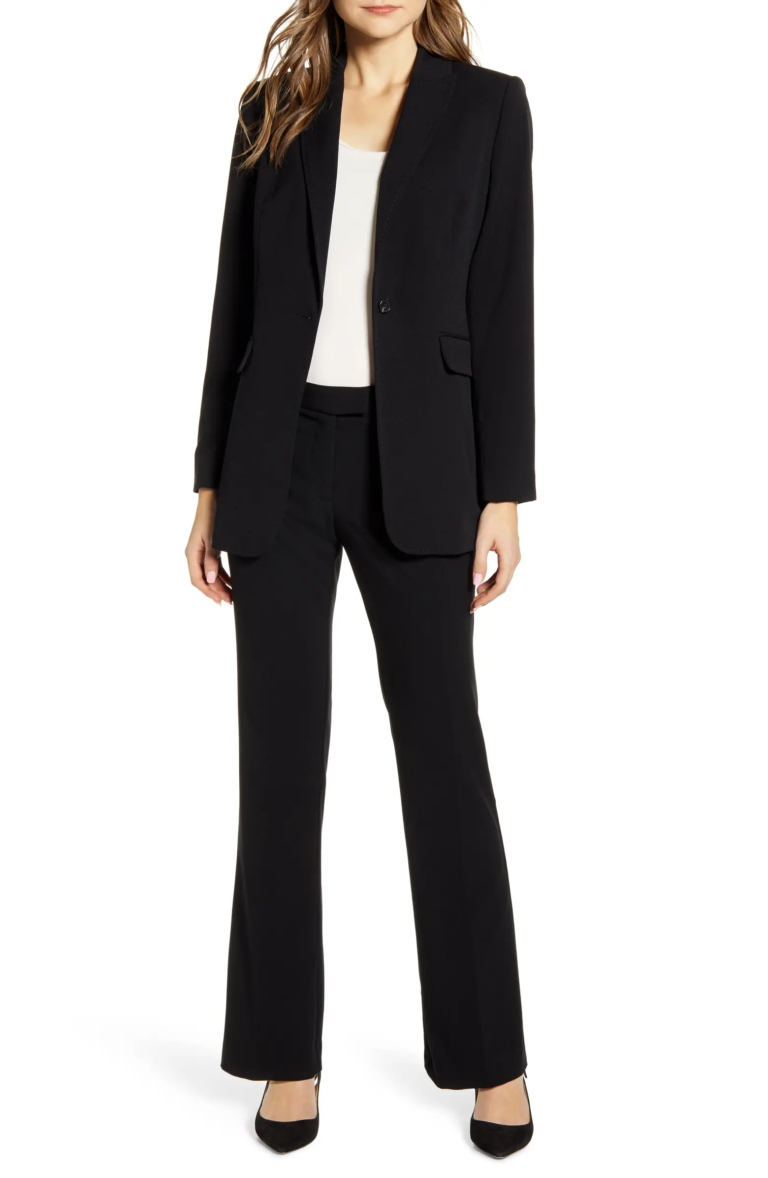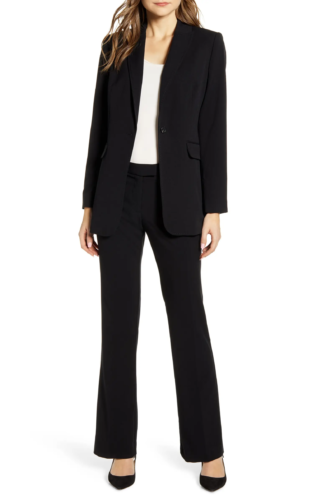 This professional outfit for women is a total classic, just a simple black suit, a white blouse, and black pumps. You cannot go wrong with this outfit for any business professional or business formal setting. Feel free to jazz it up by adding simple jewelry or swapping the white shirt for a color.
Cream Suit & Nude Pumps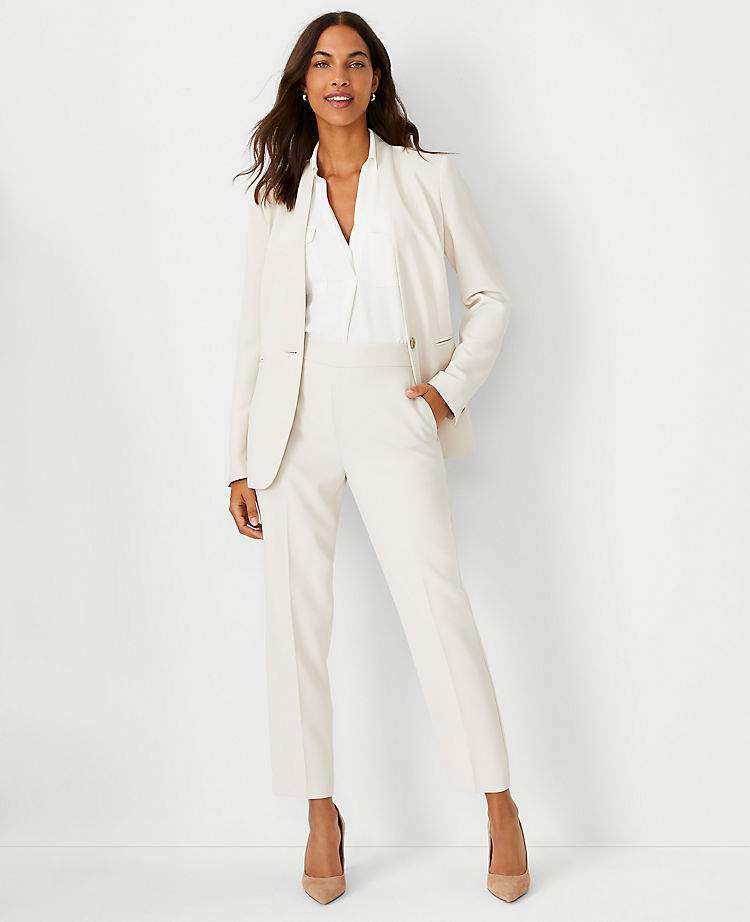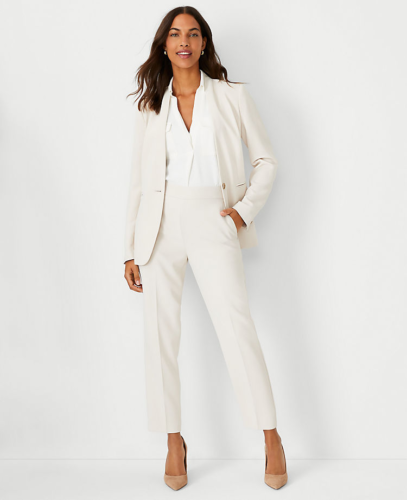 You don't necessarily have to opt for a black suit when you're dressing business professional. Other neutrals, like cream, can work as well.
Black Pants & Conservative Tank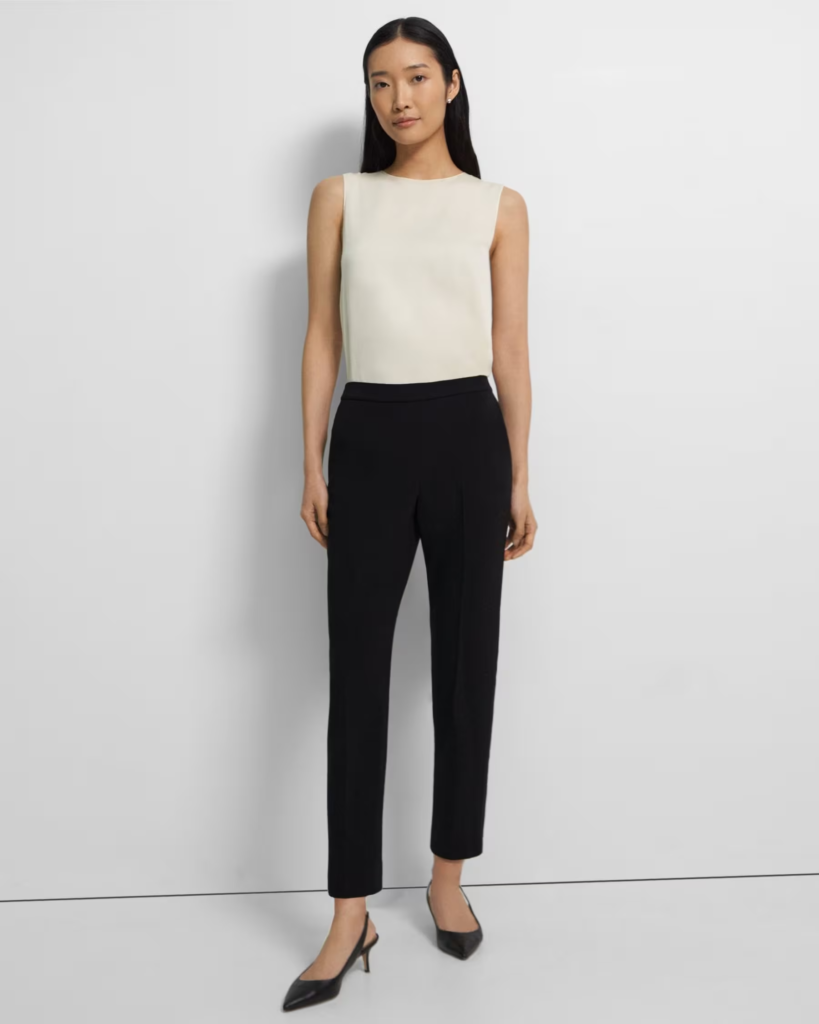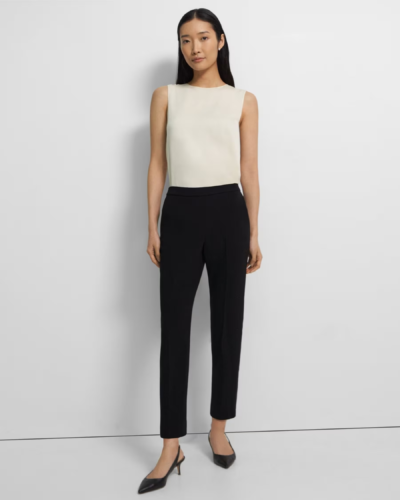 If you don't want to wear a full suit, business professional attire also allows you to wear a simple pair of trousers and a blouse. Here, we have a sleeveless blouse, but any professional (read: not low-cut, neon-colored, or cropped) top will work here.
Simple Black Dress & Pumps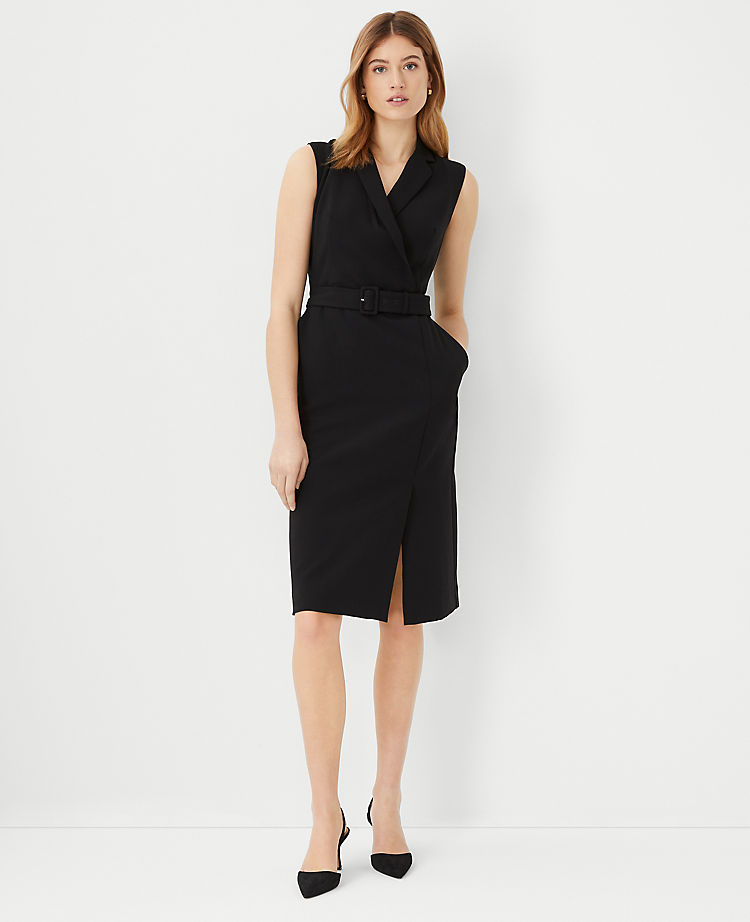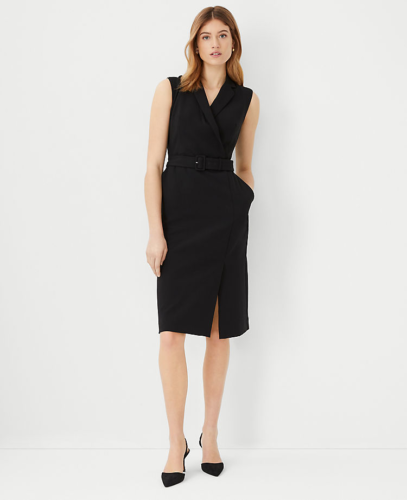 A knee-length black dress is another business professional outfit that's tried and true. This one is belted at the waist to show off your shape, but is perfectly knee-length so it's still very much office-appropriate.
Pencil Skirt, Blouse, and (Optional) Blazer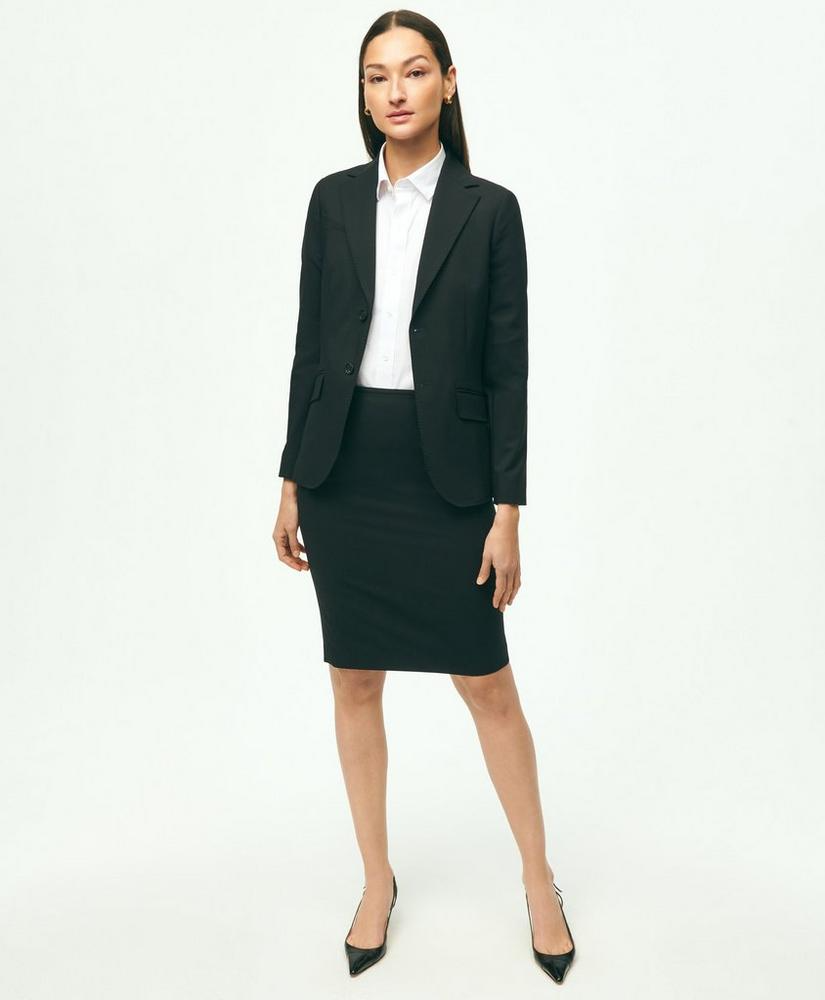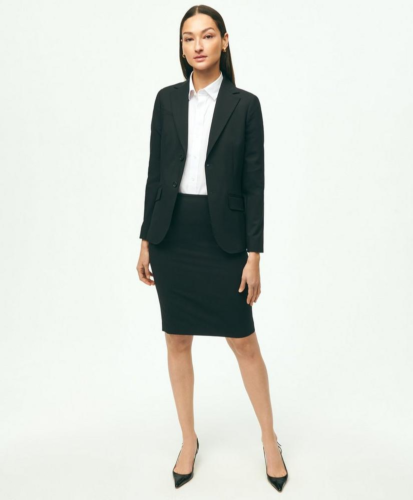 If you'd rather not wear a pantsuit, you can always go with a skirt suit instead for a business professional scenario. This is another example of a classic look (just black and white, as with the suit outfit above), but you could jazz it up by wearing a suit in a different color and swapping out the blouse for something colorful. You could also swap in nude pumps for the black.
Business Casual Outfits
Now for the more fun and creative looks. You generally have a lot of flexibility with business casual outfits, so here are some ideas to get you started.
Dress, Trench & Loafers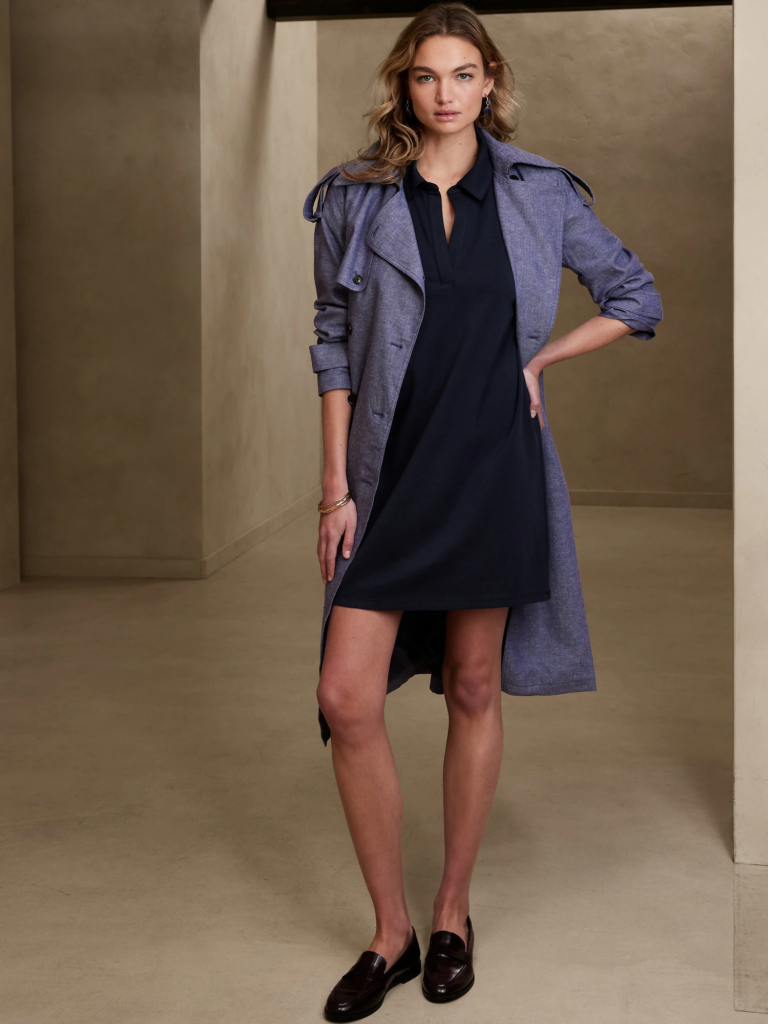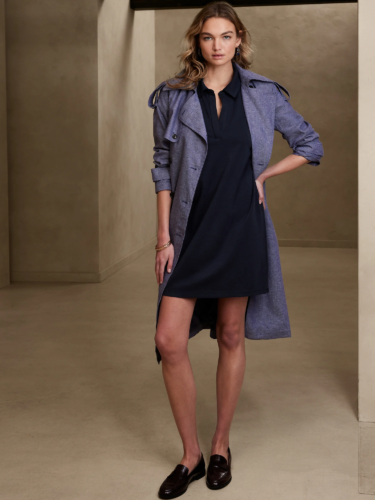 With business casual fashion, you don't want your skirt to be ultra-short but generally an inch or two above the knee is OK. (Pro tip: If you're wondering if it's too short, it probably is.) This mini dress would be great for work and looks so chic paired with loafers and a trench for spring showers.
White Jeans, Loafers, & Utility Jacket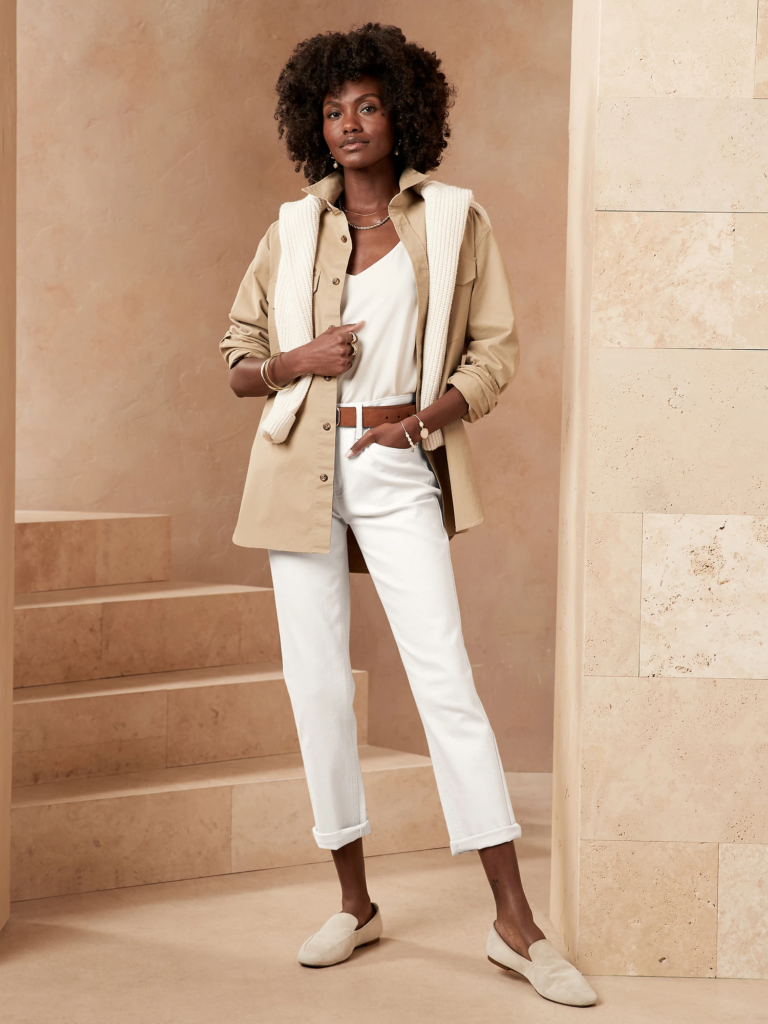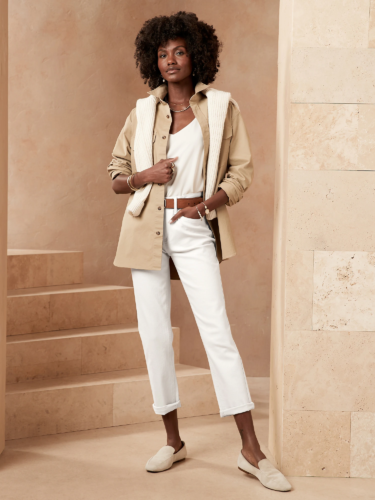 While ripped and distressed jeans don't pass as business casual, white jeans can be a great option (provided it's during the warm season and they're stain-free)! I love how they're paired here with a simple cami and utility jacket. Finish with loafers for an office-appropriate vibe.
Jeans, Sweater, Button-Down & Loafers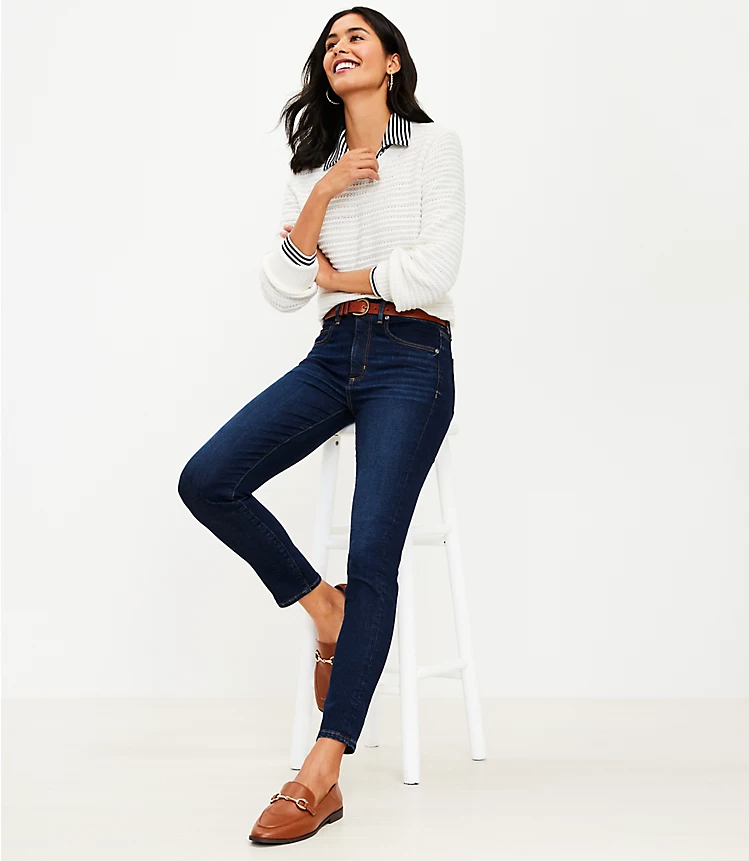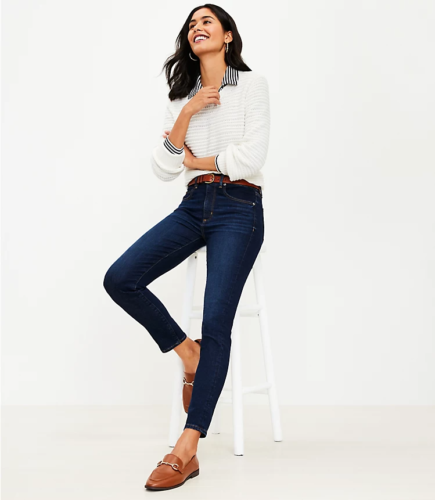 A button-down shirt layered under a sweater is a classic business casual outfit combo. Pair it with skinny or straight-leg jeans in a clean wash (dark or medium would work here), then add loafers for a sleek, chic, and totally professional outfit with jeans.
Midi Skirt, Heels & a Long-Sleeve Tee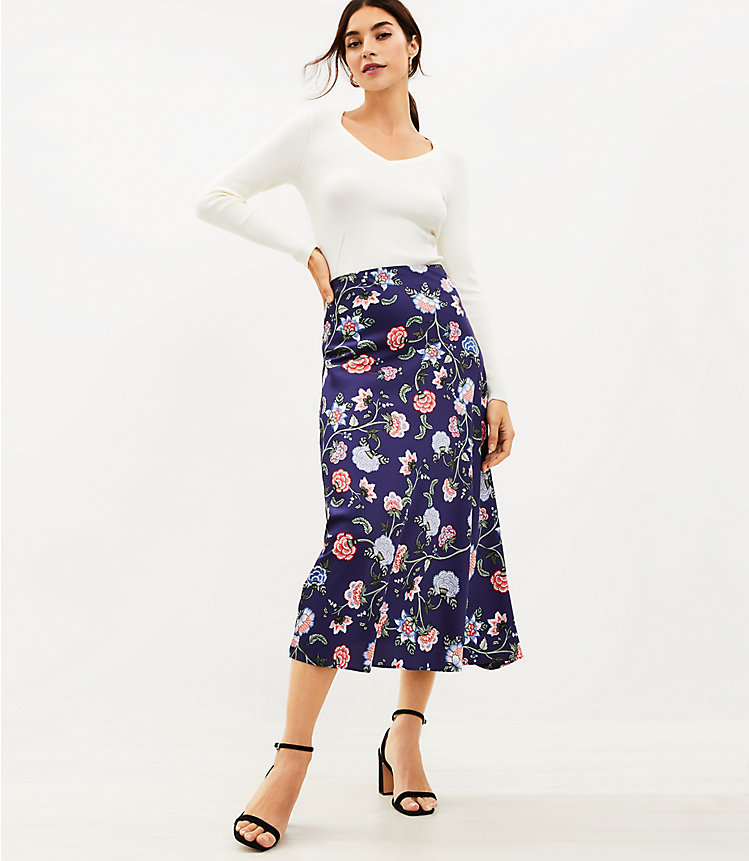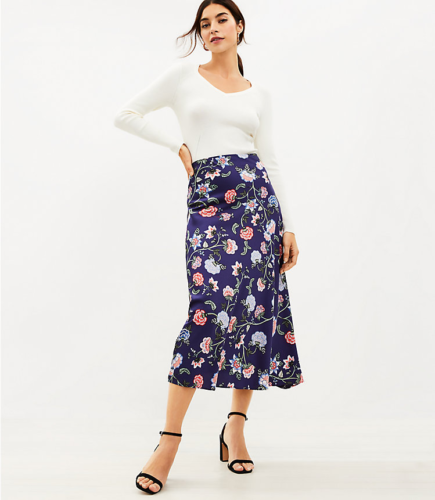 I love midi skirts for their versatility, and this one is perfect to wear to work. If you have a feminine sense of style, pair a floral midi like this one with a simple v-neck tee or sweater and cute heels. You're sure to get tons of compliments while being totally professional.
Midi Dress & Heels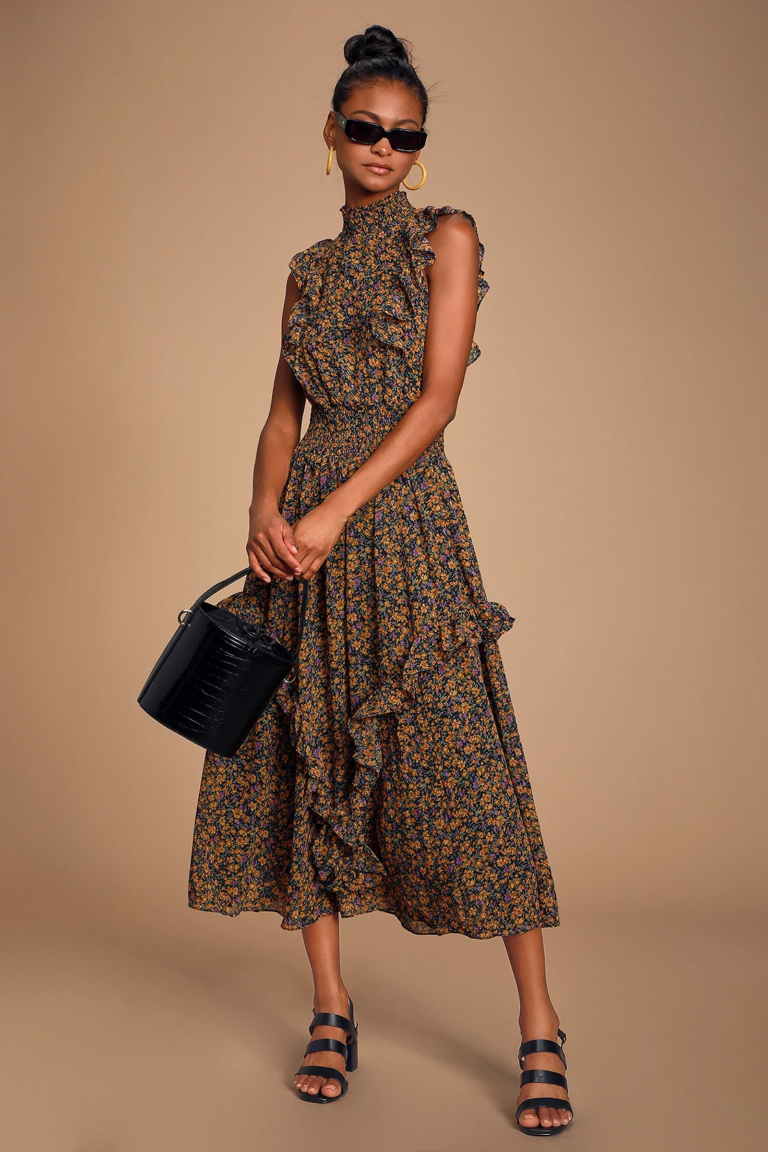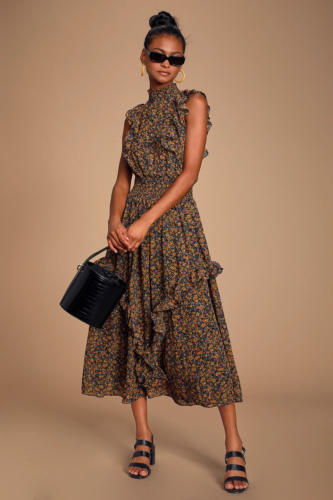 Just as I love a midi skirt for work, a midi dress makes for a great professional outfit for women that's just one piece! Throw it on with some pumps or work-appropriate sandals (read: not flip flops) and you're set to rush out the door.
Wide-Leg Trousers, Blazer, & Sneakers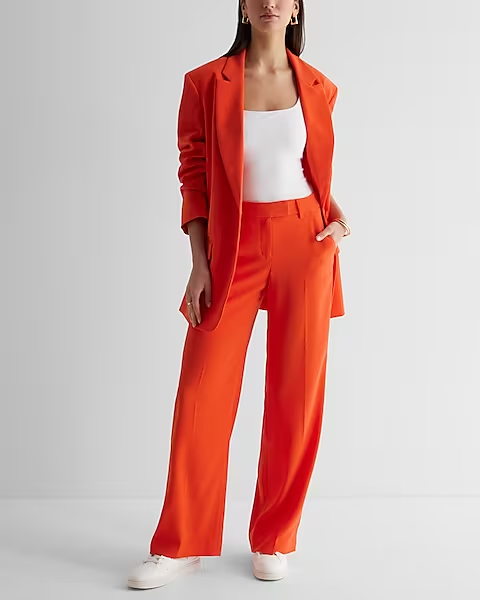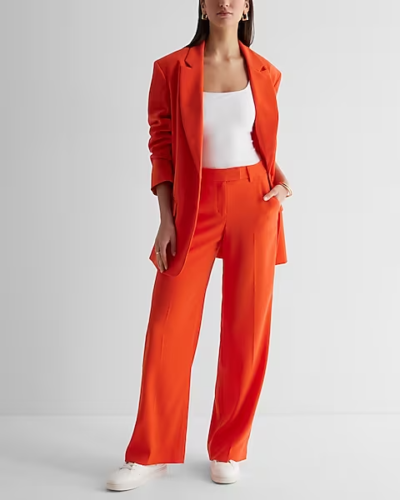 Business-casual looks can include brighter colors than business formal. Case in point: This stunning orange matching set. Pair it with a simple white top and (clean, simple) sneakers for a winning workwear look to show off your fashion sense.
Wide-Leg Pants & Bodysuit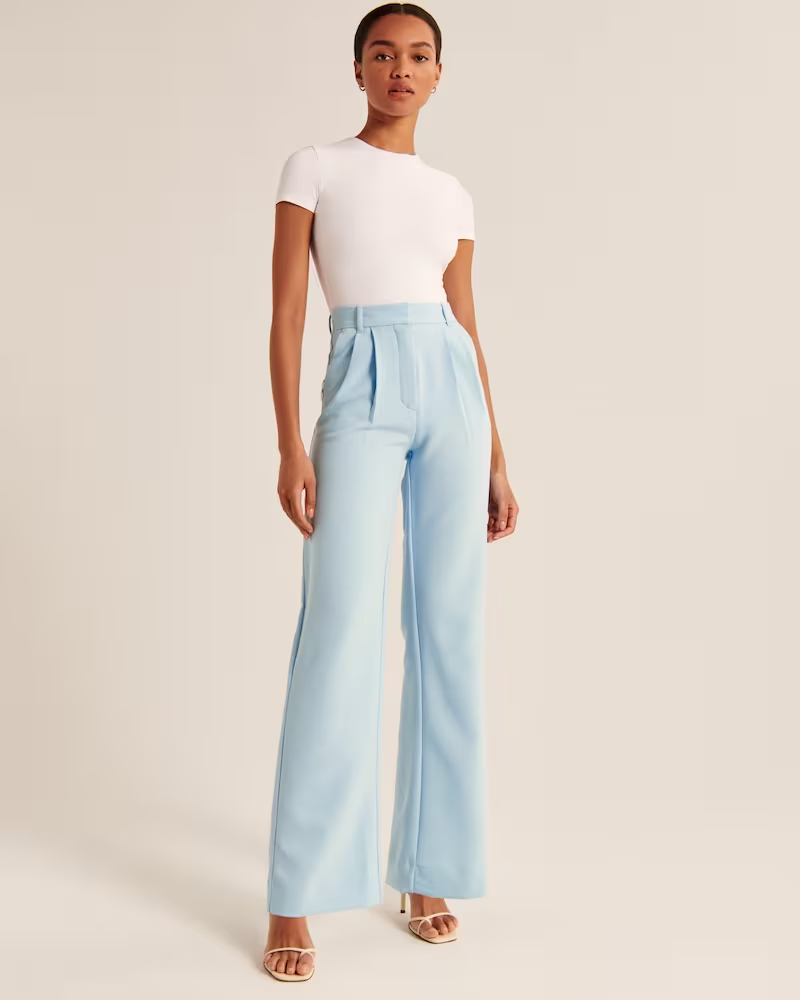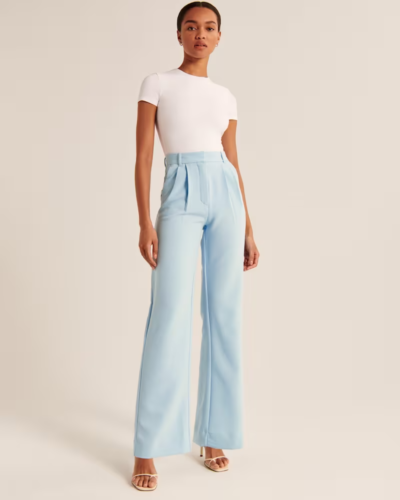 Along the same lines as the above outfit, pair some colorful wide-leg pants with a sleek bodysuit and simple heels for a cute and work-appropriate look. Wide-leg pants are trending everywhere right now, so this is an outfit you can wear for work or casual settings!
Bright Sheath Dress & Nude Heels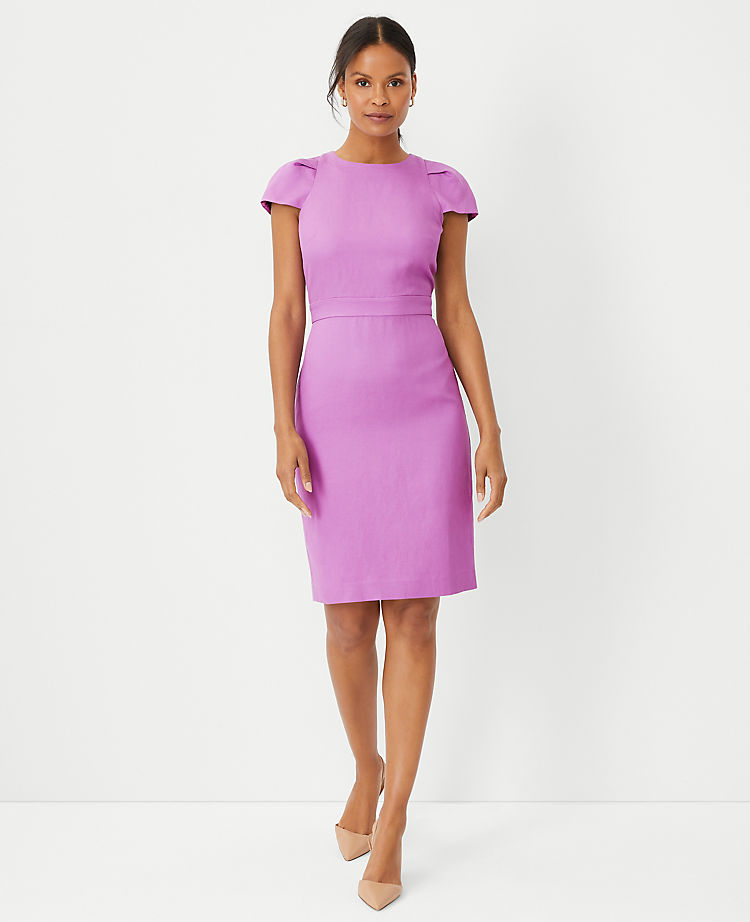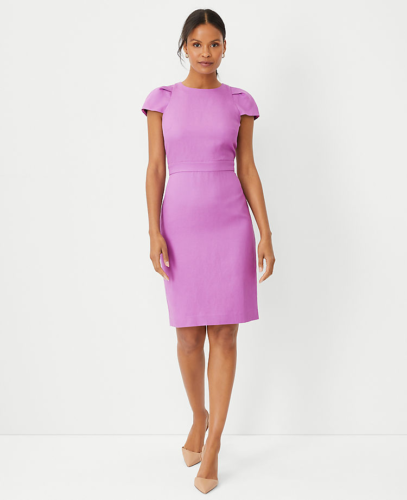 Business casual means you can add bright and bold colors to your work wardrobe! This stunning orchid purple makes a serious statement and looks great paired with sandals or nude pumps, as seen above.
Summer Business Casual Attire
Summer business casual attire differs from regular in color and fabric (think lighter shades and breathable fabrics like linen). It also includes more sleeveless pieces and skirts to account for the warmer weather. Here are some ideas:
Summer Suit with Open-Toe Heels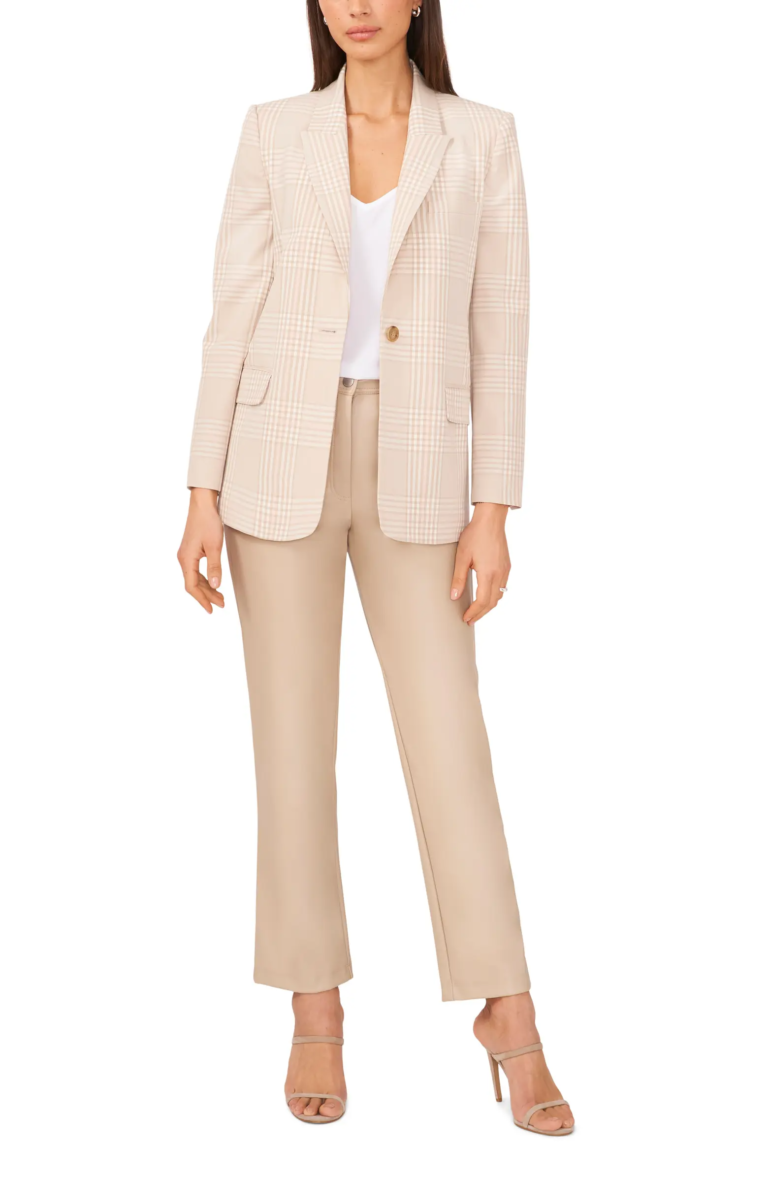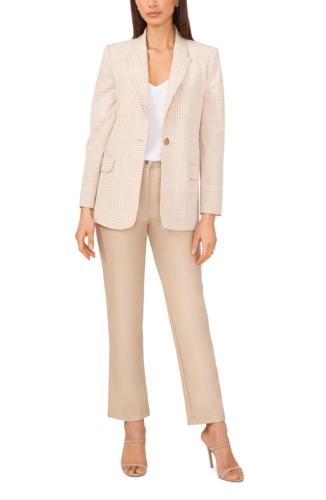 I love this easy, breezy, professional outfit for women with slightly mismatched neutrals and open-toe heels. You could wear this in a business professional setting if you swapped the open-toe heels for nude closed-toe pumps.
White Linen Dress and Pumps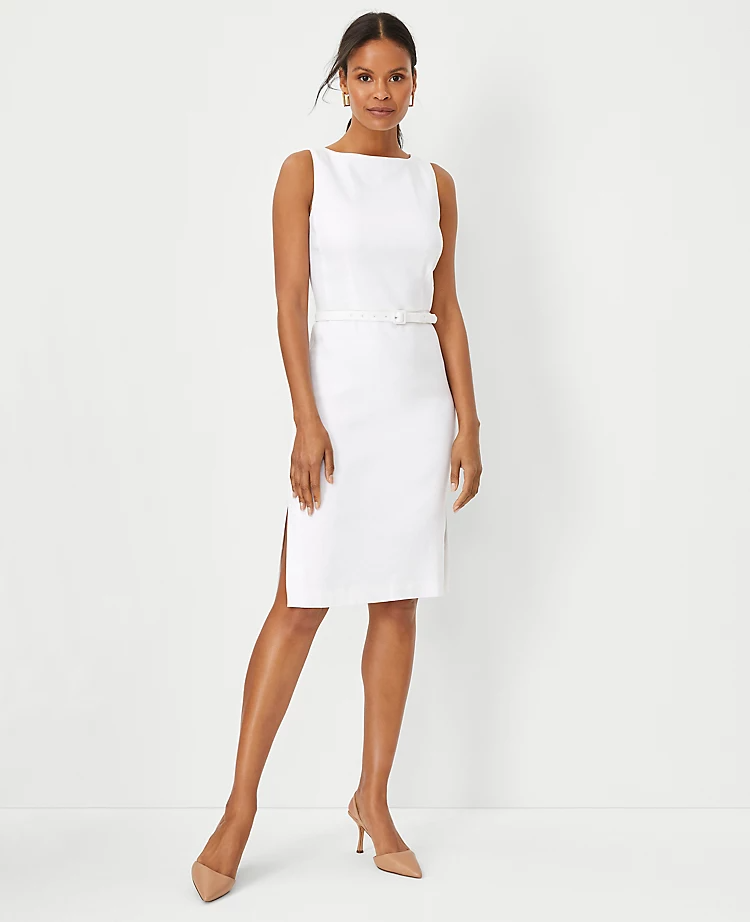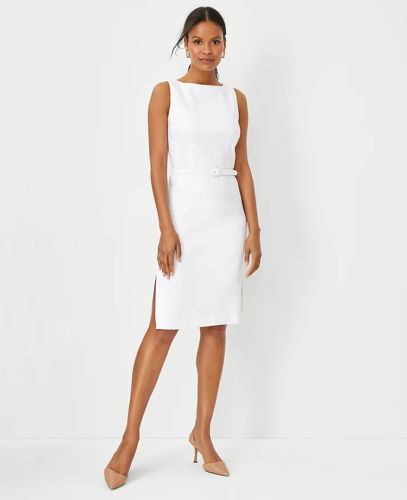 Nothing says summer like a linen dress and this one is perfection! This outfit could also count as business professional thanks to its conservative silhouette and closed-toe shoes.
Pink Pencil Skirt & White Sleeveless Blouse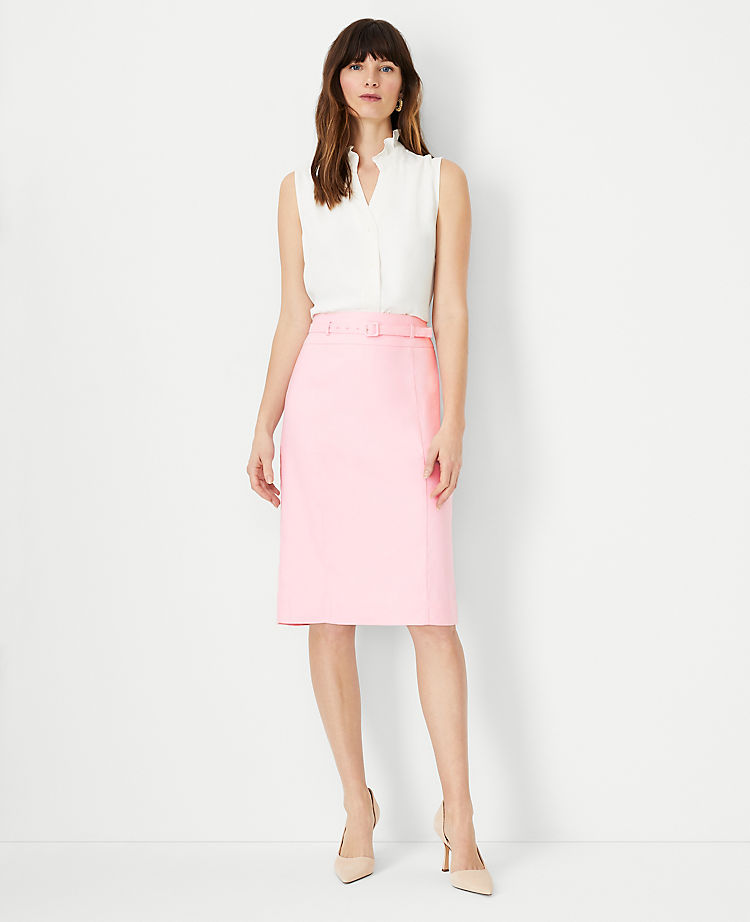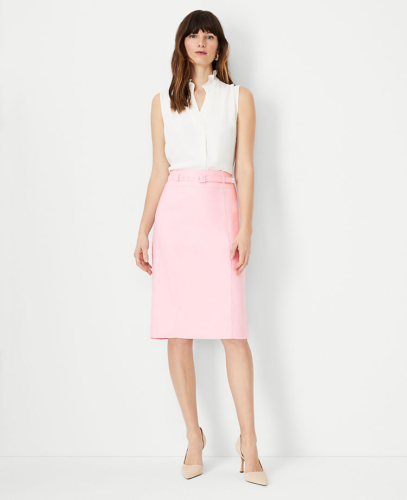 How pretty is this color combo? The pink is perfect for spring and summer, and it looks so nice paired with a crisp white sleeveless blouse and nude shoes.
Simple Dress & Sandals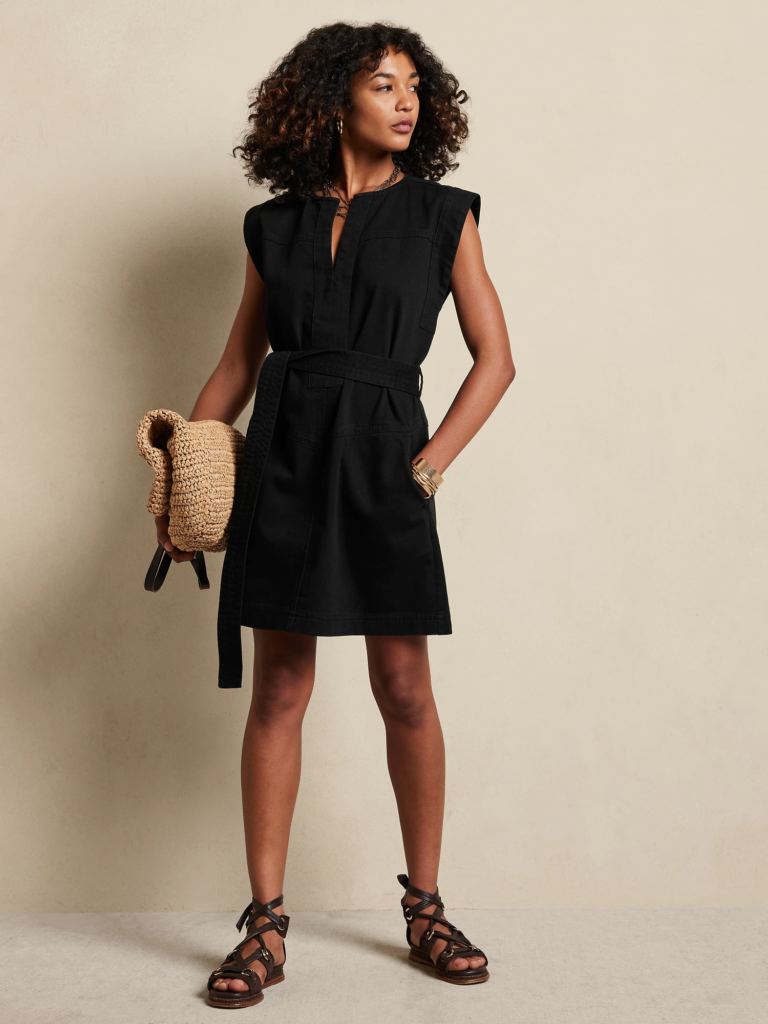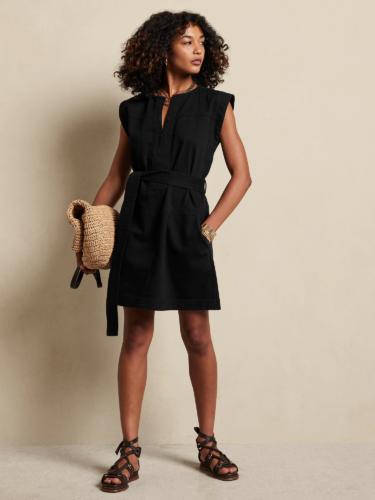 In the warmer months, a simple black dress and sandals are a go-to work outfit combo. This outfit is breezy, comfortable, and perfect for commuting to work as the shoes are great for walking. You can't go wrong with this one!
Cropped Pants & Silky Cardigan Set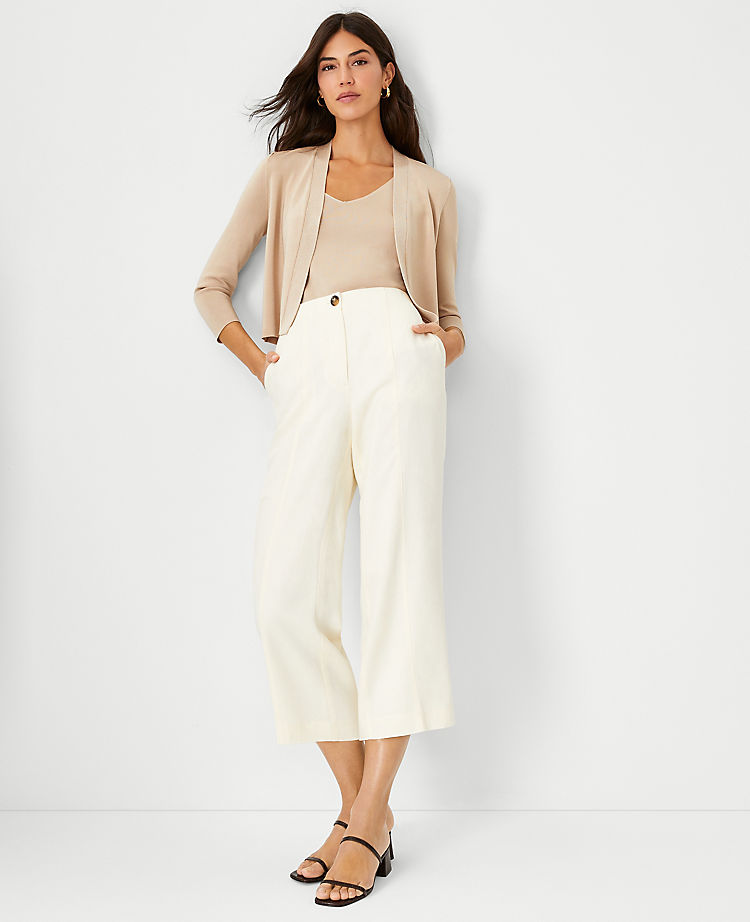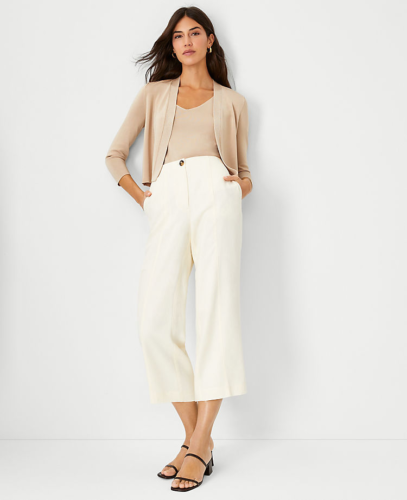 I love the look of cropped pants with cute heels for work in the summer. This silky cardigan and tank combo is genius, too. Since every office loves to blast the A/C, you can wear the tank on your way to work and layer on the cardi when you get inside.
Linen Pants, White Blouse & Statement Shoes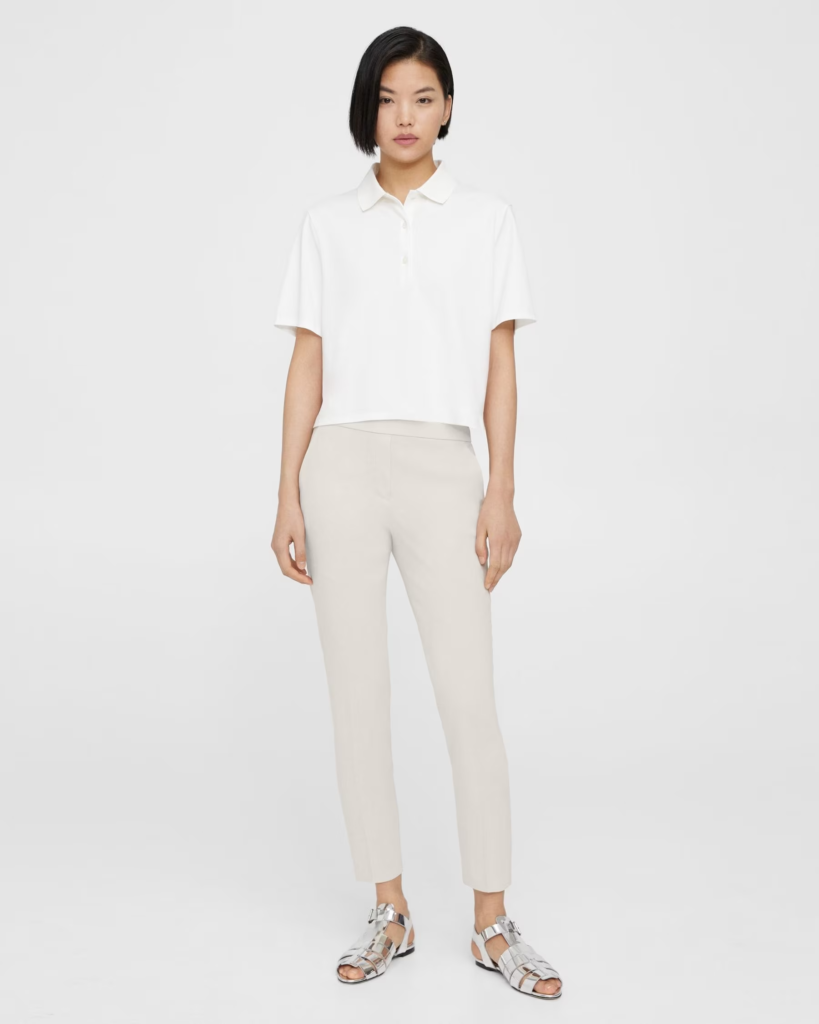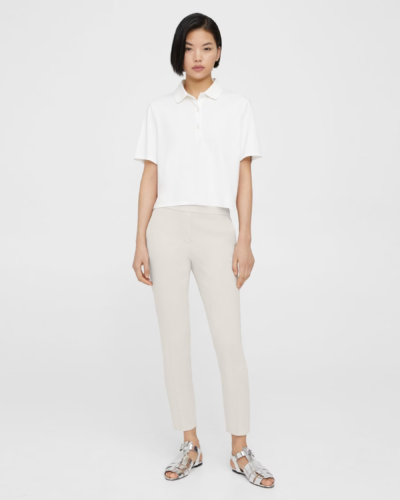 If you work in a fashion-forward office, bring a hint of trendiness to your business casual look with these amazing silver sandals! They look fantastic paired with lightweight linen trousers and a breezy white short sleeve blouse.
Trousers, Chunky Sandals, & Tank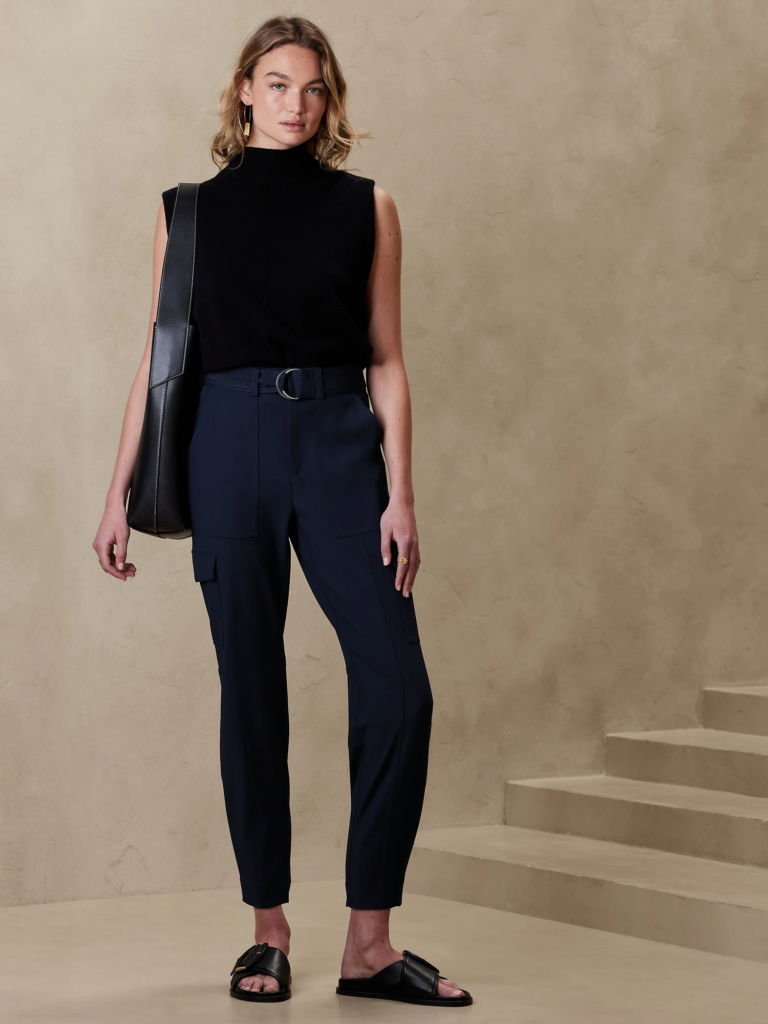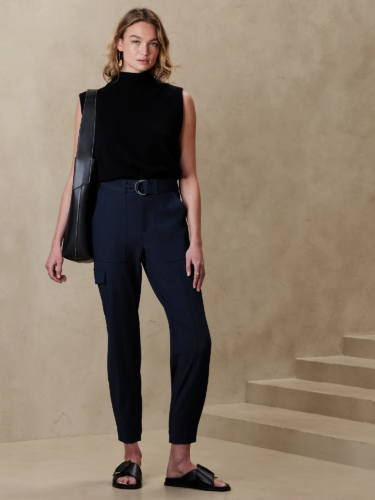 You can definitely wear sandals in a business casual workplace! While flip-flops are not considered business casual, chunky leather sandals like the ones above are a great option. I like them mixed with cropped trousers and an easy knit tank for summer days.
What do you think of these professional outfits for women?
Have you had to dress for confusing professional situations? How do you put your best foot forward in the office? Let us know in the comments below!