Do you own a closet full of black, brown, gray and other neutral-colored clothing? If so, why not try and mix up your wardrobe by combing multiple neutrals into one outfit? Although sometimes considered a fashion faux pas, it's actually fine to wear neutral clothing with other neutrals. You'll still match and look super-stylish.
Check out these three outfits for ideas on how to mix neutral colors in an outfit:
Breaking the Barrier: Black & Brown
Although wearing black and brown together is often considered to be one of the biggest fashion "don'ts," we all know that rule is outdated. This particular color combination is actually what inspired me to write this article. When done right, black and brown look surprisingly chic when worn in the same outfit.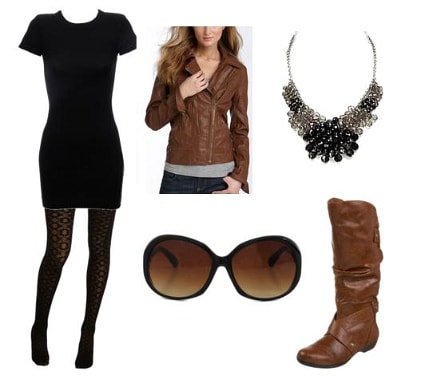 Dress, Jacket, Necklace, Tights, Sunglasses, Boots
For this look, I took a basic LBD and layered it under a brown faux-leather jacket. These tights add a textural contrast to the outfit, while the boots match the jacket. Accessorize with a bib necklace and oversized sunglasses, which tie the two colors together.
A Trendy Approach: Camel & Gray
If you're a girl who loves trends, try mixing two of fall's hottest colors — gray and camel — into a single outfit. The result creates a classic, yet fashion-forward look.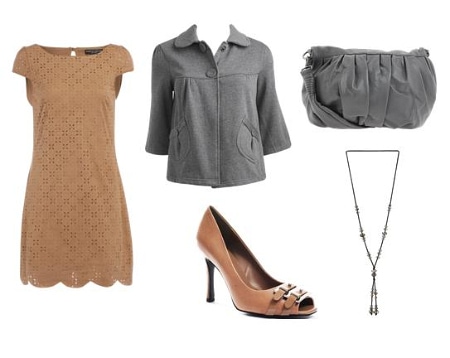 Dress, Coat, Bag, Pumps, Necklace
Although camel coats are huge this year, I decided to flip this combination and create a look using a camel-colored dress and gray coat. This dress is simple and streamlined, so it won't overpower the rest of the outfit. Add a chic gray swing coat and matching bag in cool gray tones. Finally, some camel pumps and long silver necklace add the finishing touches.
Going All Out: Gray, Navy & Black
After mastering the art of mixing two neutrals, try combining three (or more!) neutrals into a single outfit. This can work for a multitude of different color combinations, but I decided to work with two shades that aren't often paired together — black and navy — with some splashes of gray.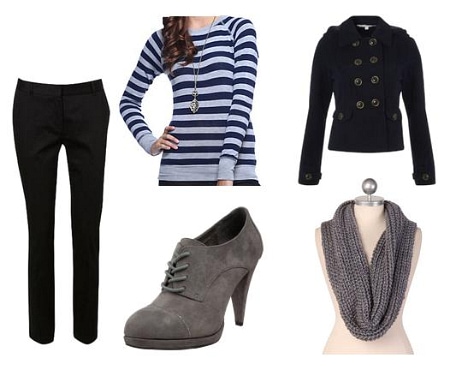 Pants, Top, Jacket, Shoes, Scarf
For this outfit, pair some basic black pants with a gray and navy striped top. A cropped navy blue jacket and gray circle scarf pick up on both of the colors found in the top. Add some gray booties to create a cute and casual look for fall.
What do you think?
Do you like mixing neutrals? What's your favorite combination? Which outfit is your favorite? Be sure to leave a comment and let me know your thoughts!