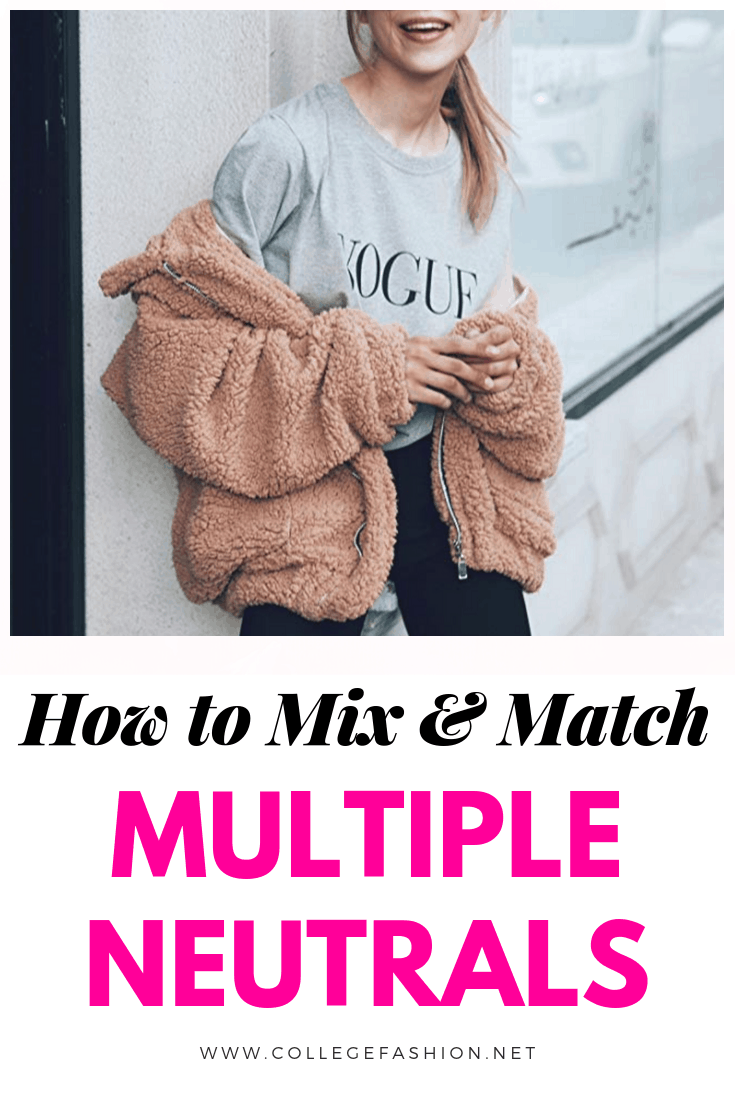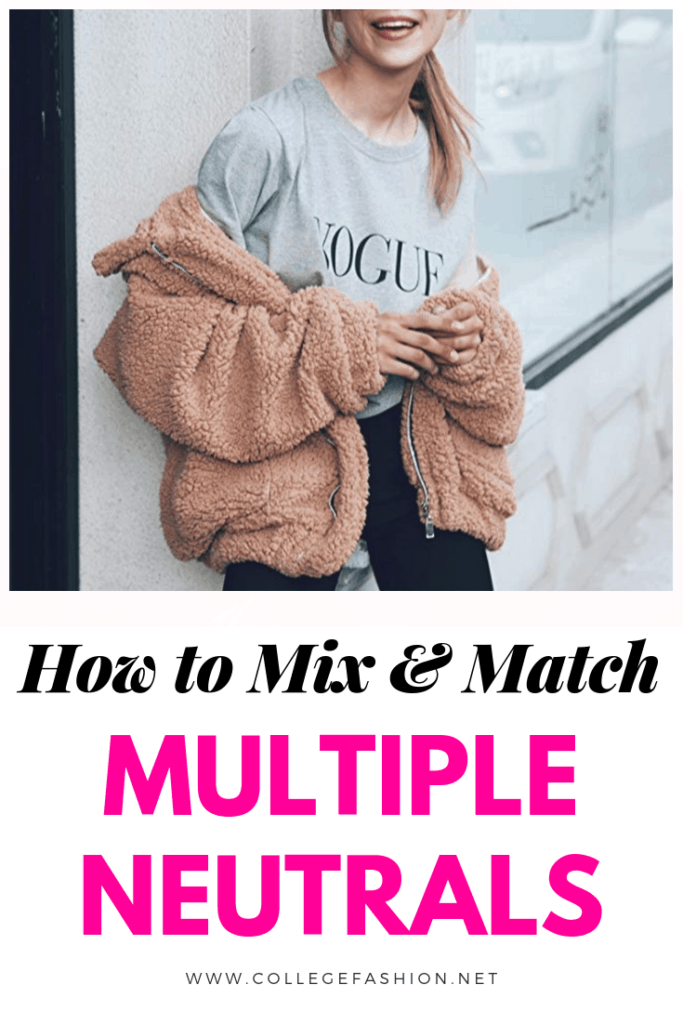 Do you own a closet full of black, brown, gray and other neutral clothing? If so, why not try and mix up your wardrobe by combing multiple neutrals into one outfit? (Who says you need color?)
You'd be surprised at how often we are asked, "is it OK to wear black and brown together" (or black and navy, navy and brown, and so on). So today we're here to demystify the process.
Although sometimes considered a fashion faux pas, it's actually fine to wear neutral clothing with other neutrals. You'll still match and look super-stylish.
Check out these three neutral clothing outfits for ideas on mixing neutrals in a look:
Breaking the Barrier: Black & Brown
Although wearing black and brown together is often considered to be one of the biggest fashion "don'ts," we all know that fashion rule is outdated.
This particular color combination is actually what inspired me to write this article. When done right, black and brown look surprisingly chic together in the same outfit.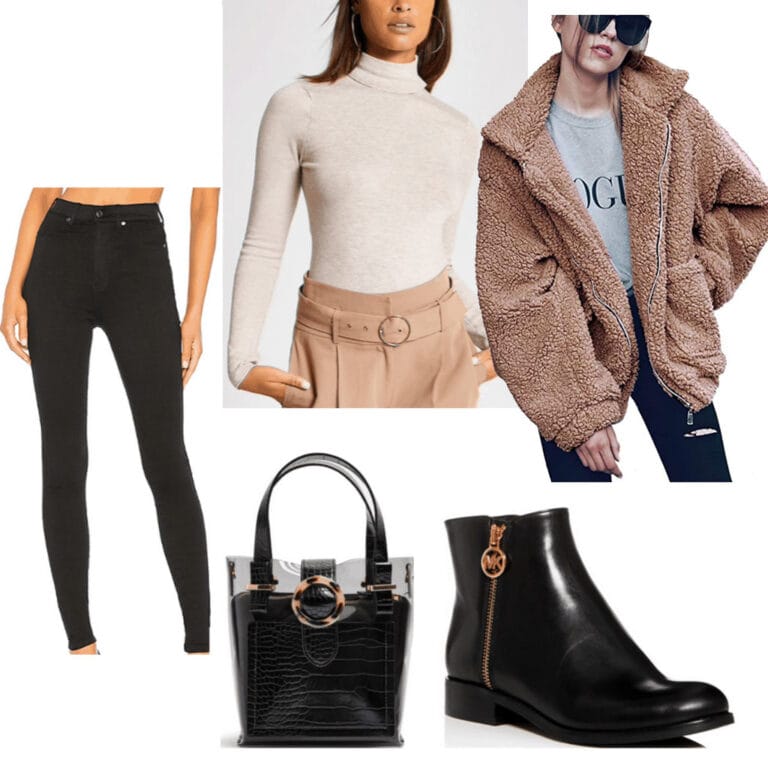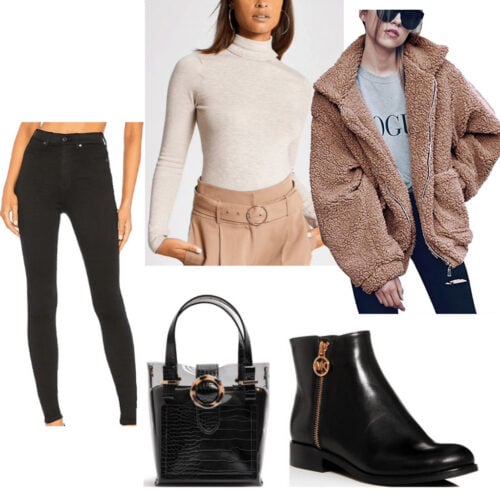 Products: Jeans – Revolve, Sweater – River Island, Jacket – Amazon, Bag – Topshop, Boots – Michael Michael Kors
For this look, I took a basic black high waisted jean and added a light brown sweater. This brown teddy coat adds a bit of trendiness to the look but is also perfect for when the weather starts getting a little chillier.
The black Michael Kors boots are a bit pricey but they will be in your closet forever. You can match these boots with literally any outfit and for any event. Going to a meeting with your advisor, fall brunch and shopping with the girls, or even just regular class? Rock these boots and you'll look 10/10.
The zipper on the side of the boots matches with the light tortoiseshell pattern on the bag. These little details help tie in all of the brown in the outfit. The bag also adds a textural contrast to the look.
A Trendy Approach: Camel & Gray
If you're a girl who loves trends, try mixing two classic fall colors — gray and camel — into a single outfit. The result creates a classic, yet fashion-forward look.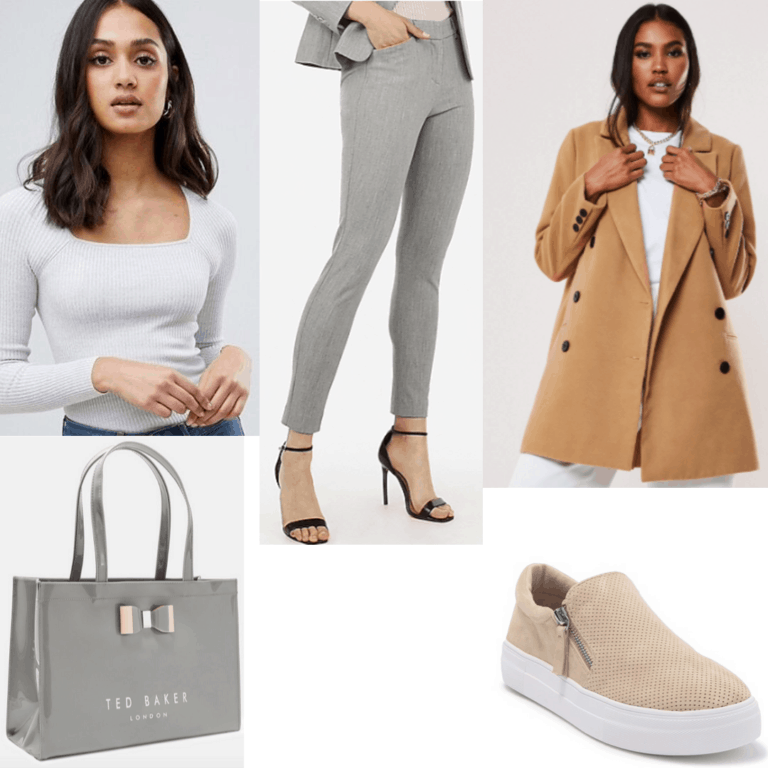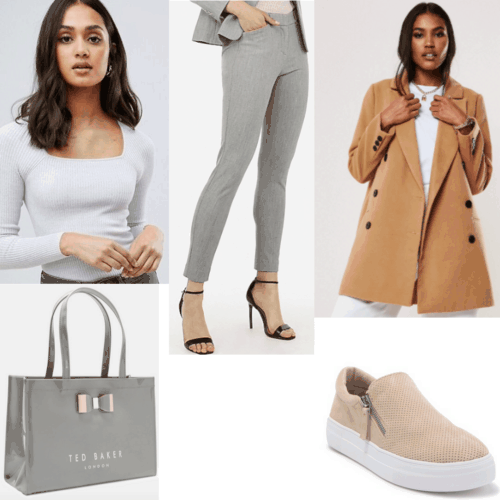 Products: Sweater – ASOS, Pants – Express, Coat – Missguided, Sneakers – Nordstrom Rack, Bag – Ted Baker
Camel coats are always essential for the fall/ winter. You can use them to add class to any outfit, whether dressy or just a bit more than causal.
For example, in this set, I paired the coat with some gray trousers. It's nice to invest in a pair of dress pants like these because besides styling them into a semi-chic outfit, you can use them for any business casual setting.
The light gray sweater is perfect before it gets exceptionally cold out — it's such an early to mid fall staple.
Next up, the beige sneakers are perfect if you are not in the mood to wear booties or a slight heel. You might initially think they're too casual but thanks to the dressier nature of the coat and the bag, the sneakers actually look balanced.
Like I said before, the bag really uplifts the outfit, matching perfectly with the pants and bringing the whole look together.
Going All Out: Gray, Navy & Black
After mastering the art of mixing two neutrals, try combining three (or more!) neutrals into a single outfit.
This can work for a multitude of different color combinations, but I decided to work with two shades that aren't often paired together — black and navy — with some splashes of gray.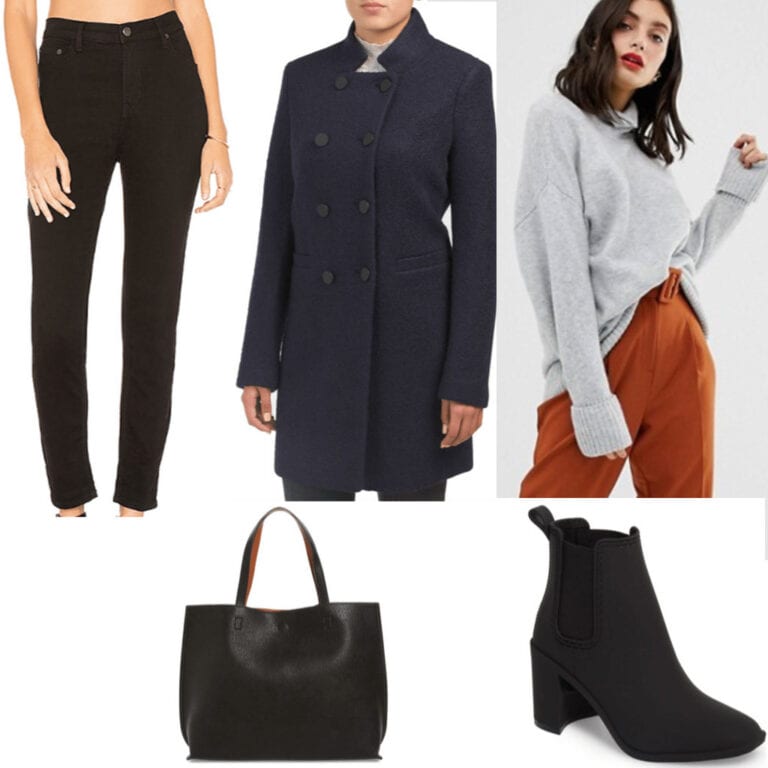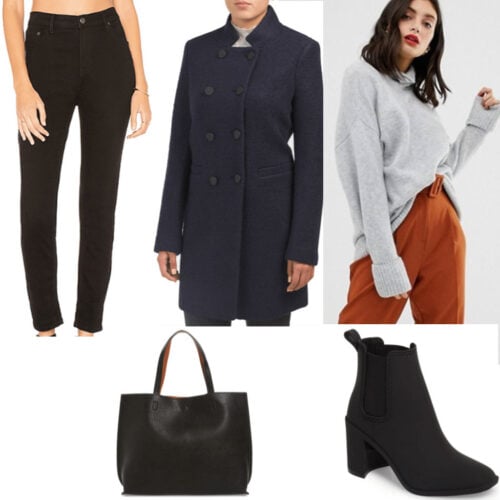 Products: Jeans – Revolve, Sweater – ASOS, Coat – TJ Maxx, Bag – Nordstrom, Shoes – Nordstrom
It might seem unusual to pair all three of these colors together. But as you can see, they actually all flow and look cohesive in this look.
Having a basic pant like these black jeans sets the outfit and then you can add this gray sweater for contrast. It is not fitted, giving the whole piece a cozier look.
This double-breasted navy coat makes the outfit chicer and adds that navy contrast for interest.
Now to tie in all of the other pieces — a black tote bag and some black booties help to even out the other neutrals and ground the outfit.
This is a perfect look for fall for when you don't want to cave in and wear head to toe black, like so many of us tend to do. Instead, just take these three colors and be a little more unique!
What do you think of these outfits and neutral clothing in general?
For more on this, be sure to check out our guide to styling white and beige outfits.
Do you like mixing neutrals? What's your favorite neutral clothing combination? Which outfit is your favorite? Be sure to leave a comment and let me know your thoughts!
Editor's note: This post was originally published in 2010; it was completely updated and revamped in 2019 with new photos and information.