Whether you're working at your first internship this summer or heading out into the "real world" as a new grad, it's essential to know and follow the dress code for your workplace. Lucky for you, we're here to decode some typical types of workwear, from business formal to casual.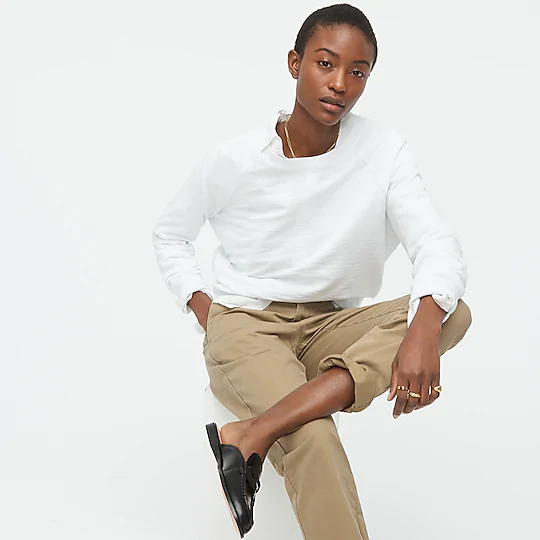 We've already covered what to wear for an interview and what to wear for a business formal dress code. This week, we're talking about what to wear in a business casual environment.
This is a fairly common dress code, especially in office environments – it's the middle ground between business formal (for extra conservative professions) and casual (AKA what you would wear to class). Below are some basic tips to keep in mind when it comes to business casual dressing.
General Business Casual Guidelines:
Denim is off-limits. Instead, stick to pieces like pants, skirts, dresses, cardigans, blazers, and blouses.
For most situations, keep to closed-toe shoes, such as flats, heels, or oxfords. If the weather is really hot, and your office is a little more relaxed, you may be able to get away with nice sandals (NOT flip-flops).
Keep your jewelry simple and polished – nothing too large, sparkly, or distracting.
Your clothes should be clean and wrinkle-free.
You have some freedom to express your style, but don't go overboard with bright colors, crazy prints, sequins, or rhinestones.
Stay professional and conservative. No low-cut tops or ultra-sheer fabrics, and skirts and dresses should be no shorter than 1-2 inches above the knee.
Need some style inspiration for your summer internship or job? Here are three chic yet professional business casual outfit ideas:
Outfit #1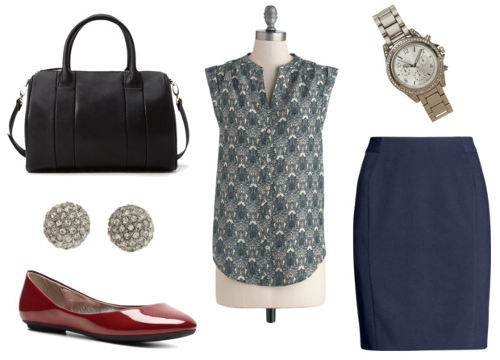 Product Info: Blouse – Modcloth, Skirt – H&M, Flats – DSW, Bag – Forever 21, Earrings – Zappos, Watch – Wet Seal
This look is the perfect formula for warm-weather workwear. Pair a printed sleeveless or short-sleeve blouse with a navy pencil skirt, then add a pop of color with some comfy flats. Keep your jewelry simple with a pair of rhinestone stud earrings and a silver watch. Lastly, grab a black bowler bag that you can sling over your shoulder on the way to work.
Outfit #2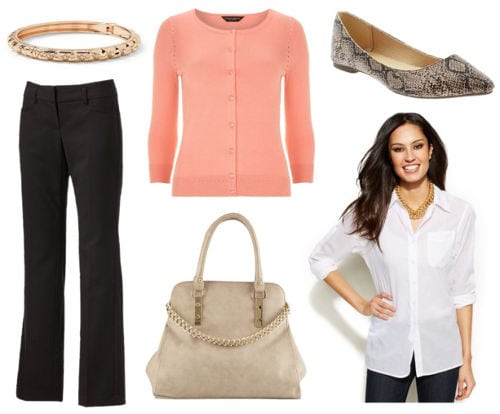 Product Info: Pants – Kohls, Shirt – Macy's, Cardigan – Dorothy Perkins, Flats – Old Navy, Bag – Aldo, Bracelet – Piperlime
For a more covered-up, layered look, pair classic black slacks with a white dress shirt. Pick a button-up cardigan in your favorite color to wear on top. For your feet, try a pair of pointed-toe flats or heels in a subtle print, like these reptile flats. Accessorize with a gold bracelet and a beige leather tote to complete the ensemble.
Outfit #3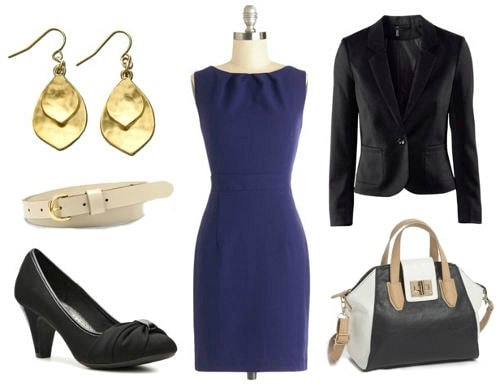 Product Info: Dress – Modcloth, Blazer – H&M, Heels – DSW, Bag – Nordstrom, Belt – Fossil, Earrings – Macy's
For a particularly important day on the job – like a big meeting or presentation – "dress" up your look a bit! Pair a conservative sheath dress in a rich color (like a cobalt blue) with a black blazer, then slip on your go-to black heels. Add a skinny belt to highlight your waist. Lastly, accessorize with pretty gold earrings and a stylish color-blocked handbag.
Thoughts?
Are you working in a business casual environment this summer? What's your go-to workwear formula? Which outfit would you wear? Let us know in the comments!