This post may contain affiliate links, which means we may receive a commission if you purchase through our links. Please
read our full disclosure here
.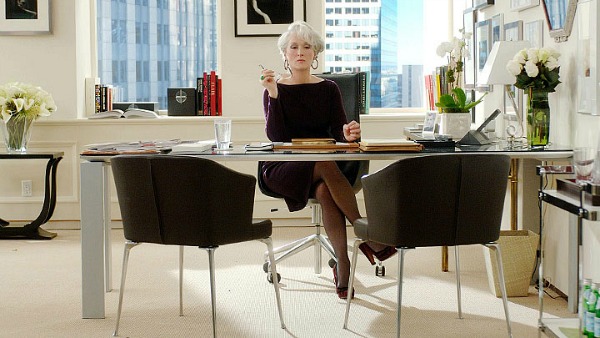 Photo: ELLE
As summer gets closer and closer, finding a summer job or internship becomes a priority for many college students. Of course, one of the most important parts of the process is interviewing.
Whether it's a traditional one-on-one interview or a career fair where you're meeting prospective employers, interviews are all about making a good first impression, and what you wear can say a lot about your work ethic and professionalism.
In this post, we'll discuss interview dress code basics, and share several stylish and professional interview outfit ideas:
Job Interview Dress Code Basics
Depending on what kind of job you are aiming for, the expected dress code for an interview will vary a bit. However, here are few general tips you should always keep in mind:
Stick to classic, professional pieces, like blazers, trousers, pencil skirts, blouses, and sheath dresses.
Keep your accessories subtle and simple – they should not be distracting, but should add a touch of polish to your look.
You can never go wrong with classic pumps in a neutral color, but stick to whatever heel height works for you – it's better to walk confidently in flats than to be tottering around in stilettos. Also, remember to stick with closed-toe shoes.
Skirts and dresses should hit just above the knee, at the knee, or just below the knee. Nothing too short or too long. For more conservative settings, you'll want to wear black or nude pantyhose.
Your beauty look should highlight (not hide) you. Style your hair so that it is out of your face, and keep your makeup natural.
Not sure where to shop for professional, interview-appropriate clothing? Most department stores, like Macy's and Nordstrom, will have a good selection of workwear. I also like Express and LOFT for higher quality pieces, and when I'm on a budget, Kohl's and H&M.
Now that we have the basics down, here are three interview outfit ideas for three different types of work environments:
Classic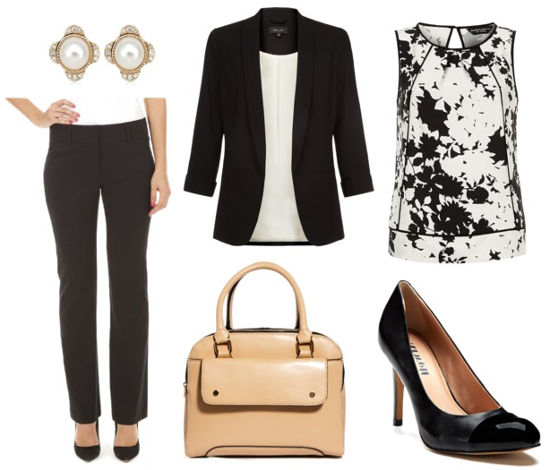 Product Info: Blazer, Pants, Blouse, Heels, Bag, Earrings
If you are applying for a job that is in a traditional yet not overly formal environment (or if you're not sure about the formality of the interview), this ensemble is pretty foolproof; it looks sleek and professional, but still shows a bit of style.
Start with either a black suit or black separates – a black blazer and black pants are especially versatile pieces to have in your closet. On top, try a shell blouse in an interesting (but not distracting) print. On your feet, pick a pair of black pumps or flats with a cute detail, like a cap-toe, strap, or buckle. Lastly, accessorize with a neutral bowler bag and pearl stud earrings.
Conservative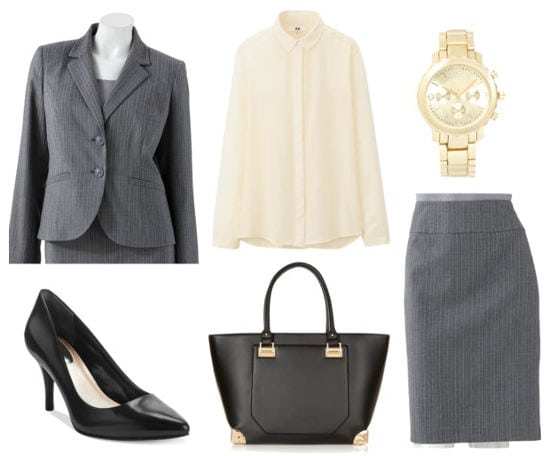 Product Info: Blazer, Skirt, Shirt, Heels, Bag, Watch
For an interview in a more corporate, conservative field, like law or accounting, it's best to keep your outfit clean, simple, and formal. Pick a suit in a neutral color, like gray, brown, or black, and add a crisp collared blouse. For professional footwear, black pointed-toe pumps are your best bet; pair them with a classic and sophisticated black tote. Lastly, a shiny gold watch is both fashionable and functional.
Creative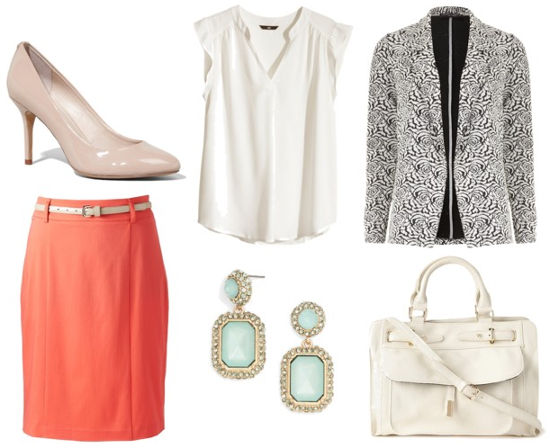 Product Info: Blazer, Skirt, Blouse, Heels, Bag, Earrings
If you're interviewing in a more creative (or fashionable) field, like technology, graphic design, or music, you have a bit more wiggle room to show your personality in your outfit. A good rule of thumb is to stick with classic pieces, but in interesting colors and prints.
Try pairing a coral pencil skirt with a simple white blouse, then layer on a printed blazer. Nude pumps are professional and flattering, while a crisp white handbag is sleek and sophisticated. Lastly, a pair of jeweled earrings add formality while keeping the look chic and trendy.
Thoughts?
Do you have a go-to interview outfit? Which look would you wear? Do you have any tips for how to dress for an interview? Let us know in the comments!