This post may contain affiliate links, which means we may receive a commission if you purchase through our links. Please
read our full disclosure here
.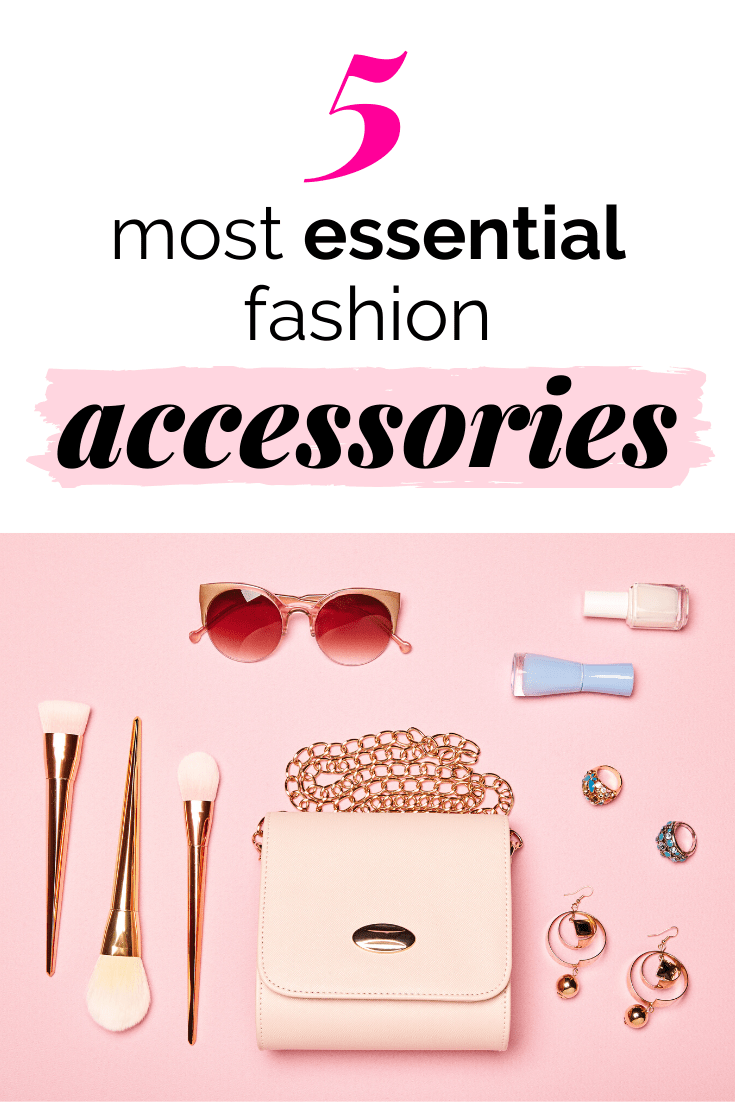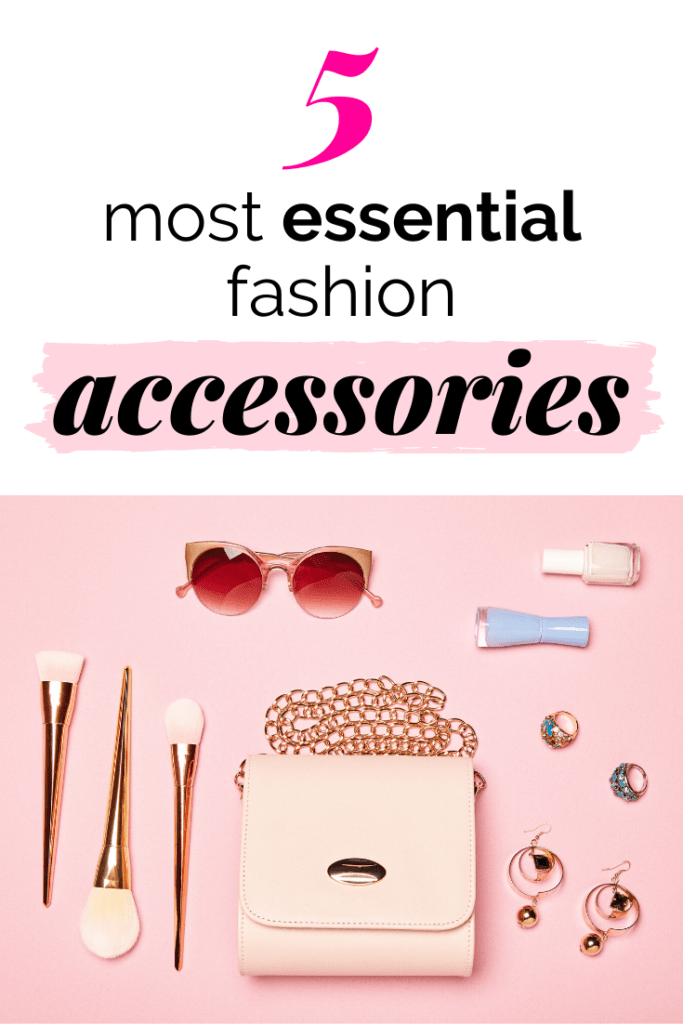 Over the past weeks I've been taking advantage of my extra free time to reinvent my style. If you read my last post, you know the last part of the process is finding new ways to style the outfits you wear frequently. So today I'm sharing a list of fashion accessories to instantly upgrade any outfit.
My favorite part of getting dressed is throwing on different types of accessories. It's so much fun to experiment and transform a look!
Think of the following pieces as a checklist to go through with each outfit. Try each of them individually and then level up by combining a few. Let's get right to it.
Socks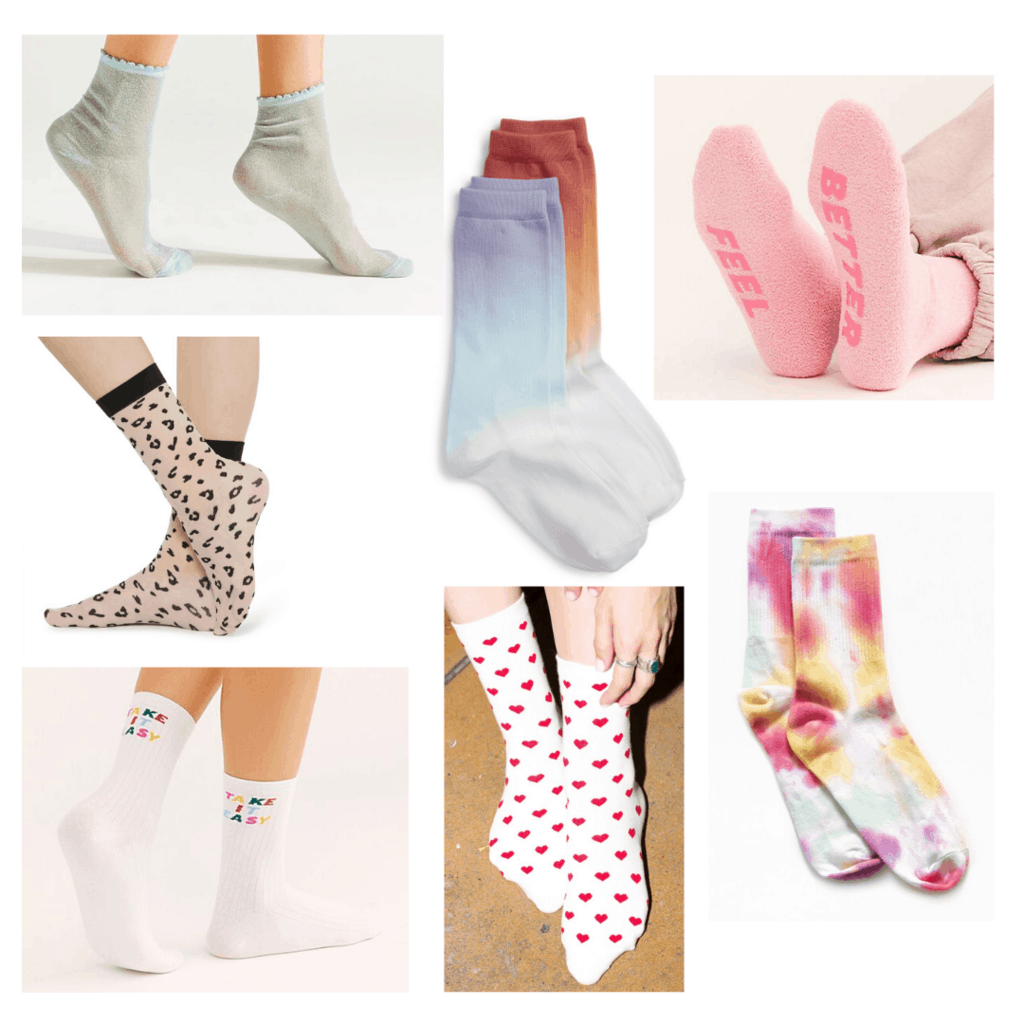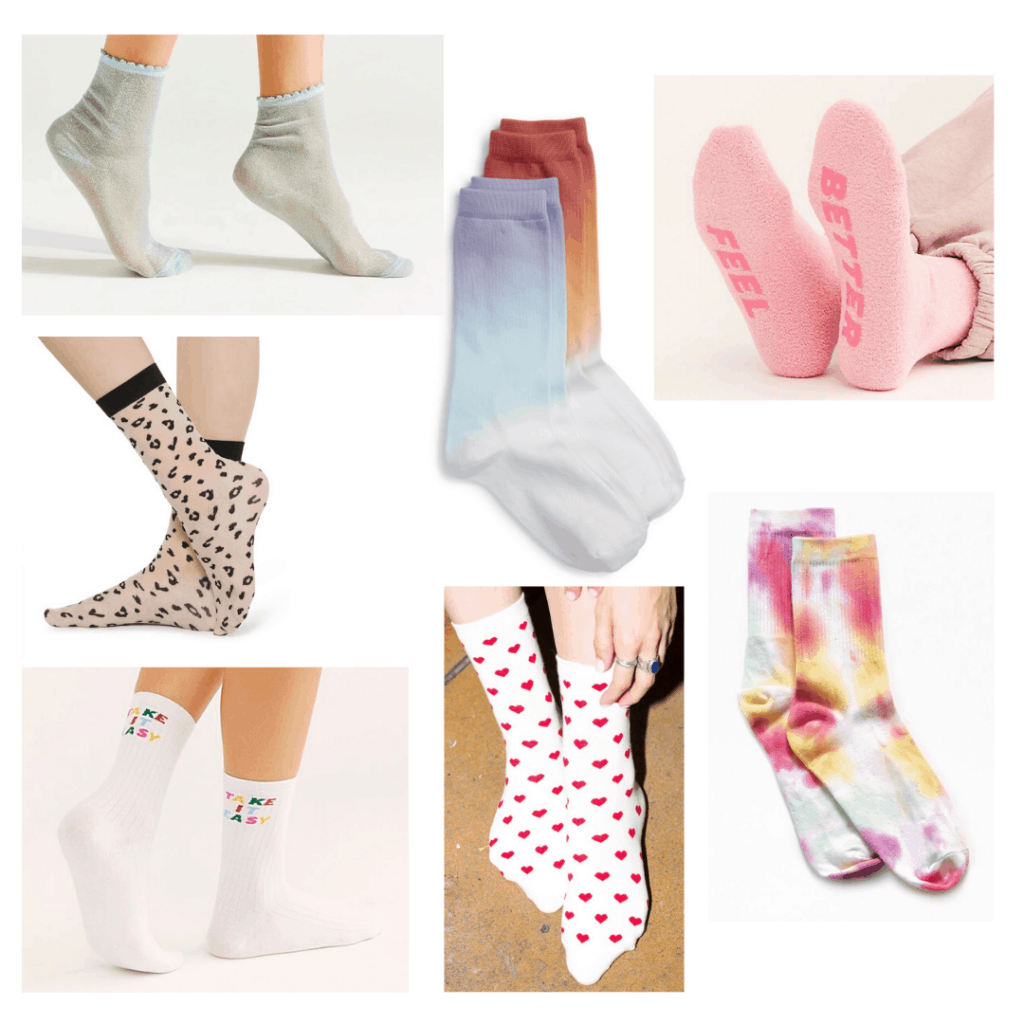 Products: Blue shimmery socks – Urban Outfitters, Ombre socks – Nordstrom, Feel Better socks – Free People, Cheetah print socks – Calzedonia, Take is Easy socks – Free People, Red heart socks – Brandy Melville, Tie Dye socks – Pacsun
For the longest time, I adhered to the idea that socks shouldn't be seen. I only wore those white socks that always slip off and give you blisters. (Do you know the ones I mean?)
Well recently I've not only been opting for normally sized socks, but for trendy socks. Socks that are in themselves a style piece.
And you should do this, too. Wearing pink glittery socks with your white t-shirt and skinny jeans instantly makes your outfit look trendy.
What if it's not your style? No such thing! There are literally endless designs to pick from, and why only stick to your style? Try a new vibe out. For instance, if you're into more preppy outfits, why not pair your tweed skirt and sweater with some fishnets? You'll be surprised by the results.
Square scarves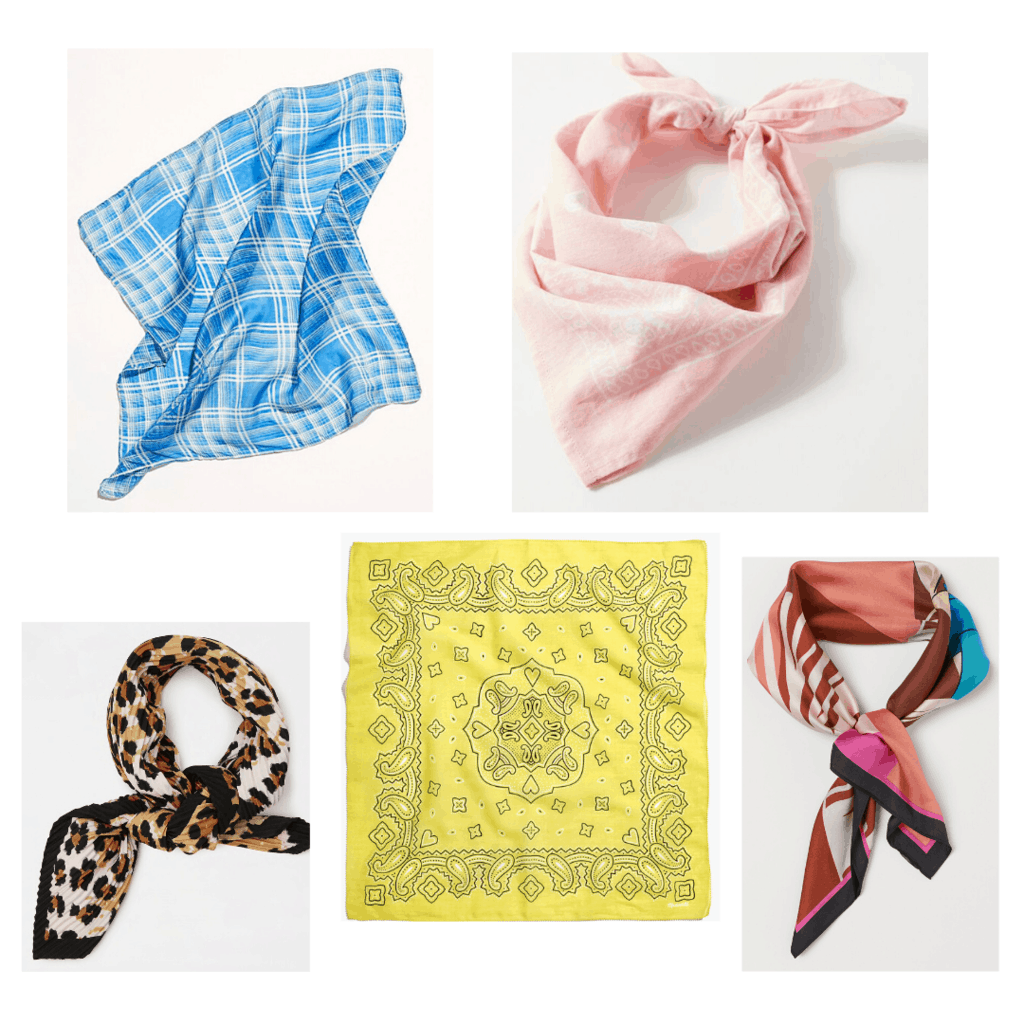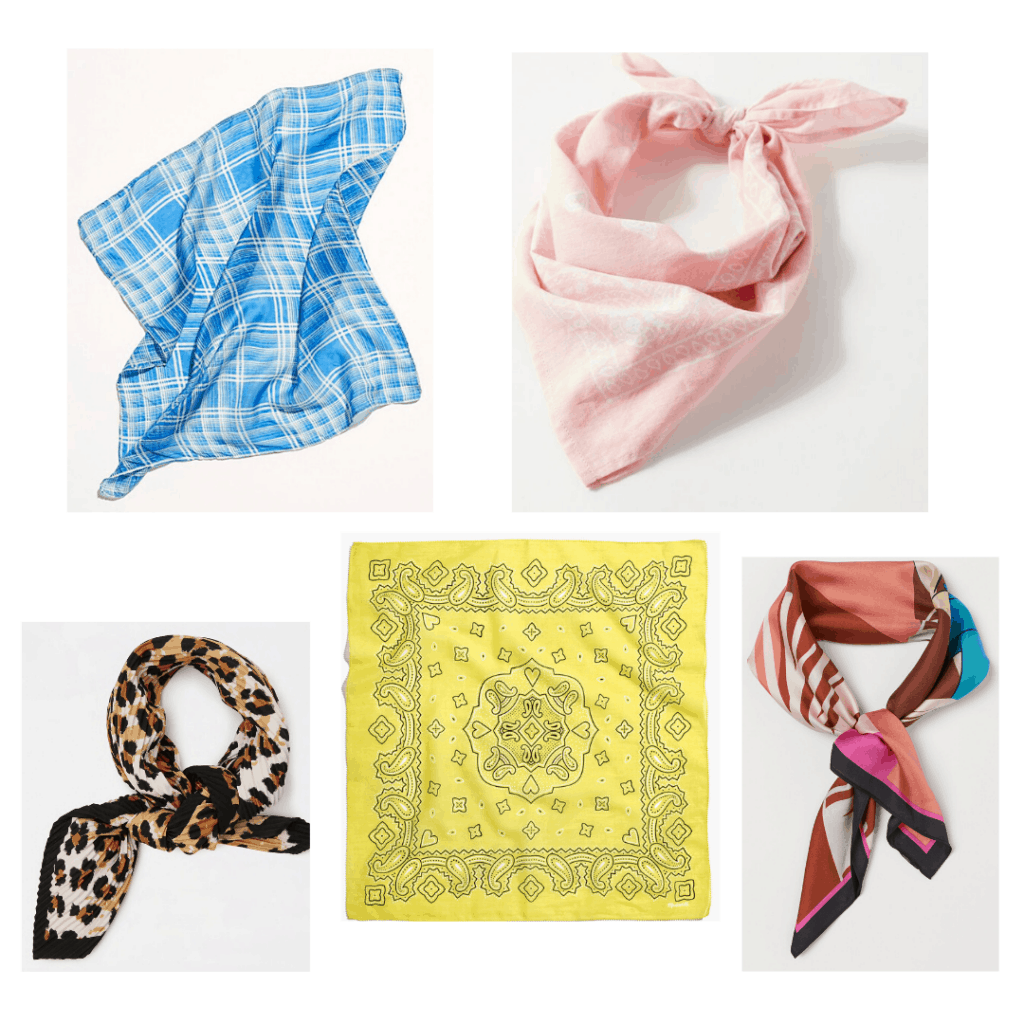 Products: Plaid bandana – Free People, Pink bandana – Urban Outfitters, Cheetah print scarf – Pull & Bear, Yellow bandana – Madewell, Pink print scarf – H&M
There is nothing more versatile than a square scarf. You could wear it as a tube top, as a bracelet, as a belt, as a hair accessory, as a bag tassel, and in revolutionary fashion: as a scarf.
Satin square scarves in particular are quite elegant, and will instantly bring a touch of class your outfit. The cotton ones, on the other hand, usually make for a great rave/festival look. You can't go wrong with these in your wardrobe!
Hair accessories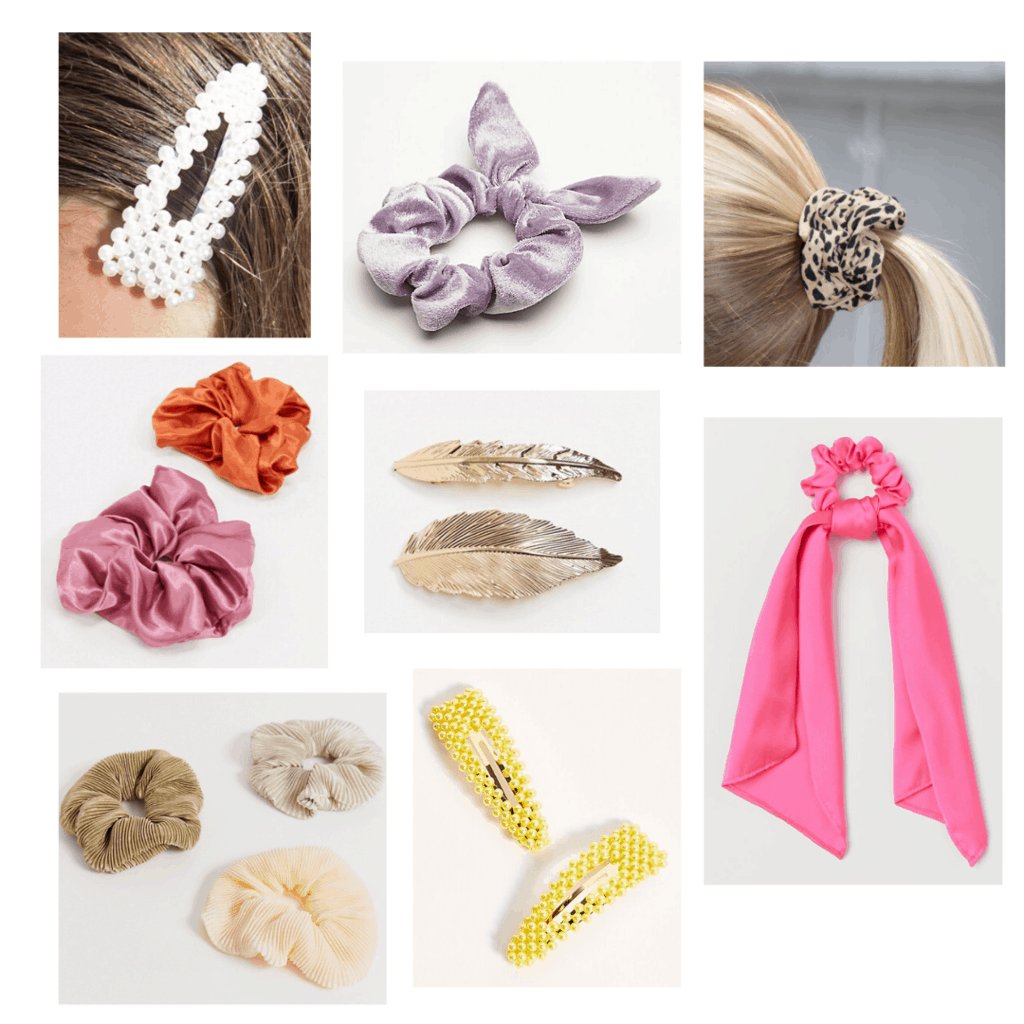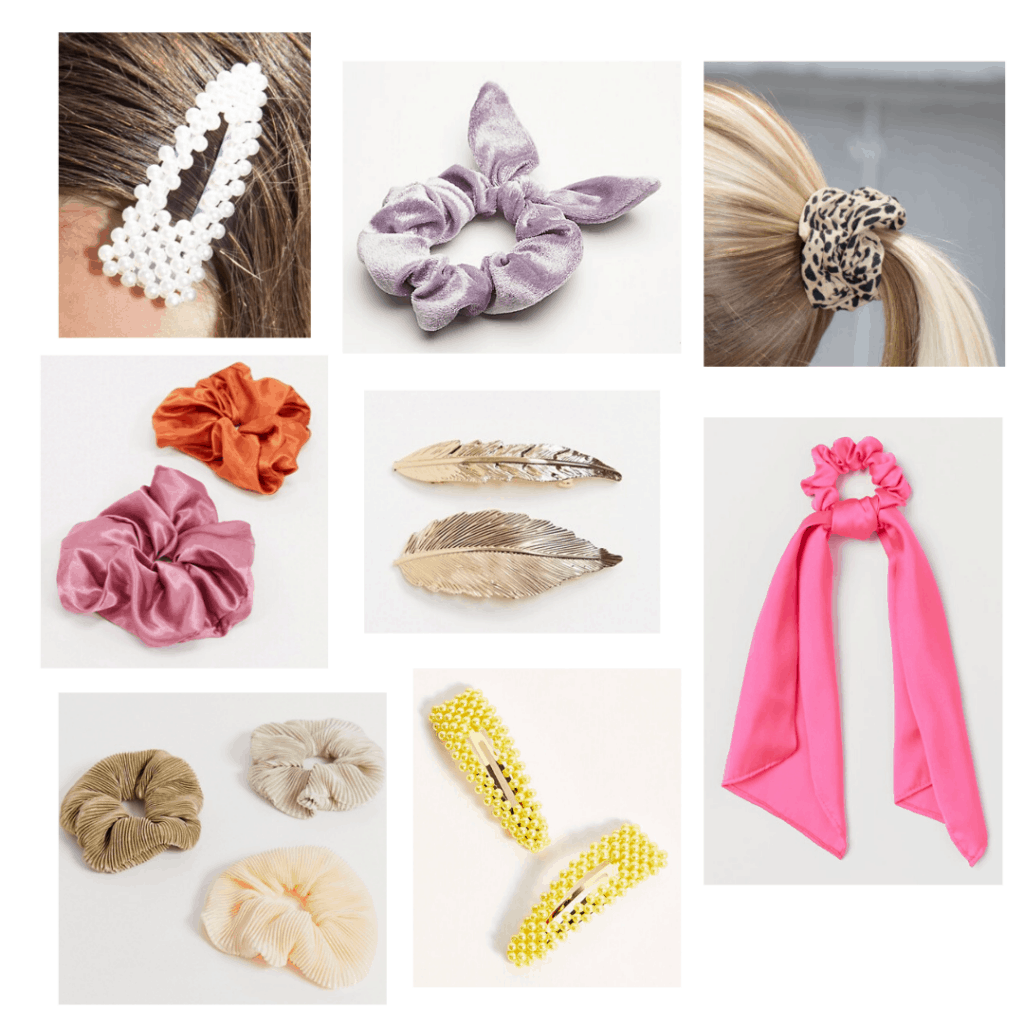 Products: White pearl clips – Brandy Melville, Lilac scrunchy – Free People, Leopard print scrunchy – Brandy Melville, Mauve and orange scrunchies – Asos, Gold feather clips – Asos, Pink scrunchie – H&M, Earth toned scrunchies – Asos, Yellow beaded clips – Free People
Whenever a girl walks into an 8 am with her hair done either by styling or with an accessory, I instantly think "Wow, she has it together." If your hair looks put together, you look put together. That is a fashion fact.
You especially win in this territory if you are using a hair accessory that is also fashionable.
If you are having a bad hair day, you can turn it absolutely around by wearing hair clips. Just combe your hair and pin clips to both sides, you will instantly look extremely elegant and put together.
As for scrunchies, not only do they make your ponytail or messy bun look trendy, they also add to your outfit when you have it around your wrist.
Personality belt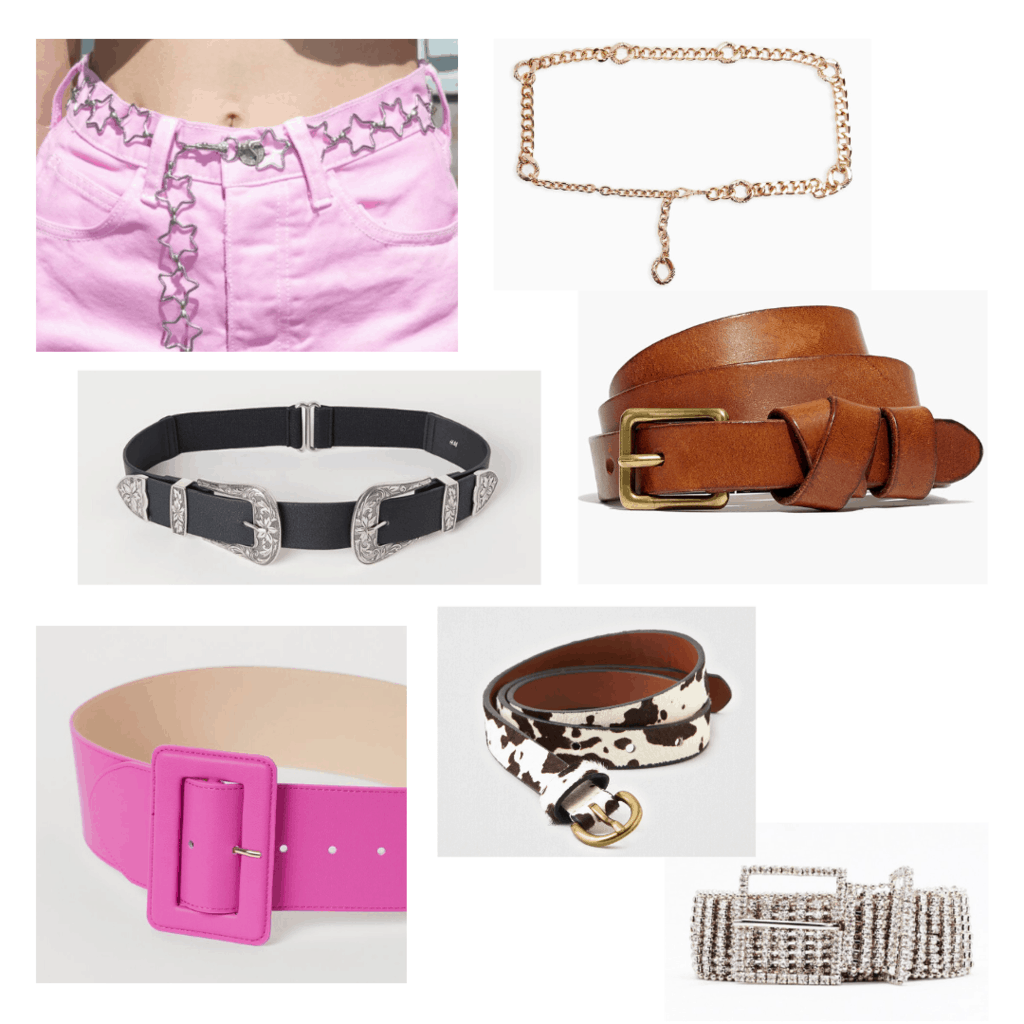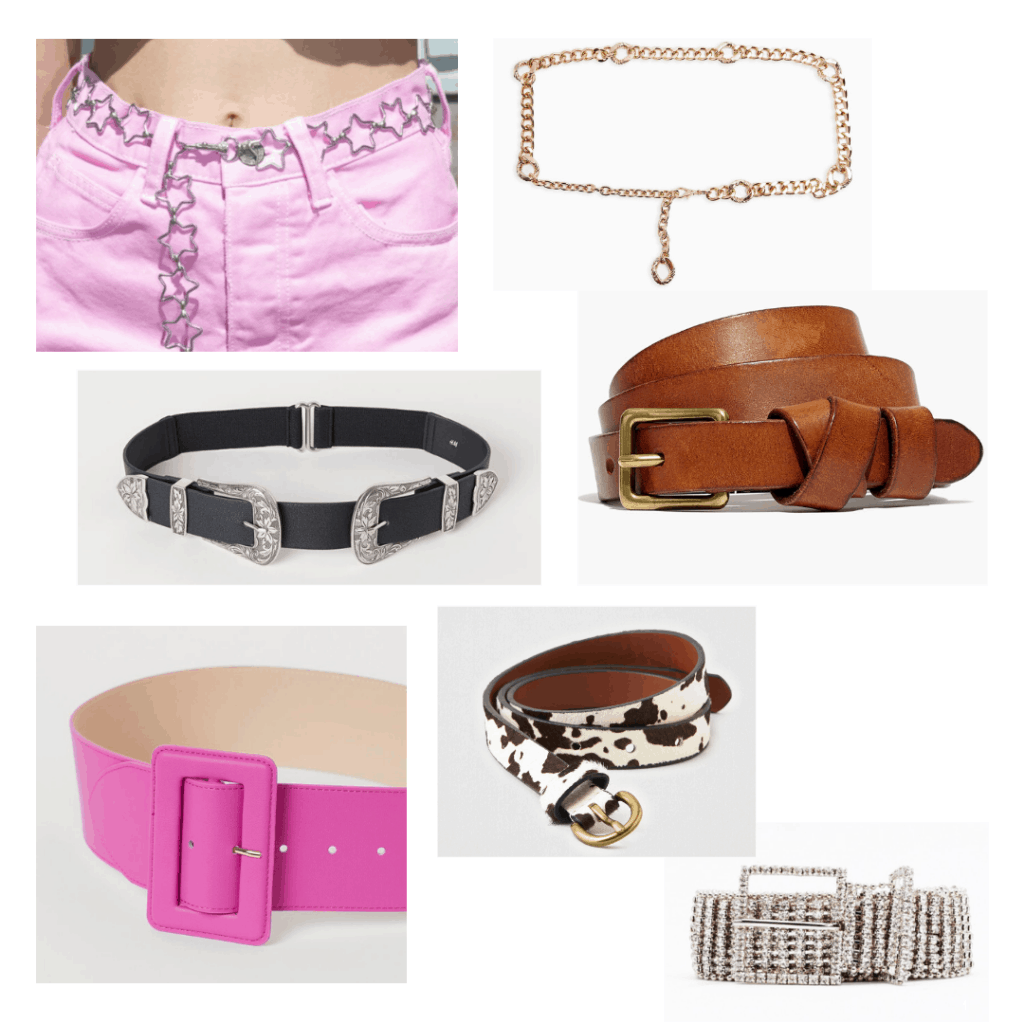 Products: Star chain belt – Brandy Melville, Gold chain belt – Topshop, Western belt – H&M, Brown leather belt – Madewell, Neon pink belt – H&M, Cow print belt – American Eagle Outfitters, Rhinestone belt – Nasty Gal
No fashion accessories list would be complete without belts!
Here is a style secret to make all your outfits look a little bit trendier and more put-together. Go online (stay home, stay safe) and look through different types of belts. Maybe one of these stands out to you. Whichever belt stands out to you the most, buy it and throw it on with all the outfits you love.
More often than not, any belt you choose will add style to your look. That's because belts literally tie your outfit together and they are at the center of your ensemble.
Layer jewelry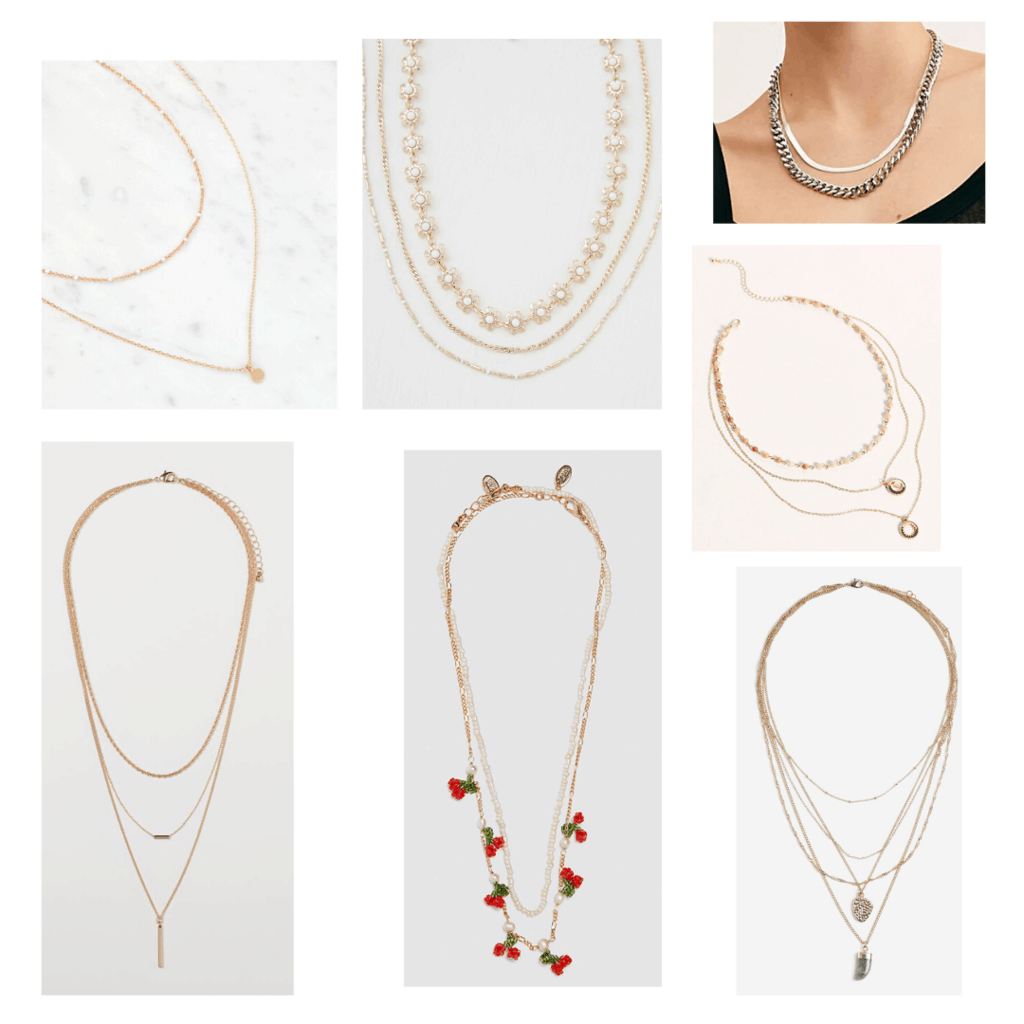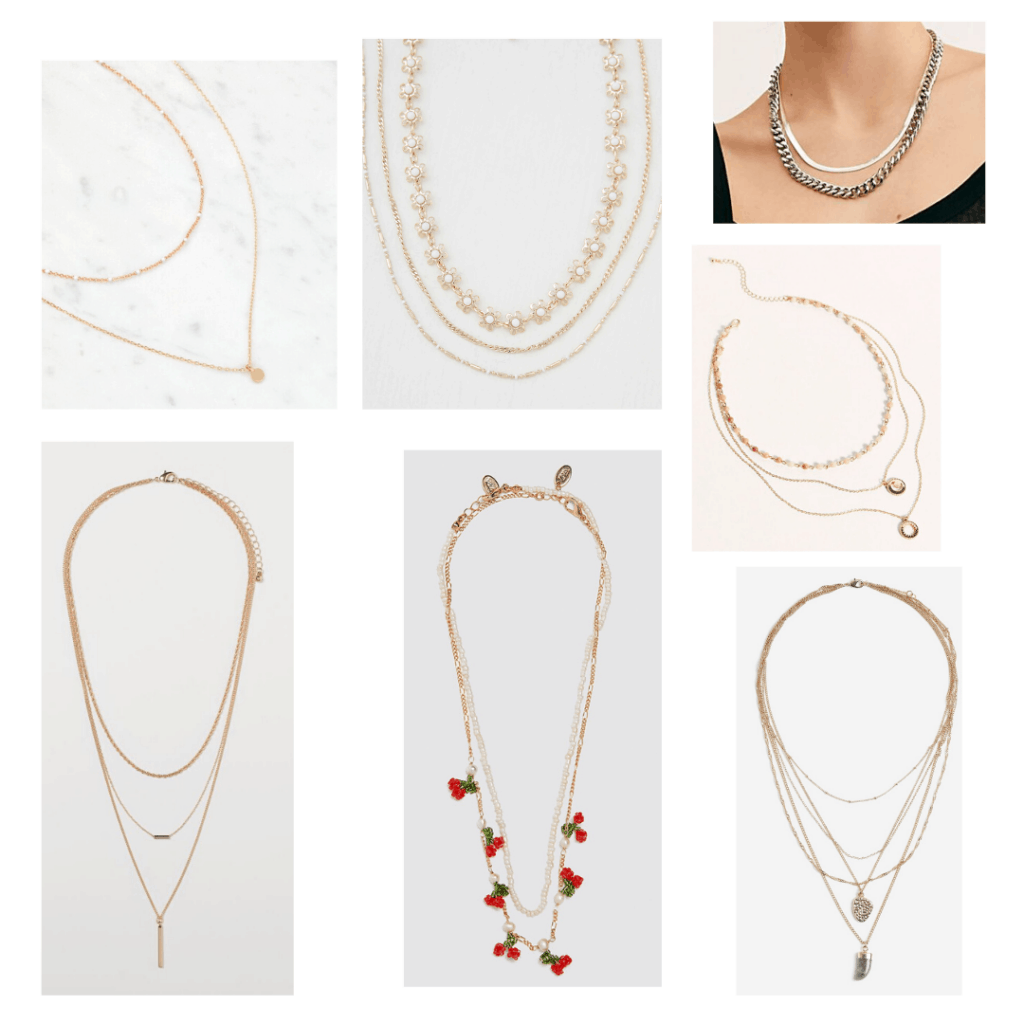 Products: Pearl necklace – Pacsun, Daisy necklace – American Eagle Outfitters, Chain necklace – Free People, Stone necklace – Free People, Triple strand necklace – H&M, Beaded necklace – ZARA, Charm necklace – Topshop
While I always encourage jewelry with any outfit, if you have gotten through all these accessories and there is still that one outfit you can't seem to style differently, this is your answer:
Play with layering your necklaces or get an already layered set and wear it with anything.
Something I've found very useful, is to have a set of layered necklaces on deck. That way, even when I don't have time to style my outfit, I can just throw it on and go.
Style isn't static, so take risks and explore different vibes, you'll be surprised at what you love. Take this time to explore what you like and what makes you feel confident!
What do you think of my fashion accessories list?
Did I miss any key styling accessories? What is your favorite of these accessories? Let us know!