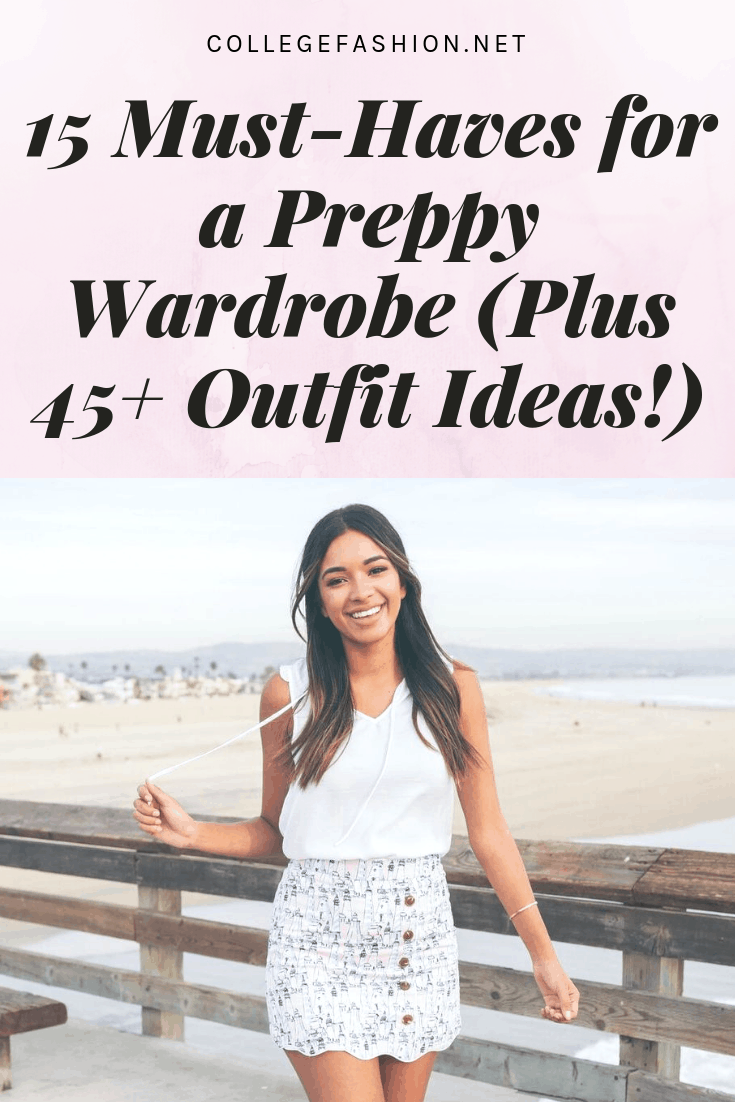 It all started with Blair Waldorf, TV's modern patron saint of preppy style. Style yourself with these preppy outfit ideas.
I remember gathering in my dorm freshman year of college with several girls in my hallway to watch this new TV show based on our favorite book series, Gossip Girl.
Blair Waldorf, though very different than the Blair we grew to love throughout the novels, stole the show with her handsome boyfriends, perfect schemes, and her absolutely stunning wardrobe.
Her opaque tights, girly blouses, A-line skirts, and signature headbands left an immediate and indelible mark on my fashion psyche.
In the last couple of years, thanks in part to Instagram and Tiktok, it seems like this sort of preppy style is more popular than ever. This style is girly, but not overly frilly. Its building block pieces are easy to mix and match, but what makes this look distinctive is the attention to detail.
It looks very expensive and luxurious, but you don't have to drop a ton of cash to re-create the look. And I'm here to show you how!
Below, I've outlined the 15 must have-pieces for creating a girly sophisticated, and preppy wardrobe, along with a few styling tips after each of them to give you some outfit inspiration. As always, these lists are just starting points — feel free to modify, and let us know any other pieces you would suggest by leaving a comment.
Let's jump right into our preppy style guide!
Bonus: If you want some ready-made outfit ideas, see our guide to preppy outfits for every occasion!
1. Girly Blouses

Product's Store (from left):
Look for feminine blouses that are roomy enough to not split apart at your chest, but not so loose that they're difficult to tuck into skirts and pants. Also, be sure to pay attention to how translucent your blouse is — a sheer blouse is a great piece, but only when you've prepared with the right undergarments!
Pro Tips
Tuck a girly blouse into a pencil skirt for a great outfit that can easily transition from day to night. Finish with a masculine watch and (#6) Mary Jane heels.
Feminine blouses — even ruffled or pussy-bow variations — look fantastic under (#3) blazers for a business-casual sort of look. Accessorize with (#7) pearl earrings.
For the most versatility, look for shirts that align their buttons. That way, you can button it up for professional occasions and unbutton it for fun outings. Blouses from Express are known for cutting their shirts perfectly for this!
2. Tights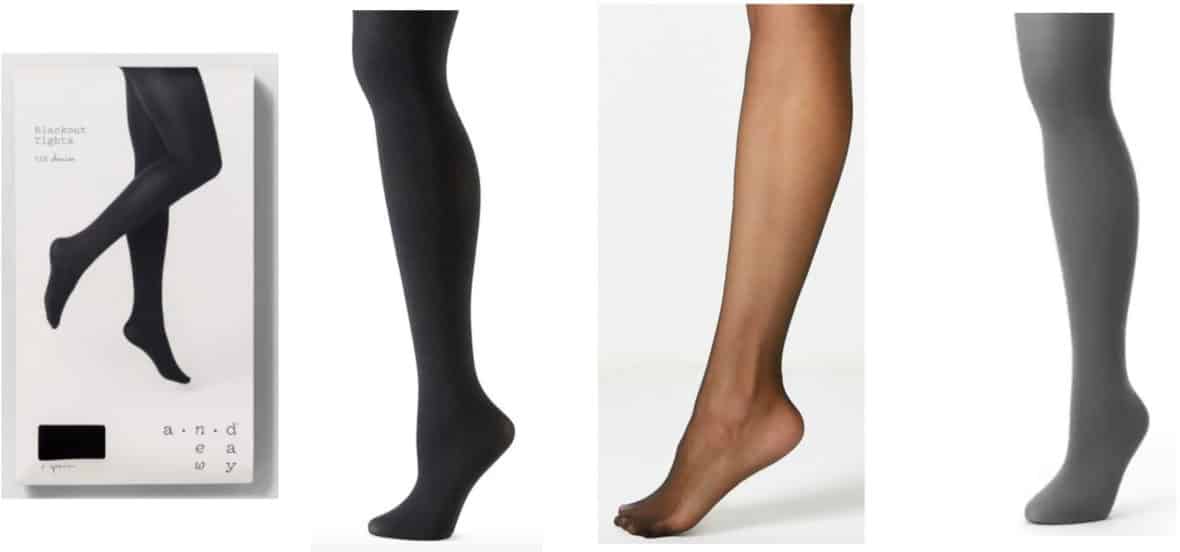 Product's Store (from left):
Although you definitely can load up on inexpensive pairs of tights, I recommend getting at least one mid-priced name brand or department store pair. (The ones from Amazon above are high quality, I also recommend Hue tights on Amazon.) Nothing cheapens the look of an outfit quite like a pair of snarled, pilled, or awkwardly see-through tights!
Pro Tips
A quality pair of tights will give your legs some excellent support, which comes in handy when paired with a lightweight dress.
Wear a colored pair of opaque tights with an A-line little black dress, layered over a button-up dress shirt. Finish with a pair of knee-high riding boots and a (#9) long statement necklace.
Don't be afraid to wear colored opaque tights with an equally colorful dress or skirt! It'll give you a girly yet mod look. Finish the outfit with a pair of (#6) Mary Jane pumps.
3. Blazers

Product's Store (from left):
Blair Waldorf managed to make her stuffy school uniform blazer look chic by pairing it with feminine extras, like scarves and her signature headbands. Blazers are also preppy style must-haves — no negotiation! Start with a black, navy, or gray blazer, but branch out to other colors soon after!
Pro Tips
Don't have the cash for a proper business suit, but have an important professional function coming up? Fake one with a black blazer and a pair of black pants or a black pencil skirt.
Blazers look fantastic over (#8) sheath dresses. Complete the look with a printed scarf, a watch, and (#7) pearl stud earrings.
For a fast and chic outfit formula, pair a chambray shirt with (#14) colored pants and add a blazer. Finish with knee-high boots, a (#9) long statement necklace and a (#5) headband.
4. Thin Sweaters

Product's Store (from left):
Thin, crisp sweaters — especially the kind with cute graphics you'd find at J.Crew — are a great alternative to girly blouses during chilly fall and winter months. I prefer to hand wash and air dry mine to preserve their perfect shape and softness.
Pro Tips
Lately, I've been really into sweaters with animal graphics on them. Pair one with (#14) colored skinny jeans, (#11) ballet flats, and a (#5) headband.
A thin, solid-colored sweater will look retro fab with a (#10) skirt of your choice. Finish the look with a (#9) statement necklace and heels.
Thin sweaters are perfect layering pieces. Layer a button-down white or chambray shirt with the collar and cuffs folded out over a sweater.
5. Girly Headbands

Product's Store (from left):
Nothing pulls an outfit together quite as quickly as a well-placed headband. The great news is that they're inexpensive and available everywhere, so you'll never run out of options.
Pro Tips
Throw a headband on with a ponytail to mask greasy roots.
Bow headbands are bold, but look adorable when styled correctly. The key is to not pair them with too many other "cutesy" items. Also, include a few more androgynous pieces — like a chunky watch or oxford shoes — to help balance them out.
Poof the crown and back of your head and spritz with hairspray before putting on a headband for a really glamorous and luxe look. (See our guide to preppy hairstyles for more ideas like these.)
6. Mary Jane Heels

Product's Store (from left):
Regular pumps are great, but Mary Jane heels will give you a preppy, girly vibe that's necessary when recreating this style aesthetic. As an added bonus, I find them to be much more comfortable than regular heels since they fit around your ankle so well.
Pro Tips
Love height but have tender feet? Go ahead and buy a wedge mary-jane — it's better to be comfortable and do something unique than stick with a trend that makes your feet ache.
For a polished and sweet ensemble inspired by Emma Pillsbury, try a brightly colored (#8) sheath dress with a (#13) patterned cardigan. Finish with a matching pair of Mary Jane heels, a (#7) pearl necklace, and a structured purse.
Mary Jane's heels will also look great with a pair of skinny jeans and a fun party top. Curl your hair with a large-barrel curling iron, and finish with shimmery make-up and a fancy (#5) headband.
7. Pearl Jewelry

Product's Store (from left):
An absolute staple of any preppy and sophisticated wardrobe is a classic set of pearl jewelry. Real pearls are expensive, but awesome lookalikes can be found almost everywhere. Look for pieces that have a substantial weight to them and aren't too iridescent in color.
Pro Tips
Pearl stud earrings make any outfit — even scrubby jeans and a t-shirt — look polished and intentional.
A pearl brooch pinned to the lapel of a blazer or used to hold a scarf in place will look unexpected and — dare I say — editorial.
A long string of pearls around your neck will give you that preppy style and look fantastic with any LBD or sheath dress. Very Holly Golightly.
8. Sheath Dresses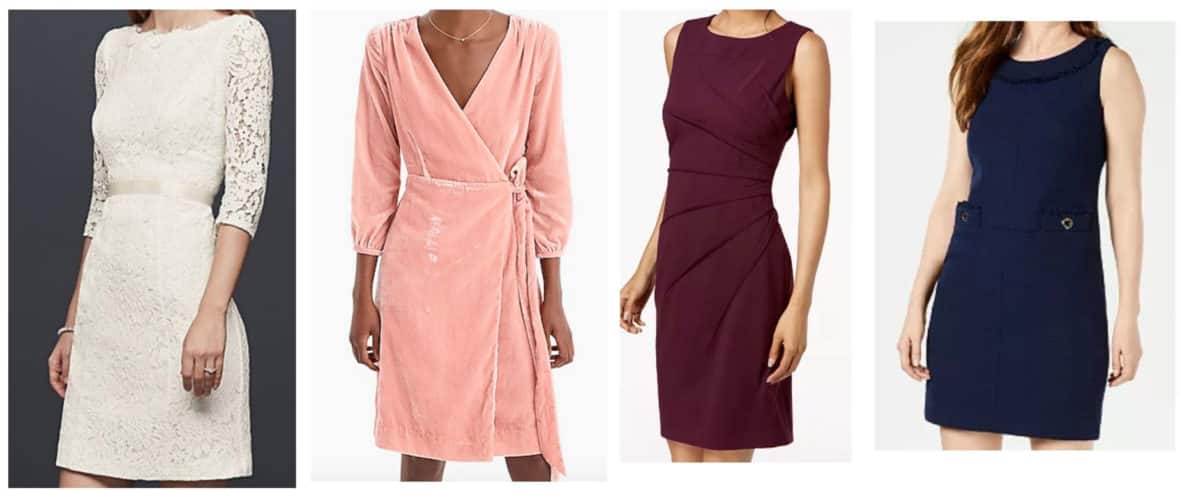 Product's Store (from left):
A perfect Jackie O-inspired sheath dress will carry you through interviews, nice lunches and dinners, business casual functions, hot dates, and so much more. It's a preppy style must-have. The key to keeping this piece from looking boring or stuffy is to freshen it up with well-placed accessories.
Pro Tips
Sheath dresses are ideal for formal occasions because they're thick and structured. Pair one with (#6) Mary Jane heels, a (#9) long necklace, and an easy updo for a great date night look.
Don't be afraid of patterned sheath dresses! You can always tone it down with a (#3) blazer or a solid-colored (#13) cardigan. They will also look mod and fabulous with (#2) opaque-colored tights!
Look for styles that hit right at or slightly above your knees. They'll be conservative enough for proper functions, but short enough to play!
Check out our guide to preppy dresses for even more must-have styles.
9. Statement Necklaces

Product's Store (from left):
I'm always amazed at how much a little jewelry can do for an outfit. A statement necklace is one of my preppy outfit ideas fashion must-haves. It's perfect for breathing life and glamour into basic tops.
Pro Tips
Those J.Crew-inspired bubble necklaces are popular preppy style picks, and for good reason! Wear one with a (#4) thin sweater, a chambray shirt, a (#8) sheath dress, an open (#3) blazer…the options are endless.
I've always loved the look of wearing a long necklace with an infinity scarf or a triangle-shaped patterned scarf. Make sure that they're two distinctive lengths so that you can see both the necklace and the scarf.
Nautical-inspired chain necklaces are perfectly preppy, and will look great with a (#3) blazer, a striped shirt, khaki chinos, and (#11) ballet flats.
10. Fantastic Skirts

Product's Store (from left):
Whether you prefer A-line, skater, or pencil-style skirts, these babies are essential in our preppy outfit ideas for crafting a sophisticated Blair Waldorf-inspired wardrobe. Get a mix of solid and patterned styles for maximum versatility.
Pro Tips
Pair a skirt with a matching cami and (#13) cardigan combo and a pair of ballet flats for an outfit that's perfect for school.
Blair Waldorf rarely wore a skirt without a pair of (#2) opaque tights. To remix this look, wear with a pair of ankle boots and a military jacket.
Never underestimate the proper, feminine look of a (#1) girly button-down blouse tucked into a skirt. Finish with knee-high socks, a (#5) headband, and (#6) Mary Jane heels.
11. Ballet Flats

Product's Store (from left):
Ballet flats are a great addition to our preppy outfit ideas are these building blocks of many outfits, but they're especially important for preppy and sophisticated wardrobes because of how feminine yet versatile they are.
Pro Tips
I prefer inexpensive flats found at places like Target and Gap. Flats are thin-soled shoes, so they're going to wear out fast regardless of which brand you choose.
Speaking of which, Tory Burch flats are a forever favorite. I loved the first pair I owned — they were black and quilted and didn't have elastic at the heel. They were so comfortable, I wore them almost every day! Eight months later, though, they were literally disintegrating on my feet. I have a new pair of Tory Burch Revas now, but the elastic at the heel makes them hard to wear for long periods of time. Be sure that you really want a pair before making this big of an investment!
If you lean more towards the preppy side and less towards girly, swap this piece out for penny loafers.
If you want to see even more popular preppy footwear ideas, see our guide to the preppy shoes every girl should own.
12. A Fabulous Coat

Product's Store (from left):
One of Blair's signatures was her expensive-looking, glamorous coat collection. We might not all be able to afford dozens of coats from Barneys, but we can all at least have one special coat in our closet!
Pro Tips
Cape-style coats are unique, luxurious, and definitely a conversation starter. Since the cut is bold enough on its own, look for solid-colored styles for the more versatility.
Pea coats in bold colors are a must for nailing the preppy style. They will go with dresses, skirts, pants, leggings, and more! I also love patterned pea coats, tweed versions, and faux fur trimmed styles.
A great winter coat is a key to looking polished on frigid windy days. You could wear three grubby sweaters and elastic sweatpants, but a great coat and a pair of riding boots layered over them will instantly make you look chic.
13. Patterned Cardigans

Product's Store (from left):
Cardigans — especially the über soft variety — feel luxurious, sophisticated, and oh-so prim. A patterned one will help you bring some girly and fun style into an otherwise dressy and proper wardrobe.
Pro Tips
Sweater sets aren't just for old ladies anymore. Wear a matching top and cardigan set with a (#10) skirt, (#11) ballet flats and a (#9) statement necklace.
Cardigans look fantastic with (#1) girly ruffled blouses peaking through. Also, try one with a lace cami and a (#10) pencil skirt!
Forever 21 sometimes has thick cardigans with ribbon lining and jeweled buttons that look almost Chanel-like. If you come across one of these, pounce on it! You'll be happy you did.
14. Colored Pants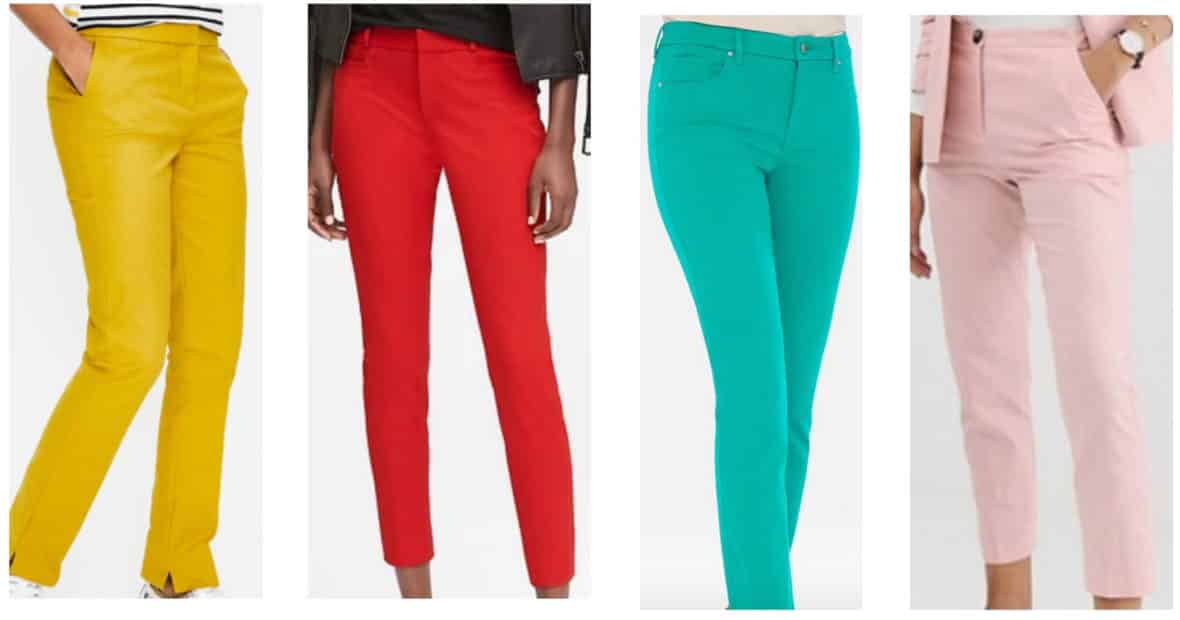 Product's Store (from left):
From skinny jeans to chinos, colored pants are an essential key to mastering preppy style. J.Crew is fantastic for colored pants that look sophisticated, rather than urban or über-trendy.
Pro Tips
Cuff your skinny pants like a pro! Fold the hem of your pants no thicker than an inch, and fold over again. For the next (and last) fold, only roll the outer edge up, so the half on the inside of your leg is about an inch longer than the outside. This will elongate your legs, and make you look like you walked straight out of a photo shoot.
Velvet and corduroy slim-cut pants are a bit unexpected, but look fantastically polished with a (#1) girly blouse and a (#3) blazer. Cuff your pants, and finish with oxford shoes and a menswear timepiece.
For a fast and easy outfit, throw on a (#4) thin sweater with a scarf, a (#5) headband, and knee-high riding boots.
15. A Skinny Belt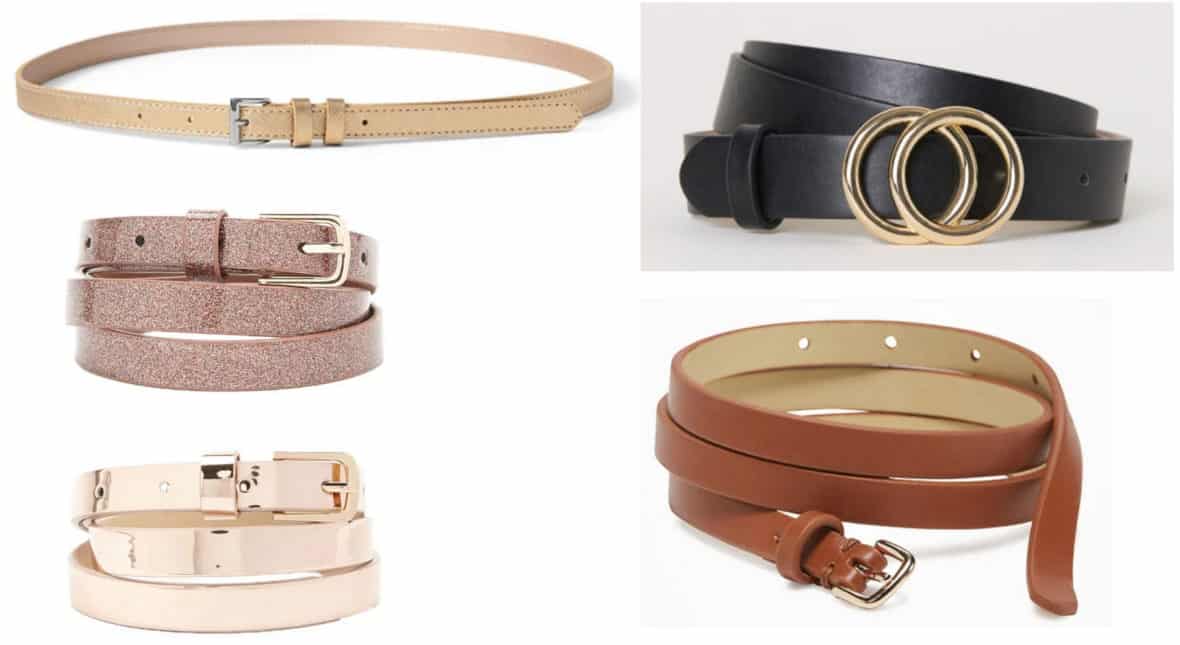 Product's Store (from left):
More often than not, the difference between making an outfit go from "okay" to "wow" is by cinching the waist with a skinny belt. They're more subtle than thick belts, so they won't take away from the other elements of your ensemble. Plus, they'll give you shape and look totally flattering!
Pro Tips
A (#8) sheath dress and (#13) cardigan combo will look polished and chic with a skinny belt around your waist.
For a cool look inspired by a J.Crew catalog, buy a belt a size too big and loop the tail around the band, so the tail is faced down in an artful knot.
Juxtapose wide-leg trouser chinos with a (#1) girly ruffled blouse, and pull it together with a skinny belt at your hips.
Want even more preppy style?
Thoughts?
Do you identify with this style? Have you noticed this kind of fashion on Pinterest as well? What do you think about the items on this list? Is there anything else you'd add?
What are some of your favorite ways to wear the pieces on this list? What other styles would you like to see us cover? Sound off by leaving us a comment!
If these preppy outfit ideas gave value to your reading, you might want to consider the related posts below – 
Editor's note: This post was originally published in 2013; it was completely revamped in 2022 with updated items and tips.