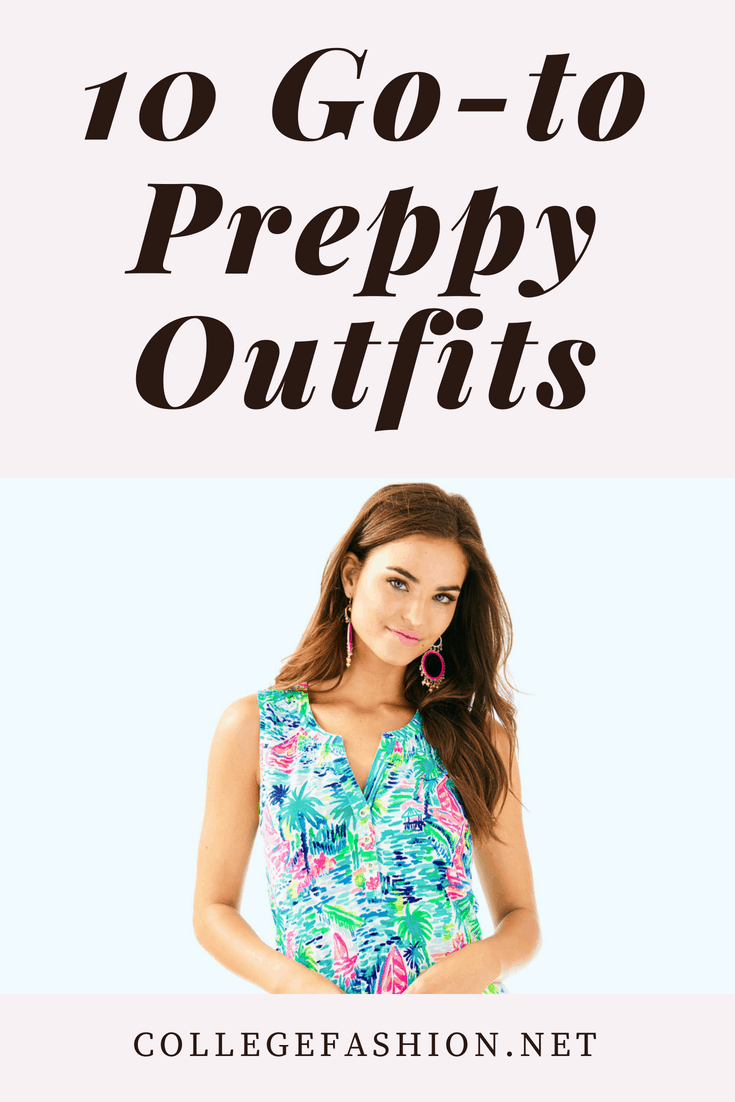 Hey girls! I can't begin to explain how excited I am to be launching this new Preppy Style series! I strongly believe that being preppy isn't simply a question of style, it's a way of life and something I carry with me every day. I can't wait to share my preppy style secrets with all of you.
Before I get started, I'd like to remind you all that this new style series, like all our other pieces, is for YOU! I'd love to hear your feedback in the comments section about what you liked and would enjoy seeing in the future. Whether it be article ideas, questions you'd like to have answered or comments, we would LOVE to hear back from you!
A few months back, we did a preppy style guide listing the basic pieces every preppy girl should have in her closet. To continue that theme, today I'll be creating a list of go-to preppy outfits. I'll be giving you formulas for how to dress preppy on a daily basis for a wide variety of occasions. Whether you're rushing in the morning to get ready for class or spending hours getting ready for an elegant dinner, this article will help you have your bases covered.
Also, I'll be including warm weather and cold weather outfits for the most essential looks to ensure that you know what to wear no matter what the weather!
Preppy Outfit 1: Going to Class (Warm Weather Edition)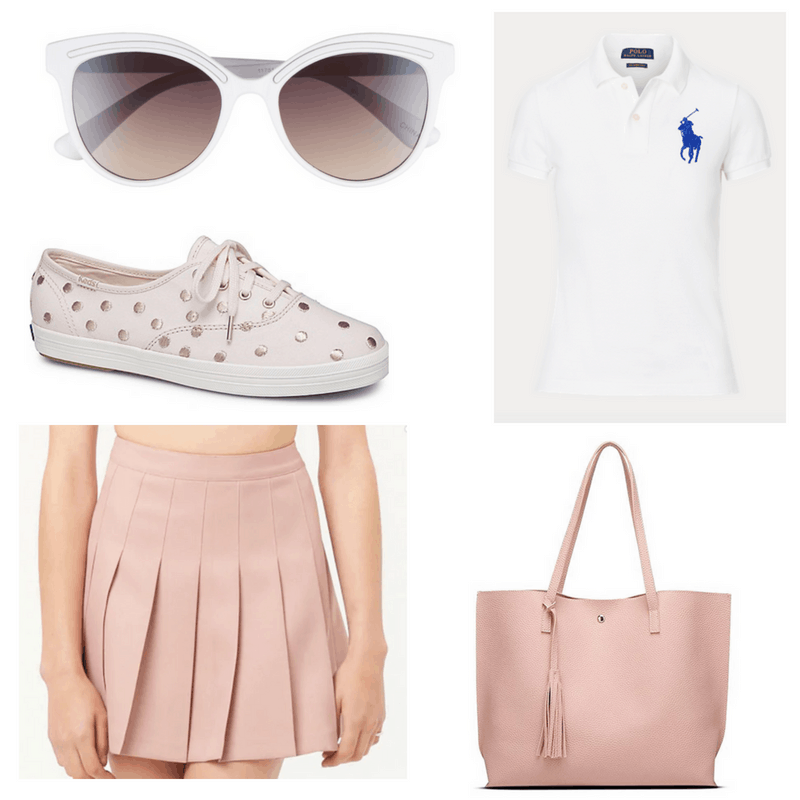 Products: Skirt – Forever 21, Polo – Polo Ralph Lauren, Tote – Dreubea (Amazon), Sunglasses – BP. (Nordstrom), Sneakers – KEDS x Kate Spade New York
This pretty look incorporates a few go-to preppy pieces and themes. For starters, light pink and white is a timeless preppy color combo! It complements all skin tones and is absolutely stunning and classically girly. Pleated skirts are another preppy staple; I count them among the pieces every preppy girl should own. I personally have pleated skirts in different colors and prints and I wear them on repeat.
Polo shirts are a MUST for preppy style. They go with every bottom in your closet. Ralph Lauren polos are legendary but of course you can get them from other brands such as Lilly Pulitzer or Brooks Brothers (two preppy style favorites) or find more affordable options at stores like Abercrombie and Old Navy.
Big sunglasses are also a preppy signature. The white cat eye shades seen above are a great example of preppy sunglasses.
While being preppy means sticking to classic cuts and styles, you can still have fun with colors and prints! A great example is use of polka dots. Rocking polka dots, stripes or other prints in your outfit is crucial to keeping it young, fun, and very much your own. Don't be afraid to take risks and follow your heart.
Preppy Outfit 2: Going to Class (Cold Weather Edition)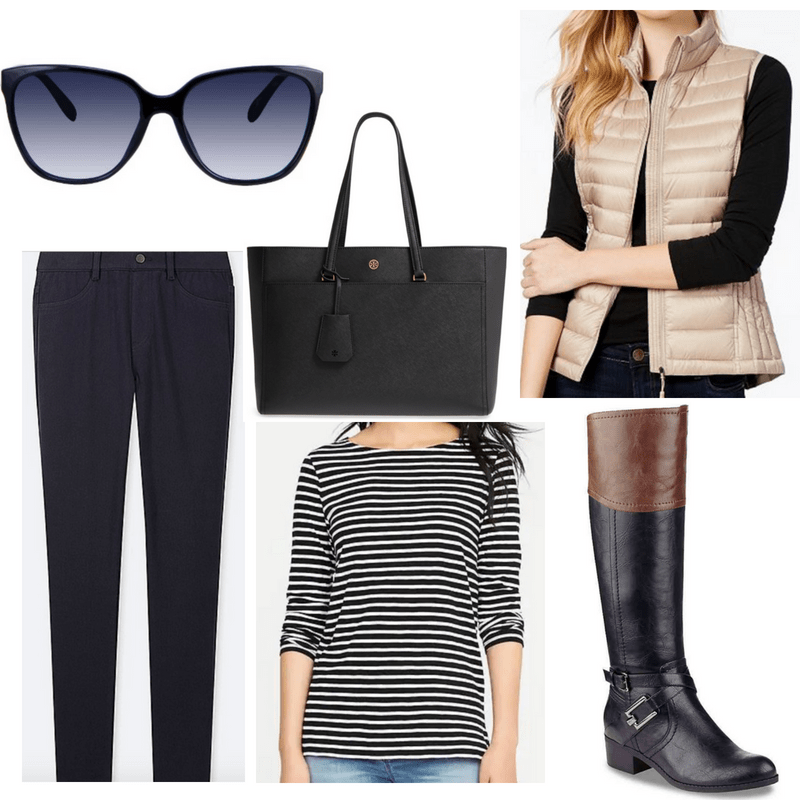 Products: Tote Bag – Tory Burch (Nordstrom), Vest – 32 Degrees (Macy's), Legging Pants – Uniqlo, Sunglasses – Target, Shirt – Old Navy, Boots – Unisa (DSW)
This is the perfect preppy outfit for the colder days of the semester. Leather riding boots are a preppy must-have: They give off an equestrian vibe (naturally) and are very elegant. You can wear them with a wide variety of outfits in the fall, winter, and early spring. Trust me, every preppy girl needs a pair in her closet.
Just like the polka dots in the outfit above, the striped top here is a preppy must! It is beautiful and a classic piece you can wear any time of year. Not to mention you can easily dress it up or down. A classic striped top also pairs beautifully with the oversized sunglasses and tote bag seen here.
In the winter, vests and high-waisted pants are absolute musts. Uniqlo does an amazing job of making stylish and comfortable black pants. They look so flattering, come in a wide variety of colors, and are so comfy you could even sleep in them! Vests also give off an equestrian vibe and are so stunning.
Preppy Outfit 3: Brunch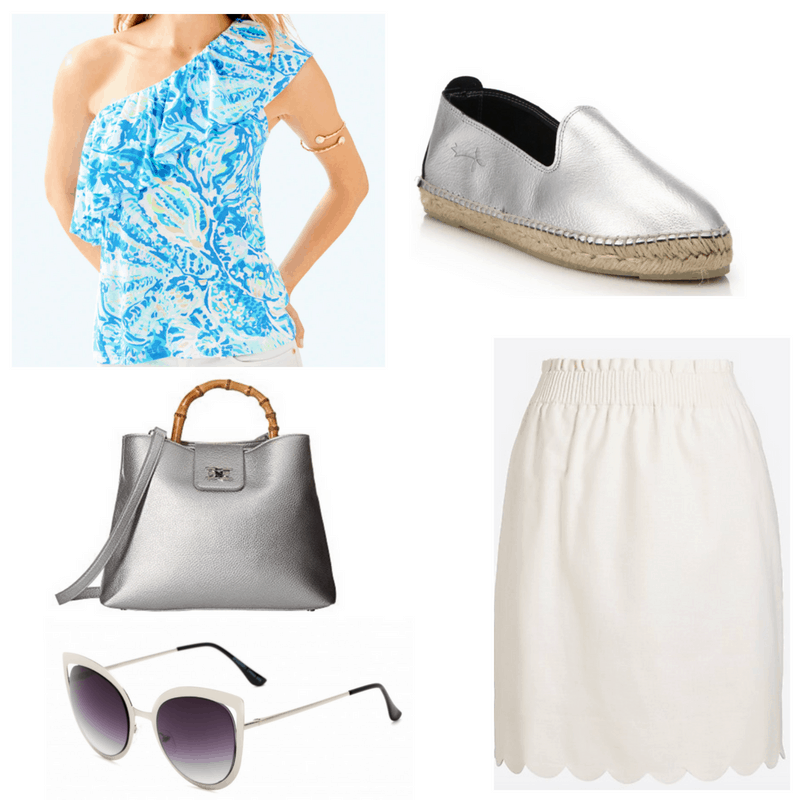 Products: Handbag – Sam Edelman (Zappos), Skirt – J.Crew Factory, Sunglasses – Sunglass Warehouse, Top – Lilly Pulitzer, Espadrilles – Manebi (Saks Fifth Avenue)
I just adore this brunch outfit! As I've mentioned before, bold, elegant prints are a preppy trademark: You'll see them everywhere in the spring and summer. This stunning top is a perfect example of how having fun with prints is part of being preppy! Not to mention Lilly Pulitzer is one of the "official" preppy brands so you can't go wrong with any of their pieces.
Scalloped pieces are also a preppy must. They're sleek and so beautiful. This white scalloped edge pencil skirt is classy and fabulous, a piece you'll own for years to come.
As I've mentioned in the past looks, sunglasses are a total must. Finish the look with a classic tote bag with a wooden handle — this one looks so luxe, yet still relaxed for warm weather!
Preppy Outfit 4: Out to Dinner (Warm Weather Edition)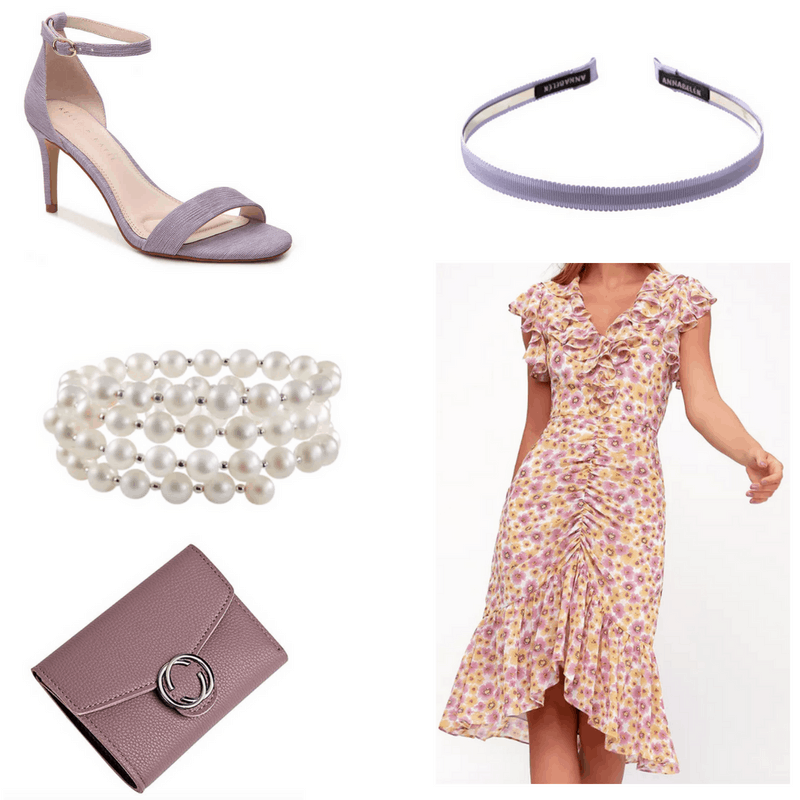 Products: Clutch – Kukoo (Amazon), Bracelet – Kohl's, Dress – Lulu's, Heels – Kelly & Katie (DSW), Headband – Anna Belen (Amazon)
The statement piece in this look is 100% the dress., which is a great example of a relaxed take on preppy style. Floral prints are quintessentially preppy, while ruffles are classically girly. I think the two elements work beautifully together, don't you?
Headbands are another must-have for your preppy outfits. I live for headbands and they are my signature accessory. Thin headbands like the one above are great because they don't distract too much from the beautiful dress but still add some extra class to the look.
Jewelry-wise, preppy girls LOVE pearls. While many people think pearls are out of our budget as college students, that's not true. Yes, of course, some pearls are more expensive than others. But freshwater pearls are both beautiful and affordable for girls on a budget like us. Pearls are stunning, elegant and so ladylike. They define preppiness!
Preppy Outfit 5: Out to Dinner (Cold Weather Edition)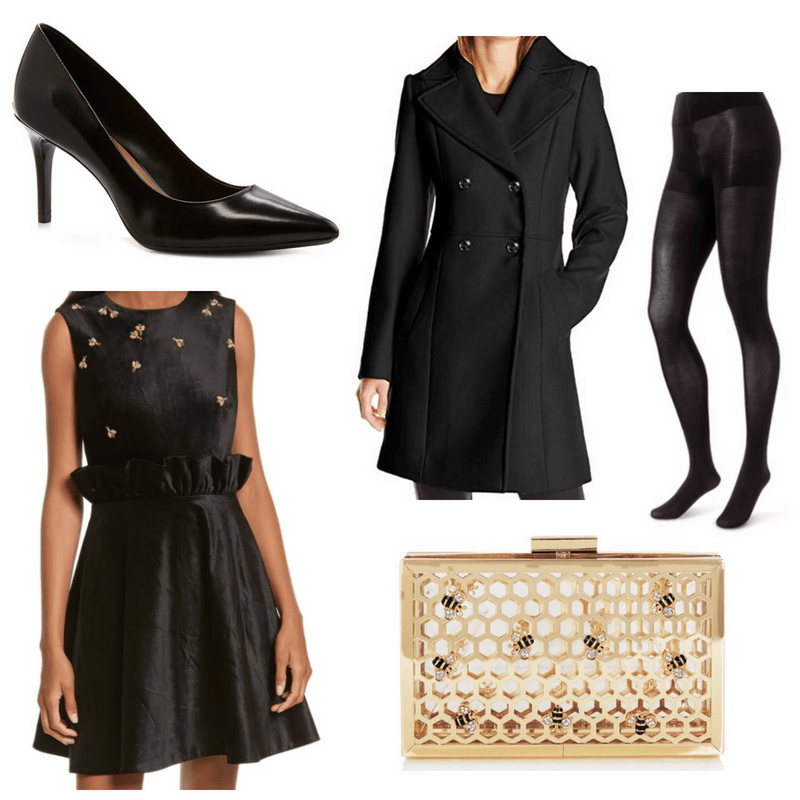 Products: Coat – Cole Haan (Amazon), Heels – Calvin Klein (Dillard's), Dress – Ted Baker (Nordstrom), Clutch – Skinny Dip, Tights – Hanes (Target)
It's no secret that I'm obsessed with bees so I adore this outfit. If you look through the offerings of preppy brands, you'll notice that bees can be found everywhere, adorning dresses and clutches like the ones above. I like to think that they are the preppy ambassadors of the animal kingdom.
Pumps are a classic preppy shoe that every girl should own for more formal occasions. They are sleek and elegant, and they go well with everything. They are definitely one of those shoes every girl should own by the age of 20. I love these pretty black ones as they're incredibly versatile.
Finally, I have to call attention to the gorgeous coat. This style of coat is referred to as "double breasted" in the fashion world. We all need to bundle up in the cold winter so this is a style I would definitely recommend because it's elegant and will never go out of style! A double breasted pea coat is a preppy staple.
Preppy Outfit 6: Sporting Event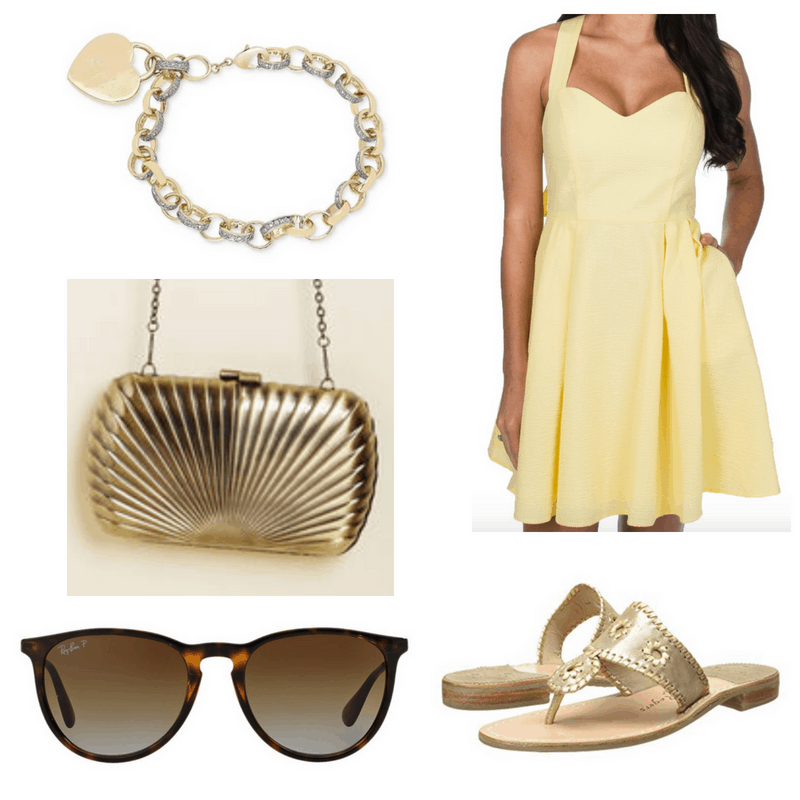 Products: Sunglasses – Ray-Ban (Sunglass Hut), Clutch – Modcloth, Bracelet – Macy's, Dress – Lauren James, Sandals – Jack Rogers (6pm)
Though it's probably obvious, this outfit is for watching a sporting event and not playing in one! Preppy style means lots of pastel colors and this beautiful look is all about pale yellow, which is one of my favorite shades.
Seersucker defines prep. In case you aren't familiar with its definition, seersucker is a clothing pattern that can usually be found on dresses and skirts. It is a cotton pattern that usually involves thin stripes of white and another color. The lines are so thin that usually the white doesn't show from afar. Seersucker is so beautiful, comfortable, and quintessentially preppy. What's not to love?
Jack Rogers sandals are also among the preppy classics! Originally worn by Jackie Kennedy (a preppy style icon), they are drop dead gorgeous and oh-so comfortable. They come in a variety of colors and have an elegant and timeless style. Every preppy girl should have at least a pair of these in her closet! They are 100% worth the investment.
Preppy Outfit 7: Slumber Party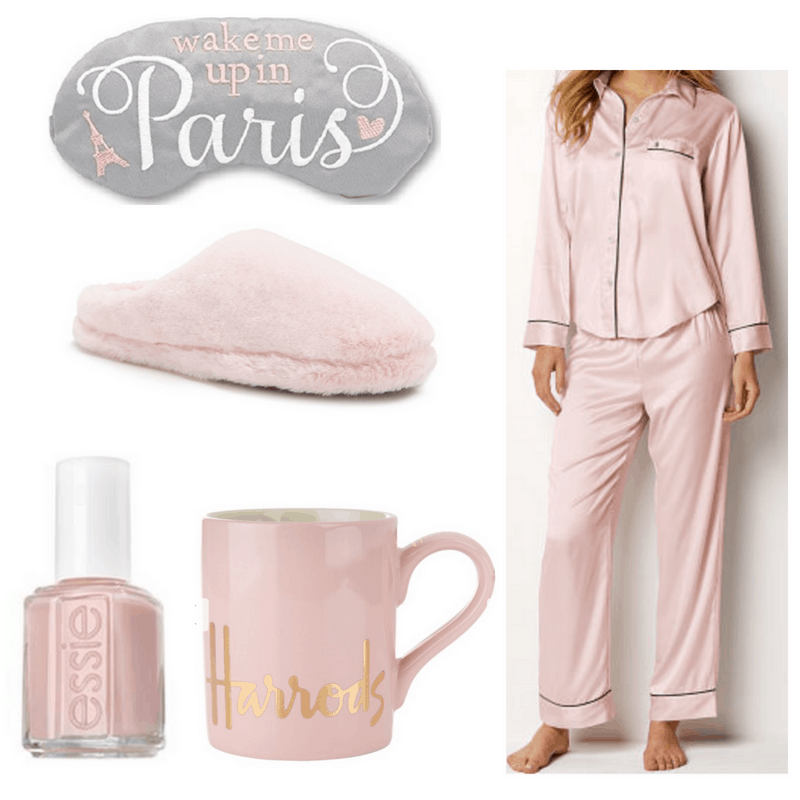 Products: Sleep Mask – The Sleepy Cottage (Amazon), Nail Polish – Essie, Slippers – Forever 21, Pajamas – Victoria's Secret, Mug – Harrods
I'm a firm believer that being preppy isn't just about how you look when you walk out of your home, but how how you live every moment of your life. In this case that even means what you sleep in! Being a huge fan of pink, I adore these stunning preppy satin pajamas. They are insanely comfortable and will make you feel like you're sleeping on a cloud.
Sleep masks are also a preppy trademark. (Think Audrey Hepburn in Breakfast at Tiffany's!) The beautiful mask above is fabulously silky. If you're looking for a unique sleep mask, you can get one monogrammed with your name or initials (monograming is very preppy) for extra style points.
Essie nail polish is a classic go-to for preppy girls. For one thing, quality is always assured with Essie, which is an obvious plus. But they have a wide variety of pastel and ladylike colors. Part of the preppy look is being polished, elegant, and put together, and that extends to one's nails. So definitely check Essie out for their beautiful shades!
Preppy Outfit 8: Formal Event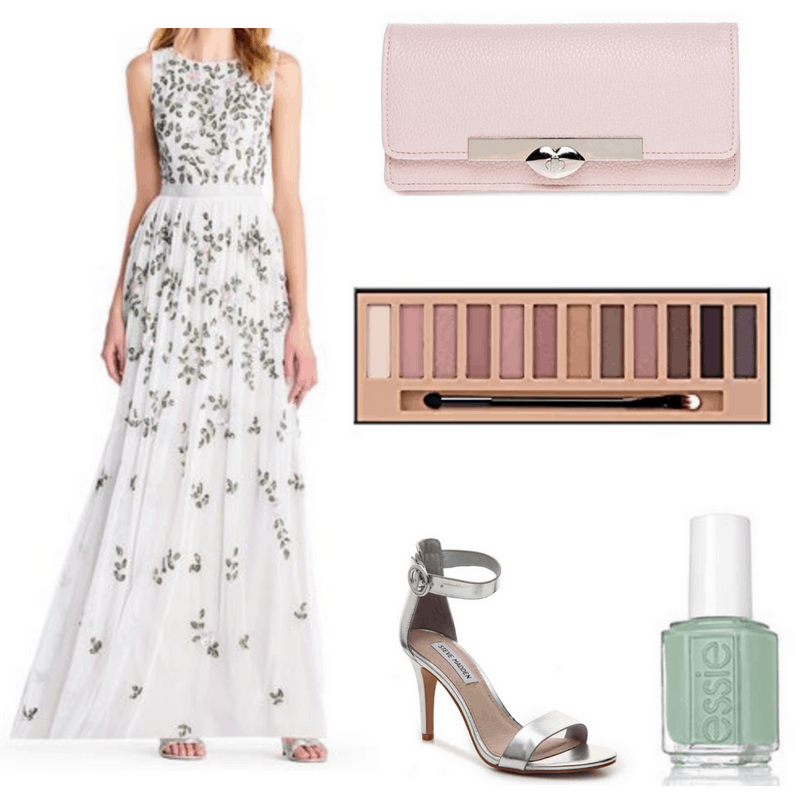 Products: Eyeshadow Palette – L.A. Girl (Amazon), Heels – Steve Madden (DSW), Clutch – Lulu Guinness, Nail Polish – Essie, Dress – Adrianna Papell
It's easier than you think to dress preppy for evening and formal events. This dress, for instance, will help you get the preppy feel. It's a gorgeous Adrianna Papell chiffon gown featuring delicate floral detailing and an A-line cut. You can find gowns in a variety of styles and designs but A-line in particular is a cornerstone of preppy fashion.
Preppy girls LOVE makeup too and we of course have our own approach. Similar to the nail polish scenario, we prefer more delicate, pastel makeup looks to anything bold or loud. Blush tones complement a variety of skin tones and are very classy. Therefore, neutral/blush eyeshadow palettes like the one above are the perfect complement to preppy outfits.
Preppy Outfit 9: Work or Internship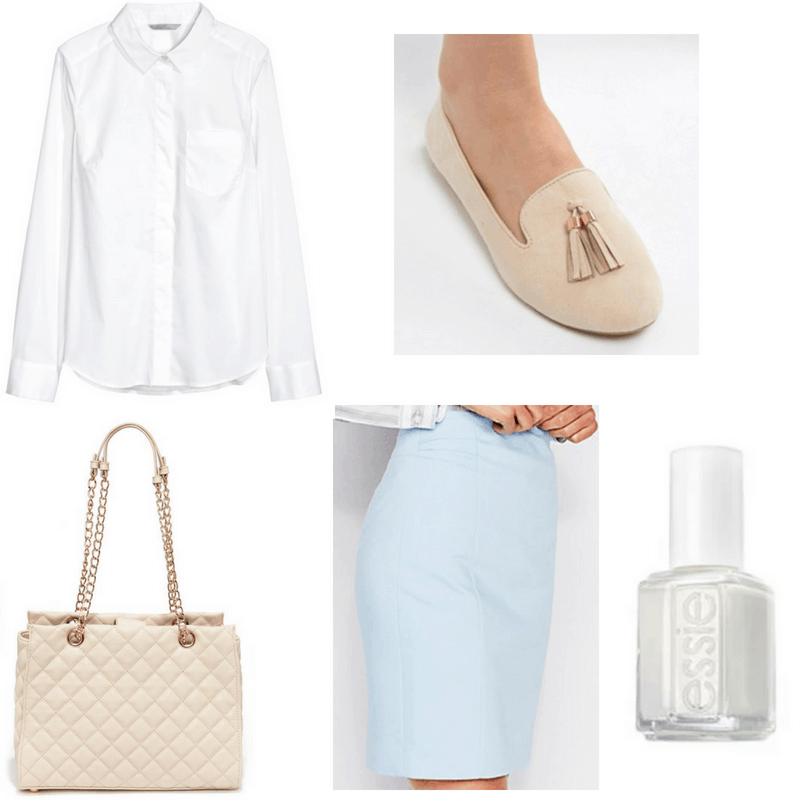 Products: Handbag – Lulu's, Skirt – Express, Loafers – Park Lane (ASOS), Nail Polish – Essie, Blouse – H&M
This is the perfect outfit for work or an internship that is both preppy and incredibly professional! Pencil skirts are a preppy must. They have a clean and sleek design that makes them perfect for a wide variety of occasions. Their beauty lies in their simplicity.
A fitted button-down shirt is another piece every preppy girl should own. Much like the pencil skirt, a button-down matches perfectly with anything and can be worn anywhere! Get a few in a wide variety of colors (think pastels for the preppiest feel) because these shirts are keepers.
I don't know where to even begin with loafers. I love them! Not only are they comfortable, but they are so pretty and classic. There are so many different types of loafers on the market, each style more beautiful than the next. You can wear them to class or work events and they'll always be appropriate.
Preppy Outfit 10: College Party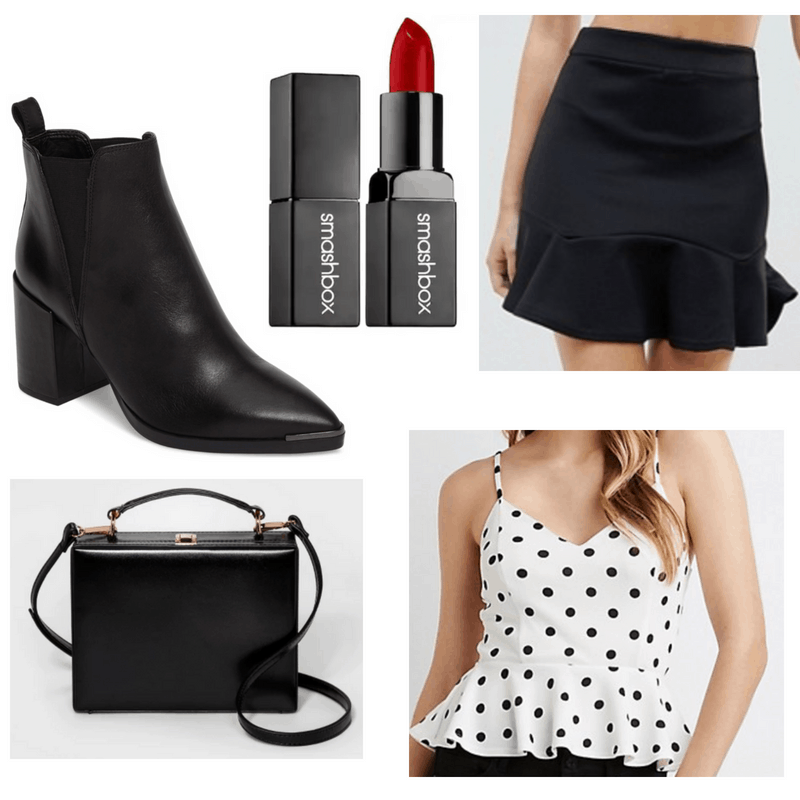 Products: Crossbody Bag – A New Day (Target), Top – Charlotte Russe, Lipstick – Smashbox (Sephora), Boots – Tony Bianco (Nordstrom), Skirt – Pretty Little Thing (ASOS)
As a college girl, I had to save the best preppy outfit — the party outfit — for last! Yes, it's possible to dress preppy at a college party.
The top in this look combines so many essential preppy details. First of all, it has the fun polka dot print, which we know is a preppy go-to. It is also a peplum top, which is another detail preppy girls like to play with. A prim peplum detail adds texture and interest to any look.
As I've mentioned, boots are a classic preppy shoe. While the riding boots are beautiful, the ankle boot is also a great alternative for environments such as a college party. Ankle boots are comfortable and you won't get blisters like you would with heels. Though these pointed toe boots are a bit edgy, it's fine to add a little bit of edge to your style now and then, especially for nights out.
Red lipstick is a personal favorite and a staple of preppy girls everywhere. I can't help but think of all the 1950s actresses like Grace Kelly and Audrey Hepburn who rocked the elegant red lipstick with their beautiful looks. It's classy, elegant and sure to turn heads!
What do you think of the Preppy Style Series?
What would you like to read about in future articles? How do you feel about preppy clothes? Start the conversation below.