This post may contain affiliate links, which means we may receive a commission if you purchase through our links. Please
read our full disclosure here
.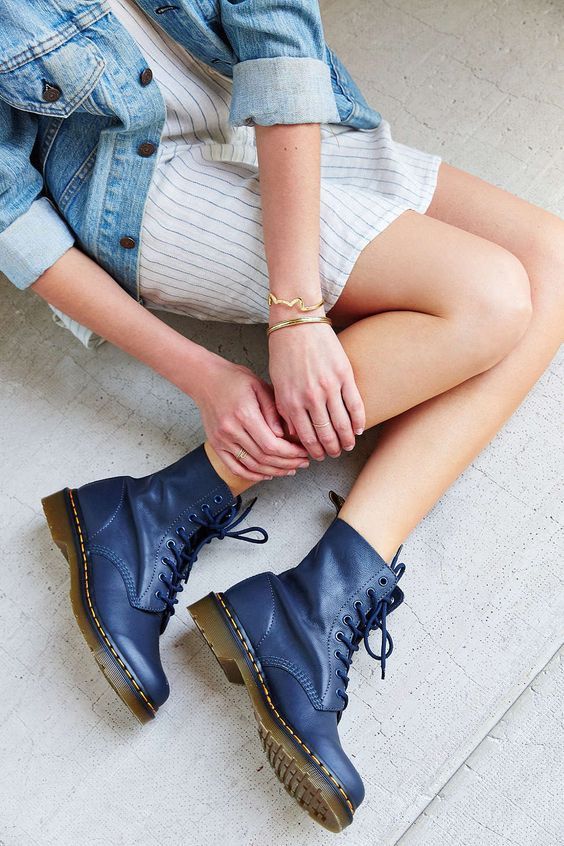 Dr. Martens boots have a long-held reputation for being edgy and subversive; after all, they are the footwear of choice for punks and rocker chicks alike.
And, while I would definitely consider myself to be one of the least edgy people you'll ever meet, lately, I haven't been able to help but be inspired by these cool boots and the fashionistas who wear them with all manner of outfits, from casual skinny jeans and flannels to floaty peasant dresses.
Naturally, as I always do when I am inspired by a specific piece or trend, I decided to dig a little deeper. Today, I'm exploring how to wear Doc Martens, with styling tips for a few different aesthetics. After all, going full-on punk can be a little (or in my case, a lot!) intimidating.
Here, I've put together four completely different Doc Martens outfits — one preppy, one grunge, one sporty-femme, and one modern glam — proving that you don't necessarily have to have a super-edgy sense of style to wear them!
Ready to dive in? Just keep scrolling!
Doc Martens Outfits – #1: Preppy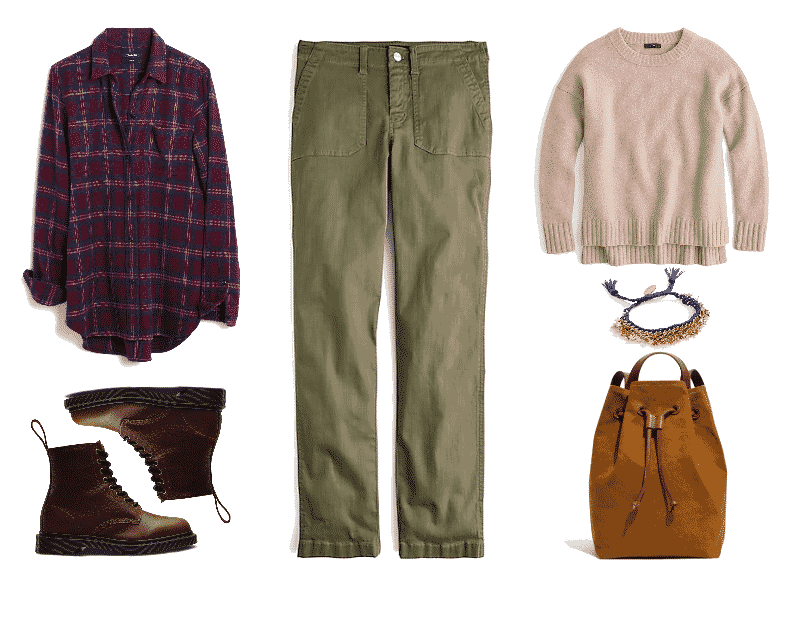 Products: Shirt – Nordstrom, Boots – Dr. Martens, Pants – J.Crew, Sweater – J.Crew, Bracelet – Shopbop, Backpack – Madewell
Prior to creating this outfit, it never would have occurred to me that Dr. Martens could be preppy; after all, how could a style so closely associated with being prim and clean-cut possibly mesh well with a brand that's, well, the complete opposite of those things?!
But, as it turns out, as long as you keep things relatively simple and pair your Dr. Martens with slightly more rugged preppy pieces (as opposed to, say, an overtly feminine printed sheath dress), you'll find that they look right at home!
To get this preppy Doc Martens outfit, begin by styling a plaid flannel shirt with a pair of straight-leg cargo pants; be sure to cuff the hems so that they will barely graze the tops of the boots for maximum style points.
Next, add an oversized solid-colored sweater, leaving the tails of the shirt untucked (or half-tucked) for a laid-back vibe.
A canvas backpack contributes to the rugged aesthetic that the outfit has going for it, while a fun woven bracelet with lots of shiny gold stars adds a dash of playfulness.
Of course, to complete the look, you'll need a pair of dark, solid-colored Dr. Martens which won't add distracting visual clutter to the ensemble. And, while any dark color would look great, I decided to go with brown because they remind me of classic hiking boots — a preppy favorite — and because they work well with the muted color scheme of the rest of the outfit.
Doc Martens Outfits – #2: Grunge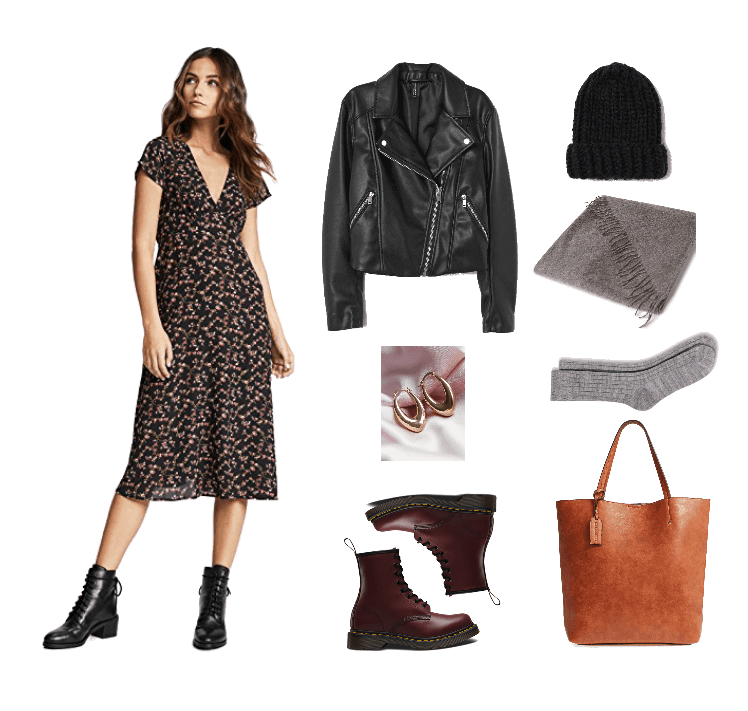 Products: Dress – Shopbop, Jacket – H&M, Earrings – Frasier Sterling, Boots – Dr. Martens, Beanie – H&M, Scarf – Aritzia, Socks – Target, Tote – Nordstrom
An article about how to wear Doc Martens wouldn't be complete without a grunge look, so I decided to put together a '90s-inspired ensemble that still looks modern enough to wear today without looking costume-y.
To copy this outfit for yourself, throw on a dark floral-printed midi dress; then, layer on a faux leather motorcycle jacket, as well as an oversized gray scarf and a basic black beanie for both style and warmth. (Tip: Once the weather warms up, feel free to swap the scarf for a chic bandana and the beanie for a wide-brim hat instead.)
Thick gold hoop earrings are an of-the-moment alternative to simple skinnier styles, while a classic, roomy tote in a neutral shade of cognac brown is a nice way to break up the darker colors in the outfit.
Put on a pair of burgundy Dr. Martens to bring out the dress's floral print. Don't forget to layer them with a pair of solid-colored socks, scrunching them down so that the tops just peak out over the tops of the boots.
Doc Martens Outfits – #3: Sporty-Femme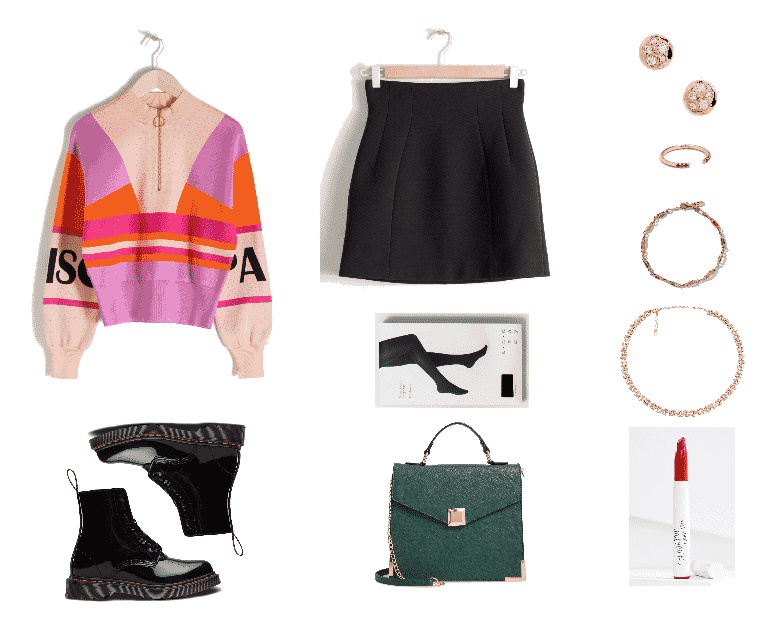 Products: Sweatshirt – & Other Stories, Boots – Dr. Martens, Skirt – & Other Stories (Similar here), Tights – Target, Bag – Nordstrom, Earrings – Nordstrom, Ring – Shopbop, Bracelet – Vanessa Mooney, Choker – Revolve, Lipstick – ColourPop
Is your style feminine? Sporty? Why not combine them both?! This sporty-femme look does just that!
To achieve the perfect blend of girly and athleisure, start off by putting on a bold and brightly colored sweatshirt. Next, add a timeless black high-waisted a-line mini skirt, as well as a pair of opaque black tights for a dose of sleekness and warmth.
A classy cross-body bag in dark green contrasts with the sweatshirt, both in terms of dressiness and color, while sparkly circular stud earrings, an open ring featuring pavé red stones, a multi-colored bracelet, and a chain-link choker necklace add just the right amount of shine. (Don't forget to leave the sweatshirt slightly unzipped to show off the necklace, though!)
Swipe on a bright red lipstick for an extra pop of color.
Lastly, a pair of zip-front Dr. Martens in black patent lend the look a trendy vibe, and are great if you don't want to go with a classic pair, but also want something more practical that'll go with just about everything!
Doc Martens Outfits – #4: Modern Glam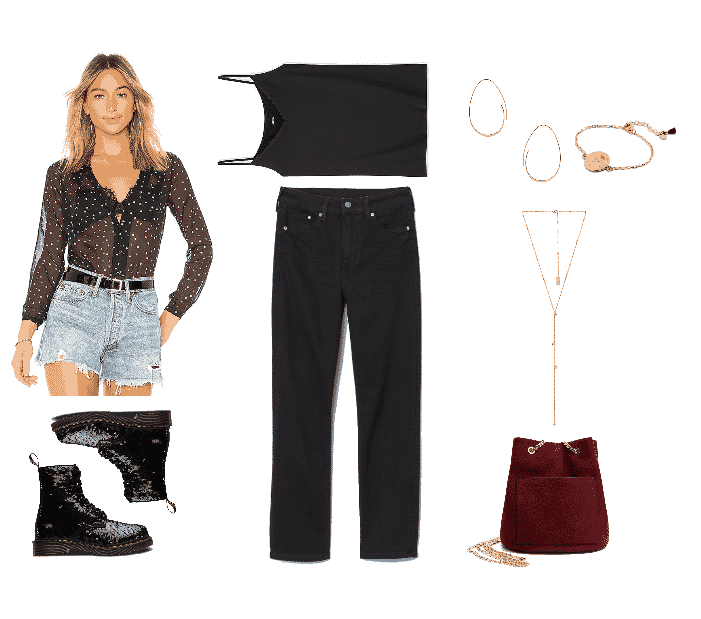 Products: Blouse – Revolve, Boots – Dr. Martens, Camisole – Uniqlo, Jeans – H&M, Earrings – Revolve, Bracelet – Shopbop, Necklace – Revolve, Bag – Mango
This modern glam look is perfect for a night on the town, but you could also definitely wear it during the day if you feel like dressing up a little.
To cop this look for yourself, layer a sheer black star-print blouse over a solid black camisole. After that, throw on a pair of black slim-leg jeans, which provide a nice alternative to typical skinny styles. (If you want to make the look a little more laid-back, simply cuff the legs of the jeans a couple of times.)
A burgundy chain-strap bag is a subtle way to incorporate color into the otherwise-neutral scheme of the outfit, while unusual egg-shaped hoop earrings, a trendy coin bracelet, and a pretty lariat necklace are the perfect dainty jewelry pieces to give the look a little something extra.
To complete the look, add the pièce de resistance — these utterly fabulous black sequined Dr. Martens — and you're good to go!
What do you think?
Do you think I did a good job explaining how to wear Doc Martens? Has this article inspired you to find new ways to wear them? Which of the pairs shown here is your favorite?
Let me know in the comments!