This post will give you 17 of the best Instagram poses.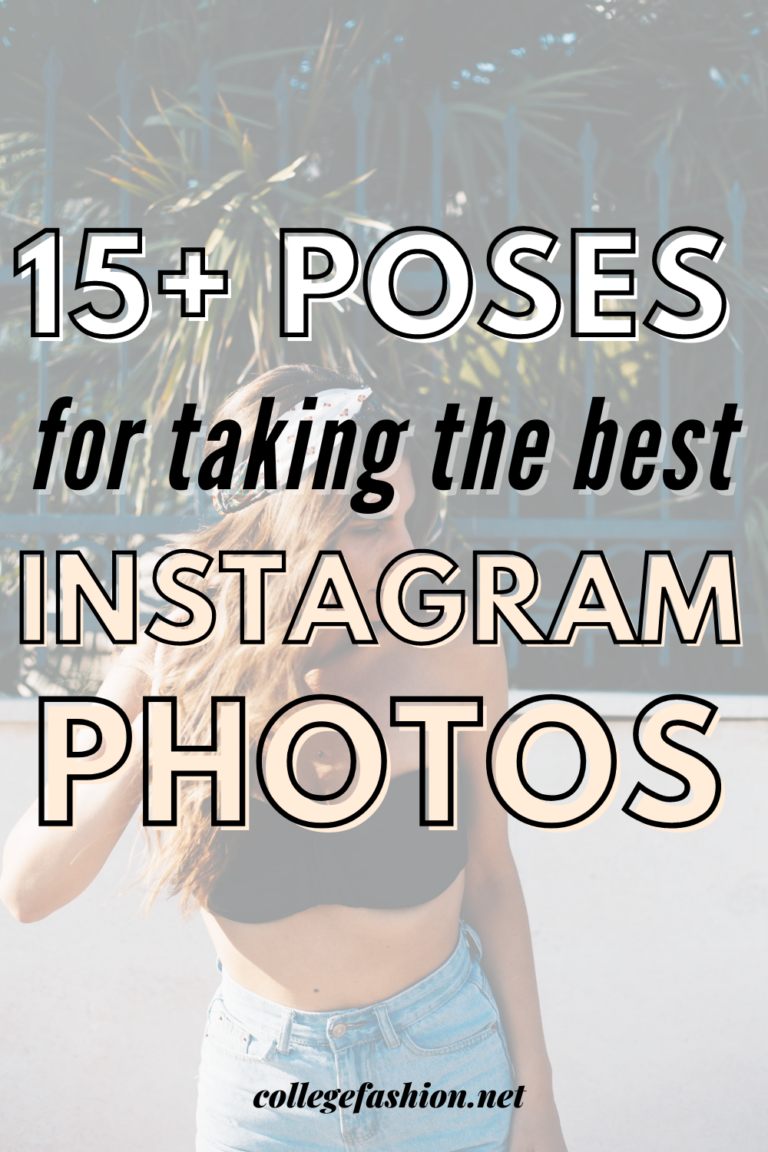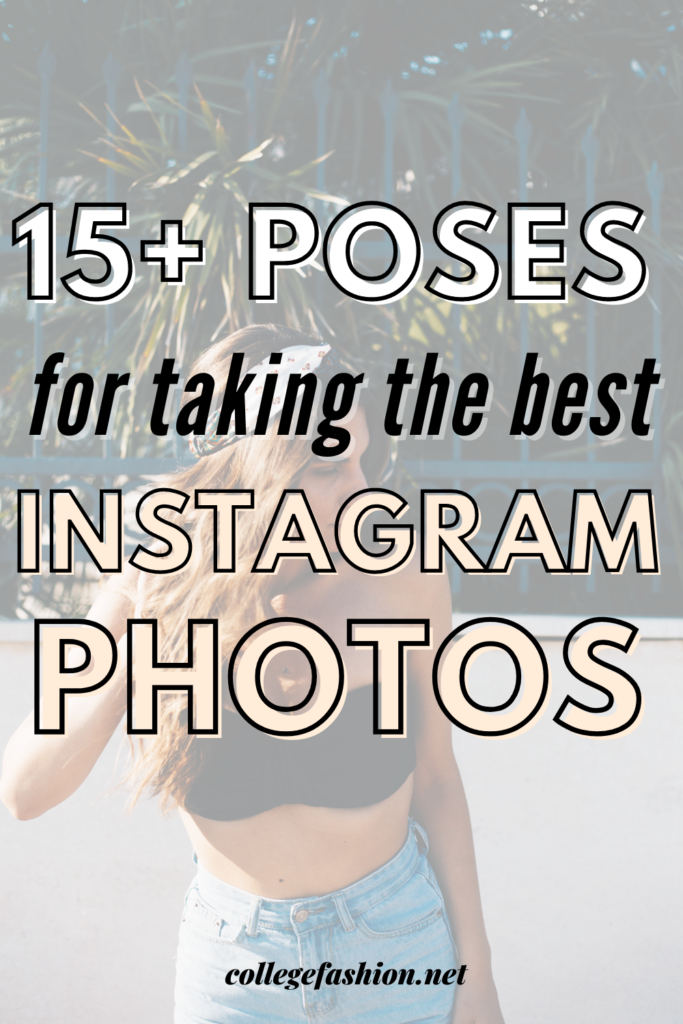 If you're like me, Instagram is one of your favorite social media apps to use. Sometimes I get into a love/hate relationship with it, but I always circle back to love.
It's my favorite way to get fashion inspiration and outfit ideas. It's a creative outlet for me, and although some take it seriously, I like to just have fun with it and post what makes me happy.
That being said, one of the things that can lead me towards hating the app is coming up with photo ideas. I love taking and posting pictures, but it gets difficult to come up with fun and creative poses. I don't want my whole feed to just be smiling photos, especially when I am wearing a cool outfit that I want to show off.
If you have the same issue, worry no more! This post will show you 17 of the best Instagram poses to show off your outfit and take trendy photos for social media.
Related reading: The 15 Hottest Instagram Fashion Trends You Need to Know About
Instagram Pose 1: One Leg In Front
Take the classic standing pose, then stick one leg in front. This will elongate your leg and give the shot some interest.
Don't forget to point your toe and really put emphasis on front leg. This is a great pose for playing around with angles. Try shooting down or upwards towards your body for a little extra flair.
Instagram Pose 2: Stand to the Side
Here we go! This is another standing pose, but a great one for playing around and showing off your outfit.
Turn your body directly to the side, kick forward or backward whatever leg is facing the camera, point your toe, and finish with your hands doing something playful. Put your weight on that back leg for the most flattering stance.
This pose will add some sass to your feed, no doubt about it.
Instagram Pose 3: Kick Your Leg
This pose can be done from virtually any angle. We love the idea of taking the shot from the back as a unique twist.
Show off your outfit by kicking up your leg. This is a must if you have a flowy outfit with a unique silhouette. It's also key for making your shoes the centerpiece.
Instagram Pose 4: The Criss Cross
This particular pose is very versatile, as you can play around with your leg position.
Just sit on the ground or any flat surface. Cross your legs, then either keep them flat or kick one out. Either way, I would keep your hands on your legs or around your ankles.
Try to take the photo from a high angle, almost above you or looking down. Bonus points if you find a cool brick wall or a mural.
Instagram Shot 5: Hug Your Knees
This pose is super easy and looks best if you're leaning against a wall or something else. Nobody would sit like this on an open floor without back support, so remember to keep it natural.
Simply sit back and put both feet flat on the ground. You can either hug your knees or just lean over them. This shot is super casual.
Instagram Pose 6: The Lean
Leaning pics are super cute if you can find a good spot for one.
It's easy; simply lean against a wall, door, or anything tall enough to support you. This pose is very flirty and gorgeous.
Instagram Pose 7: Sit In Chair
To elevate your sitting pictures, do something other than simply sit in a chair.
Try putting one leg up and leaning to the side, or drinking coffee or a fancy cocktail. This gives the shot a little something more interesting.
This vibe is perfect for brunch pics or coffee shop shots.
Instagram Pose 8: Touch Your Hair
Pretending to fix or touching your hair makes any picture a statement.
If you don't know what to do with your hands or feel awkward, give it a try! This is a great go-to pose that many influencers use to show off their outfit and capture flattering angles.
Instagram Shot 9: Fix Your Sunnies
Holding or fixing your sunglasses is another go-to for me. It's an easy way to pose that gives you some style and makes you feel less awkward when taking solo shots.
It feels very casual and California!
Instagram Pose 10: Sun In Your Face
Whether you choose to stand or lie down, this pose is a showstopper! Just raise one or both hands in front of your face, like you are blocking the sun.
It gives your shot a candid vibe and will look really good on your feed… just make sure the light is directly hitting you, otherwise it won't make much sense.
Instagram Pose 11: Hands Crossed
Crossing your arms is a great way to look relaxed and natural in a photo. It positions your body perfectly, especially for sitting photos.
You can always try this while standing up and crossing your arms tighter for more of a power move photo.
Instagram Shot 12: Walking
Walking pictures are great for showing off your background and getting further away images. Plus, these photos really show off your outfit well and add some dimension to your feed.
Just walk back and forth to get the right angles… don't forget to take some from behind, too!
Instagram Pose 13: The Car Shot
Car pictures are a simple way to change up your scenery. There's so much you can do with them and they almost always come out looking trendy.
Try either sitting up straight and looking away from the camera, laying back and putting your feet on the dash, or sitting on the edge of the seat with the car door open.
Instagram Shot 14: Elevated Mirror Selfie
Update the typical mirror selfie by adding some different levels and poses into them.
Try some squatting or kneeling, or sticking your leg out to elongate your body and show off your bottoms. Just make sure everything behind your body is clean and tidy!
Instagram Pose 15: The Classic Laugh
Laughing in your photos is a great way to get some stunning candid shots.
When I do my laughing photos, I like to look to the side or away from the camera, to give it an even more natural aesthetic.
Instagram Pose 16: Hands Up
Another classic pose to try is to raise your hands above your head. Seriously… give it a try!
Incorporate this with a wide stance, and you have a very pleasing photo that shows your personality off while being flirty!
Instagram Shot 17: Squat
The Instagram squat is the cutest pose of all! You can try either putting one knee down or both up for that perfect squat. It's trendy and flattering.
For pose inspiration, here are my favorite influencers:
Now we want to know: what's your favorite?
What is your favorite social media app to use? How do you like to pose? Let us know in the comments below!