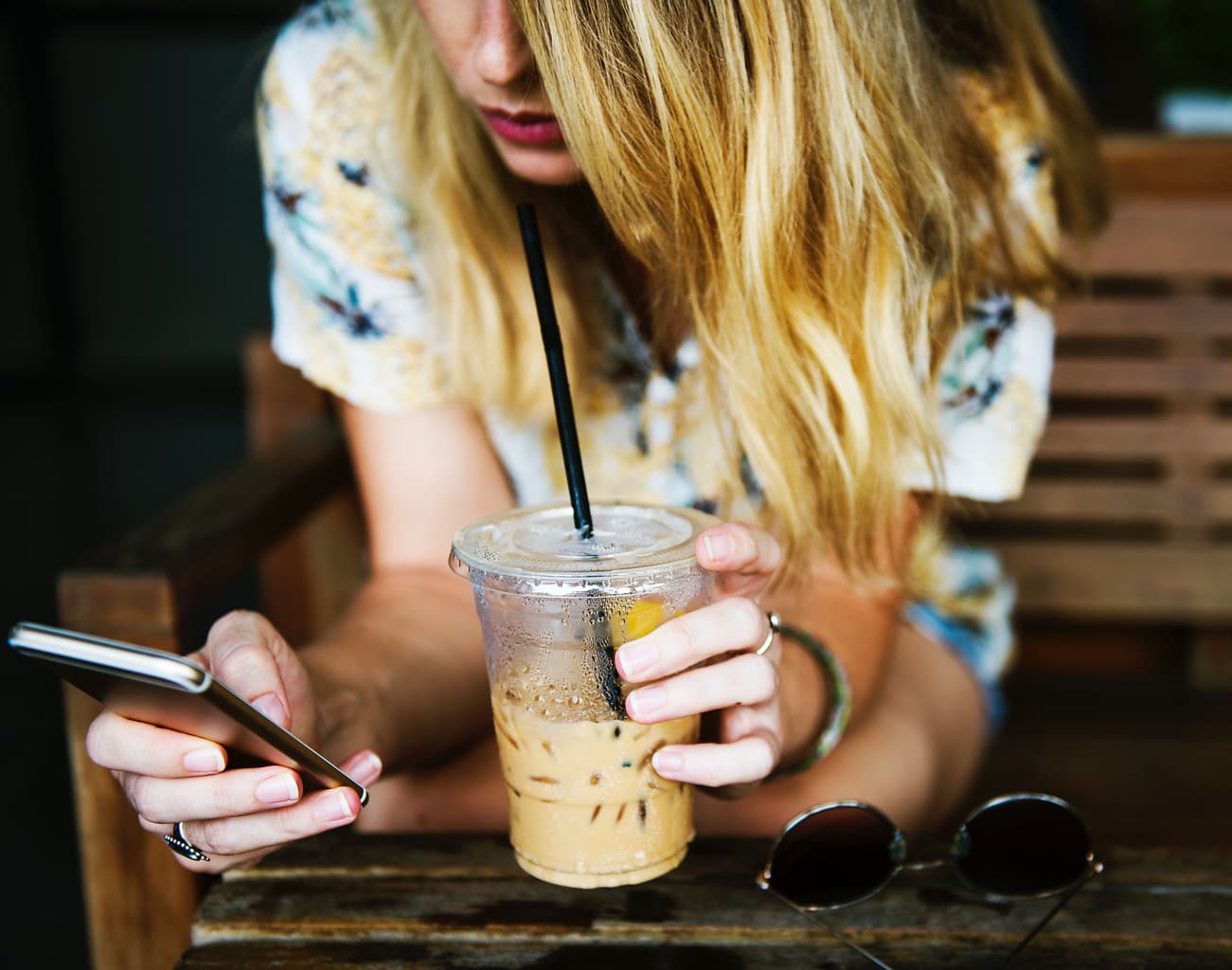 Hi everyone! Hope finals are going well! If you put your notes and study guides away, I assure you that the time you will take to read this will be the perfect study break.
The term study guide reminds me of the topic of interest today: social media and fashion. I know it can be overwhelming to log into Tumblr and type in "fashion blog" or "style blogger" to find some inspiration when you need a quick outfit idea. Where do you even start weeding through the plethora of photos you end up finding?
That is where I come in. Let this be your study guide to find what you want NOW. It's my ultimate guide to fashion on Instagram, Pinterest, and Tumblr. I am dividing this guide into three sections: searching, recognizing, and using. It is a chronological process here.
1. How to Find New Influencers on Social Media
Firstly, let's talk how to search for influencers, or brands that you can use for inspiration.
When you log into a website, like Instagram for example, you will run into your feed, but if you go onto your "discover" page, that is where the magic happens. When I feel like I am in a style rut, I look up a hashtag. After years on Instagram, I can give you guys a list of what I normally use to find the most bloggers. I would start using hashtags like:
#stylebloggers, #fblogger #ootd #lotd (actually means 'look of the day,' people have asked me that before) or #whatiwore will find you fashion bloggers everywhere
#londonfashion #parisfashion #parisienne — locations work really well if you want a look that's more globally inspired
With these hashtags, what you do with them is what will help you most. The hashtag is helpful to find now, but if you want more, scroll to the second comment in blogger's posts. 99% of the time, you will then find their list of hashtags that they use to fight the Instagram algorithm.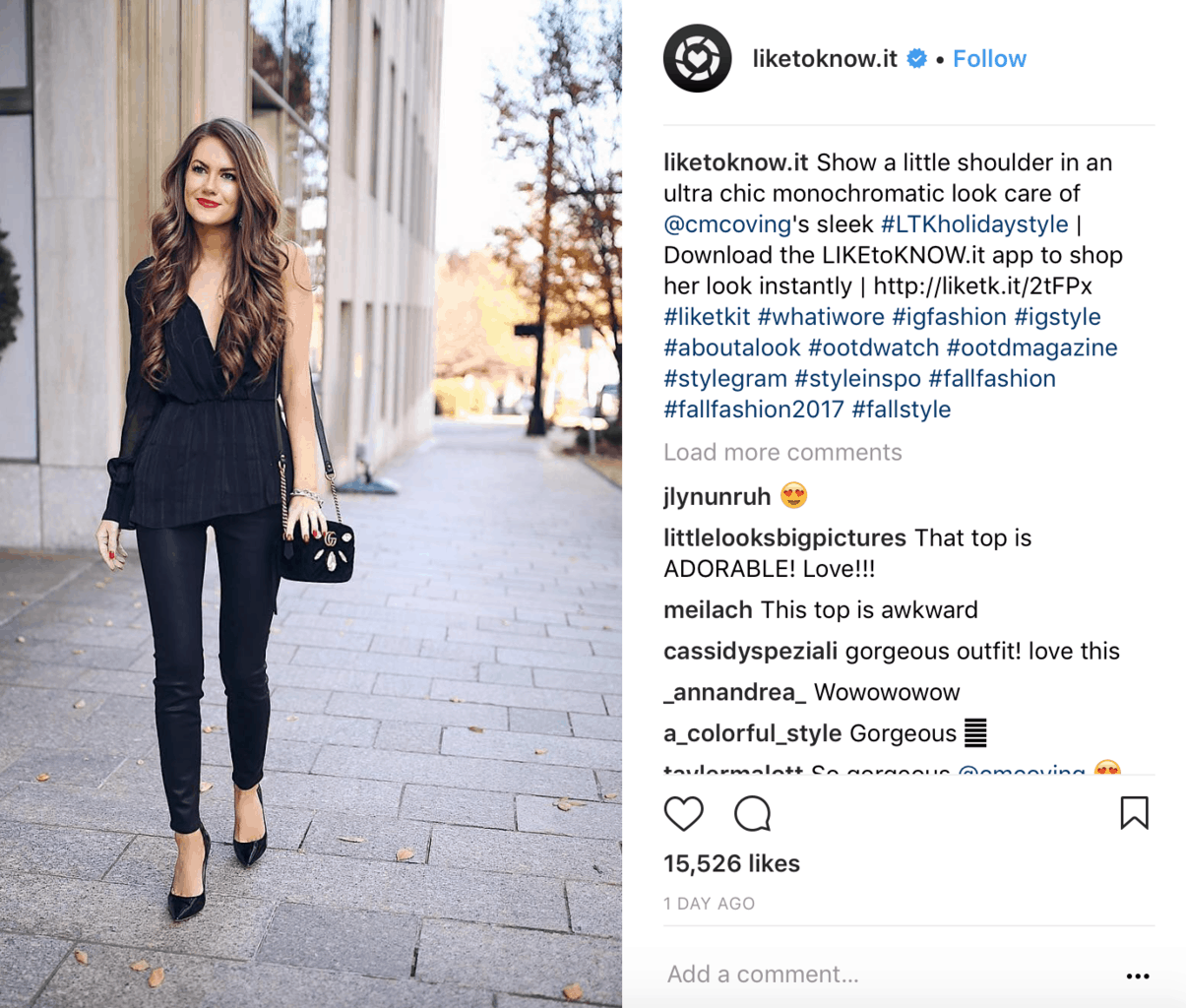 Most bloggers have to use at least twenty hashtags to be found, so you can depend on that. So from there, click on their hashtags – they will send you to the rest of the people who used them, so you can find more bloggers that way!
Also, something that not enough people do is click the little arrow that lets you see similar bloggers that might be in the followers or friends of that blogger you are looking at. You can even go further and look at the people that your influencer is following — who influences THEM?
All that hashtagging work, DONE.
2. How to Recognize Good Style When You See It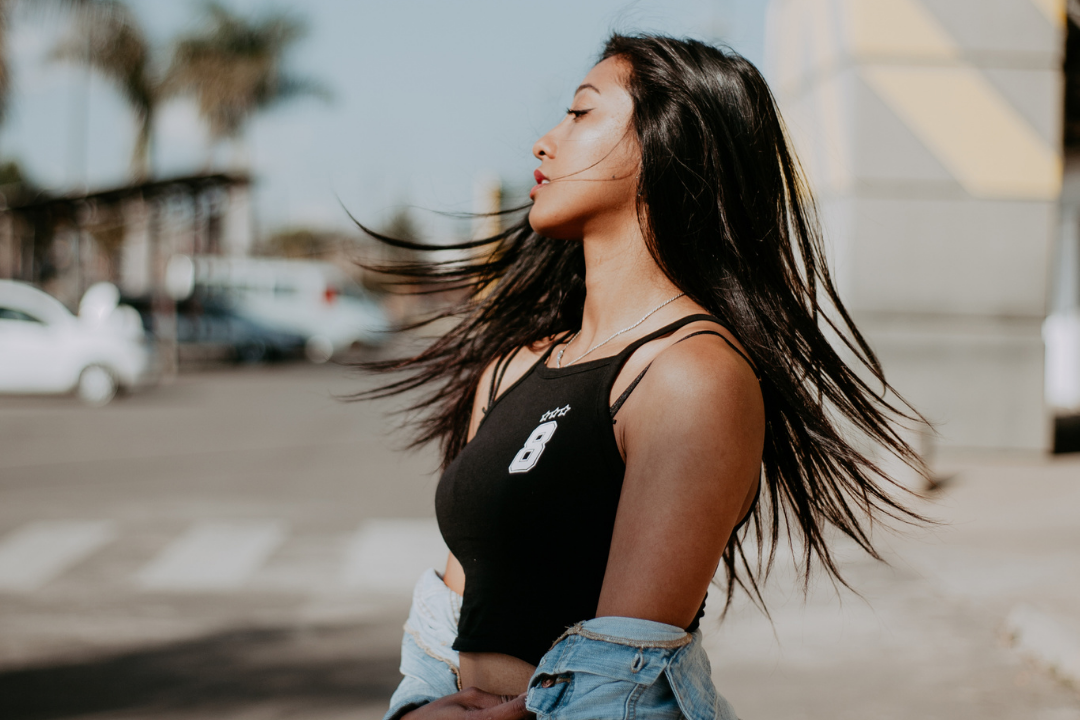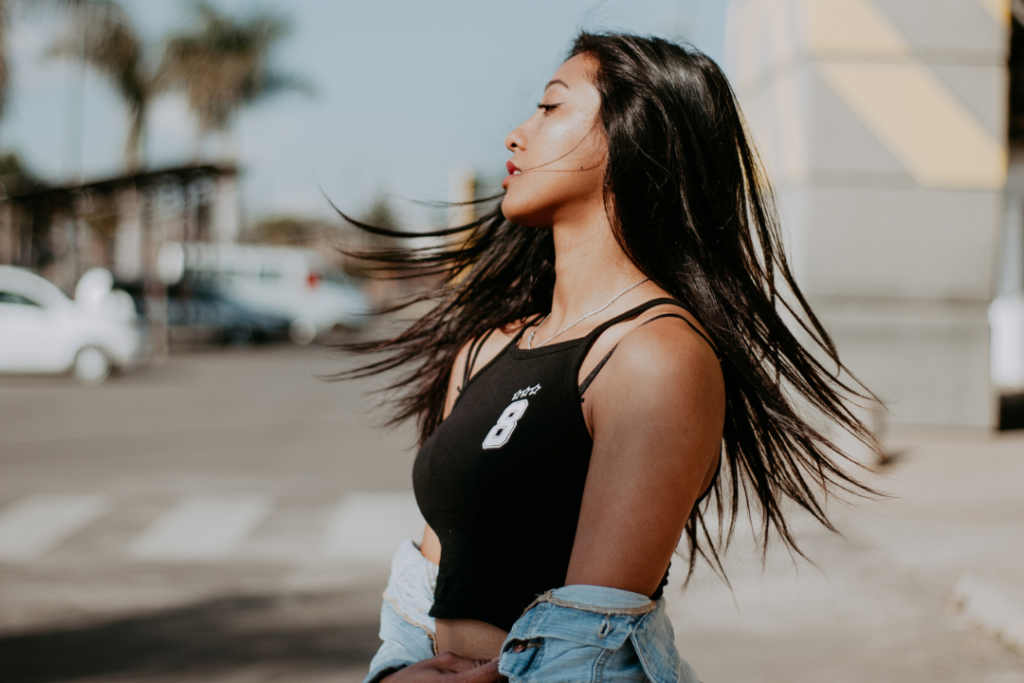 Now that brings me to the next section, which is how to recognize the outfits that are going to be most relevant and useful to you.
Okay, so you found the hashtag, and you found the photos. But what do you do with that huge list of photos? You whip out that mental list of what your style is like, and what you aspire to have in your style. Then you get serious.
This is me taking your training wheels off.
Those mood boards I have trained you guys to make with my articles on how to 'get the look' are what you have to do now. Create one of those for your girl. Look at the shoes, the bags, the hair, and don't forget the message!
I like to make sure that if I'm going to follow someone regularly, that they are someone I can look up to for a real reason, one that transcends the fashion aspect. Some bloggers are religious and are very upfront about their faith, putting it in their bios, others are really into dogs, some are advocates for social change and make that as important as the style business. I would look into that, because a blogger who has diversified their content is normally much more interesting and continually evolving their style.
Also consider looking at brands you like and checking to see if they ever have influencers either take over their story, or check the results you get for that brand on Pinterest. For example, I just searched a brand I love, The Row, and waited to load similar results. There you go. A list of similar things that the internet bets that you like already.
3. How to Actually Use Style Inspiration from Social Media
Lastly, let's talk about how to apply this new information in your life, how to use this bounty of information.
We have to talk mood boards, because I spent all my semester making them for you (see my Nathalie Emmanuel post for an example). I know it seems a little silly to make a mood board, so I will get real with you for a second. No, I do not have this much time on my hands, actually. But I do memorize images that I see walking around on campus or while flipping through social media. I remember what I see, and I therefore do not feel the need to physically create a mood-board with corkboard and tears from magazines and pushpins.
Some girls I know can actually make pretty mood boards. Some girls make them as a mindful activity that can calm them down if school is stressful and they need an easy task to feel better. If that's you, awesome! (I read corny young adult literature for a break from Joyce and Dostoyevsky, so I can relate.)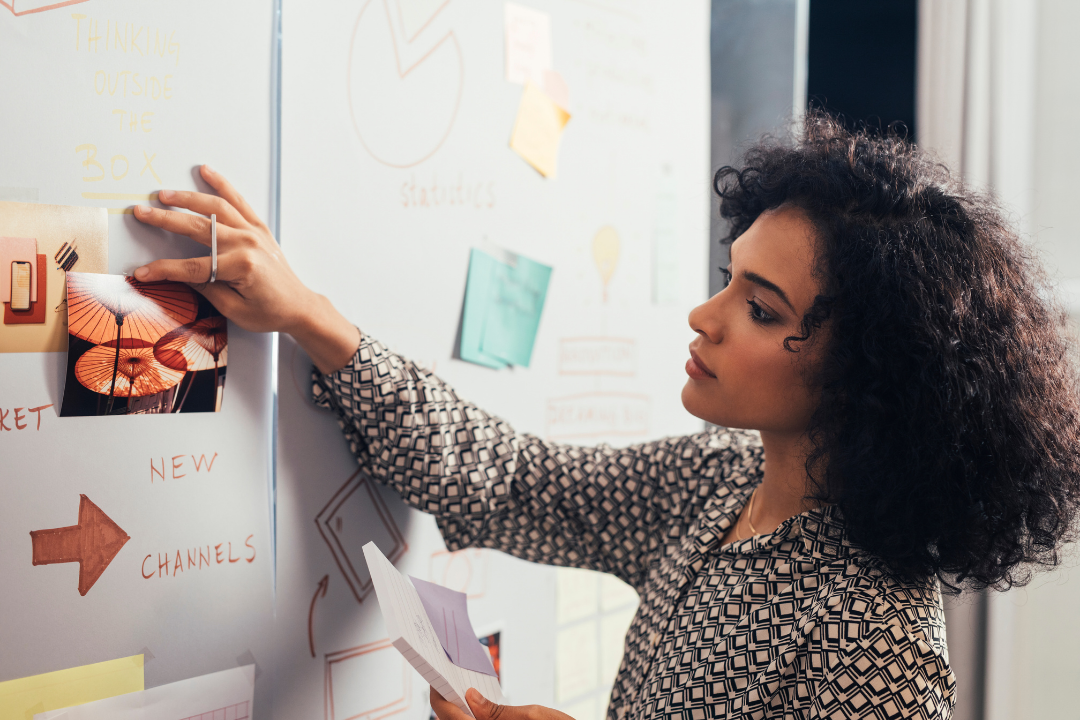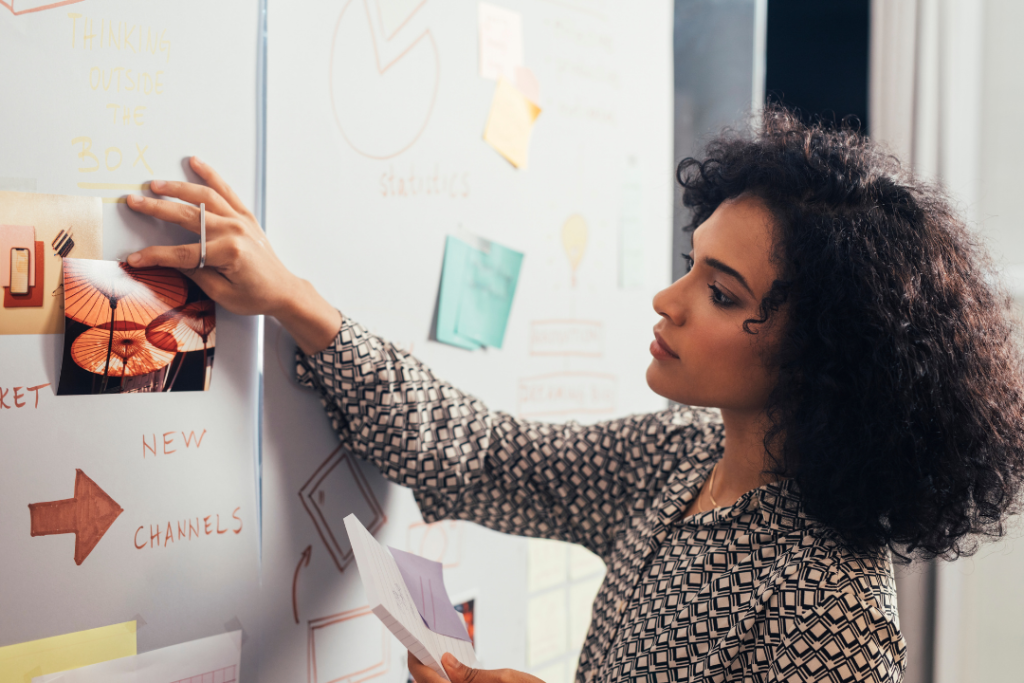 But you don't have to make a physical mood board. Anything that you use to organize inspiration, like Tumblr, Pinterest, Evernote, or even that 'saved to your collections' feature on Instagram can work for this. There is no correct way for this to work.
I actually used to have a binder when I was a young child in junior high, collecting tears from magazines that I used to get, and stealing them from my sister's Seventeen Magazines (guess now she'll know I was the one taking pages out of her magazines…). Here is a graphic that provides a good starting place if you really like to have a structure or template to help you. Just start saving images you like, and see where that takes you! Then, you can look at them once finals are over or whenever you have free time, and find your own style.
4. Bonus: How to Know if an Influencer Has Staying Power
And now the idea that made all of this organization easier for me and pinpointed what I want to emulate: if you see someone wear something that you might not normally gravitate towards, and they manage to convince you to try it, then they have a solid, inspiring sense of style.
Too often, I find a blogger who I think has a great look going on, but then they let an item wear them, and not the other way around. Their discomfort will show through. We all do this at some point or another every semester, or every time we buy that risky item at the store that "looks good on the mannequin with that one specific outfit, but we aren't exactly sure what we would do with it." You get what I mean?
Anyway, if this blogger manages to get you onboard, I am not saying you should go blindly buy the item – no, no, no. I am saying that you should keep an eye on this person, and keep a mental note of how they styled said item. They will likely keep inspiring you for the long term.
How do you find outfit inspiration online?
There you have it, guys! My treasure trove of strategies for finding reliable sources of outfit inspiration to keep my style evolving and keep me out of the dreaded style rut!
Do you have any tips on finding fashion on Instagram, or methods you use to keep your inspiration in one place? If so, leave it in the comments!
Thanks for reading! Now get back to those books!