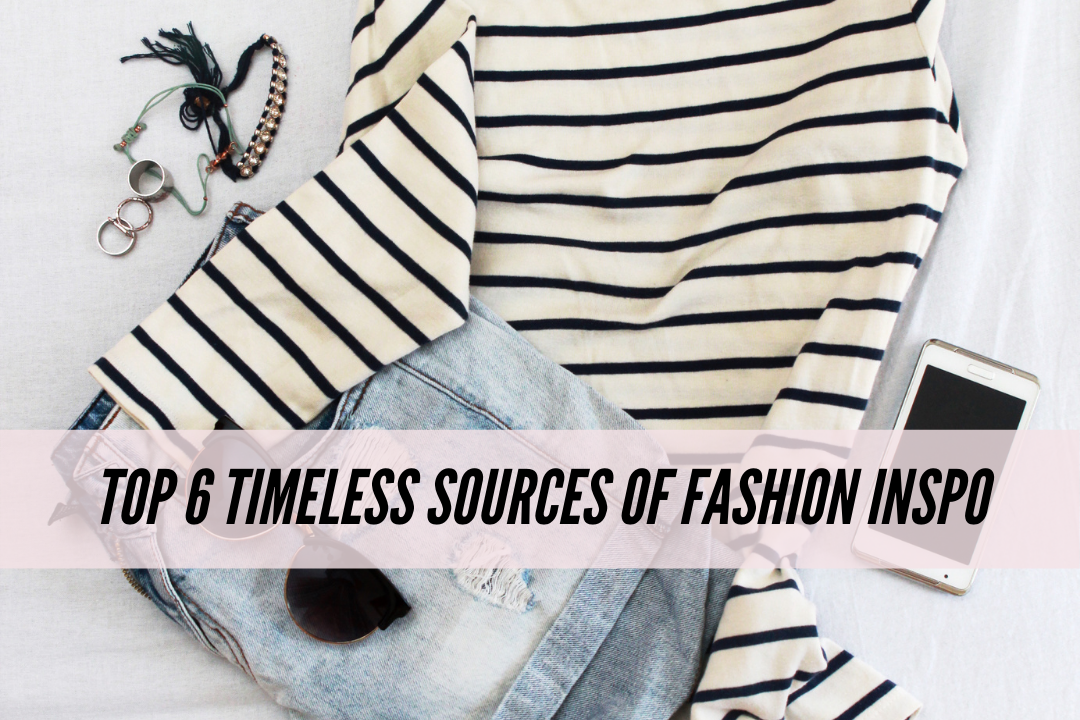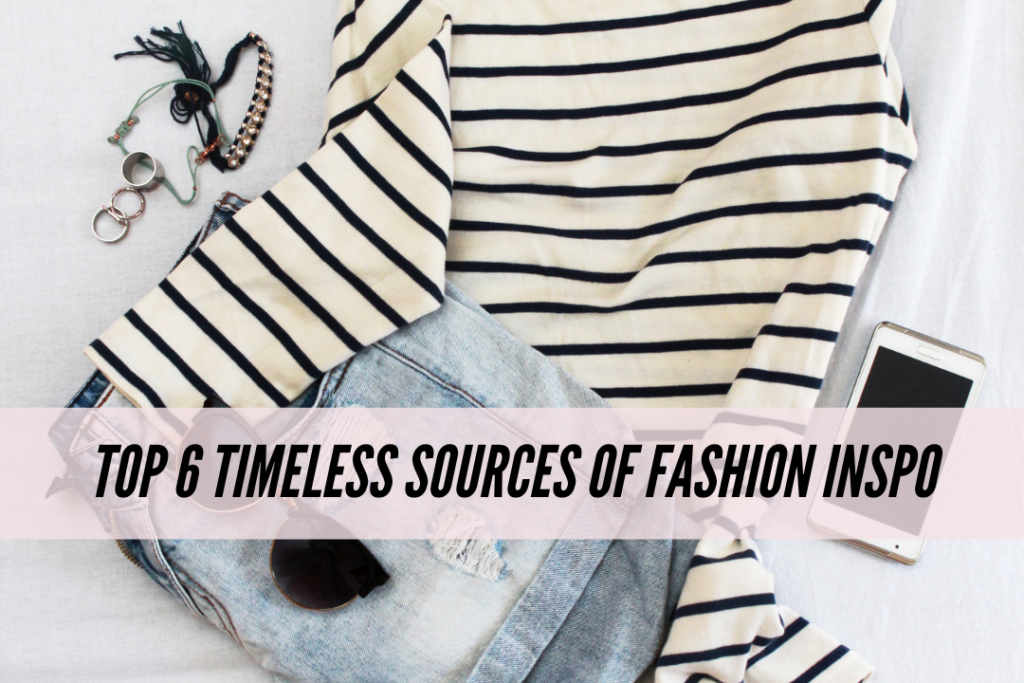 The I Dressed Like series at CF is a project I'm passionate about, but I have been asked how I sustain a series like that, and where I find my outfit ideas.
So for a brief break from I Dressed Like (don't worry, it will be back), I want to tell you about my personal sources of fashion inspiration. Thanks to these movies, shows and people, I love fashion and I'm constantly inspired.
This week, I'm sharing my six favorite timeless sources of inspiration. By timeless, I mean that these have been my go-to places to search for fashion inspo for as long as I can remember. They have stayed with me the longest, and I reference them over and over again.
If you need some fresh outfit ideas, read on for my favorite places to find them!
My 6 Timeless Sources of Fashion Inspiration
Source #1: (Movie) Roman Holiday
Roman Holiday is a 1953 rom-com starring Audrey Hepburn and Gregory Peck. The plot follows Princess Anne (Hepburn), a bored and sheltered European princess. One day, she escapes her guardians and falls in love with an American newsman (Peck) while exploring the city of Rome.
I vividly remember the first time I saw an Audrey Hepburn movie. It wasn't Breakfast at Tiffany's, it was Roman Holiday. I watched it with my grandma, because it's one of her favorites, and I instantly fell in love with Audrey and her styling in the movie.
Princess Anne's style is both comfortable and graceful. Her a-line skirts, short-sleeved Oxford shirts, amazing ball gowns, and her extremely short hair impressed me so much at a young age. I have kept coming back to this film, even more so than other Hepburn movies, because of how approachable it feels. (At least, that's in comparison to films like Sabrina or Charade.)
When I don't know what to wear on a hot summer day that will be full of activities, my mind immediately goes to Roman Holiday.
Usually, I pair a flowy skirt with a neutral button-up shirt and comfy shoes. Sometimes, I'll wear a silk scarf, but usually the weather is too hot for even that kind of accessory.
Source #2: (Movie) The Craft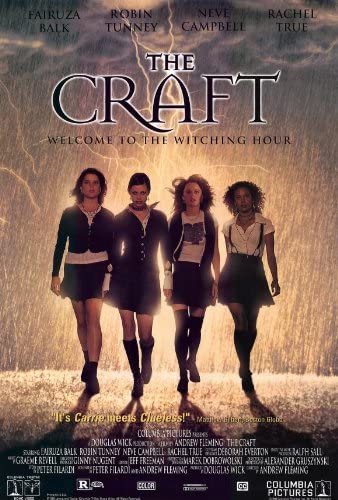 The Craft is a 1996 teen fantasy/horror film. It stars '90s teen icons Fairuza Balk and Neve Campbell. The plot revolves around four high-school outcasts who practice witchcraft, and how the use of their powers affects their friendships and relationships.
I remember watching this movie AGES after it came out, when I was in seventh or eighth grade.
The Craft isn't my favorite '90s horror movie. It isn't even my favorite '90s urban fantasy horror movie. But it is definitely the one that stuck out to me the most in terms of fashion.
Its grunge and dark aesthetic was fierce and I always go back to it in the colder months of the year. Plaid, dark florals, leather, skirts (mini and long), Doc Martens and black Converse, and oversized sweaters make up much of the iconic costuming of The Craft.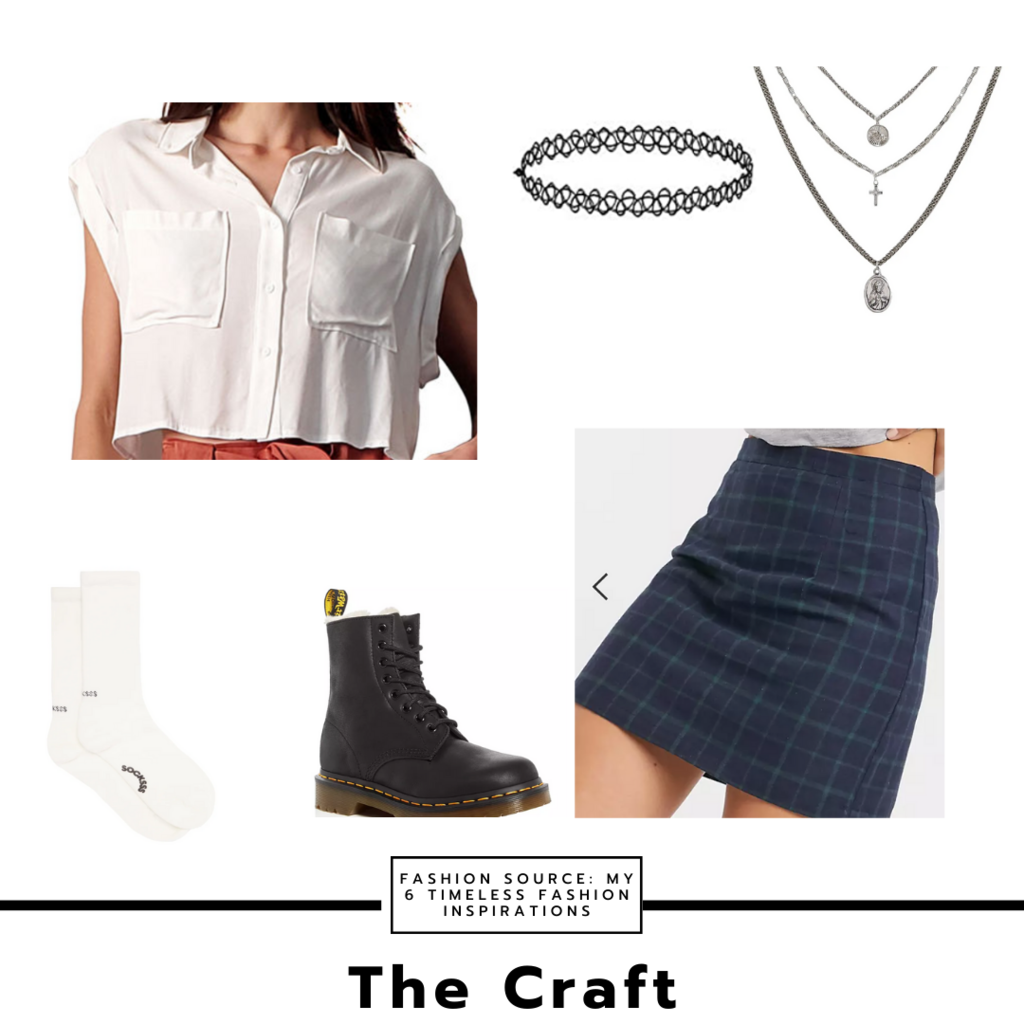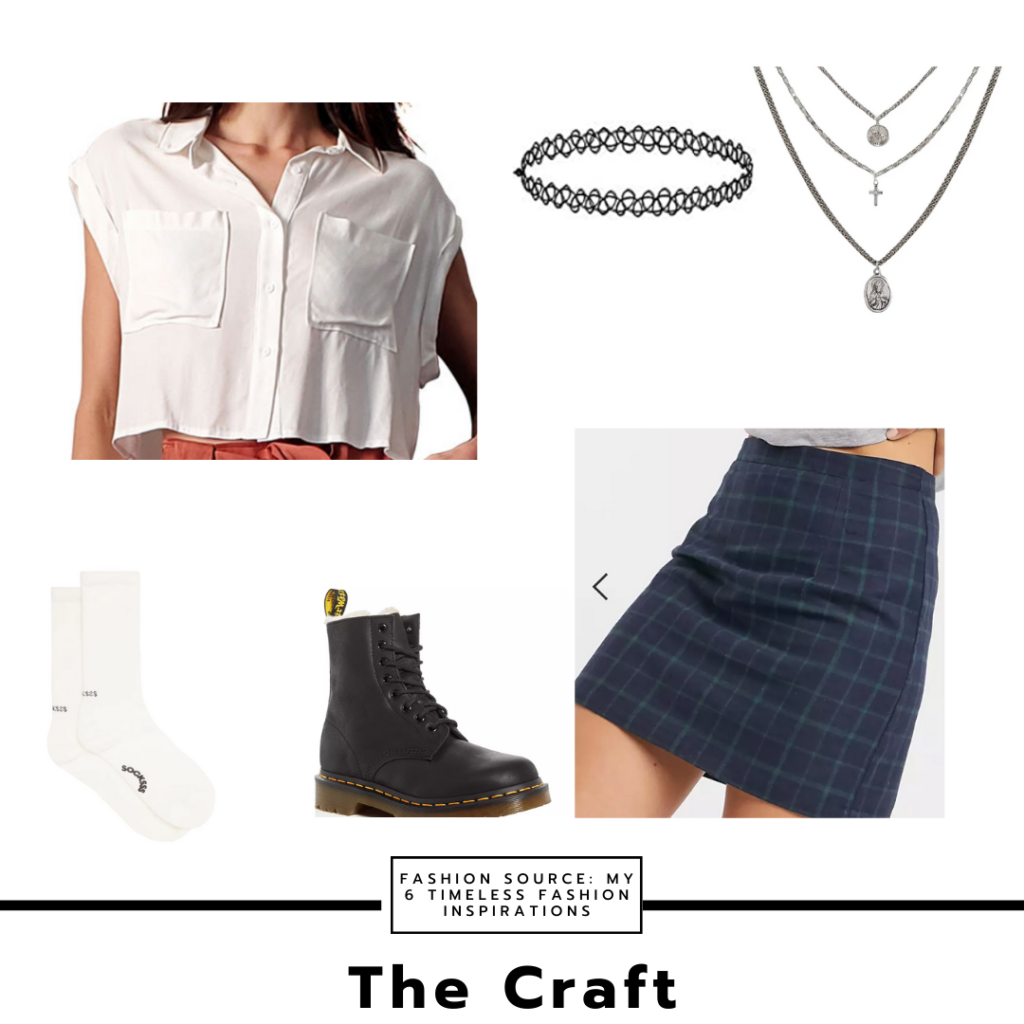 Similar Items: Skirt, Shirt, Socks, Shoes, Choker, Necklaces
I usually go for the flowy skirts and Converse combo, but the most iconic style of the movie is the uniform the girls wear for school, all of them featuring a clearly grunge-inspired styling.
For a Craft-inspired look, try pairing a plaid mini skirt and a white Oxford shirt with a pair of black Doc Martens. For accessories, layer a ton of silver necklaces with a black tattoo choker. For the winter version of this, you can add a leather jacket or a black raincoat, and black tights.
Source #3: (TV Series) Pretty Little Liars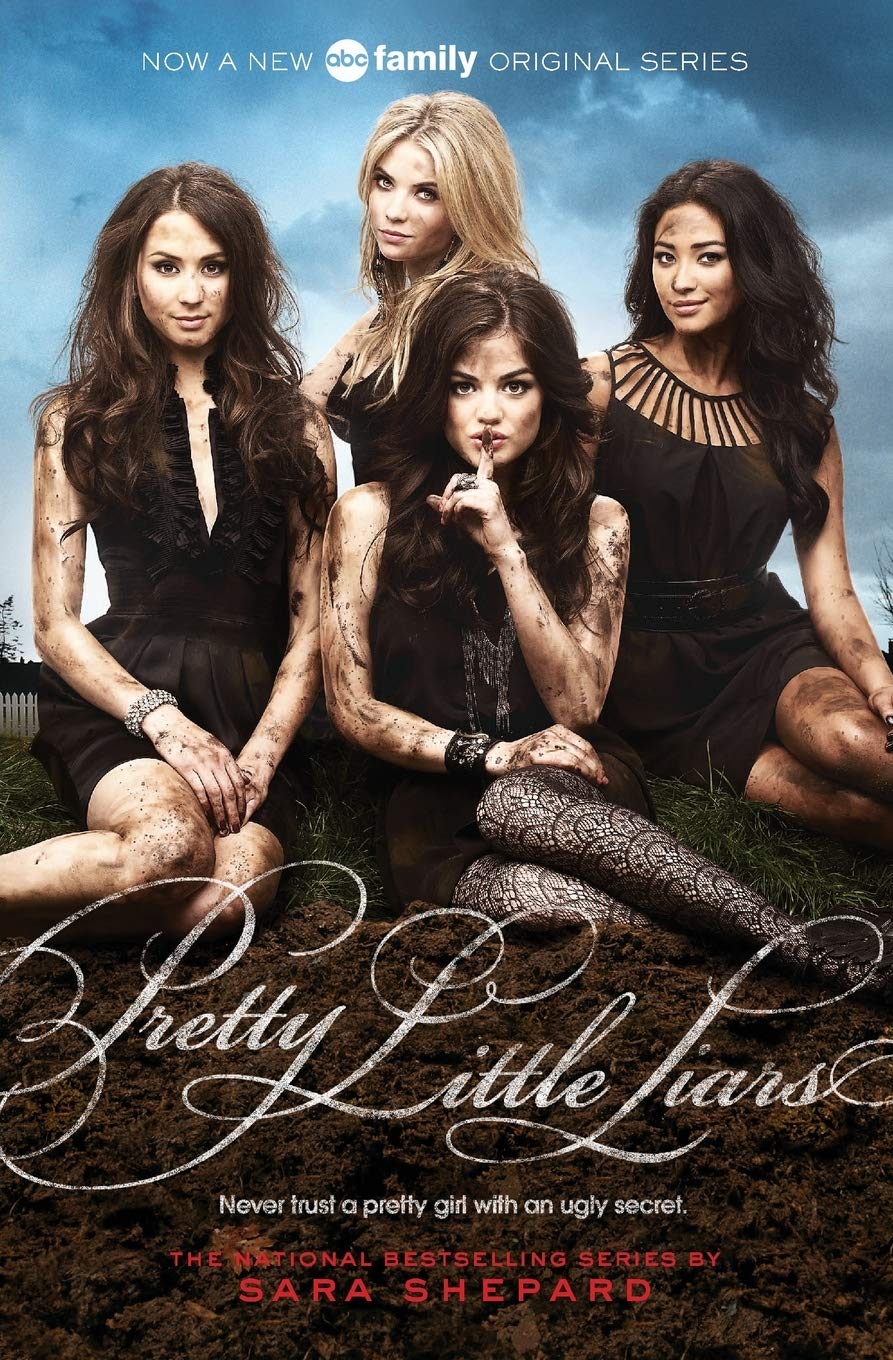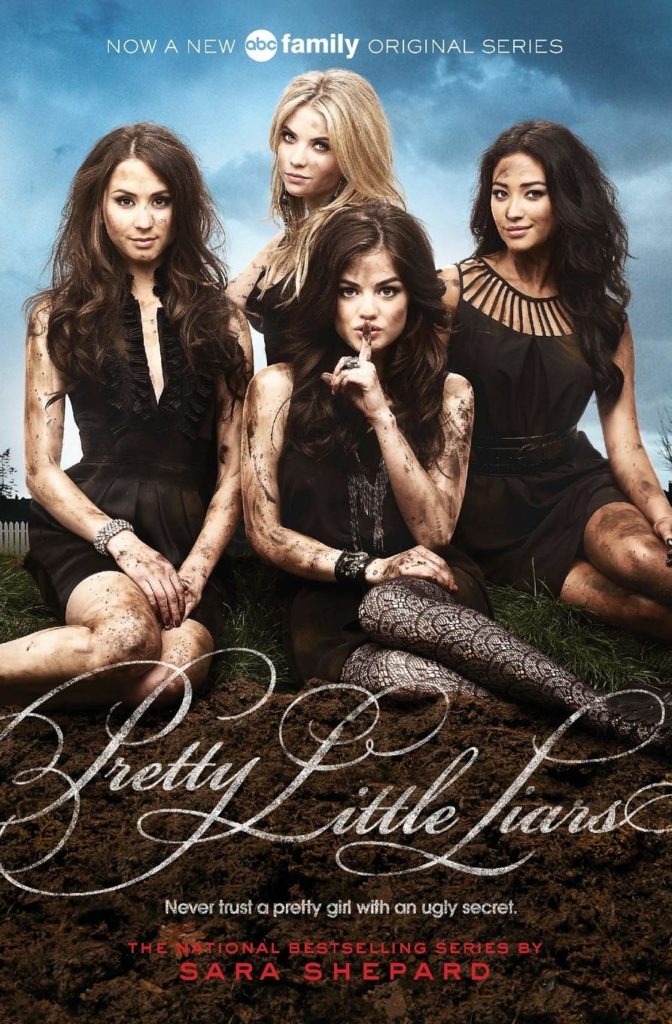 Pretty Little Liars is a television show based on a series of young adult novels by Sara Shepard. The series follows the lives of four girls, whose clique falls apart after the disappearance of their leader, Alison. A year later, they begin receiving text messages from someone using the name "A" who threatens to expose their secrets, including long-hidden ones they thought only Alison knew.
I started watching Pretty Little Liars in the midst of my high school years. While Gossip Girl has a special place in my heart, the fashion and inspiration I could draw from PLL was definitely more attainable and closer to my age at the time.
Back then, my favorite character to emulate was Aria. Now, I'm more a mix between unpredictable Aria and preppy Spencer.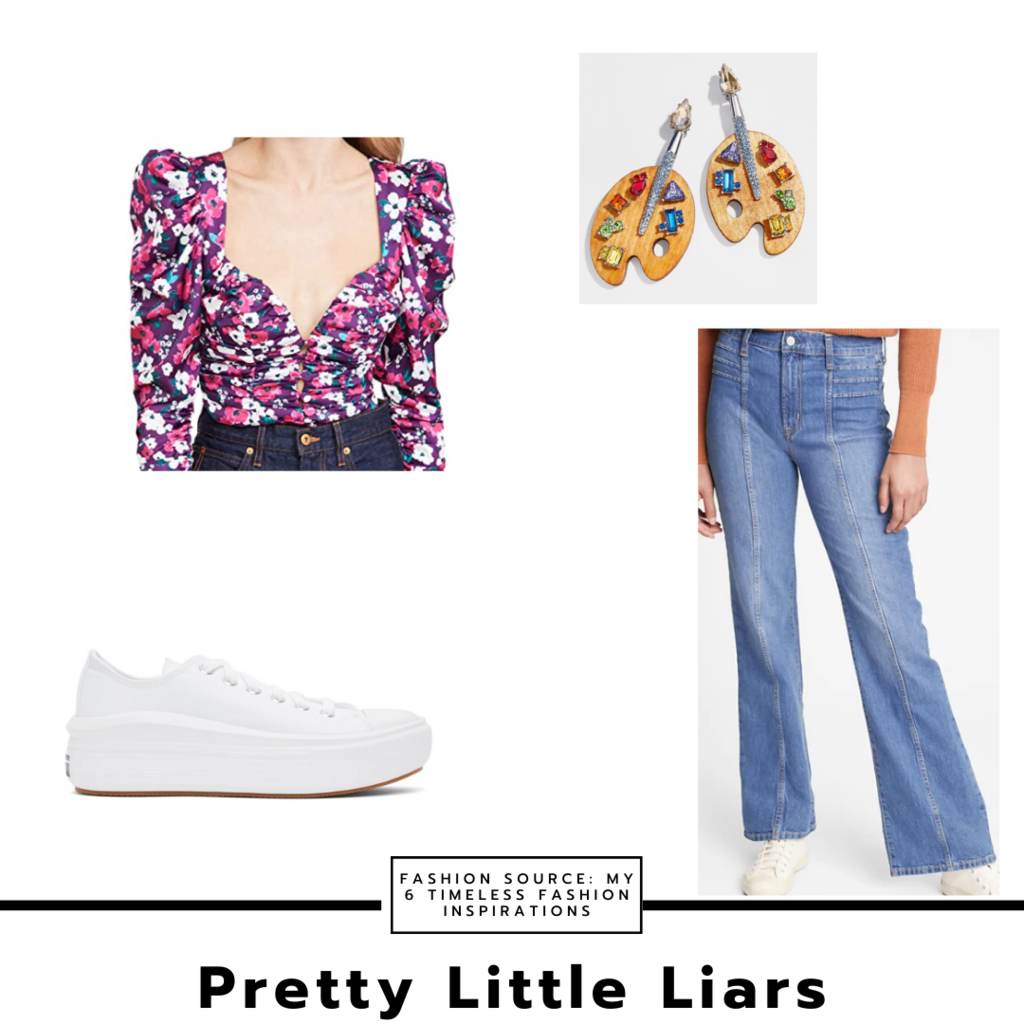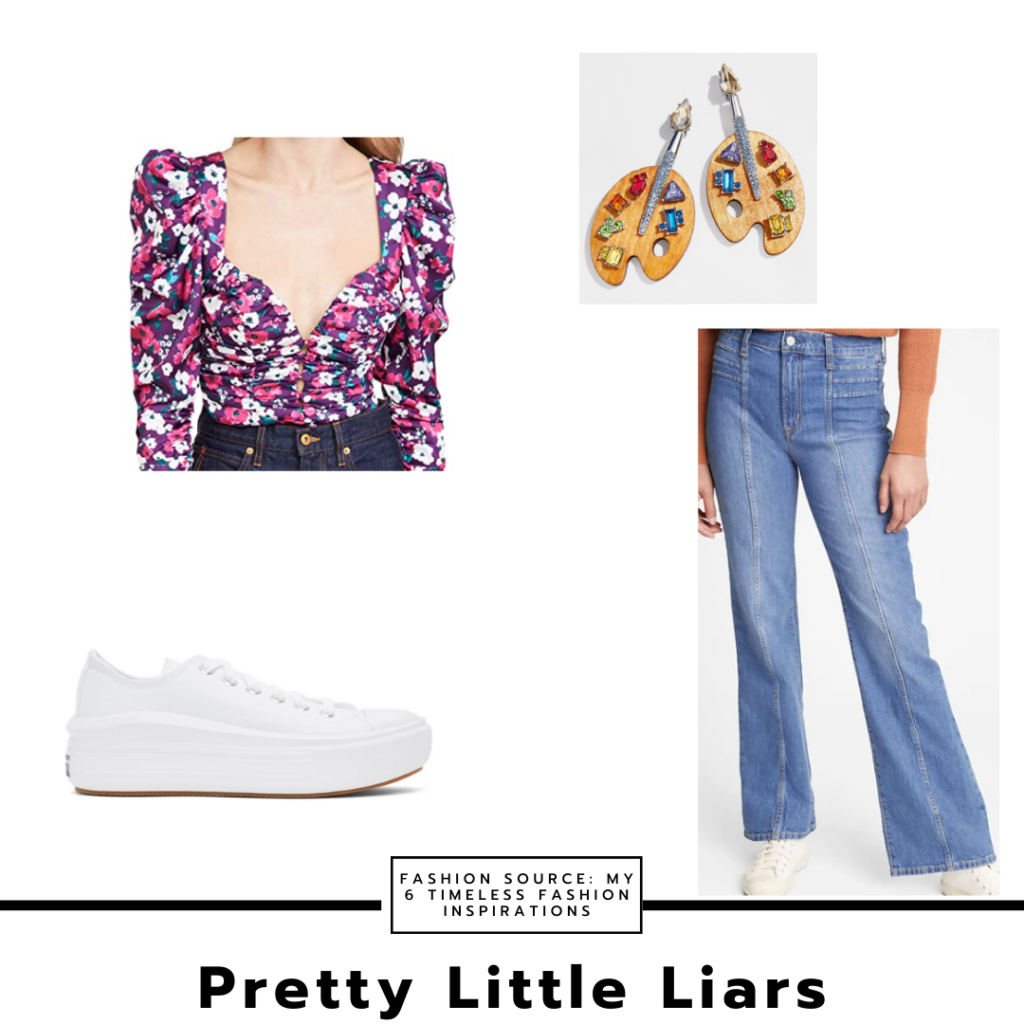 Similar Items: Jeans, Shirt, Shoes, Earrings
In the last couple of years, I've drawn inspiration from the last couple of seasons of the show, since the items they wear are closer to what I'd wear today and current trends.
For a PLL-inspired look, I'd go with a pair of flare jeans and white sneakers (Spencer) and a heavily patterned top and interesting earrings (Aria). If it got colder, I might add a long black coat or change the sneakers for a pair of booties.
Source #4: (Music) Taylor Swift's reputation (album & era)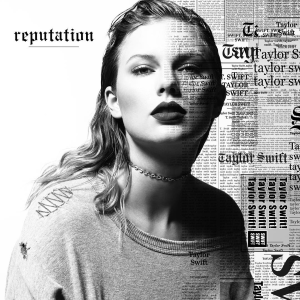 reputation (stylized in lower case) is the 6th Taylor Swift album. Reputation is an electropop album with more prominent hip-hop influences and darker lyrical themes.
Like I've said in my previous posts on Taylor's album eras, reputation is one of my favorite albums. The themes, style and lyrics in it really speak to me.
During this era, Taylor wore so many edgy items and darker colors, in a very street-style type of look. While I don't go for such dark outfits anymore, the fabrics and items she wore during this era are still very much part of my closet.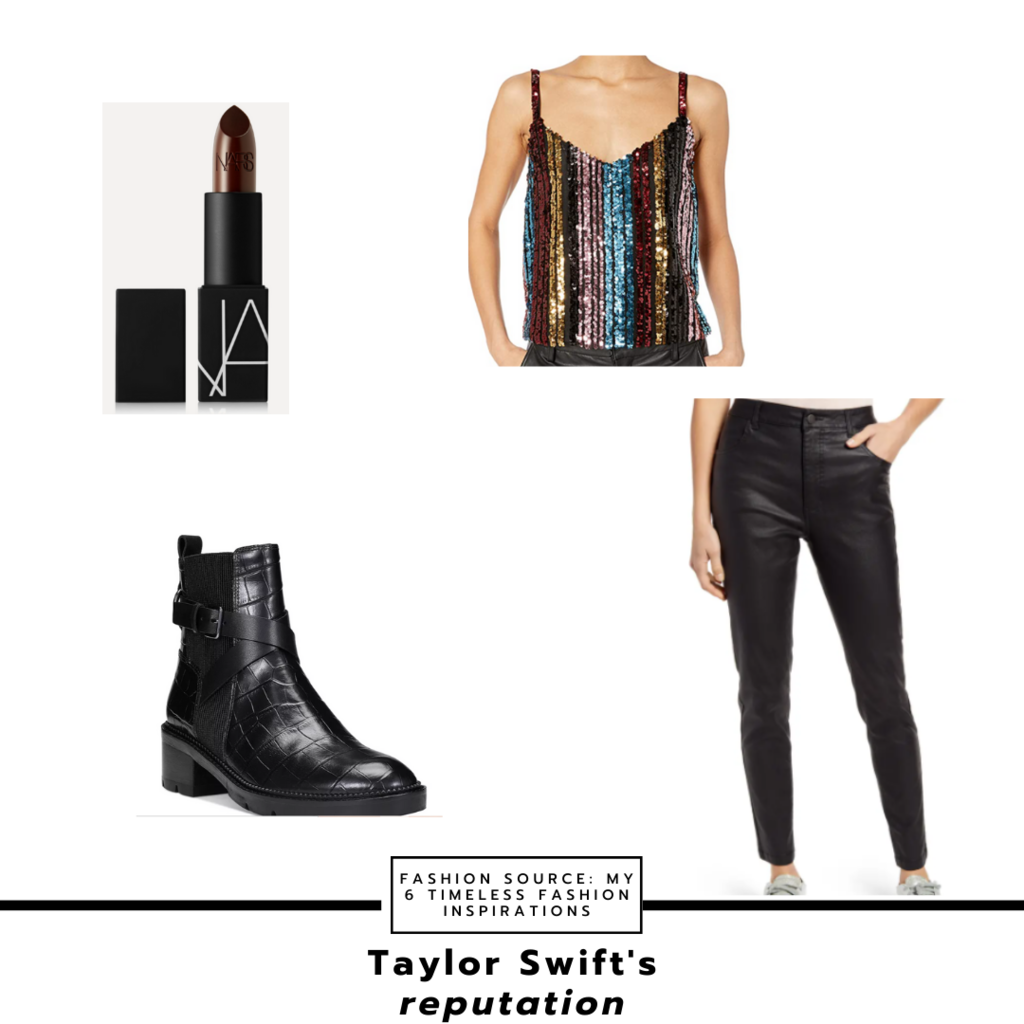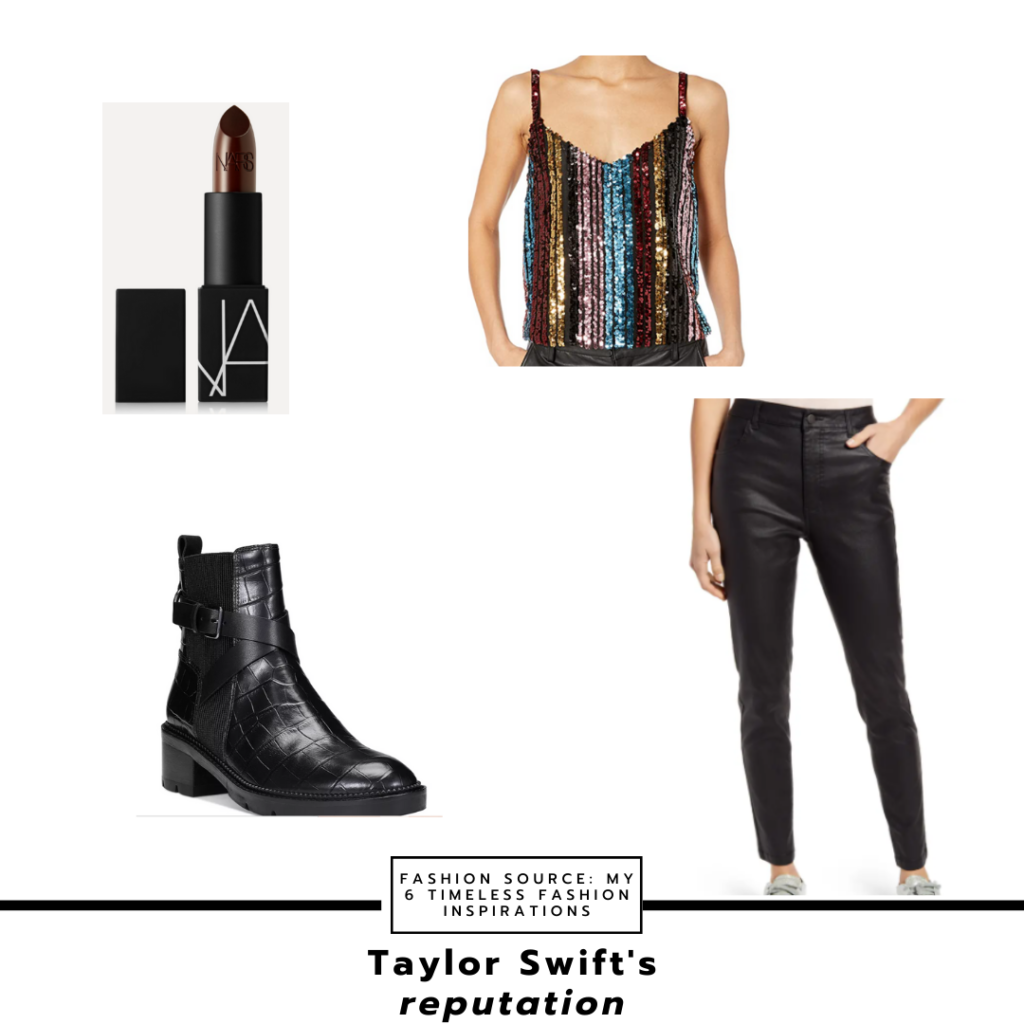 Similar Items: Top, Jeans, Boots, Lipstick
When I get inspired by rep, especially for a night out, I usually go for jewel-toned tops and leather or coated pants. For shoes, I can either go for combat boots or heeled booties.
My makeup stays kind of low-key, except for the lipstick: a burgundy or dark brown lip takes the look to a whole new level.
Source #5: (Celebrity) Lily Collins
Lily Collins has been gracing our screens, big and small, for the last few decades. And she's one of my favorite celebrities for fashion inspo.
Lily's style is not the trendiest or loudest out there; instead, she is more feminine and classic. Her style, both street-style and red carpet, is a look I've kept coming back to over the years and she is one of the few celebrities I've kept following on social media for that reason alone.
Once upon a time, I was a teen who LOVED fantasy YA novels. I read the Shadowhunters books and then I saw the movie, starring Lily Collins. That's when I got hooked on her style. Since she isn't super trendy, trying to follow in her footsteps, as a teen, didn't feel so out of reach.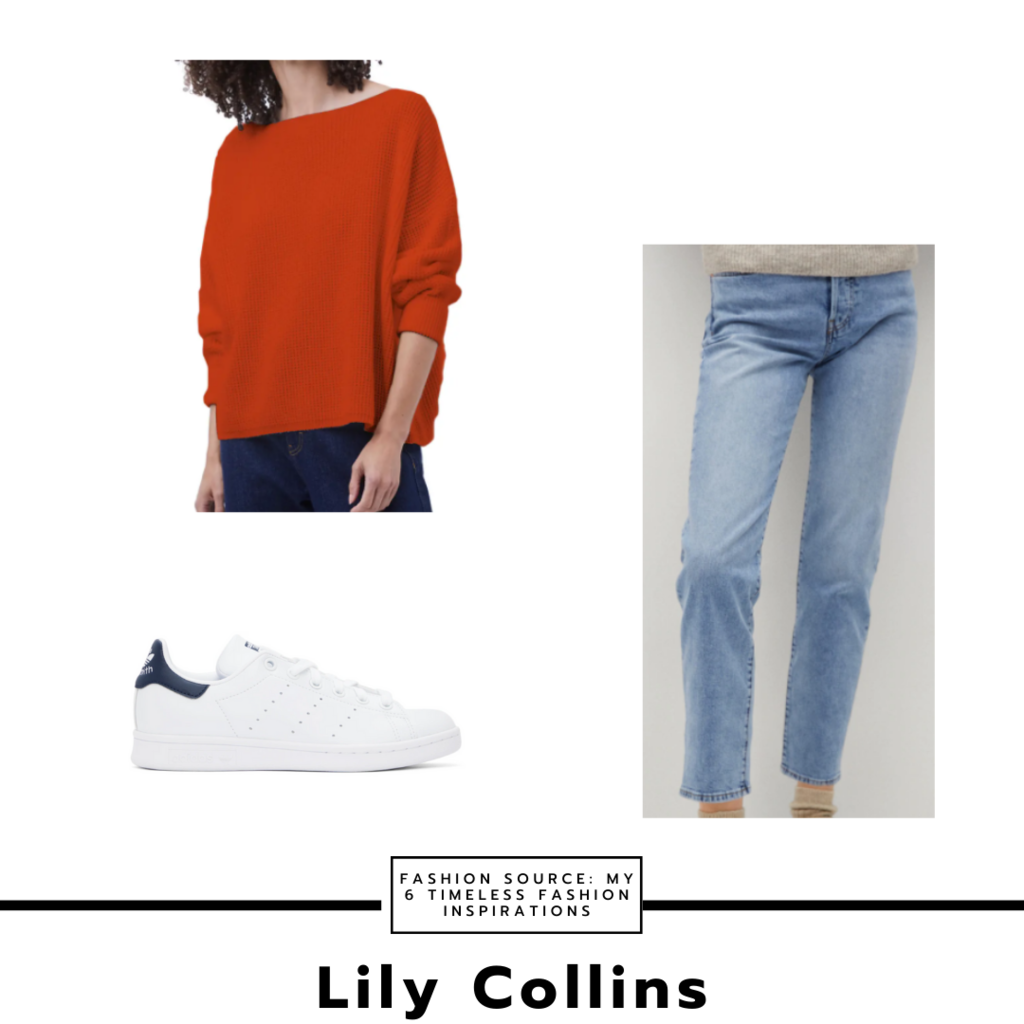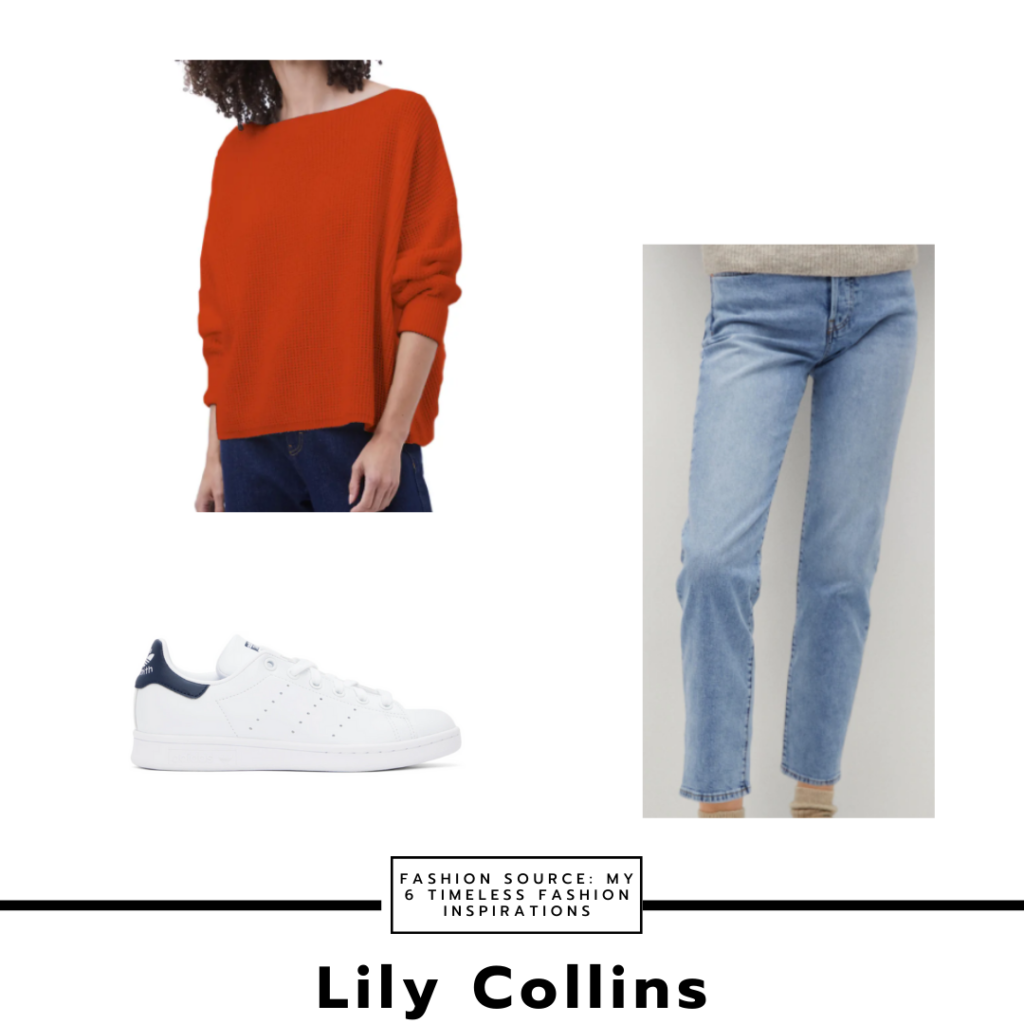 Similar Items: Jeans, Sweater, Sneakers
Usually, I scroll through Lily's Insta or look to her street style when I want something relaxed and put together. A pair of straight fit jeans, a colorful sweater in a warm color, and white sneakers are perfect for a chill Lily Collins type of look.
Source #6: (Influencer) Tess Christine
This is only influencer/YouTuber type you'll find me following on every platform. Tess Christine is a fashion and lifestyle YouTuber. I actually found Tess' channel because she did a couple of Pretty Little Liars and The Vampire Diaries look books back in the early 2010s.
Her style is pretty chill, in mostly neutrals and warm colors. What I love the most about her style and content, is that she has kept doing what she likes instead of what's trending.
Tess' style has changed over the years and she has incorporated certain trends she likes, but you can still see repeat outfits and items she obviously loves.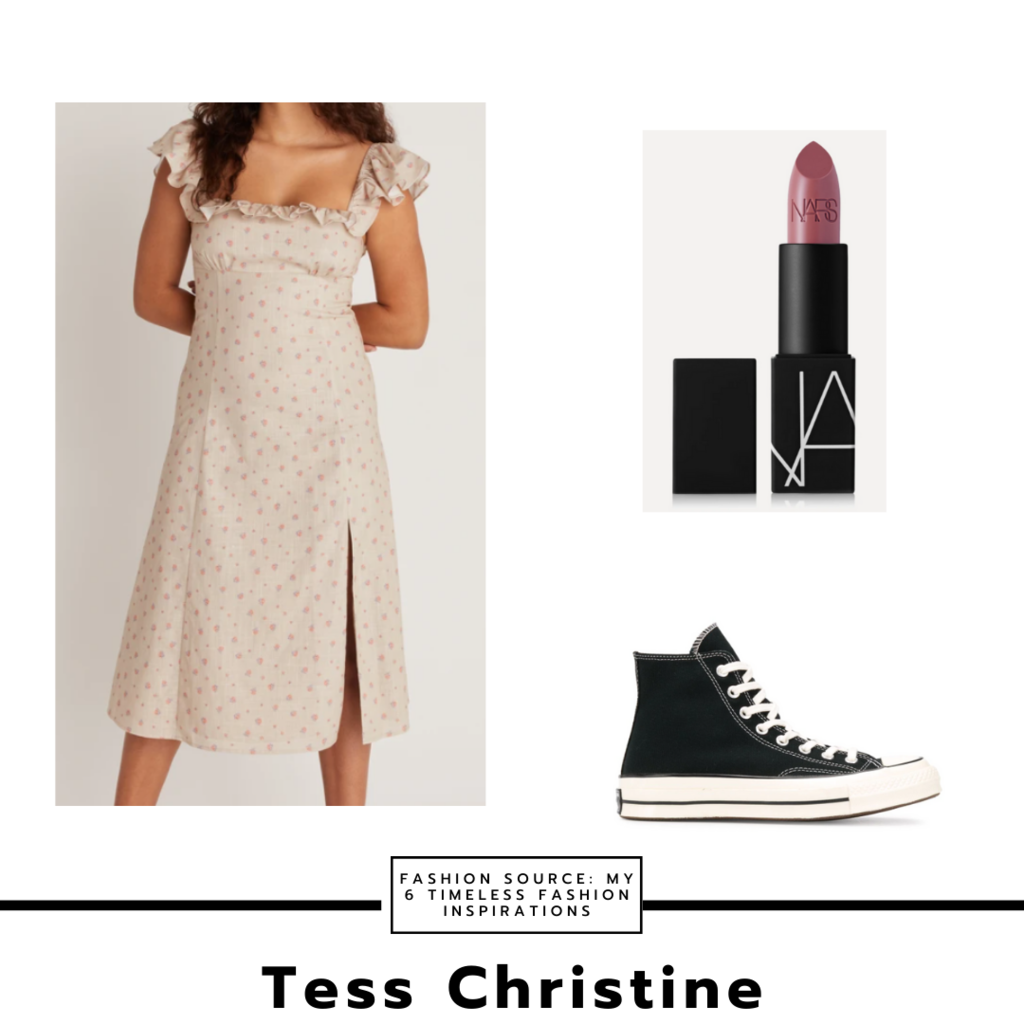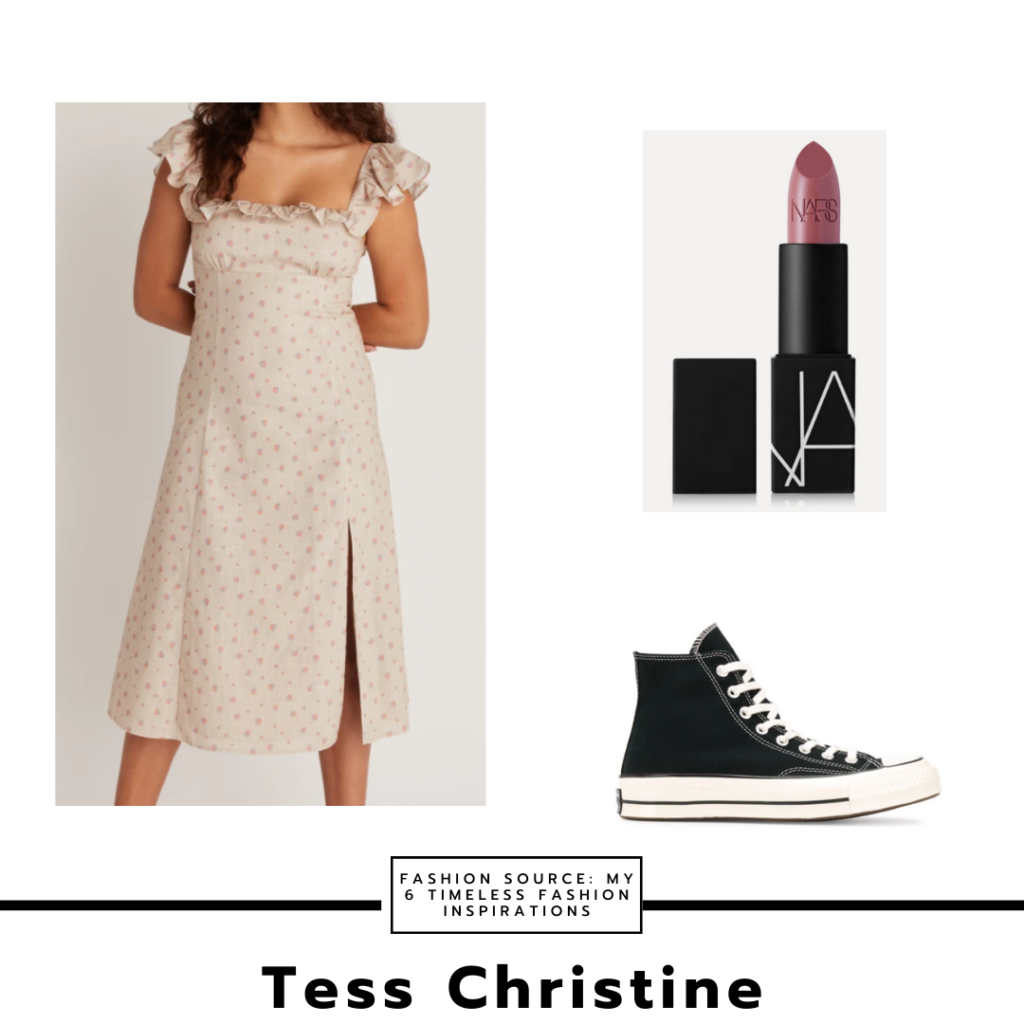 Similar Items: Dress, Shoes, Lipstick
For my day-to-day style, Tess is probably the person I get inspired by the most.
Since she lives in NYC, her style can be divided by seasons. For summer, she usually goes the route of sundresses in neutral colors and cute patterns, maybe a light jacket and sneakers.
Her makeup, like mine, is usually pretty simple, topping everything off with a mauve lipstick color.
What do you think?
Do you have any timeless sources of fashion inspo? Which of these do you know and/or follow? What type of fashion inspiration do you want me to cover next? Let us know in the comments below!