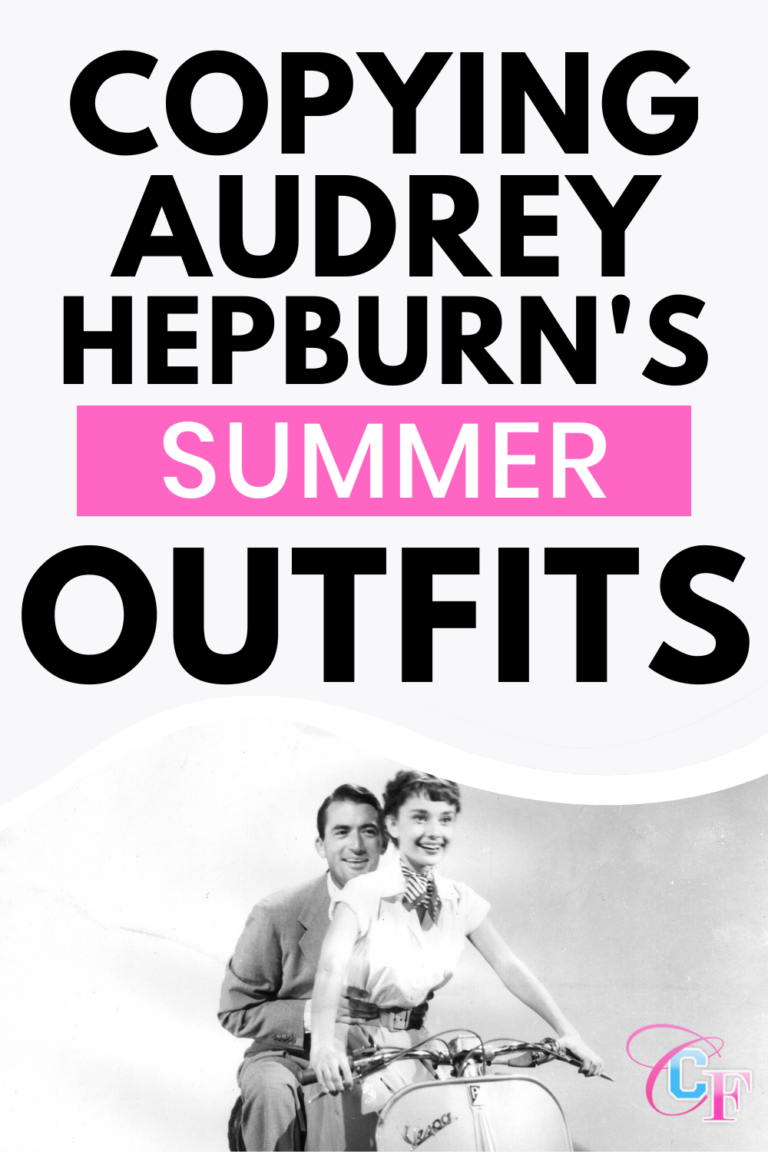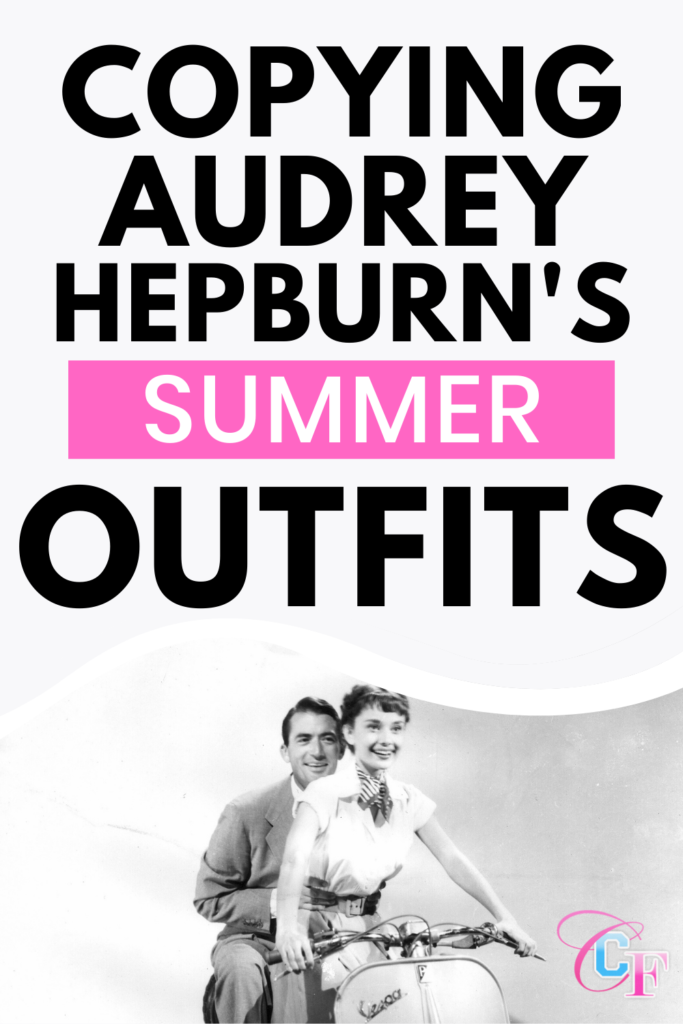 Audrey Hepburn is without a doubt one of the most famous style icons in history. She embodies timeless feminine style, and she's been a personal icon of mine for years. So today I'm breaking down Audrey Hepburn's summer style to help you give your summer outfits a classic feel.
While most of Audrey's most famous looks are more fall/winter-appropriate (think turtlenecks and trousers), I still find myself asking "What would Audrey wear?" in the summer.
The answer? High waisted shorts, breezy button downs, and flirty dresses.
Audrey Hepburn's summer style is, of course, classic and chic. Her outfits are tailored to perfection with a splash of femininity.
The beauty of Audrey's summer style is that it can be worn anywhere as well. A picnic, the beach or even on a Roman Holiday. To freshen up your closet, here are a few summer outfits inspired by Audrey Hepburn.
Audrey Hepburn Summer Style – Outfit #1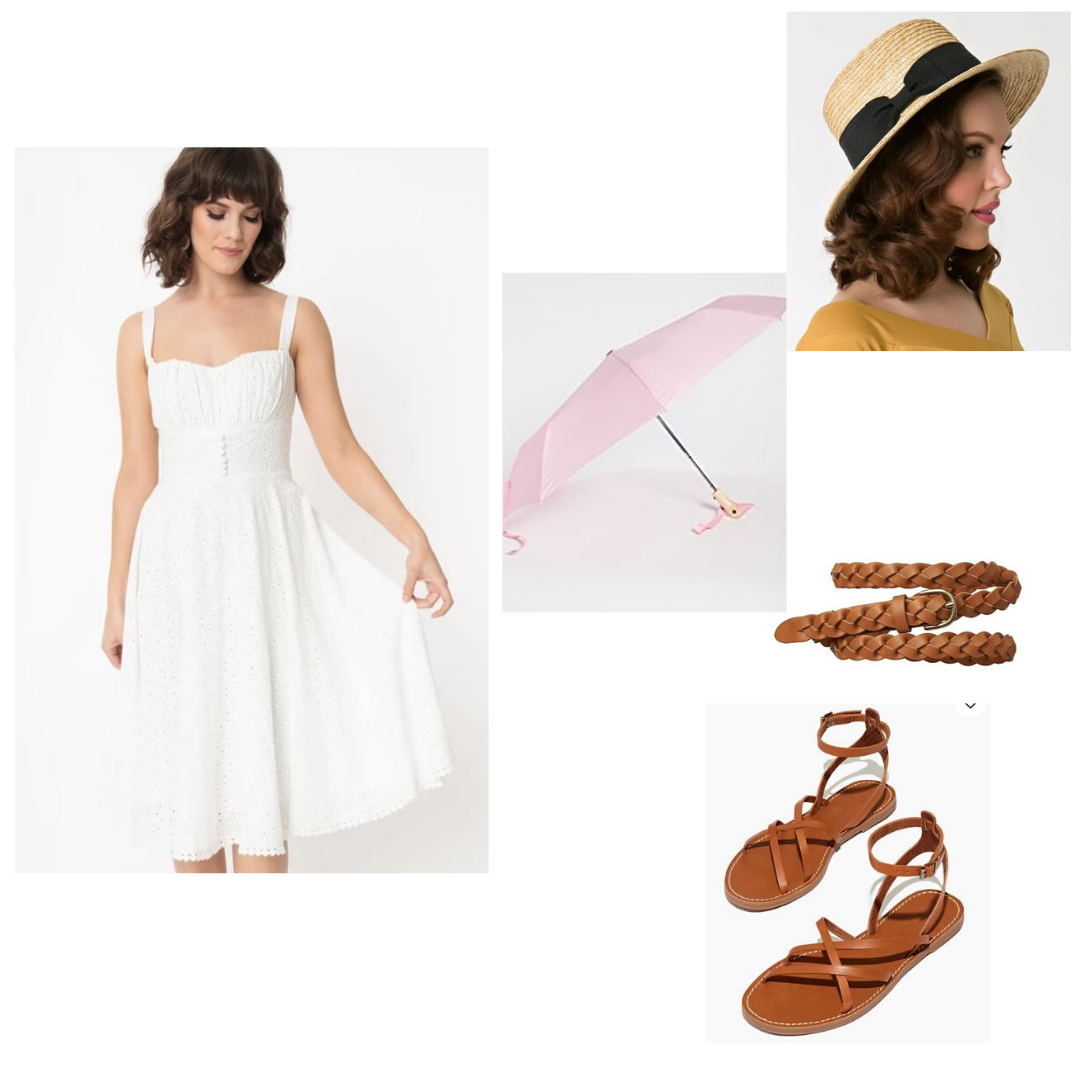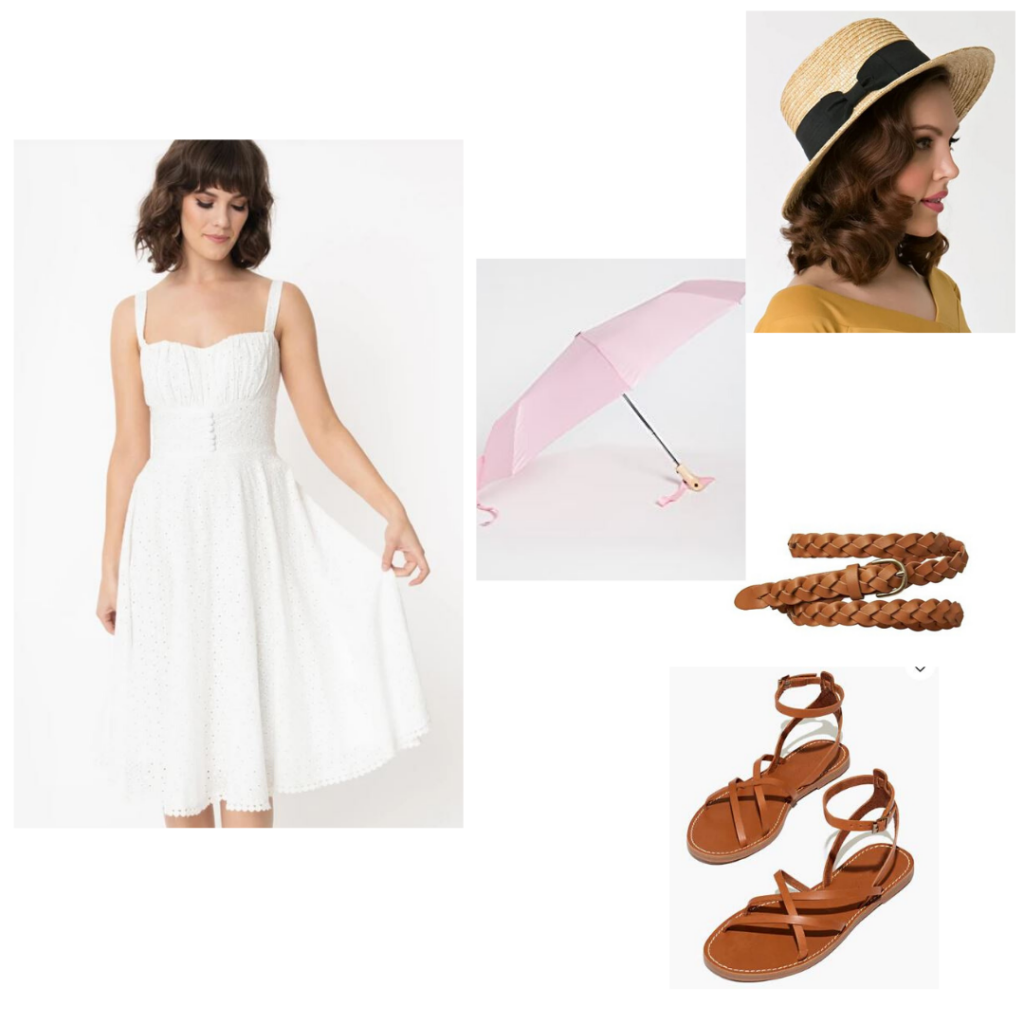 Products: Dress – Unique Vintage, Hat – Unique Vintage, Umbrella – Shopbop, Belt – GAP Factory, Shoes – Madewell
I adore is this little white dress look of Audrey's — it's such a classic.
The fit and flare style of this dress is sweet and classic, making it one to mimic for the summer season.
An eyelet dress, like this Unique Vintage one, is the perfect one to mirror Audrey's. With a soft, graceful look and a skirt made for twirling, you'll be as timeless as Audrey in this number. 
Simple and charming accessories are always Audrey-approved. I love how she rocks them here.
To start, a little boater hat is a great choice to keep the sun out of your eyes in style. Subtle but also sweet, it is a playful addition to this little white dress.
To bring more depth and texture to the look, try adding a woven belt. Defining the waist and breaking up the all white look is key for a more tailored outfit.
Comfortable shoes were always key for Audrey. Strappy brown sandals, like these Madewell ones, are a perfect choice for this look.
Finally, finish this flirty outfit with a pastel umbrella for extra sunny days or sudden showers.
Outfit #2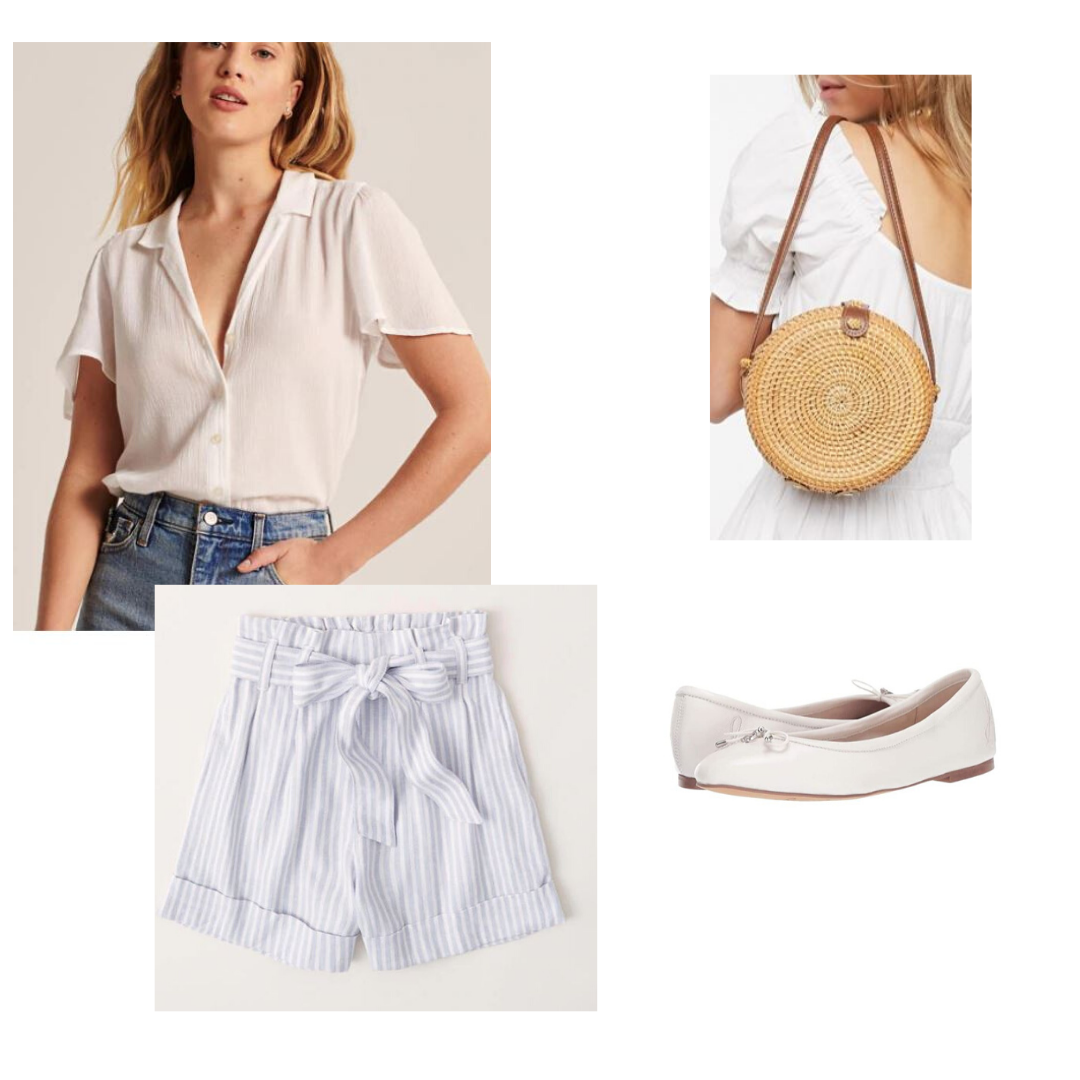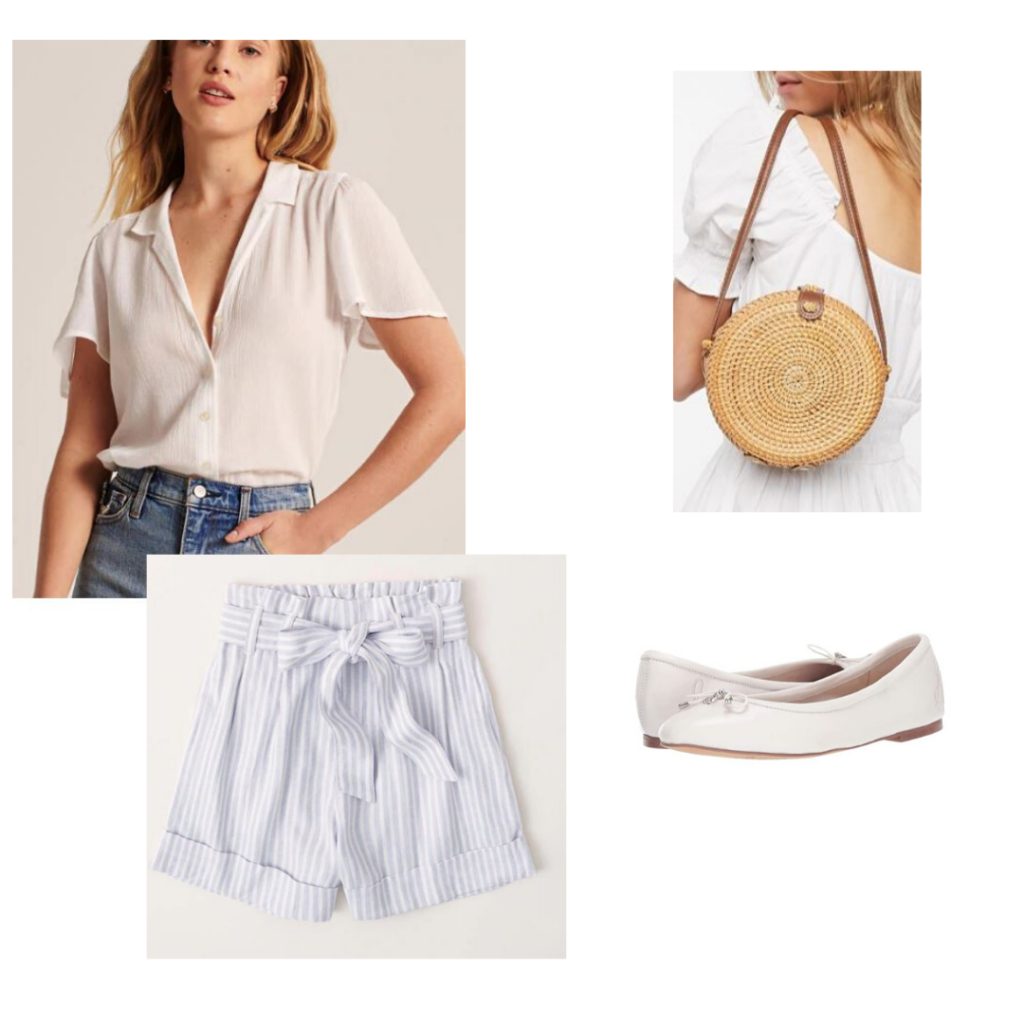 Products: Shirt – Abercrombie, Shorts – Abercrombie, Purse – ASOS, Shoes – Sam Edelman
A casual day calls for a breezy button-down. Audrey was always one to wear a crisp cotton shirt. She made stealing from the boys look extra chic and graceful.
For summer, a short sleeve tie front top is a great choice. It's cool, classic, and chic. This tie front top from Abercombie is ideal for these warmer days.
Audrey was a fan of all things high waisted, as am I. So a comfy pair of paper bag shorts are an excellent choice to emulate her look. These blue and white striped linen ones are utterly adorable. I could see Audrey wearing these timeless shorts all summer long.
Finish the look with Audrey's staple shoe, the ballet flat. Now you are ready for a day strolling through town to the bookstore in classic style.
Outfit #3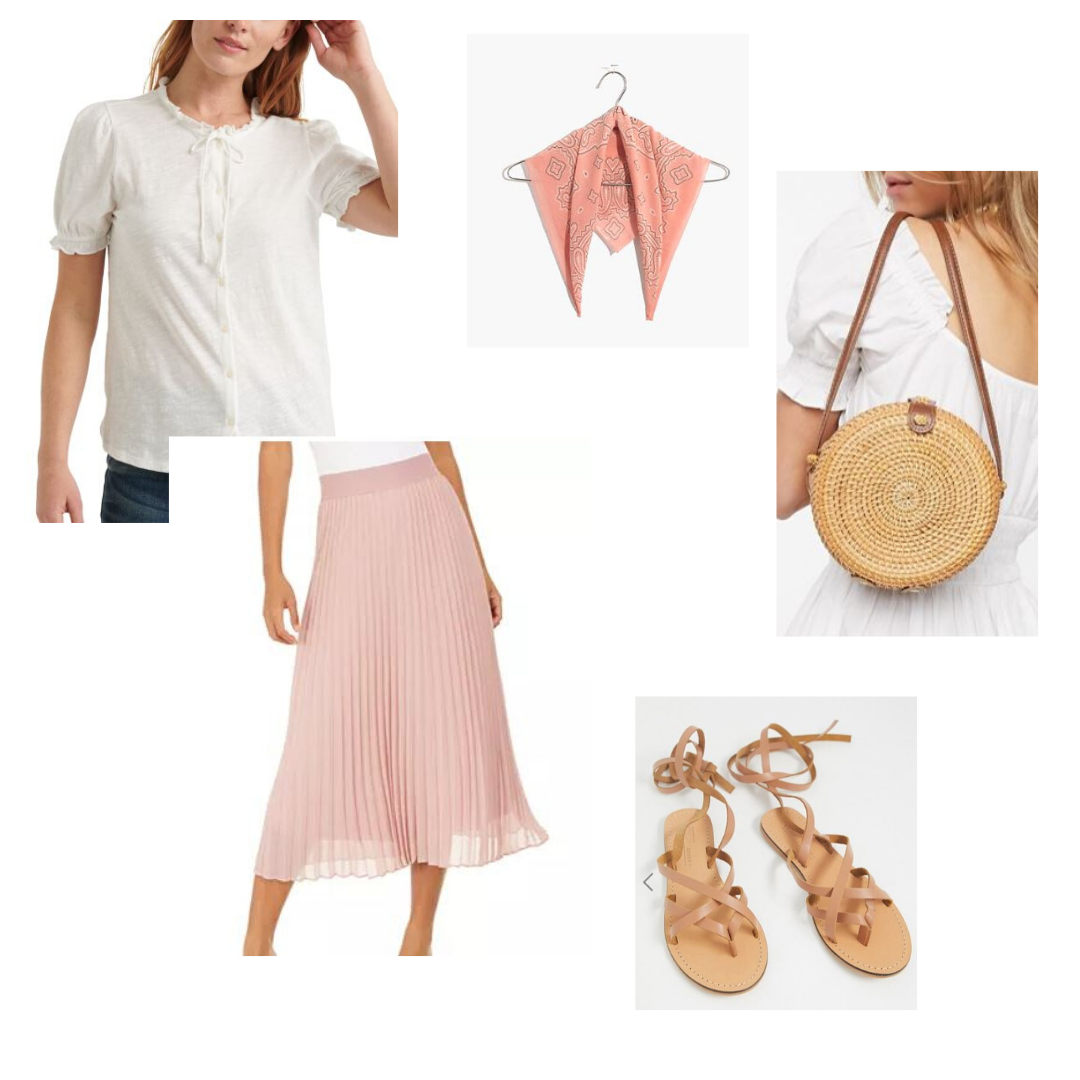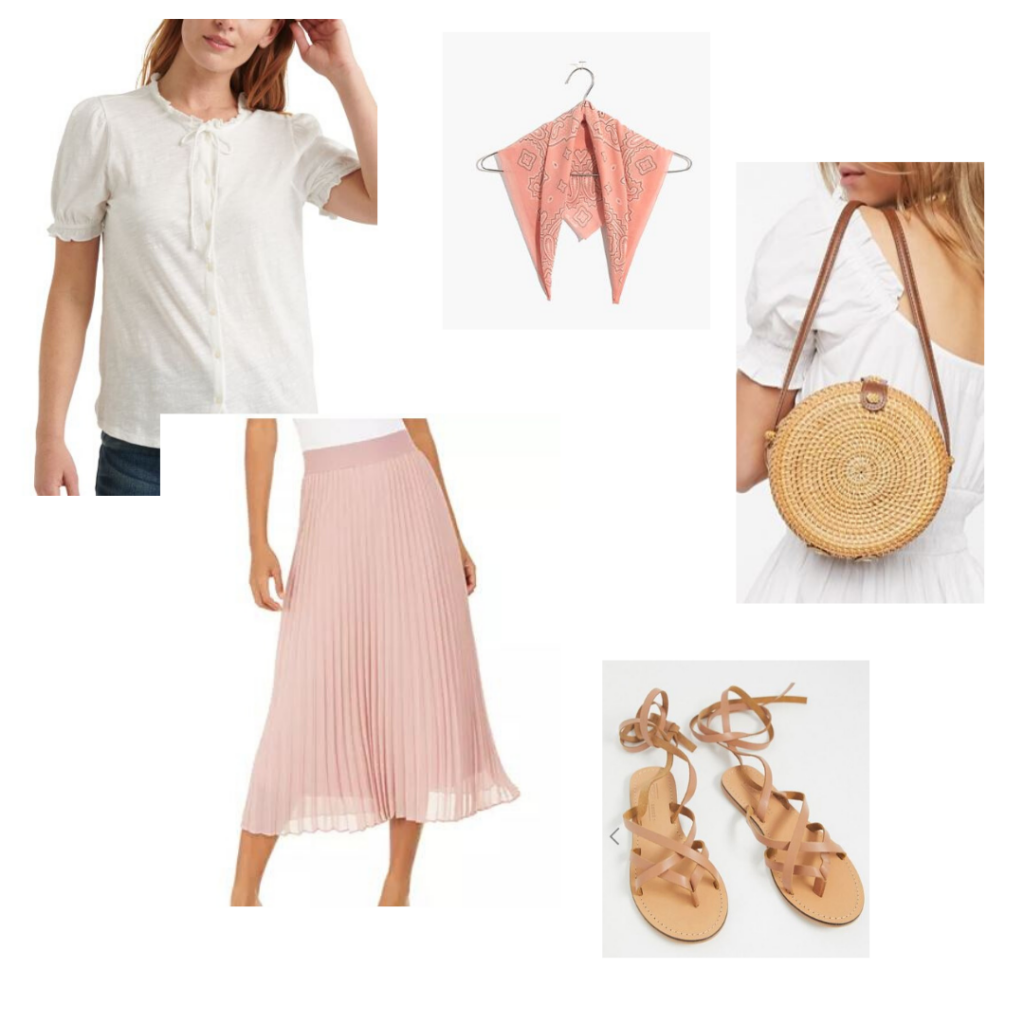 Products: Blouse – Nordstrom, Skirt – Macy's, Scarf – Madewell, Purse – ASOS, Shoes – ASOS
Roman Holiday is an iconic Audrey film. In her first leading role, Audrey stunned from the moment she stepped on screen.
Between the romance, the humor, and the fashion, this film is a classic. The fashion in particular is jaw dropping, which is why I love this iconic look from the film.
As Princess Ann trots around Rome on her "holiday", she of course looks fabulous. Mirroring Audrey's own style, this simple outfit is a dream. A floaty midi skirt is the ideal choice for a magical day of fun. In this charming, breezy, and feminine skirt, you'll feel like a Princess in disguise as well.
A little white button up is a sweet choice of top. This one from Lucky Brand features a delicate tie neck and puff sleeves.
This modern day Roman Holiday outfit could be worn in Rome or just for a staycation in your city.
What do you think of Audrey Hepburn's summer style?
Which of the Audrey inspired looks is your favorite? Will you be channeling her style yourself this summer? Tell me in the comments.