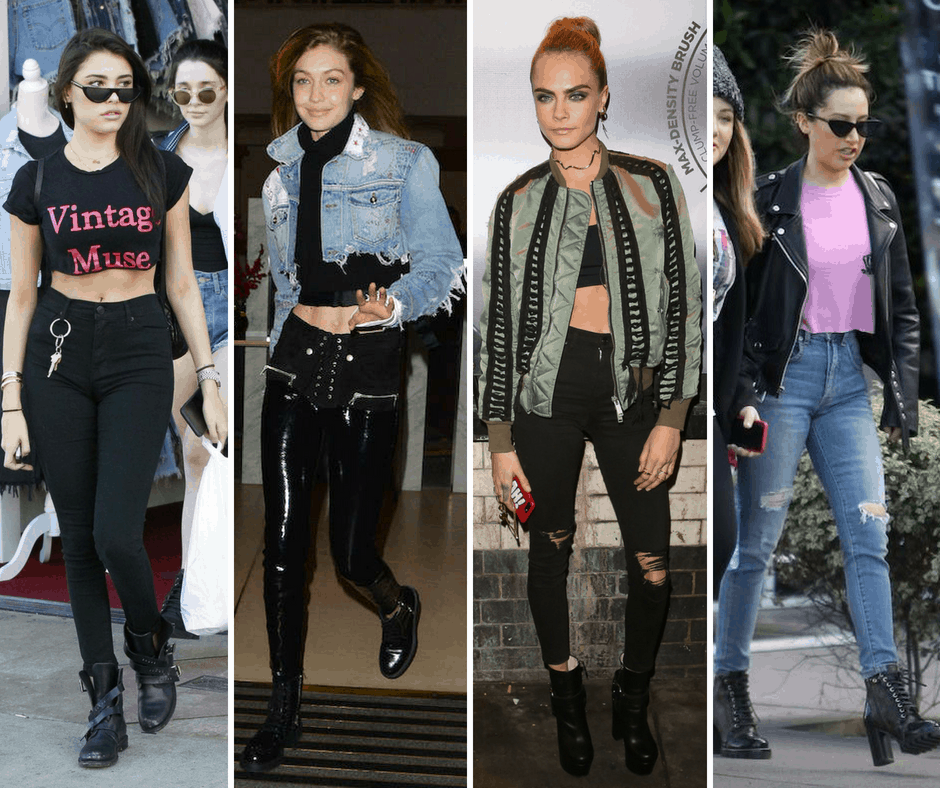 This post will teach you everything you need to know about edgy style.
Another week means another wardrobe essentials list and today's post features a style that I hold very near and dear to my heart.
Edgy wardrobes are sexy, free, badass, and just a little unexpected. Gone are the days of baggy, frumpy grunge costumes or ghoulish caked-on Gothic makeup. Nowadays, fashionistas who like to wear a rock-and-roll aesthetic mix fresh faces with one dramatic feature, then mash up cropped band tees and oversized denim jackets with skin-tight pants and chunky ankle boots.
One of my favorite modern rocker fashion idols is Gigi Hadid. I love how she wears wears rips, studs, spikes, and leather, but balances it out with athletic wear for a modern feel. Rihanna is another example – the way she mixes street chic staples with edgy pieces is totally inspiring. You can also look to Cara Delevingne to nail the edgy-yet-modern vibe every time.
You know the drill — let's get right to the edgy style list!
(If edgy rocker-chic isn't your style, check out our posts on college wardrobe basics, street-style staples, classic and traditional basics, sophisticated feminine preppy pieces, boho-chic items, and electro-urban essentials.)
1. Black Leather Leggings or Pants
You just can't rock and roll these days without some killer leather leggings. They're the ultimate edgy girl must-have and they can be styled in so many different ways.
The Spanx ones above are insanely popular and look amazing on everyone but I'm also a huge fan of the Topshop stretch ones for cold days as they're thicker. And the Commando vinyl look ones are similar to Spanx in terms of their flattering magic, but they have a shinier, bolder vibe.
For a fast and easy outfit that's perfect for class, wear a pair of black leather leggings with a (#12) concert tee, (#14) canvas sneakers, and (#10) an oversized plaid shacket.
For a night on the town, leather leggings will look great with a pair of sky-high ankle boots, a (#7) crop top, and a '90s hairstyle. Finish with a cool (#6) cat eye or some smoky eye makeup.
Wear leather leggings with a white ripped tee, a boyfriend blazer, and a fantastic pair of boots.
2. Studded, Grommet, or Chain Detail Accessories
Edgy outfits look amazing when paired with studded, grommet, or chain detailed accessories. Stock up and switch these out to edge up any outfit.
Every girl needs both knee-high and ankle boots in their closet, but a chain-embellished pair of boots will do wonders for giving your wardrobe an edgy vibe. Similarly, we love the look of a belt with subtle studded details to edge up any t-shirt and jeans look you can dream up. And you can't go wrong with a studded bag for rocker vibes.
Wear studded boots with black leggings, a loose-fitting tee, and an oversized, distressed cardigan or (#15) denim jacket.
Roughen up a dainty dress with a pair of chain detailed boots and a (#13) rock-chic hat.
Wear a grommet belt with a pair of (#3) destroyed wide-leg jeans, a (#7) crop top, and some fishnet tights layered under the jeans. Finish with (#8) combat boots and an edgy ring or other cool (#9) jewelry.
Related post: Alt Outfit Ideas: 6 Cool Outfits for Alternative Women
3. Shredded Denim
Shredded, vintage-esque jeans are edgy style favorites for the warmer months, and can be layered up with fishnet tights underneath for extra interest. The other great thing about shredded denim? You can pick up a pair of vintage jeans from a thrift shop and DIY the shreds!
For a cute and laid-back look, pair shredded jeans with a (#10) flannel shirt and (#14) canvas sneakers.
Wear ripped jeans over fishnet tights and pair with (#2) studded boots, a tee, and a utility jacket.
These babies – especially the high-waisted varieties – look fantastic with (#12) concert tees tucked into them! Finish with tousled hair, a (#2) grommet belt, (#8) combat boots, and a (#6) deep lip color.
4. A Leather Jacket
You don't have to spend a ton of money to score a fantastic-looking leather moto jacket. In fact, mine is a faux leather version from Nasty Gal that's buttery soft and cut perfectly!
Keep your eyes peeled for the perfect jacket and you'll be glad you did. If you want a guaranteed winner, the Blank NYC jacket from Amazon, above, is one of our all-time favorites and has hundreds and hundreds of 5-star reviews.
Toughen up any dress with a cropped leather jacket. This also helps stretch your wardrobe through different seasons!
Leather jackets are fantastic layering pieces. Mix up a jacket and a simple pair of jeans with a (#7) crop top, a (#10) flannel shirt, or a graphic tee. Add a scarf or cool jewelry for bonus points!
Have a loud pair of patterned pants that you aren't sure how to style? Throw them on with a white tee and your trusty leather jacket.
5. A Little Grunge Dress (or Skirt)
Channel the '90s and find yourself a versatile grunge-style dress (or skirt). Look for skater cuts, dark floral patterns, or slip dresses made from lace or velvet. For skirts, a classic plaid skirt in a high-waisted cut looks super cute with a crop top or band tee.
I absolutely love the look of a dress with (#8) Dr. Marten combat boots. Add a (#13) signature hat for an extra dose of style.
Grunge dresses look fantastic with cropped denim vests and (#14) canvas sneakers.
Channel some '90s supermodels and wear a grungy minidress with a pair of strappy heels and a (#4) moto jacket.
6. Rocker Chic Makeup
The key to rocking an edgy style is to not look like you're trying too hard. That's why when it comes to makeup, looking a little undone is all the rage.
Go for black mascara (Bad Gal Bang is naturally a great choice) and eyeliner, but keep the rest of your palette pretty neutral. Save the deep lipstick shades for surprise dramatic moments!
Urban Decay's Naked 2 Basics Palette is a best-selling cult makeup item for a reason – it works perfectly for both day and night looks! Throw on nude-colored shadow for class, then layer on brown or gray tones to create a smokey eye for a night out on the town.
'90s mauve lipstick (a la Fenty Beauty Stunna Lip Paint in Uncuffed) will look fabulous with a (#3) leather jacket and a (#5) little grunge dress.
Cat-eye liner is a really cool shout-out to retro rockabilly pin-ups.
7. A Crop Top
Part of having an edgy style is showing some skin and being confident about it. Therefore, a crop top is a must-have, even if you're like me and don't feel comfortable showing a ton of your midsection.
Here are a few of my ideas to rock a crop top with confidence:
Pair a crop top with high-waisted jeans or shorts for extra coverage. Finish with huge (#11) sunglasses, and a cool (#10) oversized plaid shirt.
A crop top will look amazing with (#3) ripped jeans and a utility jacket.
Wear a crop top with (#1) black leather leggings and a shacket layered over it, leaving it buttoned down to let the crop top peek through.
8. Dr. Martens
If there's one item that you splurge on, make it a classic pair of Dr. Marten combat boots. I bought a pair of Docs almost two year ago, and I love them so much that I still wear them three or four times a month. Can't bring yourself to drop that kind of cash? Don't worry – there are tons of lookalikes out there too!
The heavy-soled, clunky nature of these boots makes them look fantastic juxtaposed against feminine pieces. Try them with a girly dress, a lace crop top, or a skater skirt.
One of my all-time favorite cozy winter outfits? Wear an oversized sweater (I prefer comfy, cozy knits from – shhh – the men's section) with a pair of ripped jeans or leggings and your combat boots.
Pretend you're Kurt Cobain for a day and throw on some Docs with (#1) black leather leggings, a (#12) concert tee, and a (#10) flannel shirt layered on or tied around your waist.
9. Edgy Jewelry
Some well-stacked edgy jewelry can make all the difference in making your outfit look intentional and awesome rather than haphazard. Look for inexpensive jewelry from stores like Zara and don't be afraid to layer several pieces at once.
My signature jewelry look is wearing lots of cool rings, so I have tons of quirky rings that I wear all at once. Pick a piece that you love, and go crazy with it!
Chokers and long, lariat necklaces have a rock-and-roll vibe to them. Look for ones with spike embellishments or vintage-looking metals.
Ear jackets are a favorite among celebs and look great on everyone.
10. A Plaid Shirt
If you don't own a plaid shirt (ideally in flannel fabric) yet, stop what you're doing and pick one up immediately! These edgy style must-haves are cozy, warm, and can be styled so many different ways. If you're tight on cash, you'll easily be able to find a good one at your local thrift store.
A fun trend we've been seeing a lot of this season is the shacket, usually in plaid. These are thicker than your usual flannels and oversized, so they're super warm and perfect for wearing as a jacket in the fall and spring seasons.
Tie a flannel shirt around your waist with a (#5) little grunge dress for an on-trend look.
A flannel shirt will look awesome when buttoned up and tied at the waist or tucked into a tight skirt or ripped shorts and worn with (#14) canvas sneakers.
Wear a flannel with a (#4) leather jacket, scarf, jeans, (#2) studded boots, and plenty of (#9) edgy jewelry.
11. Rock Star Sunglasses
Whether you stayed out late at a concert (or woke up super early to cram for an exam), every good rock-and-roll girl with an edgy style needs to have a huge pair of sunglasses readily available.
Ray Ban Wayfarers are classic and timeless, no matter what style you identify with. They look great with every face shape and are so thick and sturdy. Definitely worth the investment!
Clubmaster sunglasses are another cool alternative. The cheap pairs from Amazon look just as good as designer styles!
You can't go wrong with cool round sunglasses or large, square sunglasses — just rock them in all black for the edgiest look.
Here at CF, we've been really into retro cat-eye sunglasses lately as well. They're so fun and unexpected.
12. Concert Tees
Vintage-y (or, better, authentic original) concert t-shirts are a staple for girls with rock-and-roll style. The great thing is that they're available everywhere – seriously, everywhere! From Urban Outfitters to Hot Topic to Target, you'll never run out of inexpensive places to pick up band tees. Bonus points for rocking shirts you bought from concert merch booths!
Tuck a concert tee into some (#3) shredded jeans and finish with (#2) studded boots.
Wear an oversized concert t-shirt with black leggings or (#1) leather leggings and a boyfriend cardigan or blazer.
Wear a concert tee with a faux leather skirt and a (#13) signature hat.
13. A Signature Hat
Okay, I'll be the first to admit that my brain has much more tolerance for wearing hats than my body actually does. That doesn't mean I'll quit trying though. I love the look of a fedora, baker boy, or beanie hat with, well, pretty much anything. Break out of your comfort zone and wear one today! They're a must for edgy style.
Fedoras look great with t-shirts, (#5) grungy dresses, and (#4) leather jackets.
I love wide-brimmed Panama and Madrid-style hats with heavily layered outfits. Try one with a chambray shirt/(#4) leather jacket/scarf combo.
Baker boy caps are super trendy right now and look amazing with leather pants and (#12) band tees.
Beanies are a classic rocker-chic staple. For class, wear a beanie with a t-shirt, jeans, a messenger bag, and (#14) canvas sneakers.
14. Canvas Sneakers
Converse and Vans are among the comfiest shoes on the market and canvas shoes have such a cool, model-off-duty vibe to them. I love how you can style them to fit almost any aesthetic, but they're especially crucial to rocker-chic wardrobes.
Pair these suckers with skirts and dresses! You'll look like the most stylish yet laid-back girl in the room.
Ankle-length canvas sneakers are extremely flattering for your legs and calves. They'll look great with (#3) denim shorts, a (#10) flannel shirt, and a (#4) cropped leather jacket.
15. A Denim Jacket
I remember being in middle school, begging my mom for a cool denim jacket with Sherpa-esque lining on the collars and cuffs. Sure, the one I got was from Abercrombie, but I still felt incredibly cool.
Today, the sherpa style is still trendy, but we've also branched out to distressed styles and oversized boyfriend fits — sometimes at the same time. A denim jacket is a versatile staple you'll have for years to come.
Extend the seasonal life of a dress or skirt by wearing it with tights, (#2) studded boots, and a denim jacket.
A boyfriend fit denim jacket will look awesome paired with (#1) leather-like black leggings, a (#12) concert tee, a scarf, and a (#13) signature hat. Finish with (#6) cool makeup.
In middle school, I used to pin pieces of flair to my jean jackets. Do the grown-up version of this and attach cool vintage pins or patches instead!
Even More Style Guides:
Edgy not your thing? Check out our other style guides to find the must-have pieces for YOUR aesthetic.
What do you think of our edgy style guide?
Do you identify with edgy style? What items on this list do you have? What's on your wish list? Is there anything we left out? How do you like to wear the pieces on this list? What other styles would you like to see CF cover?
Let's keep this discussion going, girls…leave a comment and let's chat!
Editor's note: This post was originally published in 2013; it was completely updated and revamped in 2021 with new photos, items, and information.