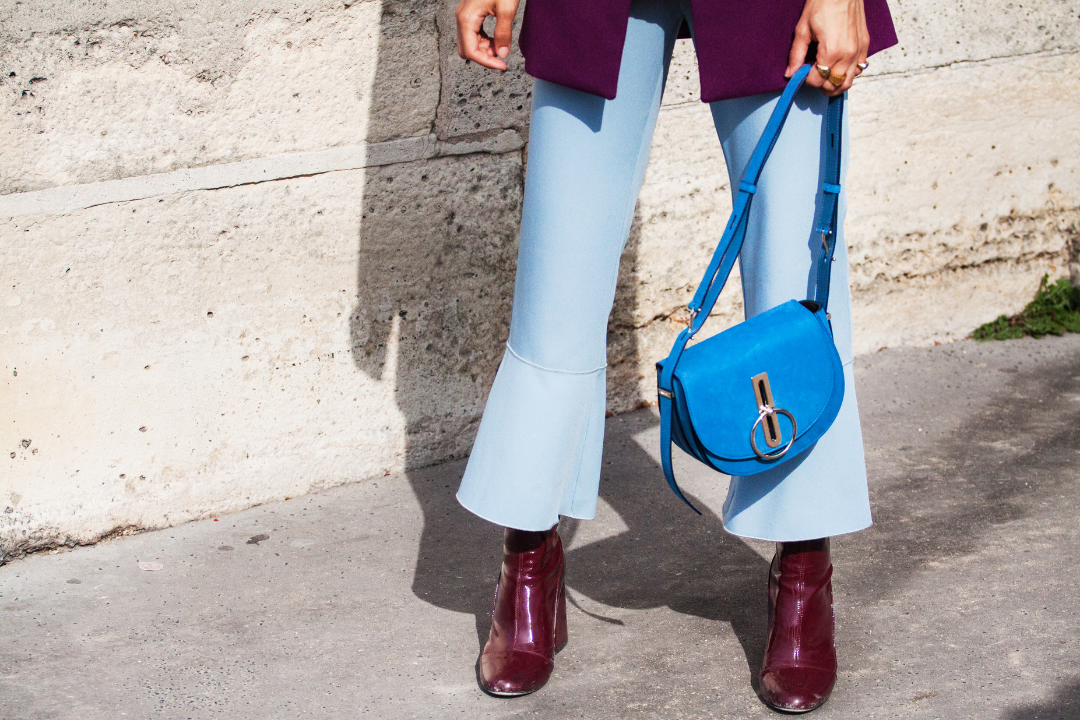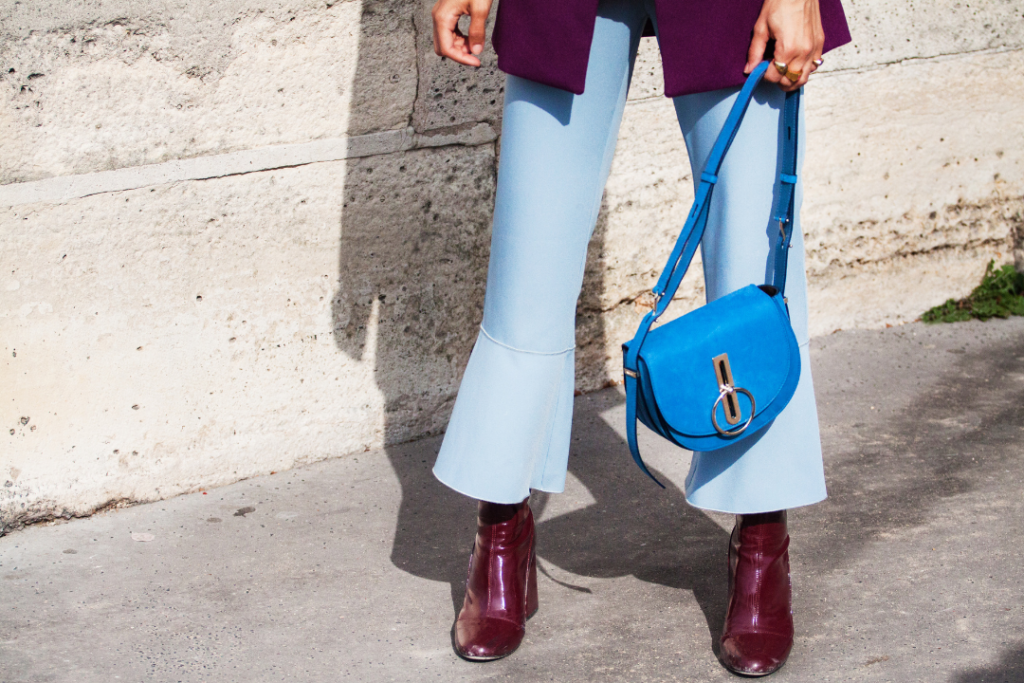 Since you're reading this website, I'm going to assume that you're gorgeous, fun, interesting, and already have the fashion basics down.
I'm sure you have wardrobe basics like a little black dress, white sneakers, a white button-down shirt, ankle boots, and a trusty pair of jeans in your closet.
You probably also have tons of other shirts, pants, dresses, and fun extras — but for most girls, it's hard to take a bunch of individual components of a well-stocked closet and turn it into a true wardrobe.
It took me a very long time to figure this out, but the way I feel like I've made my wardrobe go from okay to awesome is by building my entire look around a few key pieces.
By having a clear picture of what some of your "building block" pieces are, it's easy to add a few extras and mix and match to always rock an outfit that's interesting, stylish, and uniquely you.
However, this is 100% easier said than done!
So, in this post, I've outlined the 15 most important things I have in my closet.
Of course, this will vary depending on your personal style. My style is heavily influenced by street style blogs, but if you're more preppy, girly, or boho, your personal list will look different than this one.
Just think of this list as a starting point to define your must-have pieces.
After you finish reading, be sure to leave a comment and tell us what some of your building block items are, and your favorite ways to wear them.
Let's get to it:
1. A Cozy Flannel Shirt

When it comes to building a trendy wardrobe, a trusty woven or flannel button-down is an excellent place to start. I love plaid button-downs because you can style them to look western, grungy, hipster-esque, or even laid-back California cool.
Here are a few chic ways to wear this staple:
Pair a flannel shirt with denim shorts, a hippie headband, a long necklace, and (#5) a pair of Converse All-Stars, Vans, Sperrys, or another other casual shoe.
Wear a flannel shirt under an oversized, thick-knit cardigan. Finish with skinny jeans and a pair of knee-high boots.
A flannel shirt will look insanely simple and chic with a pair of jeans or corduroys, ankle boots, and a (#11) beanie.
Tie it around your waist and wear with (#5) combat boots for a '90s grunge street-chic look à la every girl on lookbook.nu.
2. A Cropped "Leather" Jacket

Although leather jackets are an investment piece, they do not have to cost a lot of money! I'm shocked at how soft, durable, and perfectly cut my $25 leather jacket from Forever 21 is. Serious you guys, I've had it for five years now and it still hasn't scuffed, plus the "leather" feels as buttery soft as the day I purchased it.
Here's a few ways I've worn mine:
Extend the life of a summer dress into fall by pairing it with a leather jacket.
Dress up loose-cut harem pants or even skinny-cut sweatpants with a tank top and a cropped leather jacket.
Leather jackets are incredible layering tools. Channel your inner Urban Outfitters catalog model and and wear a leather jacket over skinny cargoes, a (#1) flannel shirt and a cardigan, or with skinny jeans, boots, and a (#14) distressed sweater.
3. A Delicate, Girly Dress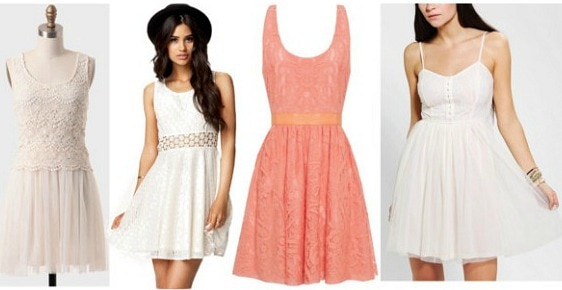 Every girl needs a gorgeous, knee-grazing feminine dress made from a delicate fabric like lace, tulle, silk, or a combination of textures. Try your best to find one in a light but muted color, so it can still work during the winter. Cream and dusty rose-colored dresses are my favorite!
Wear a floral or lacy dress with a (#10) chambray top to turn the dress into a skirt.
Tie a (#1) flannel top around your waist, or wear it with a (#4) military-inspired utility jacket and a heavy-soled shoes for a '90s grunge throwback.
Confuse the world in an awesome way by wearing a frilly dress with (#5) Converse All-Stars and a (#11) fashion-conscious baseball cap.
4. A Utility Jacket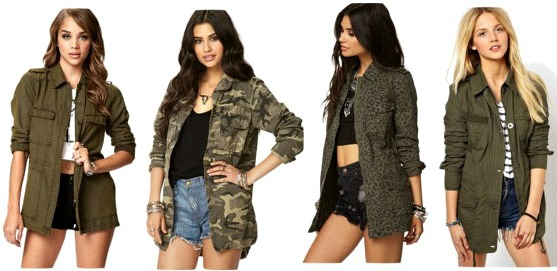 Utility jackets are urban, trendy, and have just the right amount of edge to bring heat to an otherwise simple outfit. You don't have to find one that's strictly "waterproof" to reap a utility jacket's ability to guard you from natural elements. I prefer jacket cuts that hit your mid-thigh – try swapping out boring cardigans or a hoodie with one and you'll be glad you did!
Try with a (#9) simple black maxi dress, ankle boots, and a cross-body bag.
Layer one over a cropped top for some coverage, then add jeans and wedge heels for a snappy casual sort of look.
Patterned pants and a plain white v-neck will look awesome with a tough and cool utility jacket.
5. An "It" Pair of Shoes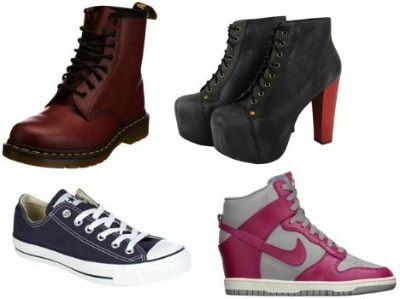 Clockwise from top left: 1, 2, 3, 4
Where you prefer Jeffrey Campbell Lita Boots or Dr. Martens, Converse All Stars or neon Nike high-top dunks, thigh-high Chinese Laundry boots or Studded Valentino Kitten Heels, having at least one pair of fantastic "it" shoes is all you need to make your wardrobe go from good to outstanding. My mind is blown away by how chic and fashion-forward an outfit can look just by adding a fantastic pair of shoes.
Here's a few ideas:
A mini LBD will look absolutely fantastic and edgy with any of the "it" shoes I listed above. Add brightly colored lipstick or dramatic eyeliner for an extra pop.
"It" shoes are also a great way to make a simple jeans-and-tee outfit look stylish and intentional.
Another quick and easy outfit that would highlight most pairs of "it" shoes in an awesome way is to pair them with black leggings, a oversized v-neck, and (#4) utility jacket.
6. A Cropped Denim Vest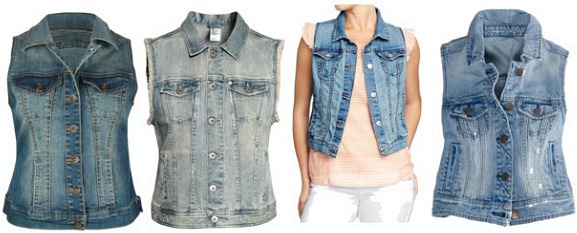 This throwback item has made a huge return to mainstream fashion over the last few years. Denim vests are such an easy thing the throw on over almost any outfit to immediately boost your style.
Cropped denim vests look fantastic over (#3) feminine dresses. They look cool with loose and lacy sundresses, but also amp up the style factor when paired with body-con dresses.
Jean vests look playful and pseudo-punky with (#7) graphic tees and skirts.
One of my favorite things about denim vests is that they "fix" tank tops that are cut too low or are awkwardly narrow at the armpits. Instead of letting an ill-fitting tank top sink to oblivion in your closet, wear it under a denim vest!
7. A Graphic Tee You Identify With

Graphic t-shirts are awesome conversation pieces. Find ones with funny phrases, retro logos, or those that reference a band or sports team that you love.
Tuck into a bandage skirt and add a pair of (#5) Converse All-Stars, Finish with a (#11) chic bowler hat or turband.
Graphic tees…even the kind that you're forced to wear for sorority or club events…can look chic when paired with a well-placed (#15) leopard accessory and some of your (#8) favorite jewelry.
Wear one with a (#10) chambray shirt or (#1) flannel shirt open on top.
8. Unique, Signature Jewelry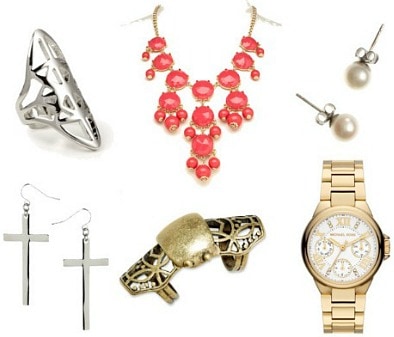 Clockwise from top left: 1, 2, 3, 4, 5, 6
Adding a few well-placed pieces of jewelry is often all you need make an outfit look complete. The awesome part about jewelry is that there are so many different styles, sizes, colors, and pieces. You'll have a wide array of items to pick from when determining your signature piece!
If you have a a simple, elegant sort of style, check out pearl stud earrings, pearl necklaces, simple menswear-inspired watches, or a silver antique charm bracelets. They'll go with anything, whether they're dressed up or down.
Statement bib necklaces can make a typical outfit look dramatically more cool and stylish. Try wearing one with a white button-down shirt and trousers, or a (#10) chambray shirt and colored denim pants.
Pick a certain type of jewelry that you love, and make it your signature. I am crazy about rings, so I always rock midi styles, knuckle shields, and those crazy two-finger rings. If you love dangly earrings, make those your signature. Long necklaces and bangle bracelets are also good options.
9. A Simple Black Maxi Dress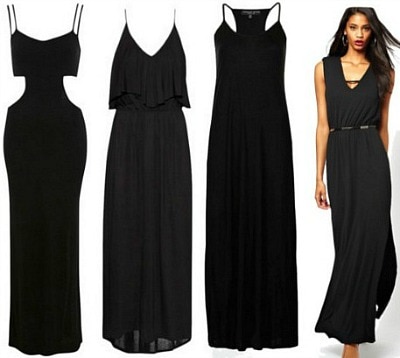 Nothing can replace a classic little black dress, but a chic black maxi dress is nearly as versatile. When shopping, look for a basic design that stays comfortable for several hours, and isn't too revealing to wear most places.
Have a cropped top that you love, but don't feel like showing that much skin? Layer one over a slim black maxi.
(#7) Graphic tees are also a really cool way to turn a maxi dress into a skirt. Add a (#11) turband and a (#5) pair of Converse all stars for an unexpected, California-cool look.
Wear a black maxi with your chicest pair of platform sandals, a (#8) statement necklace, wavy hair, and red lipstick for a fantastic date night look.
10. A Worn-In Chambray Top

A light and soft chambray button-down top is one of the most valuable things you can have in your closet. It practically works with everything — and I do mean EVERYTHING — in your closet.
Have a pair of loud harem pants, metallic skinny jeans, or graphic-print leggings that you just can't find anything good to wear with? Chambray to the rescue!
Try tucking a chambray shirt into a sequined or lacy mini skirt with a pair of ankle boots and a clutch for a fierce look that's perfect for a date or girls night out.
Layer under a (#2) leather jacket or (#4) utility jacket and wear with a pair of colored skinny jeans for a casual-cool ensemble fit for class.
11. A Signature Hat/Hair Accessory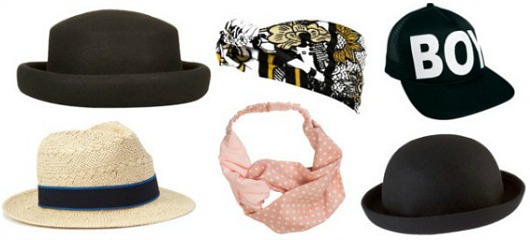 Clockwise from top left: 1, 2, 3, 4, 5, 6
I'll be the first to admit that wearing hats and some hair accessories can be a bit…scary. It takes a girl with some serious fashion kahunas to have the confidence to rock things like urban turbans, bowler hats, and couture baseball caps! But once you break past that barrier, wearing head accessories is almost addictive.
My current obsession is bowler hats. Wear one with any (#3) girly minidress for a chic, '90s throwback sort of look.
Turbands and hippie headbands are a favorite of mine also. Not to mention, hippie headbands are a great place to start if you're just sticking your toe in the water of fashionable headwear! Try one with a (#14) distressed sweater and a skirt, or a (#7) graphic tee and jeans.
Although I haven't fully dove into the fashion baseball cap trend, the more and more photos I see on lookbook.nu of pretty girls in skirts, sandals, and Boy London baseball caps, the more tempted I am to splurge on one.
12. Leather-esque Skinny Jeans or Leggings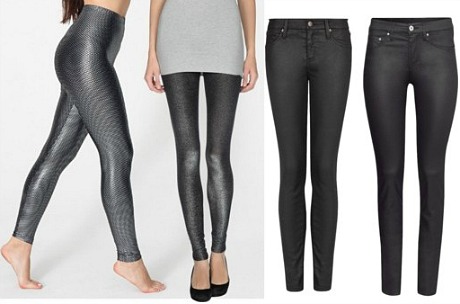 These pieces are slimming, sexy, and the perfect staple item for weekend nights out. I especially like the look of coated denim and lamé leggings because they give you a fierce, superhero-like look without being too over-the-top and, well…shiny.
Here's a few ways to wear them:
Pair them with a loose tank, a bralette or bandeau, ankle boots, a clutch, and a (#8) turband for a sexy date look.
Wear leather-like skinny jeans or leggings with a thigh-grazing party blouse and a blazer for a tame-yet-trendy night out.
Throw them on with a (#1) flannel shirt, a (#8) hat or hairband, and lace-up oxford shoes and call it a day.
13. A Long-Sleeved Striped Shirt

A simple, preppy long-sleeve (or 3/4 length sleeve) striped shirt is an easy and inexpensive way to add class and a bit of New England elegance to your wardrobe. I love that you can dress these up to look sophisticated and preppy or grunge it down to look urban and hip.
Check out the ways I'd wear one:
Wear a striped shirt with a (#2) leather jacket, a patterned lightweight cotton scarf, skinny jeans, and knee-high boots.
A striped shirt would look fantastic with a pair of flared jeans, wintery wedges, and a faux fur vest.
Pair a striped shirt with wide-leg trousers or trouser-cut jeans, ballet flats, pearl stud earrings, and a solid-colored infinity scarf.
14. A Distressed, Oversized Sweater
I used to be obsessed with pastel-colored chunky sweaters from Abercrombie and Ralph Lauren Polo when I was in high school. (I blame it on the fact that I wanted to look East Coast preppy like the kids in Gossip Girl books). Sadly, my mom would throw them in the washer and dryer and effectively ruin them before I even had the chance to wear them twice.
Thank goodness that my obsession with nerdy cable knit sweaters is long gone, and I've finally learned how to properly cleanse a sweater without ruining it. Knits are once again my obsession — but instead of the perfect preppy variety, I prefer styles that are loose with a bit of artful fraying.
Here's a few ideas on how to style one:
Wear a distressed sweater with a pair of shorts and any kind of boots for a great transitional look, perfect for walking to class during the fall. Finish with salt spray for intentionally undone-looking hair.
Throw over a maxi dress or maxi skirt for a sweet boho-chic look. Finish with a statement necklace and a (#8) hippie headband or wide-brimmed hat.
Simply wear an oversized sweater with your favorite pair of jeans for a laidback and cool outfit. Bonus points if you also rock a top knot, a bold lip color, and a (#5) pair of "It" shoes.
15. A Fantastic Leopard Piece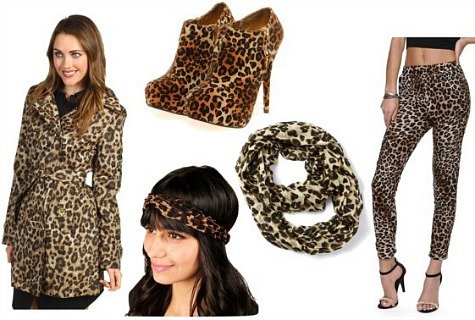 Coat, Shoes, Hairband, Scarf, Pants
Leopard print (especially the expensive-looking patterns) is a smart girl's secret weapon. It has a way of making the most plain outfit look interesting and intentional. Leopard print is considered a neutral, so don't be afraid to mix it with another print.
Here are a few of my favorite ways to rock leopard:
I'm crazy in love with a faux fur and subtle leopard print coat that I have. It makes me feel like Cruella de Vil's less-cranky cousin. I've been known to wear it with pretty much any and every nighttime outfit I craft together.
Leopard pants might seem scary at first, but if you find a pair that features colors that are close in shade to the background hue, they look less over-the-top and are easy to pull off. Try them with a solid-colored sweater or long-sleeved t-shirt.
Leopard print shoes are another trendy and edgy way to rock leather. Try them with colored skinny jeans and a (#10) chambray button down, or give an extra kick to your trusty LBD.
Even More Style Guides:
Street chic not your thing? Check out our other style guides to find the must-have pieces for YOUR aesthetic.
What Do You Think?
How many of these pieces do you own? What are some of your go-to outfits? What are some of the key pieces you have in your wardrobe? What versatile investment pieces are you looking for? Do you have any "it" shoes? Any signature hats or hair pieces? Help out your fellow fashion girls and leave a comment telling us some of your favorite pieces and outfits!