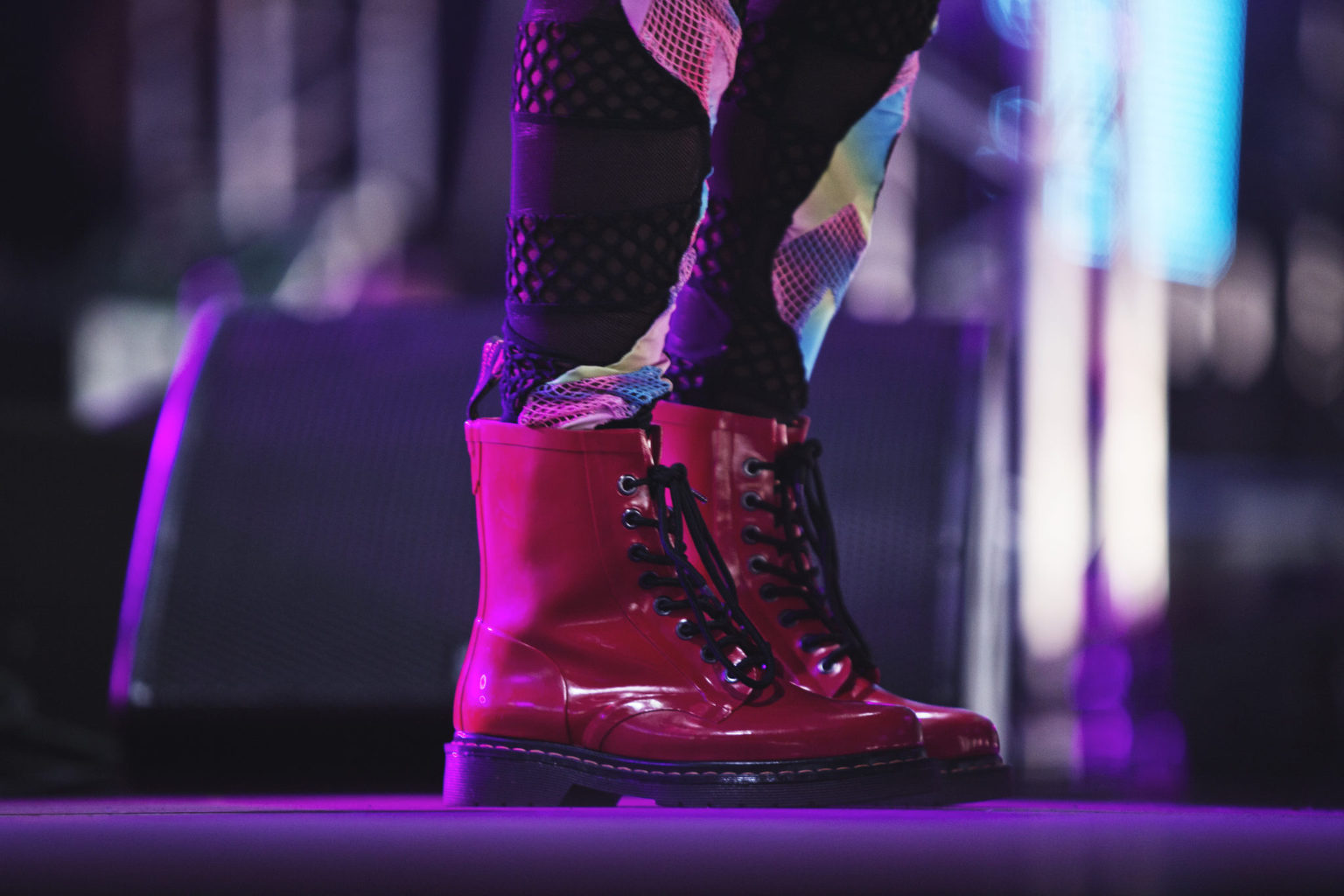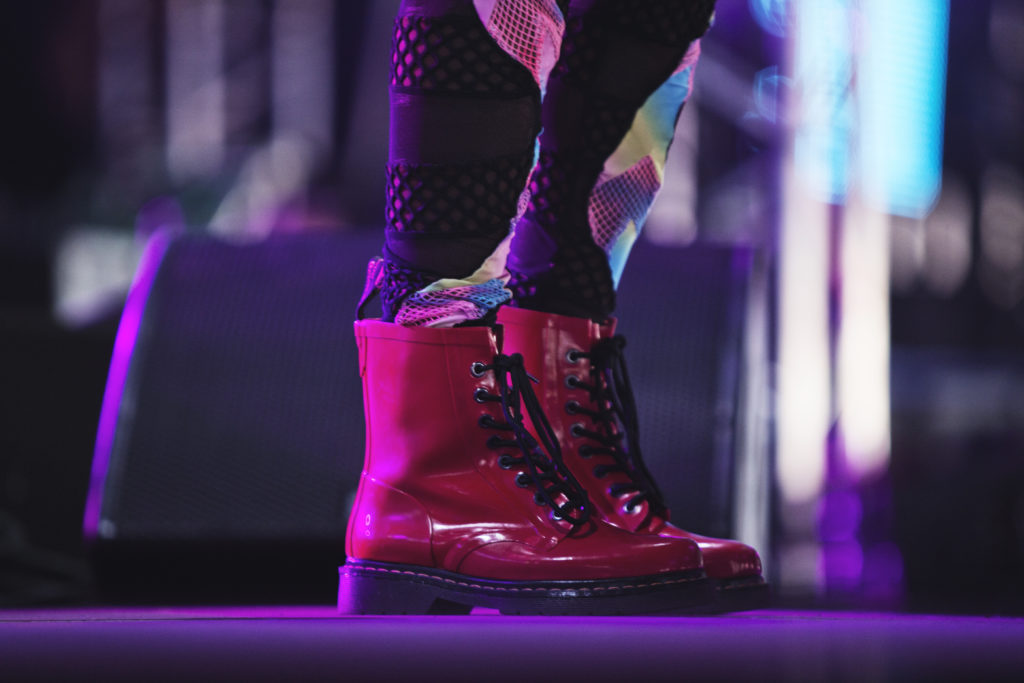 Here at CF, we're big fans of investing in high-quality, versatile items that will last you several years.
Usually, when you think of investment pieces, things like trench coats, little black dresses, and perfectly fitted jeans come to mind. Don't get me wrong — I'm a proud owner of all of these "must-have" items and wear them regularly.
But to me, true style is all about the extras — the unexpected pieces you add to an outfit that makes them unique, stylish, and well, very "you!"
Dr. Marten 1460 combat boots are one of these special investment pieces that some girls (depending on their personal style) consider an absolute staple.
After eyeballing these babies for literally the last five years, I finally bit the bullet and shelled out the cash for a pair…
And you know what? I don't know what I did before I had them!
These boots add such a cool, grungy aesthetic to any outfit combo in my closet. With these babies on my mind, I couldn't wait to write a post about my new Dr. Martens, and share with you ladies some tips and tricks I've learned about pulling them off.
Ready to learn some style tips on how to pull off a bold pair of combat boots? Read on, girls!
Related reading: How to Style Combat Boots (+10 Outfit Ideas)
But First, Some Less-Expensive Alternatives
I get it, we're all working from a college student budget… and that means it can be hard to justify the investment in a full-price pair of Docs. If you're not quite ready to drop the $100-$150 dollars for the real thing, there are plenty of adorable alternatives that will give you the same look without destroying your bank account.
For a full list of these, we've written a post on the Top 10 Best Alternatives to Doc Martens. Check it out for all the budget-friendly options you need!
Tips and Tricks for Rocking Dr. Marten Combat Boots
Consider the color and material. Black and brown styles in matte leather are definitely the most versatile, but when I sought out to buy a pair of Dr. Martens, I wanted them to stand out — so I purchased a hot pink patent pair. The right pair of combat boots for you really just depends on your personal style, how often you think you'll wear them, and what kind of look you want them to (as my favorite celebrity chef Alton Brown says) "bring to the party." You can wear a neutral pair of combat boots several times a week, or a colorful pair several times a month, but really loud patterns (like the floral and UK flag printed versions I've seen) will be more memorable, therefore you probably won't want to wear them as frequently.
Break them in! Remember when your mom bought you your first pair of Dr. Martens in grade school, and she told you that they had to "break-in" before you'd really like them? Well, she was totally right! To speed up the process, follow that trick we've all seen floating around Pinterest — with two pairs of wool socks and the boots on your feet, blow-dry tight spots with hot air until they loosen up to your liking.
Pair them with skinny jeans. A no-brainer way to rock combat boots is with a pair of skinny jeans and a knit sweater. It'll give you a rustic, wintery look without coming across as too cutesy or preppy.
Wear them with a dress. I love the look of a girly dress juxtaposed against tough boots. The only rule that I would follow is to stick with a dress that hits higher than your knee, but it's up to you to experiment and see what you like.
Try them with shorts. This will give you a hip, street-style sort of look and make your shorts wearable throughout the fall — especially when paired with tights.
Leggings look great, too. Leggings paired with a tunic and an oversized cardigan will look super chic with a pair of combat boots.
Balance the look. Because combat boots are so heavily associated with '90s grunge, you might look dated if you pair them with too many other things associated with that look, like oversized flannels, baggy denim, etc. Also, since combat boots cut off a few inches higher than your ankles, keep your legs long by sticking with solid-colored pants or a shorter skirt.
Outfit Inspiration
And now for everyone's favorite part of CF posts…a few sample outfits to help you get started!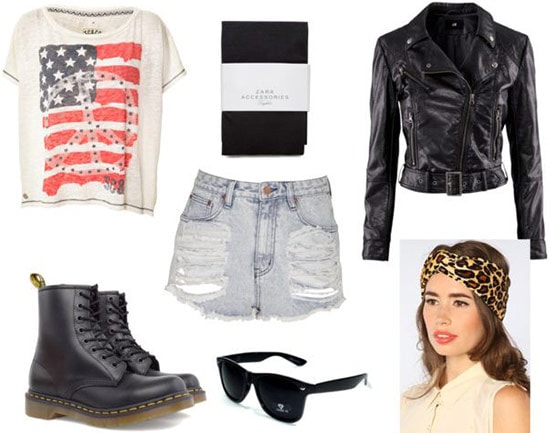 Shirt, Shorts, Tights, Boots, Sunglasses, Turband, Jacket
This outfit is a little bit rock and roll and has a seriously edgy vibe! Don't put away your favorite distressed denim shorts yet — they'll look awesome with a pair of black tights and combat boots. Add your favorite t-shirt, and layer on a motorcycle jacket. Finish the look with sunglasses and a turband.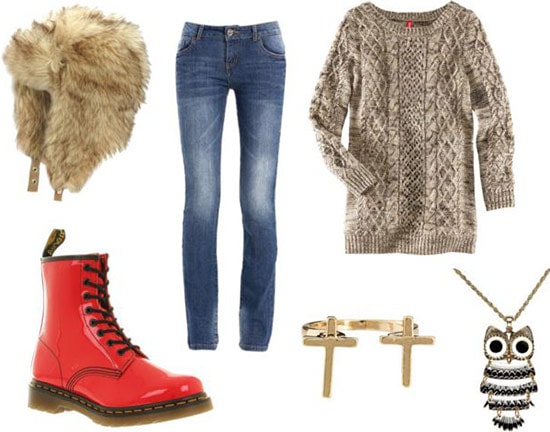 Boots, Hat, Jeans, Sweater, Ring, Necklace
An easy way to pull off colorful combat boots is with a simple skinny-jeans-and-a-sweater outfit. You'll look cozy and cute, but not at all boring! Finish with fun accessories, like a statement ring or necklace. If it's super chilly outside, experiment with fun trapper hats or knit beanies for an extra boost of style.
What Do You Think?
Do you own a pair of Dr. Marten combat boots? What do you think about them? How do you like to style yours? How do you feel about combat boots in general? What are your favorite pair of shoes? What other style blogger cult favorites do you love or loathe? Leave a comment and help us continue the discussion!!