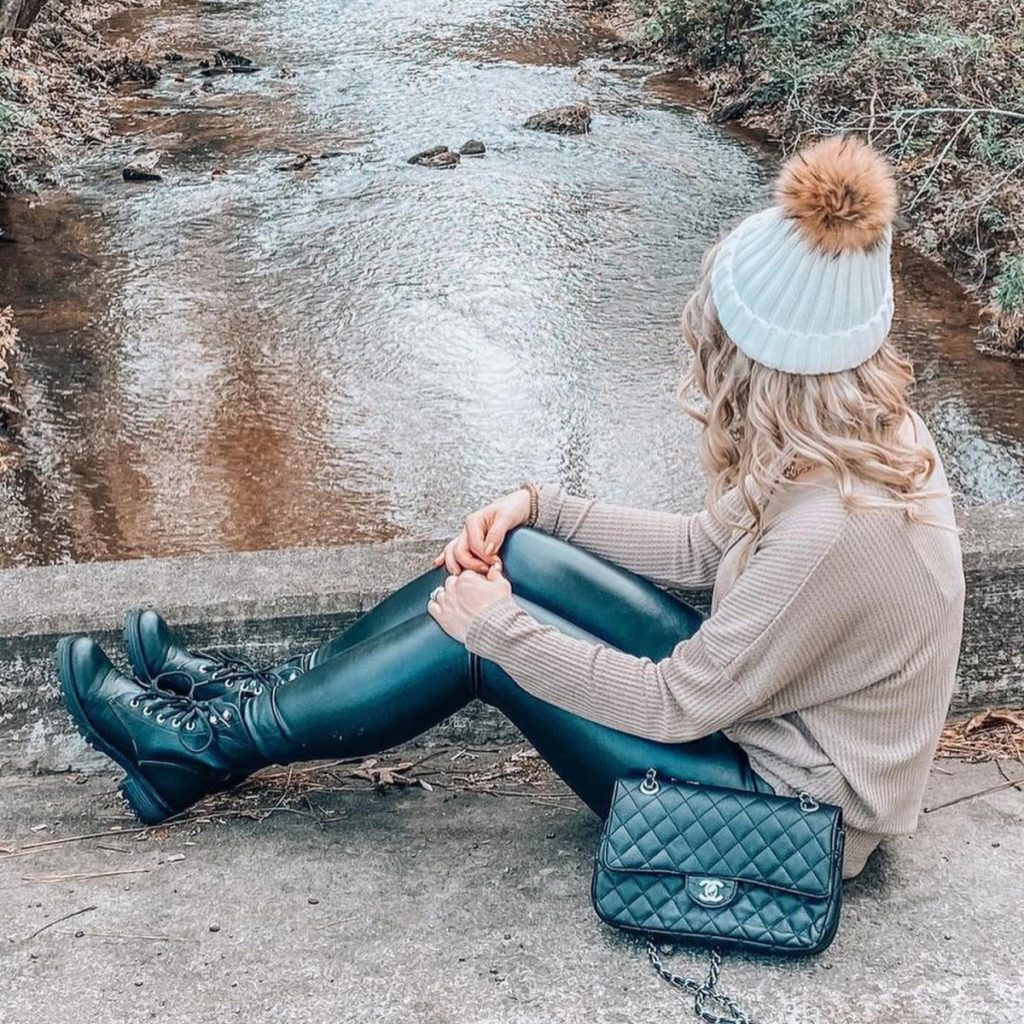 Winter is here, which means it is the perfect time to bring out your favorite pair of boots or buy a fun new pair to go with all your cute winter outfits!
If you have been keeping up with the recent fashion trends, you may have noticed that Dr. Martens and the Dr. Martens style of boot is one of the most popular boots this winter.
I love how Dr. Martens look, but they are on the pricey side (usually more than $100 a pair). So, for those of us who on a budget right now or are looking to purchase some cute boots that won't break the bank, we need some alternatives.
Wondering how to get the Dr. Martens look for less? Don't worry because I have done all the research, so you don't have to! This list will show you the top ten best Dr. Martens alternatives on the market today. They are sure to give you that trendy look you are going for without breaking the bank!
Related reading: How to Wear Dr. Martens: The Best Doc Martens Outfits for Every Style
10 Best Alternatives to Dr. Martens
If you are looking for that classic Dr. Martens look, you should definitely go for these combat boots. These look almost identical to the trendy all black Dr. Martens we're seeing everywhere.
What I love about these boots is they even have the same signature threading on the boots. If you have looked closely at Dr. Martens, you will notice that it has a similar design with the stitching of the boots being a different color.
So, if you really want to get a complete lookalike for Dr. Martens, I would definitely recommend choosing these boots. They are sure to make you look trendy without costing you a crazy amount of money.
Patent Dr. Martens boots are also super trendy right now. These cute boots are made out of a shiny/glossy material and are so eye-catching.
You have probably seen these kind of boots all over your IG feed because they are also very popular. I love them because they're a little bit unexpected and the shine gives the boot an extra pop compared to classic matte leather Docs.
So, if you want boots similar the shiny black Dr. Martens, I would totally go for these combat boots. They will give you that super trendy combat boot look for an affordable price!
One thing that makes these boots stand out is that they are completely black. So, if you would rather not have different colored stitching on your boots, these ones will be the perfect fit for you! They will also look good with just about any of your cute winter outfits.
Now, if you are looking for a boot that is similar to Dr. Martens, but you want them to come in a color other than black, you can totally find that too! Colorful Docs are always trendy, and you can totally get that look for less.
For example, these burgundy combat boots are perfect if you are looking for a boot similar to Dr. Martens but in a shade other than black. (These boots come in a TON of other colors, too!)
These boots will be perfect for you because they will give you that classic Dr. Marten combat boot look for a much cheaper price. And they even come with the different colored stitching to make them look even more like Dr. Martens!
One other type of Dr. Marten boot alternative that you may be looking for is the tan/neutral colored boot.
With neutral colors becoming more popular in fashion over the last few years, these kinds of boots have become more popular as well.
So, if you are one of those people looking for boots similar to Dr. Martens that are made with neutral colors, these boots are the ones for you. They're tan from the uppers to the soles and they will look amazing with all of your neutral and monochrome outfits this season.
With these boots you will be able to get that Dr. Marten look that you will love while also keeping up with the fashion trends.
These Dr. Marten alternatives are my absolute favorite of everything on this list. You have probably seen this kind of Dr. Marten boot before, namely the black and white contrast sole combat boot.
These kind of boots have almost become more iconic than the original all black Dr. Martens because of their incredible popularity among fashion influencers.
What I love about the white and black Dr. Martens is you still get the classic boot look, but you get to rock a much more unique color. And, in my opinion, the white and black look so good together and make your boots stand out.
So, if you are obsessed with the white Dr. Martens combat boots, but don't won't to spend too much, you should purchase these alternative boots.
They look almost identical to the white and black combat boots — you'll get so many compliments on these!
You may not have seen these kind of Dr. Martens boots before! They are the contrast boot. If you are not sure what that means, it is basically when all of the stitching on the boots is a different color from the rest so that it stands out.
You may have seen this kind of design in other fashion items like tops or bottoms where the stitching stands out. The contrast design has become popular recently with the rise of the Y2K trend and shoes are no exception to this!
So, if you really like the contrast look, but don't won't to have to spend all your money on buying Dr. Martens, these alternative contrast boots are the best!
They not only have that super cool contrast stitching design, but also they look just like Dr. Martens for a fraction of the price. Plus, they are platform boots, which are super trendy right now!
If you aren't a fan of platform boots or even if you don't like having a chunky shoe at all, you will love these boots. Even though Dr. Martens are known for their chunky look, they also make boots that don't have that kind of style.
So, if you are one of those people who prefers a sleeker, lower profile boot and you don't want to spend a ton of money, I would suggest these boots from Target.
They look just like the Dr. Martens that have a thinner heel and they come in all black, so you will get that classic boot look for the winter time.
Some of us prefer to have cool designs or prints on our clothing and even our shoes. For us, Dr. Martens makes tons of boots that have cool designs on them like fun flowers and floral prints!
And, if you are looking for a Dr. Marten boot lookalike that has these kind of designs, these printed boots will do the trick.
They come in black with a super pretty red floral design on the boot that looks similar some of the floral designs that Dr. Marten boots have.
So, you will be able to wear some super cool boots similar to Dr. Martens without spending too much money. Plus, you'll have a more unique printed boot that you won't see everywhere.
You may also have seen the Dr. Martens that lace-up to mid calf. These are really cool boots that will give you an edgier look, perfect if you have a rock chic sense of style.
If that is the kind of look you are going for and you want a great alternative to the Dr. Martens boots, I would highly recommend these lace-up biker boots.
These boots look just like the Dr. Martens and come in all black to make it super easy for you to pair them with your outfits. So cool and just the right amount of edgy.
Even though Dr. Martens is known for its classic combat boot look, they also sell Chelsea style booties that are super cute.
And, don't worry because if you are on a budget, you can totally still get similar boots that are much cheaper than Dr. Martens, but look extremely similar like these booties.
These booties look identical to the Dr. Martens and are much more affordable. No one will ever know how little you spent on them.
Which boots from this list do you like?
What boots will you be purchasing? Which Dr. Martens alternative is your favorite?