This post will show you the best sexy couples Halloween costume ideas.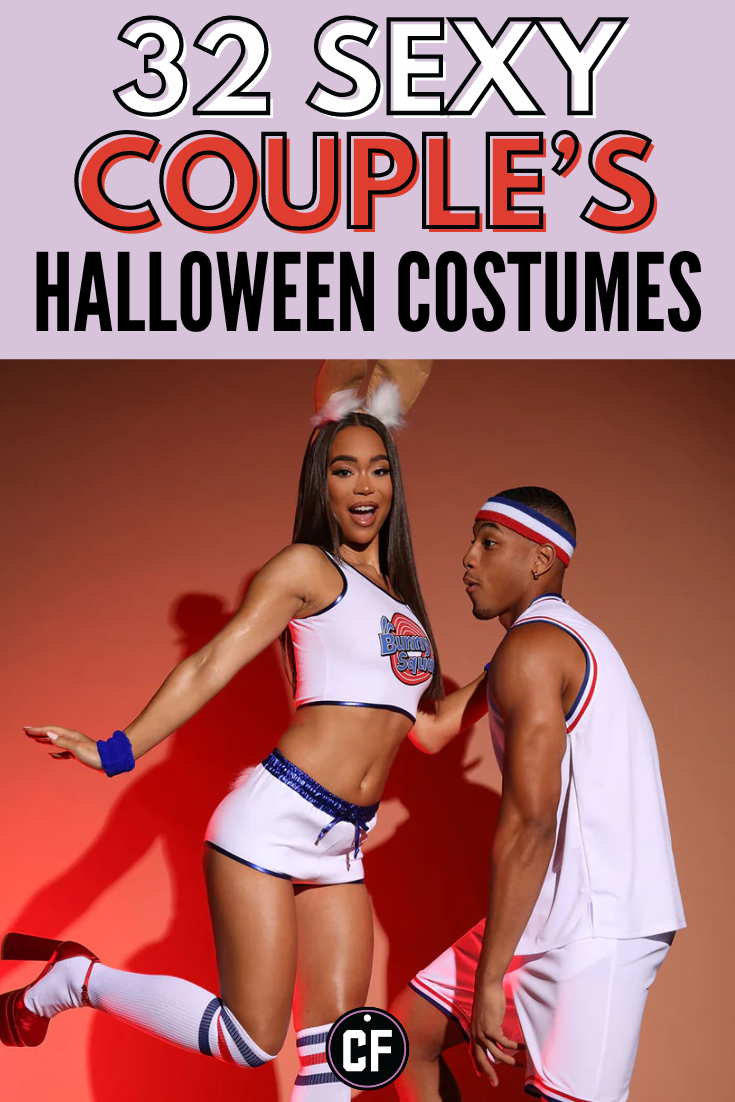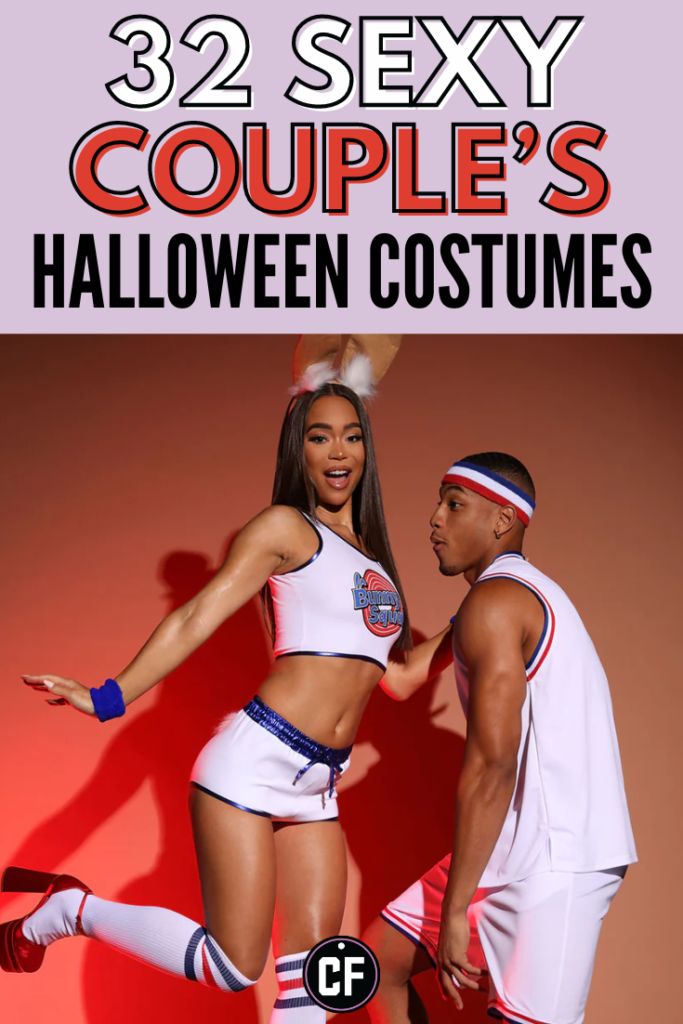 Costume via FashionNova
Halloween in college is so much fun, maybe even more so if you have someone to dress up with! With this in mind, we've covered group Halloween costumes and three-person Halloween costumes.
But now let's talk about couples' costumes. If you're attached, it's so much fun to dress up with your significant other and go to Halloween parties together. And it's a perfect chance to show a little skin and dress sexy if that's what you're feeling.
Below are 32 sexy Halloween costume ideas for couples, giving you a chance to look cute and have a great night with your significant other. Happy Halloween!
Related reading: 22 Sexy Halloween Costumes for Women
Sexy Couples Halloween Costumes
Miss Piggy and Kermit
You don't normally think "sexy" when you think of the Muppets, but this cute Miss Piggy and Kermit the Frog costume is just that!
Grab a cute pink dress, gloves, and sexy heels for Miss Piggy, and have your s/o dress in green for Kermit. Don't forget the pig and frog ears to finish the look!
Fred & Wilma Flintsone
Grab an animal print vest and blue tie for Fred and a white corset and red wig for Wilma. Do your makeup as much or as little as you like, and you'll have an adorable and original couples costume.
Risky Business
I mean, I don't know what says sexy costume more literally than going pantsless for Halloween.
This cute couple's Risky Business costume is super easy to do — literally, you just need two men's white shirts and two pairs of sunglasses. Don't forget the Tom Cruise dance moves.
Pro tip: Be sure to double up on your socks if you're planning to walk outside in this!
Kravis
If you want an excuse to make out all night, dress as Kravis (Kourtney Kardashian and Travis Barker) for Halloween.
For Kourtney's look, wear combat boots and a little black faux leather dress. Finish with her trademark straight, dark bob, some edgy jewelry, and sunglasses.
Travis' look is even easier. You just need to dress in all black, pull a black hoodie up over your head, and toss a leather jacket on top. So easy and such a fun costume!
Dee Dee and Dexter from Dexter's Laboratory
I am seriously obsessed with this Dexters Laboratory couple's costume! (We're just going to ignore for a second that they're siblings in the show.)
For Dee Dee, you'll need a blonde wig, a little pink dress, and tights. For Dexter, you'll need a lab coat and his trademark glasses. Don't forget the laser gun to finish this off.
Pam Anderson and Tommy Lee
Is there a sexier woman to dress up as than Pam Anderson? A Pam and Tommy costume is iconic and easier to do than you think.
While you could go the Kim Kardashian route and dress as Pam and Tommy at the VMA's, it's a lot easier to do the costume above, with Pam as Barb Wire and Tommy in his go-to leather jacket and jeans combo.
Whatever Pam and Tommy you choose, just be all over each other all night and people will know who you are!
Mermaid and Sailor
This mermaid and sailor costume has been popular for the last few years, but I had to post it again because it's really cute.
If you're not going to get your s/o to dress up as a merman but you really want to be a mermaid (what girl doesn't?), this is the perfect compromise. Everyone will be happy and that's the true genius of this costume.
Barbie and Ken
You knew this one was coming! With the popularity of the Barbie movie, EVERYONE is going to be dressing as Barbie this year. So Barbie and Ken is a must-do costume if you're going as a couple!
There are so many ways you can go with this one — rollerblading Barbie and Ken, cowboy Barbie and Ken, or even Barbie and Mojo Dojo Ken. But I love the classic costume above because it's easy to put together with items you already own.
Harry Potter Characters
Once again, "sexy" is not normally a word we see associated with Harry Potter, but this example is proof that a Wizarding World costume can indeed be that.
For this Harry and Hermione costume, Hermione just needs a short mini skirt and tied-up white shirt, as well as a Gryffindor tie and socks. Harry needs the trademark glasses, a wand, and a red and yellow tie.
If you're a Harry Potter fan, you probably have some themed gear lying around, so that makes this costume even easier.
Spike and Faye from Cowboy Bebop
If you're an anime fan, you've definitely heard of Cowboy Bebop. And Spike and Faye from the Bebop crew make a great couple's costume.
This is another costume that most significant others will agree to since the Spike portion of the costume is really just a rumpled suit and gun. The Faye costume is really cute and sexy, plus it's easy to DIY with some yellow clothes and white thigh-highs.
Don't forget the fake guns to finish this off!
Roman Gladiators
With the popularity of the "thinking about the Roman Empire" TikTok trend, it's the perfect year to dress like the ancient Romans!
FashionNova has these exact costumes ready to purchase (personally, I'd remove the "slave" chain above and just rock the rest of the costume, but you do you), but any gods/goddesses or gladiator costumes will work for this one.
You could even do cute togas for a college classic look.
Space Jam Characters
The '90s and 2000s have been having a major fashion moment, so naturally the '90s flick Space Jam is excellent costume inspo this year.
We've talked about doing a Lola Bunny costume in our guide to easy Halloween costumes, so if you're doing that, just add a Michael Jordan to match. Super simple!
Pirates
Here's a costume that you'll definitely have to purchase, but the result is worth the money spent!
There are so many pre-made sexy pirate costumes out there, so all you have to do is pick your fave and get your s/o one to match. (Yandy has a TON of cute options right now.)
Aladdin & Princess Jasmine
Jasmine is forever my fave Disney princess, so I had to include this one!
An Aladdin and Jasmine costume is a great couple's idea that everyone will recognize. You can get these costumes pre-made anywhere, so it's also a super easy idea if you just want to buy something.
Dentist & Tooth Fairy
How sweet (see what I did there) is this tooth fairy and dentist couple's costume?
This is not a costume you see every day, and everyone will love it. It's also great if one of you wants to dress really cute and the other doesn't care.
This costume is particularly perfect if you or your s/o is a medical student who has scrubs ready to go. Just throw those on, add a cutout tooth graphic, and you're the dentist.
Sexy Circus Ringleaders
These circus ringleader costumes are giving all the old-school Britney Spears vibes, and I am here for it!
The most important parts of this costume are the red jackets and the hats. You should have everything else already — just be sure your outfits match! (And if you're with a guy who will NOT be persuaded to wear tights, he can totally swap in pants instead.)
Nate and Serena from "Gossip Girl"
This Nate and Serena costume is so cute and perfect for anyone who always wanted to dress like they were in Gossip Girl (so, all of us here at CF).
The best part is, you can make this one with clothes you already have. Serena just needs a plaid skirt, loose tie, a head scarf, and some knee-high boots, while Dan's look is just khakis, a suit jacket and tie, and some sunglasses.
Alien and Astronaut
Here's another costume that's perfect if you want to dress cute and your partner wants to dress silly, or vice versa.
This Alien and Astronaut costume gives one of you the chance to go all sexy silver glittery, and the other the chance to literally just go to a store and buy an astronaut suit. It's perfect for everyone!
Game Of Thrones
Here's a total couples costume classic — Danaerys and Khal Drogo from Game of Thrones.
The wigs here are KEY to the costume. Dany needs a long platinum hairstyle with braids, while Drogo needs a long black braid. The rest of it can be improvised based on what you have handy, or you can also buy these costumes pre-made at a store.
Austin Powers and Fembot
I can't get over how cute this Austin Powers and Fembot costume is!
The best part is that both partners get to dress sexy, so it's super fun. (Or if you're doing this with someone who wants to dress more traditionally masculine, they get to wear a velvet suit, which is also fun.)
For the Fembot, you need a sheer nightgown, platform boots, and a headband. For Austin, you need the blue velvet suit (or dress, in this case), boots, glasses, and a ruffled shirt. You will both look so Groovy, baby!
Cupids
This Cupid couple's costume is so adorable and easy to make with things you already have at home! All you need to buy are the wings and the cupid bow.
The red cupid just needs a cute red outfit (ideally with a corset top) and the traditional cupid needs some cream shorts and some fabric to drape over their shoulder.
Tiger King and a Tiger
Yes, Tiger King was a 2020 thing, but everyone is still going to know who you are this year — it was a cultural moment, and everyone saw the show.
I've seen a few variations on this costume (Tiger King and Carol Baskins being the most popular), but I like this version with a sexy tiger and Tiger King, just because it's super easy to find tiger costumes anywhere.
Angels
Much like the cupid costume above, this angel couple's costume is just about the accessories — here, wings and halos — and you can make the rest out of whatever you want.
I love how the woman is dressed in the photo above — the cream satin dress is stunning and the body jewelry takes it to the next level! But you could improvise with any white or cream clothes you own.
And the dark angel just needs to wear all black, which any of us can do.
Pretty Woman and "Pretty Fly for a White Guy"
If you search for couples Halloween costumes online, Pretty Woman comes up very often.
While a Vivian and Mr. Lewis costume is super cute and easy, I'm partial to this punny take on the classic — Pretty Woman and "Pretty Fly for a White Guy." Everyone will laugh when you tell them who you are!
Mummies
There's tons of DIY potential with this mummy couple's costume. You just need white fabric and some white clothes that you can get dirty.
The best part about this costume is that you can give yourself as much or as little coverage as you want, so the sexy factor is totally customizable depending on what you're comfortable with.
Cookie Monster and Cookie
Here's another classic sexy couple's costume, Cookie Monster and a cookie. It's another amazing DIY option, too.
I'm sure I don't need to explain the innuendo present in this one; suffice it to say it's not just sexy because of what she's wearing!
Flapper and Gangster
I feel like everyone has dressed like mafia gangsters at some point in their college career, so if you already have that costume lying around, why not switch it up and do a flapper and gangster costume this Halloween?
Again, there's tons of DIY potential here since glittery dresses are easy to find, and the other person just needs to wear a suit and fedora. It would be an easy option to throw together last minute!
Woody and Buzz Lightyear
Ever since Kendall Jenner dressed as a sexy version of Jessie from Toy Story, the movie has been a trendy Halloween costume idea.
I could not be more obsessed than this sexy take on Woody and Buzz, mixing store-bought costume pieces with regular clothes. You could also swap in other characters, like Bo Peep, Jessie, or even the Alien if you want to get creative.
Oreo and Milk
If you and your s/o go together like cookies and milk, this is the perfect costume for you!
One of you dresses up as Milk (which is just a big white t-shirt that says Milk on the front), paired with a red beret and a toilet paper roll made to look like a straw.
The Oreo costume is a bit harder to DIY — it looks like the above Oreo costume was store-bought, but you could put the Oreo graphic on any black tee if you didn't want to spend money.
Danny & Sandy from Grease
Sandy and Danny from Grease make a sexy couple's costume, thanks mostly in part to Sandy's sexy black leather outfit from the end of the film.
Most of us have black leather pants or leggings in our wardrobe, so pair those with a black top, blonde curls, and red lipstick for Sandy. For Danny, you'll just need jeans, a white tee and a leather jacket.
Faux cigarettes are optional, but Danny should definitely slick their hair back with plenty of, ahem, grease.
Tony Montana and Elvira Hancock from Scarface
I don't know about you, but I've always been obsessed with Elvira Hancock's wardrobe from Scarface, so any chance to dress like her would be a dream come true.
Also, any guy will be pumped to dress like Tony Montana (see the Barbie movie for proof of every man's obsession with this film), so you won't face much resistance getting your BF to agree to this one.
Dracula and Madonna (Parents from Hocus Pocus)
Finally, I had to leave you with my favorite costume of the bunch — the parents from Hocus Pocus in their Halloween costumes.
This costume is as funny as it is sexy, and though it's a little obscure, most people are going to know who you are.
Don't forget to dance, dance until you die!
What do you think of these sexy couples Halloween costumes?
What's the best sexy couple's costume you've seen over the years? Have you done any of these costumes with your significant other? Leave a comment below and let me know!