This post will show you tons of cute outfits with jeans that are trendy this year.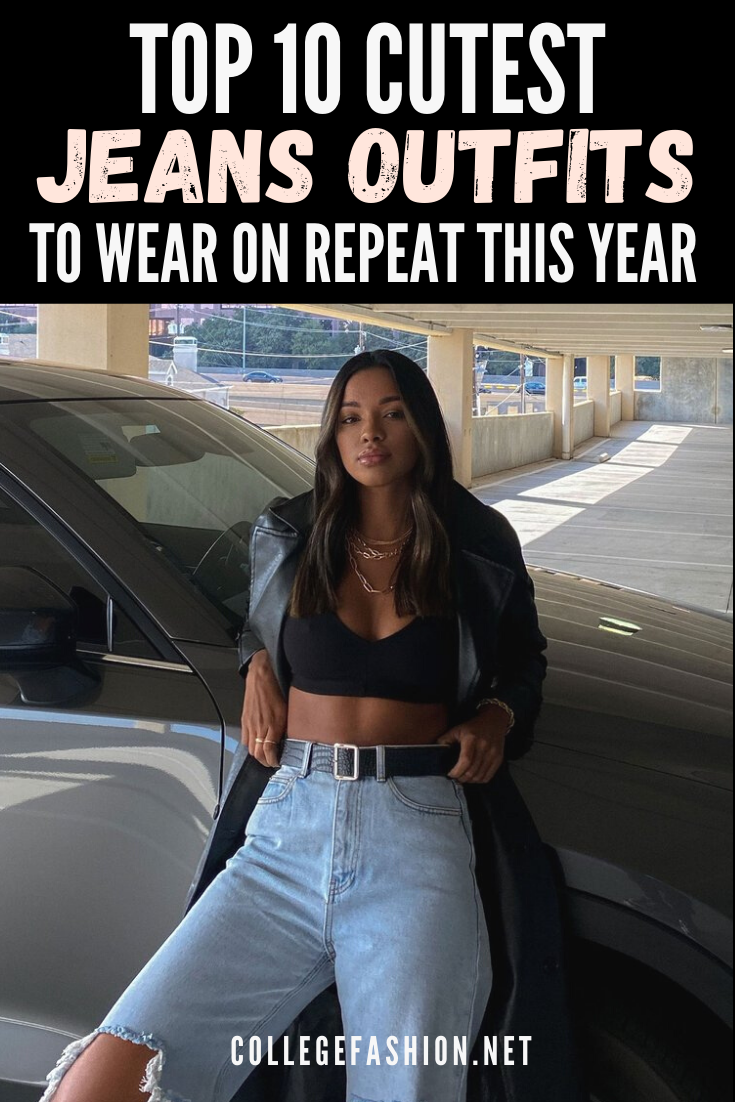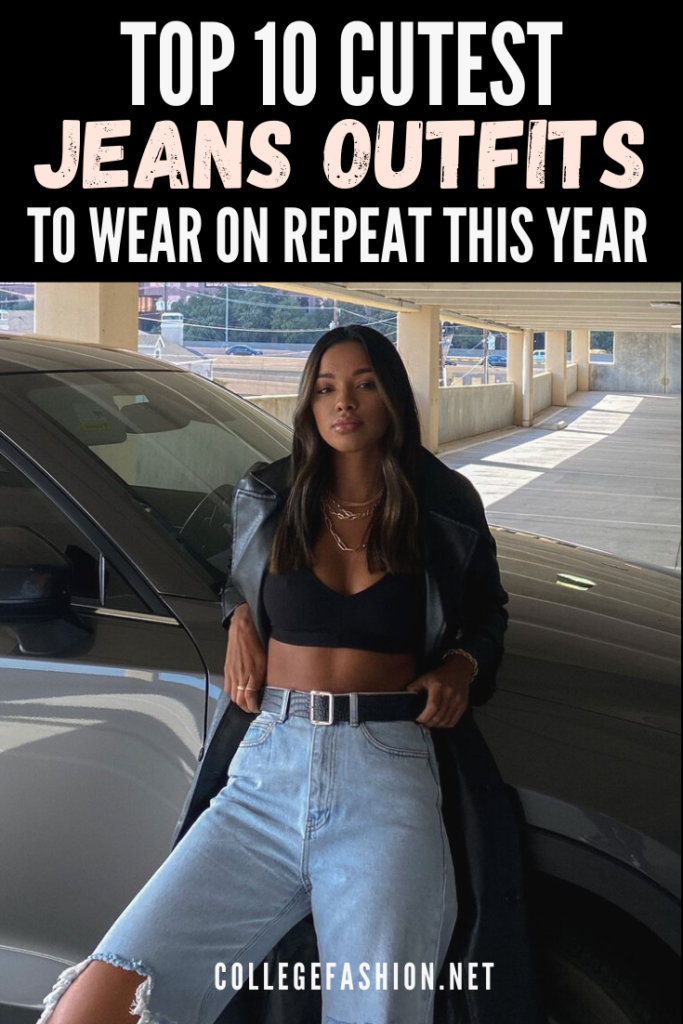 A new season is in full swing and that means it's time for a jean refresh! Denim is the perfect staple to invest in all year round.
Whether you're going shopping, getting brunch with your friends, going on a date, going out to the bars, going to a sporting event, or literally anything else, jeans are the way to go!
Creating cute outfits with jeans can get tricky sometimes, though. It's easy to fall back into the same look or get tired of the same old pair.
My favorite thing to do whenever a new season starts is to buy some new pairs of jeans.
Below, I'll show you where I shop for jeans and then I'll show you some super cute outfits with jeans to get your inspiration going.
First, my favorite places to buy cute jeans:
Quality jeans can get expensive, but there are brands that sell great denim for an affordable price, while still being high quality! These are my personal go-to brands:
Now, for the outfit ideas. Below you'll find TEN cute outfits with jeans, with tips on how to style all different styles of jeans for 2021!
Outfit Idea #1: Wide Leg Jeans and Shacket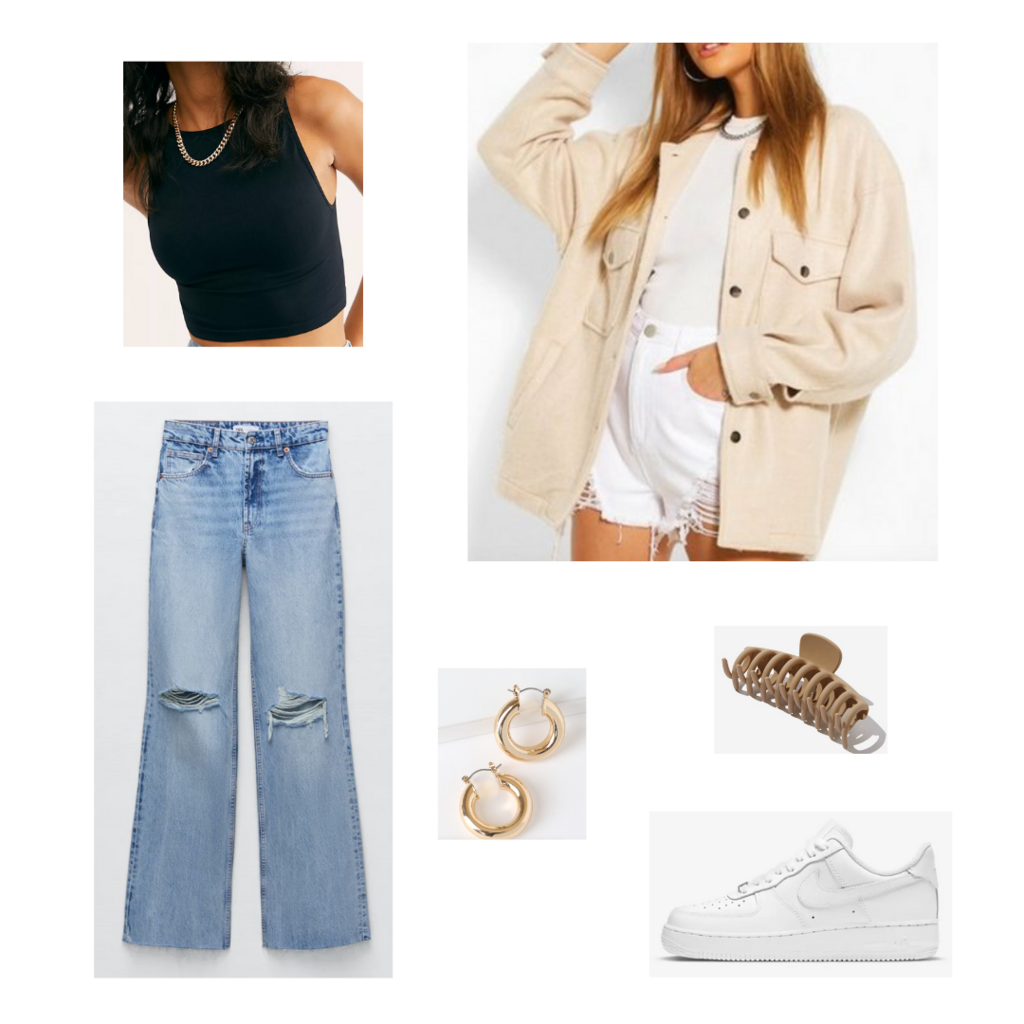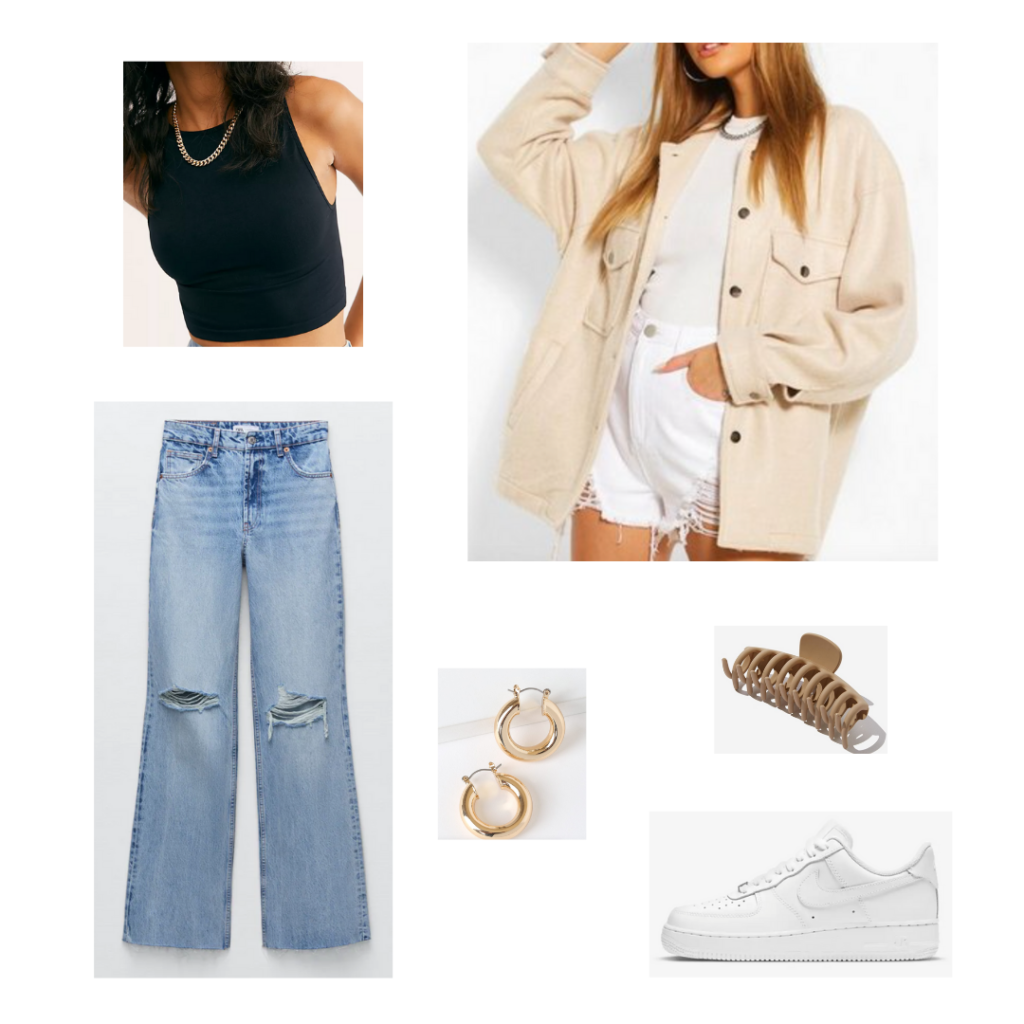 Our first cute outfit with jeans is styled around these ripped wide-leg high-waisted jeans from Zara. Wide-leg jeans have been super trendy lately, and this medium wash gives off a vintage look.
These jeans also come in 3 other washes and have distressing on the knees with some uneven hemlines for that casual, un-finished type of look.
This outfit is the perfect model-off-duty-inspired look. It's casual and comfy without involving sweatpants.
I paired the jeans with a high-neck black ribbed cropped tank. This tank is a super thick material so no need to wear a bra! Black tank tops like this one are staple pieces to have in your wardrobe because they are easy to style and are great layering pieces.
I added this beige oversized shacket; a very versatile piece to add to your fall collection. It features a soft touch fabric and is both lightweight and cozy.
For shoes, I added some classic Nike Air Force 1's to keep it comfy and casual. A white sneaker is always my favorite way to finish off a look.
For accessories, I kept it simple with these thick mini gold hoops and this neutral matte claw clip to pull your hair back with.
Outfit Idea #2: Distressed Mom Jeans and Bodysuit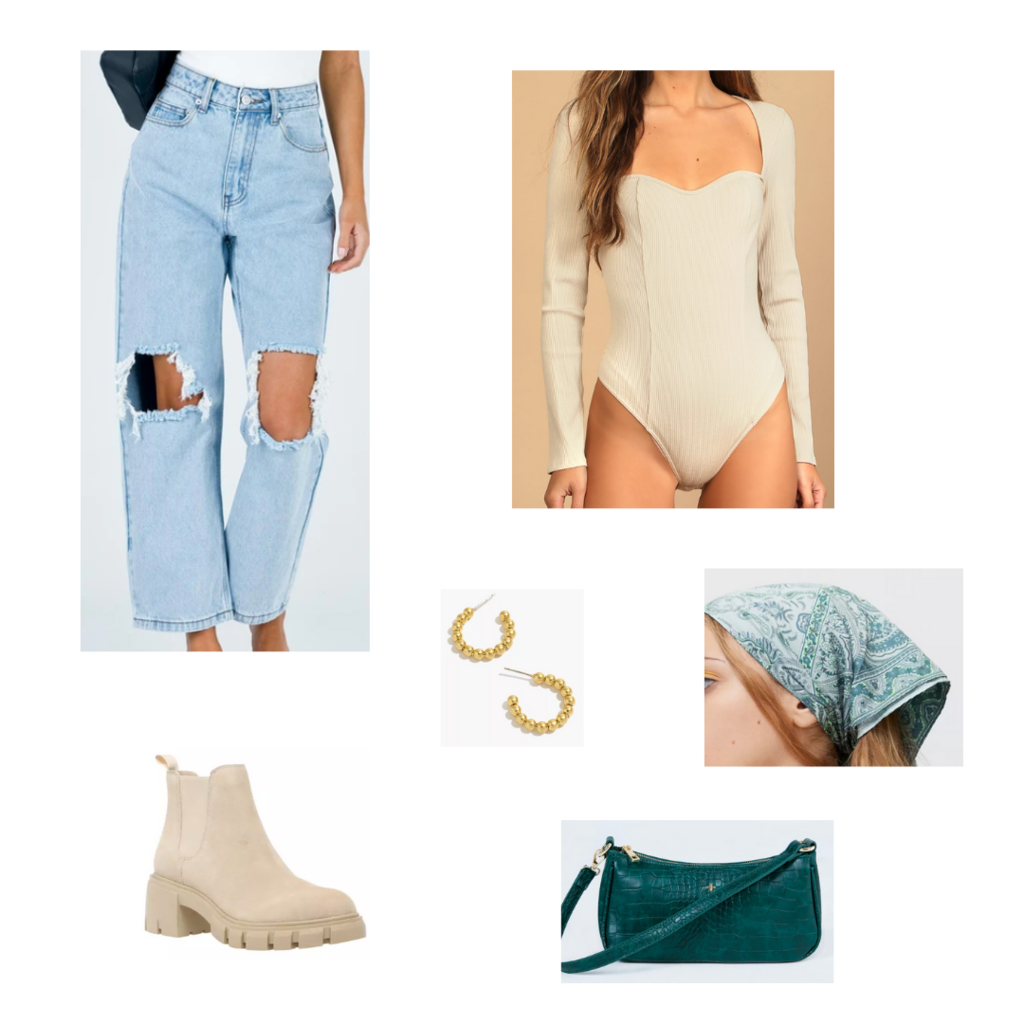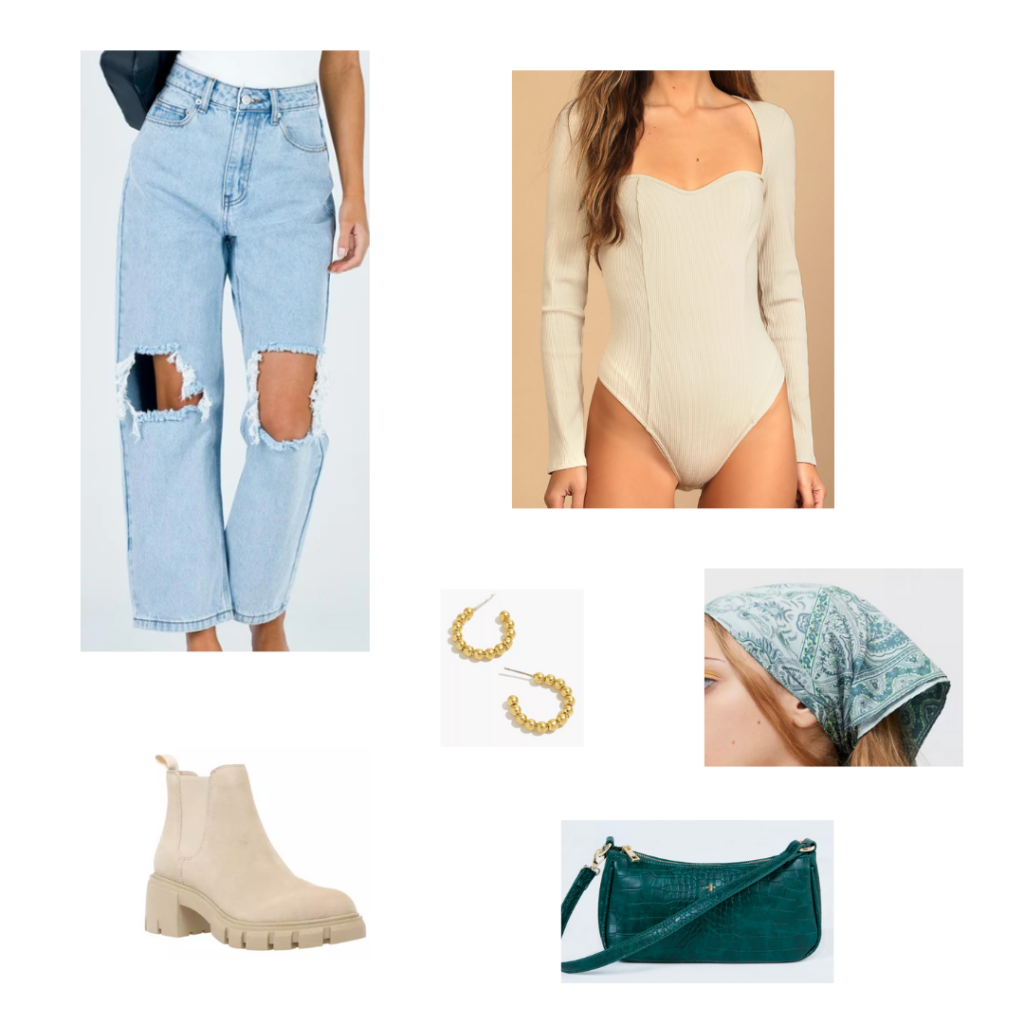 This next outfit is styling these super distressed mom jeans from Princess Polly. They are in a mid-wash color, are high-waisted, and have a straight relaxed leg with ripped knees.
These jeans are very versatile thanks to their wash; you can dress them up for a night out, or dress them down for day festivities.
I love this outfit because it mixes that boho style with an edgy vibe to create the perfect look! I paired the jeans with this super cute cream long sleeve ribbed bodysuit. It has a very flattering neckline and comes in 2 other adorable colors that are great for the season.
Next, I added these amazing boots which have been trending almost everywhere lately! These are the Steve Madden Howler Lug Sole Boots in the sand suede color.
These are the perfect boots to add to your fall wardrobe as they go with everything and are super easy to style. You can wear them with almost any pair of jeans, or dress them up by pairing them with dresses or skirts.
I finished off the look with some fun accessories to spice up the simple aesthetic of the outfit. I added this blue printed headscarf, some gold beaded mini hoops, and this forest green croc print mini shoulder bag.
Outfit Idea #3: High Waisted Mom Jeans, Crop Top, & Blazer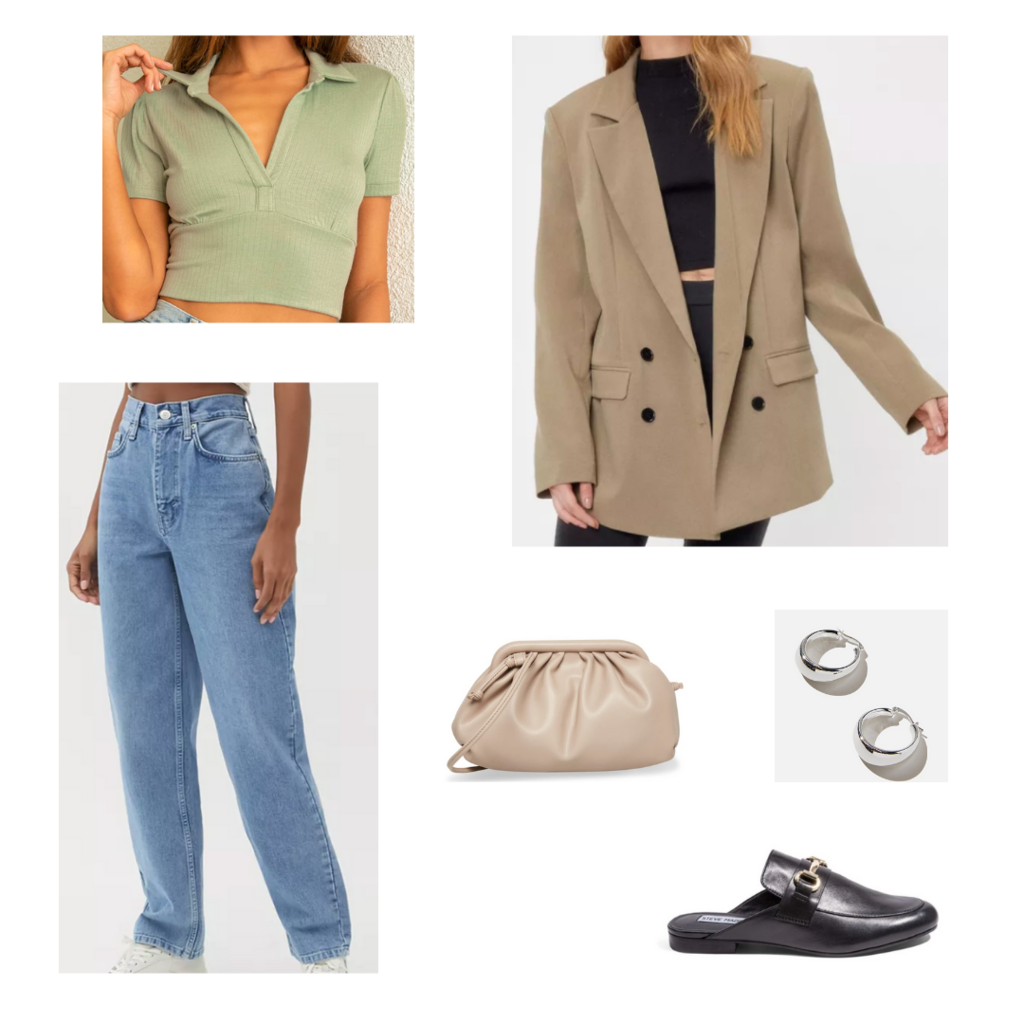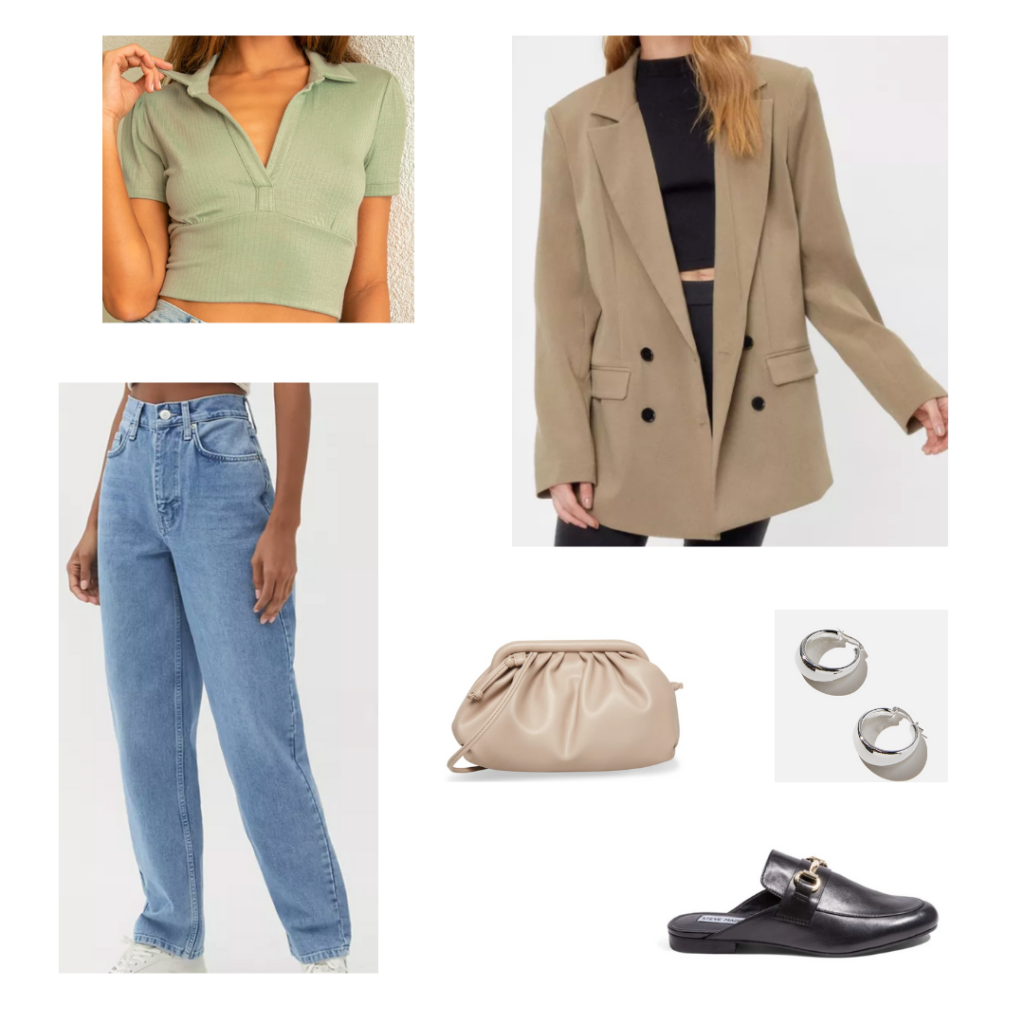 This is an example of a super cute outfit with jeans to wear to work. It would be perfect for casual workplaces that allow denim in their dress code. (I'm thinking on-campus jobs for sure!)
Start off with high-waisted mom jeans from Urban Outfitters. They have a super clean look to them and a vintage feel with this medium faded wash.
The BDG brand from Urban offers amazing quality denim at great prices. All the denim I have bought from them has lasted me a while and held up nicely throughout the years! They also fit really well and have a really great accurate size range, which we all know is hard to find with women's jeans.
My favorite part about these jeans is how baggy they are. This has been my favorite trend to start trying out for fall. Baggy jeans are SUPER flattering, even if you are on the shorter side like I am.
I paired them with this light green cropped collared shirt and layered it over an oversized tan blazer. I love blazers all year round, but especially right now.
This cool blazer will go with everything in your closet and the oversized fit gives off a more casual, less structured vibe than the usually fitted blazer. It also is lightweight, so it won't be too heavy for warmer days. You can transition it into winter, by layering thicker sweaters underneath.
For some extras, I added these black loafers that give off a designer look, as well as this designer-inspired bag. Both are from Steve Madden! Lastly, I finished off this outfit with some chunky silver hoops.
Outfit Idea #4: Black Jeans, Band Tee, & Flannel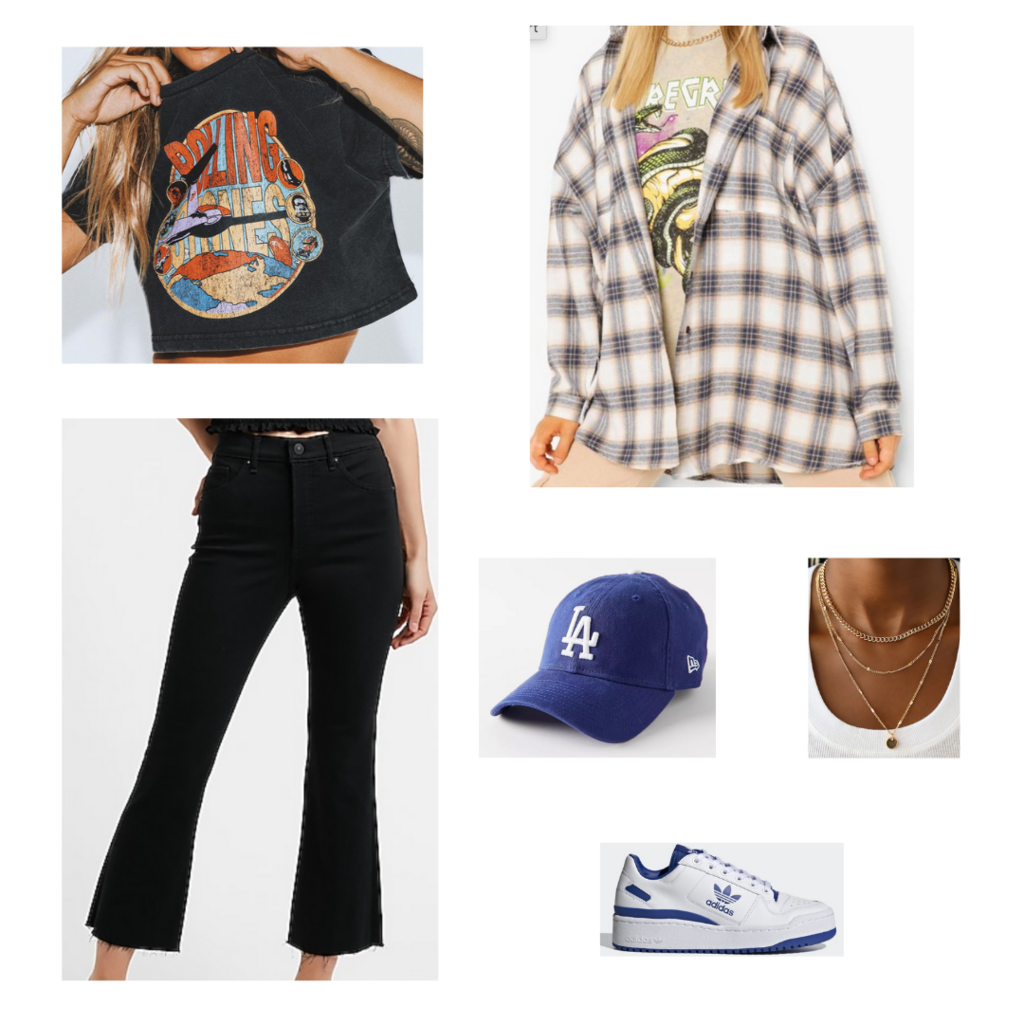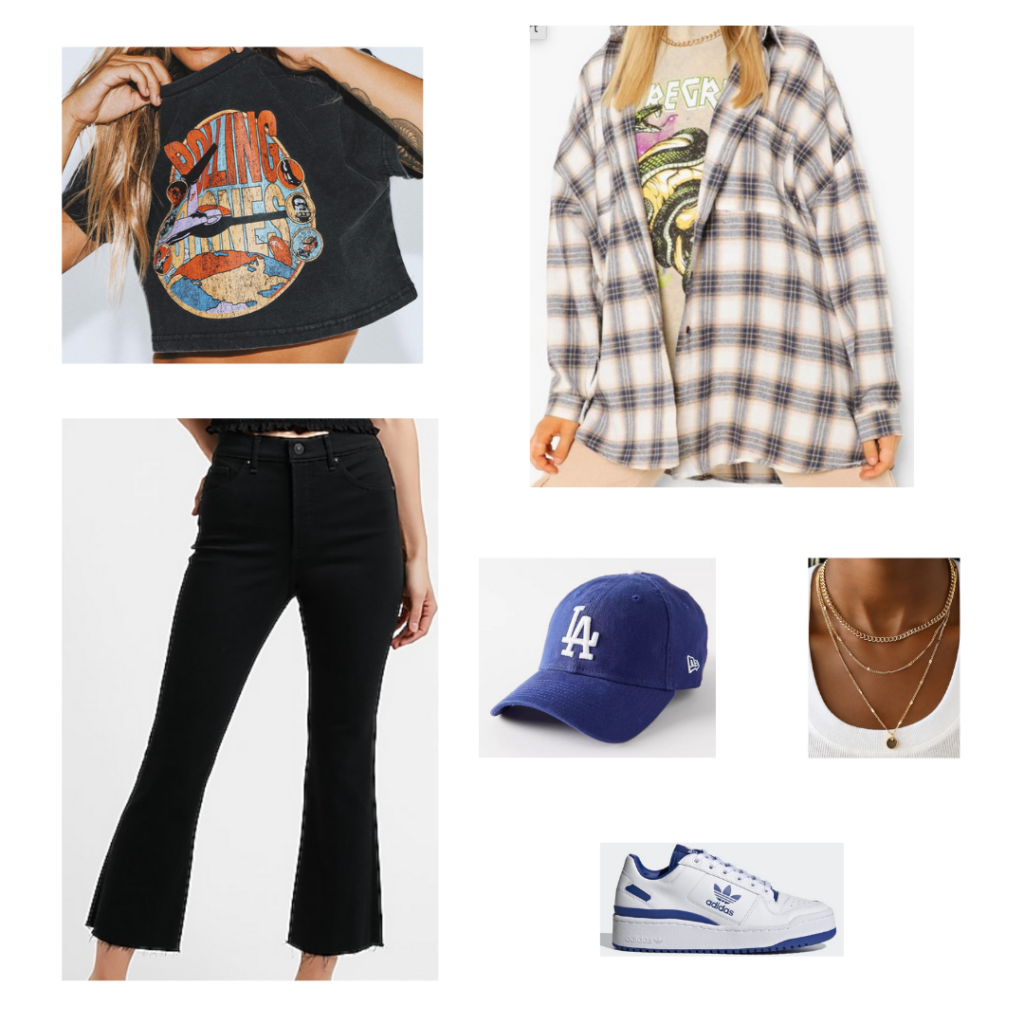 Jeans outfit number 4 is totally edgy and the perfect daytime look for college. This outfit would be great for class or running errands.
I styled a black pair of jeans from Express. These black flare jeans are high-waisted, with a raw hem and a cropped length. They are super soft and stretchy, while still holding you in. These jeans pair perfectly with your favorite tees, sweaters, and silky going-out tops.
For this look, I opted for a cropped graphic band tee and an oversized flannel to layer on top. Of course, we know flannels are a fall staple. Every fall season they come back in style. This one has some neutral colors and is super soft.
Flannels are so comfy and I will be living in them this year. They also are great to throw over oversized tees and leggings.
I added a baseball cap, some blue platform Adidas sneakers, and some gold layered necklaces to finish off this super easy and casual outfit with jeans!
Outfit Idea #5: 90s Jeans, Crop Top, & Sheer Button-Down Shirt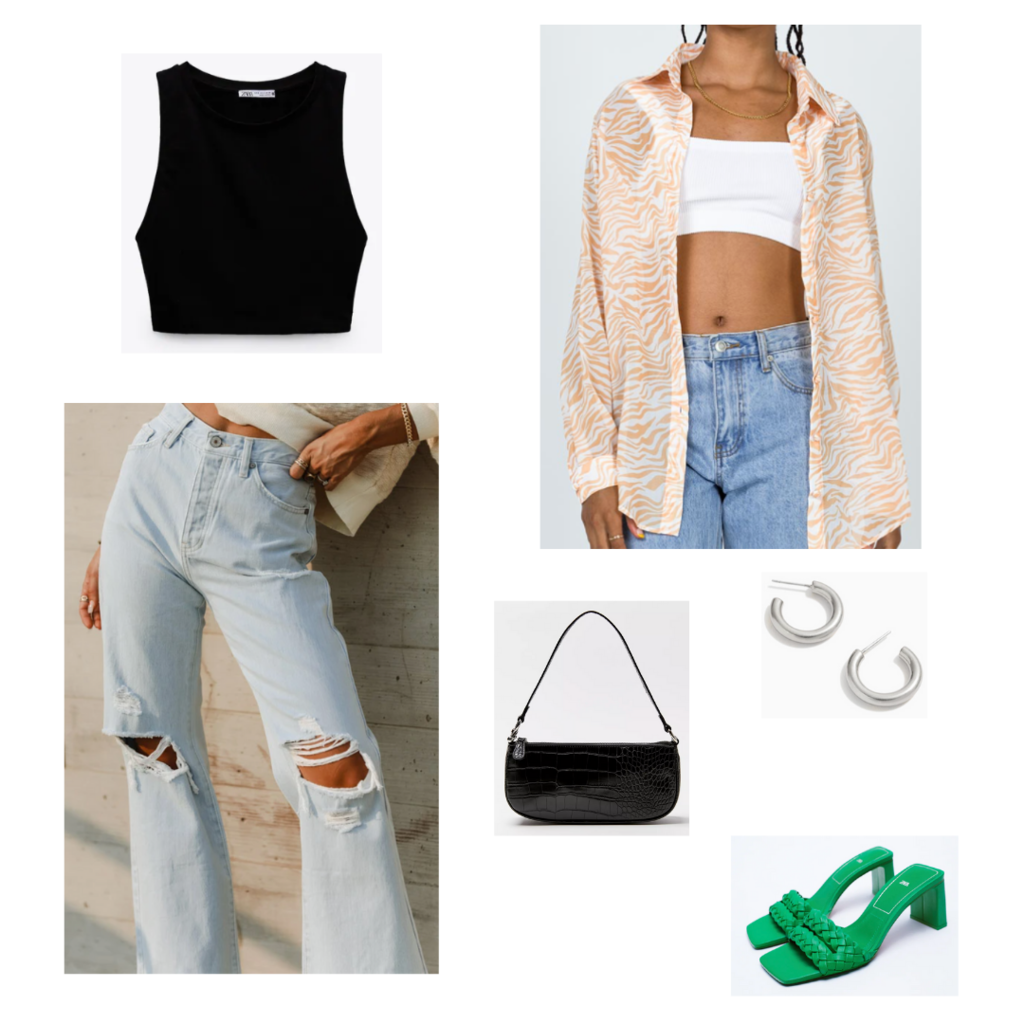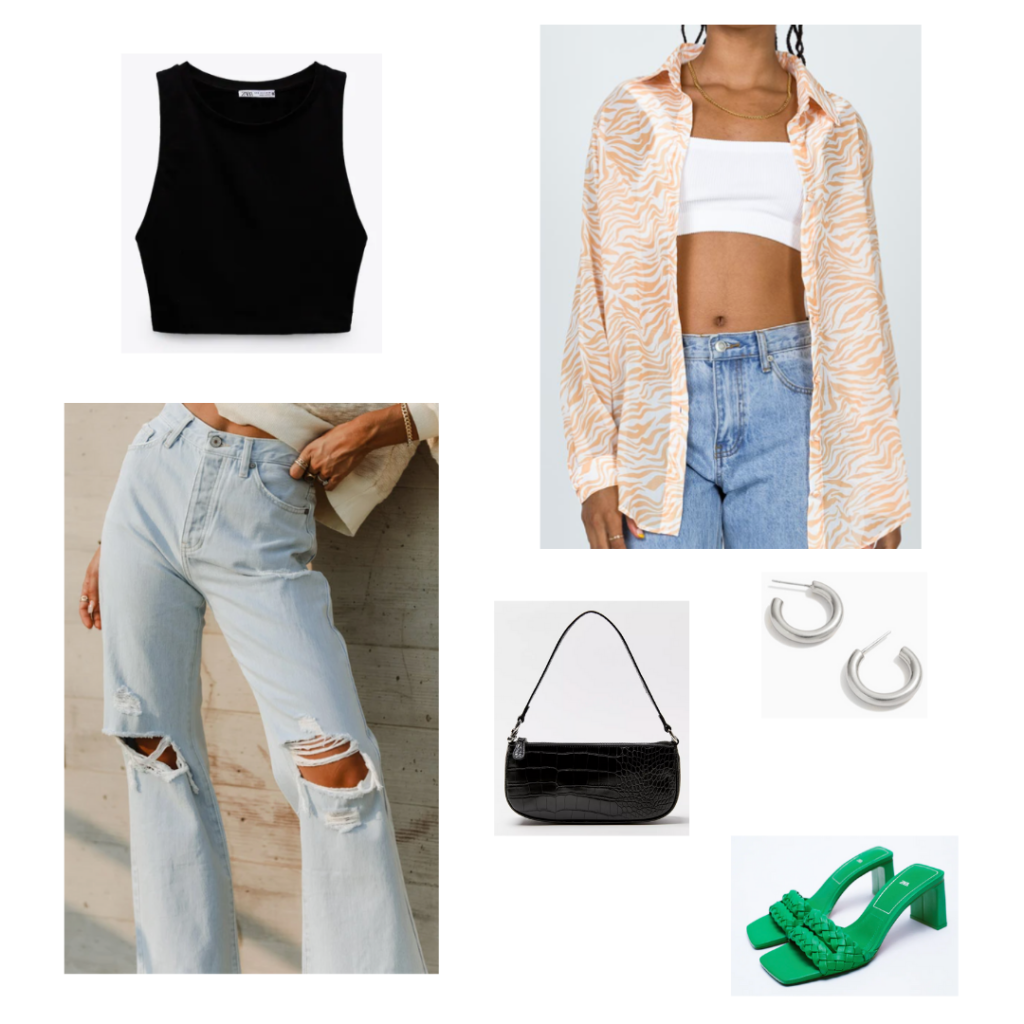 This next jeans outfit is super chic, but still easy to re-create! I styled these light wash, baggy flare jeans from a brand called Bohme.
These cute jeans have distressing, rips, and a high-waisted fit. The wide leg is super flattering and the denim is not rough so they are comfortable to wear all day or night.
This look is great for going out with your friends, going to dinner, or anything else! I added this high-neck cropped black tank and layered it over this sheer printed button-down shirt.
This trend has been something I have been seeing a lot lately on social media. Any sheer button-down layered over a shirt and left open, paired with jeans or shorts, has been the look in 2021. I think it spices up any tank top and adds something to the outfit composition.
This pale orange zebra shirt is from Princess Polly. It also comes in 4 other prints with different color combinations! I thought the orange paired nicely with these green mini heels from Zara.
These sandals have a low thick heel, so they are very comfortable! I finished off with this black patent mini shoulder bag and some big thick silver hoops to match the hardware on the bag.
Outfit Idea #6: Flare Jeans, Halter Top, & Oversized Jacket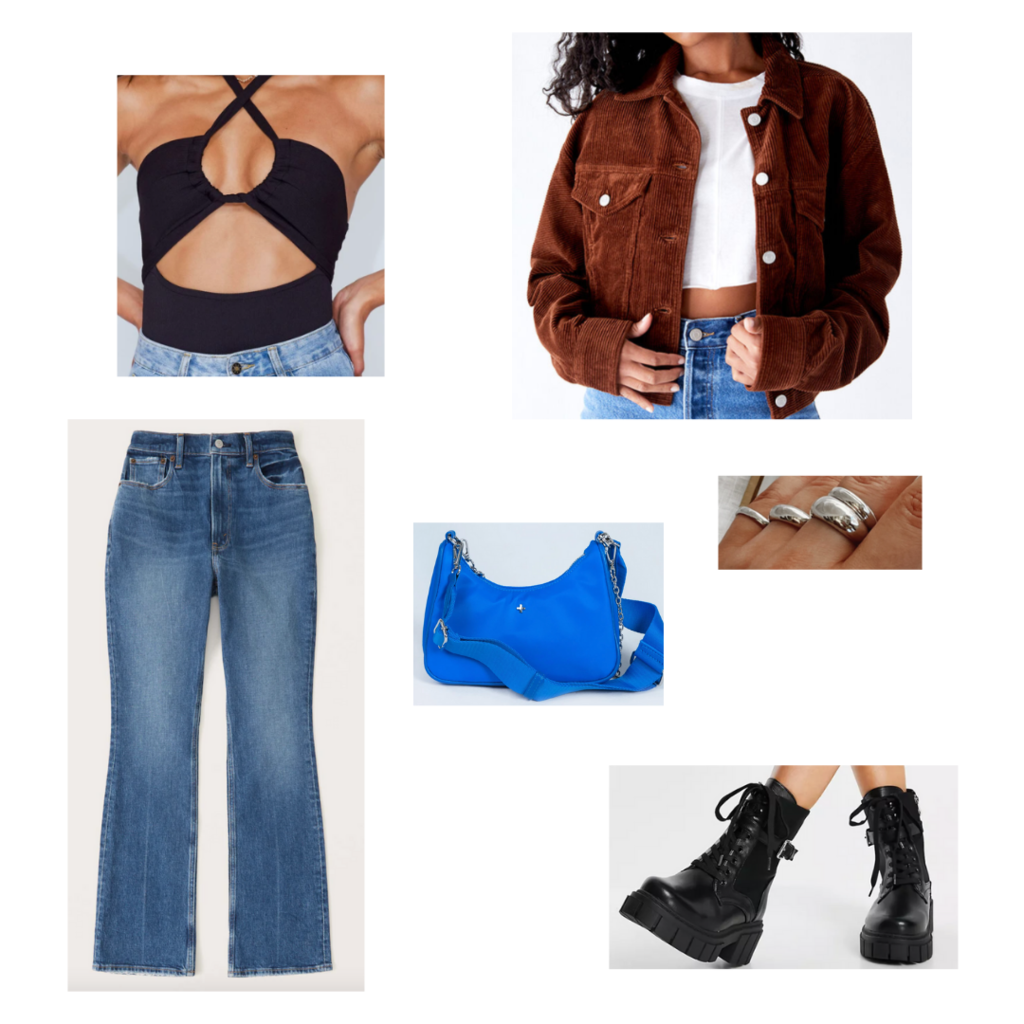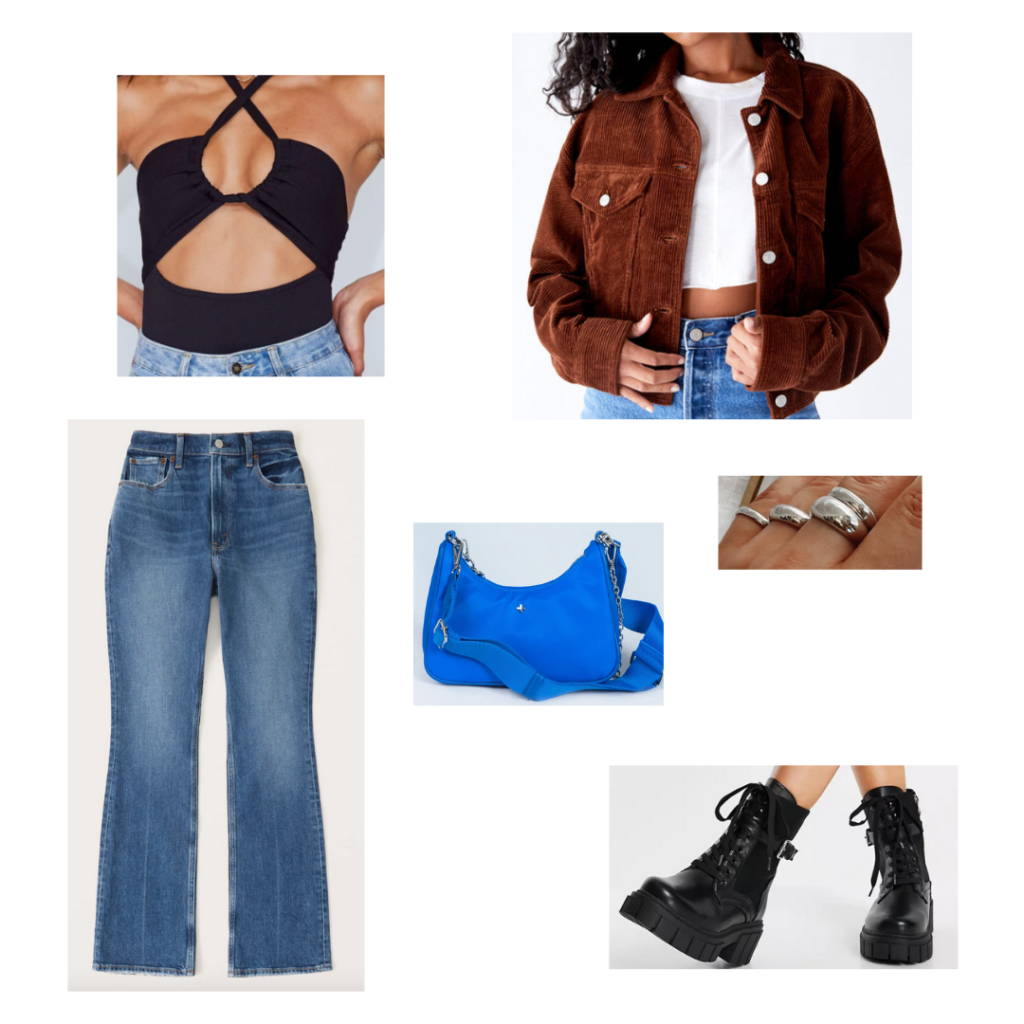 Outfit number 6 is one of my go-to outfits for the weekends! For this outfit, I styled a pair of jeans from Abercrombie. They are the Ultra High Rise Vintage Flare Jeans from the A&F Vintage Stretch Denim Line.
These jeans are in a dark wash and have clean hems with no distressing, which makes them incredibly versatile. The dark wash is perfect for creating a more dressed-up look, and the clean style of the jeans is great for casual workplaces that allow denim in their dress code.
There are so many ways to style these jeans, but my go-to is adding a bodysuit and then a cropped jacket if it is colder outside. This black bodysuit is super flattering and can be tied multiple ways. It also comes in 2 other colors. You can tie it in the back like shown on the model, or in the front to add a bow detail.
For layering, I added this cropped brown corduroy trucker jacket. Corduroy is a very popular and trendy material this season and can be transitioned quite easily into the colder months.
For shoes, black combat boots are another staple boot of 2021. They are so comfortable and sold pretty much everywhere, so you don't have to break the bank to achieve the same look and style.
These boots lace up and have a chunky heel, with buckle detail on the side. They are very edgy and pair nicely with the style of the jacket.
I finished off this look with this amazing cobalt blue bag, a must-have color trending in 2021.
I have this exact bag in the nude but am seriously considering buying it in this color as well. It is such a versatile bag because it can be worn cross-body with the long strap, or as a shoulder bag with the silver chain.
For accessories, I kept it simple with some stacked silver rings, but you could definitely add some hoop earrings or a simple chain necklace.
Outfit Idea #7: Baggy Jeans, Bustier Top, & Oversized Blazer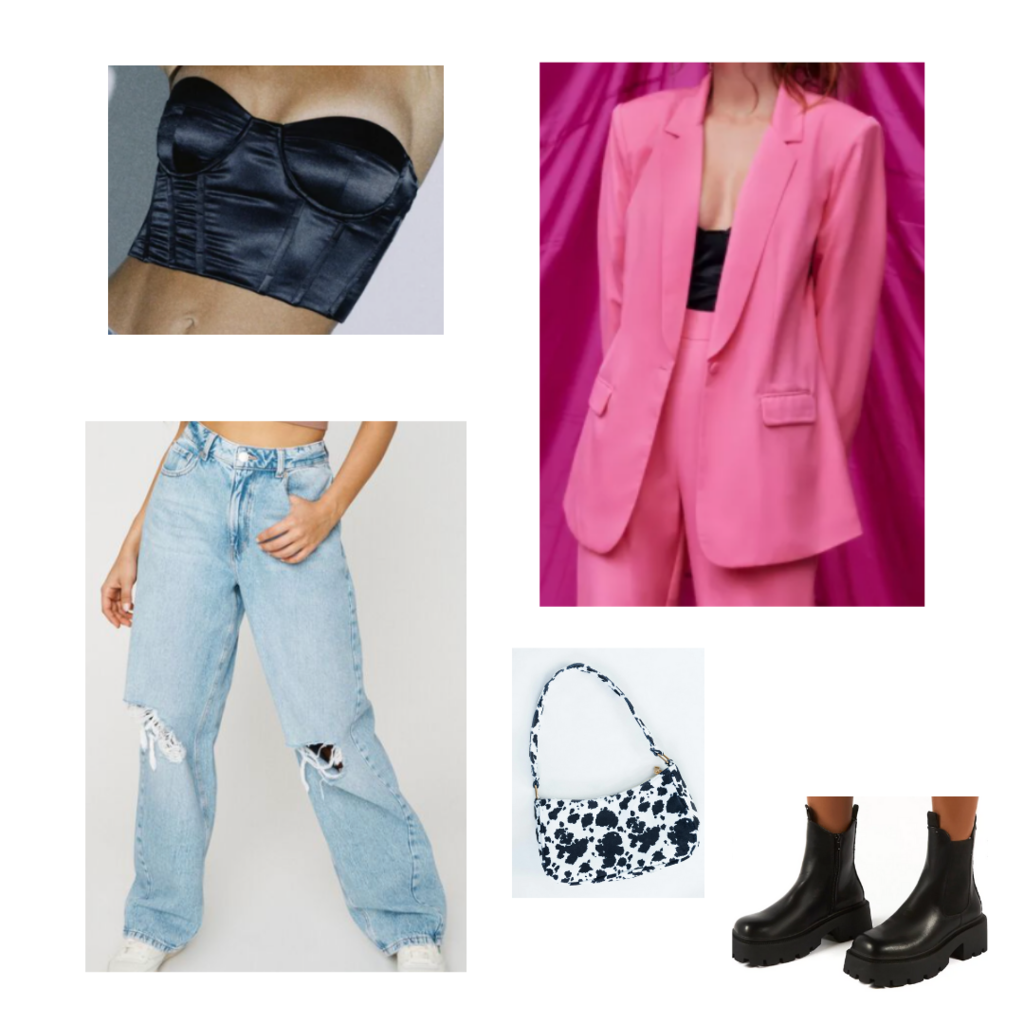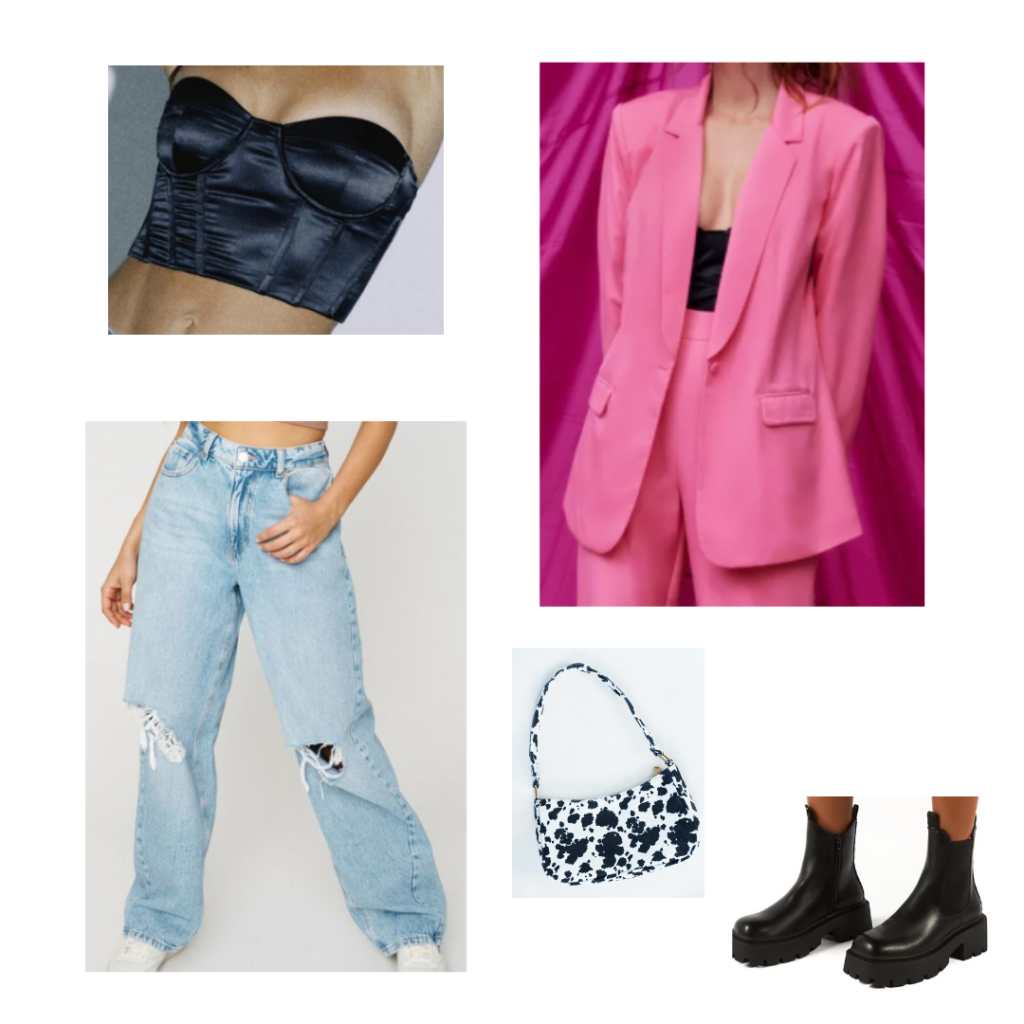 Jeans outfit number 7 is very trendy and definitely a statement look. It is very easy to re-create though, and still comfortable because you are wearing jeans!
The jeans I styled here are from Garage. They are high-rise and baggy, with a medium wash and distressing. These are super baggy and less fitted in the back area. Garage describes these jeans as "street style, inspired by the '90s" that are made to be baggy.
For this outfit, I added a cropped black corset-inspired top. Corsets were very trendy all summer, and they are staying on trend for the rest of the year with an added layering aspect.
I layered a bright pink power blazer over top, for that girl-boss statement. I absolutely love this blazer. A blazer in your favorite color is absolutely a great piece for your fall wardrobe.
I finished off this outfit with some chunky black Chelsea boots and this adorable cow-printed mini shoulder bag.
Outfit Idea #8: White Jeans, Colorful Top, & Leather Jacket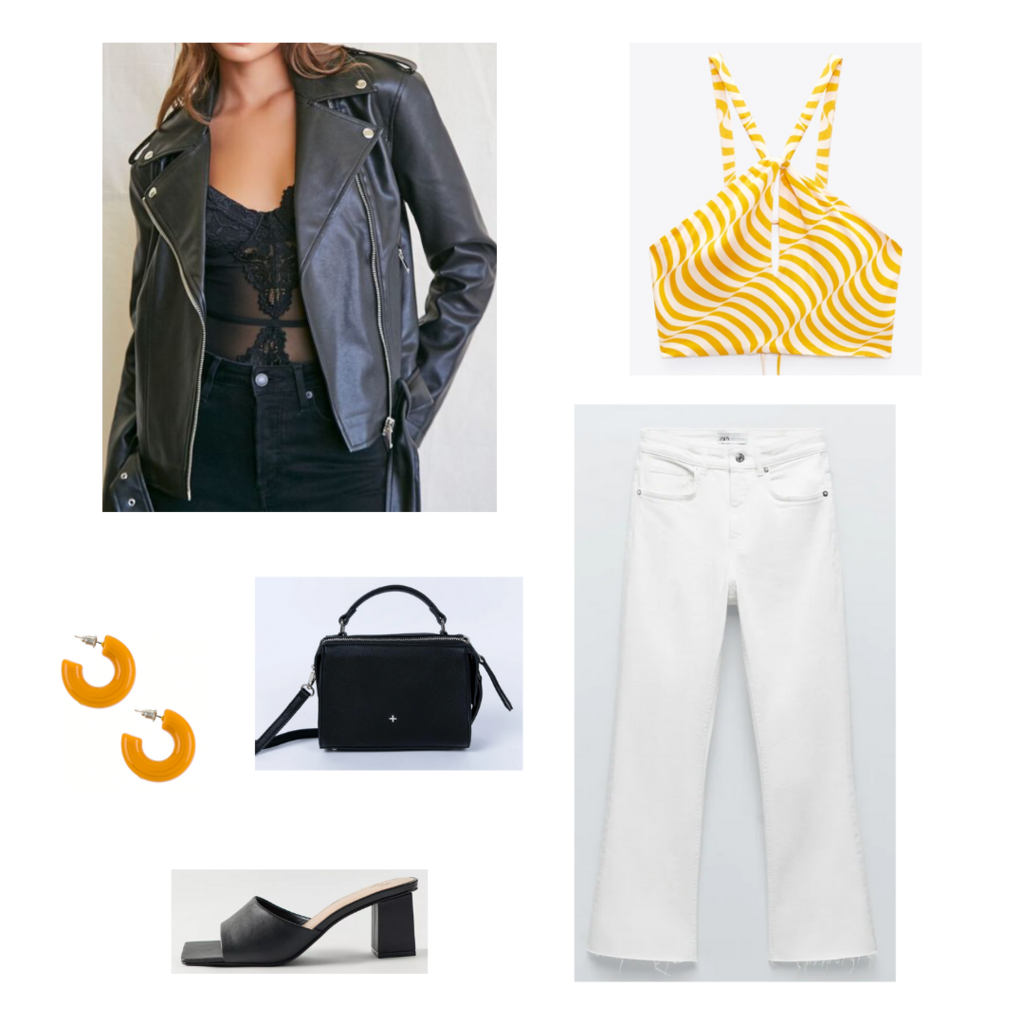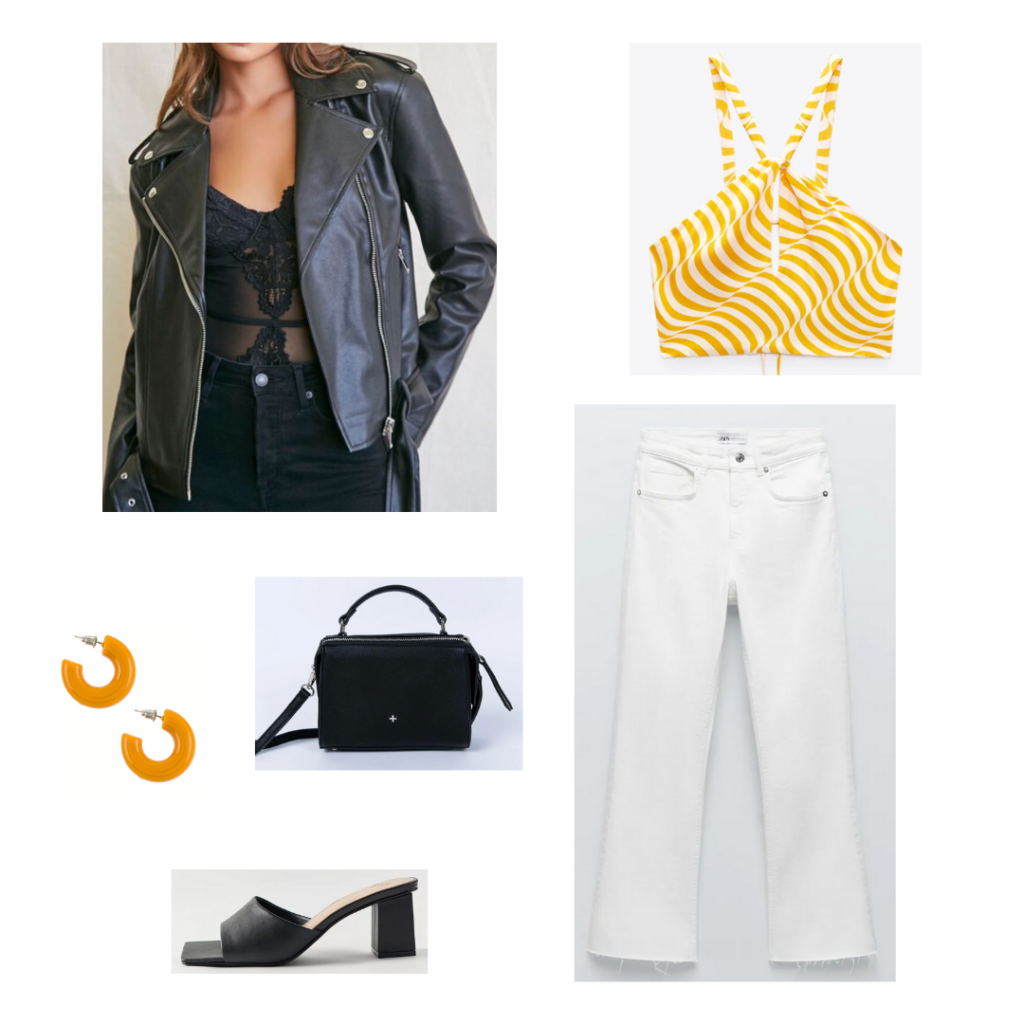 This next outfit styles a pair of white jeans! White jeans are a staple in every girl's closet, and I think they can 100% be worn after labor day. In fact, it is actually becoming a trend to do so.
These white jeans are the cropped flare jeans from Zara. They are mid-rise, have a slight stretch to them, a flared, unfinished hem, and come in 5 other colors! They also are not see-through at all, which is a problem I tend to run into when buying white jeans.
I paired the jeans with this super cute, 70's inspired cropped tank. This fun orange print pairs perfectly with white denim.
I added this cropped black leather jacket for some layering and warmth. Then I added some mini black block heels that are both chic and comfortable!
For accessories, I included this black crossbody bag that adds to the chic vibe of the look and some chunky orange hoops to match the tank.
These white jeans would also look super cute with a bright-colored sweater or a loose-fitting button-down shirt!
Outfit Idea #9: Utility Jeans, Cropped Polo Top, & Converse
Our cute jeans outfit number 9 styles these black high-waisted utility jeans. They are the BDG brand from Urban and are super trendy.
These utility-looking jeans have a baggy fit with a straight-leg silhouette. There is contrast stitching all over with flap pockets and a high-rise elastic waistband for maximum comfort. These jeans are so retro and super easy to style as well!
Here, I paired them with this blue button-down sweater. It has a collared neckline and a cropped length. The blue color contrasts so well with the black jeans.
I paired the combo with some white high-top platform Converse and some chunky gold hoops. If you have multiple piercings, this pack of hoops is great to layer with. I love the look of different size hoops in your ears.
Lastly, I added this adorable floral printed mini shoulder bag. I love all the bright colors!
Outfit Idea #10: Colored Jeans, Cropped Cardi, & Boots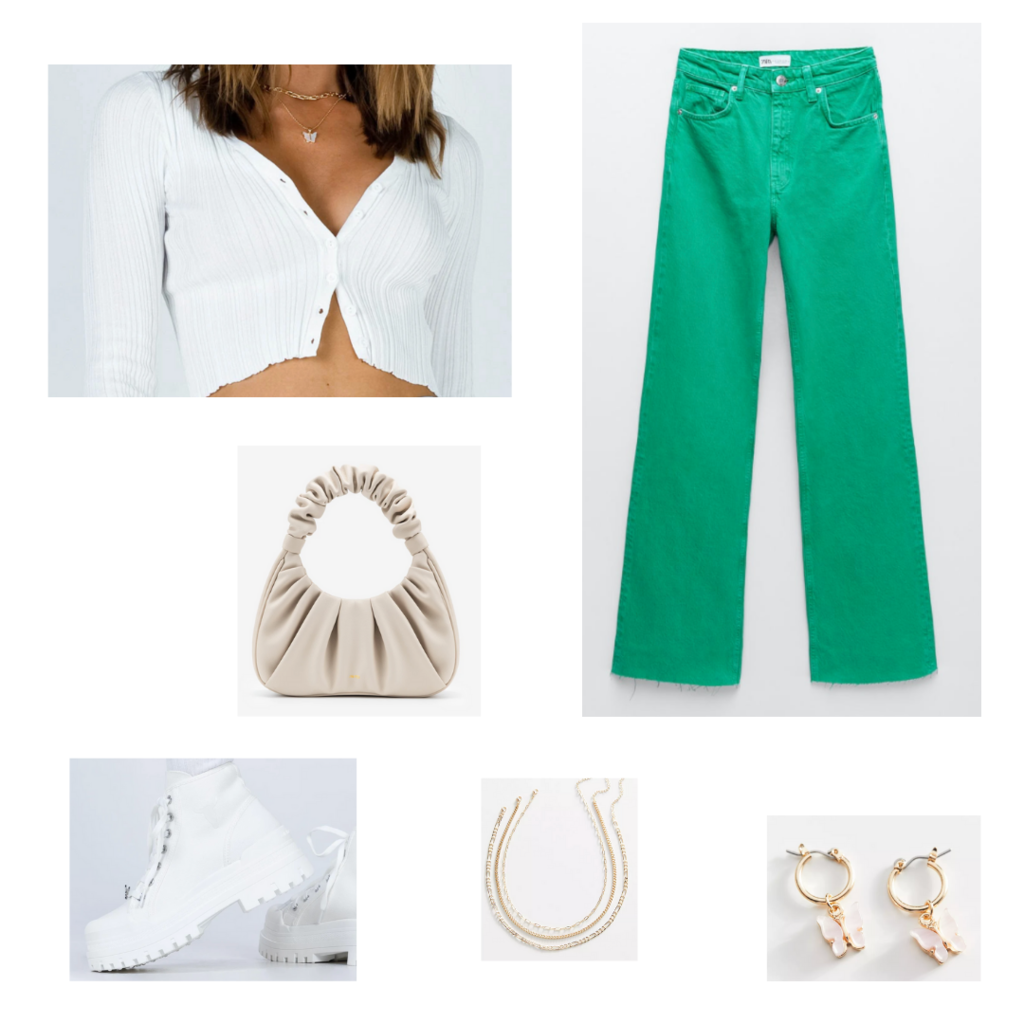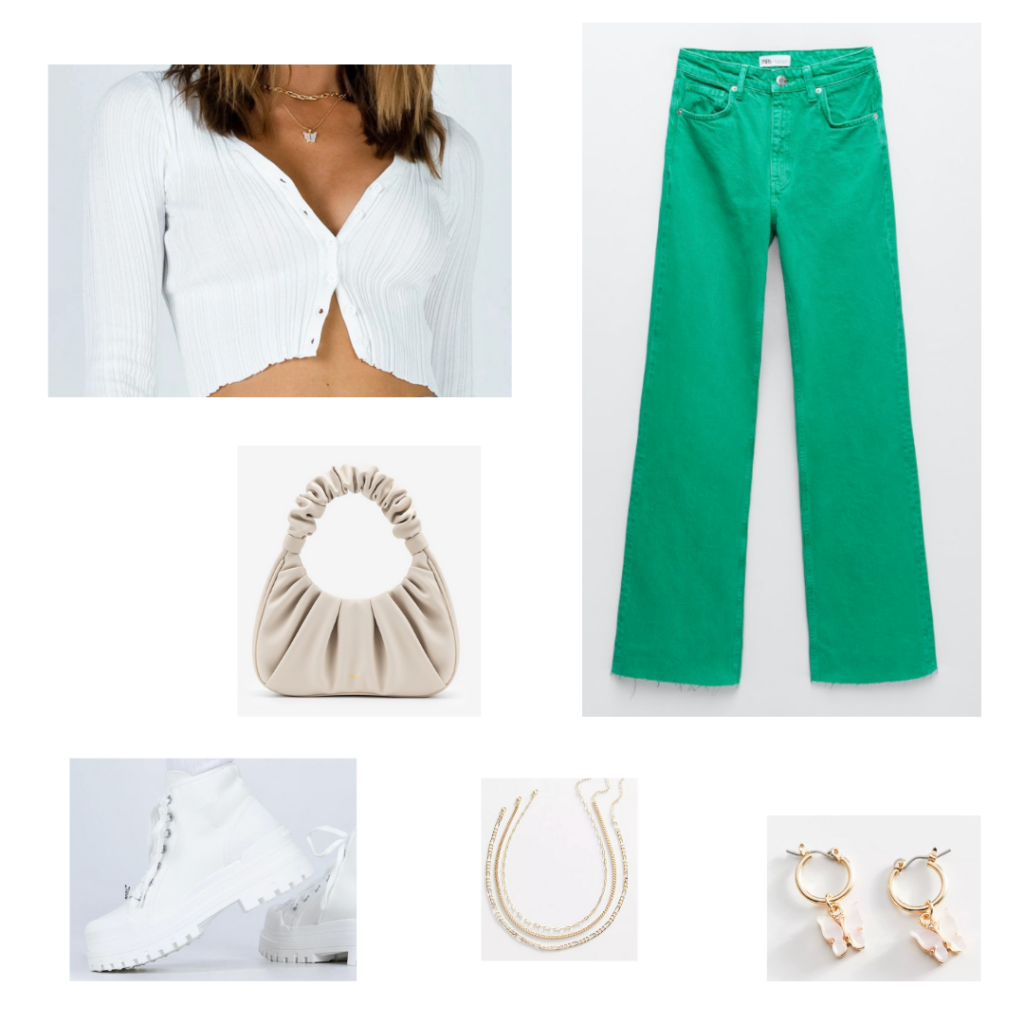 This last outfit set is so fun and something I would wear in a heartbeat! I styled a pair of colored jeans from Zara. Zara is my favorite place to shop for colored denim!
These high-waisted jeans come in this amazing Kelley green color and they have wide legs with unfinished hems. These jeans are such a staple for fall!
I paired them with this button-down cream cropped sweater and some chunky white combat boots.
For accessories, I added this cream mini shoulder bag, some layered gold chain necklaces, and these adorable mini butterfly earrings!
This look is perfect for a day of shopping, sightseeing, or grabbing brunch with your gals!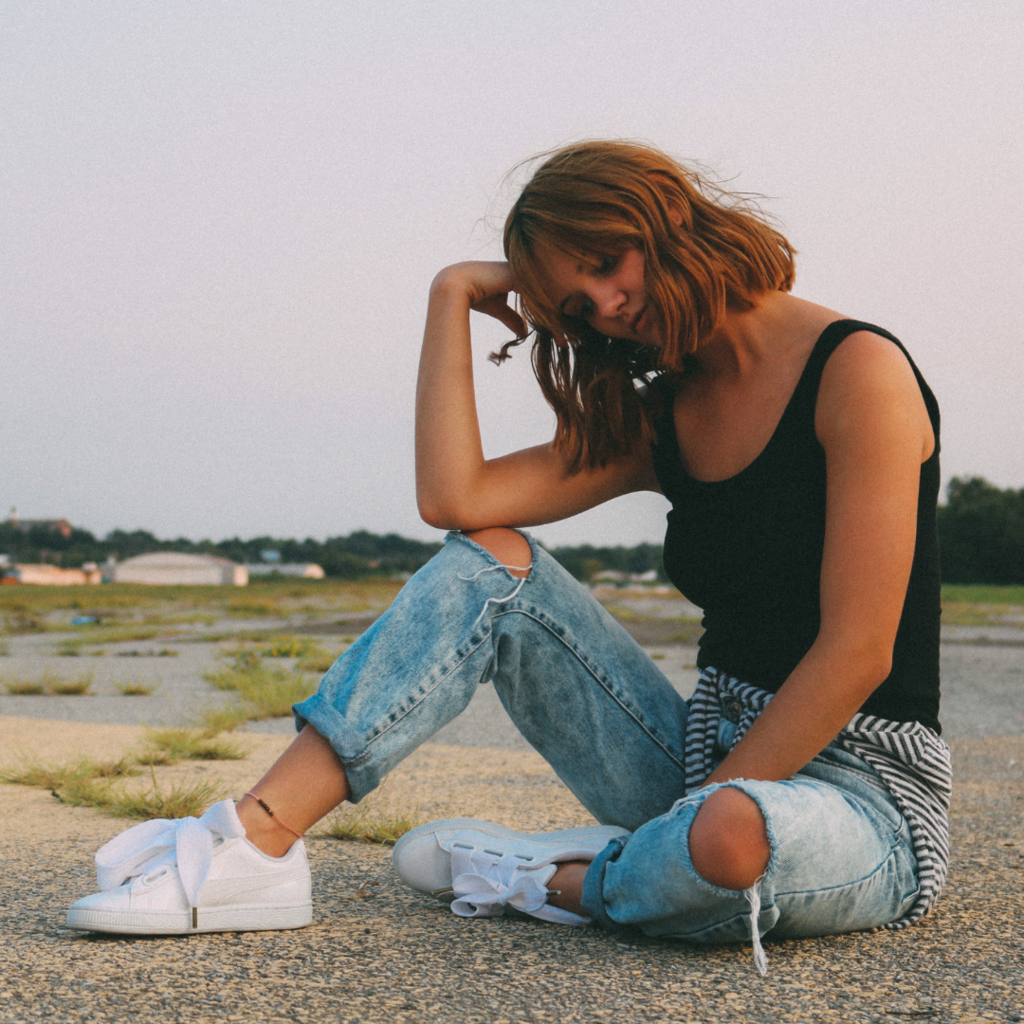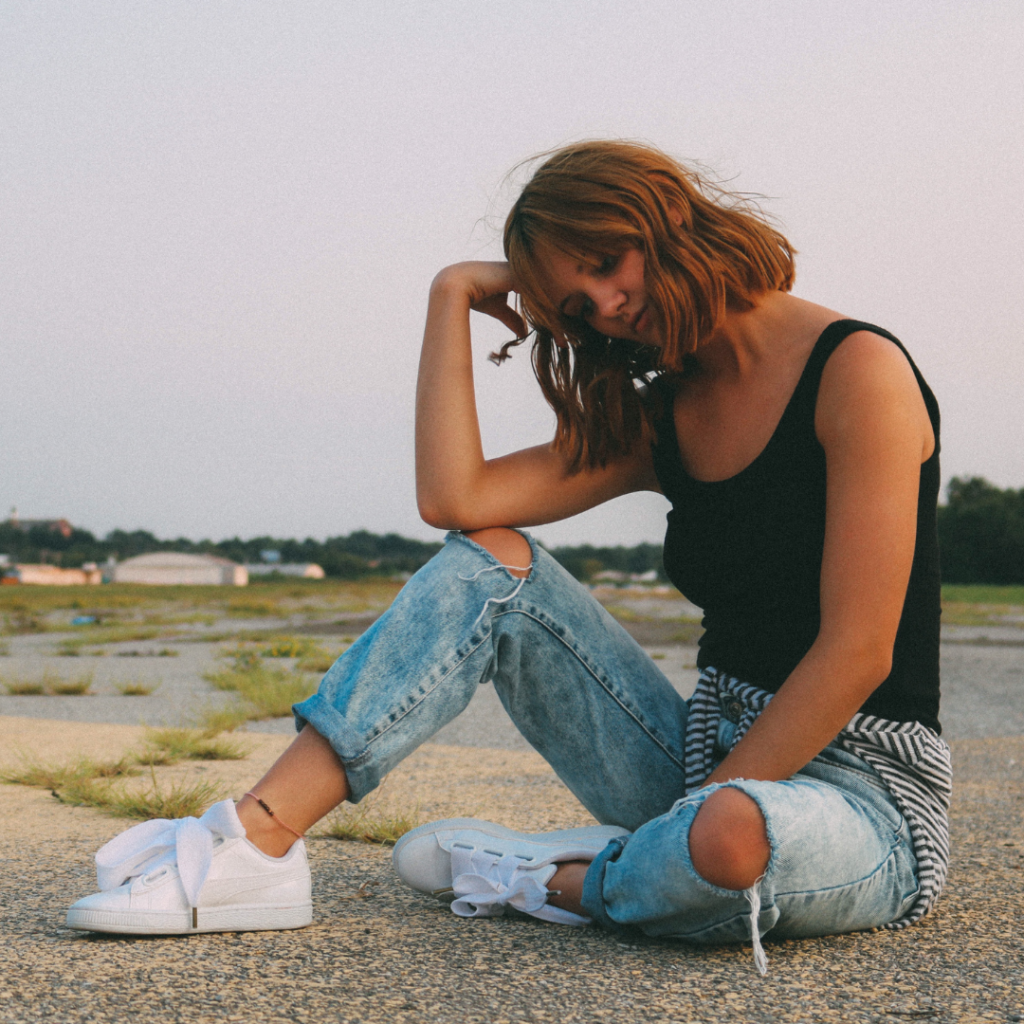 What is your favorite way to make a cute outfit with jeans?
Where are your favorite places to buy jeans? Let me know in the comments below!