This post will show you my Amazon favorites for 2023, the best things to buy on Amazon in the fashion, beauty and lifestyle categories.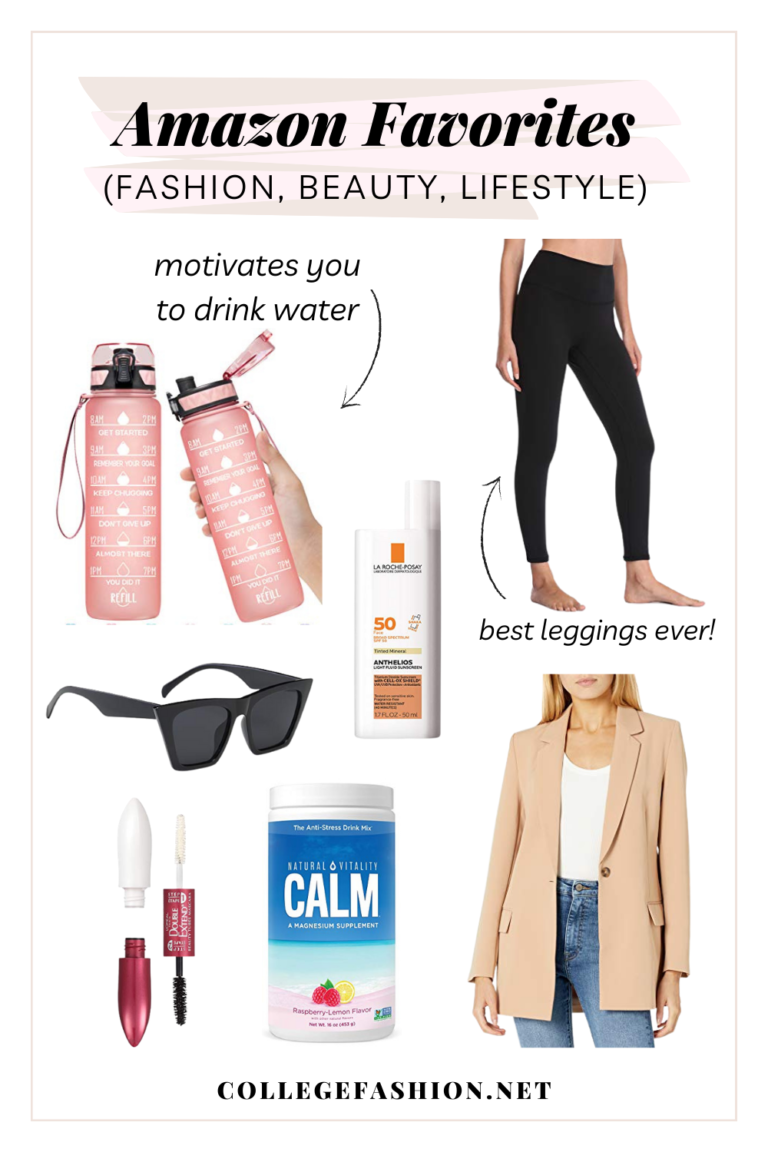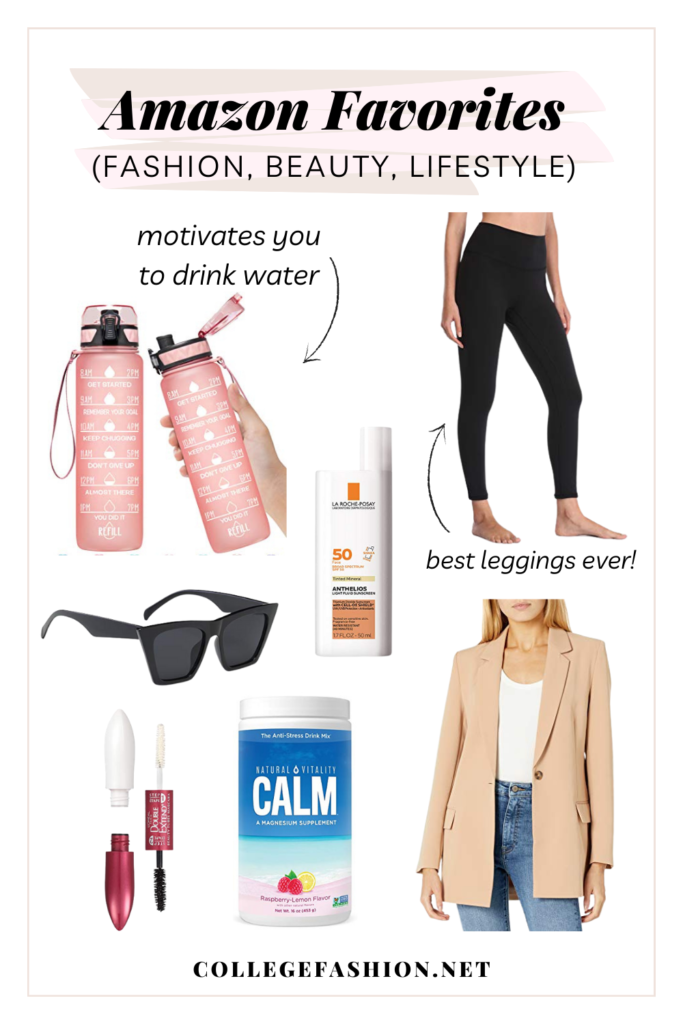 I, like many others, have been buying a lot of things on Amazon this year. Since I haven't been shopping in physical stores like I used to, I've embraced the convenience of Prime for the time being.
And as such, I've become obsessed with reading other people's "Amazon Favorites" lists. There are so many hidden gems to discover!
So, for 2022, I thought I'd write my own list.
Below are my Amazon favorites of 2023; things I've bought recently that have already changed my life. I can 100% recommend all of these as I personally use and love them every day (and I get them all with 2-day shipping).
BTW, if you don't have Amazon Prime yet, college students can get a 6-month trial when they sign up here, plus half-price Prime once the trial is up. I definitely recommend it — 2-day shipping is life-changing!
And now for all of my Amazon favorites in 2023:
Amazon Fashion Favorites:
Yunoga Buttery Soft Leggings
I've tried quite a few brands of Amazon leggings in search of the perfect buttery soft, stretchy, smoothing legging for lounging and working out. And I definitely found the one in these Yunoga leggings.
These are THE ONES. The ones you have been looking for. They're insanely soft, perfectly high waisted, smooth everything out, but are also SO comfortable — no digging in, anywhere! I have to resist the urge to wear these every single day.
I also tried the popular CRZ Yoga leggings from Amazon to compare, and I very much prefer the Yunoga leggings to CRZ's.
CRZ Yoga's leggings are a silkier fabric (nice if you have pets because the hair doesn't stick, but not as comfy), whereas the Yunoga leggings are softer and slightly thinner, a true buttery soft fabric.
Comfort-wise, I also found CRZ Yoga to ride down throughout the day, while Yunoga stays high-waisted all day long.
I am really particular about my leggings (they are a wardrobe essential after all) so I'm super excited to have found my holy grail in these. I have three pairs of Yunogas already and I need to get more!
Daily Ritual Puffer Coat
I got this coat as a sample from Amazon Fashion and I was definitely skeptical about what the quality would be like for an Amazon store brand coat.
This puffer has performed far and above my expectations and I've been telling everyone about it.
I live in Massachusetts (where there's currently a foot of snow on the ground), and we don't mess around with winter coats. I need my winter coats to function and keep me warm, and usually that means I need to buy a coat in the $200 range.
This $64 coat blew me away with how warm it was, despite also being so cute and affordable!
This is the only winter coat I've been wearing this year and I definitely think it will be a favorite for years to come.
The Drop Slouchy Sweater
Another win for Amazon's house brands! This cute and cozy off the shoulder sweater has been my go-to over the past month.
I love styling this half-tucked into high waisted mom jeans or just paired with leggings or joggers around the house.
I went up a size to get a slouchy fit and I'm so glad I did! It's the perfect effortless, affordable sweater for cozy days.
The Drop Long Blazer (in 2 colors)
This was another sample I got through Amazon Fashion and I loved it so much that I bought a second one in another color.
I have this blazer in white and "praline" (peachy beige). It's a nice long length and I was astounded at the quality — the fabric is thick and this looks much more expensive than it is.
I love this paired over mini dresses in the warmer months, or with a simple jeans and bodysuit combo for a casual cute look.
Hanes Crew Neck Tee 3-Pack
You can get these anywhere, but they're a staple that I always re-buy on Amazon. I have yet to find a more affordable, high quality basic white crew neck tee. And I've tried SO many!
These Hanes tees are comfortable, last through a million washes, are form-fitting but not extremely tight, and aren't overly long or slouchy. And they're $10 for a 3-pack.
THE perfect white tee. Period.
I buy a men's size small (I'm 5'6 and a size 4) and these are perfectly fitted on me.
Core 10 Liquid Shine Puffer Coat
Here's another puffer coat from Amazon that defied expectations. This Core 10 coat is my go-to puffer for active days as it's a little thinner and less warm than the Daily Ritual puffer coat listed above.
I love layering this over an oversized hoodie with leggings for winter walks or runs around the neighborhood.
The shine adds a little something extra to a basic puffer coat, so I love having this in my winter rotation.
Square Cat Eye Sunglasses
These have been such a fun purchase.
I usually buy expensive, classic sunglasses that I keep for years but this year I decided to branch out and get something cheap and trendy for once. I absolutely love these!
These Amazon sunglasses have a designer look without costing a lot. They have a nice weight to them and feel high quality, plus the lenses are super dark.
You would never know these are cheap sunglasses and I get tons of compliments on them!
Amazon Beauty Favorites:
Universal Hair Diffuser
I bought this diffuser on a whim when I saw @CaraLoren's curly hair tutorial on Instagram last year. (It's tagged in her highlights under "curly tutorial" if you want to check it out.) I'm so glad I got this because it's a total game changer for wavy or curly hair.
I have naturally wavy hair that I usually blow-dry straight and then style with a curling iron or flat iron. I've been trying to reduce my get-ready time this year, so I decided to try this diffuser to embrace my natural curl while reducing frizz.
This diffuser works with most blow dryers and it cuts my dry time down by half vs blow drying my hair straight. I definitely notice less frizz and more volume in my hair as well, compared to scrunching and air drying.
If you want to embrace your natural curls this year, I highly recommend this.
Double Extend Tube Mascara
I have oily skin and no matter what I did, I used to always end up with black smudges on my upper eyelids from my mascara.
I tried so many fixes — priming my eyelids, powdering over the primer, only applying my mascara to the underside of my lashes and not the tips, doing a layer of clear mascara over top, setting sprays on setting sprays. NOTHING. WORKED.
That is, until I discovered tubing mascara.
This special type of mascara coats each entire lash with a mini "tube" that stays together and doesn't smudge at all. Sounds weird but works amazingly well.
Now, I buy this L'Oreal Double Extend mascara on Amazon and have it automatically shipped to me when I run out. This does not smudge or budge on me AT ALL and lasts all day. Game-changer.
La Roche-Posay Tinted Mineral Sunblock
I started on a prescription skincare regimen this year and because of this, my skin is now more sensitive to the sun.
Being pale with newly extra-sensitive skin, I take sun protection extremely seriously. I want to prevent wrinkles as much as possible and protect my skin from damage.
I also have oily skin that becomes even oilier from most facial sunscreens I've tried.
This sunscreen, however, is life-changingly good. It doesn't make me oily, it doesn't leave a white cast, AND it has a slight tint that gives me light coverage for any redness or dark circles while also looking completely natural. Oh, and it's broad spectrum SPF 50.
I will keep buying this forever!
Eyebrow Tint Kit
I have extremely pale eyebrows that practically disappear depending on how (fake) tan I am. Unfortunately, the Mona Lisa look is just not my vibe.
So for the past few years, I've been dying my eyebrows from blonde to brown.
Dying my brows saves me a ton of time getting ready and I allows me to do "natural" makeup much more easily since my brows are presentable 24/7.
I've tried a few different kits and this one is the absolute best one I've found. It comes with everything you need, from a tiny mixing bowl to an angled brush that lets you apply the dye precisely where you want it.
This processes super fast, too. I use the "light brown" color and it's done in about 5 minutes and the color lasts a month.
Garnier Micellar Water
Please don't judge me too much for admitting this: In the past, I was extremely lazy with my skincare and would use makeup wipes every single night.
These days, I've changed this habit and embraced a full skincare routine, including a "double cleanse."
For my first step, I use this micellar water from Garnier. It fully removes my makeup with a few swipes so I don't stain my towels with makeup when I do my second step with face cleanser. It works great on even waterproof makeup and a bottle lasts me months at a time.
I love getting this on Amazon, too, since I can just subscribe and get new bottles sent to me whenever I run out.
Real Techniques Sponges
I don't wear a lot of makeup these days, but when I do make the time for a full foundation and concealer routine, I use these sponges to apply.
I used to use a BeautyBlender but I got tired of cleaning it over and over again to never have it get completely clean. So I decided I wanted a cheaper sponge that I could replace a few times a year without having to spend $20 each time.
These Real Techniques sponges are just as good as the $20 BeautyBlender except you get 4 for $11.
These sponges expand a ton and get extremely soft when you run them under water. They're a must have for blending liquid foundations or concealers.
Flexitol Lip Balm
This is my most recent find and my new holy grail of lip balms.
I have extremely chapped lips — like, apply Aquaphor at bedtime every night and wake up with them still chapped and peeling kind of lips. No matter what I've tried (Rosebud Salve, Vaseline lip therapy, overnight lip masks, lip scrubs every other day), nothing actually fixed the problem.
This stuff changed my life in just three days.
I applied this and instantly felt it working. After applying at night and in the morning for three days, my lips do not have any dry patches anymore. I truly can't remember the last time I could say this. I feel like I have new lips!
Now, a fair word of warning. This stuff does not smell great (medicinal would be the best way to describe it), and the tube is not cute. But it WORKS. If you have extremely chapped lips like me, this is a must try.
Misc. Amazon Lifestyle Favorites:
Water Bottle with Times to Drink
This water bottle is definitely my favorite thing of 2023! My sister got this for me for Christmas and I have been using it every single day since.
I'm horrible about drinking enough water. I tried having a Yeti by my side all day, I dried the Plant Nanny app, I tried setting reminders to drink. This is the first thing that's actually gotten me to drink enough water on a consistent basis.
I love this bottle because it's nice and big, so you only have to fill it twice a day. It's also way easier than you think to hit the markers – a few big sips and you're there. Plus, it comes in so many cute colors.
Related reading: The 25 Best Gifts You Can Get for Athletes This Year
Calm Drink
This is something I think everyone should try in 2023, since let's face it, all of us are dealing with an extremely stressful time right now.
I definitely get anxiety and often have trouble sleeping, and this Calm drink mix is like magic for stress and anxiety. I drink this at night (or anytime during the day when I'm feeling overly stressed) and within minutes I feel more calm and relaxed.
To be honest, I don't understand why this works so well, but I'm not going to question it. I'm just going to keep buying this stuff when I run out!
Word of warning: Start with a very small dose of this (1/4 teaspoon) and work up from there if you don't want to be running to the bathroom from the magnesium in this.
What do you think of my Amazon favorites?
What are your favorite products on Amazon? Have you tried any of my favorites before? Any products I'm missing out on? Tell me in the comments down below.