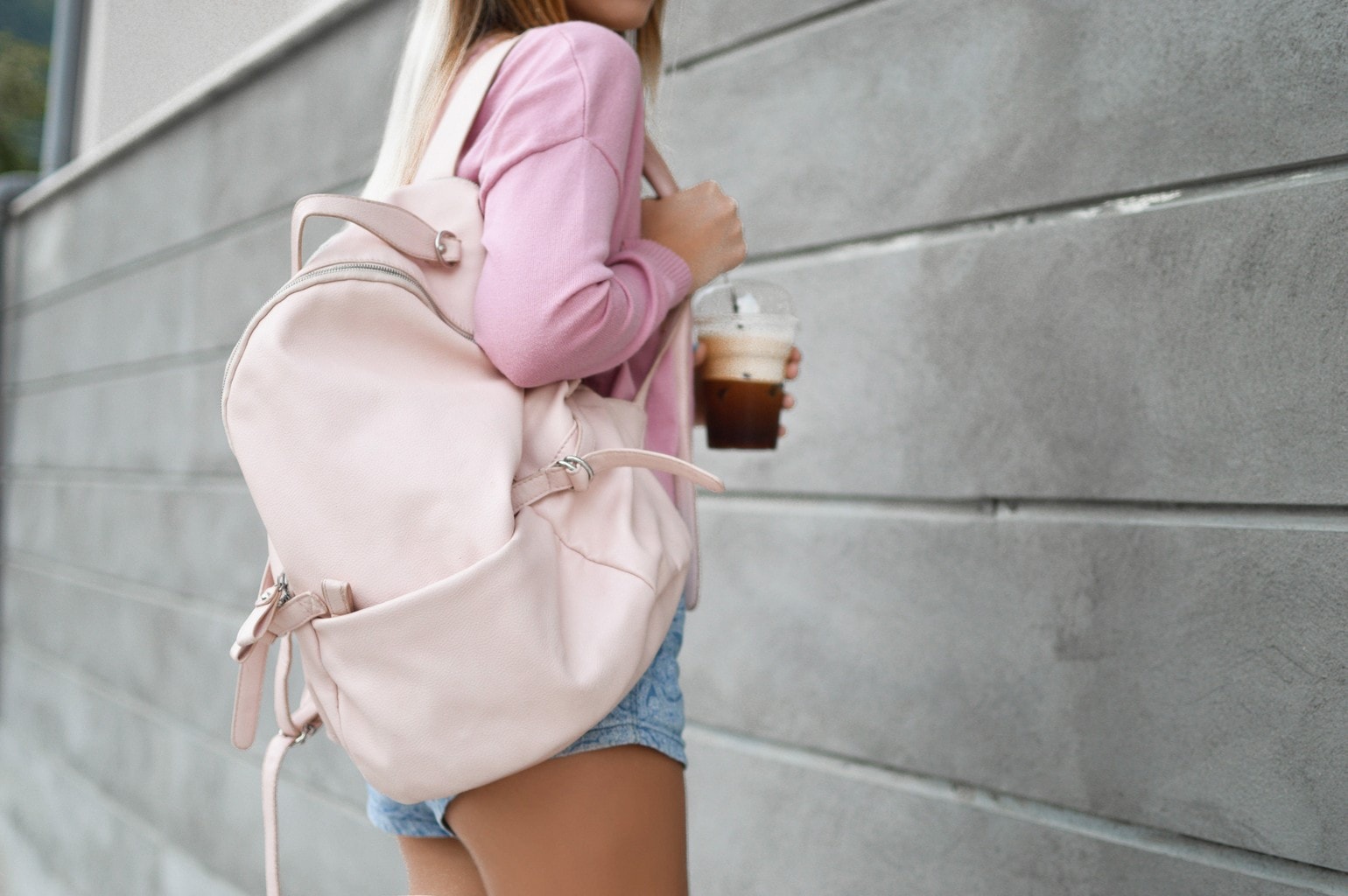 Before starting my freshman year, I spent around 40 minutes stressing over which black t-shirt to pack; the only difference between the two was a scoop neck vs a v-neck cut! This is the guide I wish I had while packing for college, and the one I use now.
Whether you're starting your first or final year of college, always remember: less is more when you're living in a dorm or apartment!
You should have enough clean clothes, and underwear, for at least a week in each season. Otherwise, you'll end up doing laundry multiple times a week, something you won't have time or the willpower for.
Without further ado, here is what I believe to be the definitive guide to what every college girl should have in her wardrobe, the staples you're actually going to want to be wearing for your four years of college life.
Everyday/Class:
4 Classic Tees
Get a few basic tees or tank tops of varying lengths (cropped tees count, too) in different basic colors like black, white, grey, and navy blue. Also, throw in at least one fun tee in your favorite color for variety!
These can be worn alone in summer or layered under cardigans, jackets, and long-sleeved tops in winter. (See our guide to everyday outfits for how we love to wear these.)
3 Cute Tops (Blouses, Bodysuits, and/or Basic Crop Tops)
These would be your trendy pieces that rotate from year to year; they can include crop tops, cute cami tanks, and button-downs!
Don't bring too many from home since they'll clutter up your closet, and you can easily exchange items between your dorm and house on trips home (or have your parents mail you things if needed).
4 Sweaters
Oversized, cozy sweaters are my favorite thing to wear during the winter, and no one can convince me otherwise. And cropped cardigans give all those 2000s vibes we love so much.
Make sure the vast majority of your sweaters are not dry clean only options; I scored a nice sweater from J.Crew's clearance section for $20, only to discover I almost never wore it in college because I was afraid of getting it dirty!
(Check out our guide to the best sweaters for college to see the types of sweaters you need to pack.)
3-4 pairs of Casual Shorts
I have a pair of flowy shorts, some cute bike shorts, and jean shorts in three colors: vintage wash, white, and black.
The Agolde shorts above are a splurge, but they have honestly changed my life! They fit better than any other pair I've tried and I wear mine multiple times a week.
2-3 Casual Skirts/Dresses
If you can't picture yourself being able to sit comfortably in your cute dress or skirt of choice, maybe reconsider packing it. Stretchy is key for me! (For more, see our guide to the types of skirts and dresses you need for college!)
2-3 pairs of quality jeans
No college wardrobe essentials list would be complete without jeans! Pay attention to the inseam length, quality, and price when buying a pair of jeans. I like to get one distressed pair and one clean pair, but it's up to your style.
Personally, my favorite jeans of all time are the ones above from Abercrombie. I live for their straight leg jeans (so incredibly flattering and no gaps at the waist). And if you like trendy details, their dad jeans have the criss-cross waistband we've all seen all over TikTok.
And pro-tip, Abercrombie does run sales fairly often so sign up for their emails to get the latest deals straight to your inbox!
4 Pairs of Leggings
I suggest buying running or workout leggings since they last longer, lower the chance of panty lines, and can be used for actually working out.
Although Lululemon Align leggings are incredibly popular on campus (see our Lululemon shopping tips to save money there), look to other major sports brands, Amazon (I have the ones above and they are butter-soft!), and even Old Navy; their leggings hold up surprisingly well even during a workout.
2 Pairs of good walking shoes
Popular options include white Air Force 1s, classic footbed sandals, any type of Converse or New Balance sneakers, and slides. (See our article on the best casual shoes for college for an in-depth guide to these!)
2 Spring/Fall Jackets:
A classic leather or jean jacket can make you look more put-together, and either option goes with practically everything! (This faux leather jacket from Amazon is insanely popular with CF readers and it has tons of five-star reviews!)
Don't forget a sweatshirt with your college logo on it too; school spirit never goes out of style.
(For more, see our list of the coats and jackets you need for college.)
1 Winter Coat
Make sure this option is warm and appropriate for the chilly months at your school. This Amazon parka is honestly amazing and super low priced. I love it so much that I have it in two colors!
Jewelry of choice
Buy a cute jewelry organizer if you have a lot of jewelry, and avoid bringing anything too sentimental or expensive if you know you're prone to losing things (like me, yikes). (See our list of the best jewelry for college for to learn exactly what you need to bring.)
1 Backpack or tote
Make sure your bag is large enough for your school supplies, secure enough to carry your laptop, and comfortable to carry.
The backpack above is a really popular choice on campus, but we have even more recs in our articles on cute backpacks for 2023 and bags for college.
A week's worth of Bralettes/Bras/Socks/Underwear
Bring extras for all of these essential items; you never want to be wearing dirty socks! I've found a two weeks supply of the above works best for me.
Skims cotton bralettes are life and their Fits Everybody underwear is made of the stretchiest, most breathable fabric on the planet. I like to buy value packs of Hanes socks on Amazon. (See our guide to the best bralettes for an in-depth guide to bralette shopping!)
Working Out
1 Pair of Good Sneakers for Exercise
It is essential that the shoes you are wearing are designed for the workout of your choice, and are supportive. Injuries are not fun or cute!
That being said, don't be afraid to buy really colorful or fun workout shoes; they'll motivate you to get out the door and workout more often!
(See our guide to the best workout shoes for detailed help finding your perfect pair.)
3 Sports Bras
Sports bras come in three types: low impact, medium impact, and high impact. Know what category you need! If you're an A or B cup, you can also typically get away with medium impact sports bras for high impact activities.
My favorite brands for sports bras include Nike, and Under Armour. I really like listening to music while running, so I included my favorite sports bra with a pocket that can fit my iPhone, id, and house key!
4-5 Workout tops
Moisture wicking is key to avoid looking like you jumped in a pool. Definitely invest in some workout tops that are comfortable and cute; you can wear them to class which will motivate you to run straight to the gym afterwards!
3-4 Workout bottoms
I swear by my Fabletics running shorts. I've had mine since high school, and I've since concluded that they're practically indestructible. That said, Amazon has some insanely good running shorts these days — these ones are my newest favorites and they're amazing quality!
Bring some sweatpants to throw over your leggings or shorts for the winter time too; no one wants to walk to the gym with freezing legs. And at least one pair of black leggings from the section above can totally count for workouts.
Bonus: These all work as back-up pajama bottoms and study clothes!
Social/Going Out
1-2 Casual Statement pieces (Ex: sundress, romper, jumpsuit, set)
Find something comfortable and cute that you would want to wear for a night out with your friends. Bonus points if it's a matching set you can break up as needed!
1 pair of cute heels
Go for block heels or wedges over stilettos; your toes will thank you the next day. That being said, don't be afraid to buy shoes with different colors, textures, or embellishments!
1+ Clubbing Dresses
Bring at least one body-con or mini dress for any formals you might be going to; Lulus and Forever21 have great inexpensive options!
Avoid wearing expensive pieces; you will sweat while dancing, and you might be spilled on. Swap with friends to expand options!
3 sets of "Fratting" Clothes:
If you plan on going out to frat parties in college, you need "fratting" clothes. That means a pair of beat up Converse, machine washable crop tops, and your hardiest pair of jean shorts. (The Agolde ones above in the shorts section should survive, but I'd also get some cheaper ones for parties — Abercrombie makes a great affordable pair.)
While movies show girls dressed to the nines and wearing nice heels, this is not reality. You will be spilled on, stepped on, but hopefully not puked on.
Add an inexpensive jacket that you would be okay with losing for the colder months, preferably not black since it will be impossible to locate in a giant pile. (See our post on frat party outfits for even more ideas!)
Other College Clothing Essentials
1 Pair of Good Rain boots or Snow boots
This is mostly dependent on where you go to school; check with current students to find out if your campus handles rain well, and if snow will be a concern.
If rain is the main concern, I love a pair of waterproof Chelsea-style rain boots like the ones linked above. They'll work with your outfit and they're still completely weather-appropriate.
North Face boots are the most popular choice for snowy campuses because they will last you all four years and beyond.
1 Umbrella
Trust me, you'll be stuck walking in the rain to class at least once. Be sure to check out our list of can't-forget college accessories for even more items you need to pack.
1 Pair of Shower Shoes
Please don't even think about setting foot in a communal shower without shower shoes; you can't be sure what you're stepping in. I'm a big fan of my Adidas slides but clean flip flops work too!
1 Bathrobe & 1 Set of Really Cozy PJs
For my freshman girls using communal bathrooms, a bathrobe will save you the trouble of worrying about a nip slip as you walk down the halls in a towel. Bring your favorite cozy pjs to remind you of home, and to reward yourself after all that studying!
What are your college wardrobe must-haves?
So there you have it, the top items that should be in every college girl's closet. Of course, these are just my opinions and you might have your own ideas about this too. (And for more on packing for college, see our guide to the college essentials you didn't know you needed.)
Let me know if you agree with me, or if you think something is missing by leaving a comment or sending an email!
What are your closet essentials? Let me know in the comments!
Editor's note: This post was originally published in 2008; it was completely updated and revamped in 2023 with new photos, items, and information.