This post will show you the dorm essentials to make your life 10x easier and more organized.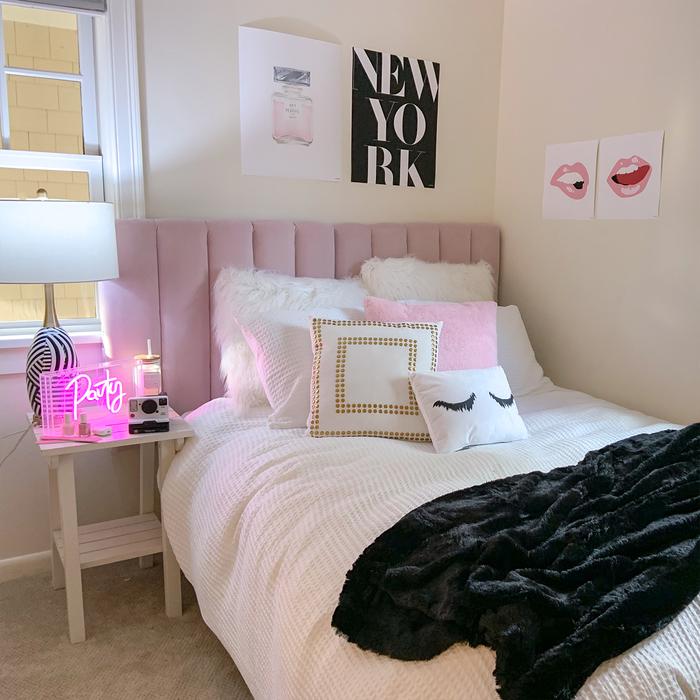 Getting used to dorm life takes a while. After all, we don't really know what exactly we need until we get into a routine on campus. Of course, there are the obvious necessities like bedding, school supplies, etc. but some things just don't occur to you until you're inconvenienced.
The first time living in a dorm can be difficult sometimes, but if you have the right products and all the things you need, it will take you no time to get comfortable.
If you are looking for the best dorm essentials to outfit your space freshman year, or even if you just want to improve your room as a seasoned college student, this post will show you 15 dorm items that will always be essential.
Related reading: 10 College Essentials You Didn't Know You Needed
1. Storage Bins
Most of the time dorms will have limited closet space, so you really need to prepare by purchasing storage items, so that you can make sure that you can still bring all the clothing items in your wardrobe that you love!
If you are obsessed with clothes, like me, and have a huge wardrobe, these foldable storage bins will be an absolute lifesaver.
They are perfect because you can buy a pack of them for a low price, and they are foldable, so they won't take up too much space to store them.
What's also great about these is they are a decent size for holding a good amount of clothing items, but they also will fit under your bed, so they won't take up space in your room.
2. Bedside Caddy
A bedside caddy is perfect if your dorm bed is on the top bunk or even if you have a roommate and don't want to disturb them at night.
This bedside caddy from Dormify is my all time favorite because it is non-slip, and it has multiple compartments so that it can hold all of your essentials.
This will ensure that if you are on the top bunk, you will have everything you need because getting down from your bed, especially at night, can be a hassle. Also, even if your bed is on the bottom bunk, this item is great because you won't be disturbing your roommate by getting out of bed. (Plus, it's just great if you're feeling lazy!)
Since dorm rooms are usually on the smaller size, this means that your desk will most likely be small as well.
This can make it hard sometimes to study at your desk with limited space, so you will want to make sure to keep your desk clean and organized.
This is why a desk organizer is definitely an essential dorm item. If you are looking for the perfect one, this desk organizer has several compartments and even drawers to fit all of your desk items, from your iPad to your post it notes. Plus, it's clear so you can find everything.
4. Desk Lamp with Charging Port
For those of us who have a roommate, a small desk lamp is a must-have item. This will make sure that you can still do work at night if your roommate is asleep.
If you need a desk lamp, I definitely recommend this one because it comes with multiple brightness levels, so that you will get just the right amount of light that you need depending on what time of the day it is. Also, it's small so it concentrates the light where you want it, so it won't disturb someone sleeping nearby.
Related reading: 95+ Cute Dorm Room Ideas & Inspiration
If you, like me, love planning out your schedule, you will definitely need a dry erase calendar board.
These boards are perfect for dorm rooms because you can place them on your desk or even hang them on your wall like this dry-erase board to make sure you are getting all your things done for the month.
No need to buy another calendar because as soon as the month is over, you can start fresh by using the dry-erase feature.
Also, you can even write little notes to yourself or things on your to-do list to make sure you are really on track.
One of the most essential items for living in a dorm is a mattress topper. Believe me, this is an absolute must because dorm beds can be very uncomfortable.
To make sure you are getting enough of a good night's sleep and the rest that you need, you should purchase this memory foam mattress topper.
This mattress topper can make any bed feel like you're at a 5-star hotel. You can even choose to get it in two inches or three depending on how much cushion you want for your mattress.
Your dorm will also most likely not have a mirror at all or may have a mirror that's too small. So, you should definitely plan ahead and purchase a wall mirror for yourself.
This mirror is perfect for any dorm because it can be used as either a wall or door mirror.
Some dorms have different rules about hanging mirrors on walls or doors, but even if you can't hang it on your wall or door, you can place it in your room, so that you can check your outfit before you leave.
If you want to have cold beverages or even if you love snacking and want to store some food in your dorm room, you will need a mini fridge.
This one is perfect because it is not too big, so it won't take up a ton of space. Also, it comes in this adorable pink color, which can also add some color to your room!
Related reading: The Best Mini Fridges for College Dorms & Small Spaces
9. Laundry Bag
You may not have thought of this dorm item, but it is definitely essential. While living in a dorm, you will most likely have to travel with your laundry to get to the laundry room.
Therefore, you will have to have a way to carry all your clothes. To make it much easier for yourself, you can purchase this laundry bag backpack.
This laundry bag is a good enough size to make sure you can carry a decent amount of laundry with you and the backpack feature will make it much easier to carry around.
10. Echo Show
You may have heard of Amazon Alexa, but you may not have seen the Amazon Echo Show. After trying out this item myself, I definitely think this is a must-have item for dorm rooms because of all the features that it has.
This item makes it extremely easy to set alarms every day, check the weather before you leave your dorm, or play music and videos.
You can even video chat with your family and friends, which makes this item even more fun for having in your dorm room! If you want to treat yourself, definitely pick this up and thank me later.
11. Shoe Rack
Since you will most likely not have a lot of closet space, you may also want to consider where you are going to put your shoes.
Just throwing a ton of your shoes on the bottom of your closet can cause them to get dirty or even worn-out looking. This means you will want to get a storage item to organize your shoes like this shoe rack!
With this item you can place it on your closet floor or even by your door in your room, so that your shoes will always stay clean and organized.
This is another item that some people may not have thought of as a dorm essential, but this can really help you adjust to living in a dorm, especially for people who have allergies.
Pillow protectors like these will make sure that you not only are protected from allergy issues that you may have while living in a dorm because it is a small space but also it can protect you from potential bed bugs as well.
13. Recyclable Coffee Cups
If you have a coffee addiction or even if you like to make tea, having recyclable paper coffee cups is a great item to have in your dorm.
This will make it so easy for you to grab your coffee and go in the morning if you are in a rush, or if you want to take your drink with you on your way to class. While reusable items are great if you live in an apartment, it's a lot more of a pain to do dishes in the dorms, so single-use biodegradable cups are definitely the way to go.
14. Extension Cord
Extension cords are also an essential item for living in a dorm because a lot of the time you will not have enough outlets for all your things. (Why do they make so many rooms with only one usable outlet?)
Having an extension cord like this 6-outlet extension cord will make sure you have an outlet for everything in your room, and it is an 8-foot cord, so you won't have any issues reaching it.
A lot of you will probably be sharing a dorm bathroom with many other people, which means you will have to travel to the bathroom to shower.
So, if you are one of those people who likes listening to music in the shower, you definitely should purchase this portable shower speaker!
It is portable, waterproof and can stick to any shower, so you can bring it with you!
Which dorm essentials from the list are your favorite?
For more on dorm shopping, be sure to see our guide to Target college essentials for your next Target shopping trip.
What item are you most excited to try? Which items are you going to purchase? Which items do you think you will love?