This post will show you the fall wardrobe essentials every girl needs for fall 2023.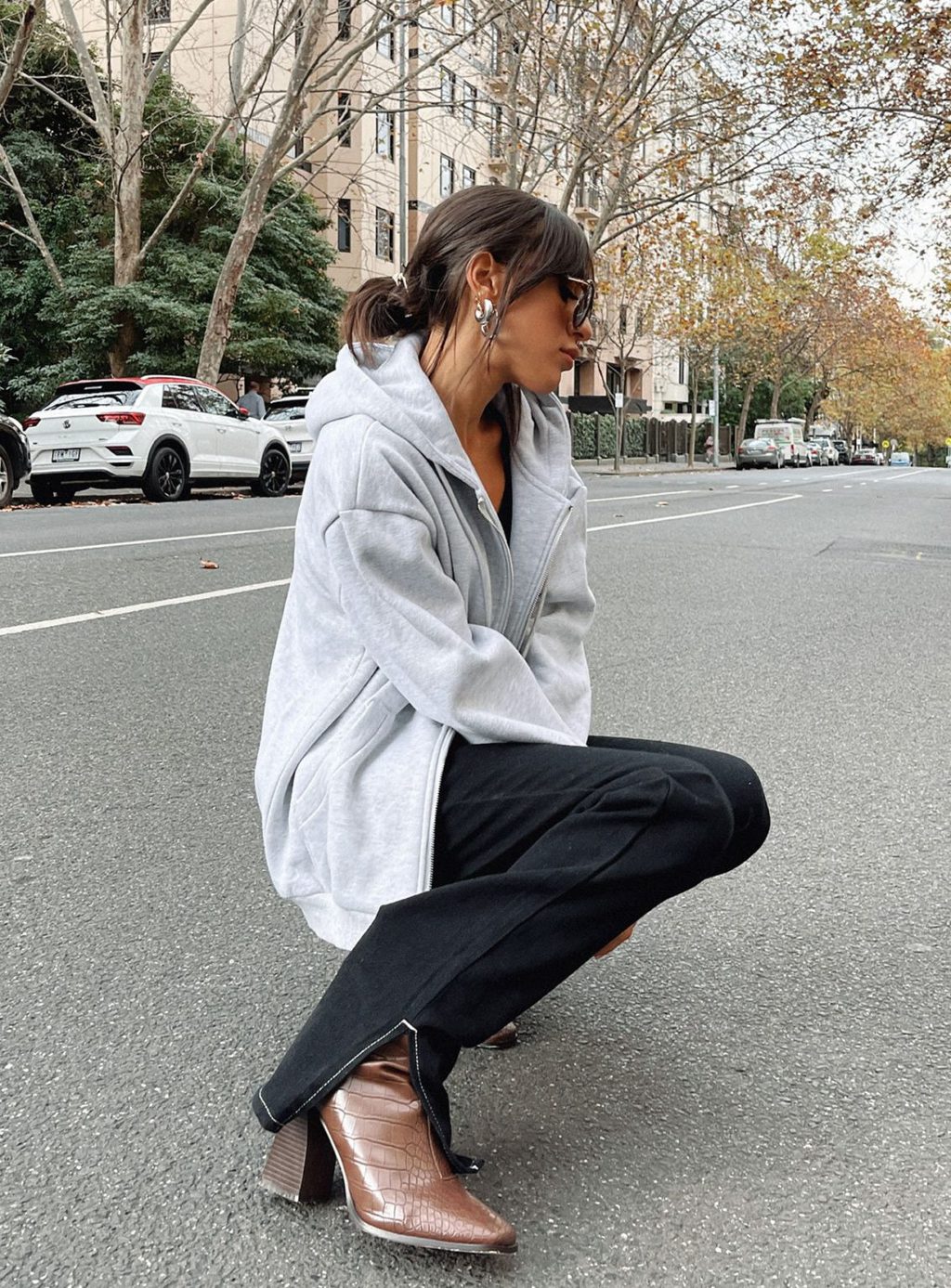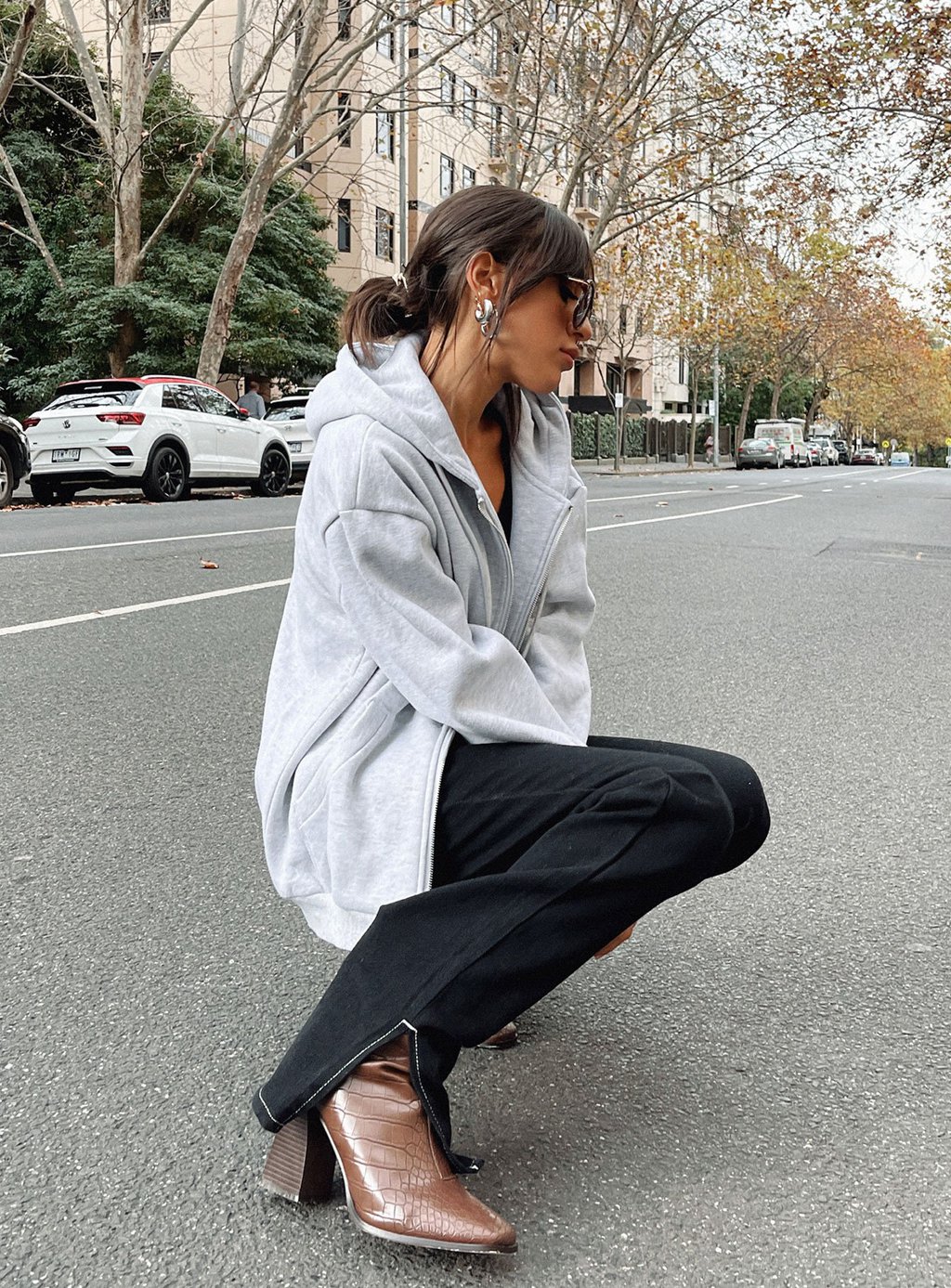 Fall will be here sooner than you think! This means that you should start thinking about what you will be wearing for Fall 2023.
Fall is one of my favorite seasons not just because of the cooler weather, but also because of the many fun fashion trends that come with the fall season!
There are so many beautiful fall colors and styles to choose from that you will be dying to start wearing your fall clothes way before school starts.
If you are wondering what kind of clothing items you should be adding to your fall wardrobe, keep reading because this post will show you 21 fall wardrobe essentials you absolutely need this year!
Related reading: 15+ Fall Makeup Looks to Try This Year
1. High Neck Top
You may have worn these shirts when you were younger when the weather was a bit colder. And, now this style of top is coming back in a big way for fall.
The high neck top (also known as a turtleneck or mock neck) will keep you warm in the cooler weather while also being completely on-trend. I love the look of a cropped turtleneck top paired with high waisted jeans or a skirt for fall.
If you are looking for a cute turtleneck top to wear for this Fall, I'm loving this ribbed top in white.
This top is super affordable, will go with just about anything, and will also keep you warmer than most crop tops would.
During the fall, you may have some special events planned, which means you will also need some fancier outfits to wear.
Not only will you need the perfect outfit, but you will also need some great shoes to go with it.
You may have seen the thong heel shoe trend on Instagram, and you're going to see it all over campus this year!
These thong dress slides in this pretty brown color (brown is always trendy for fall, and especially so this year) will go perfectly with all of your fall going out looks.
3. Oversized Graphic Tee
By now I'm sure you're familiar with the oversized t-shirt trend! And if you love this look, good news — it's not going anywhere for the fall.
If you don't already have an oversized tee, invest ASAP — this wardrobe essential is perfect for fall on campus to keep you comfy and stylish. Pair it with bike shorts for a comfy day or get a super oversized one to wear as a dress.
Personally, I love oversized tees with graphics like this band t-shirt dress (graphic tees are also a hot item right now, so you're combining two trends).
If you were one of those people who adored your Chuck Taylors back in high school, you will love the platform Converse shoe trend!
Converse are coming back in style (you've probably seen them all over TikTok) and these sneakers will be everywhere on campus this fall.
If you aren't sure what color to get, I would suggest these classic white canvas platform Chuck Taylor all star shoes. They will go with absolutely every outfit in your closet!
Here's another college girl staple. One of my favorite items to wear when the weather gets cooler is an oversized sweatshirt. Not only do they keep you warm and cozy, but also they are super easy to throw on with almost any outfit!
Specifically, this year I've seen oversized zip sweatshirts trending in a big way. It seems like every fashion influencer has one of these this year, usually in this light grey color.
If you don't own one already, you should totally invest in this Florida oversized zip up sweatshirt in grey to throw on with all your fall outfits on campus.
Also read: Would You Wear… a High-Neck Sports Bra?
If you are one of those people who had skinny jeans in every color, you may still be surprised that baggy jeans are now the new go-to jeans for fashion girls.
Even though I swore I would never wear baggy jeans a few years ago, the new jeans that have come out for the fall season have made me love the baggy jeans look!
If you are looking for some cute wide leg jeans, these light blue distressed dad jeans are a super affordable way to give this trend a try.
Boots have always been a fall wardrobe essential, but a new trend has made chunky boots the most popular boots for this season!
So, if you don't have a pair of chunky boots in your wardrobe, I would definitely suggest getting these chunky white platform combat boots. I've been seeing chunky white boots all over Instagram, and I'm positive we'll see them all over this fall.
8. Long Sleeve Dress
For those special occasions during the fall, I'm obsessed with long sleeve dresses like this long-sleeved mini dress in green.
Long sleeved dresses are super trendy and I love the look, plus this particular shade of green is another trending color for the fall season thanks to its throwback feel.
You will definitely need some cute sweaters to add to your fall wardrobe. This season, it's all about cropped everything, so definitely stock up on cropped pieces for an of-the-moment look.
I love the look of this cropped turtleneck sweater in beige! It's perfectly oversized yet still has that cropped shape that will look great with all of your high waisted jeans this fall.
10. High Ankle Socks
Don't forget about socks, too! This year in particular, socks are a huge fashion item, and buying the right socks is an easy and cheap way to stay on trend.
High ankle socks like these Hanes crew socks are becoming the new go-to socks for everyday outfits. They look so cute and will go perfectly with the fall outfits you have planned.
Also read: Fashion Challenge: Wear Thigh-High Socks
If you live somewhere with wide temperature swings during the fall, I recommend getting a cute cardigan that you can throw on with your outfits like this adorable cropped cardigan in pink. It gives me total Y2K vibes. (Can't you picture it paired with a pink tennis skirt and white sneakers?)
Not only does this cardigan look great unbuttoned, but also it can be worn as a top on its own as well!
12. Flared Pants
Put away all your skinny jeans and trousers because the flare pant is coming back into style!
These high waisted stretch flare pants will be the perfect addition to your fall wardrobe because you will look trendy all season long. These are a modern basic that can be paired with so many pieces in your closet, from oversized button-downs to crop tops.
For those days during the fall where you are lounging around the house or dorm, or even running a couple of errands, you will also want a more casual shoe in your wardrobe.
I would definitely recommend these UGG fluff yeah slides. Not only are these fall wardrobe essentials incredibly comfy, but they will also keep you looking stylish because they are a super popular item right now! I promise, you will see these ALL over campus this fall.
Also, don't forget about your jackets! You will need at leas one great jacket for the fall season, just in case the weather gets a bit too cold.
I suggest getting a cute and stylish puffer jacket like this fuzzy jacket in pink to throw on with your fall outfits. No, it won't protect you in a snowstorm, but it will add the perfect amount of warmth for those chillier late fall days.
I can't talk about fashion this year without mentioning the ubiquitous jogger. It's been our staple since the quarantine days last year and it's not going anywhere this fall.
There are so many reasons to love joggers. First, they can go with almost any outfit. Second, they will also keep you warm as well as looking trendy! Third, they are basically the comfiest thing you can wear outside of the house.
If you are looking for the perfect joggers, I would purchase these sweatpant joggers in taupe. This particular shade is super trendy and I love that it's a neutral so it will go with all of your tops.
16. Western Boots
This is one of those styles I was surprised to love. As a city girl, never did I think I would want a pair of cowboy boots! However, western-style boots are going to be one of the fall's biggest footwear trends.
These knee-high western boots have a sleek, elevated look thanks to their glossy crocodile embossed design, making them perfect for a night out on the town.
These fall fashion essentials are under $100, and will look great with mini skirts and dresses.
17. White Mid-Calf Boots
There's something so fun about white booties, especially this pair, with their western flair. These hit at the mid-calf and feature crocodile embossing which adds to their eye-catching design.
18. Ribbed Knit Polo Top
The classic, preppy style of polo neck tops is on-trend for the fall; if it has a collar, it's in! Go for tops, bodysuits, and sweaters in this style.
This ribbed knit polo top has such an elevated look that you can wear it casually or dressed up. I think it'll look especially chic with a pair of faux leather pants!
The light tan color is the perfect neutral to complement your other fall fashion essentials, and it also comes in black.
19. Pullover Polo Sweater
I love the casual vibe of this pullover polo sweater, which is available in four different colors: sand (shown above), brown, light blue, and rust red. Its slouchy fit makes this knit extra cozy.
Sweater vests have been trending for the past year, and they're still going strong! Fall is the perfect season to wear a sweater vest, either by itself or layered over shirts and dresses.
You can't go wrong with a classic, varsity-style sweater vest, especially in a black and white color scheme.
The oversized fit of this sweater vest makes it ideal for wearing over shirts (or dresses) as a fashionable layering piece.
I'd style this sweater vest with some faux leather leggings and a white button-down shirt for the fall.
21. Puffer Vest
This staple piece never went out of style, but this season, it's at the forefront of fashionista's wardrobes. The best part is, puffer vests are super functional, so this is a practical trend!
It's about time that cropped puffer vests became a thing!
The shorter length makes this puffer vest a bit more versatile, since it's not bulky. You can easily layer this over your fall outfits for a sporty chic vibe.
What are you going to be wearing this Fall?
Which of these trendy items is your favorite? What clothing items are you excited to wear in Fall 2023?
Related posts: