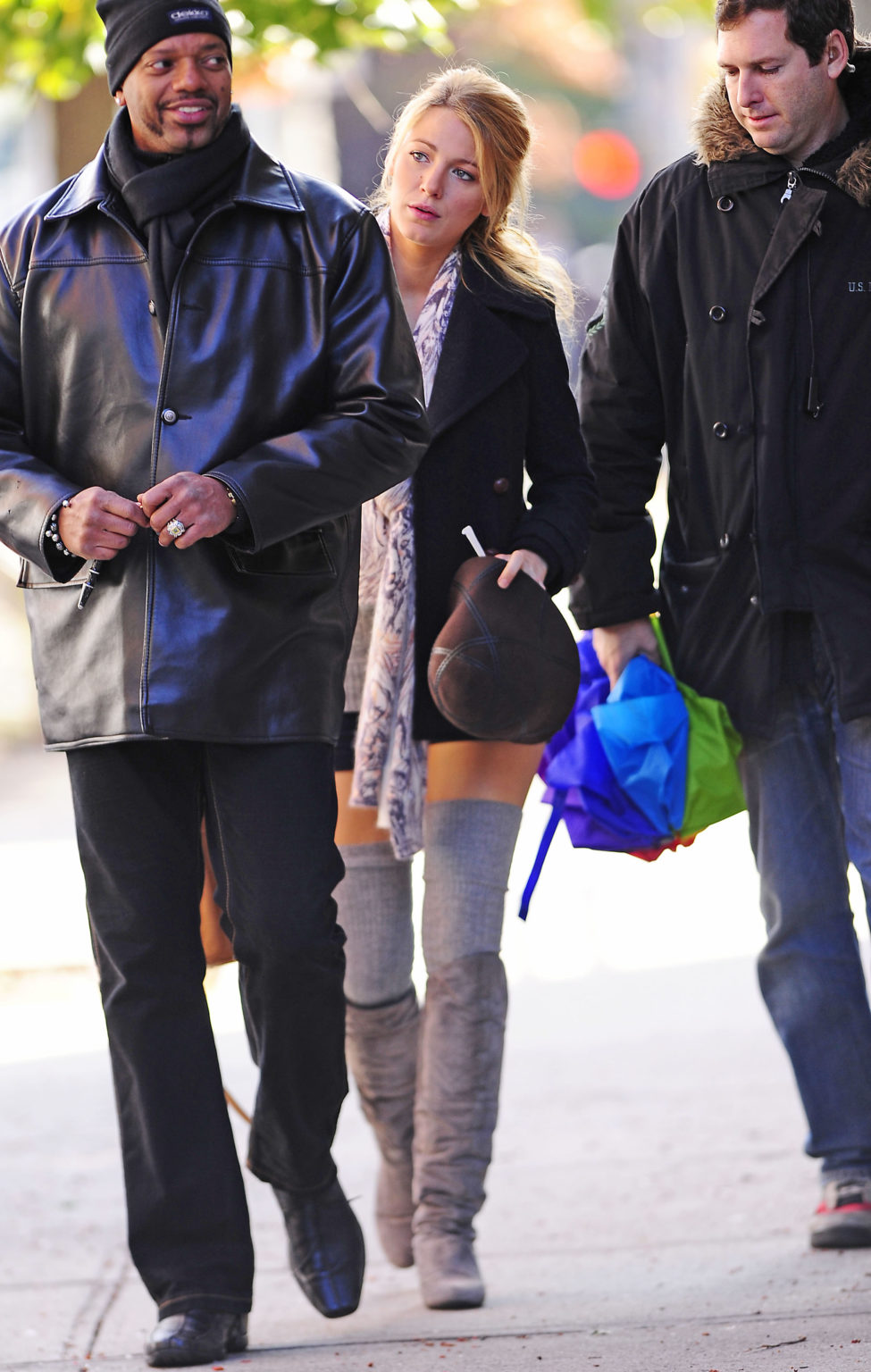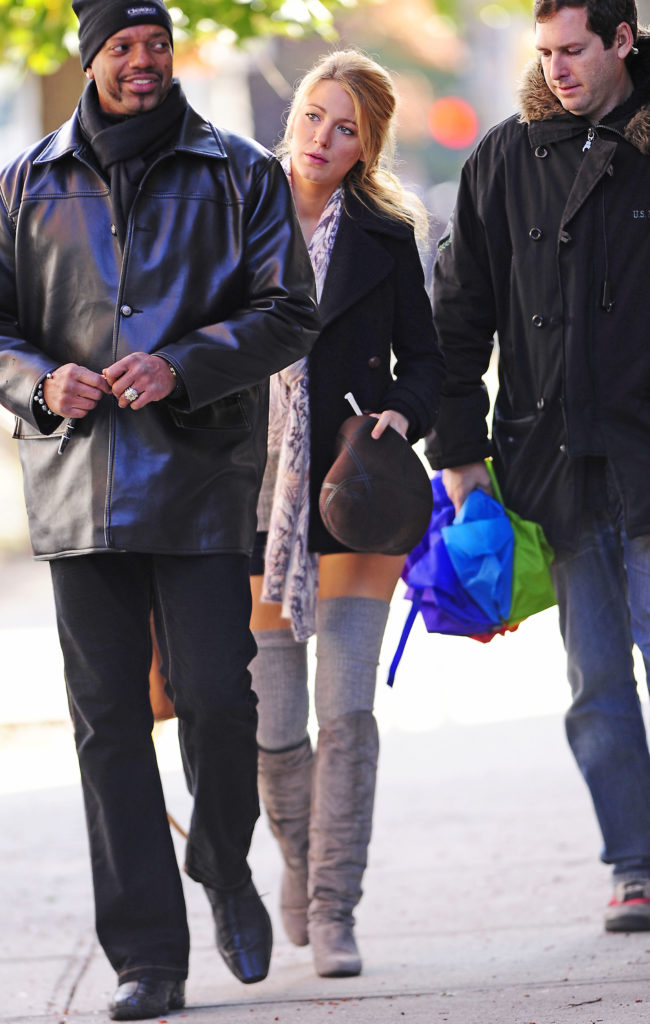 As chilly weather breezes in, we're approaching that awkward time of year where getting dressed for the day can be tricky. It's too warm out for your winter coat but too cold to go bare-legged – so what's a stylish girl to do?
This week's fashion challenge is to try out a pair of thigh-high socks! More fashionable than a pair of leggings, and more practical than ankle socks, they provide extra coverage and warmth when paired with a dress or skirt in Fall. These babies are perfect for adding a bit of pizazz to any outfit. And they're way more wearable than you think.
Think you're ready to tackle the challenge? Read on for tips and outfit ideas, then scroll on down to send us YOUR look!
Tips & Tricks for Wearing Thigh-High Socks
It's all about the shoes. Thigh-high socks look great with mary-janes, oxford heels, and most pumps or ballet flats. If in doubt, consult your roommate or BFF for her opinion.
Pair them with boots. This is the easiest and most up-to-date way to rock thigh-high socks.
Wear them instead of leggings. Tall socks are perfect for pairing with a sweater dress or a winter-y skirt for an updated take on leggings.
Make faux over-the-knee boots. If you're craving the look of popular over-the-knee boots but don't have the budget to buy a pair, substitute a pair of long socks underneath matching boots for a similar look.
How to Wear Thigh-High Socks: Outfit Inspiration
Outfit 1 – Thigh-High Socks, a Dress, and Boots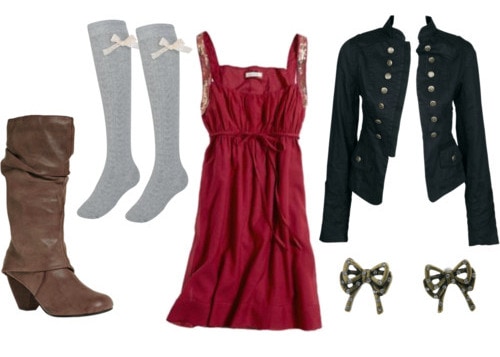 Boots, Socks, Dress, Jacket, Earrings
Over-the-knee socks are the perfect way to transition your favorite summer dresses into fall and winter. Just pair a simple dress with a stylish jacket, like this military-inspired one. Next, slip on a pair of thigh-high socks and pull them up so they peek out from under a chic pair of boots. Finish with simple jewelry.
Outfit 2 – Thigh-High Socks, a Dress, and Heels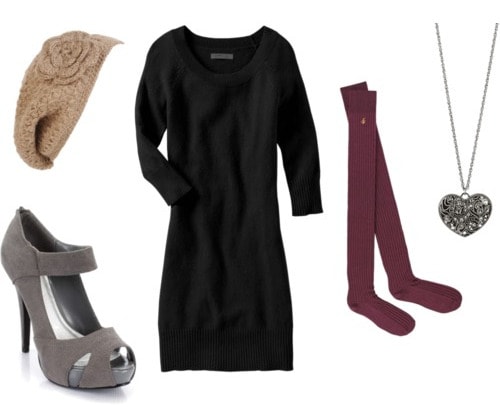 Dress, Shoes, Hat, Socks, Necklace
Turn a plain-Jane black sweater dress into a fierce "model off duty"-inspired outfit with a simple pair of socks. These purple thigh-high socks go perfectly with these peep-toe mary janes — just be sure to tuck each sock's seam under your toes to keep it hidden. Finish with a slouchy beanie and heart pendant necklace.
Outfit 3 – Thigh-High Socks, Boots, and Shorts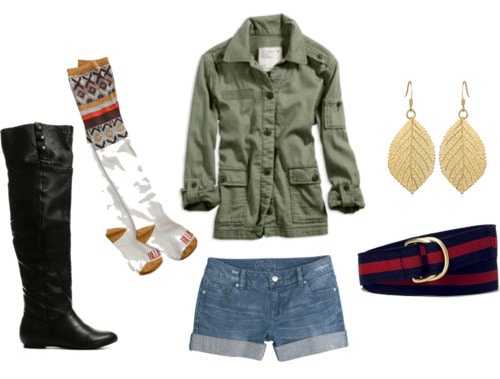 Boots, Socks, Jacket, Shorts, Belt, Earrings
Another fearless way to rock this trend is with a pair of boots and plenty of attitude. I love my Chinese Laundry Tripin Boots (pictured above) – they're the perfect length to allow a cute pair of embellished socks to peek out over the top. Add a pair of cuffed denim shorts, a belt, and a stylish jacket or shirt, and you're set.
Rocked the challenge? Send in your pictures to be featured here!
Did you try a pair of thigh-high socks? Fill in the information below and give us a glimpse of your fierce style! Send us a picture of you wearing this look and we'll feature you here (see pastexamples) to help inspire other CF readers!
To get featured here, send your outfit photo via email to fashionchallenge AT collegefashion.net, and include your name, school, a description of your outfit, and your blog URL (if you have one). Can't wait to see what you come up with!
Thoughts?
Will you be trying out this challenge? How do you think socks look underneath a pair of boots? What shoes do you think look best with a pair of thigh-high socks? What challenges would you like to see in the future? Let us know what you think with a comment!