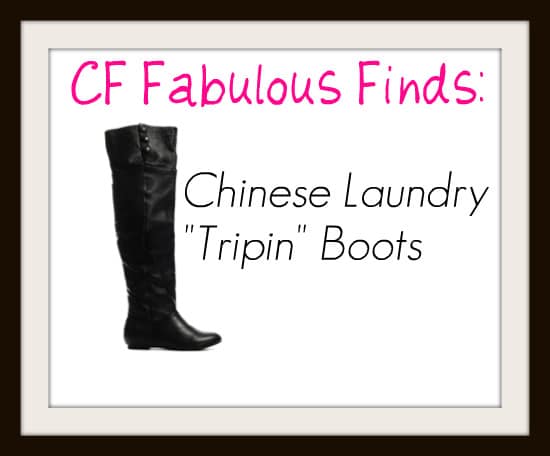 From the moment I saw CF's "Would You Wear…" article on over-the-knee boots, I was intrigued. I already loved Rodarte's crazy-cool leather boots that were high enough to resemble pants from their Fall 2009 runway show, and it seemed like the over-the-knee boots I saw in stores could be an easy way to get that sleek yet tough look.
However, I did have many of the same fears the readers commenting on the "Would You Wear…" article stated. Standing at a mere 5'3 (and that's rounded up), am I tall enough to pull these off? If I try to mix these into my everyday college-student attire, am I going to look more like Julia Roberts pre-Pretty Woman makeover than a fierce Rodarte model?
So overall, can I pull these off without looking ridiculous?
I obviously had my doubts. That's why I was particularly nervous when I was given a pair of these mythical over-the-knee boots for Christmas (thanks, Mom!), a pair of the Chinese Laundry 'Tripin' Boots. In person they looked pretty harmless, but how would they fit in with the rest of the clothes in my closet?
Why I Love My "Tripin" Boots
As it turns out, they did not fit in. In fact, they stood out pretty obviously–but in the best way possible. I have basically only taken them off since I got them to sleep! The sleekness I loved about them on celebs and on the runway absolutely translated into daily life and I love the way they add undeniable style to anything from simple leggings to dresses.
To address my height worry, it turns out that it really isn't much of a problem. The key to pulling off this trend is proportion. There are some tunics and dresses that I cannot wear with these boots, as it will absolutely make my legs look like stumps since they are longer and the hem will hit just about where the boots come up to.
How to Wear Them
I found that the best matches for these boots are tunics that just graze your upper thighs paired with skinny jeans or leggings. These boots also work well when paired with a dress that hits mid-thigh. Here are two examples of how to add these boots into your wardrobe.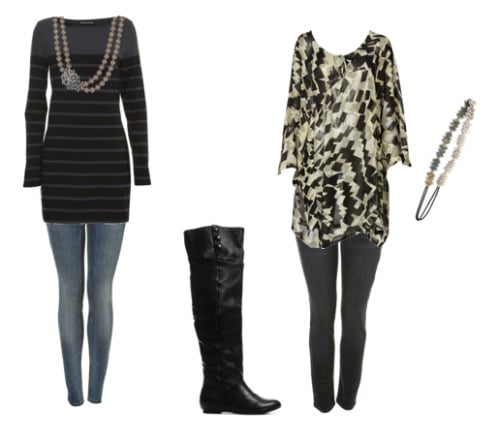 Product Information: Striped Shirt: Warehouse.co.uk, Jeans: TopShop.com, Necklace: Oasis-stores.com, Tunic: Allsaints.com, Dark-Wash Jeans: Missselfridge.com, Headband: Net-a-porter.com
The above examples illustrate how to incorporate over-the-knee boots into your daily wardrobe. The look on the left is a fresh spin on the typical shirt-and-jeans combination for class, as the funky necklace adds something to the plainer shirt and the boots jazz up casual skinny jeans.
The look on the right is a great look for a weekend day grabbing coffee with friends or going shopping, as the geometric, floaty tunic gives the look a relaxed, bohemian vibe. Accentuate this with a fun headband, and then bring the look into 2010 with slimming dark-wash skinny jeans and those boots!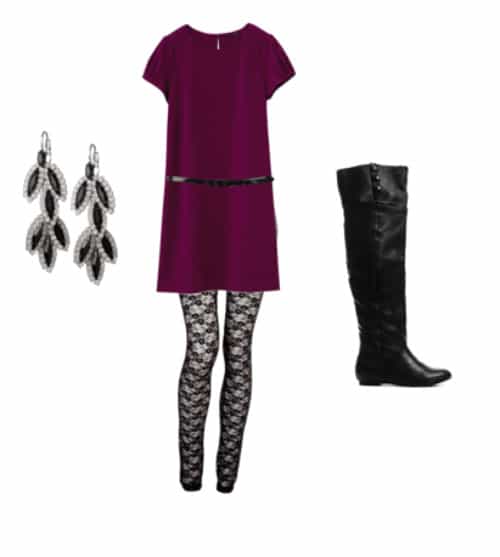 Product Information: Earrings: Bananarepublic.gap.com, Dress: Uniqlo.co.uk, Patterned Leggings: Republic.co.uk, Belt: Forever21.com
The above is a fancier, more party-appropriate look that is perfect for the season! I chose a dress that was fairly simple so that it would not be overwhelmed by the addition of accessories. The jewel tone keeps it from being boring and a black belt cinched at the waist gives it more shape. Patterned tights or leggings will look really cute poking out between the dress and the boots, while the dangly earrings give it an extra element of sophistication.
A Few More Reasons These Boots Rock
Hopefully at this point you're on board with the over-the-knee boot trend. However, at the cost of $100 or so, I understand the hesitation in buying boots that are so trendy. That is why I love these Chinese Laundry boots in particular. Besides that black leather ones I have shown, they also come in black or gray suede, so they can pretty much work with any outfit.
But the absolute best part for me is that they are convertible–you can easily scrunch them down to be below-the-knee boots or even unsnap them and then re-snap them the opposite way so that they are pretty much a new pair of below-the-knee boots. That way, they will certainly be able to be worn for winters ahead!
What Do You Think?
Are you a fan of this look? Have you tried out a different pair of over-the-knee boots? Do you own the CL boots? How would you wear these boots? Let us know in the comments!