This post will show you the best white dresses for spring 2021, all super cute and affordable.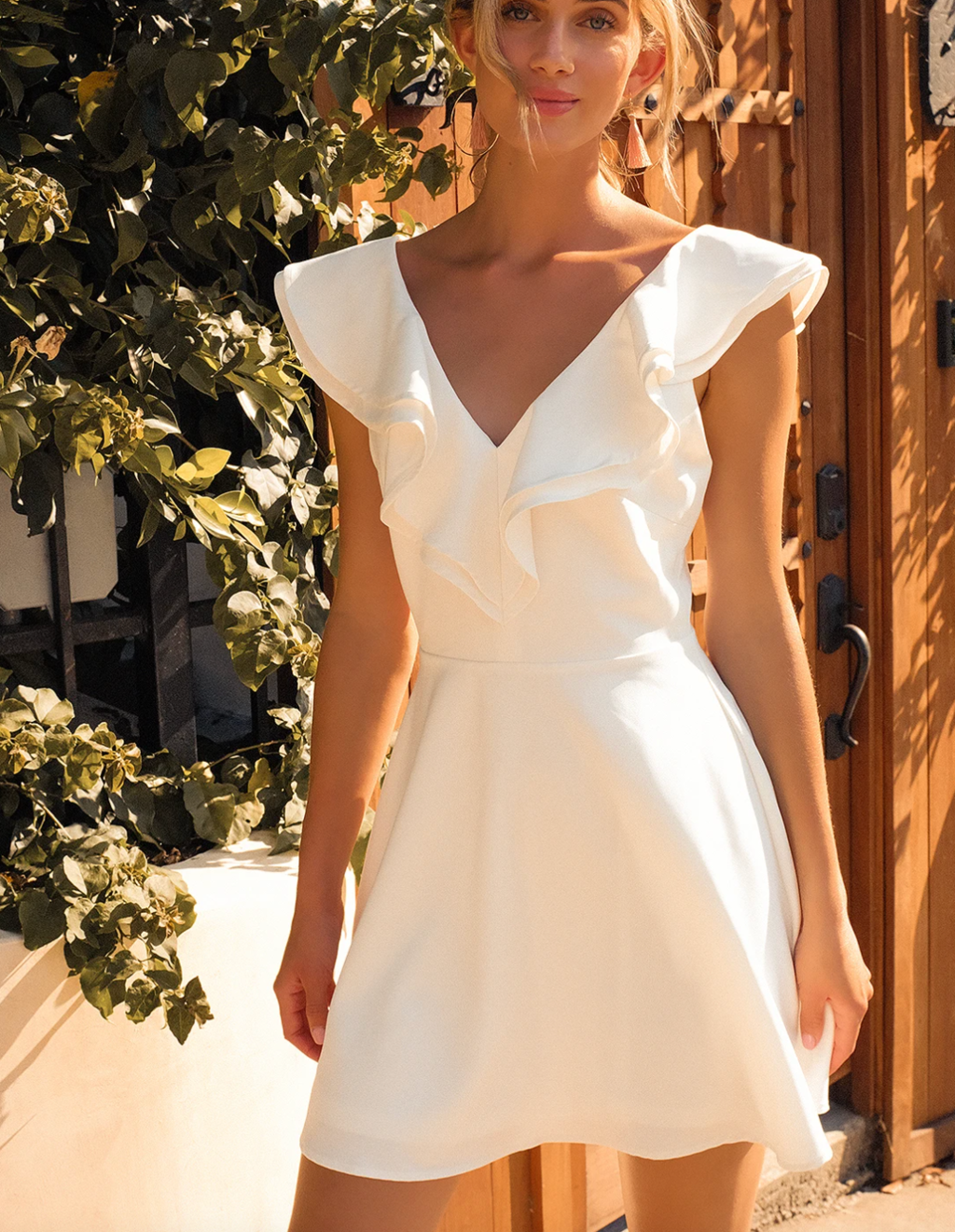 Spring is coming up! This means warmer weather, so you should think about what kind of outfits you want to wear.
Dresses are always our favorite option for the warmer weather and the spring season, so if your wardrobe needs some new options, we're here to help.
White is such a classic and elegant color to wear when spring starts, and we love busting out our favorite white dresses as temperatures rise.
If you are wondering where to find the perfect white dress, don't worry because this post will show you 16 of the best white dresses for 2021!
1. White Lace Skater Dress
Skater dresses are adorable for the spring season, especially in white.
This is one of my favorite styles of dresses for many occasions — a skater dress always makes me feel girly because of the flowy skirt.
If this is the kind of dress you are looking for, this angel in disguise white lace skater dress is one of our favorites for 2021.
Not only is it a super cute skater dress in white, but also it has really cool lace detail as part of the top, which makes the dress even more fun!
2. White Maxi Dress
If you want a longer dress that makes a statement, go for a white maxi dress.
Maxi dresses in white are great for fancier events (just be sure not to wear them to weddings — here's what to wear instead), and they will definitely make you look angelic.
Looking for the perfect white maxi dress? Get this heavenly hues white maxi dress! It is a gorgeous white maxi dress that has a deep-V cut and a statement-making slit in the front. Also, it's available in a range of sizes up to 3X.
3. White Sequin Mini Skater Dress
If you want more of a party dress in white, go for a white dress with some sparkle to it!
This late night soiree white sequin mini skater dress is my favorite for any fun event or celebration you may have in the spring! The best part about this white skater dress is that it is covered in sequins to make you stand out in a crowd.
4. White Halter Midi Dress
If you want something classic and sophisticated, go for a midi dress in white for the spring.
The this is bliss white halter midi dress will be the perfect midi dress for the spring. I love its halter top design and how laid-back and effortless it feels.
I could see this dressed down with minimal sandals for day or up with strappy heels and statement jewelry for night.
5. White Lace Two-Piece Dress
Two-piece dresses are very trendy right now, so if you want a cute outfit for the spring, and you also want to keep up with all the fun, new trends, get this look at me wow white lace two-piece dress.
Another great thing about this white two-piece dress is the beautiful floral lace detail that it has going on — so romantic and cute.
6. White Skater Dress
If you want just a simple white dress for the spring to wear for any occasion, go for this darling delight white skater dress. It's the perfect canvas for any fun accessories you want to show off.
This is a simple white dress, but the skater design adds a little fun to it, so you will still feel girly in this dress.
7. White One-shoulder Dress
One-shoulder outfits are super trendy right now, so I'm stocking up for spring and summer. I especially love the look of a one-shoulder dress in white.
This Lexia dress in white is so stunning and unique — it's sure to turn heads.
Add some fun accessories to this dress, and you will have the perfect fashion girl dress for fancier occasions.
8. White Lace Bell Sleeve Bodycon Dress
Boho is in this season and I love the boho feel that bell sleeves add to any look.
If you want to try this look on a little white dress, I definitely recommend this adorable allure 'em in white lace bell sleeve bodycon dress.
Not only does this dress have bell sleeves, but also the bell sleeves come in a pretty lace design for even more boho vibes.
9. White Lace Strapless Midi Dress
Strapless dresses are always a popular pick for warmer weather in the spring.
If you want a cute strapless dress to wear for the spring, you can't go wrong with this Delia white lace strapless midi dress.
This is a midi dress, which I love, because the length balances out the lack of straps up top for a sophisticated, classic take on a strapless dress.
10. White and Beige Embroidered Lace Backless Maxi Dress
If you want a statement maxi dress in white for the spring, this ivywood white and beige embroidered lace backless maxi dress is the perfect choice.
It comes with a gorgeous white floral design with beige for an illusion feel. Also, this dress has a plunging neckline for the top, which is very trendy right now! Finally, I love this piece because it comes in a range of sizes from XXS to 3X.
11. White Halter Swing Dress
Flowy dresses are always perfect to wear in warmer weather, so I had to include at least one easy-breezy dress in my white dresses roundup.
Looking for a great flowy dress in white for the spring season? Purchase this love of mine white halter swing dress. Not only is it the perfect flowy dress, but also it comes with a fashion-forward halter design.
BTW, this one also comes in an extended size range from XXS to 3X, so I love it even more.
12. White Crochet Lace Skater Dress
If you want to make a statement with your white dress, you can't go wrong with this fun pick.
This florentia white crochet lace skater dress will be perfect if you want something different because it comes with this super cool crochet design on the top. It's interesting and dressy but still totally casual enough to wear to a variety of occasions.
13. White Mesh Dress
You may need an evening dress in white for this spring, and if so, this dress is everything you'll need and more!
Get this coming for you dress in white mesh, and you will look perfect at any evening event. I absolutely love this piece because it's a simple white dress that's still stunning and statement-making thanks to its fit and mesh material.
Prepare to turn heads in this one!
14. White Poplin Belted Shirt Dress
If have seen the show Sex and the City, you have probably seen Carrie's famous white shirtdress. (Even Rihanna is a fan of this look!)
If you absolutely live for Carrie Bradshaw's style or even if you want a more casual white dress for the spring, you should wear this white poplin belted shirt dress. I love that it has its belt built in so you can throw it on and go.
15. White Off-the-shoulder Dress
Off-the-shoulder clothing items are also trendy right now, and if you love this vibe, definitely invest in at least one off-shoulder dress for the season.
This can't get you off my mind dress in white is so flirty and cute with its off-shoulder puff sleeves and trendy side ties at the bottom. It's so girly and is practically dying to be paired with strappy sandals and gold jewelry this summer.
A romper dress is a perfect option for the spring, especially when it is warmer outside.
If you want to look extra girly but still have the comfort of shorts, you should get this rolla romper in white. It's an unexpected choice that you'll absolutely love wearing all season long.
Which white dress do you think is the cutest?
What dresses are you going to purchase? Which white dress are you excited to wear in the Spring?