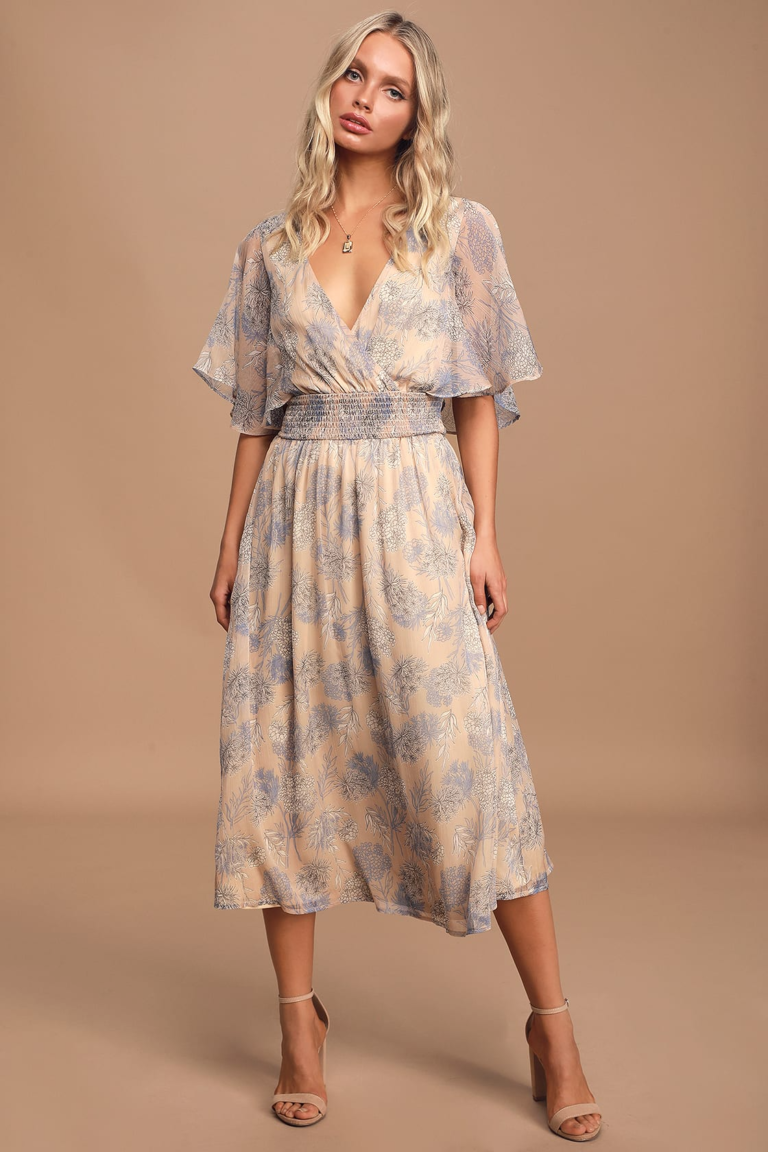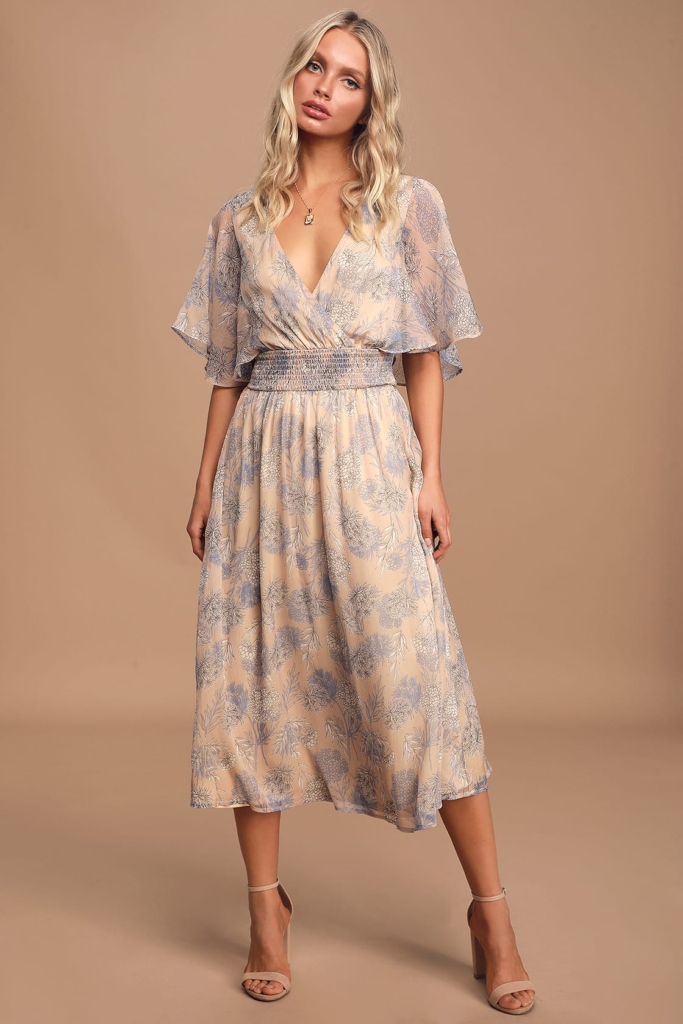 I always look forward to Easter Sunday. Not only does it often fall close to my birthday in April, but it's a holiday that I spend with my family. And, of course, it's a chance to dress up a little or a lot.
When you think of Easter fashion, you probably think of pastels and floral print dresses. And you know what? This season, pastels and floral prints are hotter than ever. So Easter Sunday is a chance to rock some fun spring trends.
There may be different reasons you might need to dress up for the big day, such as church (if you attend), dinner with friends or family, or a party or event like Brunch or an Easter egg hunt. So I'm here to help with outfit ideas for all of these occasions.
These outfit ideas will be perfect for your celebrations, so keep reading to check them out!
The Best Easter Outfit Ideas to Try
1. Floral Pastel Jumpsuit & White Mules
A pastel floral print jumpsuit is an excellent outfit idea for Easter. It's festive, it's eye-catching, and it's simple to style, as seen above.
This outfit is stylish and you can wear it with white mules, which are a good investment for the spring and summer, or even a pair of white sneakers for a more casual vibe. Throw on a cream cardigan if it is chilly and don't forget a pretty gold necklace.
2. Floral Slip Dress, Red Strappy Heels & a Clutch
Looking for something a bit more dramatic for an Easter party or fancy brunch? Try this slip-on dress instead. It still has the floral pattern we associate with springtime, but it's versatile and could easily work as a night-out look during the summer.
These red heels are absolutely stunning, but you could always dress this piece down instead. Throw on a denim jacket and wear sneakers to make the look more casual.
3. Lilac Midi Dress
When I saw this lilac midi dress, it practically jumped off the screen — the color is so perfect for spring! (Purple is one of the hottest spring colors this season, after all.)
This outfit would be great for a family function or family dinner. But you can also wear it after Easter. Though this dress would look amazing with sneakers, also try some embellished sandals for a relaxed, feminine look.
4. Green Eyelet Dress, Nude Mules & Shoulder Bag
This outfit is an excellent choice for this Easter since green has been one of the hottest colors during the past few seasons. Not only that, but the color is perfect for spring.
With eyelets and balloon sleeves, this cute green midi dress has plenty of interesting details going on. But it is also nice and modest, if that's your vibe, with a hemline that goes past the knees.
A matching nude bag and nude mules can accompany this springtime outfit.
5. Light Blue Sweater & Cream Denim Jeans
If you want to be more casual this Easter for an event like a family lunch or outdoor egg hunt, you will want to dress down yet still look festive.
This light blue sweater should keep you warm if it is chilly where you live on Easter. Wear some cream-colored jeans to keep the color palette light. I suggest some white sneakers to complete the look, especially if you plan to run around or go for a post-brunch walk.
6. Pleated Wrap Dress & Nude Strappy Heels
Next up is this pretty blush pink pleated wrap dress. It's another option that could be suitable for an Easter Sunday party or even a Spring wedding. (More wedding guest dresses here.)
Slip into some nude strappy heels or even embellished flat sandals, and you will look very stylish but sweet!
7. Ivory Ruffled Bodysuit & Light Wash Jeans
Seeing this ivory ruffled bodysuit makes me want to buy one! It would look amazing for so many occasions.
Bodysuits are a great option if you want an easy piece for a variety of looks. They work with skirts, shorts, or jeans and they're super sleek so you don't have to worry about tucking anything in.
Throw on some light wash distressed denim jeans and slip on some sandals to make this bodysuit more casual.
This outfit is a cute option for a family get-together on Easter or a more casual brunch look.
8. Blue Floral Print Mini Dress
If the weather is warm where you live, you may be able to get away with just a simple dress on Easter. If that's true for you, this blue floral mini dress is such a cute option that you'll wear again and again this season.
Pair some white Keds sneakers with the look, or add white sandals to keep it more feminine and dressy. Either way, you can't go wrong.
If you get cold, wear a cream cardigan; otherwise, try it out as a look for Easter Sunday dinner.
9. White Ruffle Sleeve Top & a Red Floral Midi Skirt
Red is a bold color rather than a pastel, but it can also be worn for Easter, especially when it's incorporated into a floral print. Case in point, this red floral midi skirt.
The look would be great for whatever event you have planned this Easter Sunday — it's so incredibly versatile!
A ruffled sleeve top works well as a pairing, but you could also wear just a white tee to dress it down even more. Throw on some sneakers, and this would be another casual look that would be simple but cute for Easter.
10. Cream Blouse, Orange Floral Print Wide Leg Trousers & an Orange Shoulder Bag
If you want to look extra stylish and make a statement this Easter Sunday, try these orange floral print wide-leg trousers to win tons of fashion points.
The outfit would be great for an Easter party. Put on a cream blouse and orange or brown sandals, then match the look with an orange shoulder bag.
This outfit is definitely bold but can also be worn again during the summer! It would also be cute for vacation.
Bonus Outfits: Even More Easter Outfit Ideas
Want even more styling ideas for Easter? Here are two more Easter Sunday outfits. And these items are still available if you want to pick up any now. They are linked below or you can just use these as inspiration.
What to Wear on Easter Sunday: Outfit 1
Since most Easter celebrations can include having dinner, sometimes even after a day of events, why not dress up? I usually have dinner with my immediate family, but if you are having dinner with other family members or friends are coming over, this look is great if you want to be more dressy.
For this outfit, I started with this beige polo top. You can tuck it into this houndstooth check print midi skirt for a cute and slightly preppy vibe. Add some cream heels like these to match with the polo top, and put on this gold watch to finish the neutral look. I hope you have a delicious dinner!
What to Wear on Easter Sunday: Outfit 2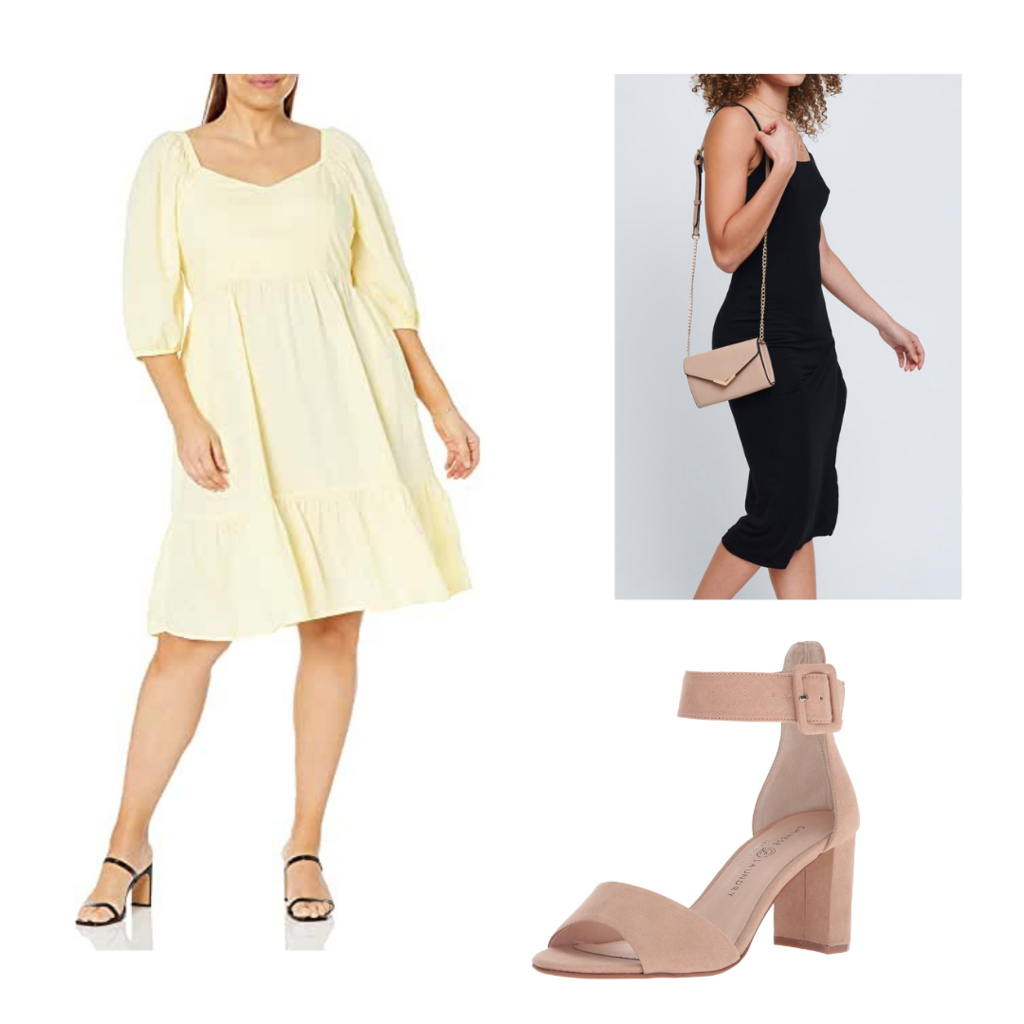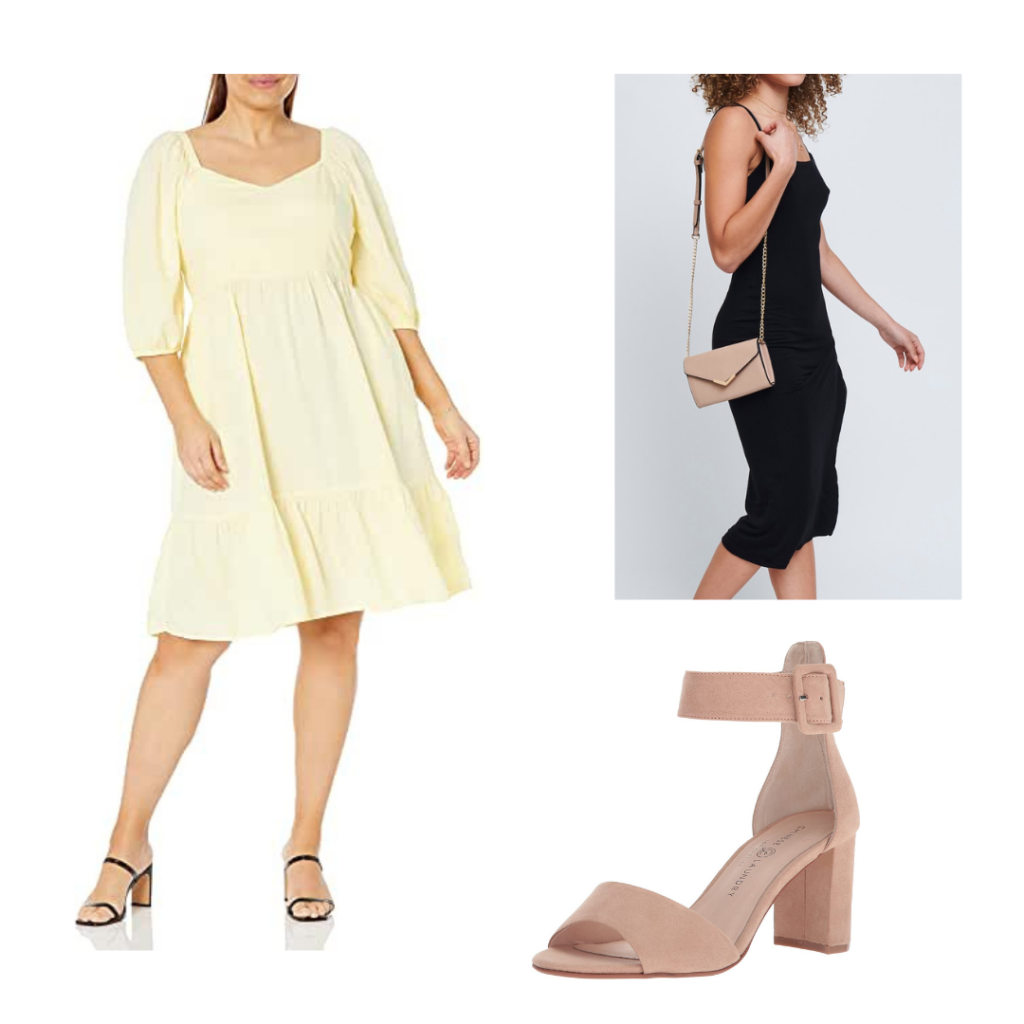 Products: Dress – Amazon, Shoes – Amazon, Bag – DSW
If you spend Easter Sunday morning or afternoon at brunch, here's a cute outfit idea to try. (It would also work for any springtime brunch you might have coming up.)
For the spring season, pastel colors are always on-trend. And how pretty is this pastel yellow smocked dress? It looks so nice, especially with the sweetheart neckline. It is also a lovely piece to be included along with your summer wardrobe. Wear it on its own, or throw on a denim jacket or a white faux leather moto jacket if it is colder.
For accessories, put on some nude heels, and grab this nude gold chain crossbody bag to match. Now you can have a fabulous Easter brunch looking amazing!
What do you think of these Easter outfit ideas?
What is a tradition you do each year if you celebrate the holiday? Which outfit is your favorite?
I hope you have a holiday full of good food, taking lots of pictures and bonding with loved ones! Let me know what you plan to do this Easter in the comments!