This post may contain affiliate links, which means we may receive a commission if you purchase through our links. Please
read our full disclosure here
.
Okay, I know what some of you might be thinking: "What? This is hardly a challenge!!"
I'm probably preaching to the choir here (after all, you guys are pretty stylish), but you'd be surprised how many college-aged girls are afraid to experiment with color. For example, a few months ago, a friend and I were getting ready for a night out and I suggested she wear turquoise stilettos with her deep plum colored dress — let's just say you wouldn't believe the look of horror she gave me!
So for this week's challenge, go through your closet and find the most colorful pieces you own, and think about which color pairings complement each other. Summer is the perfect time to experiment with loud outfits, so go crazy and have fun! Are you ready to take on this challenge?
Tips and Tricks for Mixing Bright Colors
Vibrant jewel-tone colors look great together–some of my favorite color combos include yellow and turquoise, hot pink and purple, and royal blue with electric blue.
Consider adding color with your accessories. Bright clutches, turquoise or coral jewelry, kaleidoscopic scarves, and candy-colored shoes are versatile pieces that will add pop to your look.
Makeup is another great way to experiment with color: Purple eyeliner and hot pink lip gloss are two of my favorite ways to experiment with bold hues!
Be careful with the number of colors you mix at once. Wearing three or even four colors at once can create an incredible look, but I recommend stopping there. Mix five or more colors and you'll risk looking like a rainbow explosion (and not in a good way)!
Example Outfits for Inspiration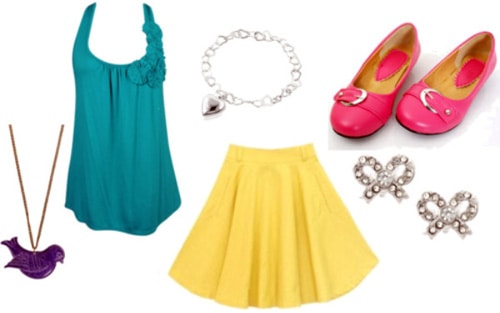 Shirt, Skirt, Necklace, Earrings, Bracelet, Shoes
This outfit is perfect for a sweet date, warm night spent out on the patio, or a daytime family outing. Tuck a soft turquoise top into a flowy yellow skirt, then add a pop of pink on your toes with these adorable buckled flats. A simple silver pair of earrings and bracelet add balance to the outfit, while a pretty purple pendant necklace will draw attention toward your beautiful face.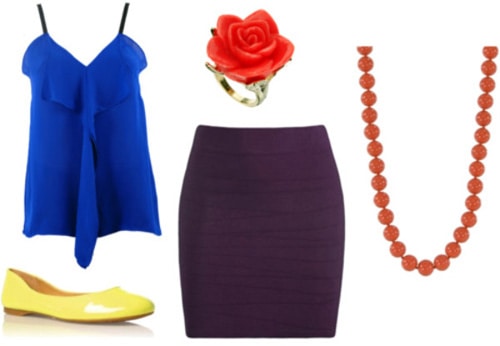 Shirt, Skirt, Flats, Necklace, Ring
If you're a little wary of trying out this Fashion Challenge, start with a dark purple or deep blue as your base: These colors are more subdued (perfect for a less out-there look), but you'll still get the summery, bold aesthetic you desire. For the look above, I paired a simple purple skirt with a bright blue cami, yellow flats, and coral jewelry for a look that's sophisticated yet fun.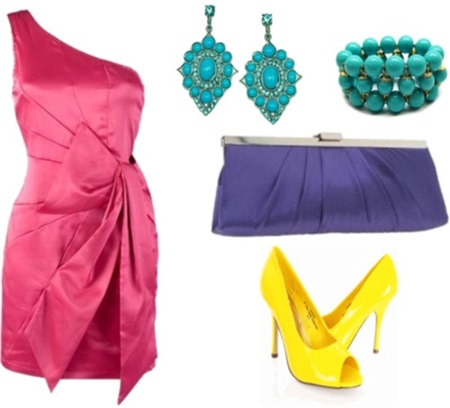 Dress, Shoes, Earrings, Clutch, Bracelet
A hot pink dress will look even more summery and fresh when paired with yellow shoes and a purple clutch. Turquoise jewelry is a fun way to add more color and pizazz to any ensemble, and works well in this look to offset the neon pink and yellow with a cooler tone. This ensemble would be perfect for a summer night out.
CF Reader Looks
Here are some looks sent in by CF readers who took the Bright Colors Challenge! If you want to see your own look here, read our instructions for sending in your outfit photos below!
Brittany – Northwestern University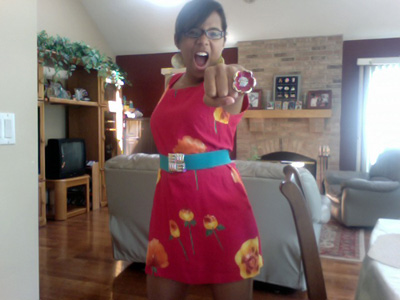 "I'm wearing a dress my mom gave me that she bought in the '90s, a Forever 21 ring, vintage yellow earrings from my granny, and a belt given to me by my stepmom (also from the '90s!). I almost never, ever wear bright colors so this is kind of a big deal for me!"
Up for the challenge? Send in your look and we'll make you famous!
Now that you have some ideas for how to pull off this Fashion Challenge, we want to see what you can come up with! Send us your outfits and we'll feature your photos and info here. 🙂
Just send in photos of you wearing a brightly-colored outfit to fashionchallenge AT collegefashion.net, and we'll feature you here on CF! (See past examples here and here.) Include your name, what school you go to, and a description of what you're wearing in the email. Can't wait to hear from you!
What do you think?
What are your favorite colors to pair together? Do you think bright colors are better worn with neutrals? How much color do you think is too much? What other fashion challenges would you like to see in the future? Discuss by leaving a comment!