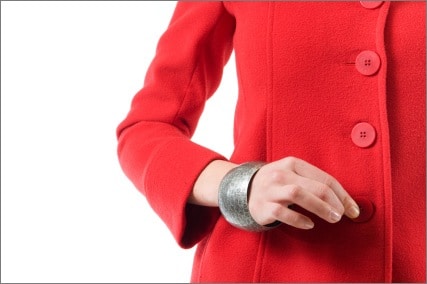 It's officially spring in two days, and with that comes warmer weather, sunny skies, and.. finally.. time to break out the spring fashion. From dresses and denim to accessories and shoes, spring is a fabulous opportunity to revamp your wardrobe. Year after year, one of the most important spring pieces is the lightweight jacket.
I've received a bunch of emails lately from you guys looking for cute and affordable spring jackets, so I thought I'd help you out and show you my picks.
A lightweight jacket is a true spring wardrobe essential, and to help you all with your shopping, I've found 10 cute spring jackets for even the smallest clothing budget. All of the jackets featured below are less than $60 each!
10 Cute Spring Jackets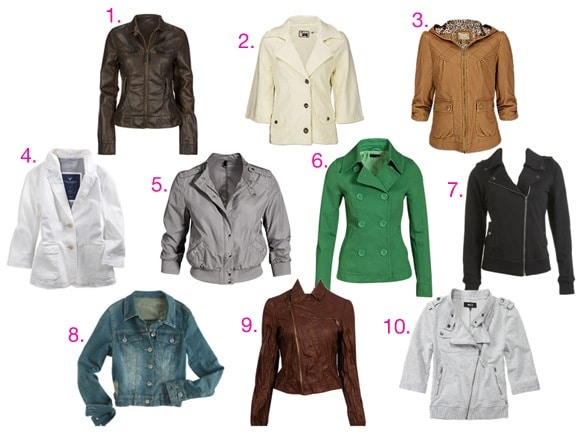 1. Full Tilt Women's Venus Moto Jacket – $29.97 at Tilly's.
Faux leather jackets are hot for spring, and this one is both versatile and affordable! It would go well with a simple pair of skinny jeans and a basic top, or could work over one of spring's cute floral dresses. The choice is yours. Either way, for $29.97, you can't really go wrong. As of my posting this, size M and L are still available, so buy this one fast if you're interested.

2. Brow.NY Sailors Jacket – $39.50 at Buckle.
Off white is a great color for spring, and this jacket is a super-chic option for the price. With its slightly flared, cropped sleeves and sailor-inspired buttons, its got a hint of the nautical trend going.

3. Daytrip Quilted Coat – $49.50 at Buckle.
A cute lightweight nylon jacket that would be perfect for everyday. Fun details like the faux cheetah print lining and the button pockets add interest to an otherwise basic piece. The price tag isn't bad either!

4. AE Boyfriend Blazer – $59.50 at American Eagle.
I love this white blazer because it's such a simple basic that can work in many ways. Dress it up by paring it with a cute skirt and top (very Stella McCartney Spring 2009 Ready To Wear), or dress it down with some cropped jeans and a loose tank.

5. Grey Nylon Jacket – $29.99 at H&M.
How cute is this cropped bomber jacket? Grey is always a great color for spring because it pairs so well with yellow, hot pink, and other brights. A jacket like this one would be perfect over a yellow or hot pink top with skinny jeans and some cute spring flats.

6. Green Corduroy Jacket – $36.80 at H&M.
A lightweight pea coat in a fun color is a great way to spring-ify any outfit and transition your wardrobe into spring. This one from H&M is the perfect fresh shade of green. As a bonus, this piece is versatile – you could easily rock it now and and wear it next winter too (layered over a hoodie for extra warmth.)

7. Cotton Moto Jacket – $26.50 at Wet Seal.
Just because it's spring, that doesn't mean you have to give up wearing black! If you love basic black like me, you're probably looking for something similar to this moto jacket for spring. It's a little bit rocker chick and a little bit simple basic, all mixed up with some interesting details. At $26.50, could it get any better?

8. Harlow Denim Jacket – $54.50 at dELIA*s.
The denim jacket is probably one of the trendiest spring items that's still a basic. Jean jackets are HOT right now, and they're the type of piece that everyone needs to have in their closet. This one from dELiA*s is the perfect shade of distressed denim – not too dark and not too light. It would pair well with a boho-chic dress and boots, a tank and shorts, or just a dark wash pair of skinnies and flats.

9. Crinkled Faux Leather Zip Pocket Jacket – $46.80 at Forever 21.
Yet another faux leather jacket – notice a trend here? Again, faux leather jackets are the inexpensive, cruelty-free way to get in on a hot fashion trend and channel your inner badass. I love this one because it mimics vintage, distressed leather without the ultra high price tag & dead animals.

10. Hurley Moto Lila Jacket – $59.50 at Pacsun.com.
This one's a super cute cross between a hoodie and a bomber jacket with an edgy sideways zipper. Instead of your typical stiff cotton material, this jacket is made out of soft sweatshirt fabric – perfect when you want to be comfy but still look put together. And once again, gray is a hot color for spring!
Your Thoughts?
So there you have it – 10 cute spring jackets all for less than $60 each. What do you think? Have you found your perfect spring jacket yet? If so, where? Which jackets from this list stand out to you? Leave a comment & discuss.