This post may contain affiliate links, which means we may receive a commission if you purchase through our links. Please
read our full disclosure here
.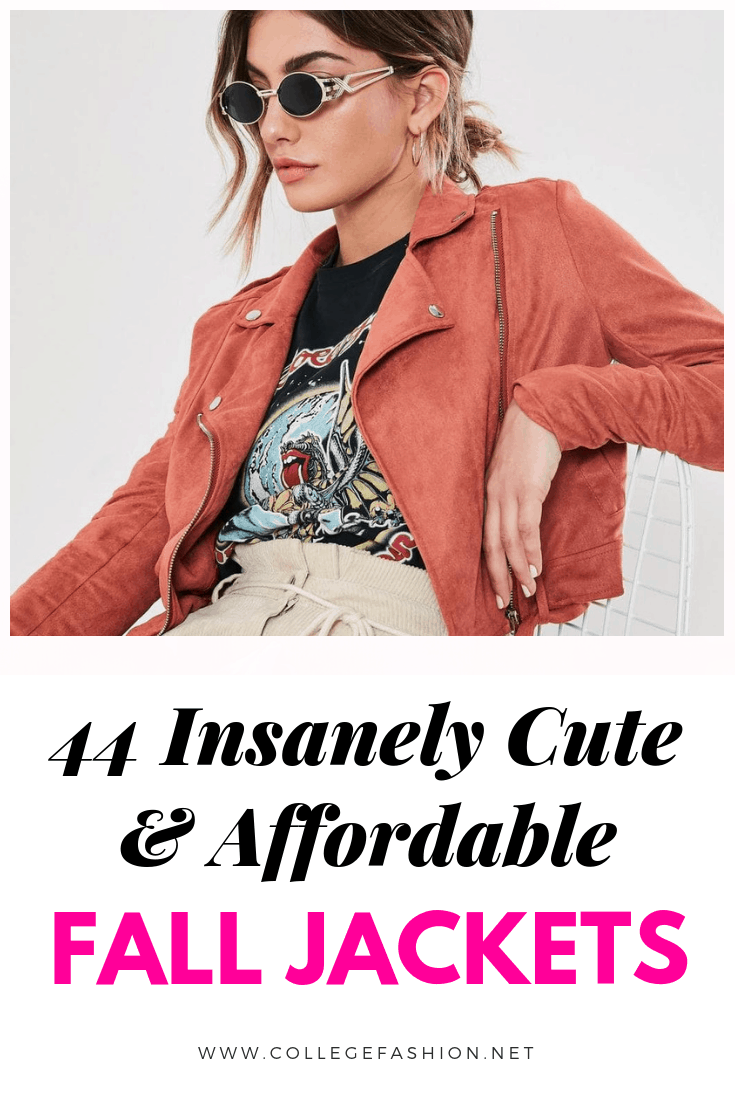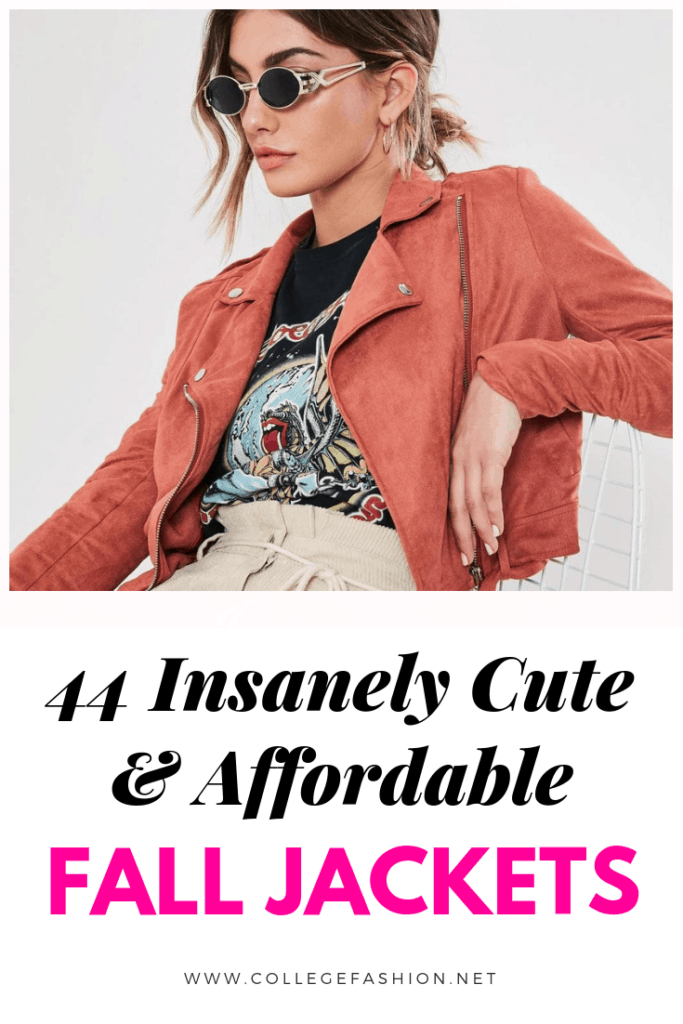 Fear not, fashion girls: Fall is on its way.
While summer may be the prime time to sport your favorite mini-dresses and strappy sandals (which you can absolutely re-style for the colder weather!), fall is when fashionable layers are all the rage.
What better way to pull off effortless fall layers than with a trendy fall jacket? Whether layered over a multitude of sweaters and scarves or just thrown over a tee, there are so many trendy fall jackets on the market this season.
To help you shop, here's our fall jackets 2019 guide, with 10 of the most essential coats to own this fall, plus 44 cute coats and jackets sure to fit your style.
Denim Jackets
Although more of a summer essential, denim jackets are crucial in the fall!
These fall jackets are great to have on hand for those days where it's cold in the morning and evening but warm midday. When it gets colder, denim jackets are easy to layer over sweaters and can make for a chic topper to a casual or party look.
If you opt for a cropped denim jacket, you can even style it like fashion girls are styling their cropped cardigans, as a top with a few buttons done up:
Leather Jackets
These are a wardrobe essential! A good leather (or faux leather) jacket can make any outfit look instantly chic and edgy.
Like denim jackets, leather jackets are easy to throw over any outfit on those transitional fall days, but they add a little extra warmth.
They look great layered over knits, too – something about leather and knits is so effortlessly stylish.
Corduroy Jacket
This is a newer fall jacket trend, but it's about to be all over your Instagram feed.
Last fall, corduroy pants were the piece to watch because of the vintage appeal and the cozy texture. This season, corduroy jackets are essential if you want to do trendy fall layers right.
Moto/Biker Jackets
A biker jacket is another easy layering essential for early fall. Biker jackets are easy to style because they come in so many styles and textures.
I personally love a leather biker jacket (see some examples in the leather jackets section above), but I've seen so many chic faux suede jackets and printed jackets in stores.
Biker jackets are quite boxy, so they look great paired with skinny jeans or a mini skirt to even out the proportions.
Blazers
Blazers have become so trendy as of late — they're really having a fashion moment and we are here for it!
While not exactly the warmest option, blazers are definitely an essential piece to have for early fall layers. If you choose a bolder print, they're also an easy statement piece to throw over a basic outfit.
Effortlessly trendy fall layers for your early morning lectures? Yes, please!
Plaid Coats
Plaid is a staple in every fall wardrobe — I don't need to tell you this. Flannels are an easy go-to for layering and chilly mornings, and a chic plaid fall coat is like its classy older sister.
Everything '90s has been super trendy this year, from the resurgence of socks and heels to grungy accessories, like layered chains and combat boots. So naturally plaid is very in right now.
A plaid topper is a fabulous transitional piece too, as it's easy to throw over your favorite summer items for a fall vibe.
Trench Coats
Expect to see trench coats on all your favorite street style stars this fashion month.
A trench coat in a neutral shade is a subtle way to add some warmth to a fall outfit without any effort at all. Plus, it looks so classic and can dress up even the most basic of outfits.
If you're on the shorter side (I'm with ya there!), opt for a trench designed for petite girls. An oversized trench sounds stylish in theory but can make you look like you're drowning in fabric.
Tailored Coat
Throwing a structured coat over your fall layers is a surefire way to look like you stepped out of Blair Waldorf's closet.
If you're a fan of minimal looks, this is the one fall coat you need above all others. Tailored coats look so good in subtle prints like houndstooth, black and white plaid, or even in muted neutral colors.
Paired with a leather skirt and a sleek ankle bootie, this is an easy way to achieve a perfect fall outfit.
Puffer Coats
This is a fall jacket that you can wear right into winter! Puffer coats tend to be insulated for colder weather, so this is a great piece to have in your wardrobe come late October. And if you live somewhere up north, you can probably start wearing yours even sooner.
Getting a puffer coat in a basic color like black makes it easy to wear monochrome looks and still look chic. Opting for a bolder color makes for an easy statement coat to throw over jeans and a tee for chilly morning lectures.
Teddy Coat
I hope you kept your teddy coat from last year, because they're definitely going to be trending again this fall. In fact, it wouldn't be a fall jackets 2019 guide without this one.
This season, the teddy coat trend will be most popular in cropped and trench coat form, but the cozy and chic appeal of last year's coats will still be popular.
Want to buy one today? We have a full guide to the best affordable teddy coats on the market right now.
Shearling Aviator Coat
Aviator coats alone are so easy to style and make for great (and warm!) layering pieces. Adding a shearling (or faux shearling) lapel makes for extra warmth and coziness with no extra work!
These coats are so essential for late fall and early winter dressing. If you're lucky enough to live somewhere the winters aren't especially brutal, a shearling aviator coat layered over trendy knits could even double as your go-to winter uniform.
I want to hear from you! What do you think of our fall jackets 2019 guide?
Which of these fall jackets are on your shopping list? Let's share layering tips below!