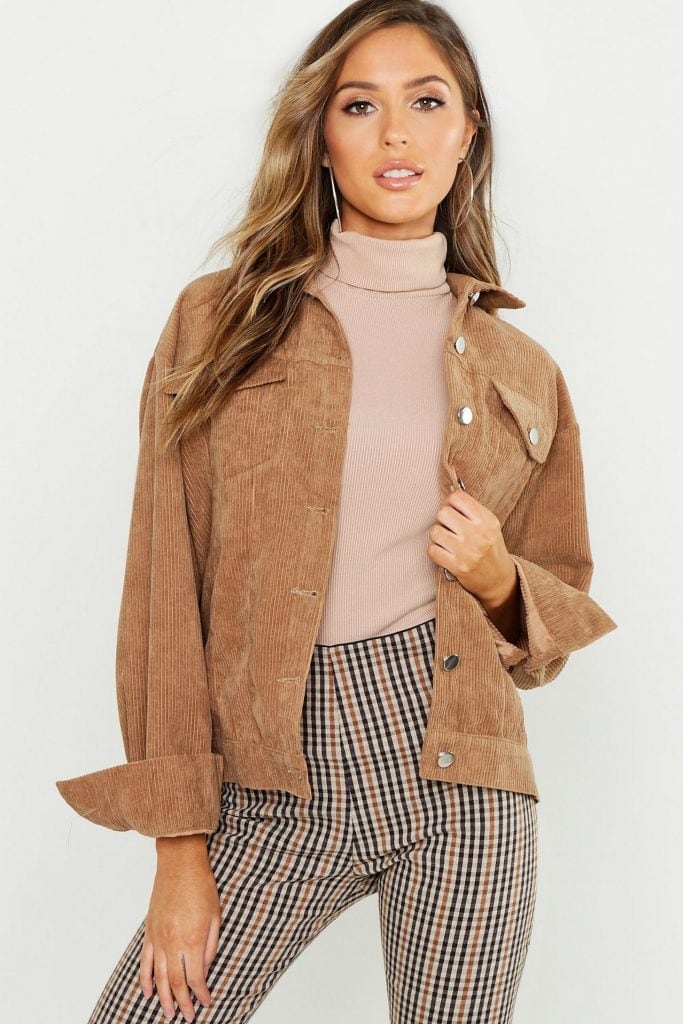 Today I'm sharing my favorite fall jackets for 2020, with affordable options for college women.
With the dog days of summer over, it's time to start re-incorporating some cute fall layers into our outfits. I love being able to throw on a nice jacket – it always completes my look and makes my clothes seem more interesting. A light jacket is a college wardrobe must-have, after all!
Since dressing warm isn't too much of a concern, we don't have to break out the cute winter coats quite yet. Here are my favorite light and stylish fall jackets for 2020.
Related reading: Jackets Under $100: The Best Affordable Outerwear for Winter
Unique Jean Jacket
While the classic denim jacket can feel a bit played out after a while, I just can't seem to get enough denim in my outfits!
A fun way to incorporate denim into your look is to find a denim jacket with unique structure and character.
This jacket is a zip up bomber-style jacket, which I love because it gives a completely different structure to the outfit, and is perfect for pairing with a flowy dress.
Stay on the lookout for denim jackets with fun details such as studs or sparkles, puffy sleeves, distressed denim, or a zipper. That way, your outfit can be unique and next-level.
Classic Flannel
Is it even fall without the standby flannel?
This year, flannels are even more of an essential for me as I'll be staying in for classes or exploring outside. They're super helpful for styling outfits, and can be worn with anything from cozy sweatpants to a cute dress!
I love L.L. Bean's trusty flannels from both their men's and women's sections. Try getting a men's flannel for a cute, oversized look!
Thrifted flannels are amazing too because you never know what you'll find, and since they've been worn in already they're super comfortable.
Color Block Windbreaker
We can't talk about fall jackets for 2020 without mentioning the windbreaker. Windbreakers have been a trendy staple for the last few years, surely because of how versatile they are!
I always look forward to pulling mine out on a rainy day, or even pairing it with leggings and tennis shoes for a cute post-workout look.
Windbreakers like these that play with color can be great for experimenting with your looks and stepping up the classic athleisure outfit. They're colorful, comfortable and durable – I hope they never go out of style!
Artsy Corduroy Jacket
I've thrifted a couple of corduroy jackets and have not stopped wearing them! They pair well with every shirt or dress imaginable, and they're a great way to add a bit of button-down structure to any look.
One of the warmer jackets of fall, corduroy jackets are a cute fall trend and an instant upgrade to your style game. They can be found in so many bright or neutral colors, so you'll be tempted (like me) to buy one in every single color!
Funky Moto Jacket
Okay, I know Coachella didn't happen this year but that shouldn't stop you from breaking out fun jackets all year round!
Moto jackets in cool colors, prints, and textures are a great way to introduce a bit of edge into your outfit. And they're among my favorite fall jackets for 2020 in particular.
I love the fringe and the structure of this beautiful black Western-style jacket. Try out something like this, or if you're brave, a brighter color like cream or lavender. Occasionally, you can find some cool pieces like this at your local vintage consignment shop too!
Vintage-Inspired Crewneck
Since '80s and '90s crewneck sweatshirts have been in this summer, what's better than a cute vintage-style piece to bring you into fall? Sweatshirts like these are meant to be cozy, but can certainly add chic touch to a dress or skirt as well.
While the beautiful embroidery on sweatshirts like these can be worn as the centerpiece of your outfit, they're versatile as well. For summer, pair this sweatshirt with some biker shorts and crew socks. To transition into fall, tuck this sweatshirt into a pair of corduroy pants with a funky belt!
What's your favorite fall jacket for 2020?
What are your jacket essentials for fall? Which of these jackets are you most likely to wear?
Let me know in the comments!