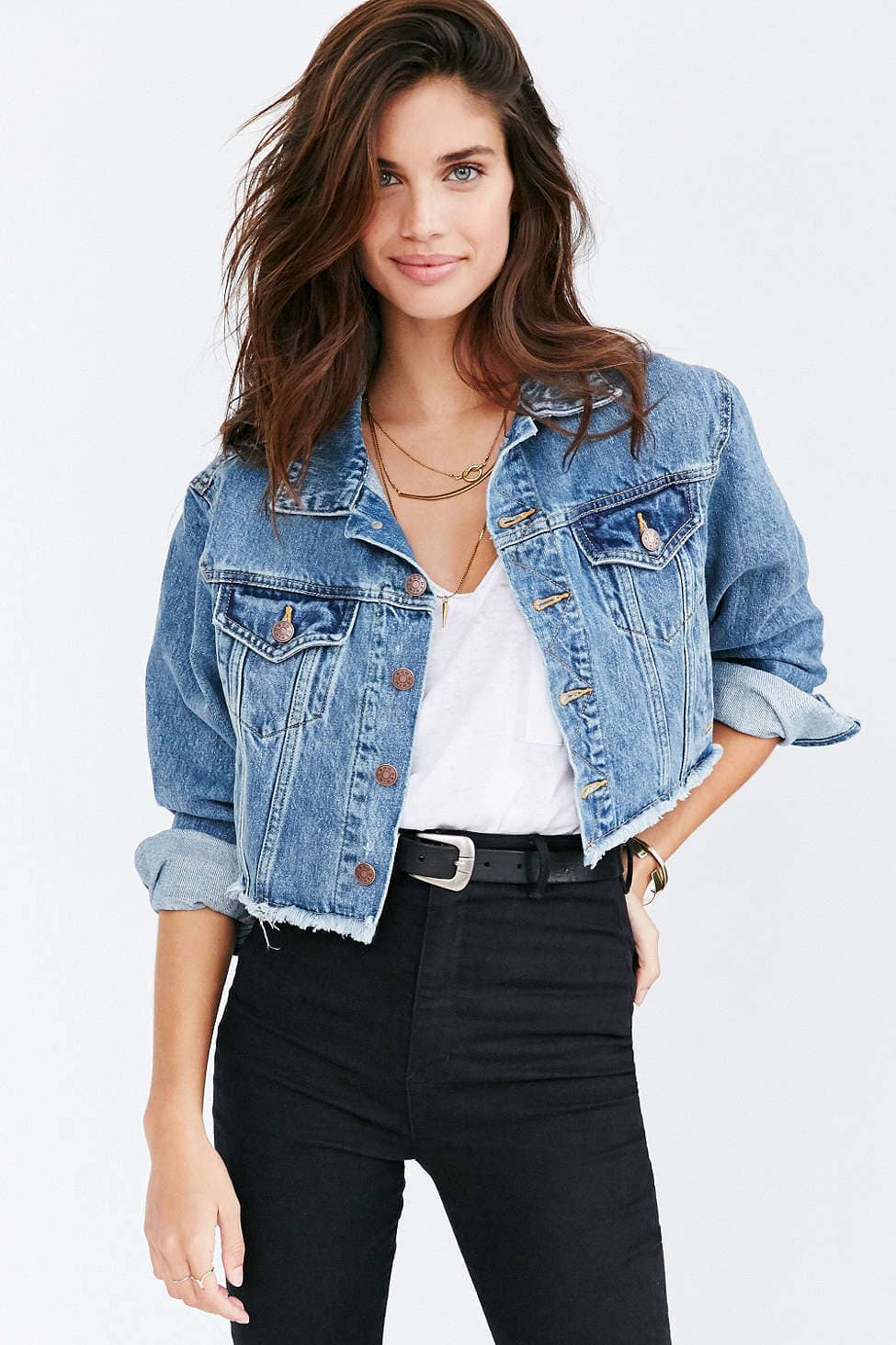 Ah, the denim jacket…. Known today as the classic all-American piece, the denim jacket can be found both in your mom's closet and on the it-girls at fashion week. The ubiquity of this casual piece means it would be a great fit for your wardrobe as well, and we've got everything you need to know about it.
Below, I'll share a quick history of the denim jacket, followed by outfit inspiration and some tips on buying the perfect one.
A Brief History of the Denim Jacket
The original jean jacket was Levi Strauss' Triple Pleat Blouse, created way way back in the late 1800s. The sturdy fabric of the denim jacket made it the perfect piece for the rough and tumble work of the West. Cowboys and miners used it as their go-to work uniform.
Selvedge Yard explains that after cowboy days and westward expansion were over, around the 1920s and '30s, America got nostalgic and kept the myths of the West alive through the denim jacket and other western fashions. Silver screen stars donned them to emulate "the West" in a time where the western lifestyle was ceasing to exist. Bing Crosby famously had Levi Strauss make him a tuxedo out of denim, with the west in mind, which was definitely a rebellious formal-wear choice.
As time went on, the jacket's appeal for the rebellious continued. James Dean wore it in the '50s and then rockers, both classic and punk, adopted it in the '60s, '70s, and '80s. Bustle perfectly describes its appeal: "the point was that the denim jacket was so not formal; anyone who wanted to openly rebel against the ironed suits of the Establishment threw a denim jacket on."
Although in more recent history the denim jacket may seem to have lost its rebellious edge (you can now find it in the preppy havens of J.Crew and Gap), there have still been some anti-establishment denim jacket fashion moments as of late.
That being said, some of the denim jacket's appeal today is its versatility! No matter your style, the denim jacket can seamlessly blend with the rest of your wardrobe and provide a casual and cool layer to any outfit.
2 Ways to Wear a Denim Jacket
Below, this Americana piece is styled in two different ways. I choose to go classic by using the Levi Trucker Denim Jacket. I own one myself (I kept it through my high school days and am now wearing it into my sophomore year of college) and I love it. It's a perfect length and fit: it's not too cropped but it's still wearable with a dress during summer and it's just lose enough that I can fit a light layer under it during fall and winter. Perfection!
Ease In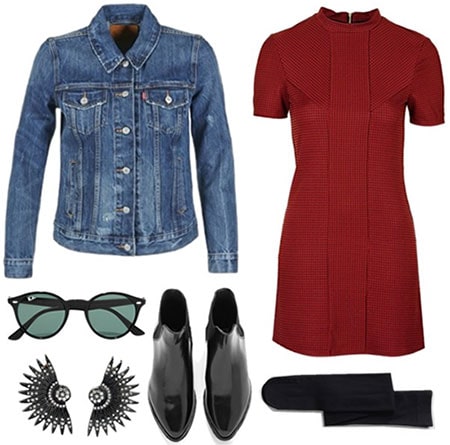 Products: Jacket, Dress, Tights, Boots, Earrings, Glasses
Ease the denim jacket into your current wardrobe by throwing it over your favorite fall or spring dress. Pair your look with ankle boots and tights in colder temperatures like I did here, and when spring arrives, ditch the tights and boots and throw on some sandals. Accessorize with cool starburst earrings and dark sunglasses and you're ready to go.
Go For It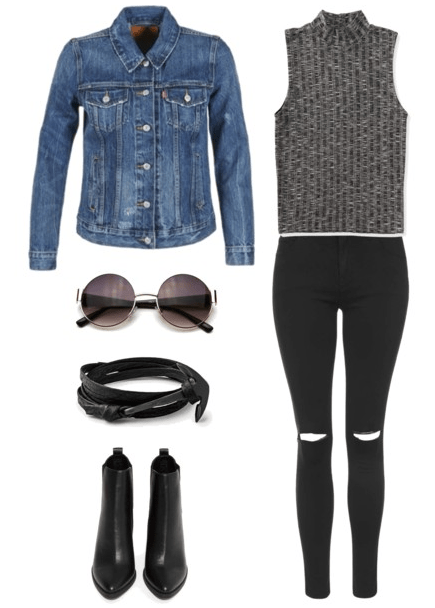 Products: Jacket, Glasses, Bracelet, Shoes, Tank, Jeans
Go all out by emulating John Lennon and the other rockers throughout history who made the denim jacket so cool. Rips add rebellious spirit to your basic black skinnies, while a tight ribbed tank balances the structured look of the jacket. Slip on Chelsea boots, like all rockers before you, for an insanely comfortable and insanely cool shoe-style. A leather bracelet and round sunnies finish this relaxed look. If you're in colder temperatures, just throw your winter coat on top.
3 Tips for Buying a Denim Jacket
Know what style of jacket you want and for what wardrobe purpose you want it for before you buy. Like I said, I love the Levi Trucker, but that style may not suit everyone. If you want to go more rebellious, think about getting a jacket with a shearling collar, rips, embellishment, or patches. An acid wash or an oversized fit is also an edgier choice. If you want to go classic or preppy, a mid-wash blue or a white jacket in a basic fit may be your best bet. If you want to rock your jacket with dresses, opt for a cropped length or a more fitted jacket.
Shop around. You can really find denim jackets almost everywhere, so don't settle on any old one! If you want to try a crazy style and aren't sure if the denim jacket is really your thing, maybe buy one for cheap at a fast-fashion retailer like Forever 21 or H&M. If you want to invest in a long-lasting piece check out department stores like Nordstrom or local boutiques. American Eagle Outfitters is also known to carry nice ones.
Search in the men's section. If you're looking for a more rugged or oversized look, men's jackets offer a different fit with cool additions like shearling.
More Denim Jacket Styling Advice
We've covered the denim jacket a lot here on CF, so if you want more, we've got you covered! Shannon did a whole post on how she wears this closet staple, and we also have advice on remixing the denim jacket, modern ways to wear jean jackets, and wearing denim-on-denim the right way.
What do you think?
Do you love your jean jacket? Are you planning to buy one (did I convince you)? Let me know by leaving a comment.