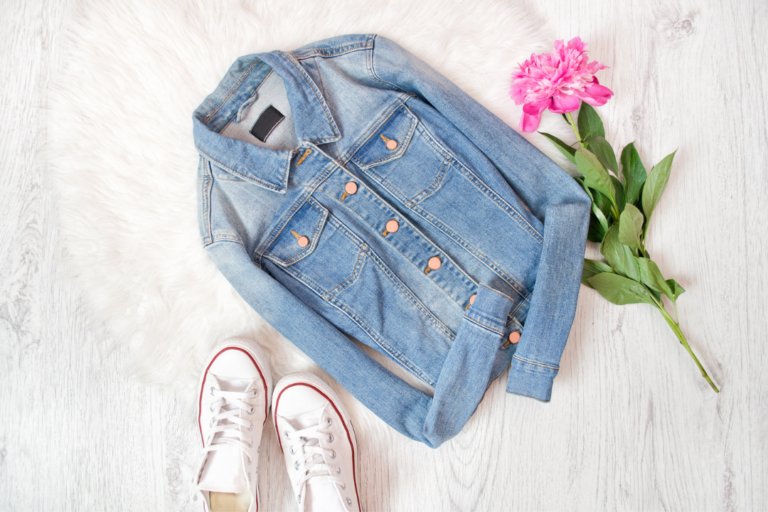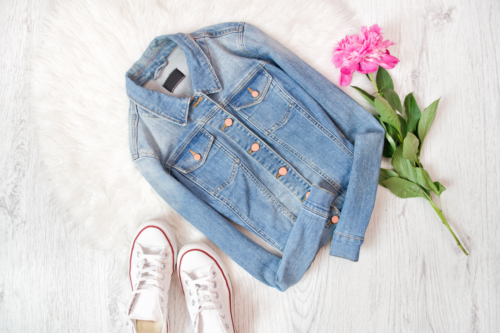 Welcome to the latest edition of Ask CF! Every couple of weeks, we select a reader fashion question and answer it here on the site. Do you have a specific fashion question for us? Scroll to the bottom of this post to learn how to send it our way!
Ask CF Question
Dear CF,

I bought this really cute new jean jacket, but I need some help with how to wear it. I want to look nice without looking outdated!

Sincerely,

Stumped
Our Response
Dear Stumped,
Thank you for your question! Jean jackets are a wardrobe classic and therefore many people have them in their closets. One of the reasons they have transformed into a fashion staple is because they are so practical. No matter your style, a jean jacket can work with your entire wardrobe.
Because denim jackets are so classic, you can wear them with things that are more trendy, but still pull the look together without looking too over-the-top. I've created a few looks below that use a jean jacket in an unconventional way. I hope you find them helpful and inspirational. And have fun playing with this new purchase on your own!
Sincerely,
Jessica
Outfit #1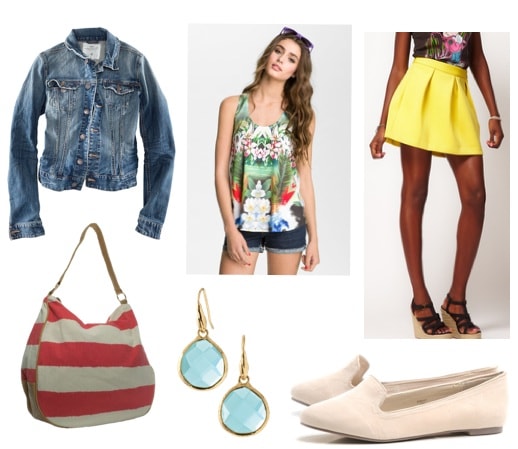 Product Information: Jacket, Top, Skirt, Shoes, Earrings, Bag
For this first outfit, I found this adorable yellow mini skirt. I personally love the blue and yellow combination (but maybe I'm just biased because those are my school's colors) and I think this skirt and denim jacket would go great together. Tropical print has been a hot trend recently, and this top incorporates it well. Finish this fun look off with an orange striped tote, some blue pendant earrings, and loafers.
Outfit #2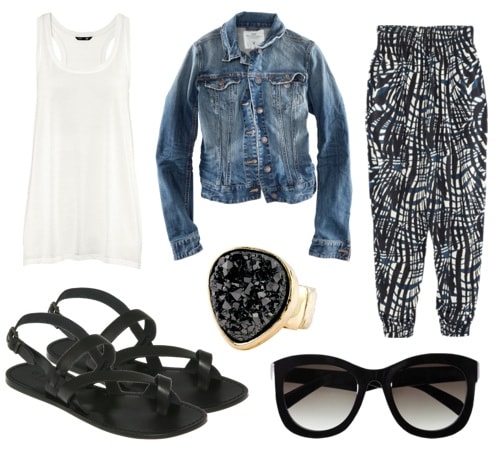 Product Information: Top, Jacket, Pants, Sunglasses, Ring, Shoes
Everyone's seen a jean jacket look done with a pair of conventional pants (either in a contrasting shade of denim like white, or in a fun color or print). But for this look, I thought I'd try a pair of daring harem pants. Many people either love 'em or hate 'em, but I personally love them and think they act as good (and cooler) alternative to a traditional pair of pants for the summer. Since these pants draw so much attention on their own, all you need to add is a simple white tank and your jean jacket, of course. Finish the outfit with some black accessories like these glasses, a ring, and some sandals.
Outfit #3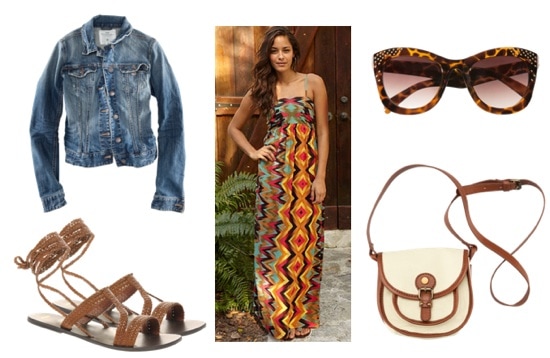 Product Information: Jacket, Dress, Sunglasses, Bag, Shoes
A jean jacket also looks good paired with summer dresses — I especially love it with the maxi trend. This maxi dress has a super bold print, but that boldness is balanced by the simple denim jacket. Keep the look simple by adding on some accessories like these tortoiseshell sunglasses, brown sandals, and cross-body bag.
Outfit #4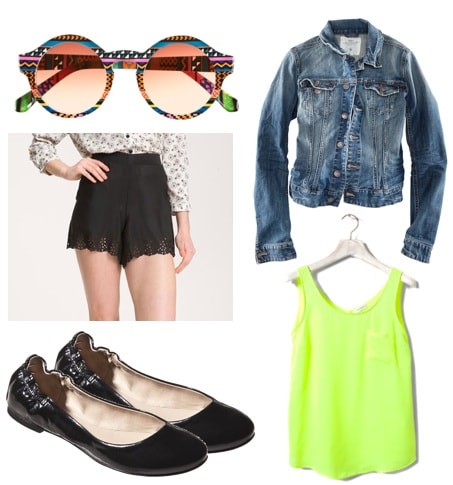 Product Information: Sunglasses, Jacket, Top,Shoes, Shorts
As I mentioned previously, a jean jacket is a nice way to make a trendy look feel a little more classic. For this outfit, I wanted to use the popular neon trend to do this. Pair the tank and jacket with some black high-waisted shorts with a lace detail at the hem. Black flats bring the look together, while printed sunglasses give you that bold, look-at-me feel.
Do you have a fashion question? Send it our way!
Is there something in your closet that you can't seem to figure out how to wear? Do you have an event coming up and need an outfit idea? Do you have a specific fashion conundrum you need help with?
If you have a question you want to see answered in this column, just send it on over via email to askcf @ collegefashion.net and one day you might see your question answered right here on the site!
Please note: We get A LOT of email and unfortunately cannot respond to every single question. However, we will read through every question and then decide which ones will be most helpful to the most readers. Thank you for your understanding.
What do you think?
Do you own a jean jacket? What do you like to wear with it? Do you have any other advice? Do you like the outfits that I created? Which one is your favorite?  Please let me know what you think by leaving a comment below!