This post may contain affiliate links, which means we may receive a commission if you purchase through our links. Please
read our full disclosure here
.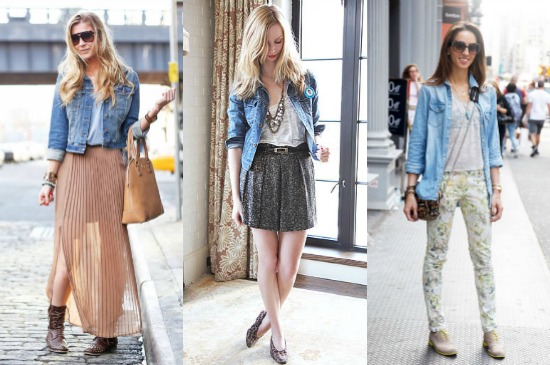 Photos via ELLE
This time on Style Remix, we're featuring the denim jacket. It's been a classic for years, and works well for both warm and cool weather, making it a stylish and versatile piece to own. If you don't already have this wardrobe staple, here's what to look for when buying one:
Make sure it buttons comfortably, even if you never intend to button it all the way up. It's a good way of measuring whether or not it's the right size for layering with thin sweaters, blouses, and other structured tops.
Look for a jacket that has a good fit over the shoulders. The seam over the top of the shoulder joint should lie flat with the arm (see the jacket examples in outfit sets below), and it should never be more than a half-inch inward toward the neck.
If you want to get the most wear possible out of your jacket, look for one in the wash that works best for you. A dark jacket minimizes volume on top, and a lighter jacket will draw attention to the area, adding a little more volume. Most jackets have some faded areas, but the more subtle they are, the more uses you can get out of your jacket.
Now, with Style Remix, we're all about showing you new and inventive ways to wear things so that you get the most use out of the clothes you already own. But, the denim jacket is the multi-tool of a wardrobe – it can already be worn so many obvious ways! So, today, we're showing you how to break the rules and create new DOs out of old DON'Ts. Isn't that what fashion is all about?
1. The Old Don't: "Denim jackets are too heavy and masculine to wear with lightweight dresses."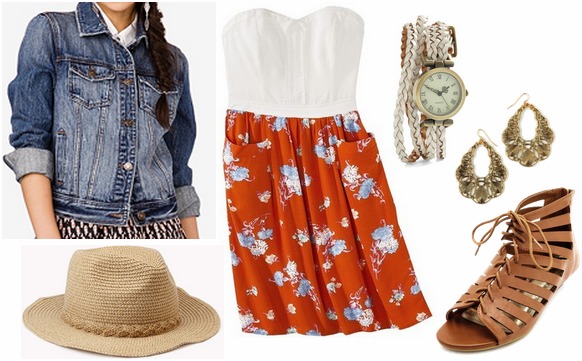 Product Details: Jacket, Dress, Hat, Earrings, Watch, Sandals
The New Do: Mix and match away!
Not only are most new denim jackets made out of lighter material, the whole mixing masculine and feminine pieces thing is so in right now. To keep the trend feeling fresh, mix girly items with menswear-inspired ones.
Here, we've paired a strapless dress featuring an ultra-feminine sweetheart neckline with rougher textured accessories like the denim jacket, a braided watch, straw fedora, and lace-up sandals. To balance the look, we added delicate earrings, and voila!, a chic, slightly androgynous summer outfit.
2. The Old Don't: "Denim jackets are too casual to wear with more formal pieces."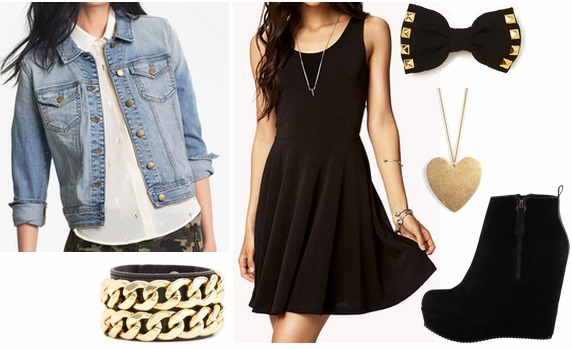 Product Details: Jacket, Dress, Bow, Necklace, Bracelet, Booties
The New Do: Denim over a monochrome ensemble is great for summer evenings!
Here, we chose an all-black look with gold accents, though all-white is great for summer, too. It's an effortless way to go from a casual dinner to a night out on the town. Wear your hair in a high bun with a ladylike bow, and keep your makeup fresh and simple.
The great thing about this look is that it can be done with almost any silhouette: if dresses and skirts aren't your thing, try it with a flowy top and shorts, or even skinny jeans. However, in this particular look, it isn't about the silhouette, but rather the monochrome trend.
3. The Old Don't: "Denim jackets shouldn't be worn with jeans. It's a denim overload!"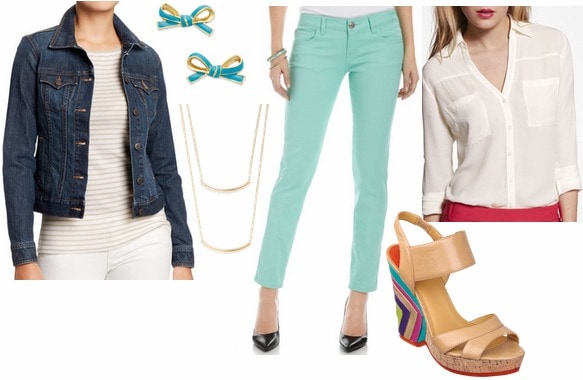 Product Details: Jacket, Blouse, Sandals, Necklace, Earrings, Pants
The New Do: Wear as much denim as you want!
While head-to-toe denim of the same wash is probably an overload (anyone else remember those Destiny's Child outfits?), there's no reason to avoid contrasting washes or colors. Make sure that you choose very distinctly different tones, though!
Here, we've paired bright, mint-colored jeans with a dark-wash jacket, and added accessories with bright colors and clean lines. The neutral white blouse and tan wedges keep things grounded, but those pops of color on the heel of the wedge and the earrings add a little something extra.
What do you think?
Denim jackets are a staple in many college wardrobes. Would you wear these outfits? How do you re-work your denim jacket? And, as always, if you have any amazing ideas for Style Remix, post in the comments below!