This post may contain affiliate links, which means we may receive a commission if you purchase through our links. Please
read our full disclosure here
.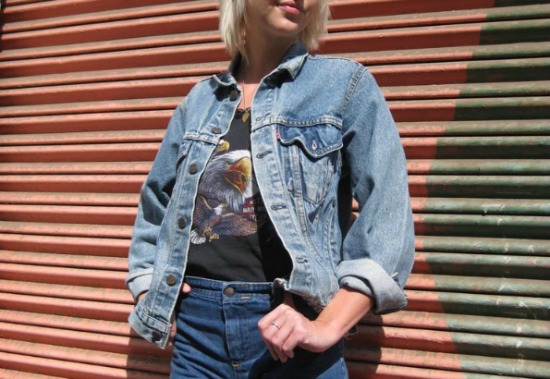 Welcome to the latest edition of Ask CF! Every few weeks, we select a reader fashion question and answer it here on the site. Do you have a specific fashion question for us? Scroll to the bottom of this post to learn how to send it our way!
Ask CF Question
Dear CF,

So, denim/chambray has obviously gotten pretty popular recently, but I hesitate to buy any denim tops or jackets because conventional fashion wisdom tells me that would be too much denim dominating the outfit. I had a denim jacket that I really like, but as far as wearing it goes I feel like I'm confined to only wearing it when it's warm enough to wear sundresses. How can I wear denim-on-denim without going all "Canadian tuxedo?"

Sincerely,

Hesitant with Denim
Our Response
Dear Hesitant with Denim,
Thanks to its versatility, denim is forever a wardrobe staple, thanks to its versatility. Unfortunately, it is easy to get in the same wardrobe routine. We've done a few posts before on how to wear a denim jacket and how to wear a denim vest. More recently, double denim has reemerged as a huge trend, but it can be a little tricky to pull off.
Joining in on this trend is a great way to get the most of your denim wardrobe, but it can prove to be a challenge. To help you out, I have created a few denim-on-denim looks below. My intent is to show you that denim on denim can work without crossing over into the "Canadian tuxedo" zone. I hope you find these looks helpful and inspirational. And good luck playing with this wardrobe challenge on your own!
Sincerely,
Jessica
Outfit #1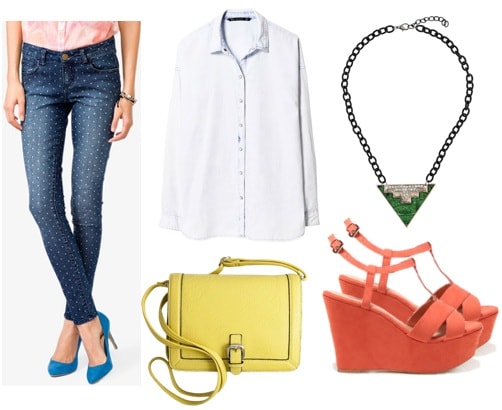 Product Information: Jeans, Shirt, Necklace, Shoes, Bag
One of the easiest ways to rock the double denim trend is to vary your denim washes. In this case, I paired an oversized light chambray shirt with a darker wash skinny jean. This pair even has printed polka dots for a little extra pizazz. Since the basis of the outfit is a neutral blue, I wanted to add in a few pops of color with the accessories. A geometric pendant necklace, lemon yellow bag, and coral wedges should do the trick.
Outfit #2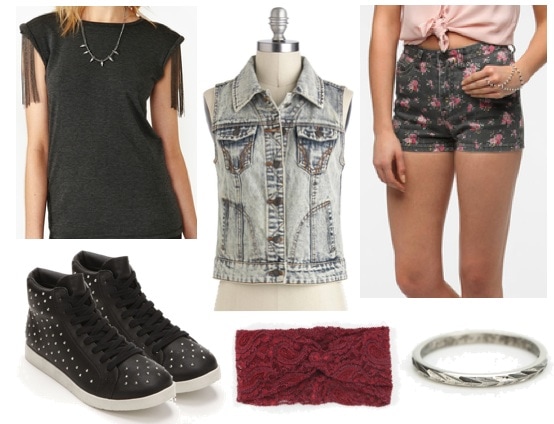 Product Information: Top, Vest, Shorts, Ring, Headband, Shoes
Another way to wear the denim on denim trend is to pair a vest with shorts. For this look, I used a darker shade of printed denim and paired it with a distressed vest on top of a fringed tee. Accessorize with a burgundy headband, silver ring, and studded sneakers.
Outfit #3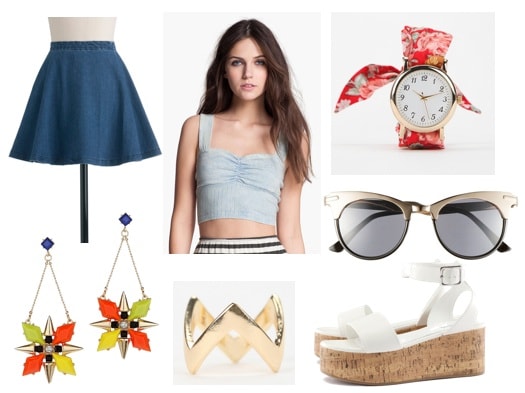 Product Information: Skirt, Top, Watch, Sunglasses, Shoes, Ring, Earrings
Just like the first outfit, this next look also incorporates both dark and light washes. This casual ensemble would work well for a backyard pool party or an outdoor concert.
To start, I paired a cropped bralette with a high-waisted skirt. If you prefer to be more covered up, you can definitely add a button-down shirt like the one in Outfit #1, tying the ends into a knot. Next, add on summery accessories like neon-colored earrings, a gold ring, and a floral band watch. Finish the look with white flatform sandals and some trendy sunglasses.
Outfit #4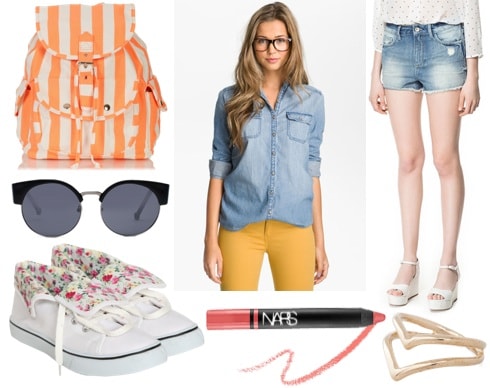 Product Information: Backpack, Shirt, Shorts, Ring, Lip stain, Sneakers, Sunglasses
For this last look, I wanted to show an example of an ensemble that incorporates two denim pieces with similar washes. The trick to pulling off this look is to balance the proportions. Because the shorts are short, the look isn't overpowered by too much denim. To keep things current and on-trend, wear a coral lip stain and accessorize with modern sunglasses. Complete this outfit with some floral sneakers, a striped denim bag, and a ring.
Do you have a fashion question? Send it our way!
Is there something in your closet that you can't seem to figure out how to wear? Do you have an event coming up and need an outfit idea? Do you have a specific fashion conundrum you need help with?
If you have a question you want to see answered in this column, just send it on over via email to askcf @ collegefashion.net and one day you might see your question answered right here on the site!
Please note: We get A LOT of email and unfortunately we will not be able to respond to every single question. However, we will read through each question and then decide which ones will be most helpful to the most readers. Thank you for your understanding.
What do you think?
Do you like the denim on denim trend? Would you wear it? How would you style this trend? Which of these outfits is your favorite? Do you have other suggestions on how to wear denim? Please let us know what you think by leaving a comment below!