This Clue fashion guide will show you outfits inspired by Clue characters costumes from the board game and movie.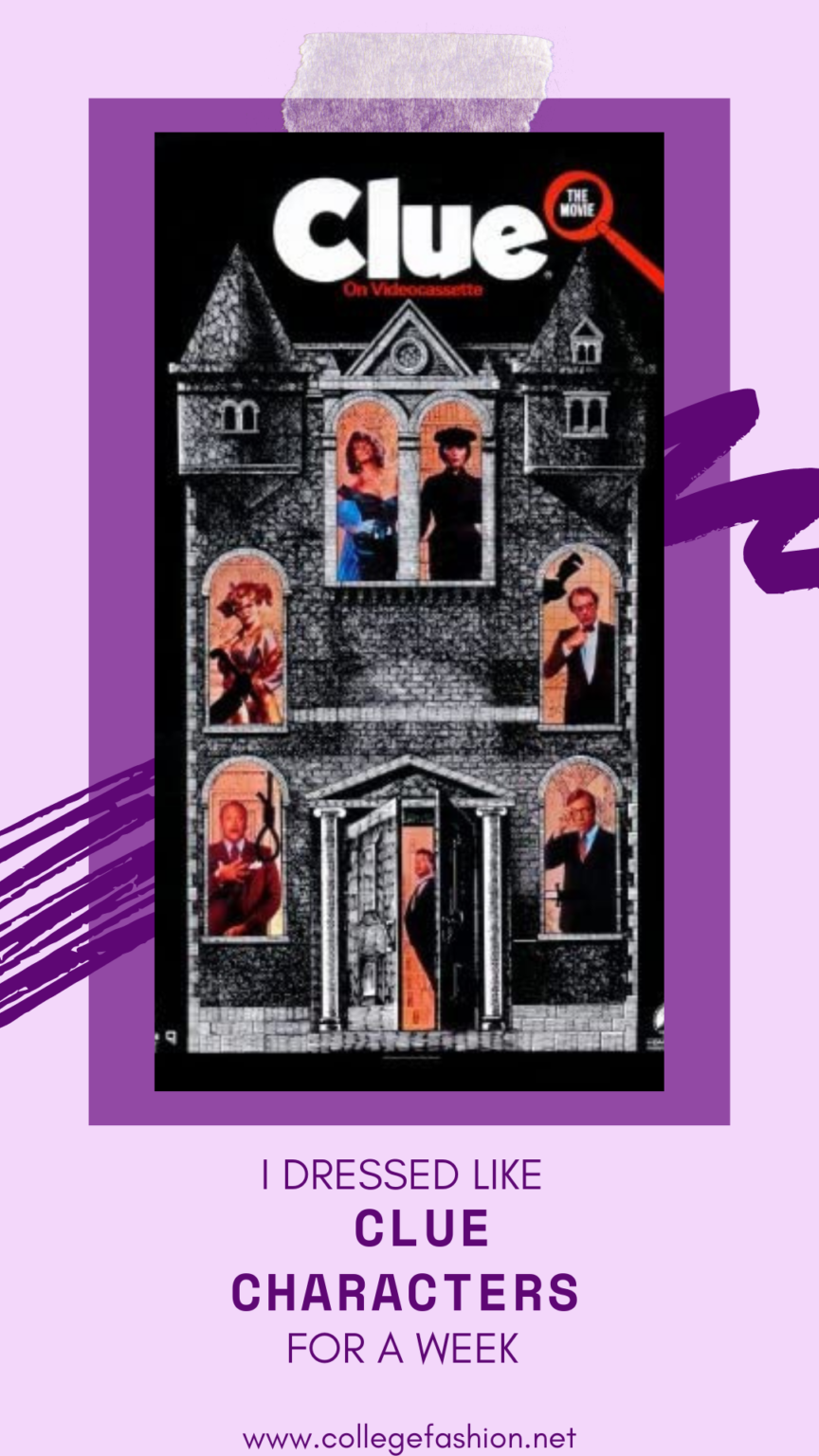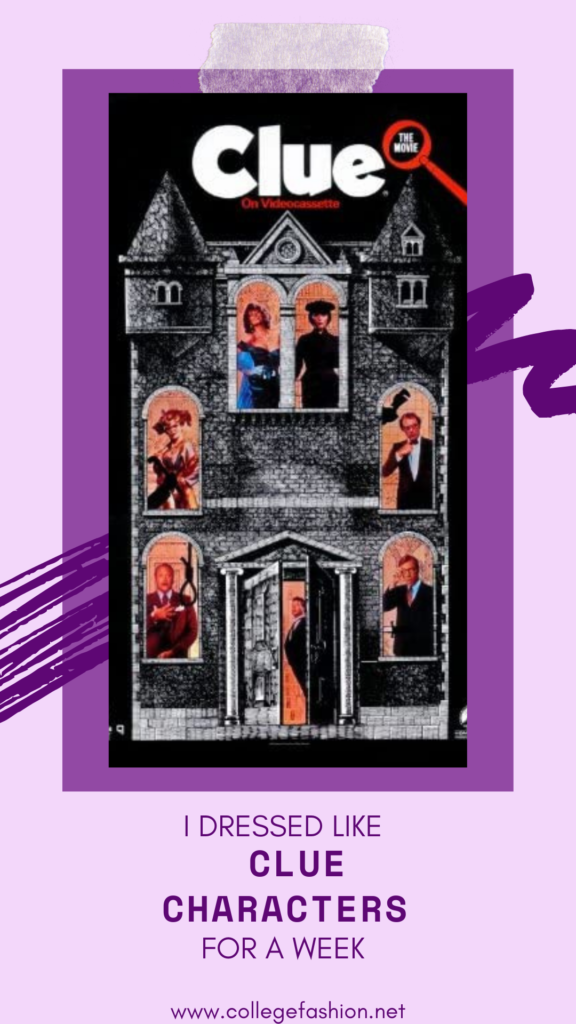 We've all looked to celebrity style for fashion inspiration at some point in our lives. But it's one thing to say "I love her outfit," and it's another to actually copy it in real life.
For this series, I'm going the extra mile and making it happen. Each week, I'm getting inspiration from a celebrity and copying five of her looks as closely as possible. Then, I'm reporting back to you: Did the outfits work in real life? Did I feel comfortable? Did people treat me differently? I'm sharing it all.
In past posts I've covered the style of these celebrities: Zendaya, Gigi Hadid, Grace Kelly, Kendall Jenner, Vanessa Hudgens, Sophie Turner, Priyanka Chopra, Millie Bobby Brown, Hilary Duff, Lily Collins, Taylor Swift Part 1 and Part 2, Selena Gomez, Alexa Chung, Queer Eye's Fab 5, Lucy Hale, Dakota Johnson, Hailey Bieber and Kaia Gerber.
I've also covered the style of certain iconic TV and movie characters: Iconic Halloween Characters Part 1 & 2, Iconic Christmas Characters Part 1 and 2, Rachel Green Part 1 and 2, Monica Geller, Little Women's Characters, Gilmore Girls' Characters Part 1 and 2, Iconic Olsen Twins' Movies, Winx Club Characters, Bridgerton Characters, W.I.T.C.H Characters, Power Rangers' Characters, Wanda Maximoff and Disney Characters.
I also did a full behind-the-scenes on this series.
This week, I'm taking inspiration from one of my favorite movies and one of my favorite board games of all time, Clue. Read on for my full guide to Clue fashion.
About Clue (The Game)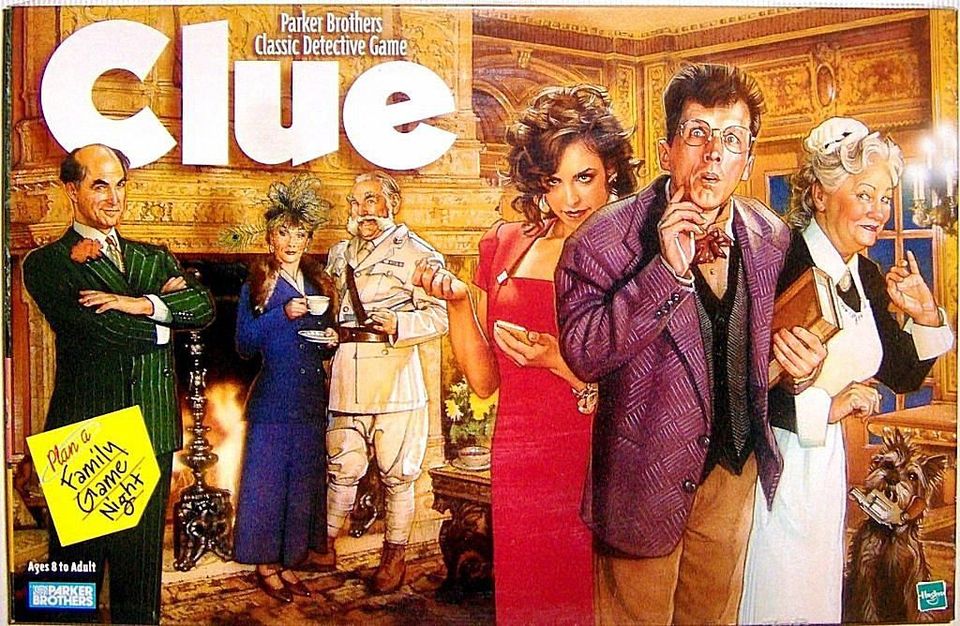 Cluedo, or Clue, as it is known in North America, is the most iconic mystery board game of all time. The game was created in 1949 in Britain. The basic premise of the game is as follows:
Dr. Black, or Mr. Boddy, depending on where you live, was murdered in his own mansion. The six people that were present are now suspects. Players take the role of any of the six suspects and receive cards containing illustrations of the suspects, the rooms, or the weapons. One card of each category is placed in an envelope.
To play, the suspects must enter a room in the mansion and make a suggestion. For example, "It was Mrs. Peacock in the kitchen with the candlestick!". A different player can reveal a card that matches the suggestion to disprove it. To win the game, a player must make an accusation that matches all three cards contained in the envelope. If the accusation is wrong, the player must sit out for the rest of the game.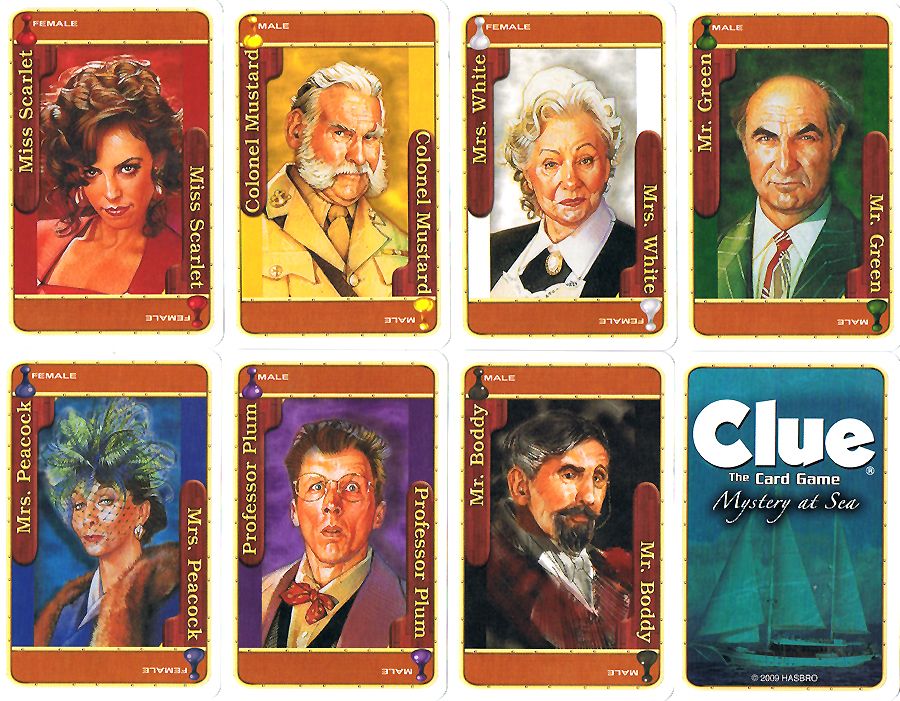 Every character in the series has a punny last name based on a color. Originally, this was from when the game pieces were just differently colored chess pawns.
Through the years, characters have been modified, eliminated or added. But, the core six characters are still Miss Scarlett (red), Mrs. White (white), Colonel Mustard (yellow), Mr. Green (green), Mrs. Peacock (blue) and Professor Plum (purple).
About Clue (1985)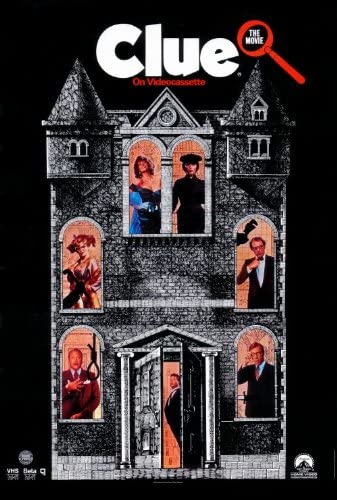 Clue is a murder mystery/comedy film based on the board game. The movie turns all of the characters from the board game into blackmail victims using predetermined aliases.
Members of the cast included Tim Curry as Wadsworth, Madeline Kahn as Mrs. White, Eileen Brennan as Miss Peacock, and Christopher Lloyd as Professor Plum. It's a hilarious film that's a definite must-watch.
With that introduction, let me tell you how my mystery-filled week went!
Clue Characters Costumes Fashion Guide
Monday, Outfit #1- Colonel Mustard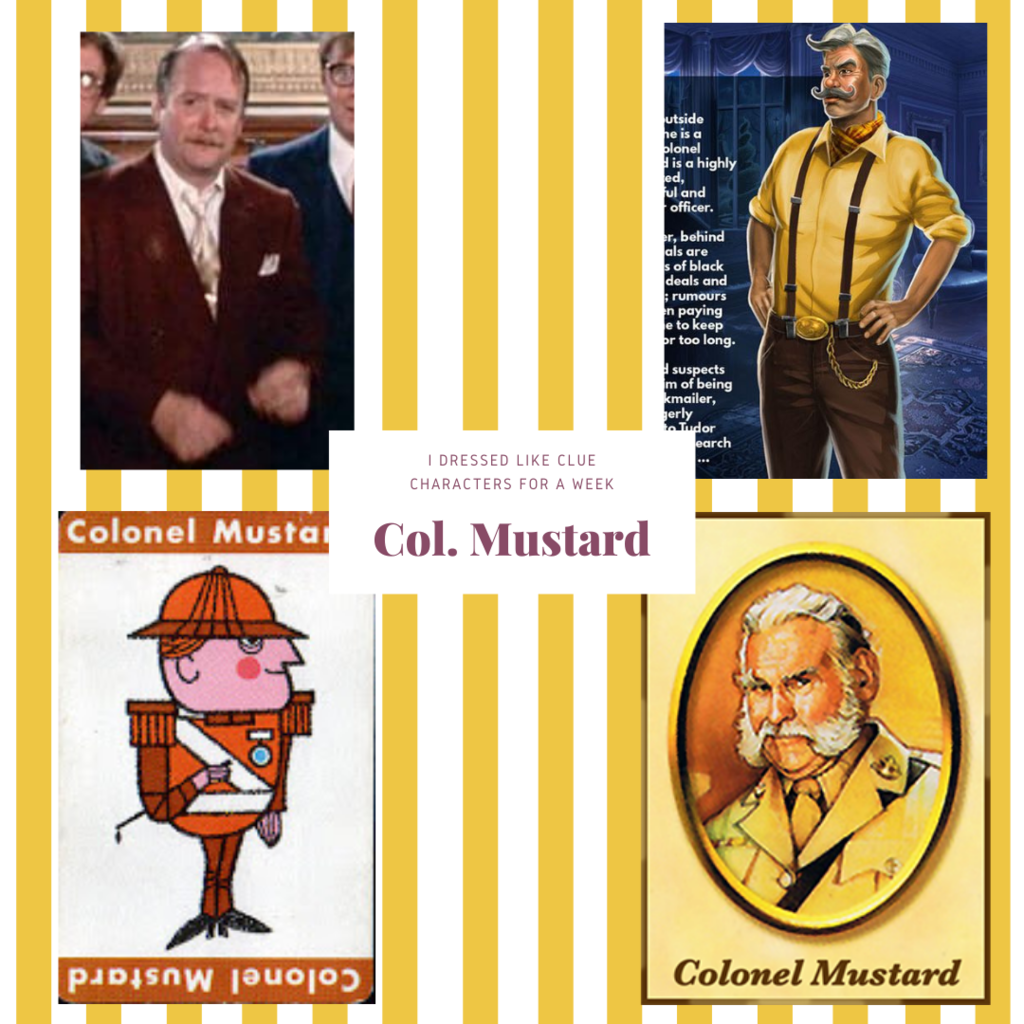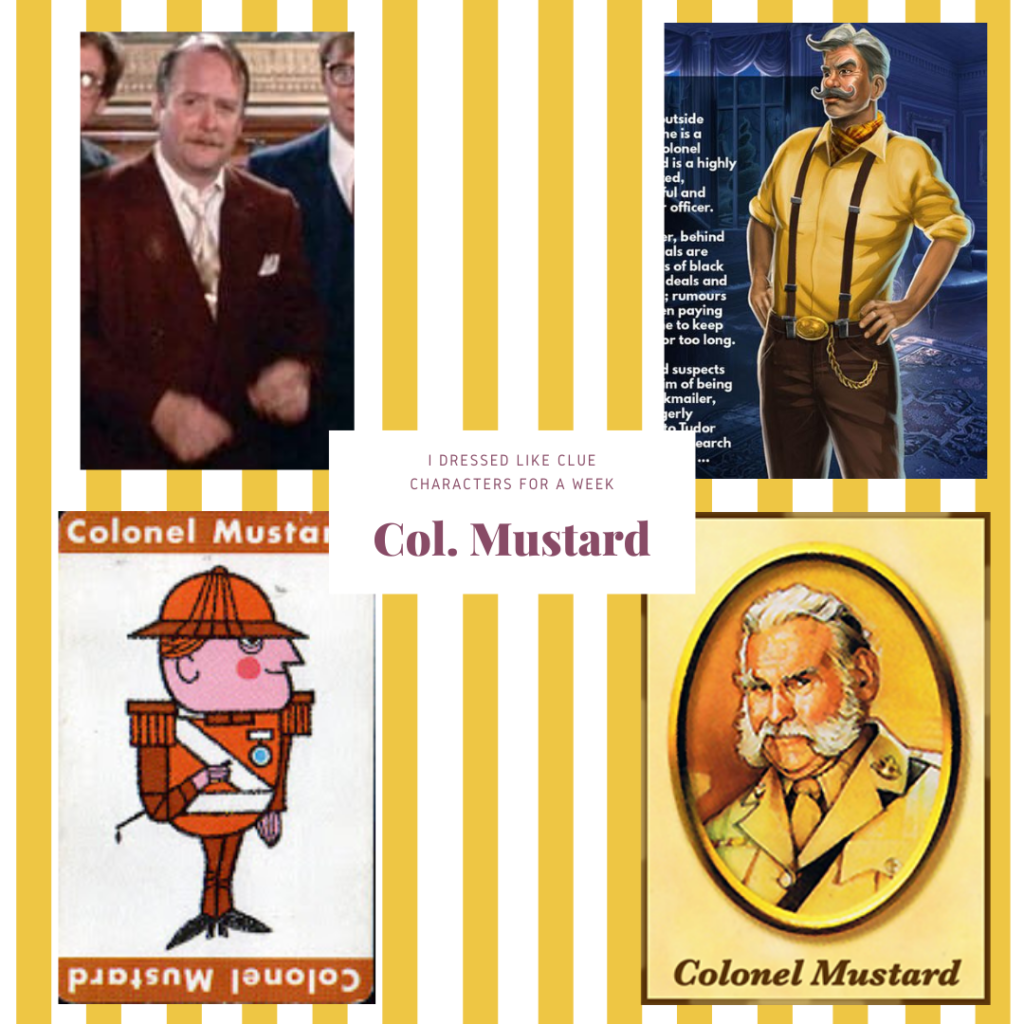 Colonel Mustard is a hunter and military hero in the original board game and represents the yellow piece. He nearly always sports a thick, well-groomed mustache and a monocle. He is almost always wearing a yellowish uniform.
In the movie, he is played by Martin Mull. In this version, Colonel Mustard is a military man. He used the services of Miss Scarlet's brothel in the past. He doesn't wear his yellow uniform, but instead rocks a brown three-piece suit with muted yellow accents.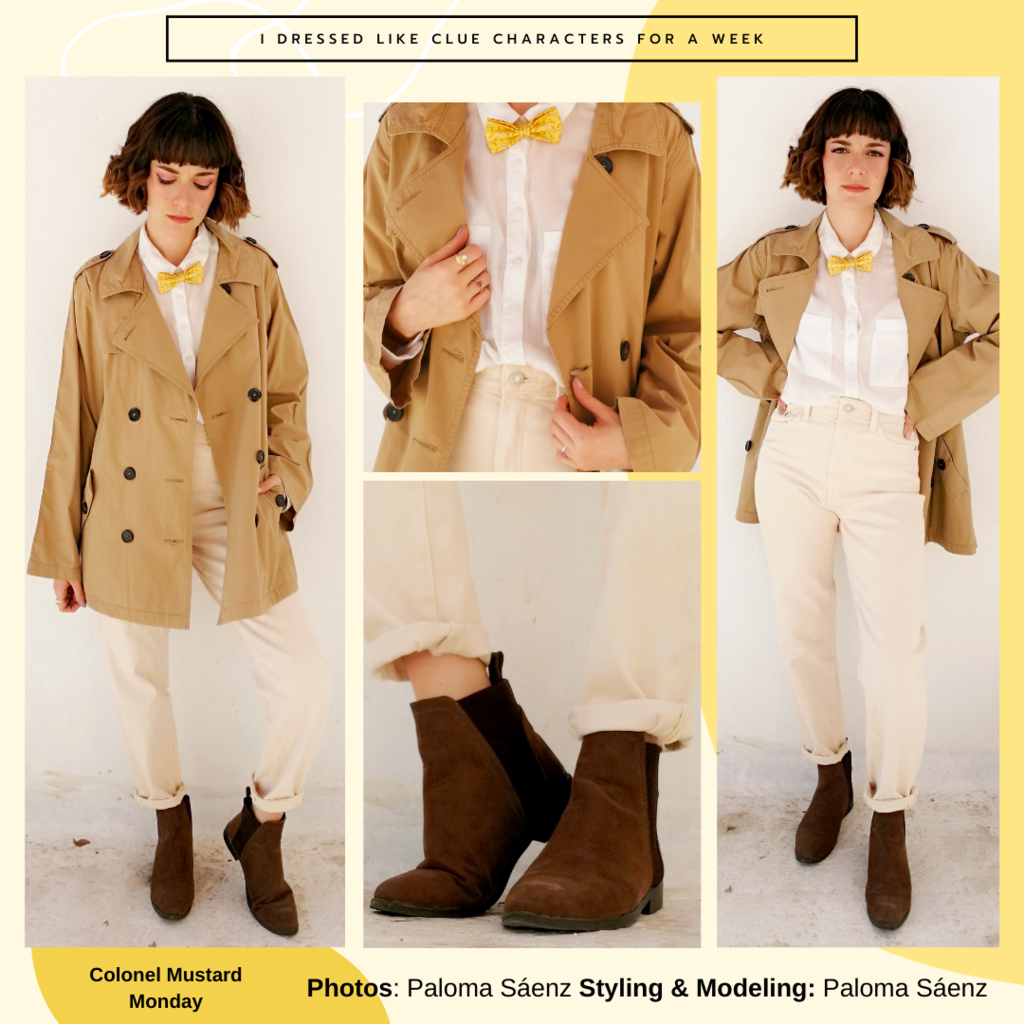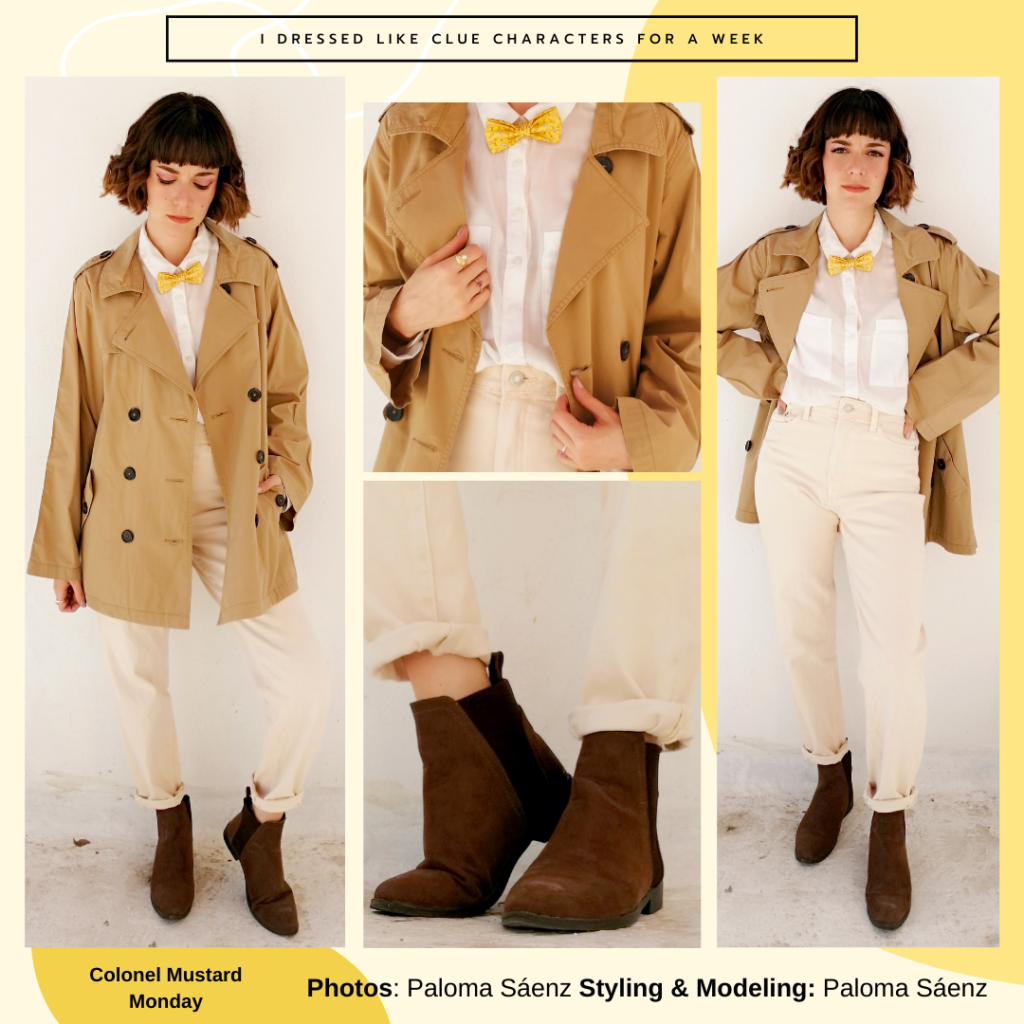 For my Colonel Mustard look, I got inspired by all of his different incarnations.
Products
I wore a pair of light yellow jeans with a white oxford shirt. Since he has worn ascots and ties, I used a yellow bow tie to get the same vibe. The bow tie has little sharks, which alludes to Col. Mustard's incarnation as a hunter.
For shoes, I put on a pair of brown Chelsea boots. Finally, I threw on a beige raincoat to tie in the boots with the rest of the outfit.
I really liked this look! While it has a lot of layers for a summer outfit, I think it's perfect for a rainy day. It was comfortable and really cute. The only really uncomfortable thing was that I'm not used to wearing a bow tie and, at the end of the day, my neck was irritated from it. (Just being honest!)
Tuesday, Outfit #2 – Mrs. Peacock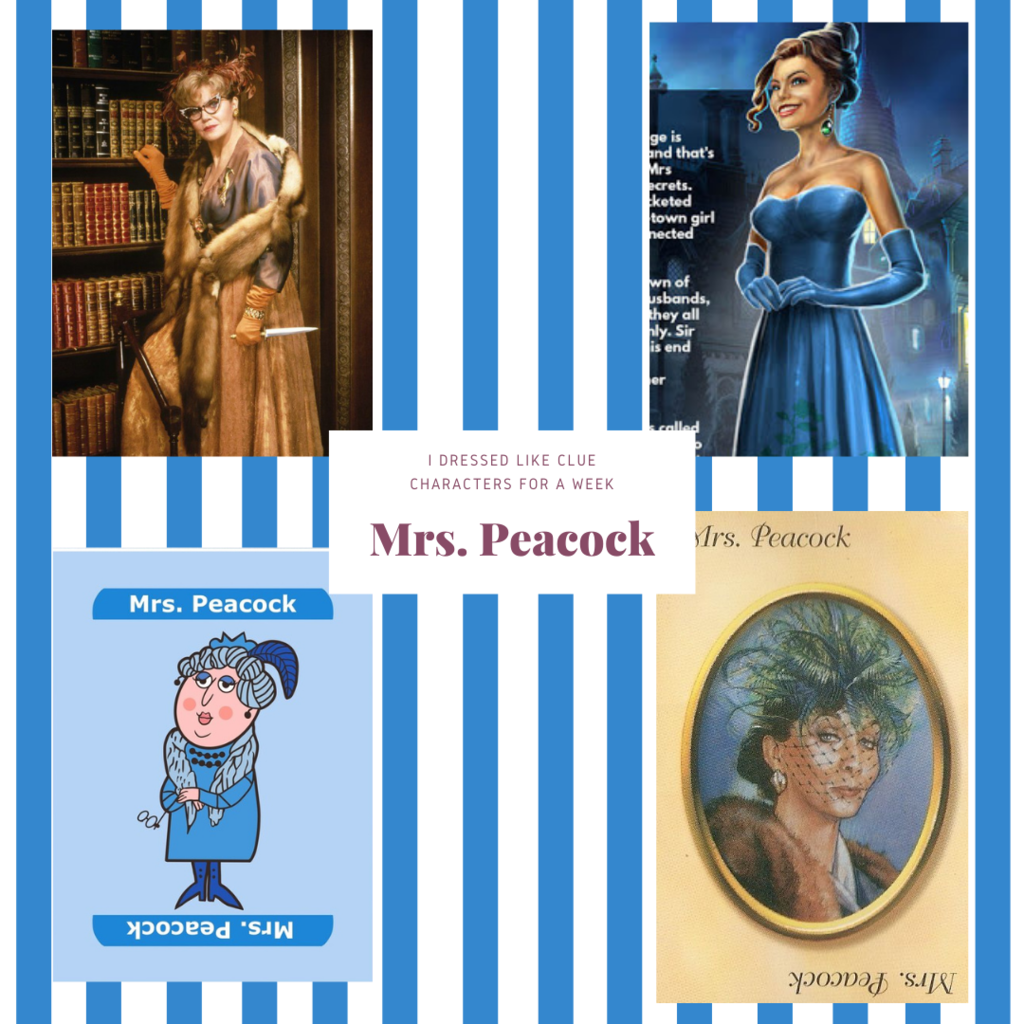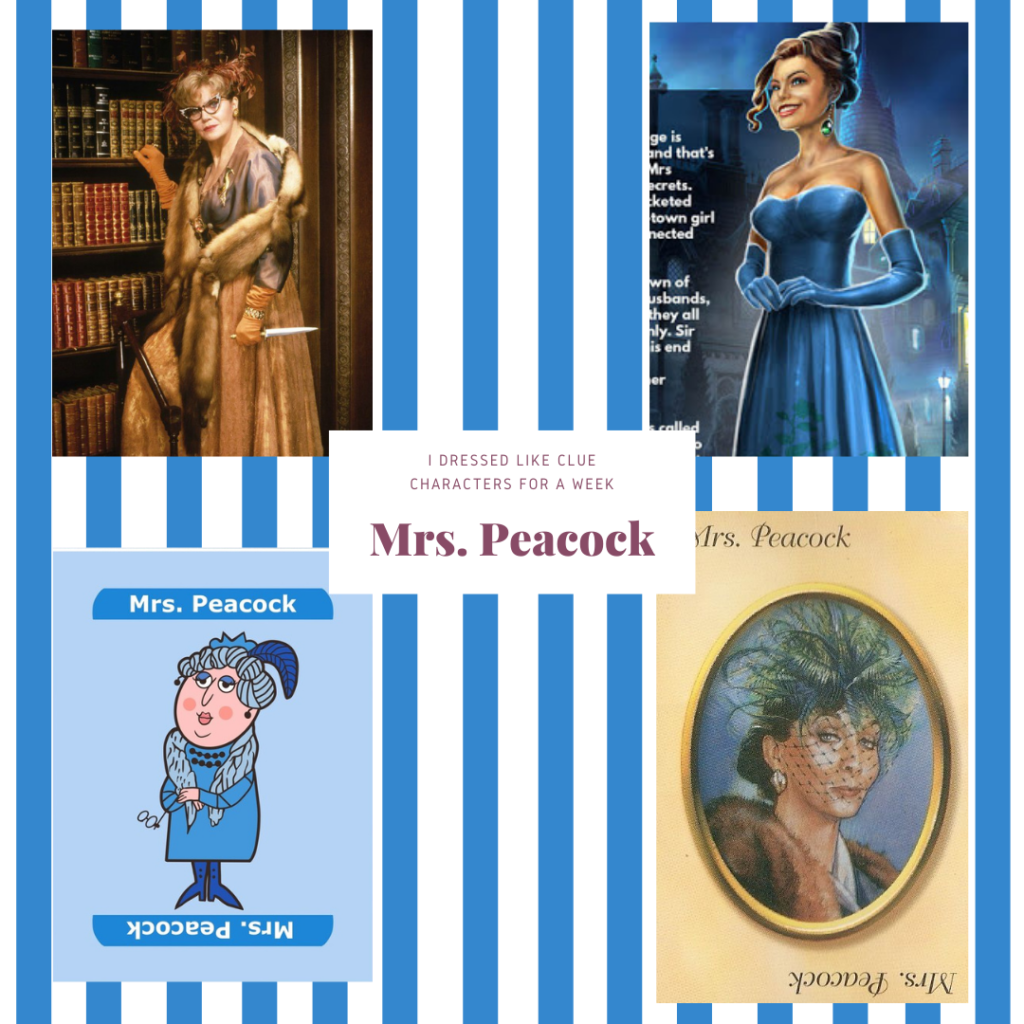 Mrs. Peacock is the blue piece in the board game and was originally characterized as a Grande Dame. In some versions of the game, Mrs. Peacock has also been the Lady of the Manor, serving as the central link between all the characters.
In the movie, Mrs. Peacock (Eileen Brennan) is the wife to a corrupt U.S Senator. She is accused of accepting bribes to deliver her husband's vote.
Style-wise, Mrs. Peacock is quirky and over-the-top. In the 1996 edition of the board game, she wears a headdress with peacock feathers. Her outfit in the movie uses a headdress with feathers and adds a fur coat, but she doesn't wear any blue items.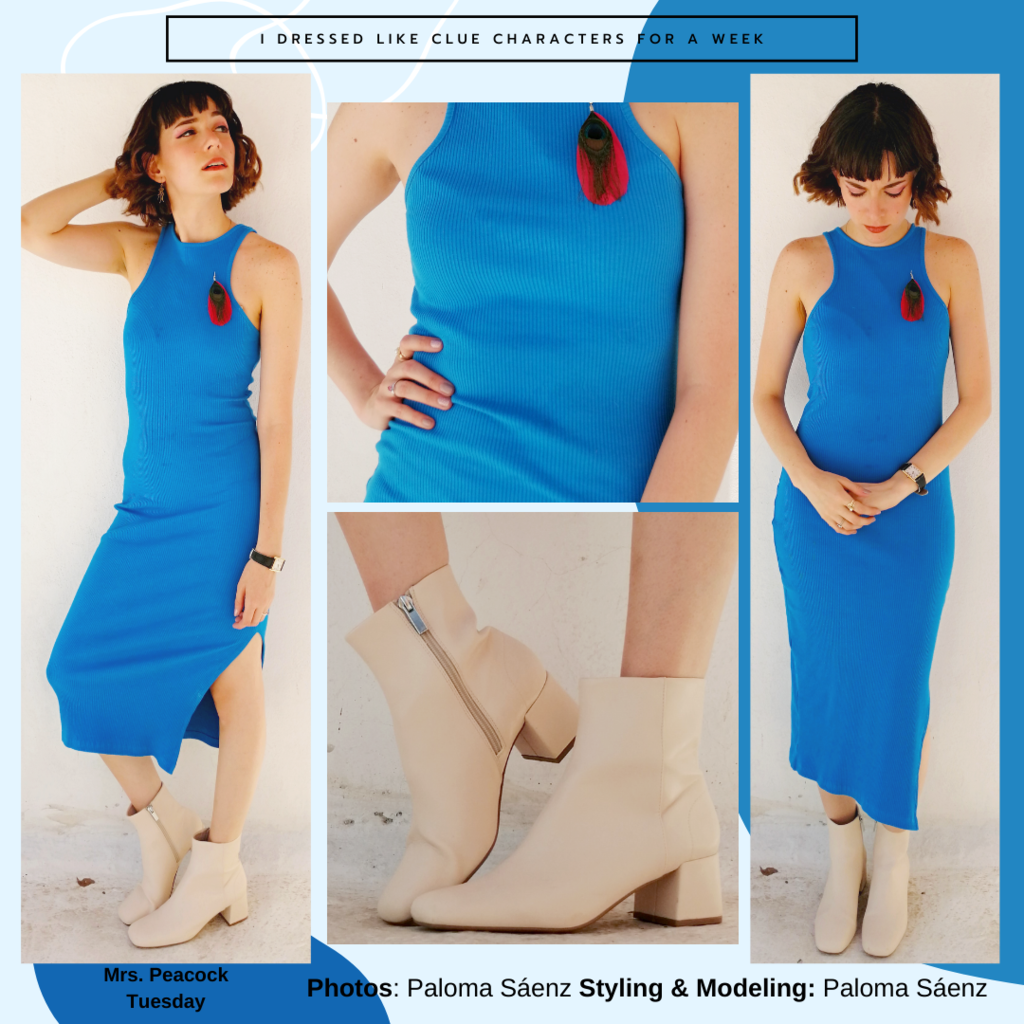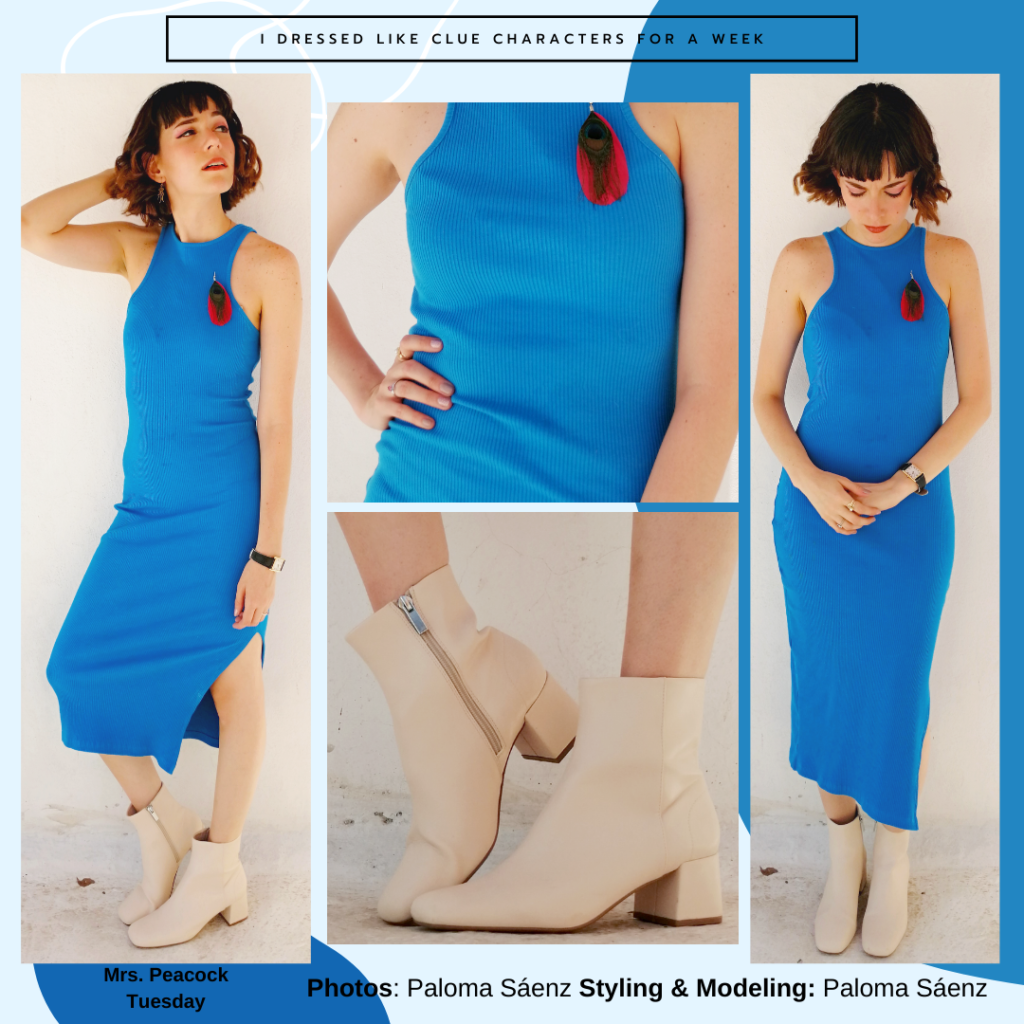 Mrs. Peacock has had a lot of different looks, roles, and ages. Because of this, I used different elements to emulate her.
Products
First, I wore a simple blue halter midi dress as the main piece for my outfit.
As for shoes, I knew I didn't want to wear heels and I don't have blue flats. In the end, I went with a pair of beige booties that I think would be a great fit for the movie version of the character.
My only accessory was a peacock feather earring that I used as a brooch.
I love this dress and this outfit was perfect for a cloudy summer day. It was super comfy and I went through my day feeling beautiful. On any other day, I'd probably wear it with a jacket and sneakers.
Wednesday, Outfit #3 – Professor Plum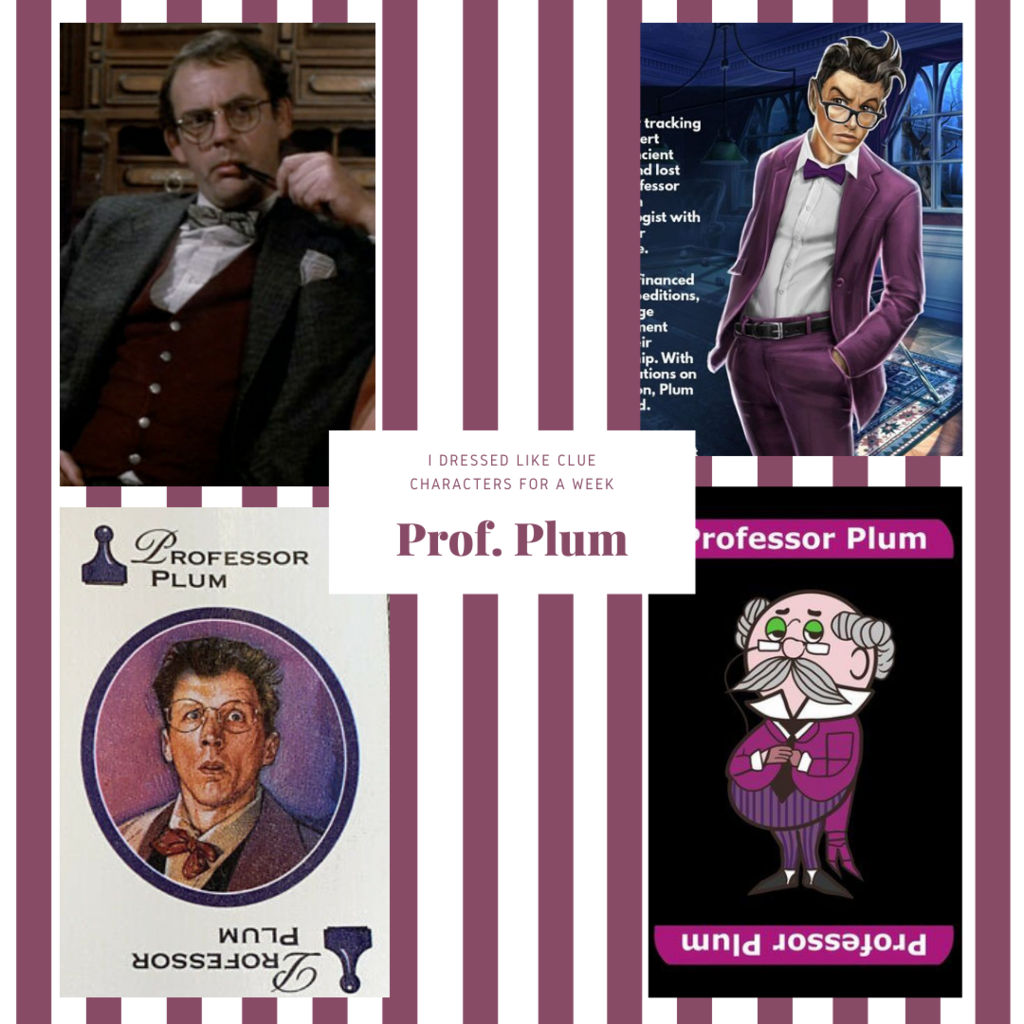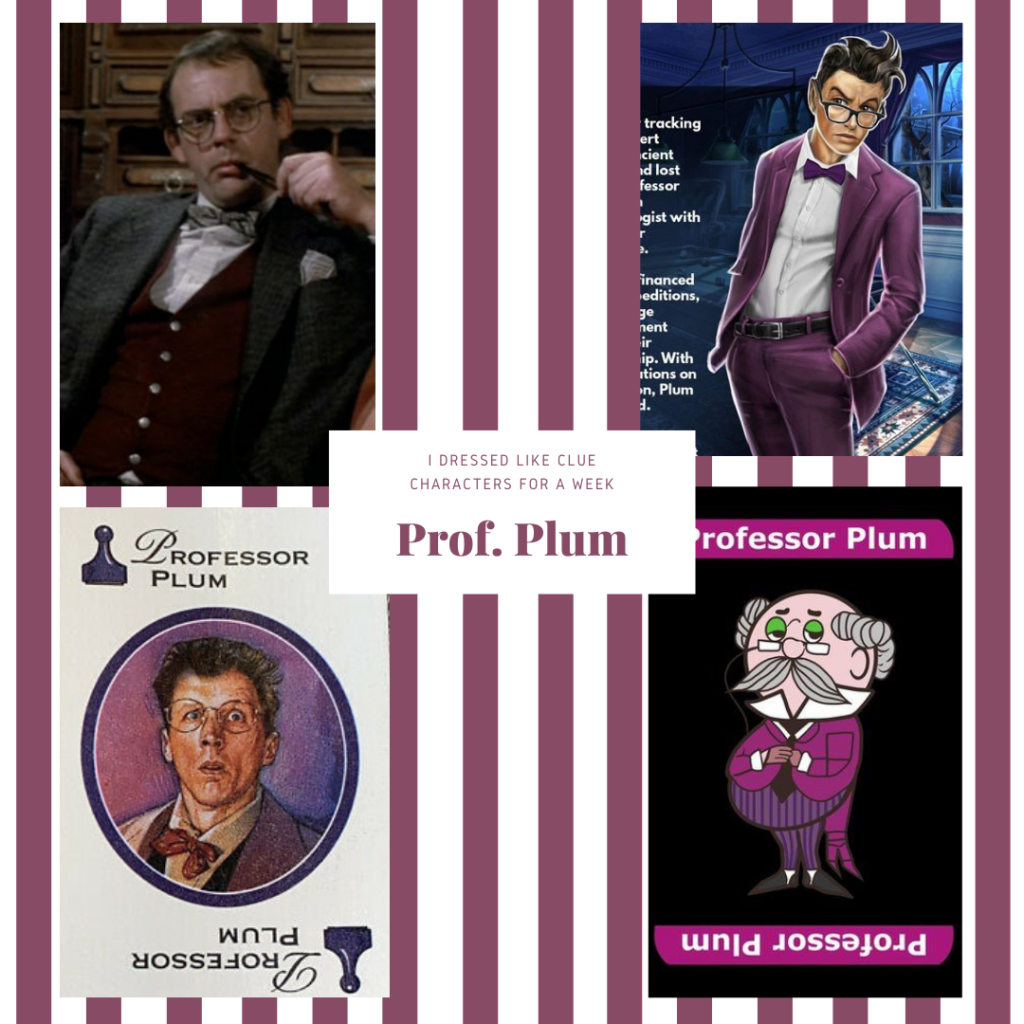 Professor Plum is an absent-minded professor type of character and the purple piece in the game. The field in which he has his degree changes with every game.
In the 1985 movie, he is played by Christopher Lloyd (of Back to the Future fame). In this version of the character, Plum is a former professor of psychiatry and current member of the World Health Organization. His medical license was revoked because he had an affair with one of his female patients.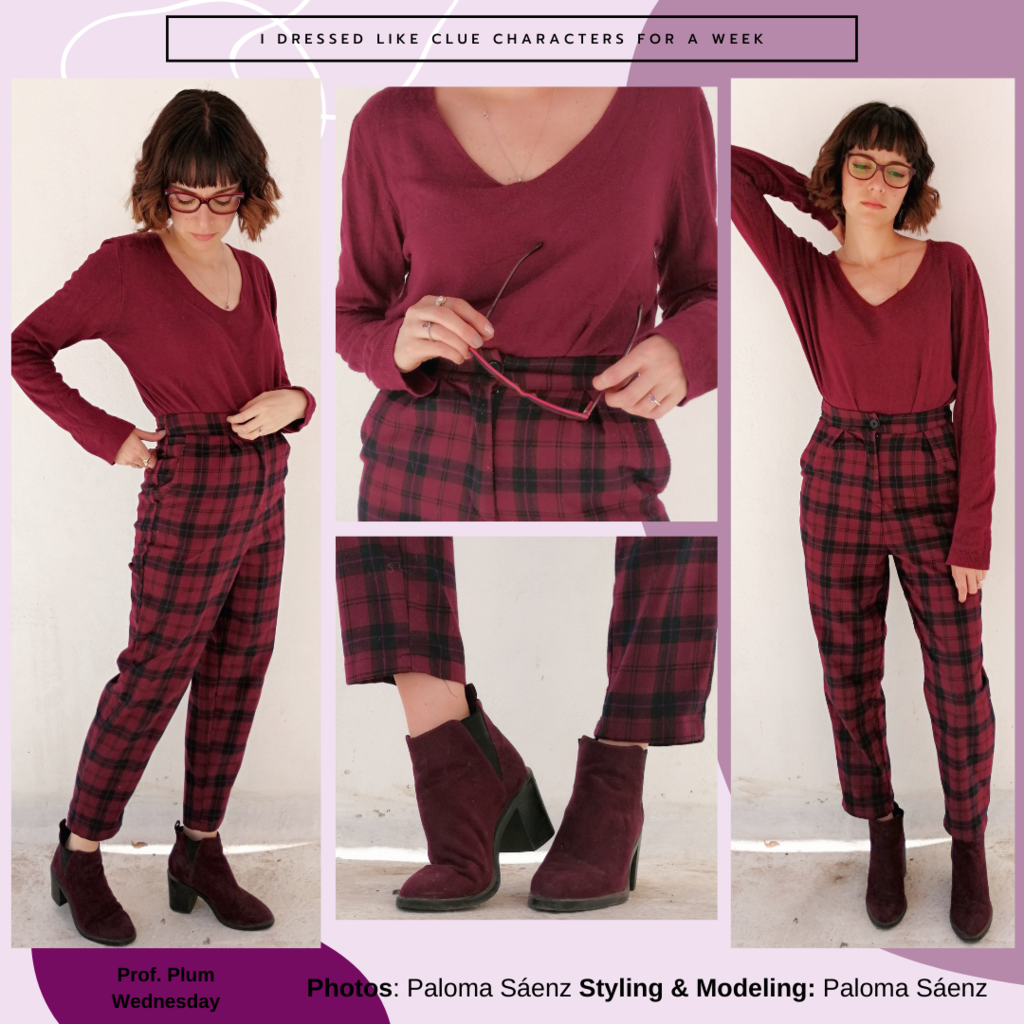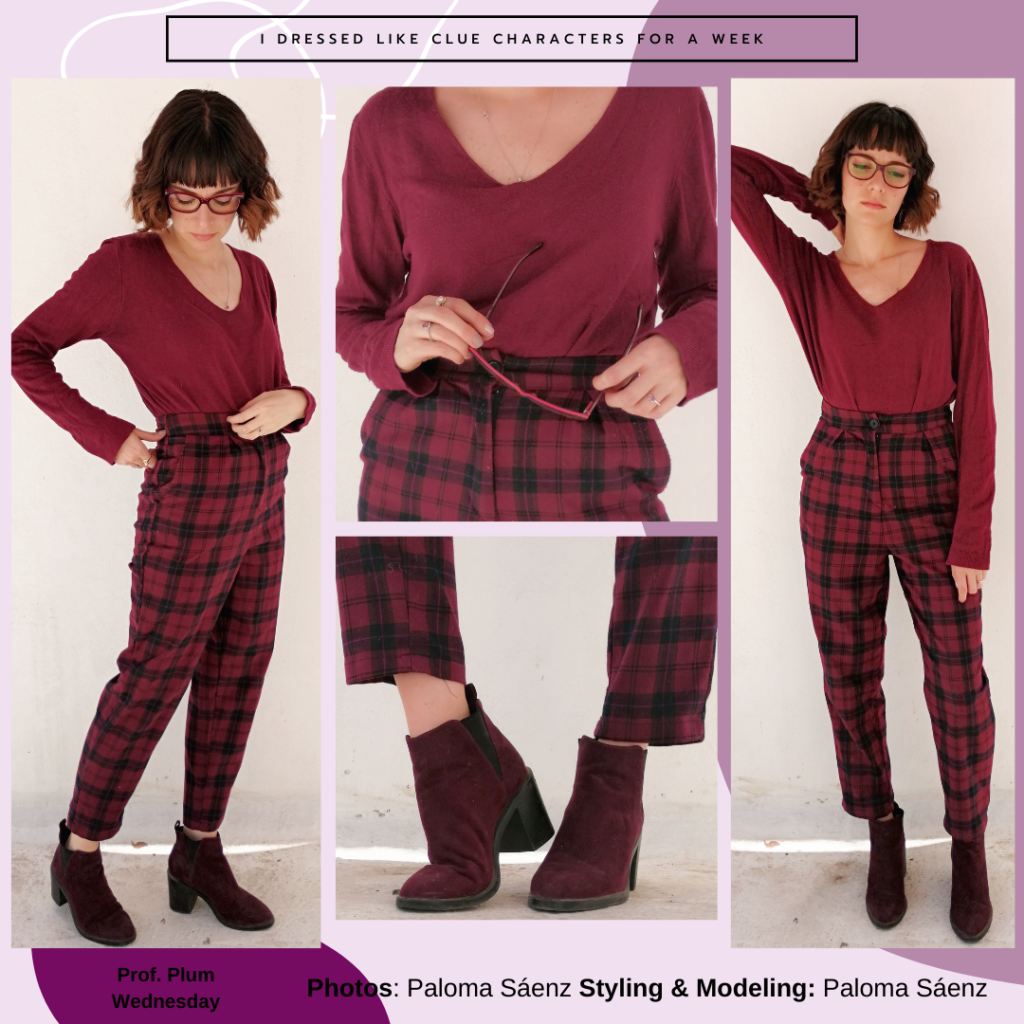 Products
For my Professor Plum look, I paired a burgundy sweater with a pair of burgundy and navy blue plaid pants. The plaid gives the outfit an academic vibe. My shoes are my trusted burgundy suede booties.
For accessories, I wore my red glasses all day, instead of only while I was working, to emulate his most famous accessory.
I loooved this outfit! I get so excited when a monochromatic turns out perfectly and this one definitely worked.
This outfit was super comfortable, but I will say it's not the best for a hot summer day. While the weather is changing and it has started raining where I live, most of the day it's just hot, and the sweater and booties were a bit much for this day in particular.
Thursday, Outfit #4 – Mrs. White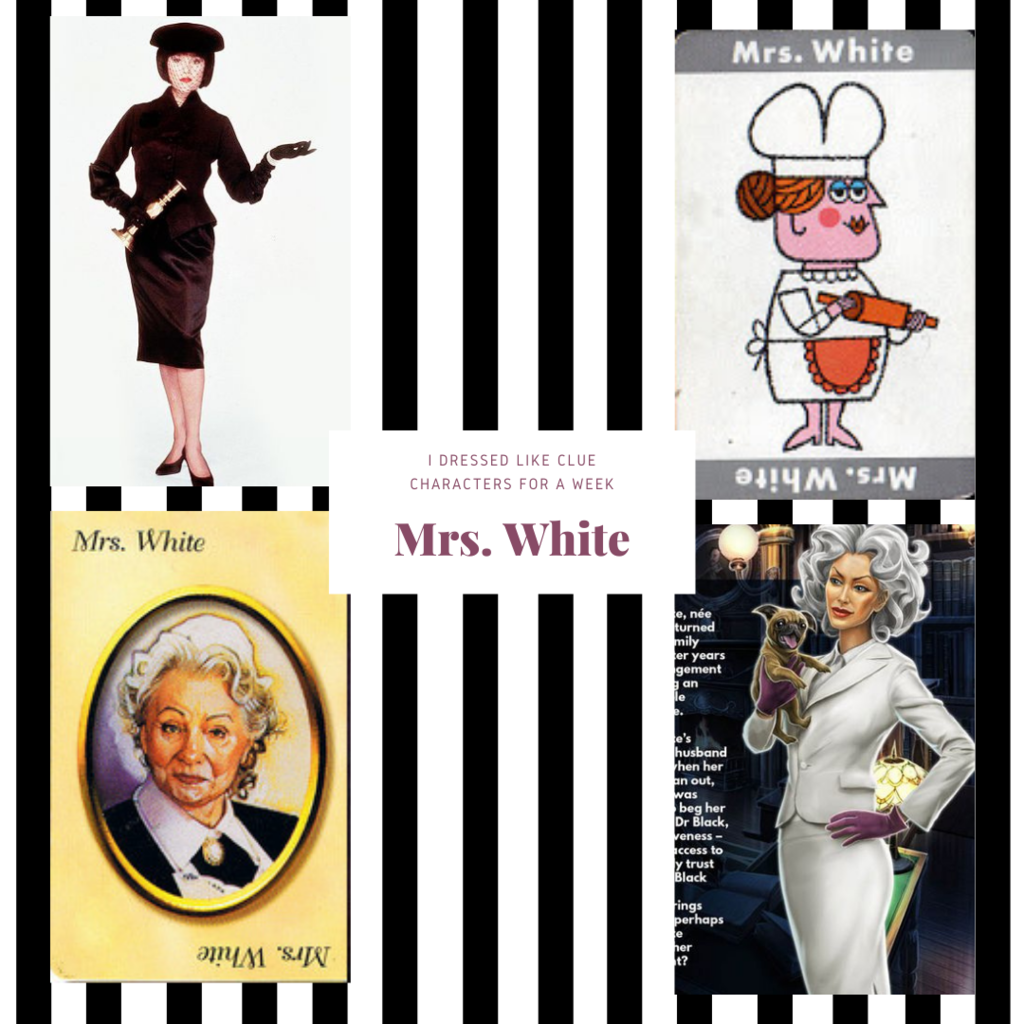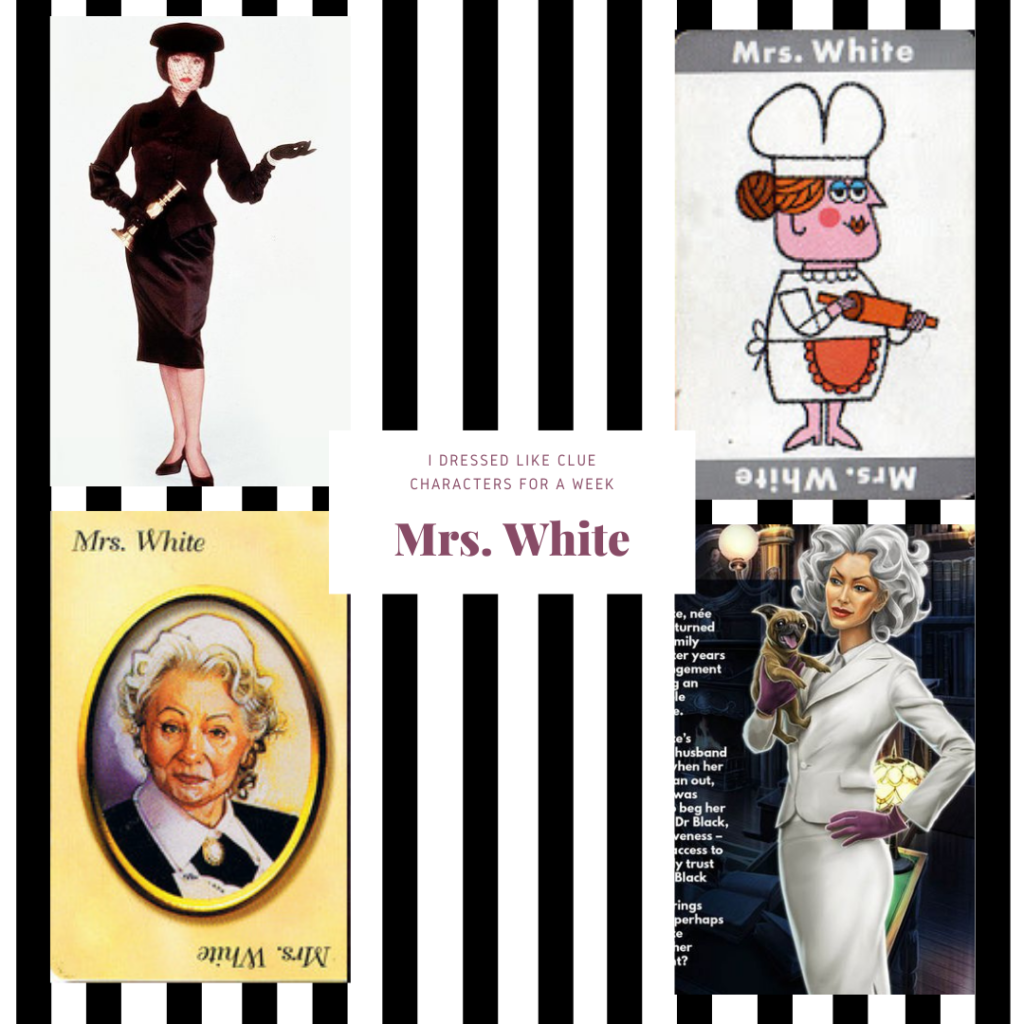 Mrs. White is Dr. Black's (or Mr. Boddy's) cook/maid/housekeeper/nanny and the white piece on the board.
Mrs. White is the one character who is a domestic worker, not a guest. In the movie, though, she is a guest and an alleged "black widow", who has had 5 husbands. I love the irony that a black widow-type character, fully dressed in black, would have the alias of Mrs. White.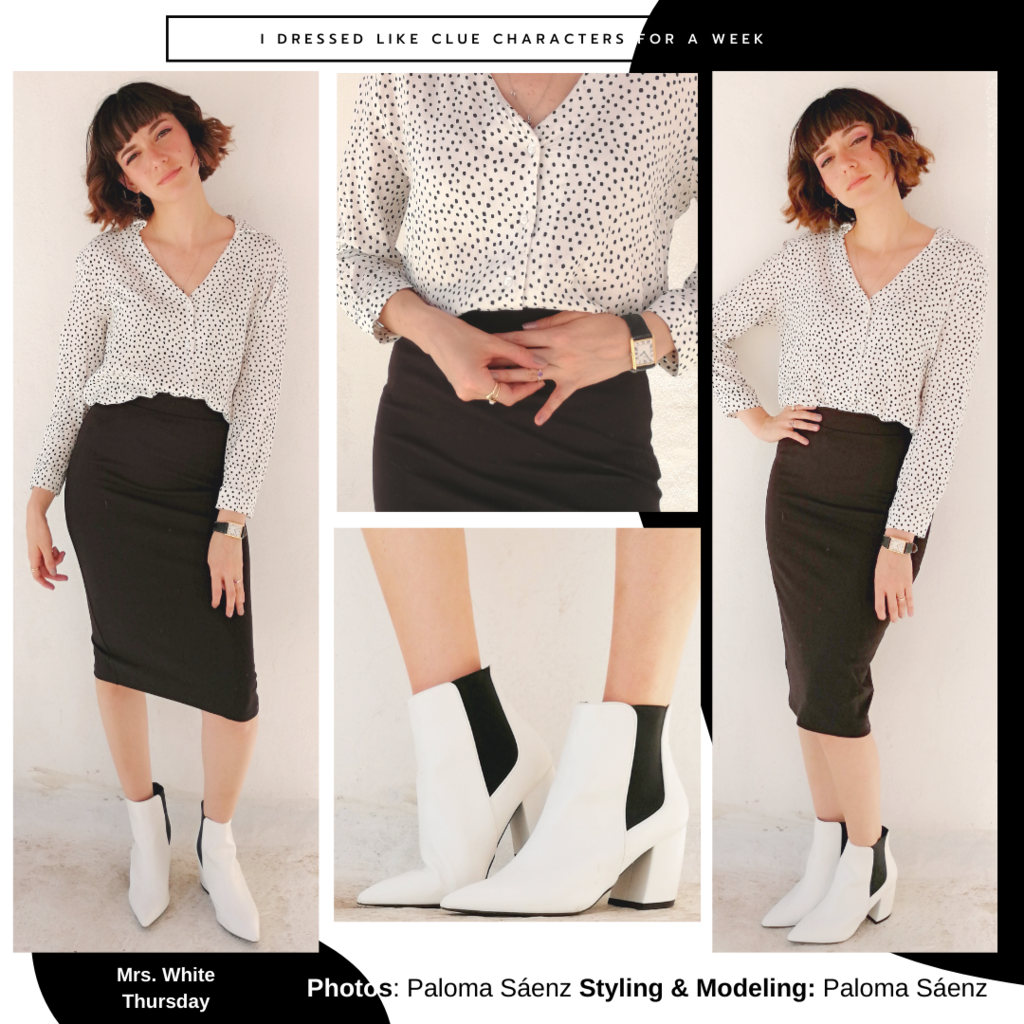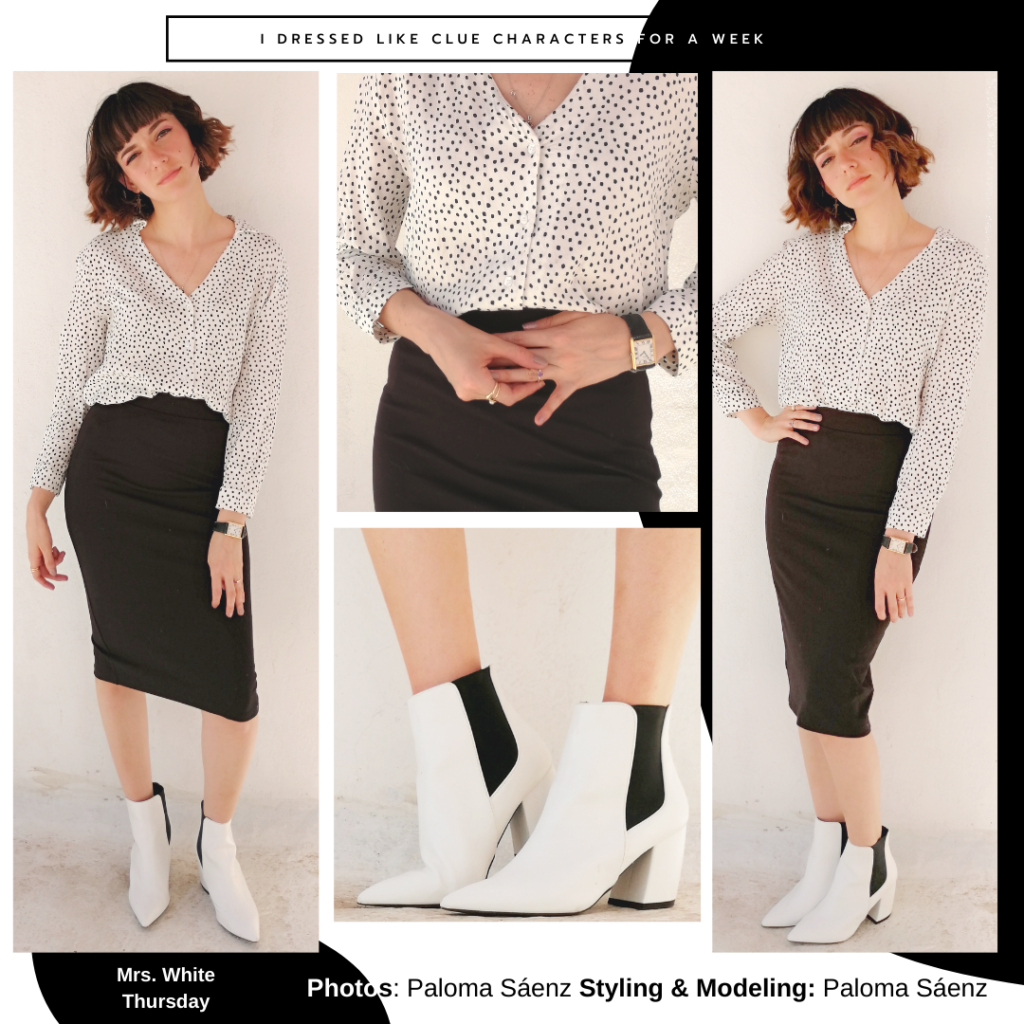 Products
Mrs. White is a character that has very different roles and backstories between incarnations, so I decided to follow her styling from the movie for this Clue fashion outfit.
I put on a black pencil midi skirt. Then, I paired it with a white shirt with a black polka dot pattern. For shoes, I was between black booties, black shoes, or white booties. I finally chose a pair of white booties that have black detailing.
I liked this outfit, but I feel it was a bit underwhelming. Maybe if I had added a white coat or raincoat, it might have been better. While I love these booties, they're not the most comfortable pair of boots I own. I would wear this again with sneakers or my black Doc Martens instead.
Friday, Outfit #5 – Wadsworth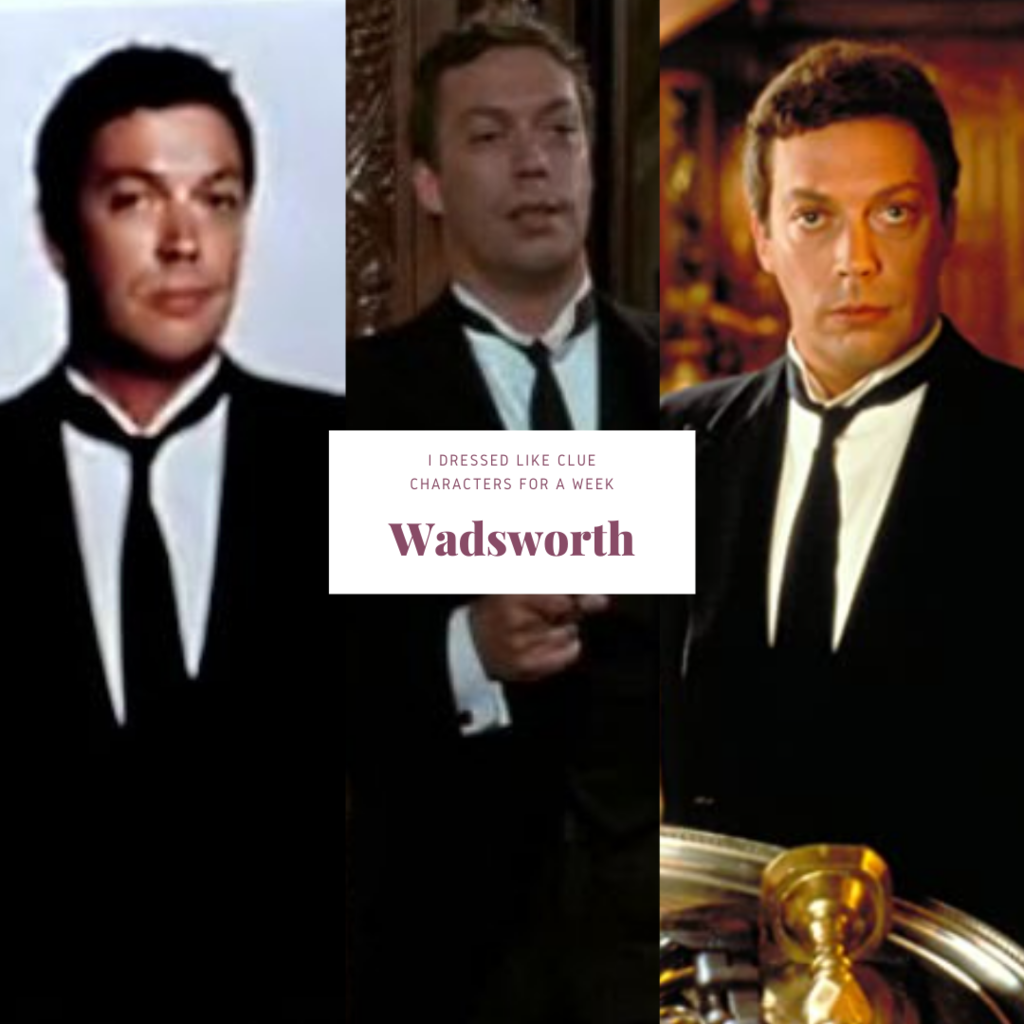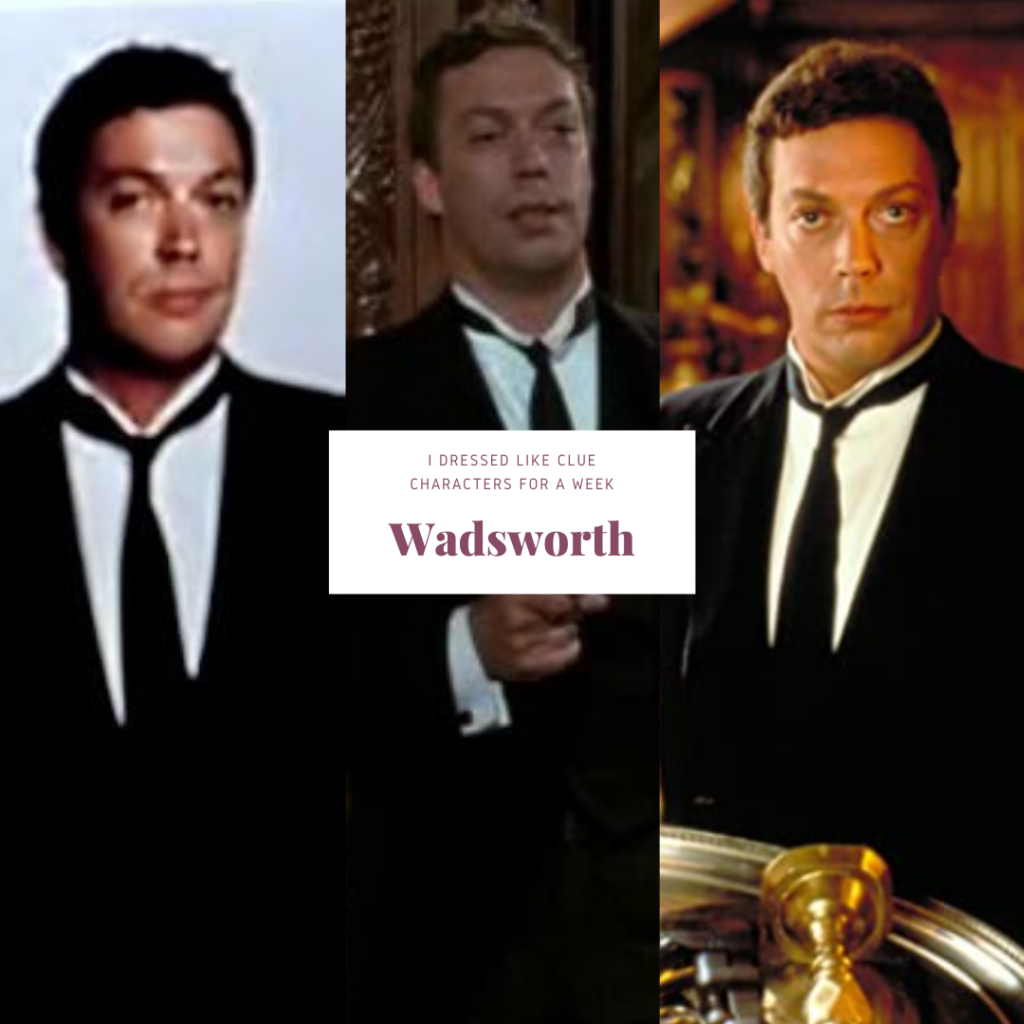 Wadsworth is the butler of the house. He is played by Tim Curry and has no board game equivalent. Or at least, that's at first glance.
Wadsworth explains the reason the house guests are assembled and reads out all of their transgressions. There are multiple endings to the film, which means he has different roles to play that range from Mr. Brock himself to an FBI agent.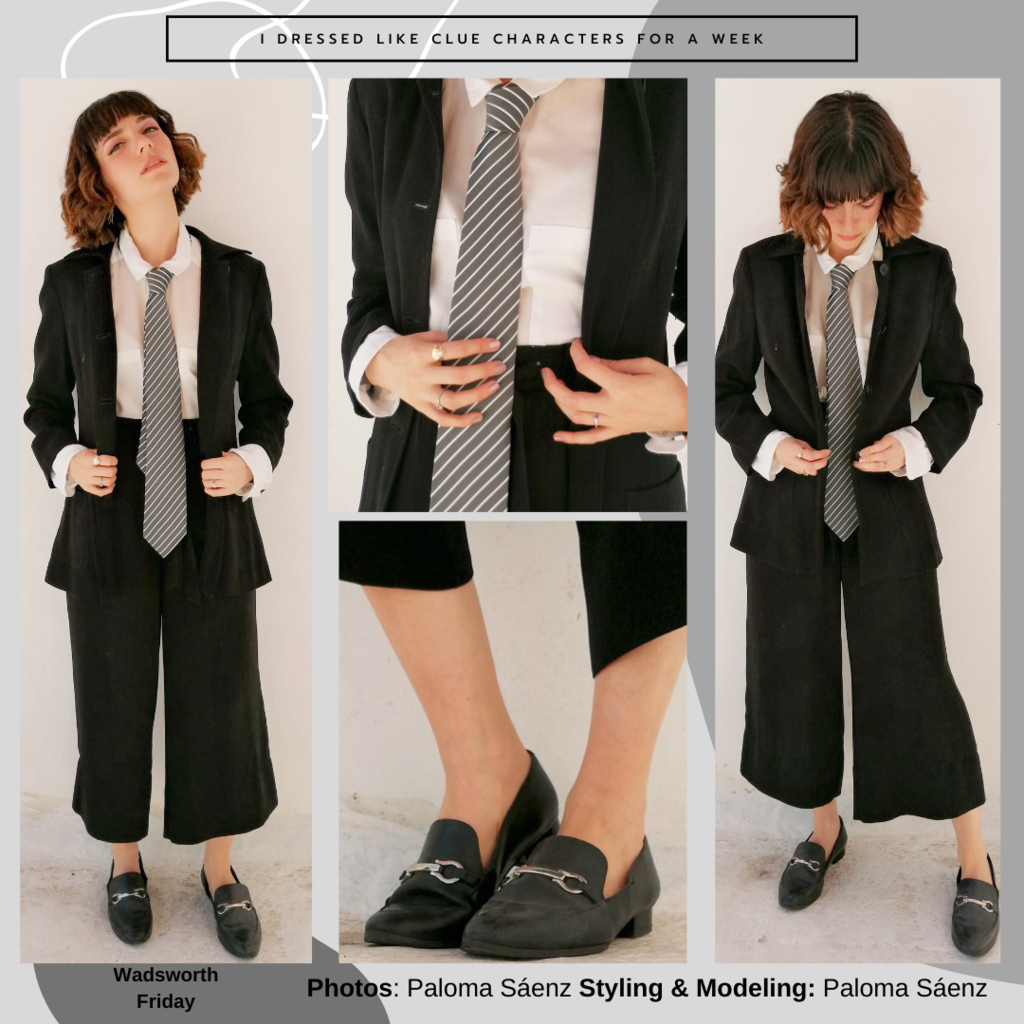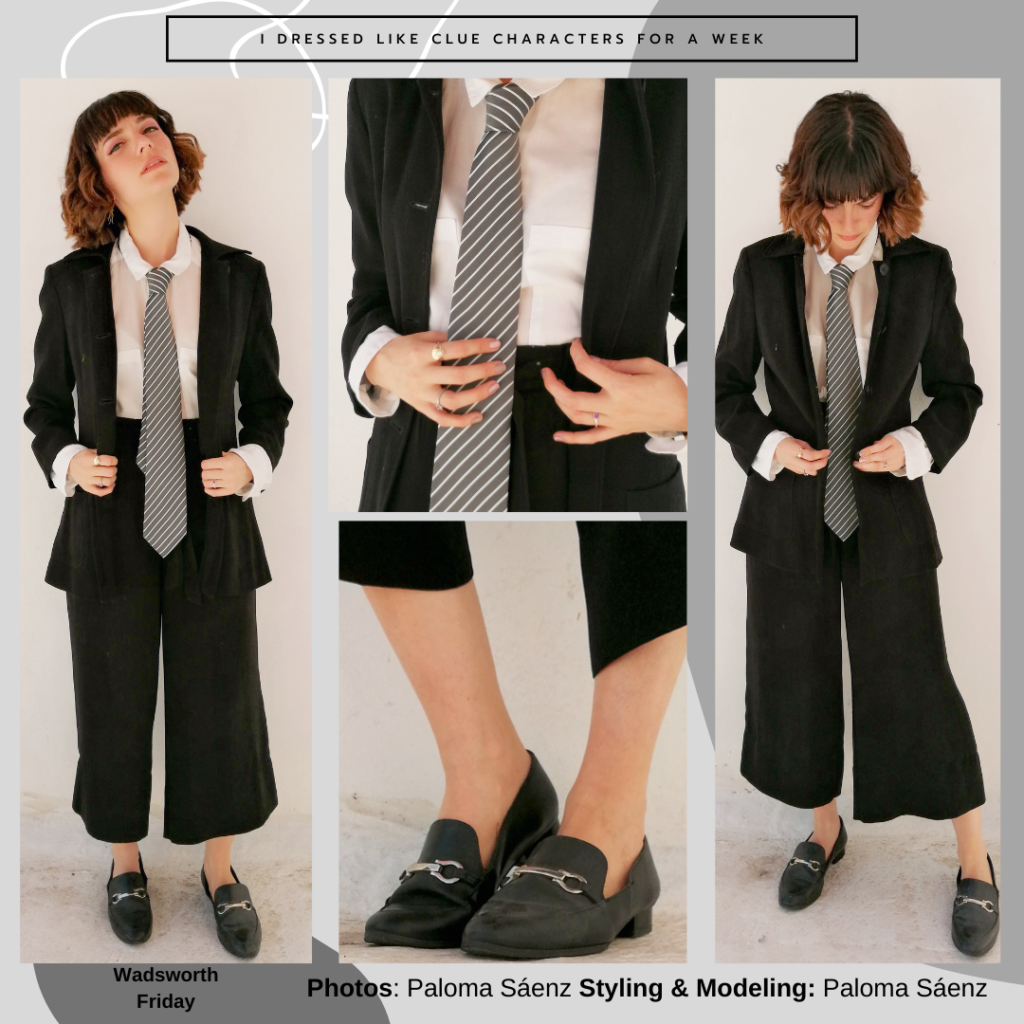 Products
Since Wadsworth only wears his butler uniform, I decided to emulate it with a twist. I paired black culottes with the same white Oxford shirt I wore on Monday. Then, I borrowed a silver tie from my dad. For shoes, I put on a pair of simple black loafers. Finally, I threw on a black blazer later in the day.
I liked this look, but I feel it was a bit mismatched. My dad tried to shorten the tie as much as possible, but I'm still really short and it is a men's tie, so it was too long for the blazer. Still, I liked it and the look was comfortable enough for the day.
Saturday, Outfit #6 – Miss Scarlet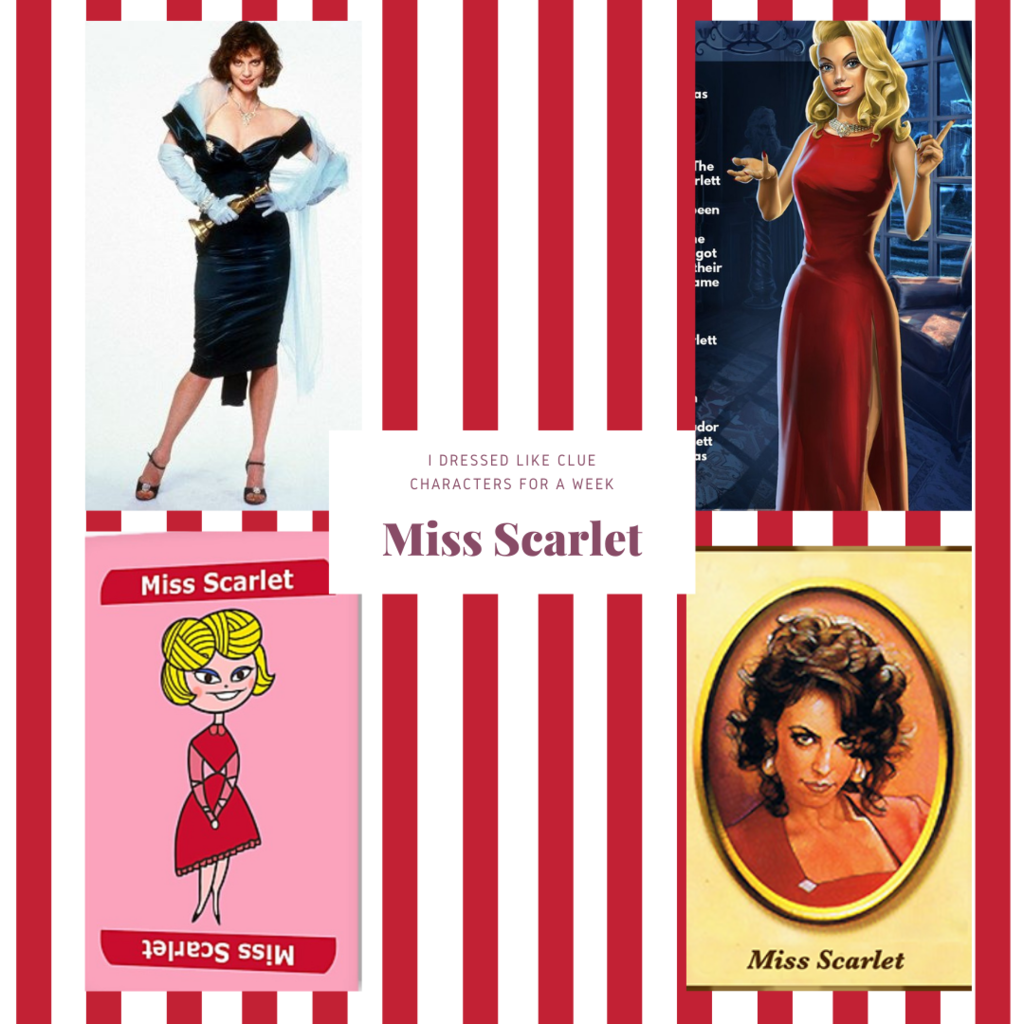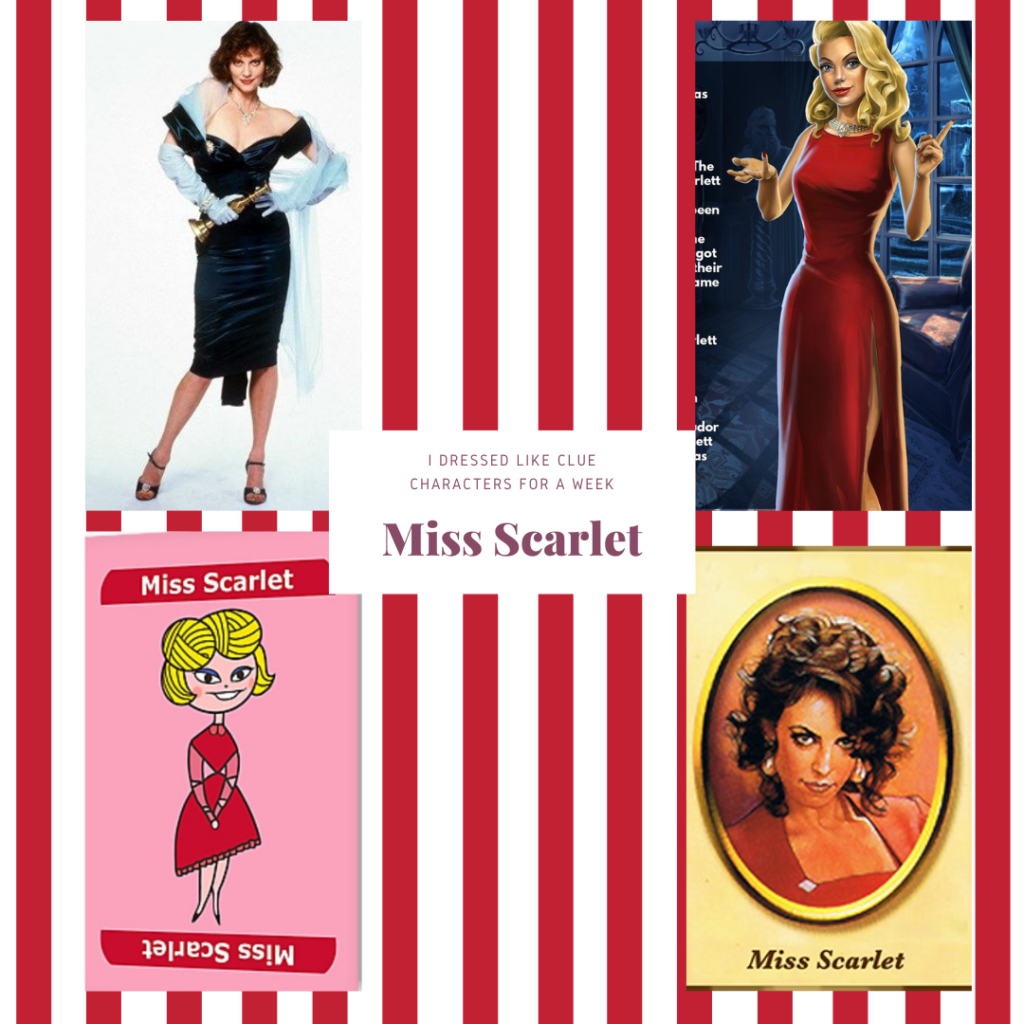 Miss Scarlet is the red piece in the game and she is characterized as a femme fatale. She is often considered the leading lady of Clue lore. Sometimes she has an extra "t" in her name, but usually, her name is written as "Scarlet".
In the movie, she is the femme fatale owner of a DC brothel. She uses her brothel to glean the secrets of some of the most important people in the city.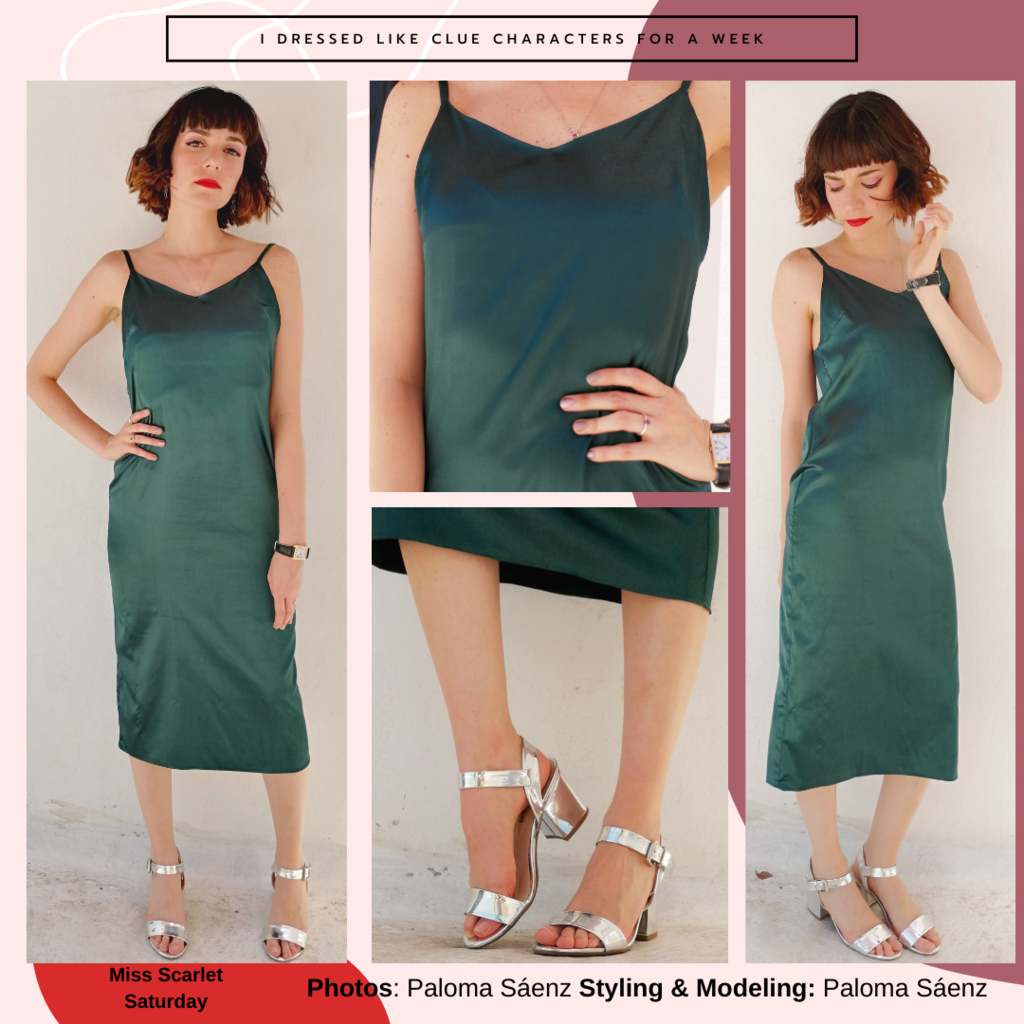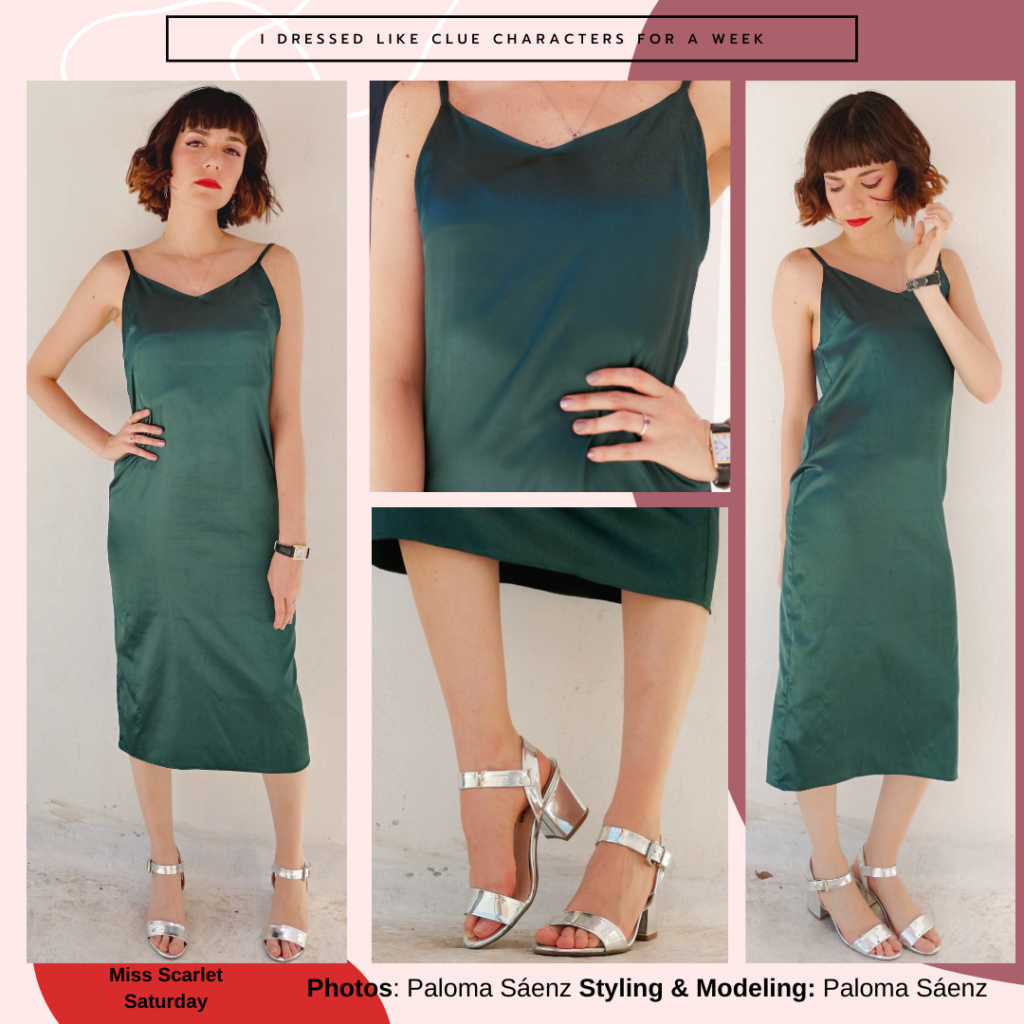 Products
I couldn't do a Clue fashion guide without Miss Scarlet. To be completely honest, Miss Scarlet's movie version was one of the big reasons I wanted to do this post, so my outfit is 100% based on this incarnation. (Yes, I know I'm not wearing red clothing.)
For this look, I wore a green satin dress. It's a midi dress, which is just like the length of her dress in the film. In the movie, Miss Scarlet is wearing a pair of silver heels, so I went ahead and used my silver heels too. Finally, I put on red matte lipstick for that signature pop of red.
I loved this look! It was FIRE. I felt so sexy and cute! It was definitely not weather-friendly, since it rained a bit. While it's not an everyday type of look and I wouldn't dream of wearing it to the office, I would 100% wear this again for a night out.
Final Thoughts
I haven't played Clue in a long time, but I recently recommended the movie to someone, which dragged me down memory lane. He was actually the person that inspired this whole post and helped me a lot while creating it.
Initially, I wasn't sure if I should do this as a challenge — it's a little bit out there as far as fashion inspiration goes. But then, when I watched the film again and realized how gorgeous Miss Scarlet's costume was, I knew I had to do this right away.
This week was very challenging but very fun. I could've included Mr. Green, but his look and Professor Plum's are very similar, so it felt a bit repetitive. Also, I couldn't leave Tim Curry's iconic Wadsworth behind. I think my absolute favorite outfits were Colonel Mustard's and Miss Scarlet's. But, if I had to choose my favorite and the most wearable, I think it would be Mrs. Peacock's blue ensemble.
If you're looking for a fun game, an entertaining movie, and great fashion inspiration, Clue has it all. It has multiple characters with their own color palettes, and it's also a fun source of inspiration. You just need a bit of creativity and a *killer* sense of style.
What do you think of my Clue fashion guide?
Do you like Clue? Have you seen the movie or played the game? Which outfit is your favorite? Let us know in the comments below!
For more fashion inspiration like this clue characters costumes, you might also want our favorites from our archives —