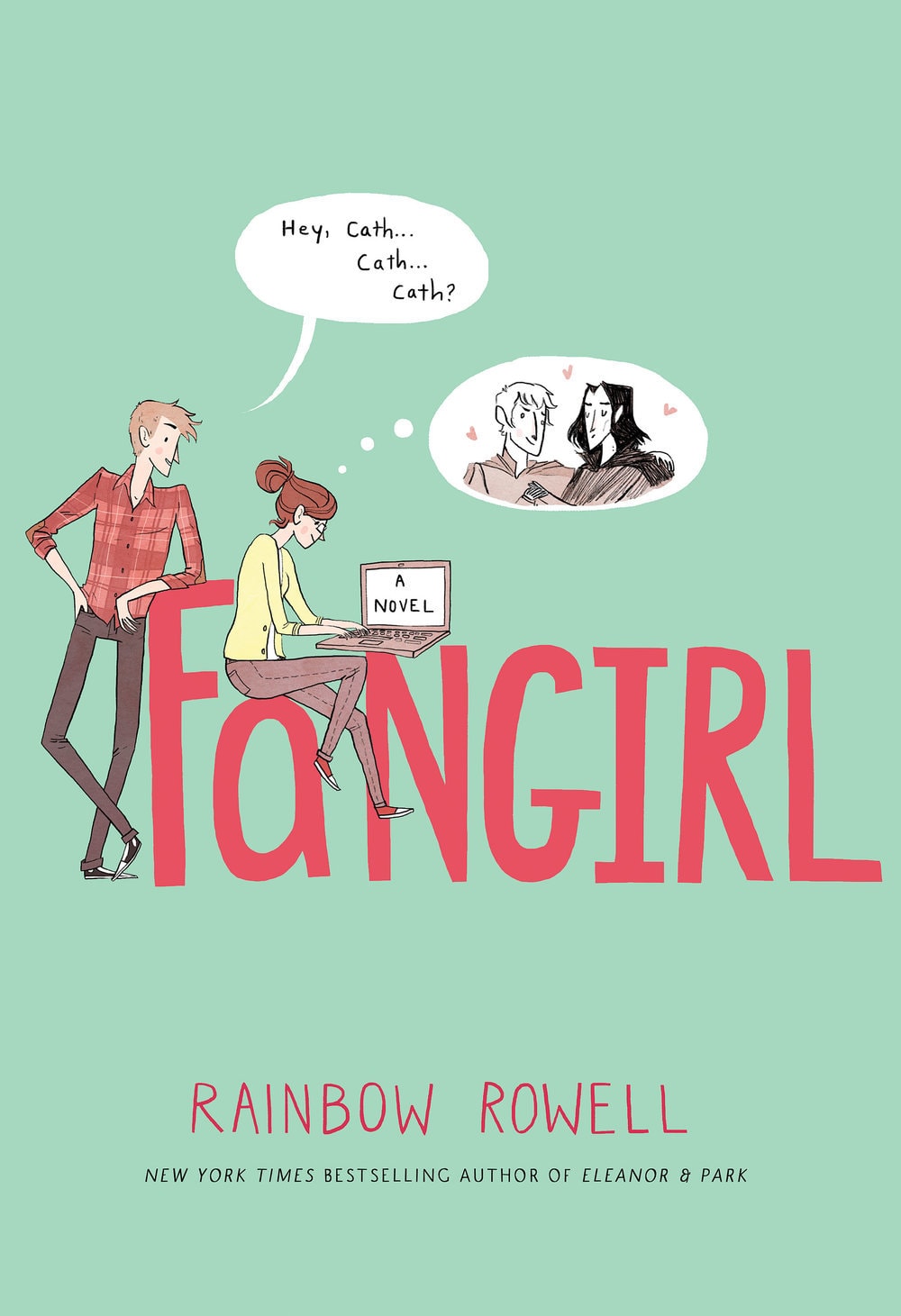 Confessional: if/when this YA novel makes it to theaters, yours truly will be sprinting there, tripping all the way over the laces of my Converse. I first picked up Rainbow Rowell's Fangirl after hearing the buzz about Eleanor & Park. The latter had been waitlisted at the library for weeks, so while I twiddled my thumbs, dying to jump into Eleanor's painful, beautiful, messy world, I decided to give another novel a shot. And while I've since gone on to devour both (and Carry On and Attachments – must reads) Fangirl holds a special place in my heart.
Cath, the protagonist, is a Simon Snow fan and fandom writer. She and her twin sister, Wren, are off to college – but she wants to hold on to the magical tales of their childhood, while Wren wants to break free and create a new identity. Throw in a brass but lovable roommate, her charming perhaps-boyfriend, and a scheming classmate, and you have a tale of firsts that perfectly fits the transitional college phase.
Fangirl + Costume Design = <3
When I decided to change one of my major concentrations (again) to costume design and had to interview for my university's theatre department, I chose Fangirl to talk about because the characters were so real to me. They weren't Sex & the City material, but it didn't matter; Cath and her friends, to me, were a wealth of inspiration. Their clothes would resemble their narrative – awkward, charming, and ultimately, relatable.
So today, I'm going to break down my dream costume design for my ideal movie version of Fangirl. We've covered Fangirl fashion on CF before, but today I'm covering the novel from a movie costume design standpoint. Take a peek below at how I imagined each major character's wardrobe. If you haven't read the novel, never fear! Character descriptions are included.
Drop me a comment if you think I'm on the right track, or if there's something else you'd like to see represented from the book.
Cath: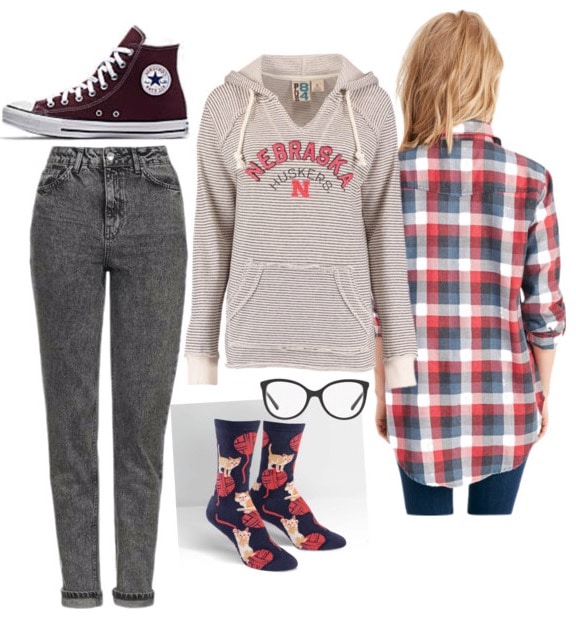 Products: Sweatshirt – Nebraska Athletics, Jeans – Topshop, Sneakers – Nike, Socks – SockItToMe, Glasses – Michael Kors
Characteristics: Cath is a shy, introverted "fangirl" and an internet-famous fan fiction author. She struggles with social anxiety and finding her place and individual voice as she enters college and experiences conflict with her twin sister, Wren.
Book depiction: Brown hair, glasses, "staying in" clothing.
My interpretation: I tried to give Cath a contemporary, updated quirky-college-student look. The sweatshirt is from her university, the University of Nebraska-Lincoln. Her converse and glasses are quintessential character clues. The printed socks, mom jeans, and black-and-white color palette are a little pieces of her personality showing through.
Wren – the Twin :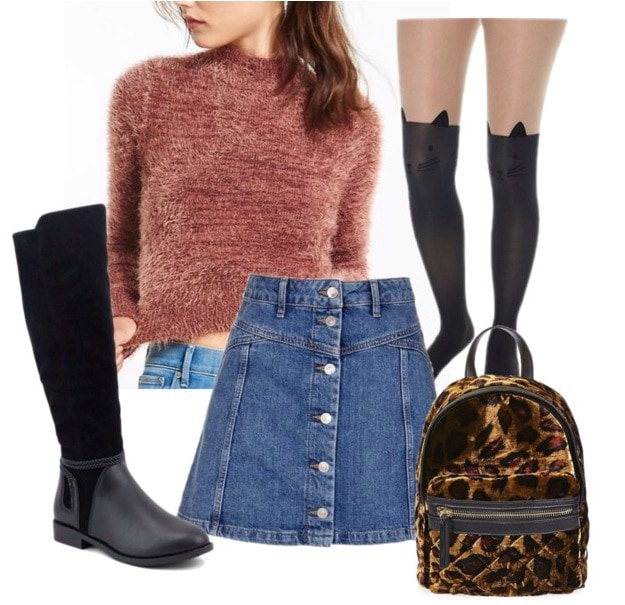 Products: Skirt – Topshop, Sweater – Express, Boots – DSW, Tights – Target, Backpack – Nordstrom
Characteristics: Wren is Cath's extroverted, edgier counterpart. In college she jumps into the party scene and becomes fairly popular. The book writes that she "cycles through a lot of boyfriends," trying to fit in and find her crowd. She still has a slight fangirl edge lingering from high school, when she co-wrote fanfiction with Cath.
Book depiction: Long dark hair, tight clothing, boots.
My interpretation: I wanted to give Wren a mid-2000s Mean Girls color scheme and inspiration. The boots, tights, and button-up skirt are her attempt at big-city chic, while the cropped, marled sweater helps keep her (somewhat) warm for the Midwestern autumn. Her backpack remains playful and within her color palette.
Levi – the Love Interest: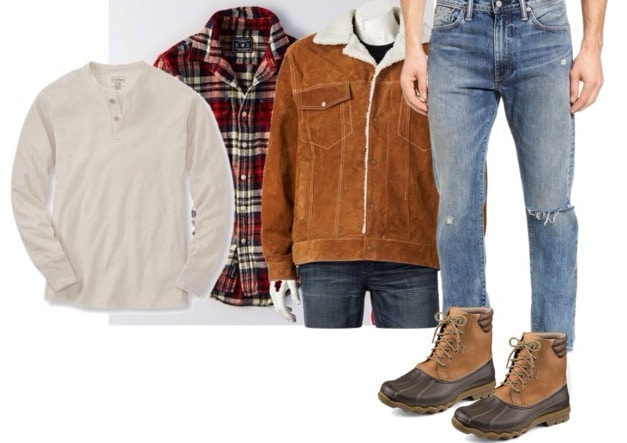 Products: Shirt – AEO, Jeans – Nordstrom, Boots – Sperry, Henley – L.L. Bean, Jacket – Kohl's
Characteristics: Levi, Cath's love interest in the novel, begins as her roommate's boyfriend. He is described as tall, blonde, polite, easygoing, faithful, and extroverted. He's also a farm boy and wears quite a bit of flannel.
Book depiction: Tall, blonde, laid-back, friendly.
My interpretation: I tried to create a Midwestern college farm-boy look by incorporating light wash bootcut jeans and traditional flannel. I went for a different shoe than a traditional hiking boot or the like, because I wanted something strong enough to weather the seasons and that looked just a touch awkward when incorporated with the rest of his clothing. In the novel, he wears an oversized jacket – the suede and shearling coat is a nod to that.
Reagan – the Roommate: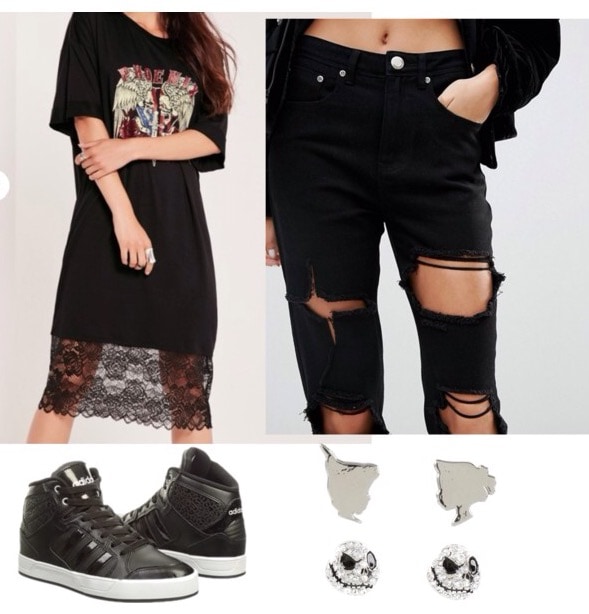 Products: Shoes – Famous Footwear, Dress – Missguided, Jeans – ASOS, Peter Pan and Wendy Earrings – Hot Topic, Jack Skellington Earrings – Hot Topic
Characteristics: Reagan, Cath's roommate, is described as the "edgier version of Adele." She has bright red hair and often wears head-to-toe black. She's also plus size, sarcastic, and straight-talking. Over the course of the novel she takes Cath under her wing and gives her a dose of direction when conflict begins to build.
Book depiction: Plus size, edgy, goth Adele.
My interpretation: Reagan is feminine and curvy, but with a darker side. I gave her black high top sneakers to keep the outfit youthful and realistic for a student doing a lot of walking (around campus, etc.). I layered the T-shirt dress over ripped mom jeans, because Reagan is a bit of a fearless dresser. I finished with some fandom stud earrings.
Readers, what do you think?
How would YOU have imagined Cath, Wren, Reagan, and Levi? Have you read the book? Which character was your favorite?