Welcome to the latest edition of Looks from Books, which aims to prove that you can look smart, while still being book-smart, too. Fashion inspiration can be found between the pages of your favorite stories, on well-designed book covers, and in your favorite characters… if you read closely enough.
This week, we're glorifying fandoms in all their, well, glory, by taking inspiration from a recent stand-alone favorite of the Young Adult book world… say hello to Rainbow Rowell's Fangirl!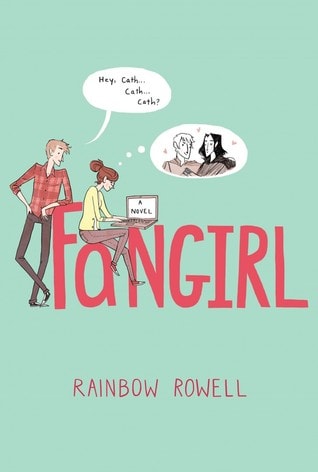 Fangirl Book Cover via Amazon
Inside Cover
Fangirl is a stand-alone contemporary young adult novel, originally published this past September.
The novel follows the story of college freshman Cath, an avid fangirl of the Simon Snow series and a prolific fan fiction author, who is anxious about attending a new school without her twin sister, Wren. However, that's the least of her problems: after her favorite professor expresses a disdain for fan fiction, a writing partnership turns into a fiasco, her dad suffers a mental breakdown, and the smiles of her roommate's ex-boyfriend turn out to be more than she can stand, will Cath's first year in school turn out to be more than she can handle?
Fangirl was the second of Rowell's novels to be published in 2013, after Eleanor and Park, an '80s-set YA romance, was published last February.
A Fashionable Literacy
Rainbow Rowell has become a big player in the YA book scene this past year. In fact, her two strong releases in the field have netted her several nominations for key book awards for 2013.
2014 is shaping up to be a year of firsts for the author as well, as she recently signed a book deal with First Second publishing company for a two-book graphic novel deal for stories along similar veins to her stand-alone best-sellers Eleanor and Park and Fangirl.
Well-known Canadian graphic novelist Faith Erin Hicks – best recognized for Friends with Boys, as well as her work online – has already signed on to illustrate, and despite the fact that the novels might not be coming out for a while, as both authors are currently busy with their own work, they have readily demonstrated excitement towards the task on various forms of social media.
How to Add Some Fangirl to Your Wardrobe
By integrating key characteristics of the novel's main characters into your outfits, you, too, can channel the flirty fun of Fangirl, into your own everyday college girl wardrobe!
"It's Okay to Spill Tea on This"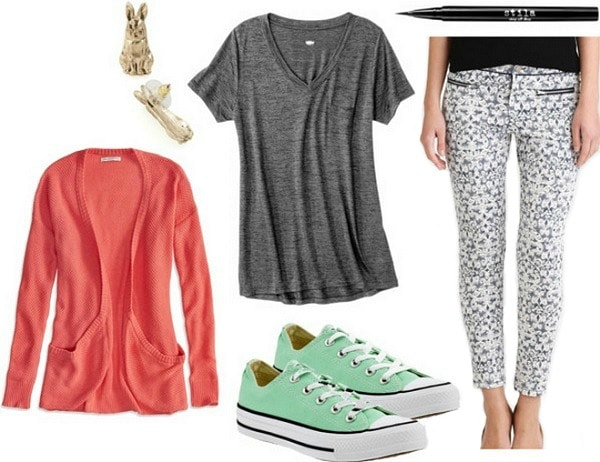 Product Information: Earrings – Modcloth, Cardigan – American Eagle, Tee – Target, Shoes – Converse, Eyeliner – Stila, Pants – Ruche.
Cath is a new freshman at the University of Nebraska, with an intended English Creative Writing major, who has a passion for not just fiction, but fan fiction.
A dedicated follower of Gemma T. Leslie's Simon Snow series, into which she and her twin sister, Wren, immersed themselves after the pain of their mother's abandonment, Cath finds herself grappling with the double pain of isolation in a new place, and coming to terms with the ending of her beloved series. However, she eventually finds new friends – and more – by keeping true to what she loves most: writing, and her sister.
Cath's regular uniform of choice is a little basic – jeans, a tee shirt, and a cardigan – but with a little flair, it can be transformed into a fashionable and fun way to explore a new campus. Elevate basic blue jeans with fun printed pair, then ground the look with a basic grey tee. A coral cardigan and sweet mint sneakers riff off the colors on the cover of the novel, while bunny earrings harken back to one of Cath's favorite fanfics that she read to Levi. Liquid eyeliner makes for an easy makeup look that could easy be transitioned to a party style (even though "looking like Adele" didn't work out quite so well for Cath).
"Farmboy"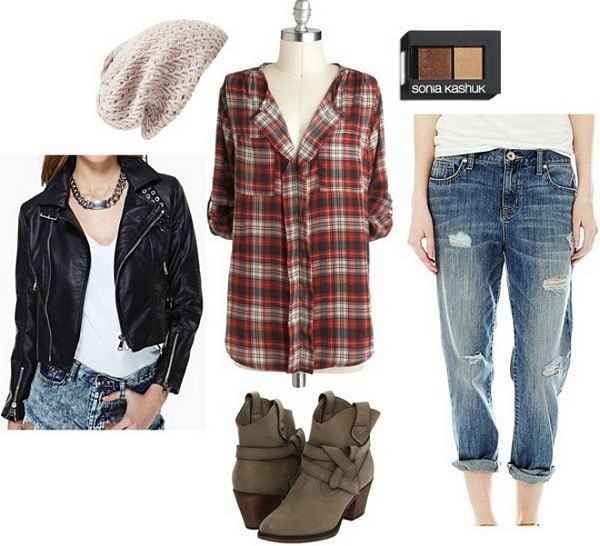 Product Information: Beanie – Nordstrom, Jacket – Nasty Gal, Shirt – Modcloth, Boots – Zappos, Eyeshadow – Target, Jeans – JC Penney.
Levi is a junior, and the ex-boyfriend of Cath's upperclassmen roommate, Reagan. An agriculture student who grew up on a ranch, Levi has a passion for fieldwork – and buffaloes – and happens to wear a lot of flannel-and-jeans combos (even on the cover of the novel itself!). Levi's a country boy through and through, which makes it all the more surprising to Cath the few days he shows up in the all-black getup of a Starbucks employee. Humble, and sometimes overwhelmingly friendly, Levi is just the right person to crack through Cath's shy exterior.
Integrate Levi's country-kid-meets-campus-king look with an outfit that mixes chic collegiate basics with country flair. A flannel plaid shirt and boots combo channels Levi's "farmboy" style. A leather jacket takes on the color required by Levi's Starbucks uniform, which is heightened by a coffee-colored eye shadow. A beanie shows off an unnatural hairline, while boyfriend jeans cheekily reference a style tied to the character's name.
Simon (Snow) Says…
Product Information: Sweatshirt – Forever 21, Necklace – Etsy, Phone Case – Hot Topic, Tee – Delias, HP Bracelets – Etsy, GOT Tank – Etsy, Bracelets – Etsy, THG Necklace – Etsy.
…Represent your fandom! Cath's life essentially revolves around the Simon Snow series, and she starts off her college career decked out in Simon Snow tee shirts, while fan-made posters based off of her fan fiction adorn her side of the dorm room she shares with Reagan. While it might not be the best way to make a first impression in college, Cath manages to stand by her favorite series while realizing that there are sometimes things that are more important than fiction.
Still, it doesn't hurt to wear your heart on your sleeve sometimes, especially if that heart belongs to Harry Potter… or Game of Thrones, Divergent, The Hunger Games, etc. And, just like Cath proves, fan-made materials are always the best kind of closet filler! Channel this passion into your own look by supporting your favorite series with some super cute wardrobe pieces and accessories.
What Do You Think?
Have you ever read Fangirl, or any of Rainbow Rowell's other books, like Eleanor and Park, or Attachments? Are you excited about the release of her comic books? What do you think about fan culture, and what's your favorite fandom? What do you think of the outfits and styling tips? Let me know, in the comments below!