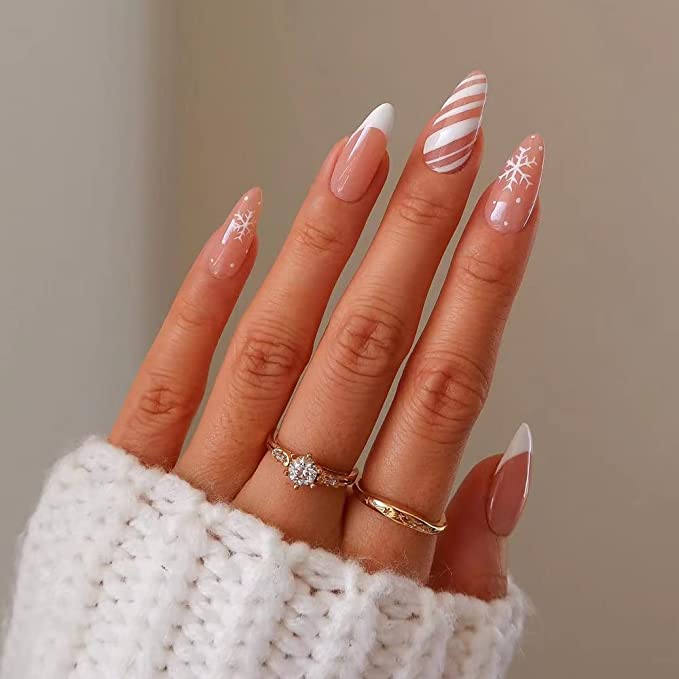 It's that time again! The holidays are here, so you will be wanting to think about what kind of holiday looks you will be wearing this season.
And, don't forget about your nails. Wearing holiday-inspired nail looks is one of my favorite things about the season. (See: My list of Thanksgiving nail ideas.)
There are so many different kinds of Christmas nail designs that you can do on your nails that are absolutely adorable!
So, if you are one of those people that loves adding some fun holiday designs to your nails, these designs will be perfect for you. Below are 20 adorable Christmas and holiday-inspired nail designs to get you excited for the season.
Christmas Nail Designs for Short Nails
1. Elf Nails
If you have short nails, an adorable Christmas-inspired nail look that you can do is elf nails! If the Elf movie is one of your holiday favorites, this is the look for you.
To get this look, you will want to combine the classic green and red Christmas colors to create a super cute elf design with an elf outfit. You can add a little extra to this nail look by switching up the colors on your nails or even adding some striped designs as shown in this video tutorial.
2. Wreath Nails
A very classic Christmas decoration is of course a Christmas wreath! So, you might be inspired by this decor item when doing your holiday nails.
This wreath nail look combines red, green, and white nail polish to create a super cute and simple nail design.
3. Santa Nails
The most common of all the Christmas designs has to be Santa! If you are looking to incorporate a Santa design into your holiday nail looks this season, you totally can with some red and white nail colors.
I suggest watching this video tutorial to see an example of a cute way to do a Santa Claus design on short nails for this holiday season.
4. Silver & Gold Nails
Just because red and green are the most common Christmas colors doesn't mean you have to stick to these colors for your holiday nail designs! You can totally switch it up and use some different nail polish colors.
For example, one of my favorite alternatives to the usual Christmas colors is silver and gold. These especially look good on nails when you use sparkly silver and gold glitter and pair them with pinks, whites, or purples.
So, if you are interested in creating a sparkly Christmas look, check out this video tutorial which will show you how to create some super cute sparkly holiday designs!
5. Colorful Xmas Designs
Colorful Christmas designs are another one of my favorite options for the holidays because Christmas colors are gorgeous!
So, if you want to use multiple different colors to create your holiday nail designs, this video tutorial will show you a ton of different super cute designs that you can do like reindeer, Santa Claus, or even snowman nails.
6. Snowflakes
Snowflake nails are a great option if you want to do holiday nails, but would rather do something more winter-inspired.
I love these snowflake nails that combine silver sparkle nails with nude accent nails with snowflake detail. If you want to get this look at home, I recommend these snowflake nail stickers to create the flakes without having to do nail art.
7. Rudolph Nails
One of my favorite Christmas movies is the classic Rudolph movie. If you love this movie too, you can totally add a hint of the movie to your nails with this cute design.
The tutorial above will show you how to get a nail design that looks exactly like the characters from the movie!
8. Neutral Xmas Nails
I love the idea of doing Christmas-inspired nail designs while using neutral colors. This will give off an elegant vibe and will be work-appropriate at most casual workplaces.
You can use neutral nail colors like white and nude shades to create cute designs like gingerbread or a reindeer as shown in this video tutorial.
You can also even add some sparkle to this look with some sparkly gold nail polish!
9. Green Nail Art
If your favorite Christmas color is green, you should try a nail look inspired by the color.
For example, you can try out this gorgeous green and beige nail look that combines a gnome, reindeer, and other designs to create a beautiful sparkly green nail look!
10. Tree and Sweater Nails
One other nail design that you will adore on short nails is a simple sweater nail design like this one.
This pretty nail look mixes simple green nails with two accent nails in a tree and snowflake design and a white 3D sweater nail. This would be such a cute look to get done at the salon because it adds a ton of detail to short nails.
Christmas Nail Designs for Long Nails
11. Sparkly Snowflake Long Nails
If you have longer nails or like to do acrylic nails, there are also a lot of different holiday nail designs that you can choose from.
For example, one of my favorites is doing a sparkly snowflake design on long nails. This looks absolutely gorgeous on longer nails and will give you a holiday-inspired look that you will love.
Just check out this tutorial to see how to get sparkly snowflake nails for this season!
12. Knit Sweater Nails
Another winter-inspired nail look that you could go for with long nails is a sweater design.
A sweater design is all about creating a 3D nail design that closely resembles the material of a sweater. This can be tricky to pull off at home so I highly recommend investing in these press-on nails that you can easily apply and re-wear all winter.
13. Abstract Xmas Nails
One of my new favorite holiday nail designs is doing abstract Christmas nails. Abstract nails became popular recently and now you can use this nail trend to even create a super fun holiday look!
For this look, you can really get creative with the colors and designs that you want to use. For a great example of a beautiful abstract Christmas-inspired look, check out this video tutorial.
14. Holly Nails
I love the pretty holly berries that we all associate with Christmastime. So, if you want to add this to your nail design for the holidays, you totally can.
This pretty holly nail design uses green glitter polish to create the holly leaves. I love how the glitter adds a little something extra to this simple nail design.
15. Minimal Christmas Nails
A minimal holiday nail design will also look super cute on your nails for the holiday season, especially if you do one that incorporates Christmas colors in a subtle way.
I'm obsessed with this simple Christmas nail look that channels Mrs. Claus using ruby red polish for the tips and a hint of white for the "trim" on her coat.
16. Grinch Nails
Who doesn't love the Grinch movie? If you are inspired by this classic holiday movie, I definitely recommend trying to recreate the Grinch characters on your nails!
This is a little more of a detailed nail design, so I recommend watching this video tutorial to see exactly how it's done. This would be great to attempt on press-on nails yourself, since it's so detailed and would be tough to achieve on your natural nails.
17. Candy Cane Nails
Another great option for a sparkly Christmas look this season is candy cane nail art! This type of look will be gorgeous if you use sparkly red, white, and even green nail colors.
What I love most about this look is that it is also easy to recreate at home! Just watch this tutorial to see how to do it.
18. Winter Blue Nails
If you want to go for winter wonderland vibes for your holiday nails, try using some beautiful blue and white sparkly colors on your nails. You can even make this look more glam by adding on some rhinestones too!
For a great example of a winter wonderland-inspired look on long nails, watch this tutorial.
19. Prancer Nails
Simple text nail designs are also a really adorable way to get a holiday nail look for this season! For this look, you will want to use some red and white nail polish to create "ho ho ho" text on your nails.
The best thing about this nail look is that you can just buy it as a set of press-ons so it couldn't be easier to achieve at home if you're not into doing nail art.
20. Plaid Xmas Nails
Plaid is another great design to do around the holidays and will give you a bunch of options for nail designs.
For example, you could totally do plaid french tips as shown in this nail look to get a nail looking using darker colors for this season.
Which Christmas nail designs are your favorite?
What kind of nails do you want to have for this holiday season? What is your favorite thing about the holidays?