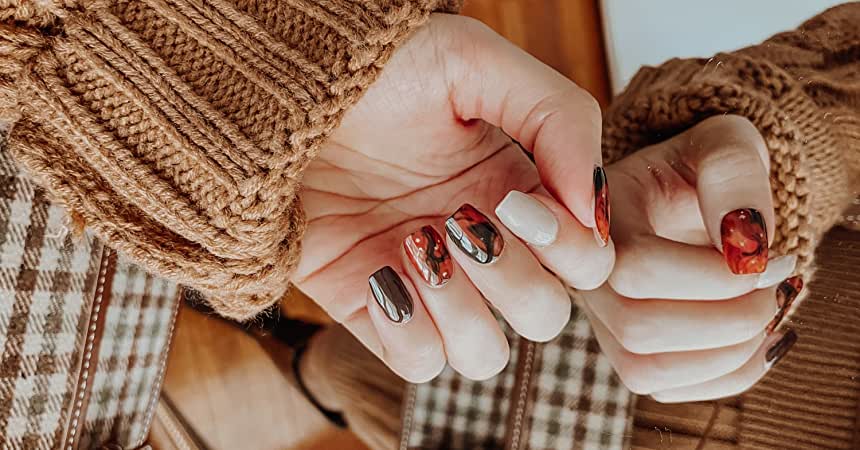 The holiday season is coming up, which means it'll soon be time to start shopping, decorating, cooking, and playing all that holiday music. And if you really want to go all out, why not bring some holiday spirit to your nails this year?
For example, you can do some fun nail designs in anticipation of Thanksgiving!
There are so many fun and cute designs that you can do that are fall and Thanksgiving-inspired that you will definitely find a new favorite nail look.
When deciding on what kind of Thanksgiving nail look you want to try this fall, there are a few things to keep in mind.
For example, be sure to include Fall colors like brown, red, yellows, etc. Also, if you want to go literal, pick out some cute Thanksgiving or fall-inspired designs to add to your nails like pumpkins, turkeys, fall leaves, etc.
Now that you probably have some ideas in mind, check out this list of 16 super cute Thanksgiving nail ideas you'll want to try this year!
Related reading: 20 Incredibly Chic Thanksgiving Hairstyles to Rock This Year
1. Drag Marble Nails
I am sure you have seen marble nails before, but have you ever seen drag marble nails? The look of the nails is basically given away by its name because it looks exactly like if you were to drag the marble design across your nails.
However, the key to making these fall or Thanksgiving-inspired nails is by incorporating fall colors into the look, as shown in this video tutorial.
2. French Marble Nails
French marble nails also look especially good as a fall or Thanksgiving nail look. The key is to use a color like brown or orange for your French tips, as seen in this video tutorial.
I would also recommend using an almond nail shape for this design because it will make your nails look trendy!
Related reading: 20 Trendy Almond Nail Designs to Try This Season
3. Turkey Nails
This is one of my favorite Thanksgiving nail ideas because it is so cute! If you want to be really festive for Thanksgiving, try a Turkey design on your nails as shown in this tutorial.
This will definitely make your nails stand out. And surprisingly, it's a pretty easy nail design to get at home. Just watch this tutorial to see exactly how to get this adorable Turkey-inspired nail design for this Thanksgiving!
4. Give Thanks Nails
If you want to incorporate the idea of giving thanks into your Thanksgiving nails, you can totally add that to your nail design.
All you need to do to get this look is have some small nail polish brushes so that you can write out "give thanks" on your nails. And, don't forget that you can also add some other designs, like fall leaves and glitter, to make this look even more fun.
This nail tutorial will show you how you can get a design like this at home!
Related reading: The 20 Prettiest Christmas Nail Designs to Dazzle This Year
5. Evil Pumpkin Nails
Pumpkins are also a great design to add to your nails when you're coming up with fall or Thanksgiving nail ideas. While the nail idea above is Halloween-centric, you could do it at the end of October and wear it into November for the lead-up to Thanksgiving.
For this look, you will want to use more orange and black shades to give you more of a Halloween-inspired look for the end of October and the beginning of November. Alternatively, you could skip the spider detailing and add leaves to adapt this to a more Thanksgiving-appropriate vibe.
Related reading: 19 Pumpkin Nail Looks You'll Love This Fall
6. Glow in the Dark Nails
You might not have ever tried glow-in-the-dark nails before, but they are really cool and I highly recommend them.
And the best part is, you can totally get glow-in-the-dark Thanksgiving-inspired nails.
All you need to do is make sure you use fall colors with glow-in-the-dark polish and you will have a super cool nail look for this Thanksgiving!
7. Leaf-Inspired Nails
Of course, everyone knows that fall leaves are a huge part of Thanksgiving, so naturally, a fall leaves nail design is one of my favorite Thanksgiving nail ideas.
This nail look is perfect for those of us looking for a simple, but festive nail look this Thanksgiving! Nothing too complex here.
All you need to do to create this look is grab a couple of different fall nail polish colors. You will need one for the base of your nails and also some colors to design the leaves so that they stand out on your nails. (This tutorial uses brown as a base, with red and yellow for the leaves.)
Then, you will be able to create this adorable fall leaves nail look by just watching this quick tutorial.
8. Abstract Nails
Abstract nails became trendy a little while ago and you can still create really cool nail designs with this trend.
And, you can also totally make some cute Thanksgiving abstract nail art! Just make sure to use fall colors as they did in this video above and you can create whatever kind of abstract nail look you want for this Thanksgiving.
Most people think of brown, red, or orange for fall colors, but you can also the color green like they do in this nail design to get this Fall-inspired look. Don't the designs resemble trees? Super cute.
9. Bedazzled Nails
If you love sparkly and very glam nail looks, you can come up with some cool Thanksgiving nail ideas by mixing fall colors and pretty rhinestones.
This will look great if you are doing acrylic nails or if you already have longer nails. For an example of how to get a bedazzled Thanksgiving nail set, check out this video tutorial!
10. Classic Thanksgiving Nail Art
If you want a quick and easy way to get some cute Thanksgiving nail designs, you can also purchase some press-on Thanksgiving-inspired nail decals to easily do your nails while at home.
For example, in this tutorial, they will show you how to use press-on nail art to get a Turkey nail art look.
11. Plaid Nails
Plaid nails are so simple and they're perfect for the fall and Thanksgiving seasons. Plaid is a classic pattern so it never looks over-the-top or super busy.
You can also choose whatever fall colors you want to create this look! Check out this video tutorial for an example of some cute plaid nails you could try. You can even add some sparkle to this look to make your nails stand out more this Thanksgiving!
Related reading: 17 Classy Nail Ideas for Sophisticated & Elegant Vibes
12. Pumpkin Nails
As mentioned before, pumpkins are another adorable design that you can use on your nails for Thanksgiving!
One way that you could do this is by designing pumpkins on the tips of your nails as shown in this video tutorial. Or, you could also design a bunch of super cute mini pumpkins on your nails if you want to get even more detailed with your nail design!
For this look, orange is definitely an essential color, so make sure you have some orange nail polish on hand to create the pumpkins. And don't forget a cream color for your base.
13. Fall French Tips
Another cute and trendy nail look I'm loving for Thanksgiving is fall-inspired French tip nails.
To get this look, you need to use fall colors on the tips of your nails. Simple enough, right?
What I love about this kind of nail look is that there are so many different ways that you could design it. For example, you could use different shades of brown, as shown in this tutorial, which is also a very trendy nail look.
Or, you could sub in some more colorful fall colors like red, or orange to get this kind of look. This nail look also looks amazing with almond-shaped nails, btw!
14. Minimalistic Fall Nails
If you are looking for a more minimalistic or subtle Thanksgiving nail design, don't worry because there are still many options for you to choose from to find your perfect nail look for this Thanksgiving.
For example, you could create some really cute designs using fall colors like lighter shades of orange or brown. You could even add a little bit of gold to your minimalistic designs. (Gold leaf screams holiday season to me.)
Just check out this quick video tutorial, which will show you a couple of different options for a more minimal look!
15. Sparkly Fall Nails
If you love sparkly nails or anything sparkly, this is a great example of how to incorporate glitter into your Thanksgiving nails.
If you want to do this, I would recommend using gold sparkles or glitter to make your nails look fall-inspired. Gold pairs so well with all the warm fall colors.
Also, you can definitely add sparkles to your nail art designs to make them more fun, like this sparkly pumpkin as shown in the video tutorial.
16. Encapsulated Fall Leaves
If you love the fall leaves, encapsulated Fall leaves are perfect to try on your nails this Thanksgiving.
Encapsulated leaves will make it look like there are actually leaves inside of your nails, which will create a super cool look that will definitely make heads turn. It's one to get at a salon, but trust me — the look is worth it.
If you are interested in trying this type of nail design but have never done encapsulated nail designs before, check out this video tutorial to see exactly how it's done.
Which Thanksgiving nail idea from this list are you obsessed with?
Which nail look will you be trying for the Fall season? What is your favorite Fall nail look?