This post will show you 20 cute hairstyles for Thanksgiving.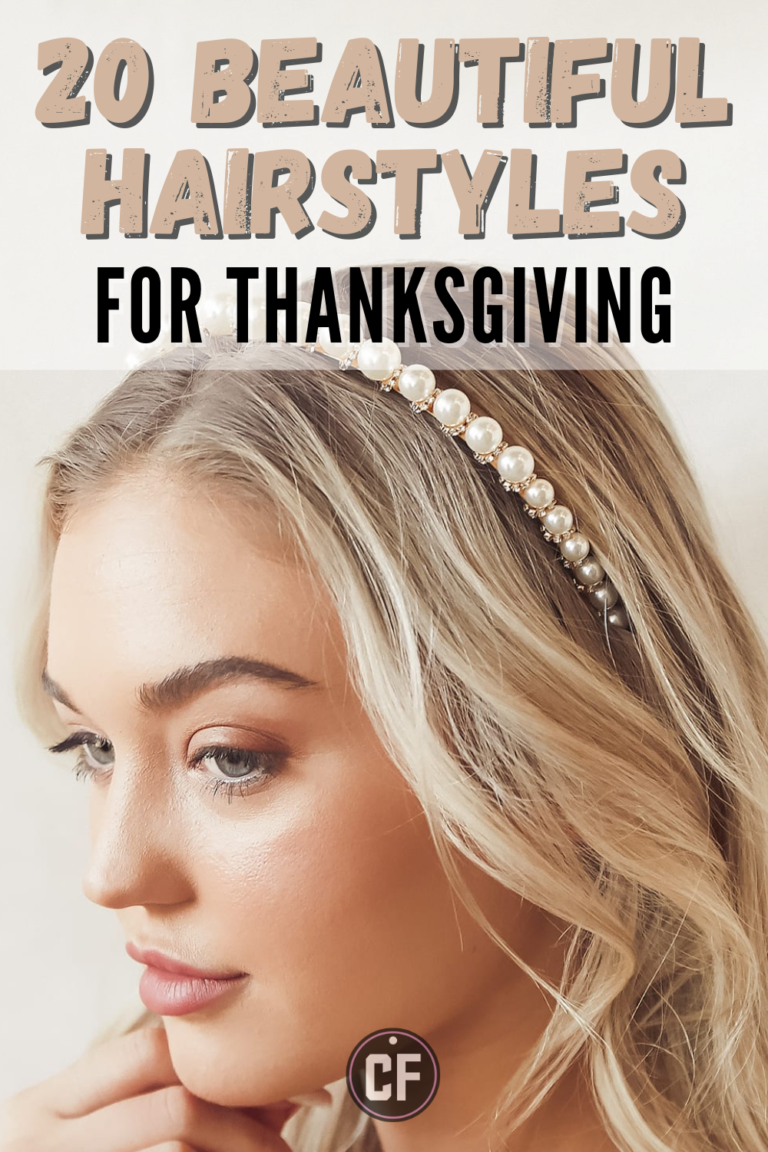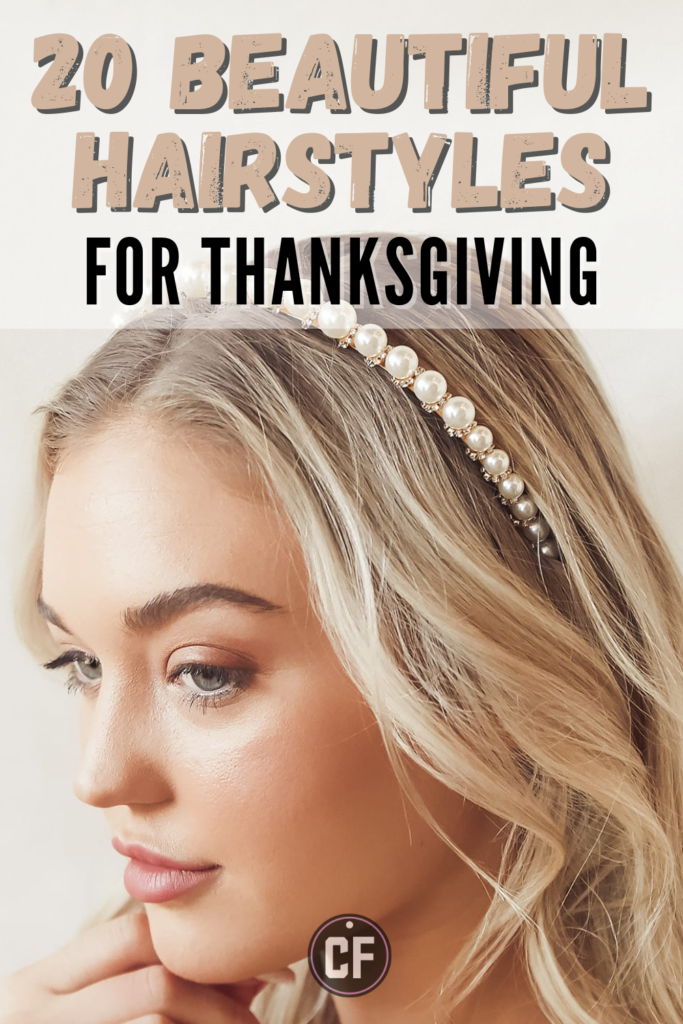 I can't believe that Thanksgiving is almost here! It feels like last week I was rocking my favorite sandals (actually, it was, thanks to the heat wave that hit Boston), and now I'm planning my Black Friday shopping and choosing my Thanksgiving outfit.
Alongside that perfect Thanksgiving 'fit, it's important that your hair is on point, if only for the family photo ops! And that's where this post comes in. I've rounded up 20 easy hairstyles for Thanksgiving that will have you looking 10/10 amazing.
The best part is, you do not need to be a professional hairstylist to pull these off! All of these Thanksgiving hairstyles are simple and easy to do on your own.
Also, for even more hairstyles, be sure to see our guides to the best hairstyles for short hair and our favorite hairstyles for work (which would also be appropriate for Thanksgiving).
Now let's get to the tutorials!
Hairstyles for Thanksgiving
1. Soft Waves
This is forever my go-to hairstyle so that's why I listed it first. Is it groundbreaking? No. Is it easy? Why yes, yes it is. And it pretty much works for every occasion, including Thanksgiving.
To get this look, apply a good heat protectant all over (I love the Kerastase Ciment Thermique, which strengthens your hair as you use it), then use a 1-inch curling iron to curl your hair in sections. (My favorite curling iron is this Hot Tools one, but I've heard great things about the T3 one she uses in the video.)
The next step is optional: You can flat iron the ends to make them straight and give your hair more of a wave instead of a curl. Then just finish with your favorite hairspray. (I use the R+Co Outerspace hairspray.)
2. Sleek Model Bun
Everyone has been obsessed with the sleek model bun this year, and it's no secret why — this hairstyle looks so incredibly polished and chic.
To get this look, you just need a soft boar bristle brush, mousse, and some hair wax. (Tip: This is the exact hair wax Hailey Bieber uses to get her model bun.)
The best part about doing this hairstyle for Thanksgiving is that it works best on second-day hair. So you can skip the blow-drying and get right to Thanksgiving dinner!
3. Claw Clip Hairstyle
Another hairstyle that's had all of us in a chokehold this year is the claw clip updo. This is a perfect hairstyle for Thanksgiving because it's pretty and feminine, but still incredibly easy and quick to pull off.
Watch the tutorial above to see a few different ways to rock a claw clip. You honestly can't go wrong with any of them for the holidays!
4. High Pony
Another super easy hairstyle to try on Thanksgiving is the high ponytail. This is so low-effort but it always looks chic and polished. It's also a great way to show off some cute earrings.
To get this easy hairstyle, divide your hair into two sections, front and back. Brush the back section up into a ponytail and secure it with an elastic. Then, divide that same back ponytail into two sections and secure the front section into its own ponytail with a clear elastic. Next, brush your original front section back and secure everything into a single ponytail. This will give you tons of volume!
5. Double French Braids
Double french braids are so cute and they work on every hair texture! And while they look complicated, with a little practice, you can easily do them yourself. The more you practice, the faster you'll get.
To get this style, divide your hair down the middle, brush through, and apply your favorite styling cream. (In the tutorial, she uses three different products for curls — adjust to your hair type.) Then dutch braid, starting at your forehead and working your way down your head, adding hair as you go. Watch the tutorial for a feel for how it works!
6. '90s Bouncy Blowout
We absolutely cannot have a list of hairstyles this year without mentioning the ultra-popular '90s blowout look that's been everywhere. This hairstyle is glamorous and bouncy, and gives you tons and tons of volume — what's not to love?
This hairstyle does take a bit of work but the results are SO worth it. It also requires a few things, namely a good heat protectant, a blow dry brush, and velcro rollers and clips.
Note that this style works best with layered hair, but anyone can try this tutorial for extra volume and smoothing. And if you want trendy hair, this is definitely the look to try!
7. Coiled Topknot
A chic topknot never goes out of style. It snatches your face and lets your makeup and jewelry shine. Plus, it goes with literally any outfit and works for any occasion.
To get this look, add some leave-in conditioner to your hair and brush it up and away from your face. Secure it into a ponytail with one elastic, and then use a second elastic to turn your ponytail into a bun. Fix up the edges and any flyaways with gel and a boar bristle brush.
This is one of the best hairstyles for Thanksgiving because it's so low-effort but it always looks great.
8. Loose Waves
These easy, beachy, and bohemian waves would pair so well with a dress on Thanksgiving. In contrast to the other waves tutorial we shared earlier, these are softer and more undone.
To get this hairstyle, you'll need a curling iron and some clips to section your hair. Divide your hair into upper and lower sections and curl, alternating the direction of the curls as you go. Finish with your products of choice. (She uses dry shampoo, texture spray, hairspray, and a little hair oil on the ends.)
9. Half Up / Half Down
I'm obsessed with every hairstyle Hailey Bieber wears, especially this cute half-up, half-down look.
This hairstyle is super simple to achieve. Start with clean, dry hair. Apply a little texture spray if your hair is feeling too slippery. Next, section your hair into a front and back section, then divide the front section into two, down the middle. Brush these two front sections up and away from your face, then secure them into a ponytail with a clear elastic. Finish with hairspray.
10. Accessorized Updo
The holidays are a great time to rock your natural curls, and I love this fun take on an updo with natural curls from Mane Addicts.
The look is essentially a messy bun with a chunky headband added and some teasing at the back. I love her bangs but this would also work well with all-over long hair.
11. Half Up with Flipped-Up Ends
I'm obsessed with this cute half-up hairstyle — it reminds me of the '90s in the best possible way. I would totally rock this at Thanksgiving with a casual outfit.
To get this hairstyle, blow dry your hair as smooth as you can, then straighten with a flat iron. Next, pull half of your hair up and away from your face, leaving out two pieces at the front to frame your face. Secure your top section of hair into a high pony with an elastic.
Finally, use your flat iron to flip your ends out and away from your head. Wrap the pony in a piece of hair and secure it with a bobby pin. Finish up with your flat iron to curl any pieces that need it.
12. Old Hollywood Waves
If you have some extra time to spend on your hair, it does not get more glamorous than these vintage waves. This hairstyle would be perfect for a formal Thanksgiving celebration or a nicer event.
To get this look, you'll need a curling wand or iron. Start by brushing out your hair and creating a deep side part. Then, curl your hair in sections, holding your curling iron horizontally and wrapping your hair around the iron. Then, gently brush out your curls. Add a few clips to perfect the waves and spray with hairspray. Remove the clips and you're set!
13. Bouncy Curls
How stunning are these big, bouncy curls? All eyes will be on your gorgeous hair if you rock this look at Thanksgiving.
This tutorial uses a Denman brush to create defined ringlets, and it's key for this look. The look also requires a curl cream and a diffuser attachment for your blowdryer to create extra shine and definition.
The best thing about this look is that it will last you for multiple days if you follow her tips for refreshing the style in the morning.
14. Black Bow
Hair accessories can take a basic hairstyle from simple to amazing, and they're perfect for Thanksgiving. In particular, I love Dove Cameron's look here — it's just wavy hair pulled back into a ponytail and dressed up with a black satin ribbon.
You could do so many variations on this look, by changing up the color ribbon you use or adding a ribbon to a different hairstyle in this post. (A ribbon would look super cute on any of the half-up styles.) So many options!
15. Pearl Headband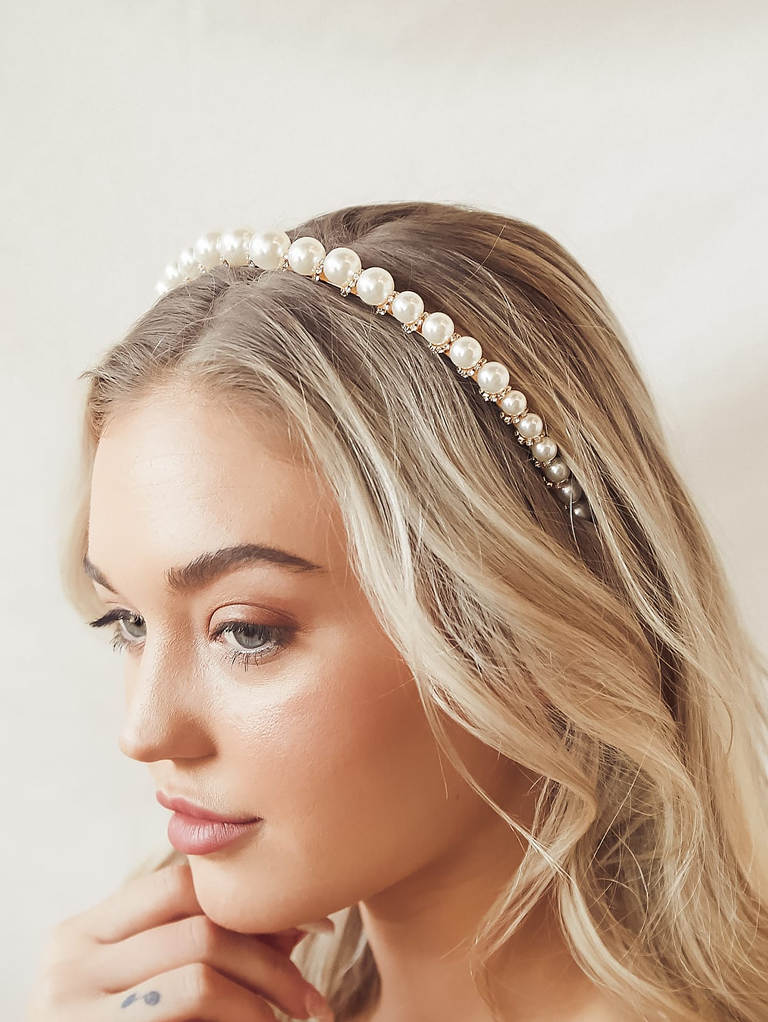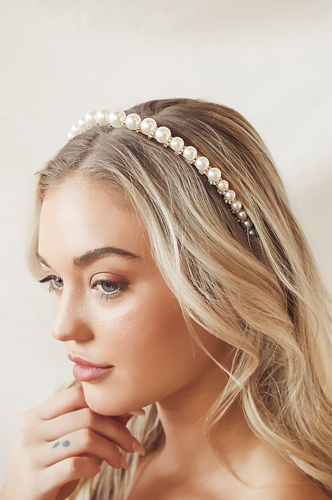 Here's another example of how a hair accessory can dress up a basic hairdo. The model above just has simple waves in her hair, but her look becomes so glam with the addition of a trendy pearl-embellished headband.
I love this look for Thanksgiving because it feels super fancy but is actually incredibly easy to pull off. Just add this headband to any hairstyle and you'll look and feel like a million bucks.
16. Quick & Simple Updo
If you want to look chic and sophisticated this Thanksgiving, an updo is always a good choice. While this updo looks complicated, it's actually quick and simple — which I am always in favor of!
This hairstyle begins with curled hair, so you'll need a curling iron on hand. (You can curl your hair the day before if you'd prefer; this works on second day hair.) Otherwise, you will only need hairspray and bobby pins to create this simple look. Seriously, it takes minutes!
17. Double Dutch Braids
Here's another take on double dutch braids. This time, they're looser and messier because you pull out sections of the braid after you're done. Also, instead of braiding all the way down, you create this look by creating buns at the end of each braid.
Once again, dutch braiding is easier than it looks! Once you get the basic motion down, you'll be able to pull this off in no time.
18. Goddess/Princess Hair
If you have long hair, you NEED to try this viral TikTok Goddess/Princess hairstyle ASAP. It's so stunning and will make you look like you're straight out of a fantasy movie.
To get this look, you'll need a waving iron for that almost crimped look. Just section your hair and use the iron to create waves all around your head, then spray with hairspray. Twist and pull two front sections back, then secure with bobby pins. Then, just braid small sections of hair all over your head for extra interest.
This hairstyle would look so beautiful for Thanksgiving paired with a cute dress or princess-y top and jeans combo.
19. Sleek Short Hair
If you have short hair, you cannot go wrong with a sleek bob for Thanksgiving. It looks sophisticated and incredibly put-together, and it looks great with any outfit.
To create this look, create a deep side part and then flat iron your hair. Use leave-in conditioner to smooth down your hair and comb down any flyaways. Use hairspray to finish the look.
20. Side-Part With Waves
For our final Thanksgiving hairstyle, we have this gorgeous brushed-out curl look with a deep side part.
This look is achieved with a curling wand, but you could also use a regular curling iron and plenty of hairspray to get this look. The deep side part makes it 10x more glamorous, so don't skip that step!
Thanksgiving Hairstyles For Short Hair
If you're rocking short hair this Thanksgiving and aiming for a cute look, here are a few quick tips.
Playful Pixie Cuts
Short hair can be incredibly chic. Rock a playful pixie cut with some texturizing spray for a tousled look that exudes confidence and style.
Accessorize Smartly
Small accessories can make a big difference on short hair. Consider adorning your short hair with a cute Thanksgiving-themed hairpin or a stylish headband for a festive touch.
Autumn-Inspired Color
Embrace the season with warm hair colors. Go for rich coppers, deep auburns, or subtle caramel highlights to add a touch of autumn to your short 'do.
By following these tips, your short hair will look super cute, ensuring you stand out in style this Thanksgiving.
What do you think of these hairstyles for Thanksgiving?
Which one is your favorite? Are you going to attempt any of these this year? Also, if you try any of these, let me know how it goes in the comments down below!