This post is made up of 21 brown nail ideas.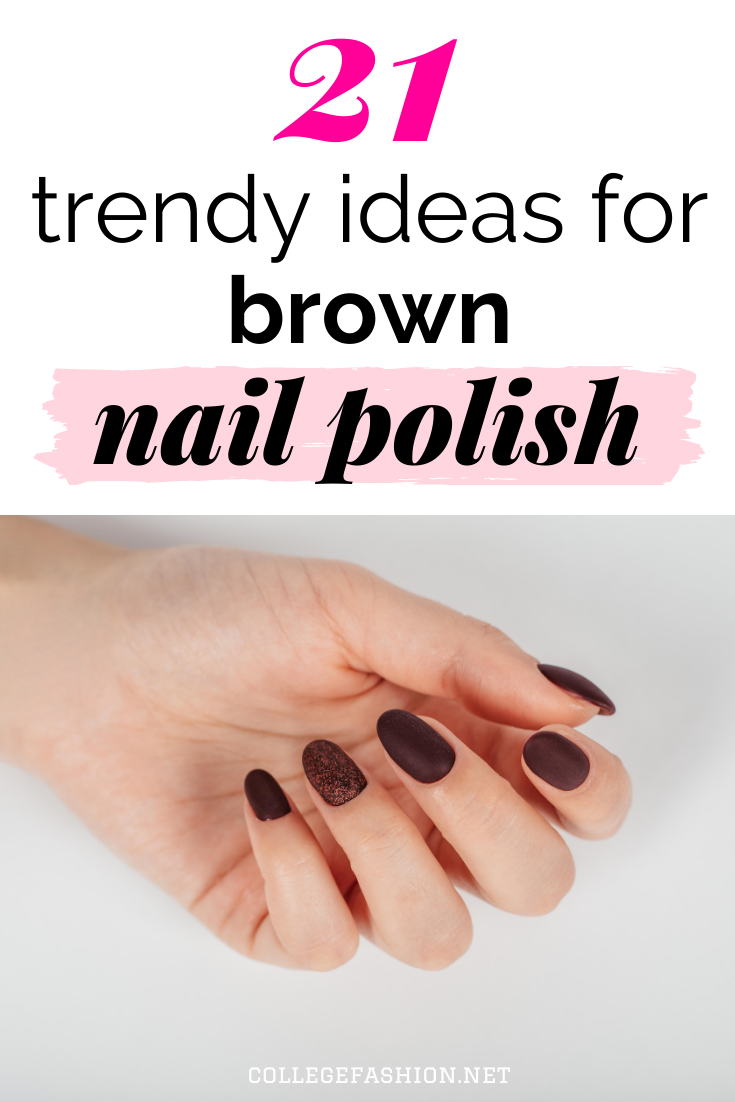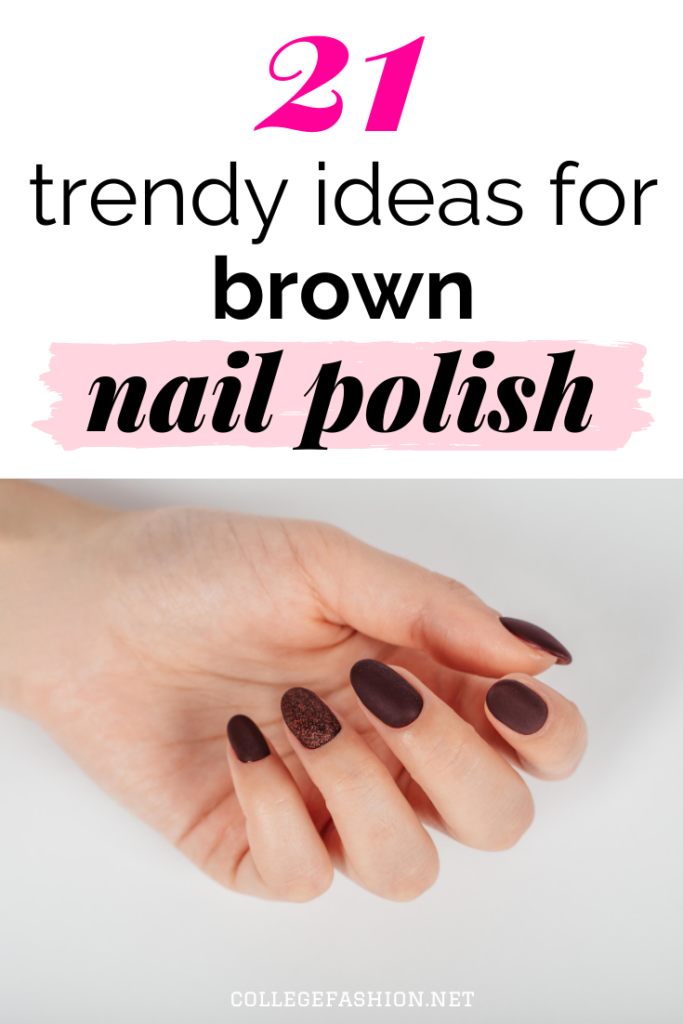 2023 may still be new, but it's never too early to start thinking about fall. Why you ask? Well, fall is when all the best trends arrive on the scene. Who doesn't dream about new sweaters, boots, and scarves?
It's easy to get wrapped up in clothing trends, but don't forget about all the new beauty products and styles that will be hitting the market as well. To really tie your outfits together, it's key to always have your nails done. There's a reason they call it to polish, after all; having fresh nails really does polish off your look!
It has been several years since brown has been popular, but this fall, it will be coming back with a vengeance. So it's time to get used to the idea of your nails coated in luxurious brown polish for a change.
You may have never had brown nails before, so you may be wondering what kind of cute brown nails and designs that you can start wearing. Don't stress about it; there are plenty of fun brown nail ideas to choose from!
I did the work of scouting out the hottest styles and broke them down into four categories: short nails, acrylic nails, fall nails, and design & pattern ideas. This should make prepping your manicure game easy and breezy.
I think it's time to get down to business. Below, you'll find this list of 21 brown nails ideas that will be perfect for fall 2023. But then again, why wait?
Also, if you're not ready to be dark and moody yet, you can check out our list of 21 Gorgeous Floral Nail Designs for 2022.
Short Nails
1. Brown Accent Nails
If you want to use your natural nails to create some cute brown nails to wear this fall, don't stress… you totally can! We love natural and short nails.
For our first example, you could try out these adorable brown accent nails. This look is super easy. All you will need is brown nail polish for the accent nails and another nail polish color of your choice for the rest.
You can even add a small design to spice up the accents even more, like in this tutorial. Here they add little hearts, which are one of the easiest nail art options for even the clumsy among us. If you want to make it even simpler, you can try dots.
2. Leopard Nails
I am sure you have seen leopard print on fashion and beauty items recently because the leopard print design is coming back in style. Did it ever really leave?
Fall 2023 is the perfect opportunity to make some leopard print nail looks with brown color. It'll be on trend, and you're certainly the fiercest gal on campus.
If this is the nail style you want, these adorable, short, leopard print nails are press-on, so you don't have to worry about doing a whole nail art look with polish yourself.
3. Glossy Brown Nails
If you want a simple but chic nail look for this fall, I would recommend just wearing a solid color on your nails. A glossy brown will be ultra-luxurious.
Find your favorite brown nail polish to paint on your nails, or buy these press-on nails that will give you the brown nail look that you want if you're a shaky painter.
4. Brown Sweater Nails
Another one of our very popular nail ideas that you have probably already seen recently is brown sweater nails. There's no trend more perfect for fall! You can create sweater nails with polish if you're very skilled, but this will be difficult if you have never done nail art yourself before.
If you want to get this brown sweater nails to look without the stress and mess, I would recommend purchasing press-on nails like the ones above. Bonus: these ones are also matte, so they're extra on-trend.
5. Brown Matte Nails
Speaking of matte nails, another way that you can achieve brown nails look for fall is by opting for plain matte brown polish! They will look flawless with just about any shade of brown that you choose.
To spice up this look, you can add in different shades of brown and alternate, like on these cute press-on nails.
Acrylic Nails
6. Brown Swirl Nails
Swirl nails are also a very trendy nail design that has been seen everywhere recently. The thing that I love about this nail design is that you can create cool nail looks with just about any color, including our fall favorite: brown!
So, if you want to get the trendy swirl nail style, I would recommend watching this tutorial on how to make it happen for your hands.
7. Brown Marble Nails
Marble is another one of my favorite brown nail ideas. It's also a very common nail style and you can totally get this kind of look by using brown polish.
Marble nails may look difficult to do on yourself, but if you want to learn exactly how to get brown marble nails at home, watch this quick tutorial. It's not as hard as it looks, believes it or not!
8. Brown & Gold Glitter Nails
Another gorgeous nail look you can wear for fall is pairing your favorite shade of brown with gold glitter. I would never have dreamed up this combination on my own, but I am obsessed.
Gold and brown look amazing together. Plus, if you love sparkle, this nail style will let you add a ton of glitter to your nails.
There are so many ways that you can add glitter, but if you want to see how to get this specific brown and glitter design, I would suggest watching this tutorial.
9. Brown French Tip Nails
Another very trendy nail look right now is colored french tips. This is basically just when you use a different color of nail polish for the tips of your nails rather than just using white.
What's great about this nail style is that you can totally do it using brown nail polish! Just watch this tutorial to see exactly how to get perfect brown French tip nails for this fall.
Related reading: You'll Fall in Love with These Pretty & Trendy Gel Nail Designs
10. Shades of Brown Nails
Another trendy nail look I've seen often recently is different shades of nail polish on each nail, which also looks great using brown. Also, it will totally get you in the mood for fall while making sure you look trendy all year long.
For this nail look, just pick out five different shades of brown and paint one nail on each hand with each shade. Watch this quick tutorial to see a great example of how to get cool nails with a variety of different shades.
Fall Nails
11. Fall Leaves Nails
One other great way you can style your nails for fall is by actually creating some fall-themed nail designs.
One of my favorite brown nail ideas is nail art with fall leaves. This style is ideal for nail art beginners because it is a simpler design that you can do at home using brown nail polish and other fall colors.
Just watch this quick tutorial to see how to do it yourself!
You can also get fall nails with more intricate designs like these nails that use leaves, rhinestones, shades of brown, and other fall colors to create a gorgeous nail look!
If you want more detailed fall-themed nails, I would recommend purchasing these press-on nails that will give you that fancy-themed look without having to worry about doing them yourself.
13. Brown Hearts Nails
Another cute way that you can create fall-inspired nails at home is by using brown nail polish and other fall colors like red, yellow, and orange to make hearts and polka dots.
For example, you could try out this cute nail design by watching this quick tutorial.
14. Brown & Gold Foil Fall Leaves Nails
If you want something that will make your nails really stand out, I recommend adding some gold foil and leaves to your nails. These nails will definitely get you in the fall mood!
You could even add some rhinestones to this nail look to make it even more fancy like shown in this tutorial.
15. Fall Nail Art Decals
Decals are one of our favorite brown nail ideas. If you don't like using press-on nails but you need a simple and easy way to get cute nail looks, I would recommend purchasing these fall nail art decals.
This is such an easy way to get a festive look without having to stress about doing your own intricate nail art. Plus, you will have so many fun looks to choose from!
Also read: 50 Spring Nail Ideas That Are Seriously Trending in 2022
Design & Pattern Ideas
16. Louis Vuitton Nails
If you want to create some more detailed designs using brown, don't worry because there are so many you can try.
One popular nail design that you can do using brown nail polish is adding the Louis Vuitton symbol to your nails to create a designer nail look.
17. Brown Polka Dot Nails
This is also a very popular style recently that I would totally recommend trying out using brown nail polish, like shown in this tutorial.
What's great about this nail design is you can use whatever colors that you like to create the look, so you could use different shades of brown or follow this tutorial that uses brown with blue.
18. Brown Heart Swirl Nails
This is also a really delightful nail style that you can do using brown. Who wouldn't love this retro heart nail design?
Don't worry if you want this nail design but are worried about doing it yourself. You can purchase these press-on nails to get the look without all the stress!
19. Brown Flower Nails
If you're looking for more brown nails ideas that you can do at home, flowers is the way to go!
Just add some cute flowers to your nails using brown nail polish, or purchase these press-on nails for the most adorable look.
20. Brown Cow Nails
Cow print is also very trendy in fashion and beauty right now and it is a perfect design to do on your nails using brown nail polish.
You can paint the cow print on all of your nails or combine the cow print with other designs like stripes and checkers, as shown on these brown press-on nails above.
21. Brown Checkered Nails
Checker print is also gaining popularity and can be seen on a lot of fashion items recently. So, why not try out this design on your nails too?
Just purchase these stylish brown and white checker print press-on nails to get this look and voila!
Which one of these brown nail ideas do you like the most?
Are you on the brown nail bandwagon yet? What design above are you looking forward to trying out? Let us know what you think below!
If you love these brown nail ideas, you might also want to check out our other favorite nail ideas below —