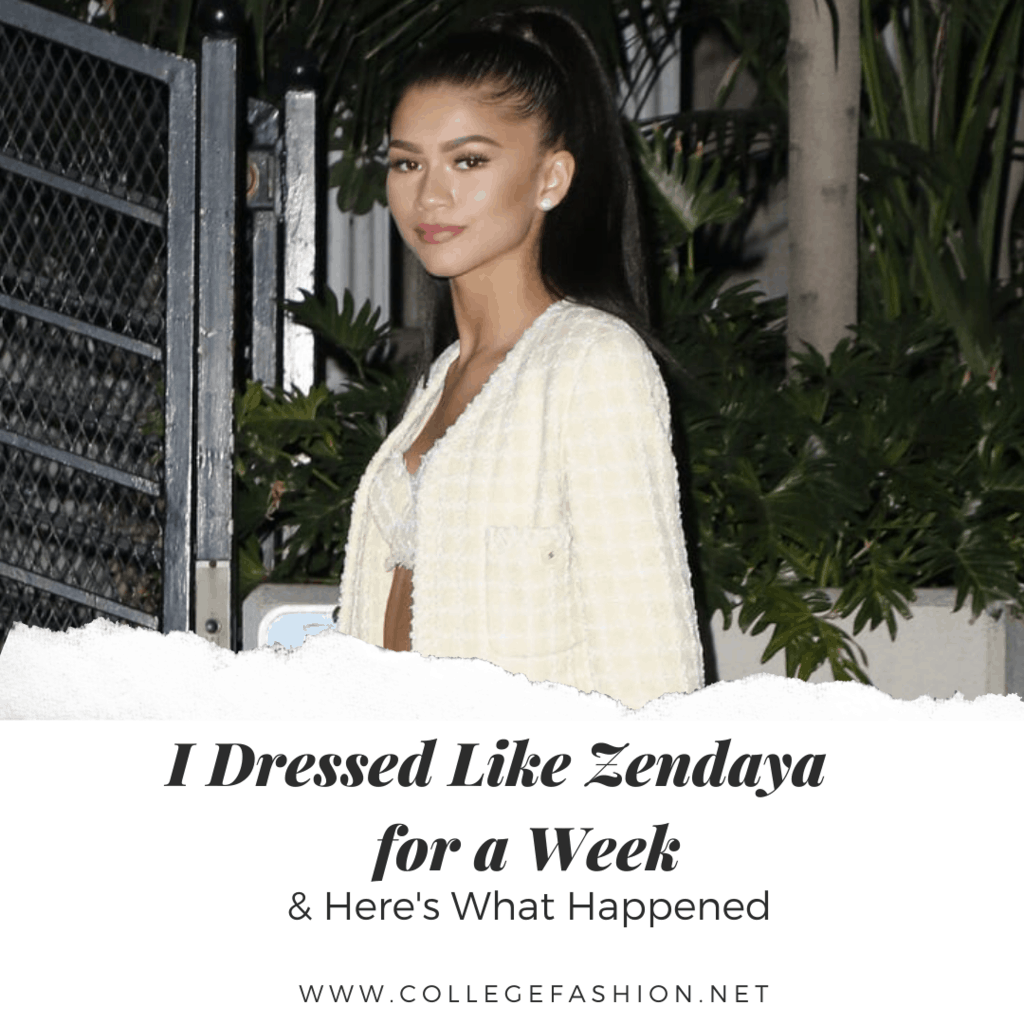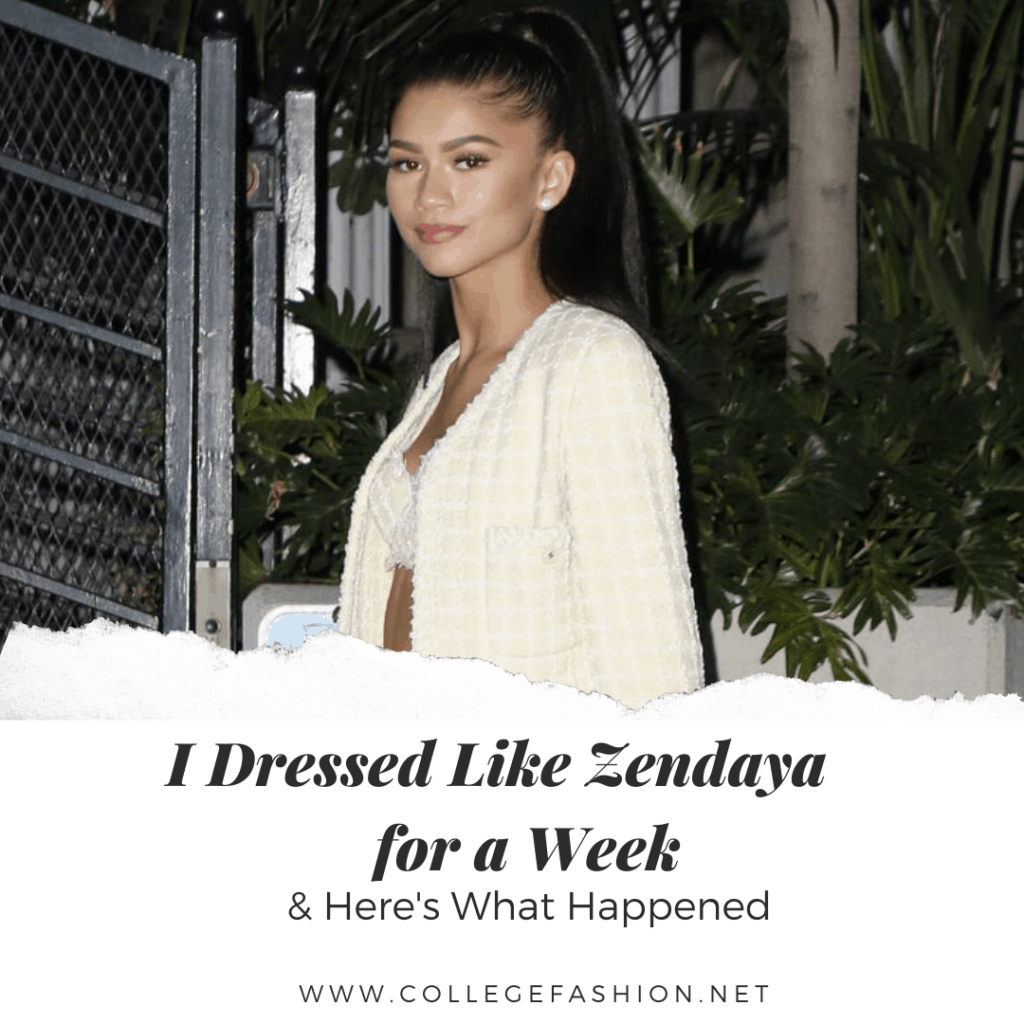 For years, I've heard my sister and friends say all of these things: "I love how she dresses, but I could never do it," "You have to look like her to pull it off," and "I can't afford to look like that."
We admire celebrities' style from afar: We are in awe of Rihanna's no-nonsense edgy outfits, we lust after Blake Lively's posh yet fresh ensembles, and we patiently wait for Coachella just to see what Vanessa Hudgens will come up with this year.
And yet, when it comes to our own styles, we hesitate.
For this new series, I want to help you change that. I am going to dress in a celebrity's style for a week. I'll choose a celebrity with an admirable style, select five outfits and try to copy them as closely as I possibly can. I'll explain how I felt wearing each look, if people reacted differently to me, how close each look was to my personal style, if I decided to make changes through the day to get by and, finally, I'll share how wearable those outfits actually are.
I'm going to try to keep the shopping to a minimum, coming up with ways to use what I already have to copy their outfits. This will help me figure out what to do with my actual closet and with the items I usually ignore or don't wear at all. Also, I won't copy makeup looks or hairstyles, because those are very personalized to skin types, eye-shapes, and hair length.
I started a few weeks ago and my first choice for this series was Zendaya.
Zendaya's Style
Zendaya's style can be best described as cool, edgy comfort. Her street style looks are usually comfortable and with a mix of athleisure and rock & roll items, in neutral colors. On red carpets, she will wow everyone with a bold choice in a bright color.
Note: I planned all of my outfits ahead of time and took all the photos on the same day (hence why my hair and makeup are mostly the same). I then re-wore each look on the day noted.
Monday – Outfit #1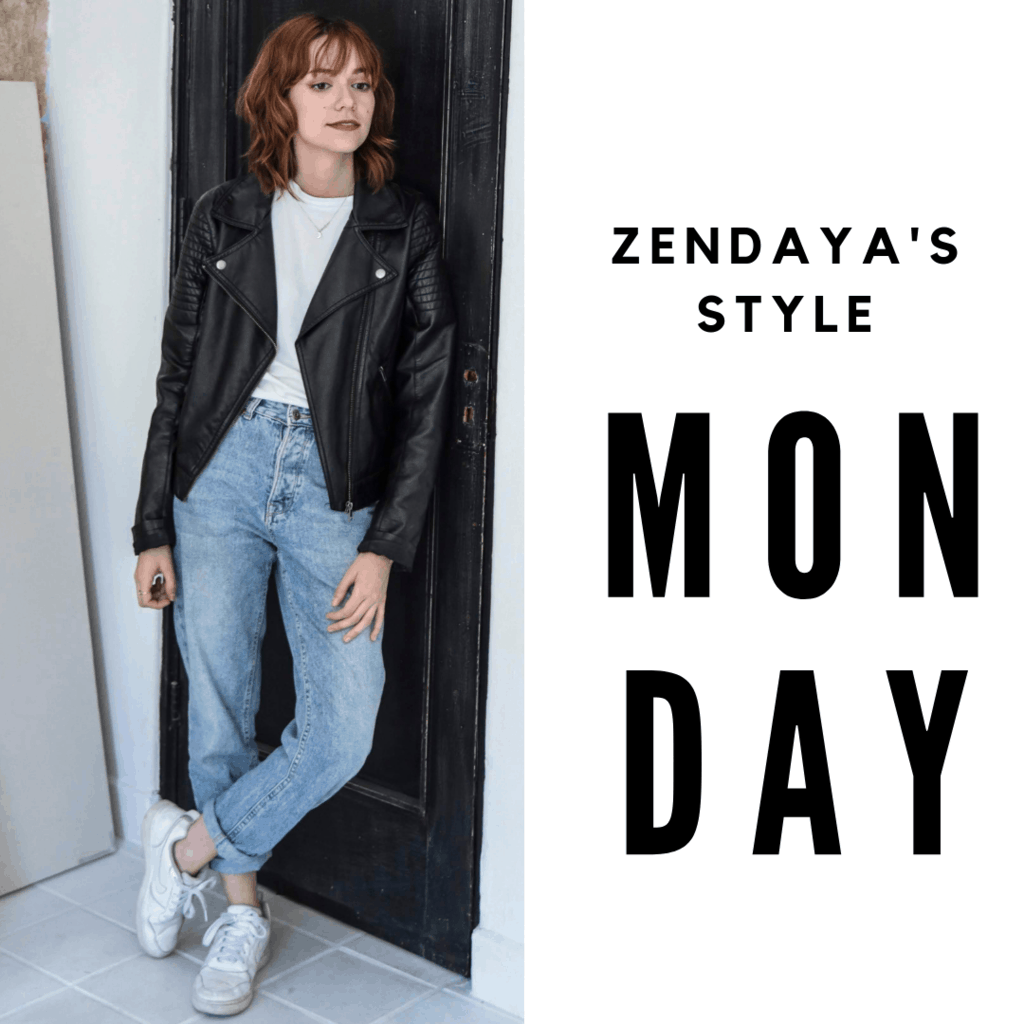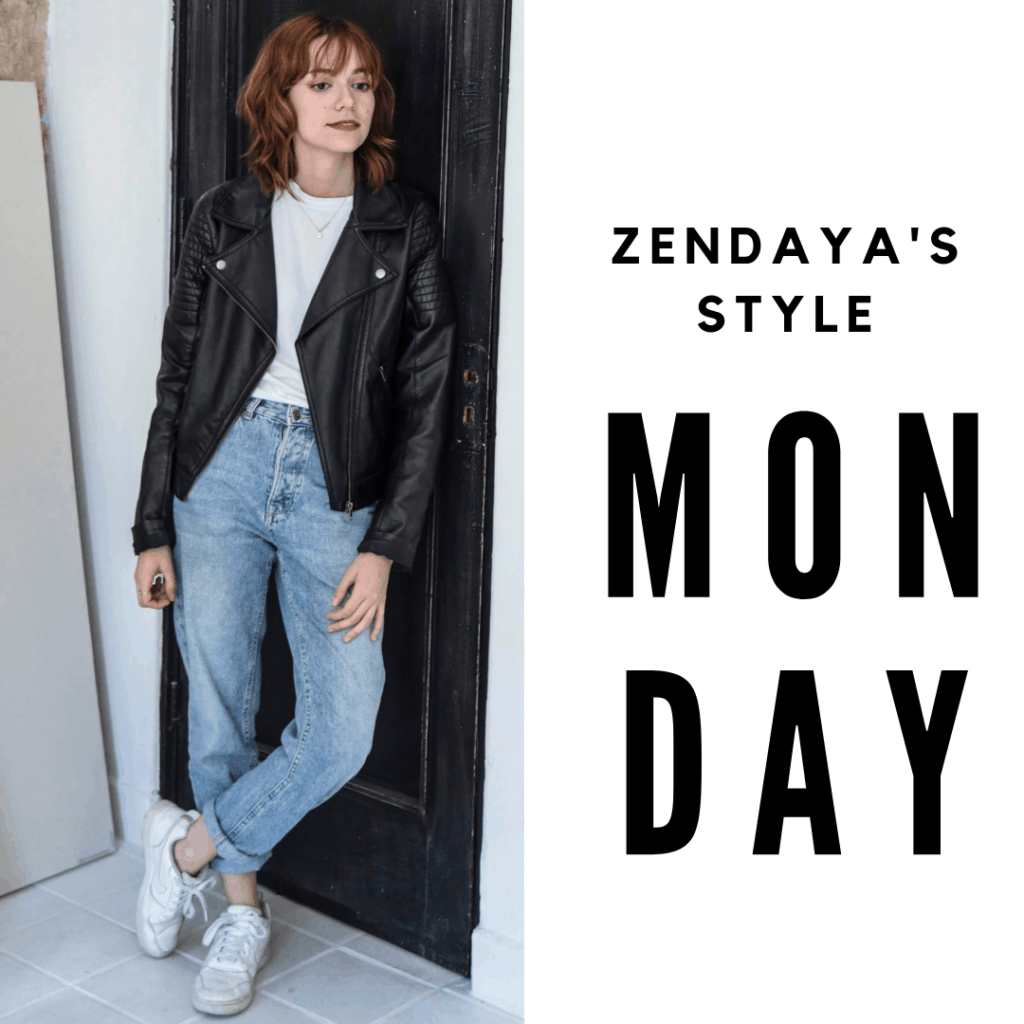 For the first day, I wanted to start with something close to my personal style to test the waters. Above, Zendaya is wearing a white t-shirt, ripped loose jeans, a black leather jacket, and white sneakers.
I used almost the exact same items. Instead of ripped jeans, I used a pair of mom jeans I own that have the same denim wash as Zendaya's. I paired them with a white t-shirt, white sneakers, and a black leather jacket. Zendaya didn't tuck in her shirt, but I'm a lot shorter than she is (barely 5'2") and tucking in the t-shirt helped me to elongate my body.
For the first day (and a Monday) it was a perfect outfit: I used it to go to the office all day and to do my class work in the evening. It was comfortable for a normal Monday and great for a day when I didn't have energy to put together something fancier. People didn't comment or treat me any differently, but I did feel confident and kinda badass in this ensemble.
Tuesday – Outfit #2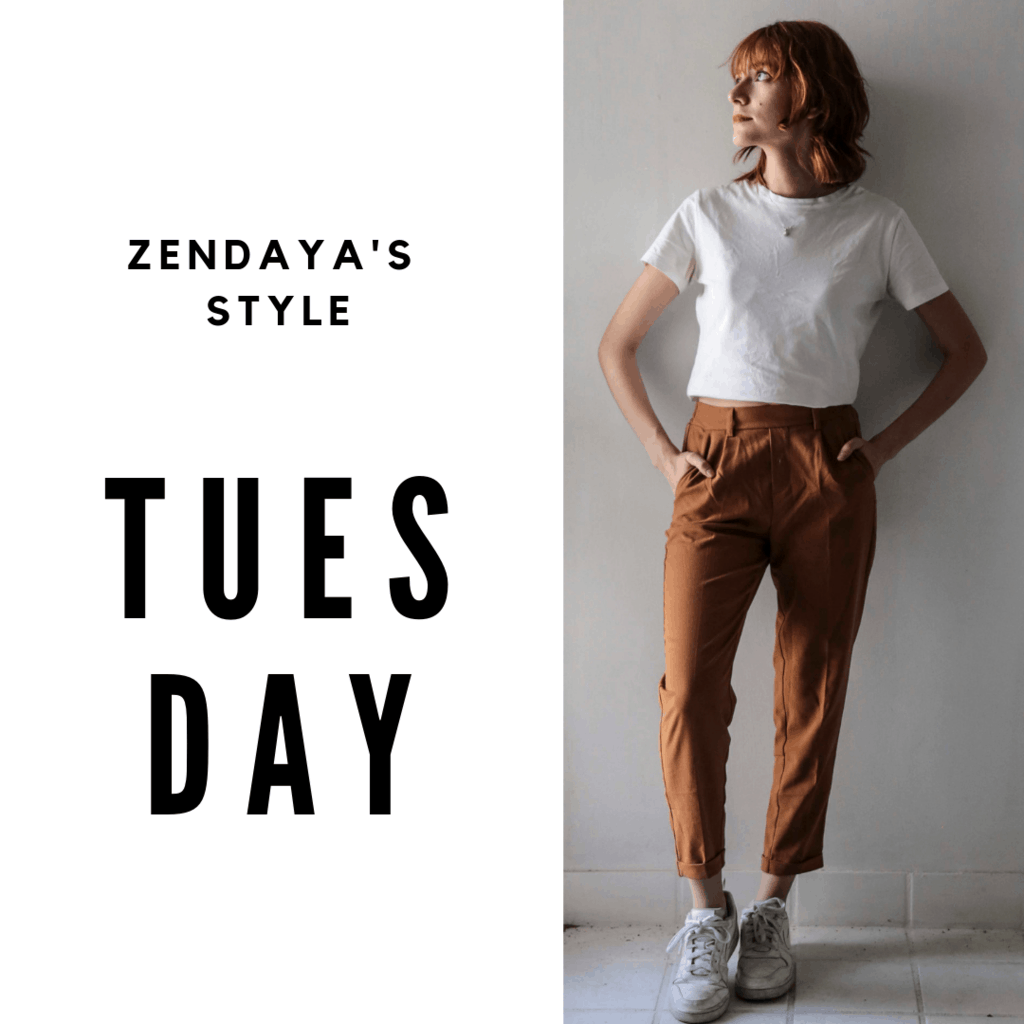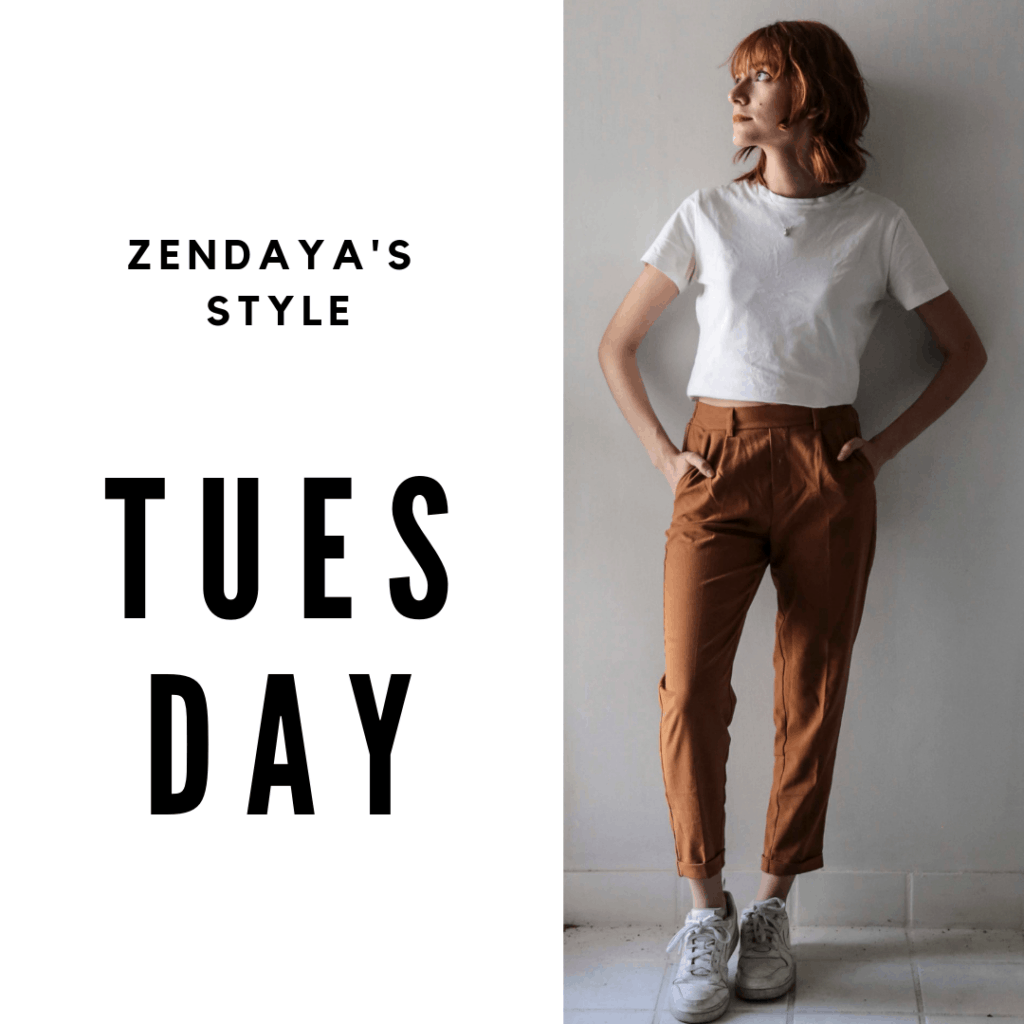 For the second day, I chose this neutral look of Zendaya's. I chose it because it looked comfortable and fresh, two things I needed to get through the day. She's wearing a white crop top and high-waisted tan pants. I couldn't find a pic with her complete outfit, but I scrolled through her Instagram to choose what kind of shoes she could be wearing and decided to use sneakers.
I didn't have a crop top like hers, so I folded up my white-shirt to make it into one. I paired it with tan colored pants that I already had in the back of my closet. This was great because it helped me to style these pants: I don't wear them too much because I don't really know what to do with them. I used the same white sneakers from the previous outfit.
For my weekdays, I don't usually stray far from the "jeans and t-shirt" formula, because I have a lot of things to do and don't have a lot of time to think of anything else. This causes me to ignore a lot, a lot of clothes in my closet. When I saw this outfit, I dug out a pair of pants that had been hanging in my closet barely touched for about 8 months. Since then, I have worn them four times, with different crop tops, shirts and shoes. Thanks, Zendaya!
Wednesday – Outfit #3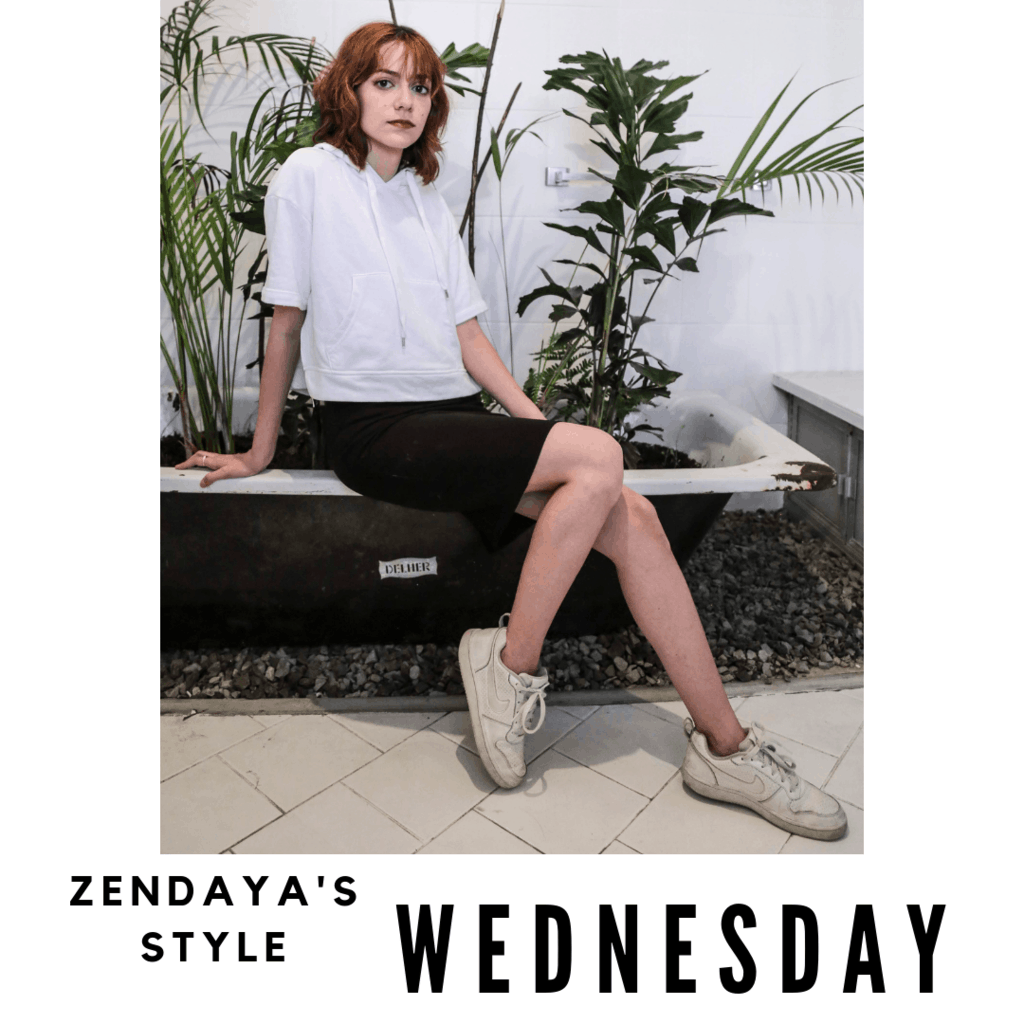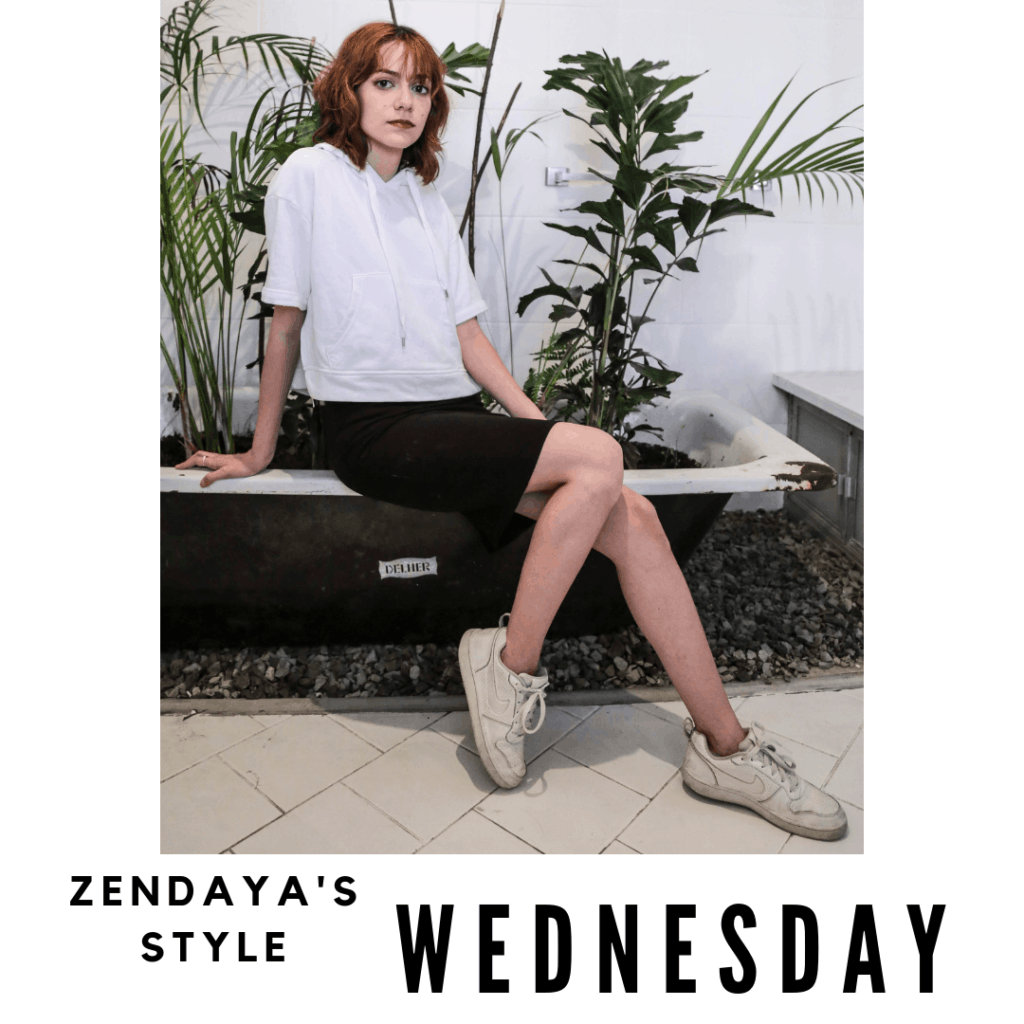 For Wednesday, I opted for this killer Zendaya outfit. She's wearing a dark grey pencil skirt, high top sneakers, and a white cropped sweatshirt.
I had a pencil skirt and a cropped sweatshirt in my closet already. I don't wear either item very much. My skirt is black and the sweatshirt is short sleeved, which is necessary for me because where I live, spring is very, very hot and I wouldn't tolerate a long sleeve for long. I do not own white high tops and I was unable to find any for a reasonable price, so I wore the same Nike white sneakers.
On Wednesdays I have an early class (from 8 am to 11), then I go back home to do some work and in the afternoon I have another class (from 4 pm to 5:30). This is a chaotic day for me and I spend a lot of it driving and running errands in my free time. By the time I leave my first class, I usually don't feel that confident — in fact, I'm usually annoyed because I've thrown an outfit together and I'm realizing it doesn't look as good as I'd like.
But when I wore this, I felt great the whole day. It was as comfortable as joggers and a sweatshirt, but I looked more put together than I usually do. A couple of friends at school told me I looked amazing and that they would have never thought of pairing a pencil skirt with a sweatshirt.
This last thing is one of the tips I'm taking with me from Zendaya's style: pair more formal items with casual ones to create new outfit formulas and give those items new life.
Thursday – Outfit #4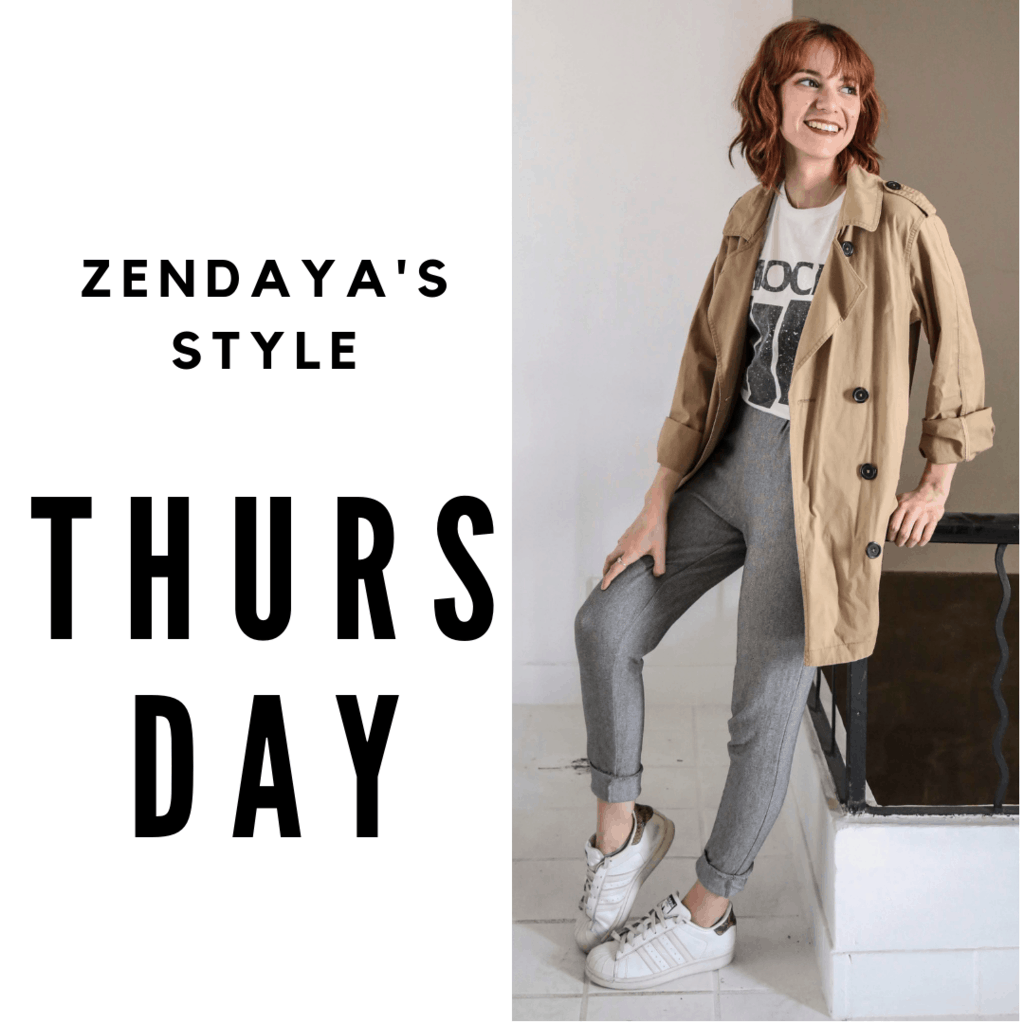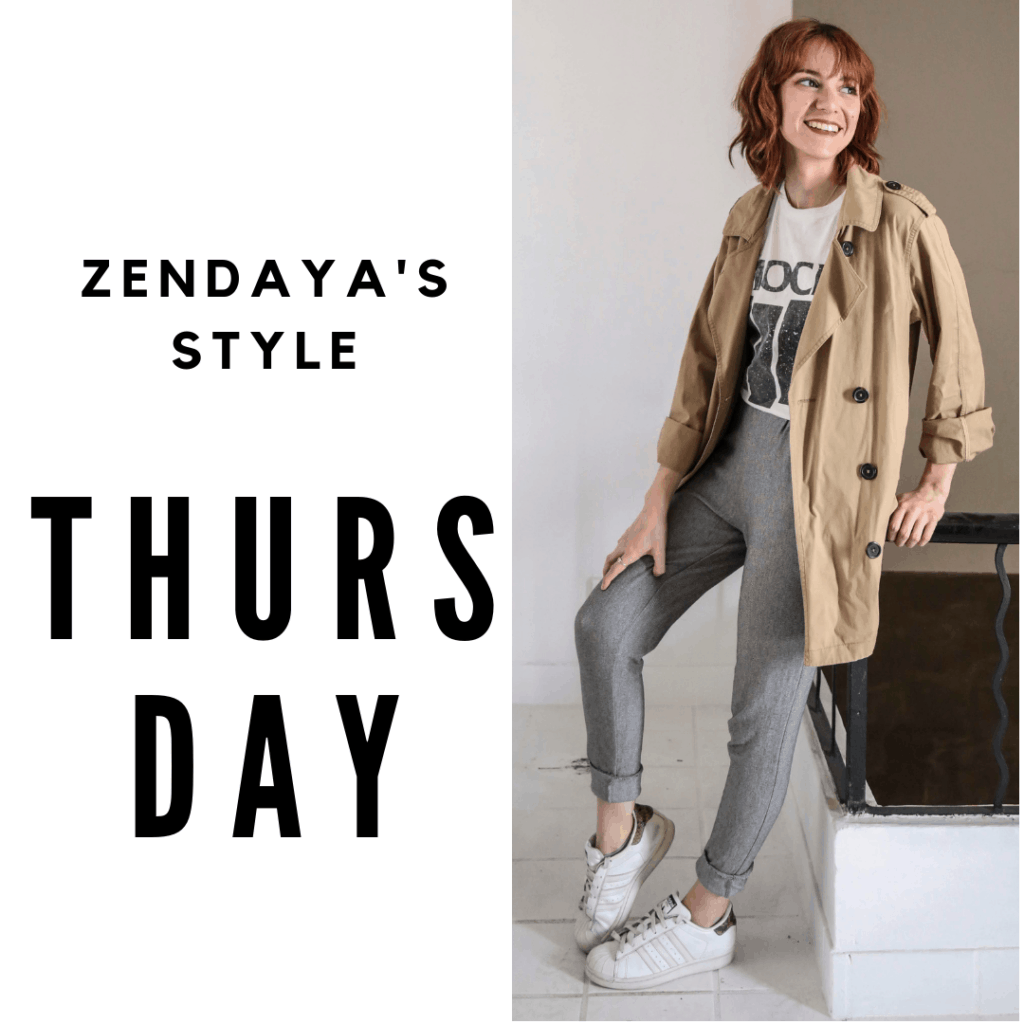 Note: Scroll through the photos below to see the outfit inspiration. It's the fifth photo.
For the fourth day, I chose this 'on-the-go' Zendaya look (swipe to the fifth photo). She's wearing grey joggers, awhite graphic t-shirt, white Adidas and a large camel coat.
Everything I used for this outfit, I already owned, but I had never used all of this items together. I used grey joggers that are a shade lighter than Zendaya's, my favorite graphic t-shirt, and a beige trench coat in a light material. I do have a long, heavy tan coat like hers, but, again, the weather in my city is way too hot for anything like that right now. I finished it up with my white Adidas.
I loved this outfit. I think it was my favorite from the week. On Thursdays I go to the office in the morning and do class work in the evening, sometimes I go out to dinner and drinks. And this outfit was perfect for all of that: it was comfortable enough to wear all day and dressed up enough that I felt put-together.
Friday – Outfit #5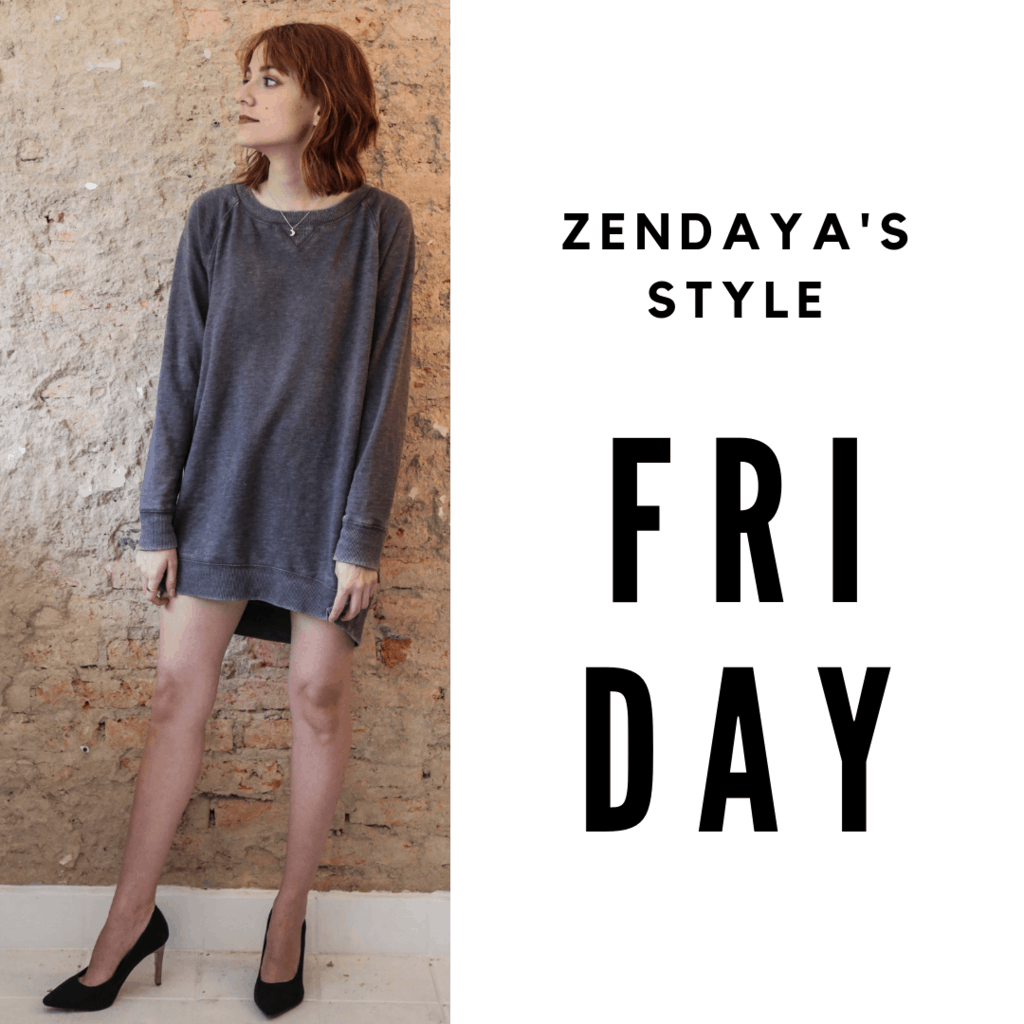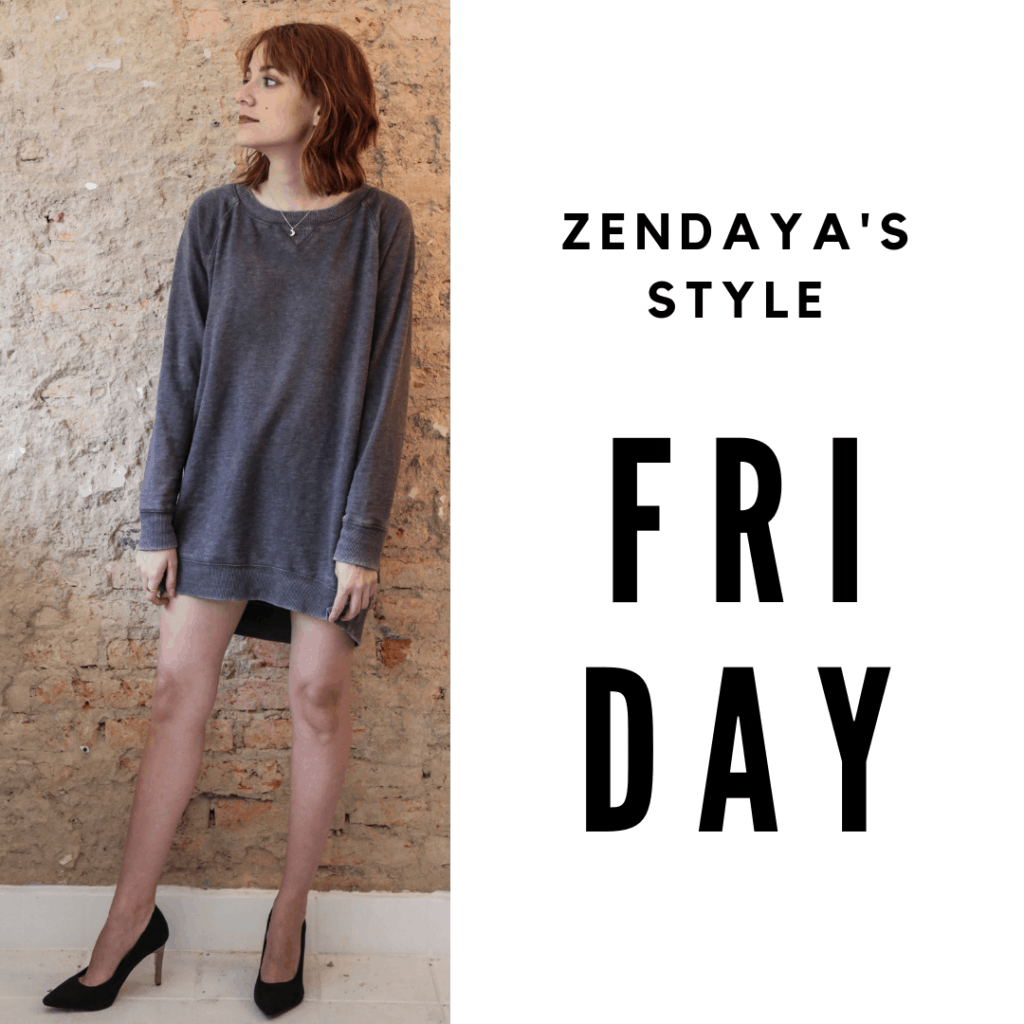 Finally, Friday! I chose this outfit from Zendaya because I thought it'd be cool for a Friday. She's wearing a cream toned sweater dress and nude pumps.
I don't wear a lot of cream tones because I am super pale and I look extremely washed out when I use those tones without any darker colors to break them up. Because of this, I chose similar items, but in different colors. I used a dark grey sweater dress and black pumps.
I'll be honest: I don't wear these two items, ever. First of all, I have no idea of how to style the dress, since it's way too long to use as a top and a bit short (for my taste) to use as an everyday, casual dress. And the heels? I love them, but I definitely lean towards flats for my everyday style.
This is the outfit that is the furthest from my personal style. I don't wear heels or dresses a lot, not even when I go out. But this turned out to be the day that I got the most compliments and also the day that I felt people's response to me changed the most. People were a bit more polite, but I also felt they were more distant. By lunchtime I wanted to change my heels to be able to do things faster, but it wasn't until I had to leave for class (from 7 to 8.30 pm) that I changed the pumps for a pair of sneakers.
After leaving school, I used the heels again. I went out for dinner with some friends and there were a lot of compliments, ranging from "you look nice" to "you should dress like this more often". However, the general consensus was that I didn't look like me.
Final Thoughts
It was a long week, but having my outfits already planned helped immensely. My favorite outfits were the second and fourth outfits, but I learned the most from Wednesday's and Friday's looks.
My main takeaway was this: Mixing athleisure with elegance is a great way to be comfortable and put together, which is something I have kept trying to do now that this challenge is over. Zendaya seems effortlessly cool and exudes confidence no matter what she is wearing.
Wearing these outfits helped me feel a bit more confident and a lot cooler than I usually feel.
If you would like to try and use some of Zendaya's outfits, you can absolutely pull it off. Her style is perfectly comfortable for class, appropriate for certain office spaces and super cool to copy on a night out. Plus, most of the outfits will cover all the bases without having to change anything to go from one activity to the next.
What do you think?
Are you a fan of Zendaya's style? Which outfit would you wear? Whose style do you think I should do next? Comment below and let us know!